Zuppa Tuscana Soup
Creamy, delicious Zuppa Tuscana Soup. Copycat recipe based off the original from Olive Garden!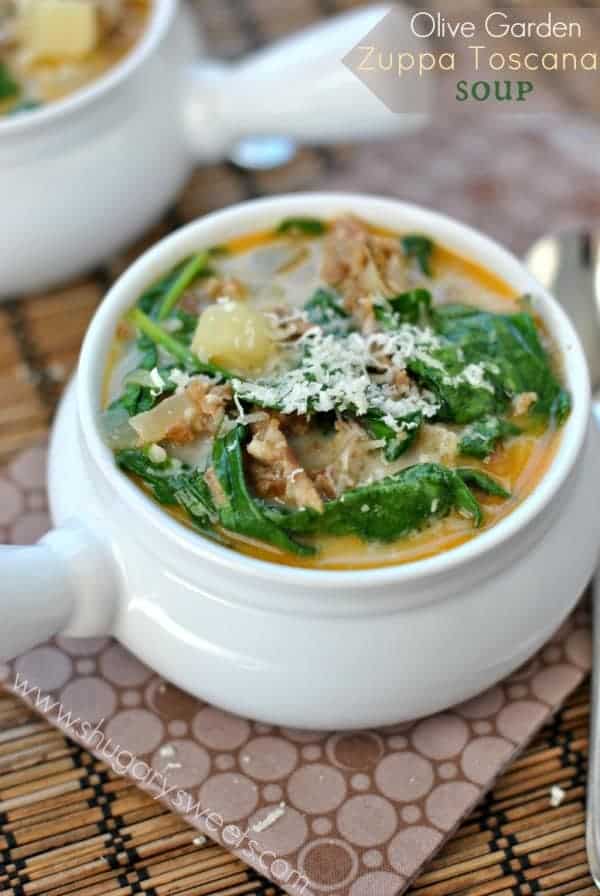 Does anyone else go to Olive Garden JUST for the soup, salad and breadsticks?
Certainly I'm not the only one right? Sometimes we go and I order my meal to go. Cause I know I'm going to eat my fair share (and then some) of the unlimited appetizers.
Zuppa Tuscana Soup is crazy delicious. Comfort food to the max. Right??
Unfortunately I love Olive Garden's Salad so much that I rarely order the soup. And now, it's okay, because I make the soup at home! And it tastes just as good (if not better)! I've also got a recipe for the breadsticks, in case you were wondering. I guess I just need to re-create the salad and I don't have to worry about going out to dinner there anymore!
I'm so excited to share this recipe with you all. One of my favorite things is to make recipes at home that mimic restaurant recipes. A few years ago I set out to make this soup, but with no planning, I had to swap a bunch of ingredients. The result was a delicious Sausage and Sweet Potato Soup. I still used spinach in today's recipe, as I prefer the taste of spinach over kale. But if you love kale and want something more authentic, feel free to swap it out!
I'm normally the Candy Contributor over at Food Fanatic, but today they are letting me share this Soup with you all. Have you browsed Food Fanatic yet? Basically it's a delicious, drool worthy site comprised of delicious eats and treats made by some of your favorite bloggers! Go check it out!
I'm excited to meet Amber and some of the others this week in Miami for the BlogHer Food conference. Let's hope this trip to Miami is better than my last one!