Low Carb Keto Zuppa Toscana Soup recipe is packed with flavor from crispy bacon, Italian Sausage, spinach and tender cauliflower all in a rich, creamy broth.
We love easy recipes packed with flavor. Like our cauliflower wings and chicken caprese. Easy and flavorful.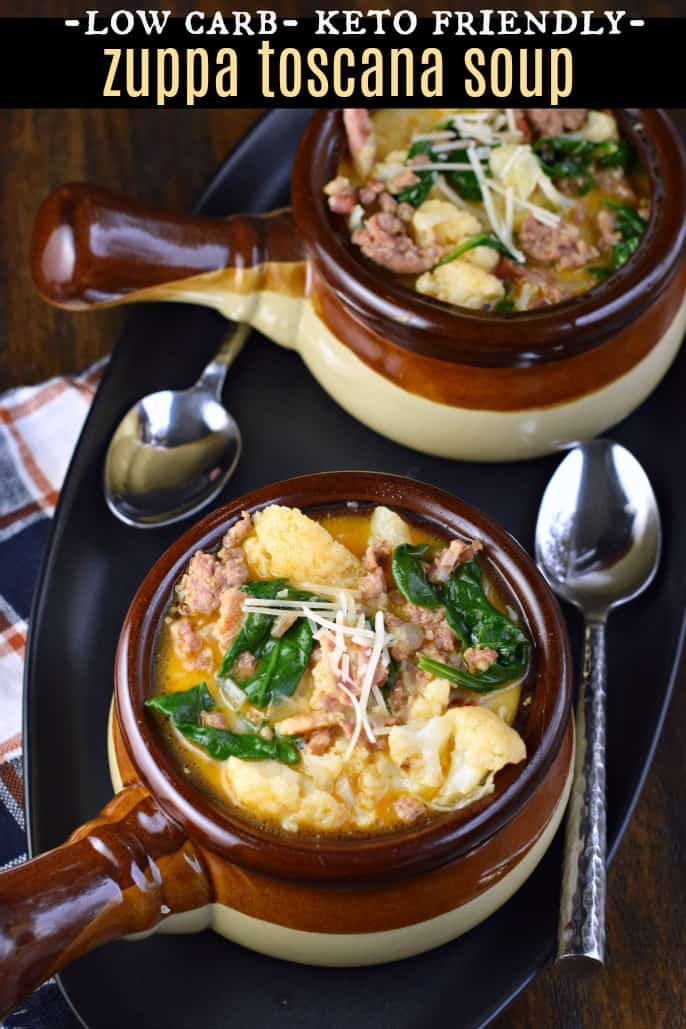 Low Carb Soup Recipes
The season of soup is here! It's time to indulge in all the comfort food.
From broccoli cheddar soup to lasagna soup, who doesn't love to indulge in a big bowl of soup on a cold day?
Oh wait, you're cutting carbs? Trying to follow a keto friendly diet? I feel ya. Doesn't it seem like all the comfort foods involve carbs somehow?
This past month we've had a nutrition challenge at our local CrossFit box. And while I wish I could report that I rocked it, I'm here to say, I failed. I didn't prepare for this challenge as much as I should have, you know, planning some low carb meals!
Here's the thing. Carbs and CrossFit go hand in hand. I truly believe I need carbs for all my muscle gains and endurance. However, I tend to choose the wrong carbs. Pastries, donuts, bread, haha!
One thing I do love though is vegetarian chili and soup. And you may remember this Olive Garden Copycat Zuppa Toscana Soup recipe from a few years back. It's SO good.
I had to figure out a way to make it CrossFit diet friendly. I mean, keto friendly. Ha, I mean waist management friendly. You know what I mean!
Here's how I made an indulgent comfort food, like Zuppa Toscana Soup into a keto friendly dinner.
You may first be asking yourself…..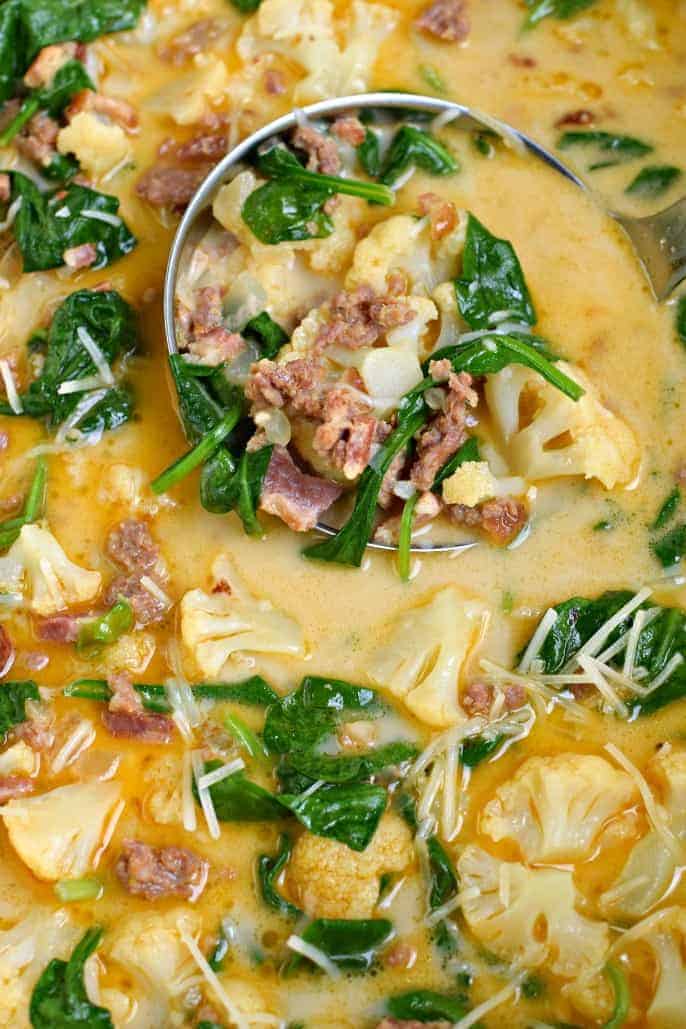 What is a Keto diet
First, keto stands for ketogenic. A ketogenic diet is a low carb, high fat diet. You may be familiar with Atkins, it has many similarities.
The goal of a ketogenic diet is to drastically reduce your carbohydrate (carb) intake and instead consume fats. By reducing your carbs it puts your body into a state of ketosis. Basically, your body becomes quite efficient at burning fat for energy.
Which is why many Crossfitters and athletes go on this diet.
It also has other great health benefits, that you can read about somewhere besides this little food blog, haha!
Plus you get to eat Crack Chicken! Who can resist this easy sauteed cauliflower recipe as the perfect side dish for a low carb dinner!?
What foods should I avoid on a keto diet
First, the obvious. Wheat-based grains or starches. Like rice, pasta, cereal.
Beans: no chickpeas, peas, beans, lentils, legumes
Fruit: pretty much all fruit except berries (but those are only in small portions)
Potatoes and other root vegetables. No sweet potatoes, carrots, parsnips, etc.
Stay away from sugary foods, most condiments and sauces as they tend to have sugar and unhealthy fats.
Alcohol. WAHHHHHH.
What foods should I eat on a keto diet
Proteins such as fish, beef, chicken, eggs are all good to eat.
Vegetables that grow above ground like broccoli and cauliflower are acceptable! Also, leafy greens like spinach and kale (which is great for today's low carb keto soup recipe)!
Avocado, nuts, and seeds are also good choices and make great snack options.
High fat dairy. Praise God at least there is something good about a keto diet, haha. Hard cheeses, high fat cream, and butter get the thumbs up!
Stevia is an acceptable keto-friendly sweetener. Thank goodness, because I use that in my favorite Pumpkin Cream Cold Brew coffee!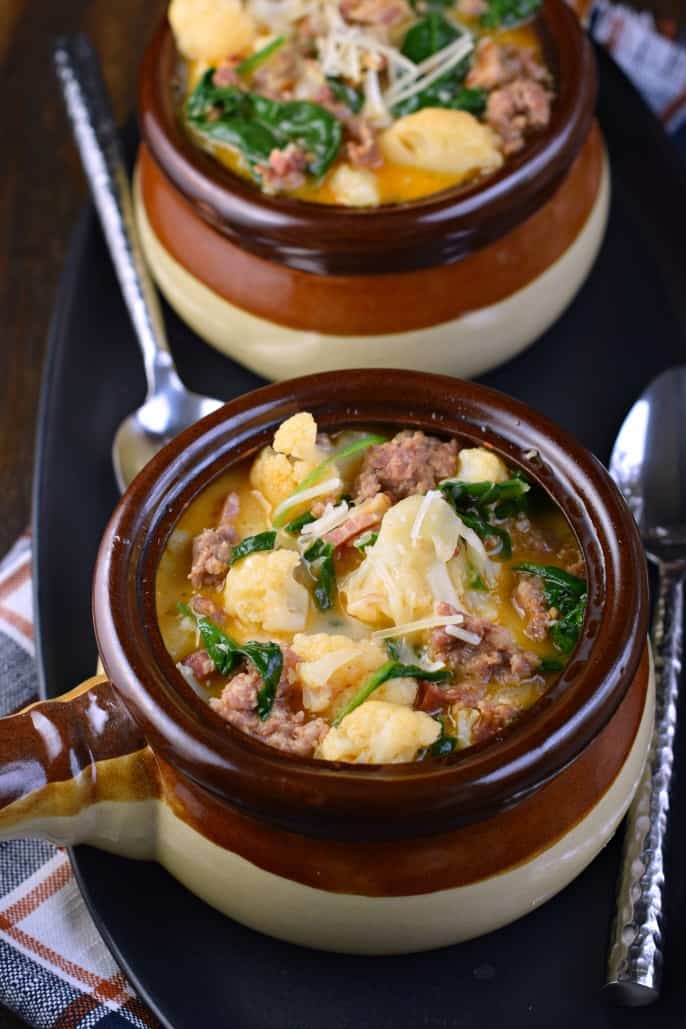 Recipe Notes
Italian Sausage. I use the mild, bulk sausage. Use spicy if you prefer, or links with the casings removed!
Thick cut bacon. Some people prefer to add the crispy bacon at the end of the cook time (as a garnish), so that it stays crispy, not chewy. Your call.
Cauliflower. The dream vegetable that replaces potatoes in many low carb meals (like buffalo cauliflower). Can also use turnips if you prefer!
Spinach. While Olive Garden and many other people use Kale, my family prefers the taste of spinach. You choose what you love!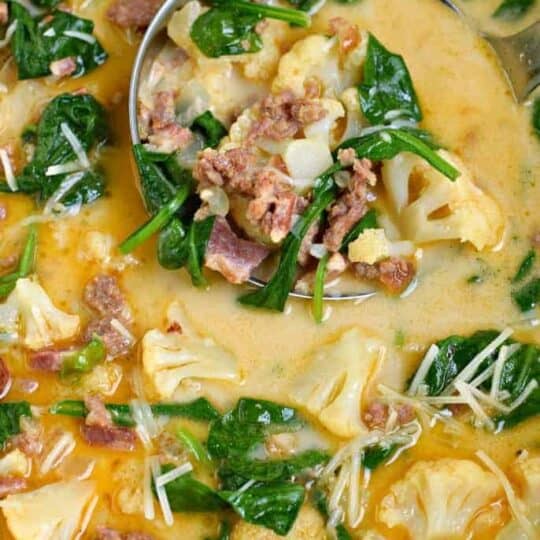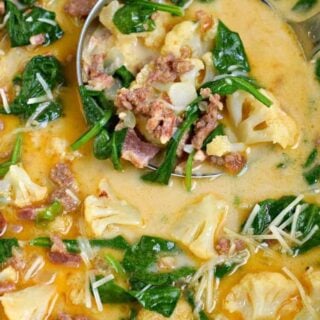 Keto Zuppa Toscana Soup
Low Carb Keto Zuppa Toscana Soup recipe is packed with flavor from crispy bacon, Italian Sausage, spinach and tender cauliflower all in a rich, creamy broth.
Ingredients
1

lb

mild Italian Sausage

4

slices

thick-cut bacon

32

oz

Beef bone broth

or beef broth

1

small onion

diced

3

cloves

fresh garlic

minced

1

head

fresh cauliflower

diced

½

cup

heavy whipping cream

2

cups

fresh spinach

5 oz package, or kale

salt and pepper

optional

crushed red pepper flakes

optional

shredded parmesan cheese for garnish

optional
Instructions
Using a large soup pot (like this

dutch oven

), brown your sausage and bacon together. Cut your bacon into bite sized pieces to make it easier to cook.

Once your meat is cooked, add in beef bone broth, onions, garlic, and cauliflower. Cover and cook on medium heat for about 15 minutes, until the cauliflower is tender.

Once the cauliflower is softened, add in heavy cream and spinach (or kale). Cook for about 5 minutes, until spinach (or kale) is soft.

Serve with a spinkle of parmesan cheese and a pinch of salt, pepper, and/or crushed red pepper flakes. ENJOY!
Notes
Swap out the cauliflower with turnips instead.
Due to the creamy nature of the soup, this one isn't suited for freezing.
Nutrition
Calories:
854
kcal
,
Carbohydrates:
12
g
,
Protein:
62
g
,
Fat:
61
g
,
Saturated Fat:
25
g
,
Polyunsaturated Fat:
34
g
,
Cholesterol:
206
mg
,
Sodium:
972
mg
,
Fiber:
3
g
,
Sugar:
5
g