Slow Cooker Pizza Soup is an hearty soup with pepperoni, sausage and cheese in a rich tomato broth. This recipe is as simple as ordering a pizza and tastes even better!
Make your meal complete with a side of homemade Garlic Bread or these super easy Puff Pastry Bread Sticks.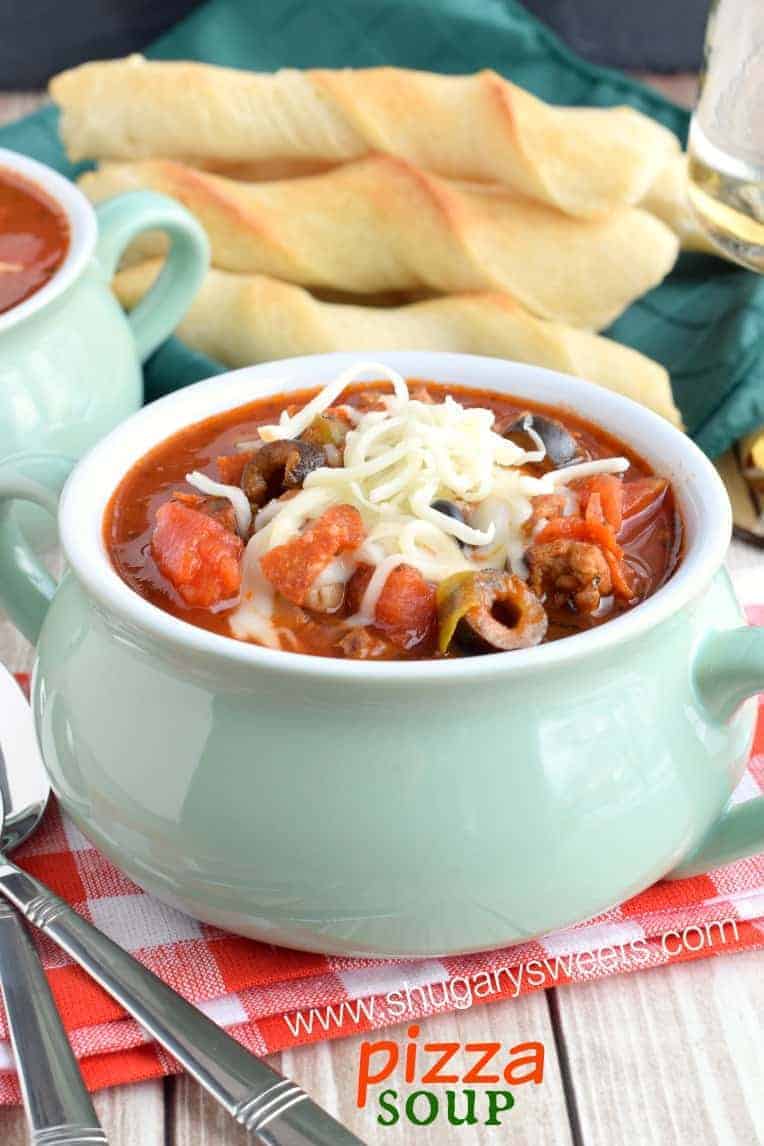 Why This Recipe is Best
Typically if my family craves deep dish pizza, we make our own Chicago Style Deep Dish Pizza recipe. I wondered what would happen if we took our favorite pizza and made soup!
Based on how quickly everyone devoured every last drop, I'd say it was a roaring success. We didn't even miss the crust.
All the flavors you love on your pizza in soup form!
Hands off cooking makes it ideal for busy days.
Make it on the slow cooker on on the stove top.
It's a hearty and satisfying one-bowl meal.
Perfect as naturally gluten free alternative to pizza!
Ingredient Notes
I used all the same ingredients we love in our favorite deep dish pizza for this soup.
Ground Italian sausage – Much of the flavor of the soup comes from the sausage. You can use hot sausage for a spicier soup or stick with mild if you don't want a lot of heat.
Beef broth – If you don't have any you can use chicken broth, vegetable broth or even water instead.
Tomatoes – I use tomato sauce to create a thick base for the soup and diced canned tomatoes for some chunky texture.
Green chilies – A can of these gives the soup a spicy kick. Reduce or omit them for a milder pizza soup.
Seasonings – Dried basil, oregano and salt give the soup the perfect Italian flavor.
Pizza toppings – I put mushrooms, olives, onions and pepperoni slices in our soup because that's what we love on our pizza. Feel free to swap them out for other pizza toppings your family loves.
Shredded cheese – Mozzarella cheese is our choice for Pizza Soup! Parmesan would be delicious on this soup too.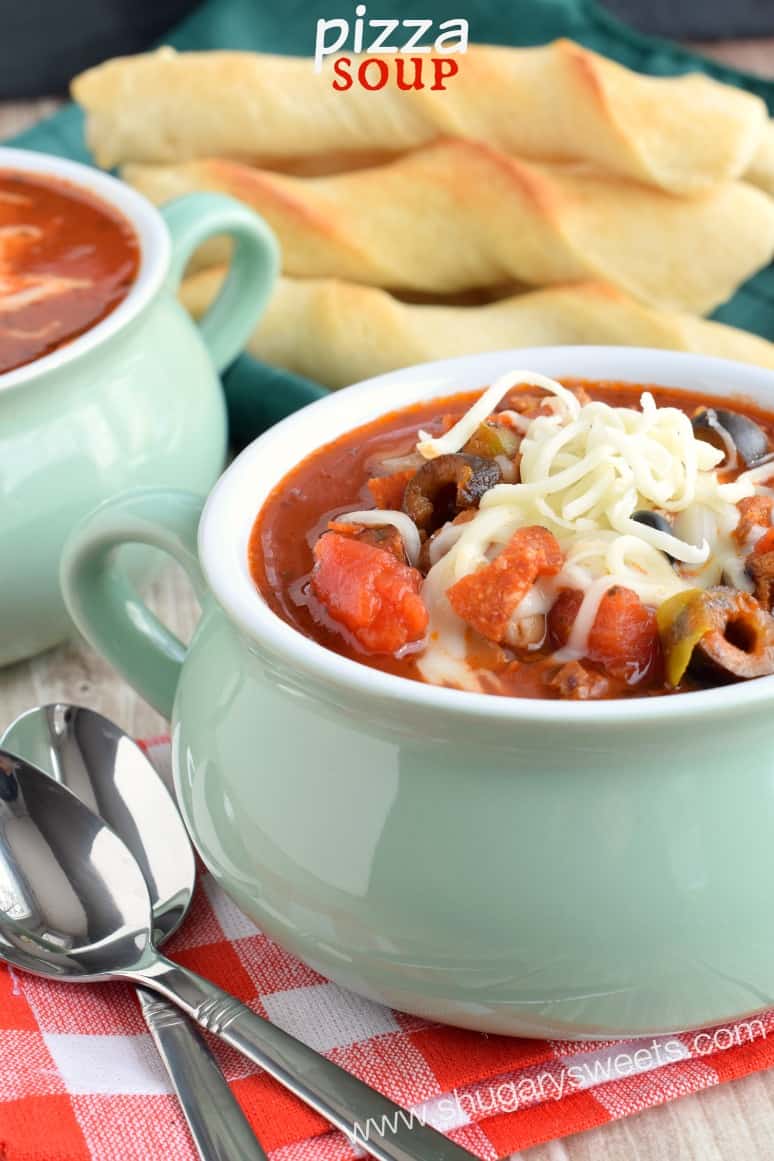 Make Soup on the Stove
I love making this soup in the slow cooker. It gives the flavors a chance to develop over the long slow cooking time. But if you don't have a slow cooker or you're short on time, this recipe works beautifully on the stove top too!
To make this pizza soup on the stove, start by browning the sausage in a large pot.
Drain out the excess grease, then add all the remaining ingredients (except for the cheese).
Bring the soup to a boil, then reduce it to a simmer. Let it simmer on low heat for about 30 minutes before serving.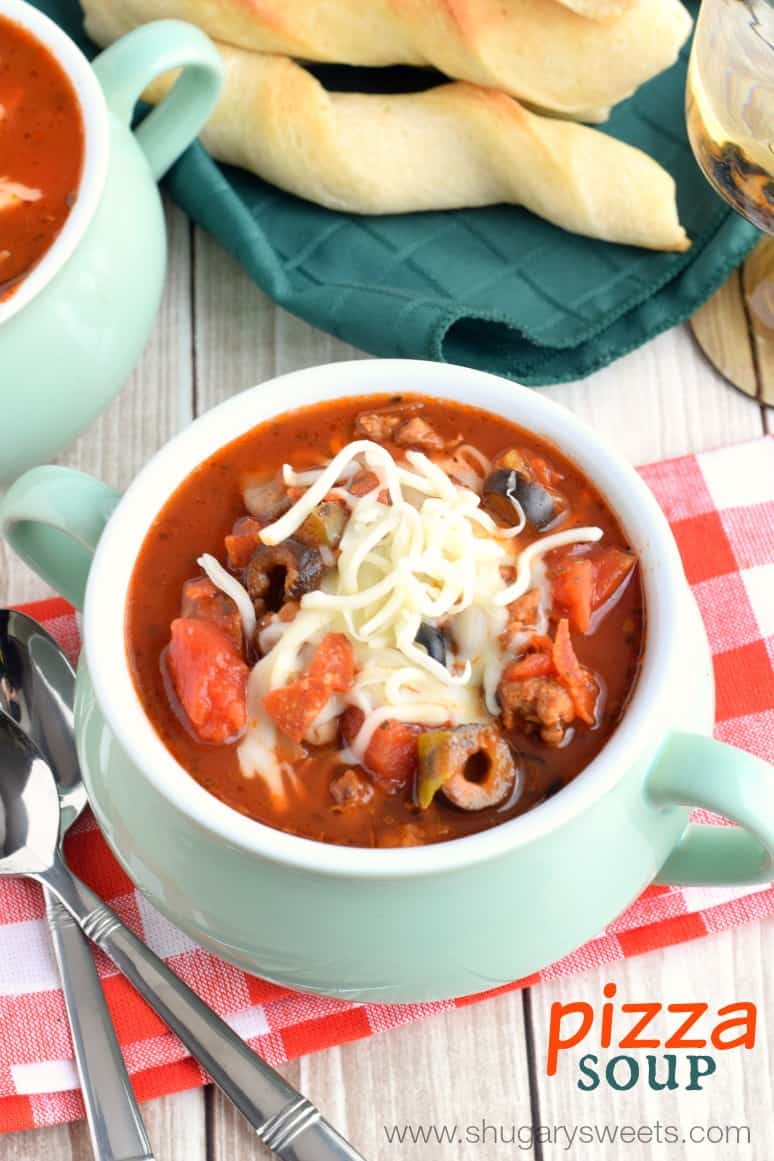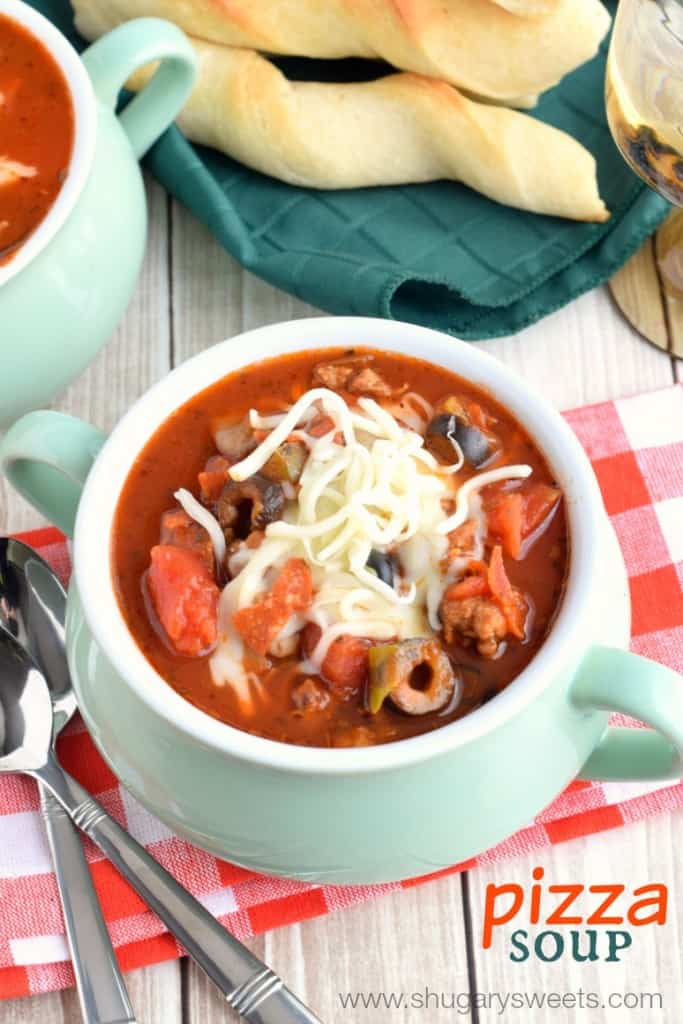 Recipe FAQs
Do you brown the sausage before adding it to the slow cooker?
Yes, you should always brown the sausage on the stove first. It brings out the best flavor of the meat and gives you a chance to drain the excess grease before it goes in the slow cooker.
How should I store leftovers?
Transfer leftover Pizza Soup to an airtight container. You can keep it in the refrigerator for up to 3 days or in the freezer for up to 3 months. Reheat the leftover soup in the stove top or in the microwave.
What side dishes can I serve with this pizza soup?
I love to serve this soup with some kind of bread for soaking up those last drops of soup in my bowl! Garlic bread is an ideal side dish. And these Olive Garden Copycat Breadsticks are amazing with any meal!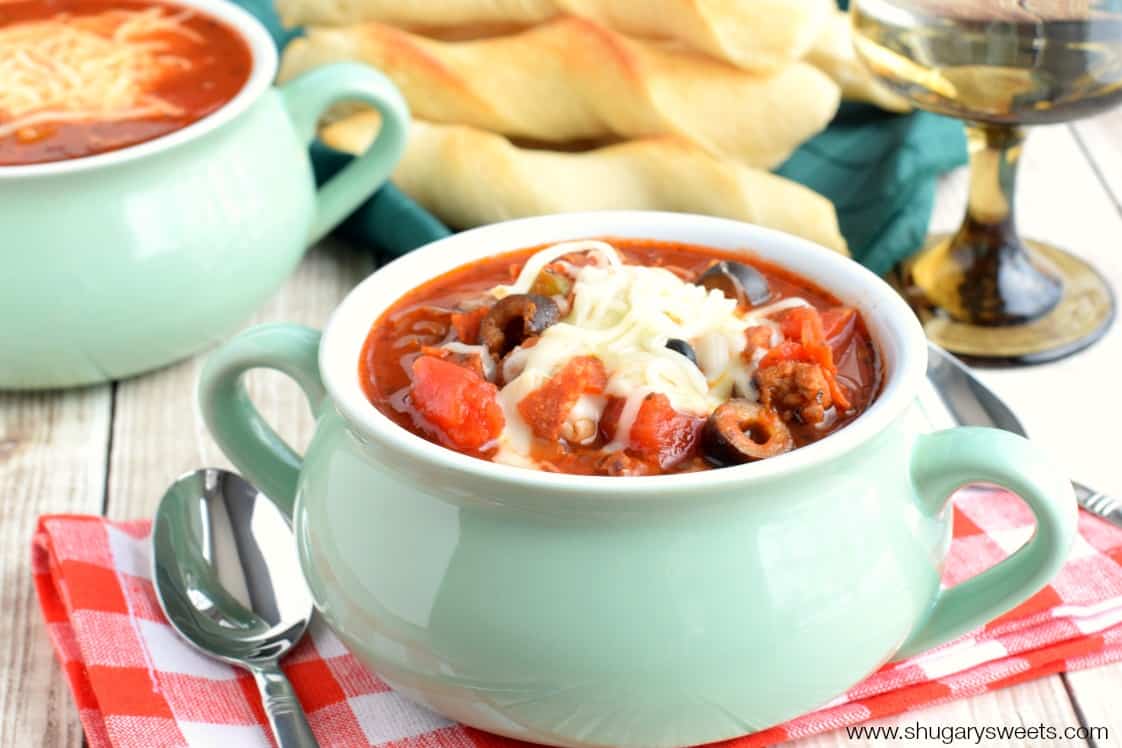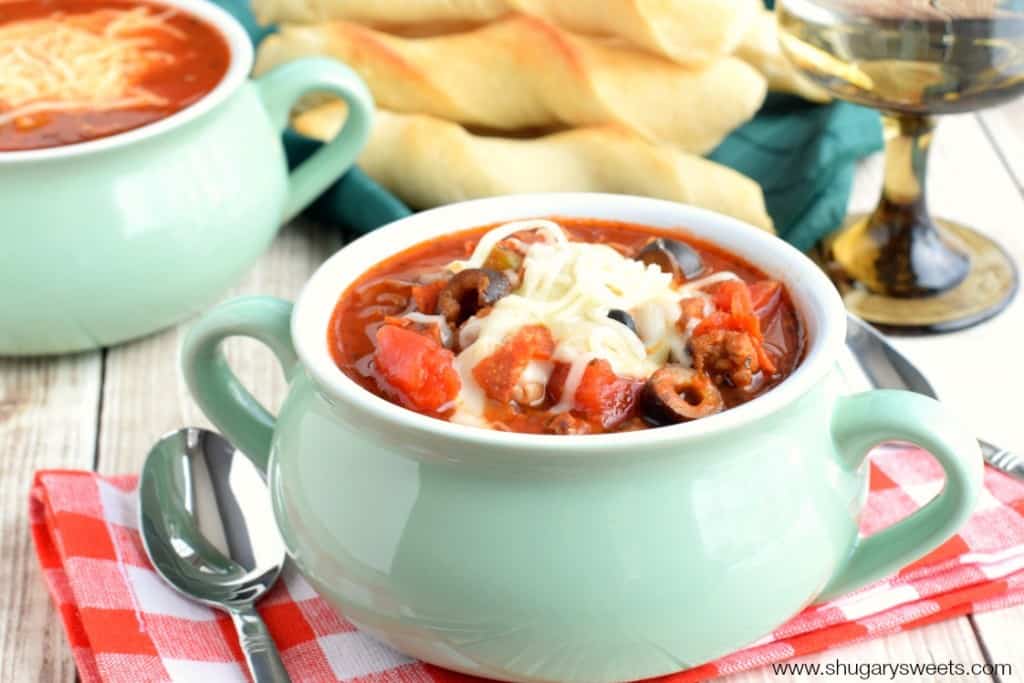 This slow cooker Pizza Soup recipe has the perfect combination of ingredients to satisfy any pizza craving!