A homemade breadsticks recipe with no dough mixing, no kneading, and no rise time required! These Puff Pastry Bread Sticks are so delicious that no one will believe how easy they are to make.
These easy breadsticks are a delicious side to a big bowl of Vegetarian Chili. Or try them dunked in homemade Roasted Tomato Soup!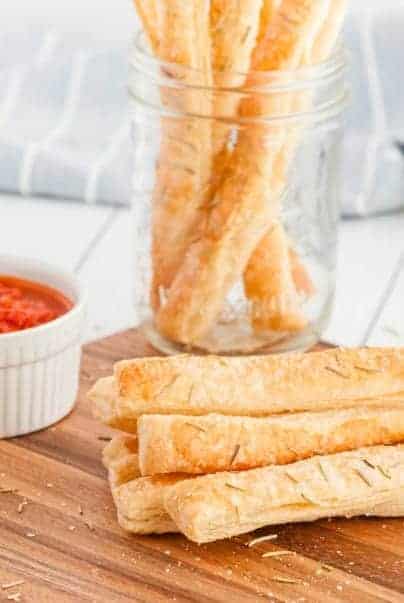 Why this Recipe Works
Does anyone else sometimes choose a restaurant based on the quality of the homemade bread basket they bring out with your meal? I'm a sucker for a basket of bread. Cheesy bread sticks, garlic bread sticks, herb bread sticks…I love them all.
I'm a particularly big fan of bread sticks made with puff pastry dough. Flaky, layered and buttery tasting, they somehow make meals feel just a little bit fancier. Thankfully, I don't have to trek to a Parisian cafe to enjoy a breadstick that good. . .
Easiest side dish. Ever. For real, it's almost laughably easy to make Puff Pastry Breadsticks!
I pull the frozen puff pastry out to thaw about an hour before dinner is due to be ready. A half hour later, I cut the pastry into strips, add some seasoning and pop it in the oven.
Voila! Hot, flaky, golden brown breadsticks. A tasty side dish for just about any meal you can imagine.
Along with breadsticks, I use puff pastry to make Puff Pastry Wrapped Cranberry Brie and Apple Napoleons.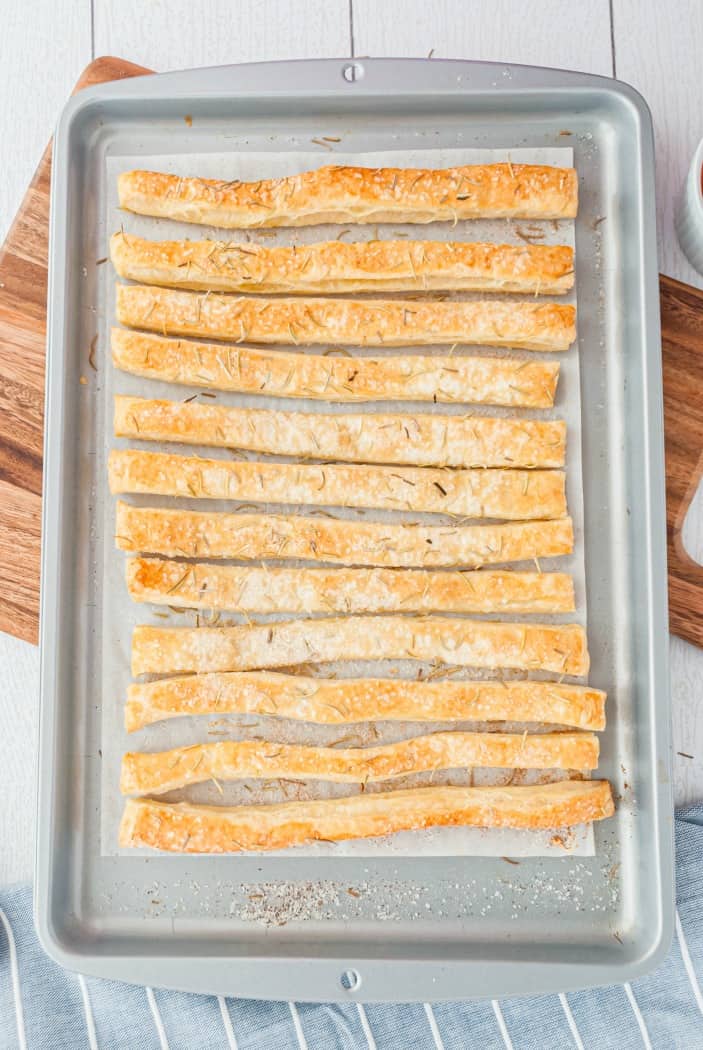 Ingredient Notes
There are a million ways to vary and customize Puff Pastry Bread Sticks. Today, I'm sharing with you my go-to recipe. It's the first version of the breadsticks I made and goes with just about any main dish!
Here's all you need:
Frozen puff pastry
Egg white
Water
Salt, garlic salt and rosemary (fresh or dried)
Using half the box of puff pastry dough yields about 12 breadsticks. I don't like to make too many at once because they're best served within a few hours after baking. However, if you're cooking for a crowd, it's easy to double this recipe and use all the pastry.
How to Make Bread Sticks with Puff Pastry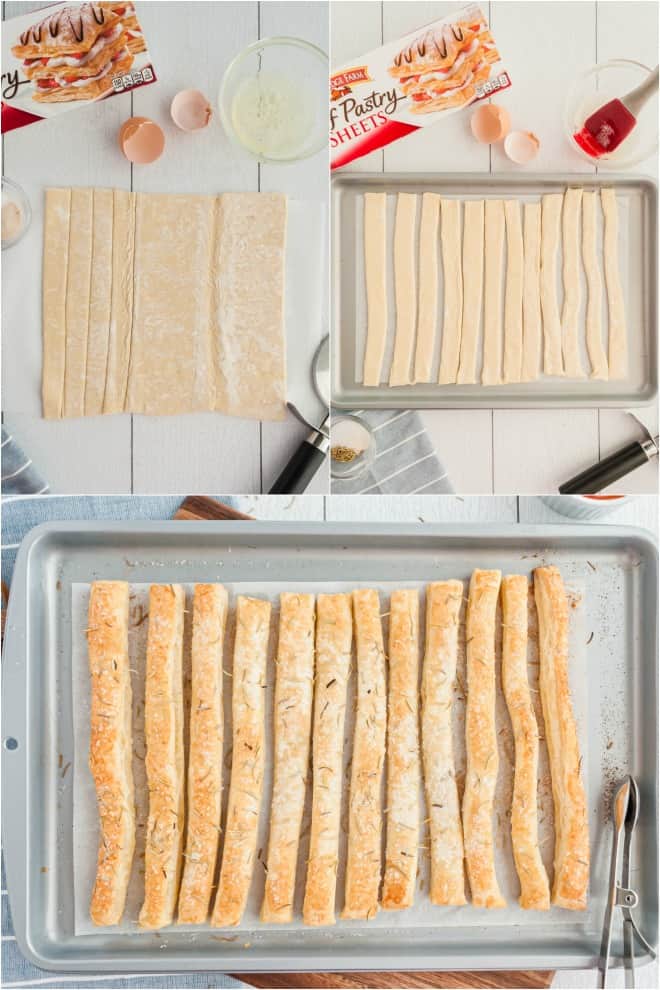 At least an hour before you plan to serve, remove the puff pastry from the freezer and let thaw at room temperature. (Follow directions on the pastry box for proper thawing procedure for your brand.)
STEP 1. Unfold the puff pastry onto a counter lined with parchment paper. Cut the raw pastry into 12 thin strips.
STEP 2. In a bowl, mix the egg white with the water. Brush the pastry with the egg white mixture.
STEP 3. Sprinkle the strips of dough with the salt, garlic salt and rosemary.
STEP 4. Bake for 15 minutes. Let cool for a few minutes then serve while still warm!
PRO TIP: I've made these with both dried and fresh rosemary, depending on what I have on hand. Both are good, but keep in mind that you need to use far less of a dried herb than fresh, as the flavor is more concentrated!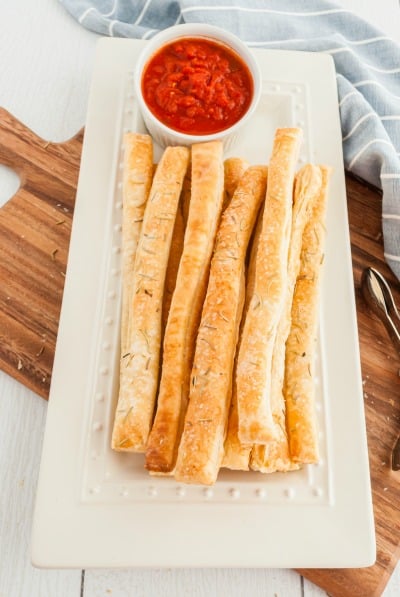 Substitution Ideas
Puff Pastry Breadsticks are a blank canvas for your creativity! Mix up the seasoning and spices based on your entree, dinner theme or cravings.
My whole family loves the rosemary on these!
Try these ideas for Puff Pastry Breadsticks . . .
More Easy Recipes
This breadsticks recipe has never failed me yet. I can't wait to hear how you serve your homemade Puff Pastry Breadsticks!