Make this delicious Balsamic Pork Tenderloin recipe in the slow cooker with a tangy for an easy dinner the whole family will enjoy. 
If you love balsamic, try this delicious Balsamic Glazed Chicken recipe!! Or add some balsamic to our favorite Bruschetta recipe.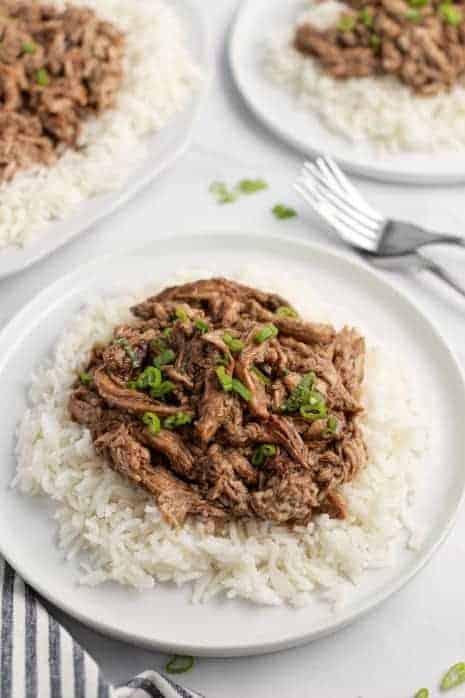 Why this Recipe Works
This pork tenderloin recipe is simply an awesome dinner. I could wax poetic about it but at the end of the day, what we're all looking for is a tasty meal that satisfies body and soul. Balsamic Glazed Pork Tenderloin is that meal.
Best of all, this pork cooks all day in the Crock-pot. So if you are like me and enjoy mealtime to be less stressful, but fulfilling; this is YOUR recipe. You're very welcome. I know I'm getting ahead of myself, but I know you will thank me.
This is my new "go-to" pork tenderloin recipe. Well, except for carnitas, because those don't count.
Please. Make this. Then thank me. Otherwise I seem all conceited and stuff saying you're welcome when nobody is thanking me.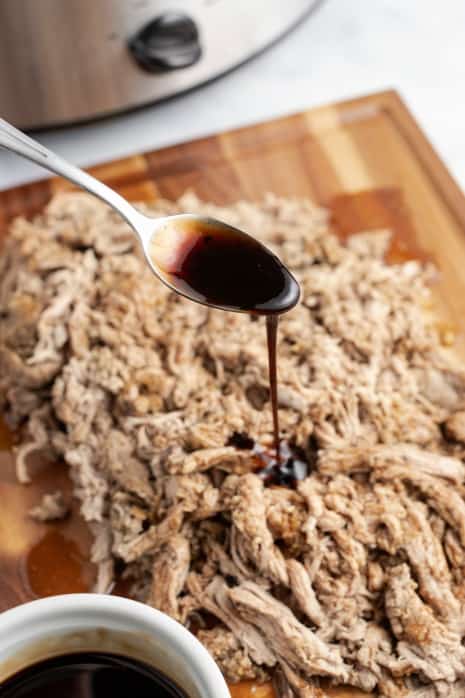 What kind of pork to use
Tenderloin cooks beautifully in the slow cooker and can be dressed up with just about any kind of sauce or glaze you can think of, from barbecue sauce to Pineapple Salsa.
It's one of my go-to cuts of pork because it tastes equally delicious when cooked quickly in an Instant Pot or stove top OR made in the slow cooker.
(This Instant Pot Pork Tenderloin is amazing)!
One important note: You can use pork tenderloin in this recipe or pork loin.
What's the difference between pork tenderloin and pork loin?
While the names are similar, these two cuts come from different parts of the pig.
Pork loin comes from the animal's backside and is also known as center cut roast. It's cut as one large piece of meat that usually weighs several pounds. Because of its size and density, it's usually slow roasted.
Pork tenderloin on the other hand, comes from a muscle near the pig's backbone. It's always boneless and sometimes sold under the name pork tenders or pork filet. Pork tenderloins are thin strips of meat and extremely tender whether cooked quickly at a higher heat or slow cooked.
When you make pork tenderloin in the crock pot it becomes so tender it can fall apart with the touch of your fork. When you add this tangy-sweet balsamic glaze? It becomes absolute heaven.
Pork Shoulder or Pork Butt can also be used in today's recipe!
Cooking Instructions
A hands-off pork recipe that cooks all day long while you get other things done. Is there anything better?
STEP 1. Slow Cook the Pork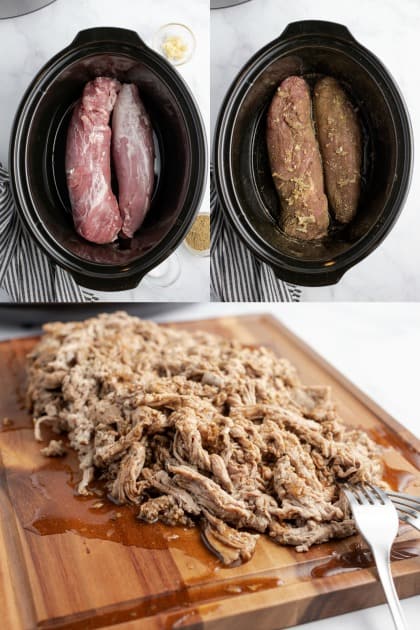 Lay 2 pork tenderloins (about 3 lbs total) across the bottom of a large slow cooker. Rub the top of the pork tenderloins with sage, salt and pepper.
Pour 1/2 cup of water in the bottom of the pot and add pressed garlic. Cover and cook on low for about 6 hours.
STEP 2. Make the Balsamic Glaze
In small microwave safe bowl, mix 1/2 cup water with brown sugar, cornstarch, balsamic vinegar and soy sauce. Heat for 1 minute, whisk and heat an additional minute.
The mixture should be thickened. Pour half of mixture over pork tenderloins and continue cooking an additional hour (or up to two).
STEP 3. Shred and Serve
When ready to serve the tenderloin, pour the remaining glaze over top. Use a serving fork to shred the pork and serve!
I most often serve this pork over simple white rice. It's also so good served on sandwich rolls or with a side of Baked Potatoes and Roasted Broccoli.
Balsamic Glaze
The glaze on this pork is, in my opinion, the perfect balance of savory, sweet and tangy.
The brown sugar counterbalances the sourness of the balsamic so well and gives the pork that sweet"glazed" look and texture.
Leftovers of this pork keep well in the fridge for a few days, too. We love to add the meat to salads, wraps and sandwiches for easy lunches throughout the week!
Pork tenderloin cooked to perfection in the slow cooker is all you need for a dinner that's as easy as it is delicious.