Flavorful pork tenderloin is made even better brushed with homemade pesto! This easy pork recipe may just become your new favorite way to enjoy pesto.
As the weather gets warmer, my mind wanders to all the seasonal summertime meals I want to make.
With fresh basil popping up in abundance at the farmer's market (and in my own garden), the first thing on my list is PESTO!
No one in my family will turn down a big plate of Pesto Pasta, but this time I wanted to think outside the pasta box.
I had a few pounds of pork tenderloin waiting in the fridge, so the solution was obvious, Pesto Pork Tenderloin.
The added flavor of pesto packed with Fisher Nuts walnuts just takes this dinner to another level!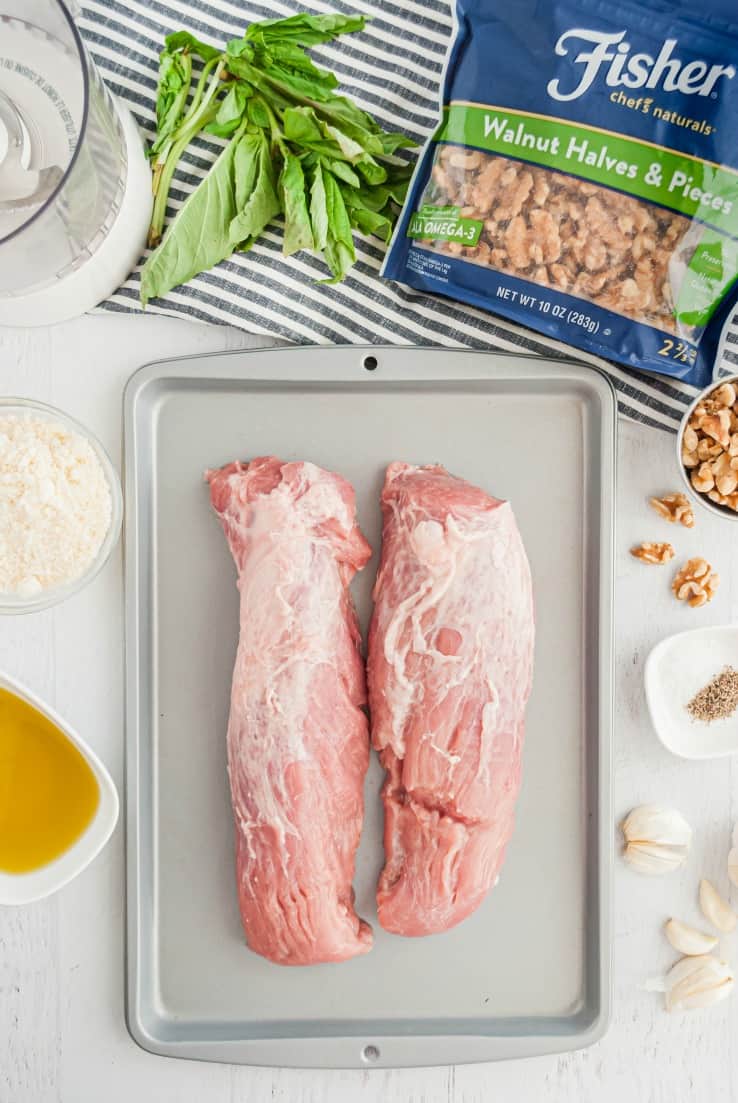 Tenderloin is one of my favorite cuts of pork to cook. It's affordable and so full of flavor, whether you make slow cooker pork tenderloin, on the grill, or even in the Instant Pot.
Pork tenderloin ended up being the perfect meat to pair with this walnut pesto recipe!
After roasting the pork tenderloin for a few minutes, I brushed the tops with some of the pesto so the flavors would seep into the meat as it finished cooking.
After cooking, I served the pork with the rest of the pesto poured on top.
This already juicy and tender pork became insanely delicious paired with the garlic, basil, walnuts, and Parmesan in the pesto.
I made this in the oven this time around. Next time we have dinner on the patio, this pork tenderloin recipe is bound for the grill. I can't wait!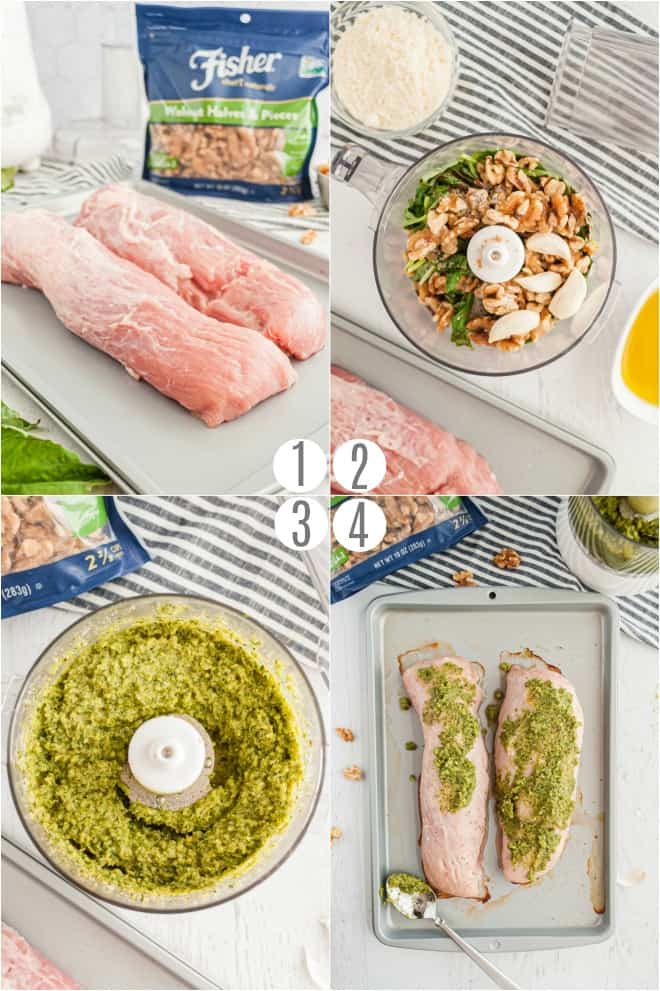 How to Cook Pork Tenderloin
Like I mentioned earlier, pork tenderloin is a forgiving meat to cook. While some cuts of pork don't reach peak flavor unless they're slow roasted in just the right way, pork tenderloin holds up well to several different cooking methods.
One of the easiest ways to prepare this versatile cut of pork is in the oven.
How to cook pork tenderloin in the oven (with pesto):
These instructions are based on cooking two pork tenderloins (roughly 1 lb each).
STEP 1. Preheat your oven to 450 F. Place pork tenderloin on a baking sheet and cook for 10 minutes.
STEP 2. Spread enough pesto over the tops of the tenderloins to completely cover the meat. Return to the oven and continue baking for another 7 to 10 minutes, or until the internal temperature of the pork reaches 145 F.
STEP 3. Remove the meat from the oven and let rest 10 minutes before slicing. Serve pork topped with the remaining pesto.
How to cook pork tenderloin on the grill (with pesto):
STEP 1. Place tenderloin over direct heat. Grill for 7 – 10 minutes on one side.
STEP 2. Flip the meat and top with pesto. Cover the grill and continue cooking until the pork reaches an internal temperature of 145 F. Remove from heat and let rest 10 minutes before slicing. Serve topped with remaining pesto.
Pork tenderloin is not difficult to cook (thus one of the reasons I love it). You just want to follow some general guidelines to make sure your pork comes out as tender and juicy as possible!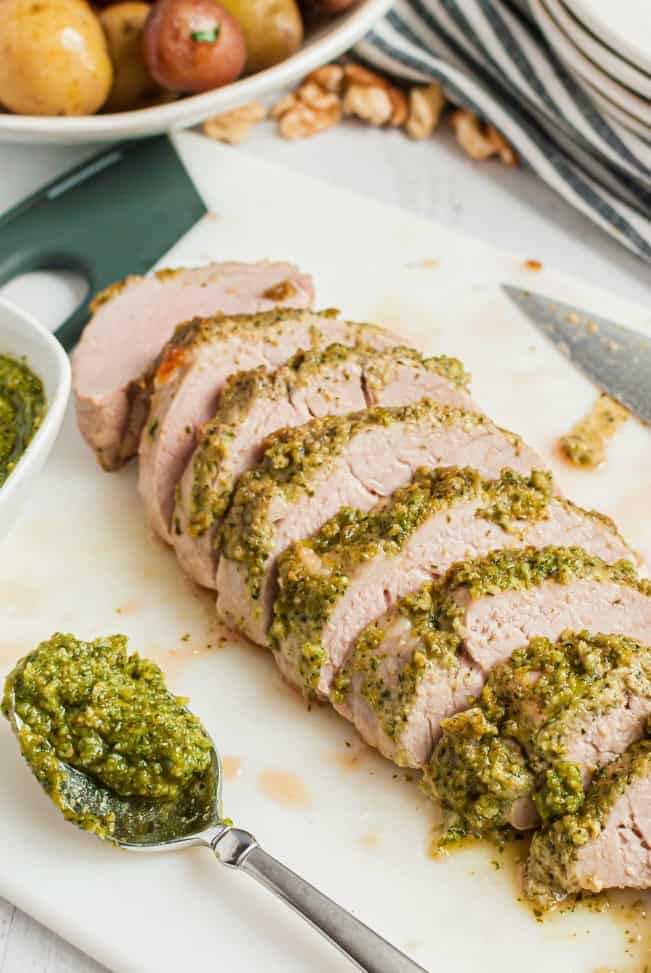 Pork and Pesto
My whole family was amazed by how well this pork went with our favorite pesto recipe!
Chicken, fish and pasta are all obvious vehicles for eating pasta, but I think pork tenderloin might have earned the top spot (for now, at least!).
Pesto is one of those sauces that I just never get sick of, no matter how often I make it. All the fresh summery flavors and a hint of nuttiness from the walnuts makes it completely irresistible to me.
Traditional pesto recipes call for pine nuts, but I find adding walnuts creates a depth of flavor that can't be matched.
Plus, the remaining Fisher Nuts walnuts make a great snack!
If you find yourself standing over the kitchen counter eating this pesto straight out of the food processor with a spoon, don't say I didn't warn you!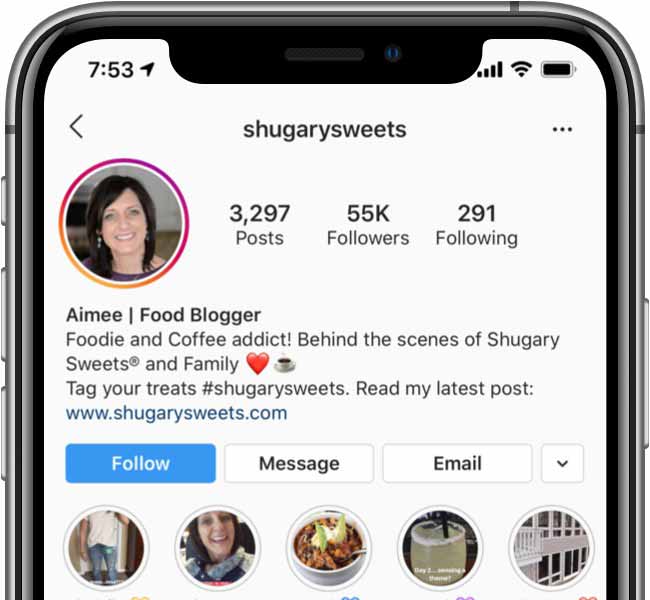 How to Make Pesto
Here's what I use in my pesto recipe:
Fresh basil
Fisher Nuts Walnuts
Garlic
Olive oil
Parmesan cheese
Salt and pepper
Put the basil, walnuts and garlic in the food processor first. Pulse together for a few minutes until blended, then add the Parmesan and drizzle in the olive oil. Blend for another minute or so until you reach the consistency you prefer.
Serve it right away with the pork or store in the fridge for up to 1 week.
You can freeze pesto, too! When I have a lot of fresh basil to use, I sometimes make numerous batches of pesto at once, then freeze in meal-sized portions.
When I'm in a hurry and need an easy dinner everyone will like, I have pesto ready in the fridge to save the day!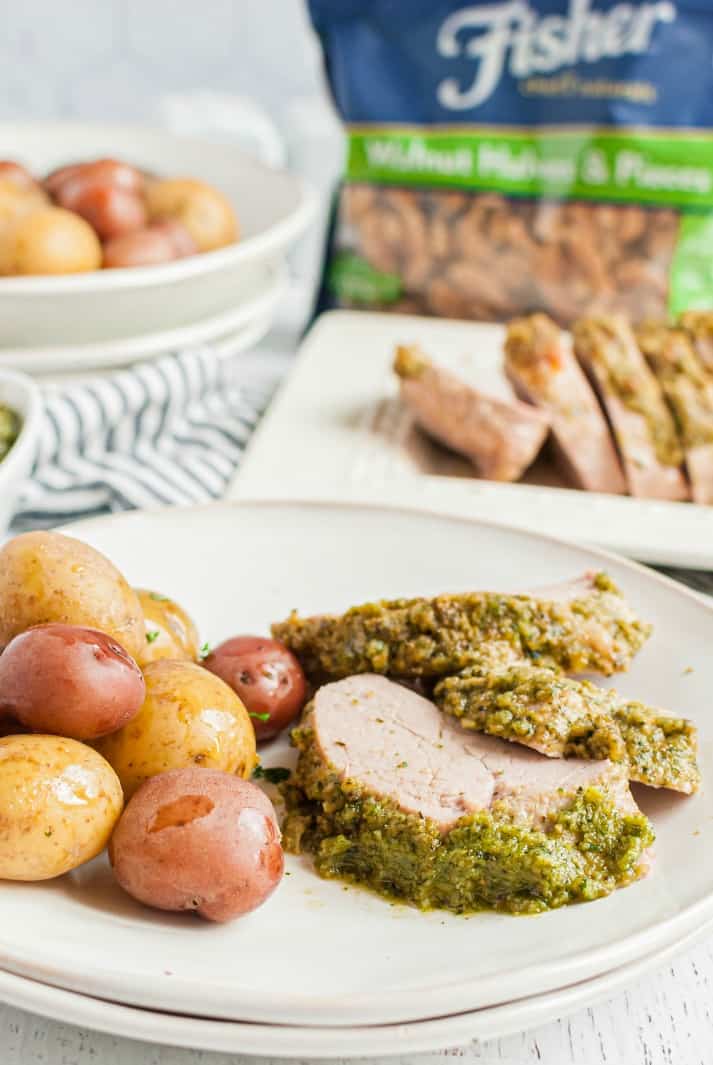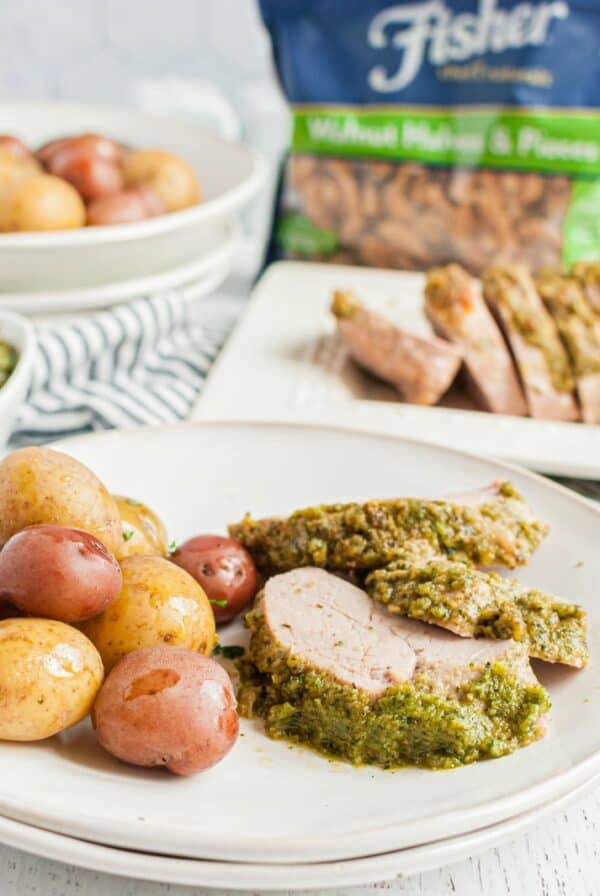 Tips and Tricks
Trim the tenderloin (or buy it pre-trimmed!). All excess fatty tissue on the outer surface of the meat should be removed, along with any connective tissue, prior to cooking. You can do this yourself with a sharp knife or get it ready to cook right from the butcher counter.
Check the temperature! A basic meat thermometer goes a long way when it comes to cooking the best pork. Check the temperature of your tenderloin regularly as it cooks and be sure to remove it as soon as it reaches between 140 and 145 degrees. The meat will continue cooking as it rests. Overcooking the pork even a little will greatly diminish the flavor and juiciness.
Let it rest. As great as this pork tenderloin smells when you pull it out of the oven and as tempting as it will be to dig your knife right in and gobble it up–don't. Letting the meat rest for about 10 minutes helps redistribute the juices, making it tender and even more flavorful. You can cover it with aluminum foil if you like to keep more of the heat in, but it's not necessary.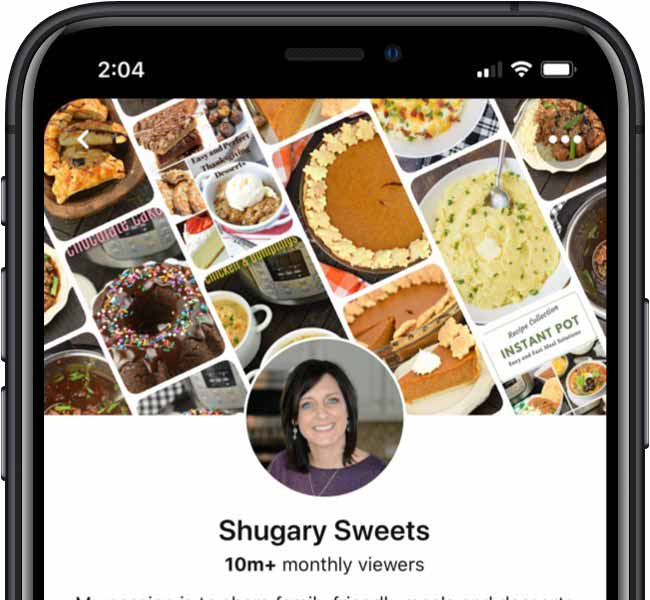 Pork Tenderloin Vs. Pork Loin
One more important note: pork tenderloin and pork loin are not the same!
In fact, they're entirely different since they come from different parts of the animal. Pork tenderloin is a long and narrow cut of meat while loin is significantly wider and denser.
In fact, they're entirely different since they come from different parts of the animal. Pork tenderloin is a long and narrow cut of meat while loin is significantly wider and denser.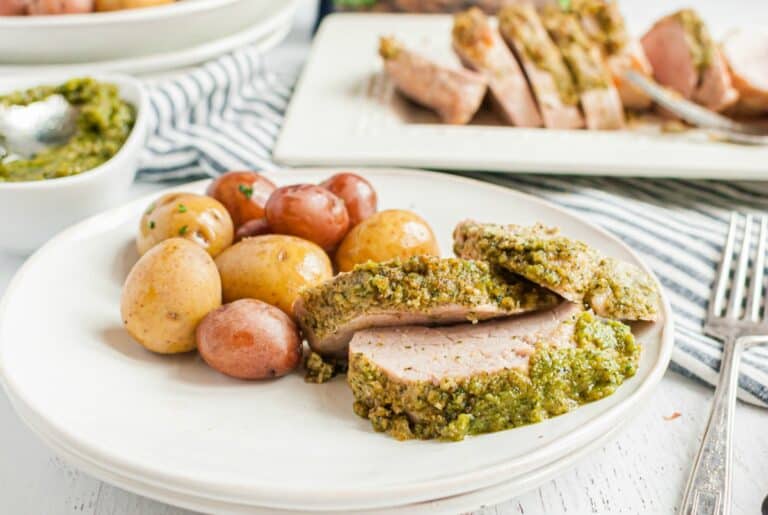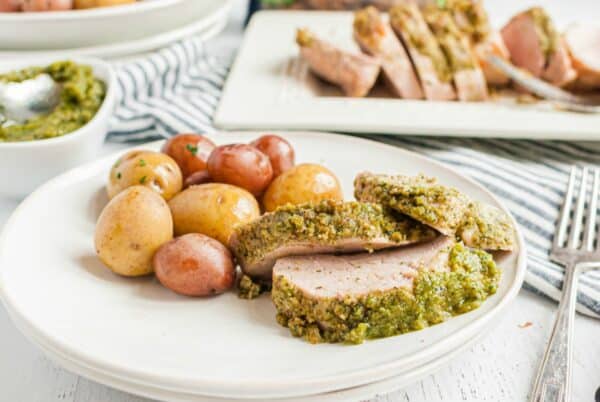 Fisher Nuts Walnuts
I've been working with Fisher Nuts for many years creating delicious dinners and dessert recipes!
I love their nutty flavor that tastes amazing straight out of the bag, no toasting necessary!
The resealable bag is perfect for on-the-go snacking, or storing in your pantry for more delicious treats!
You can grab your favorite Fisher Nuts on Amazon!
Fisher Nuts are fresh right out of their shells, are preservative-free, non-GMO, and gluten-free. Clearly a great choice for sharing with family and friends!
More Fisher Nuts Recipes
This recipe checks all of my boxes: easy, fast and irresistibly good! Using two of my favorite ingredients, Pesto Pork Tenderloin is destined to make many, many more appearances on my dinner table this summer.