Pesto Pasta
Right now I have basil bushes growing in my garden. Three of them. It's a lot of basil. One of my favorite things to make is homemade pesto! Well, that and bruschetta. The kids were a little afraid of the overwhelming "green factor", but it turned out they really enjoyed the pasta!
The best part though, is pesto is so EASY to make. Easy is very important. Especially when school starts, we have homework, sports, and lots of baking. I want my dinners to be easy.
Enjoy!
Ingredients
1/2 cup olive oil
1/2 cup pine nuts
2 cup basil leaves
1/2 cup grated parmesan cheese
4 cloves garlic, peeled
1/2 tsp salt
1/4 tsp pepper
12 oz angel hair pasta, cooked and drained
Instructions
Cook noodles according to package directions.
Place remaining ingredients in food processor. Process until blended. Serve over warm noodles. Enjoy!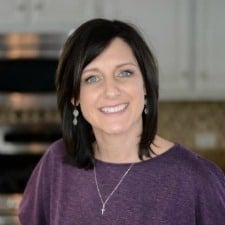 Aimee is a dessert lover (specifically rice krispie treats), workout enthusiast, self-taught foodie, and recipe creator. Her recipes have been featured in over 15 magazines, and her passion is to share her love of cooking with the everyday home cook! Learn more about Aimee.