Simple and delicious, Pesto Pasta uses fresh basil and garlic for an easy and crowd pleasing dinner. Add some grilled chicken or fish for a complete meal.
Easy pasta dinners are our jam! We love this simple Lemon Garlic Pasta recipe. Whether you enjoy it as a meal or a side dish. Or try this Million Dollar Spaghetti Casserole for dinner tonight. Hearty and delicious.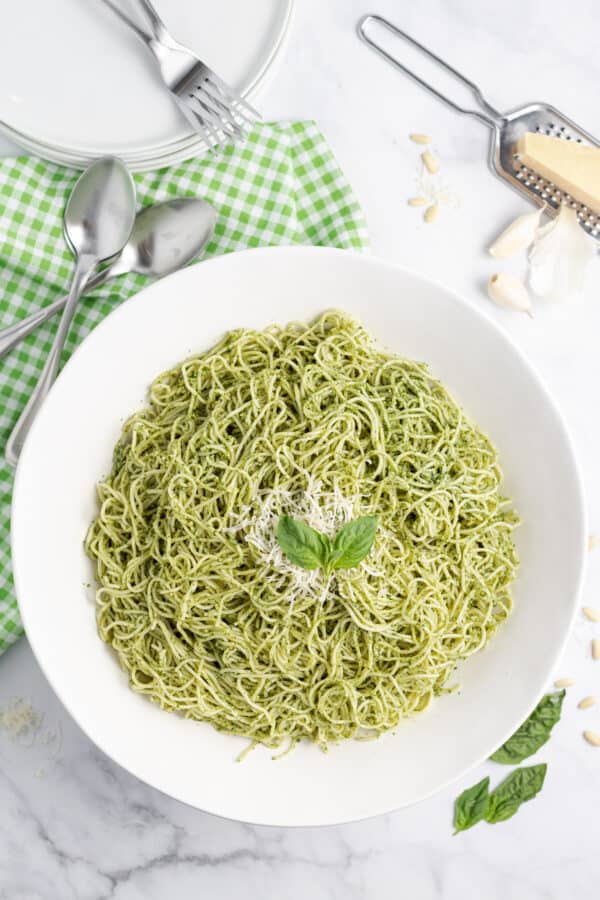 Why this Recipe Works
Right now I have basil bushes growing in my garden. Three of them. I love basil and cook with it often but even for me–It's a lot of basil.
Lucky for me, this means I have an excuse to make a ton of pesto. Homemade pesto is one of my all time favorite things. Well, that and bruschetta.
I served this pesto pasta for dinner last night and it was a big hit!
I admit that the kids were a little afraid of the overwhelming "green factor" of the pesto pasta at first. Luckily, once they tried it they were sold! They really enjoyed this easy pasta dinner and already asked if I can make it again soon.
It put my garden basil to good use, came together quickly AND my kids liked it? I'd call that a roaring success.
With my basil plants still going strong, I'm excited to make many more pesto meals in the weeks to come. (I also need to remember to make a Cucumber Tomato Salad and with some of the basil soon!)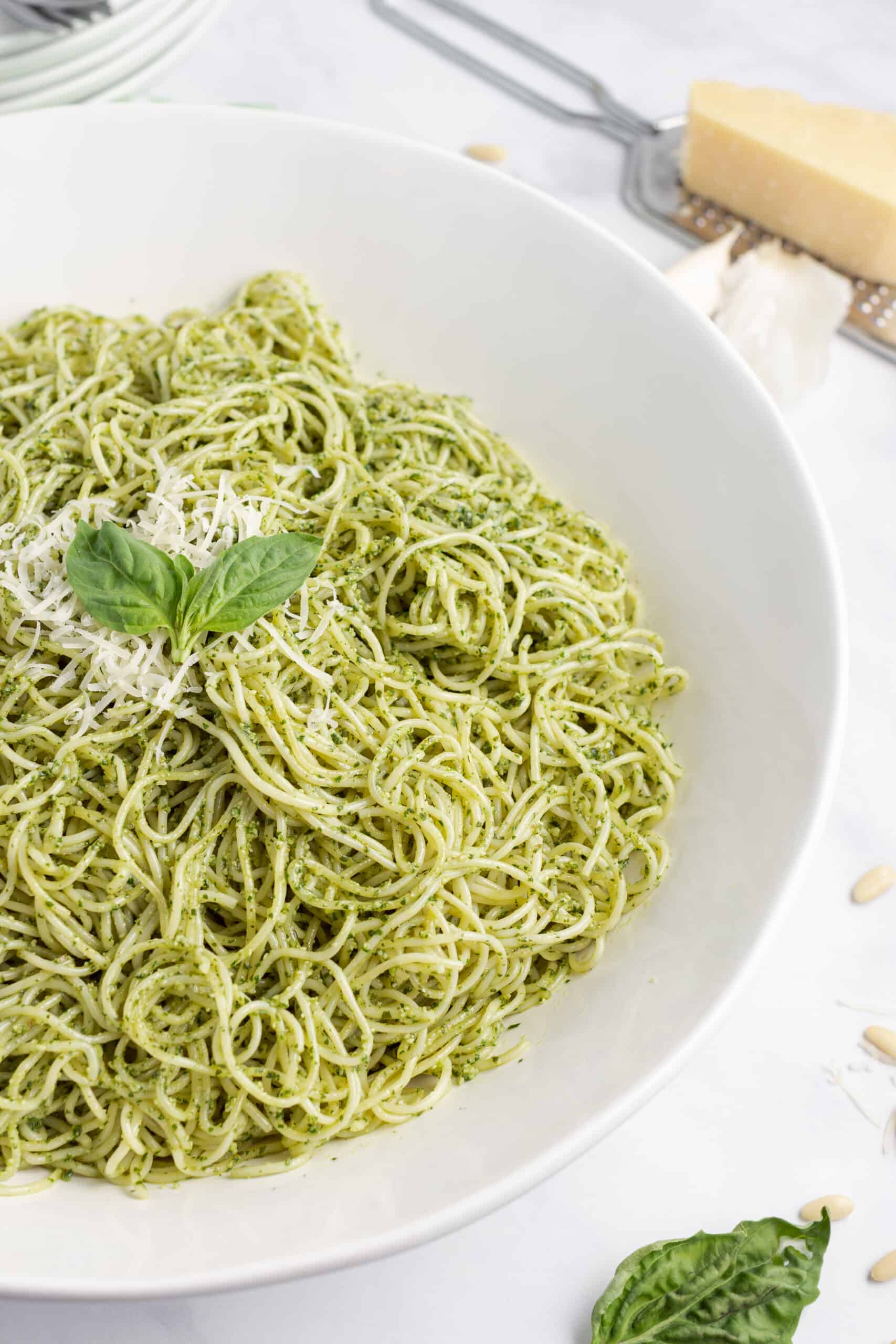 Easy Easy Easy
The best part about this recipe though, is pesto is so EASY to make. Easy is very important.
Especially when school starts, we have homework, sports, and lots of baking occupying our evenings. The last thing I want to do is have to think about what to make for dinner–and spend time preparing it.
I want my family dinners to be easy and hassle free; no fuss required. Of course, they also need to be delicious and kid approved. I know I'm not alone in that!
You can never have too many easy weeknight dinner recipes to fall back on when life gets busy. I'm excited for you to try this pesto recipe and add it to your list of go-to meals.
This pesto recipe is garlicky and fragrant with a rich savory flavor from the pine nuts. It's an ideal summertime meal using herbs straight from the garden, but it's also more than worth buying a bunch of basil from the store if you don't grow your own.
Ingredients Needed
If you can use a food processor, you can make homemade pesto. Here's what you need:
olive oil
pine nuts
basil leaves
parmesan cheese
garlic
salt and pepper
Step by Step Instructions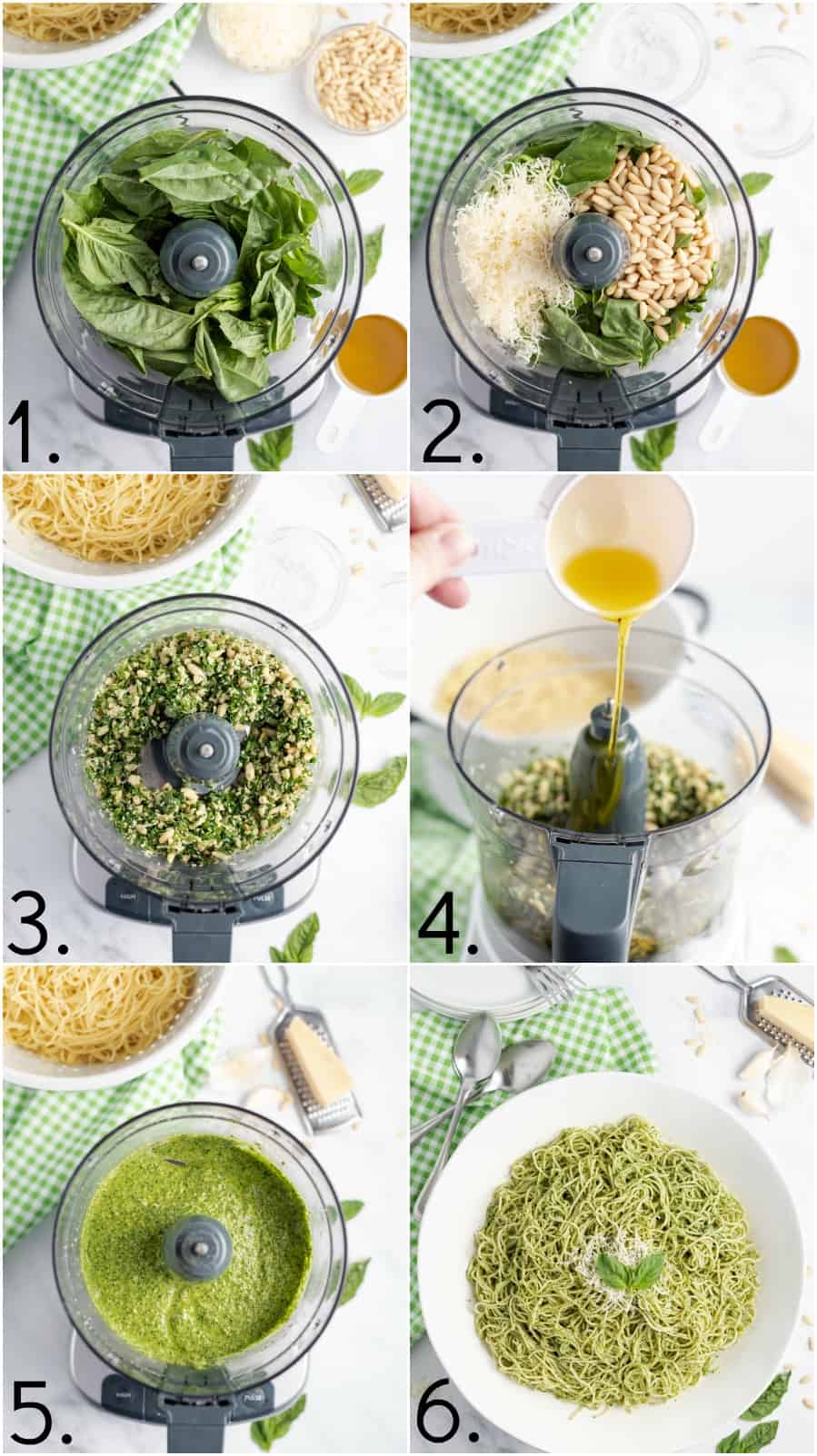 Place everything in the food processor and pulse until combined. Pesto should have a little texture to it so be careful not to puree it! Taste and adjust the salt and pepper if needed. Toss with warm noodles and serve! 
Sometimes the simplest meals are the best; this pasta with pesto is tasty and satisfying just as is. It's also delicious with the addition of vegetables like steamed or sauteed broccoli, tomato and peas.
Throw in some cooked chicken and you have a Chicken Pesto Pasta dinner that's ready in almost no time at all.
Storage
Any leftover pesto should be stored in an airtight container in the fridge.
It'll keep for up to 5 days; but it never lasts that long in this house. When I made this recipe, I served the whole batch with our pasta and there wasn't a single bite leftover.
Feeding a crowd? Feel free to double the recipe.
Depending on the size of your food processor, you may need to make it in two batches to ensure everything gets combined.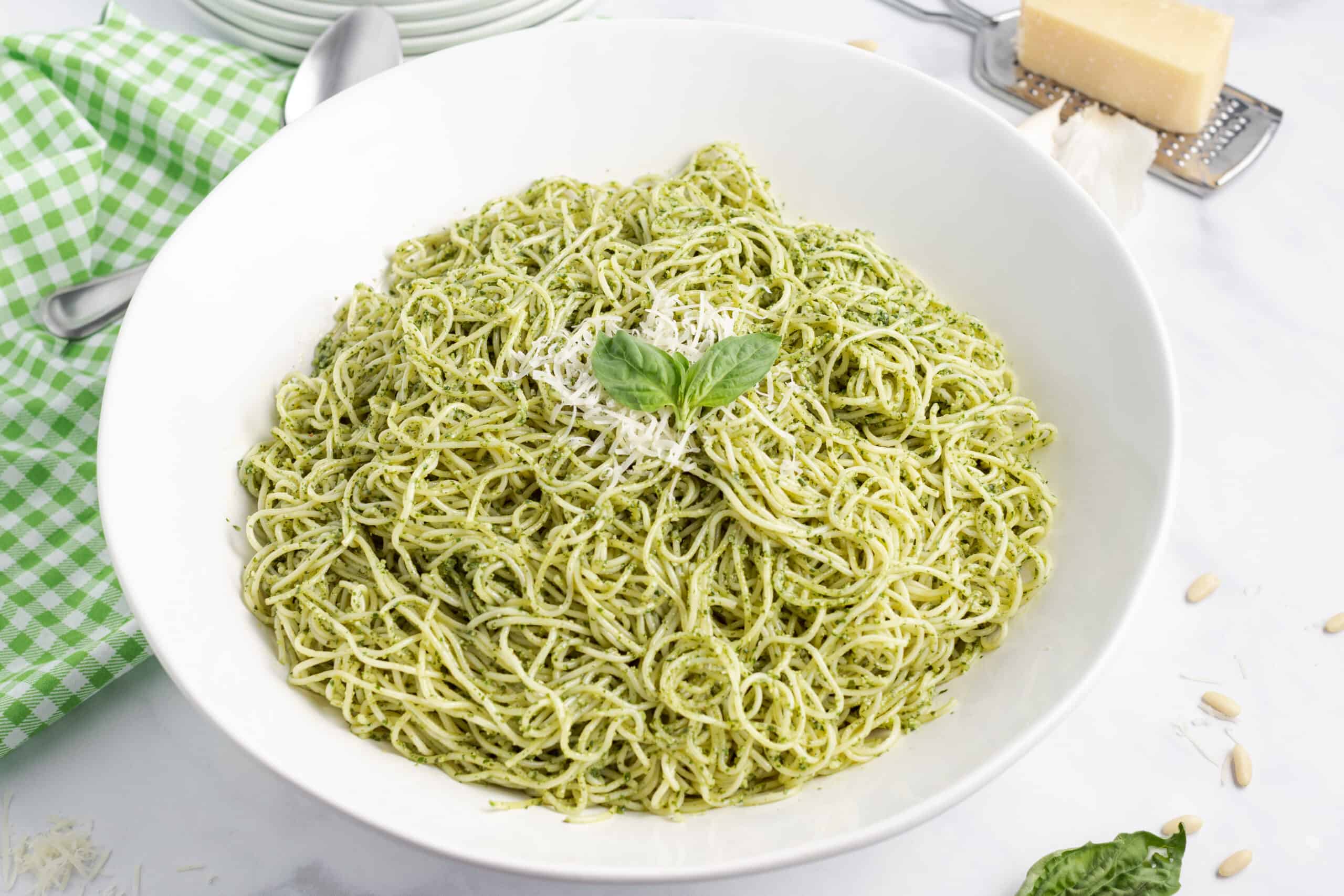 Can you freeze pesto
Making pesto to freeze is a great way to store summer flavor from your garden for the colder months.
Freeze it in airtight freezer safe bags and let defrost in the fridge before warming when ready to serve.
You can also freeze pesto in smaller portions by freezing it in ice cube trays. This method means you can remove only what you need for a meal without defrosting an entire batch.
Serving Suggestions
I served this pesto over angel hair pasta. It's also delicious on spaghetti, penne, bow tie or just about any other kind of noodle you like.
Leftovers, if you have any, make a great lunch the next day.
Pesto pasta tastes good served warm or cold, making it a great option to pack into lunch boxes for the office or school.
You can also enjoy this pesto on chicken and fish or as a spread for sandwiches. A bowl of pesto served with crusty fresh bread makes a beautiful appetizer or party snack as well!
Pesto Pork Tenderloin is a delicious way to enjoy homemade pesto!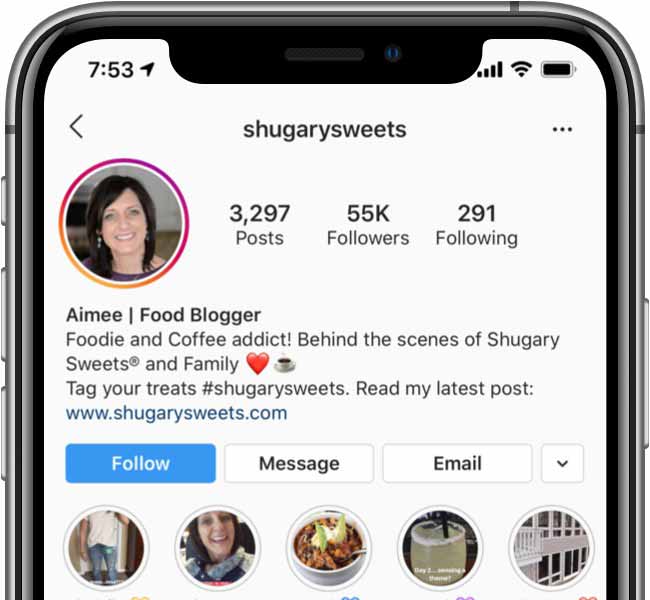 More Easy Dinner Recipes
Basil, garlic, pine nuts and Parmesan cheese come together over pasta for a simple, fresh and flavorful dinner.