Thick and juicy, this crispy parmesan oven Baked Pork Chops recipe is delicious. The BEST pork chop recipe you'll ever need!
Serve these thick chops with a batch of homemade applesauce for a complete meal. Or whip up a batch of baked mashed potatoes to serve on the side.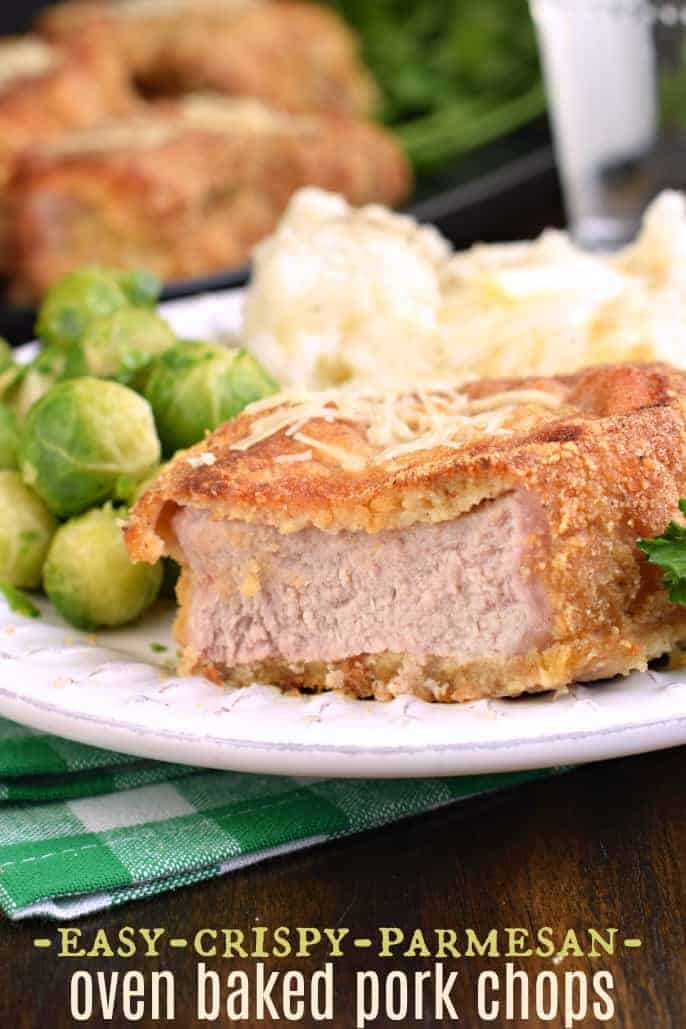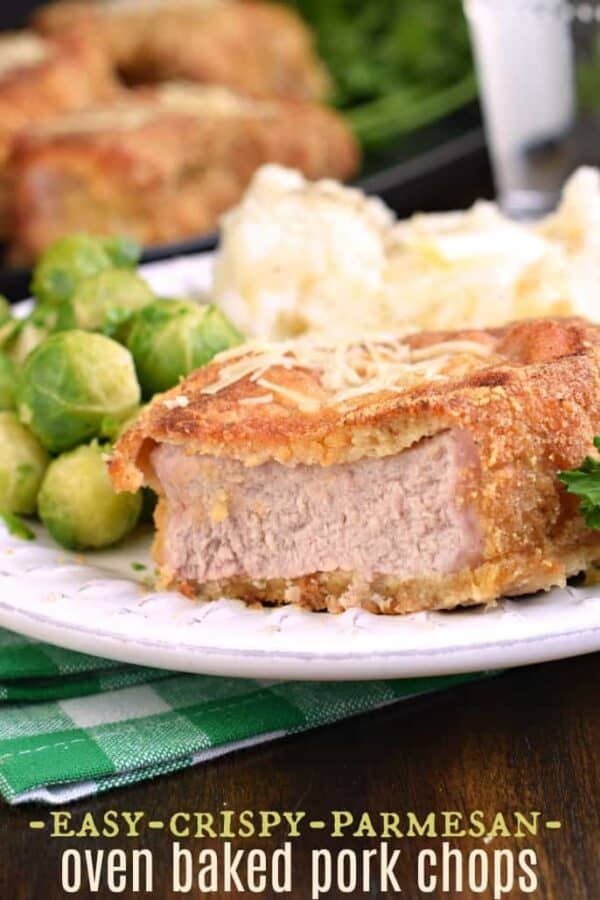 Why this Recipe is Best
There's always that one dinner that you grew up eating that you did not like.
For some people it might have been meatloaf. Or stuffed peppers. And for others it's pork chops.
Well, here's why most people remember hating pork chops. They were always dry. And chewy. And not very flavorful.
Guess what? I've fixed that problem for you! Gone are the pork chops of your childhood. Say hello to new and improved pork chops. The good ones. Delicious, moist, FLAVORFUL pork chops.
Are you intrigued?
There are a few reasons why my recipe is THE BEST you'll find.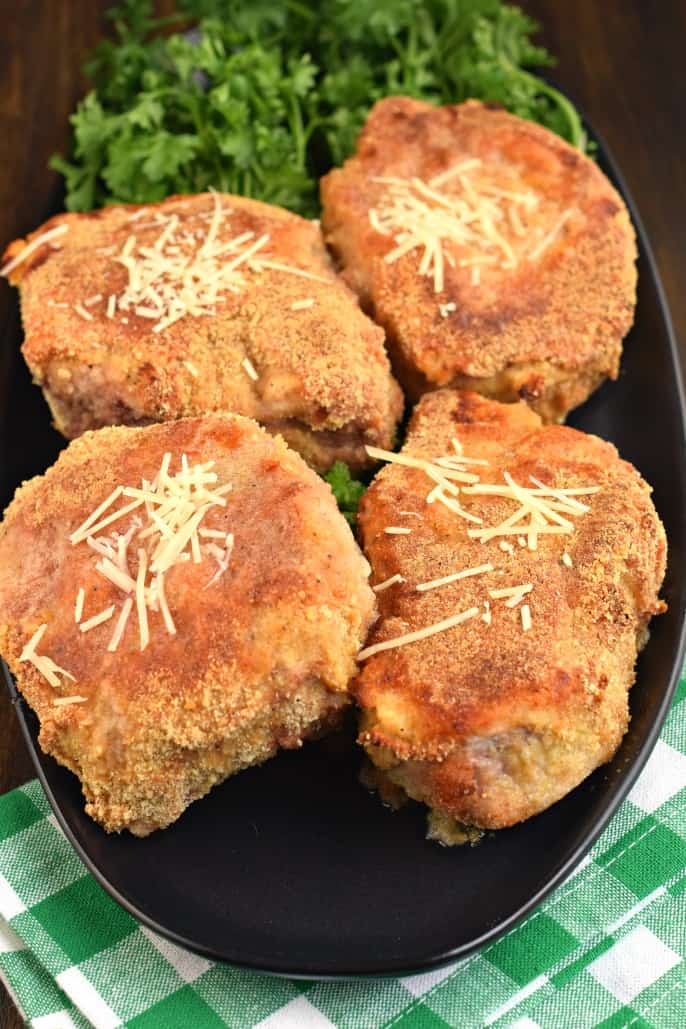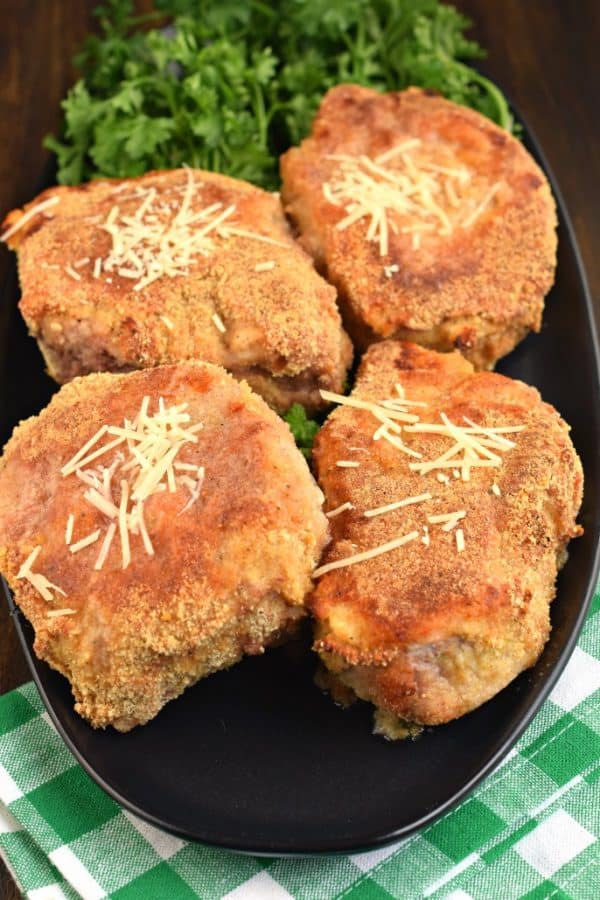 Tips and Tricks
First, you'll want to start with the perfect cut of pork.
I bought double thick, boneless pork chops. They turned out so moist and juicy and have a thick strip of fat along the rim. It's easy to trim off after cooking your chops!
Parmesan Cheese. To get the most flavor in your baked pork chops recipe, you'll want to use grated parmesan. Whether you freshly grate it yourself, or use the stuff in the green can, you'll get maximum flavor by choosing this option over shredded.
Shredded parmesan cheese will make a great garnish on today's pork chop, however it won't make a nice topping. You want to opt for the grated to help make your crunchy crust, as it blends well with the seasonings and breadcrumbs.
Next, I double dip my pork chops in my eggs and dry ingredients. Sure, once COULD be enough for some, but why not make a thick coating of flavor for your thick pork chops?
When baking, flip your pork chops halfway through. Not only does it help create even cooking, but you'll get a tender, browned crust on both sides of your pork chop (instead of a soggy bottom crust).
Finally, cook your pork chops to a temperature of 145 degrees F. Back in the day, our parents were told to cook pork chops until no longer pink, and cook until 160 degrees. Well, those rules have changed, and a little pink in the pork chop is acceptable (and encouraged for flavor)!
How to make Oven Baked Pork Chops
Egg Coating. In a shallow bowl, whisk 3 eggs together until blended. 
Parmesan Crust. In another shallow bowl (or pie plate), combine parmesan cheese (grated works best), breadcrumbs, paprika, kosher salt and pepper. Use a fork to blend completely.
PRO TIP: Line a large baking sheet with foil for easy clean up.
Double Dip. Pat your pork chops dry with a paper towel. Dip your pork chop (on both sides) into the beaten egg, coating completely. Then immediately dunk it into the dry ingredients. Use your hands to really press and pat on the parmesan breadcrumb mixture.
Repeat by dipping the same pork chop back into the egg, then again into the bread crumbs. Make sure to really press the mixture over the pork! Place on your baking sheet.
Bake in the oven for about 45-60 minutes, really making sure to use a meat thermometer to check the doneness. If your pork chops are thinner, shoot for 25-35 minutes.
PRO TIP: One more instruction, at the halfway baking point, flip your pork chop over using a pair of tongs. This will help your create a crunchy crust on BOTH sides of your pork chop.
To serve, sprinkle with a little bit of shredded parmesan cheese and fresh parsley!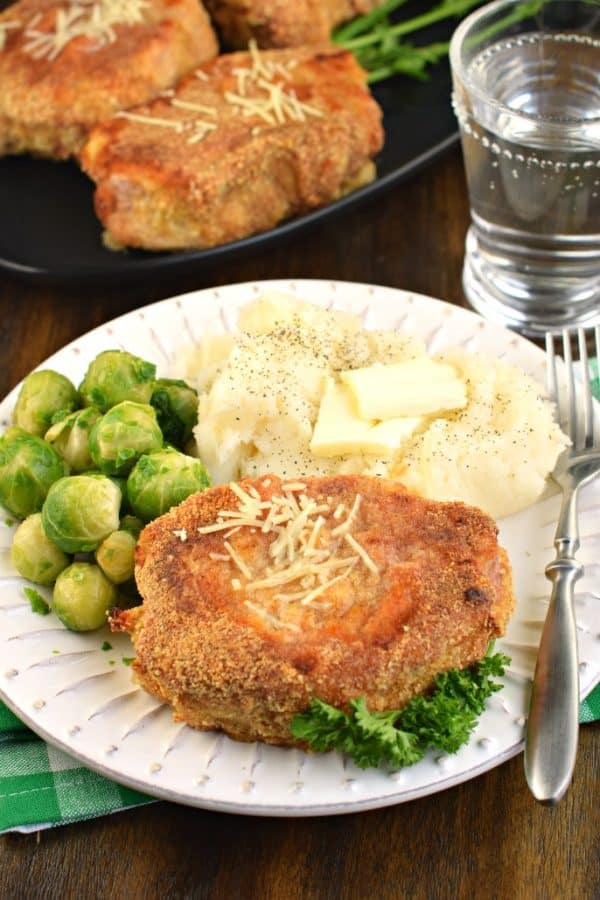 How long do you Bake Pork Chops
This is a common question. The thicker the pork chop, the longer you will need to bake them in the oven.
The boneless pork chops that I used were close to an inch thick. They required about 45 minutes in a 350 degree oven.
Bone-In pork chops require about 10% MORE cooking time, so make sure you factor that into your planning if you bought pork chops with bones.
Thinner pork chops will take approximately 25-35 minutes, while VERY thin *under 1/4 inch* will be even less.
Your best friend when cooking pork chops is a meat thermometer. I rely on this instant thermometer for all my meat cooking needs!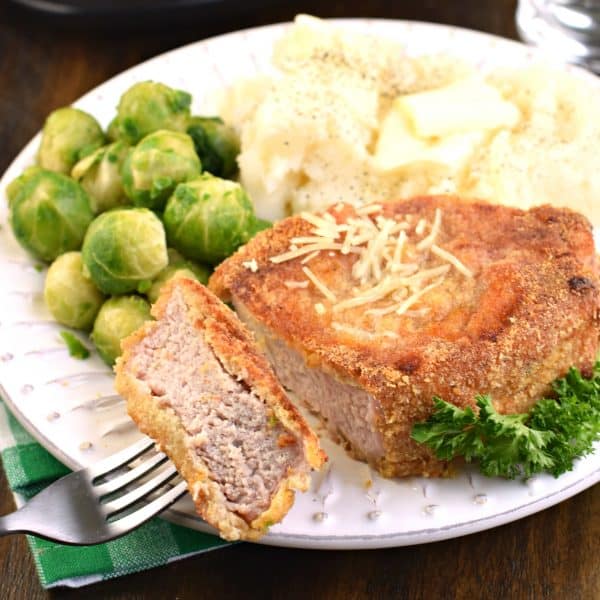 Recipe FAQs
Why are my pork chops tough and dry?
Overcooking pork chops for even a few minutes extra leads to dry chops. Internal temperature should be 145 degrees F.
Should you cover pork chops while baking?
No. Keep your pork uncovered in the oven while baking.
Why are my pork chops soggy?
Halfway through the cooking time, use a pair of tongs to flip your chops.
Can I bread my pork chops ahead of time?
The parmesan breading is best when applied right before baking.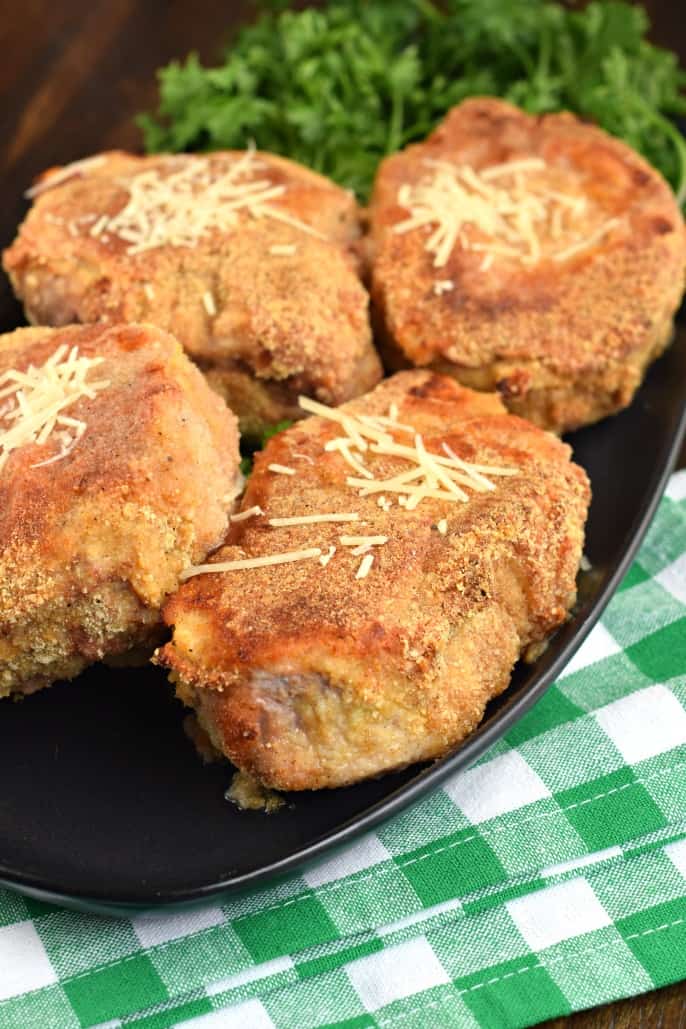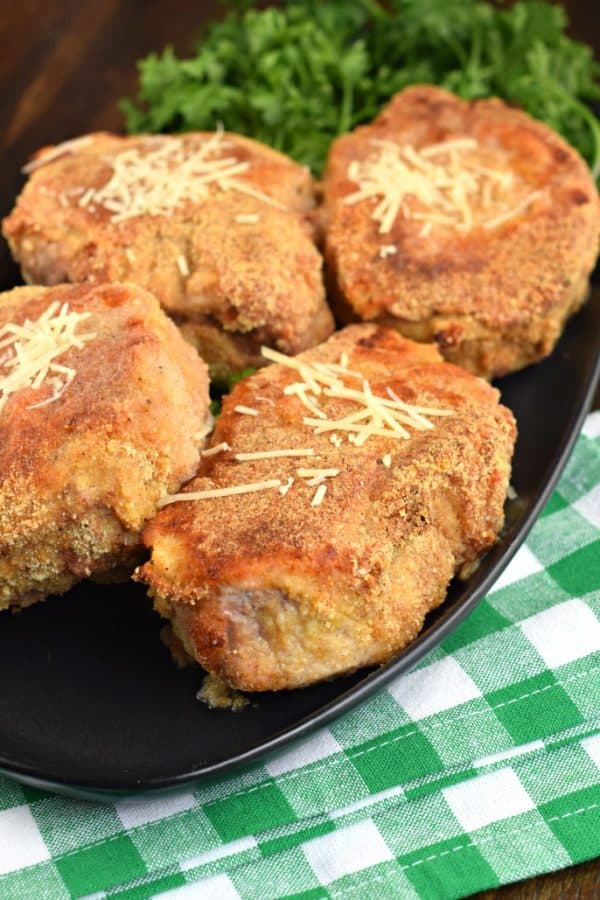 What to serve with Baked Pork Chops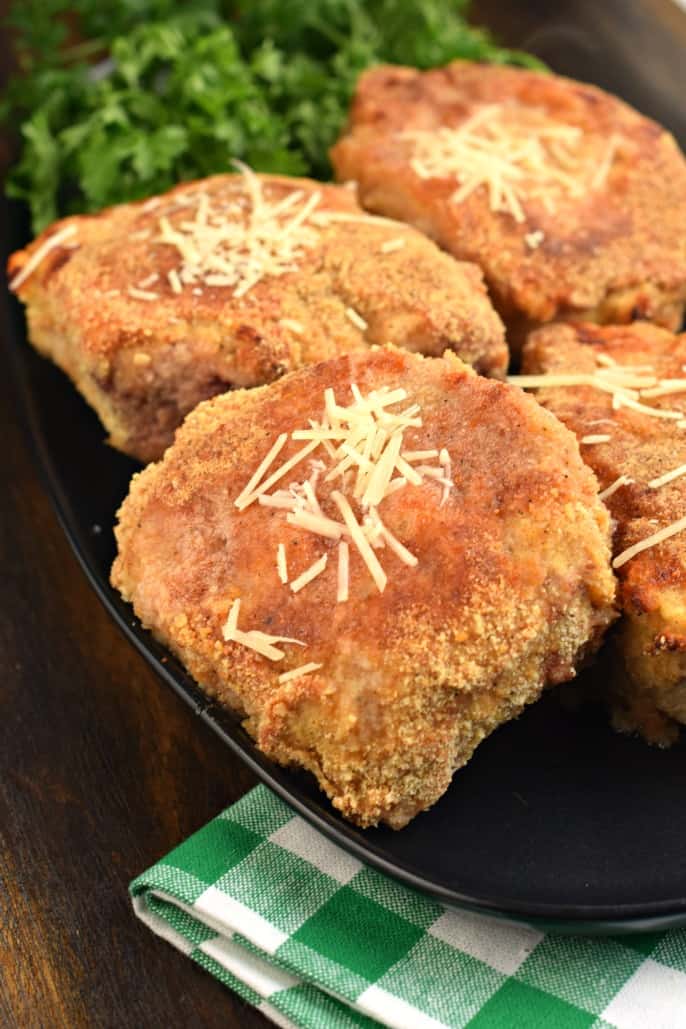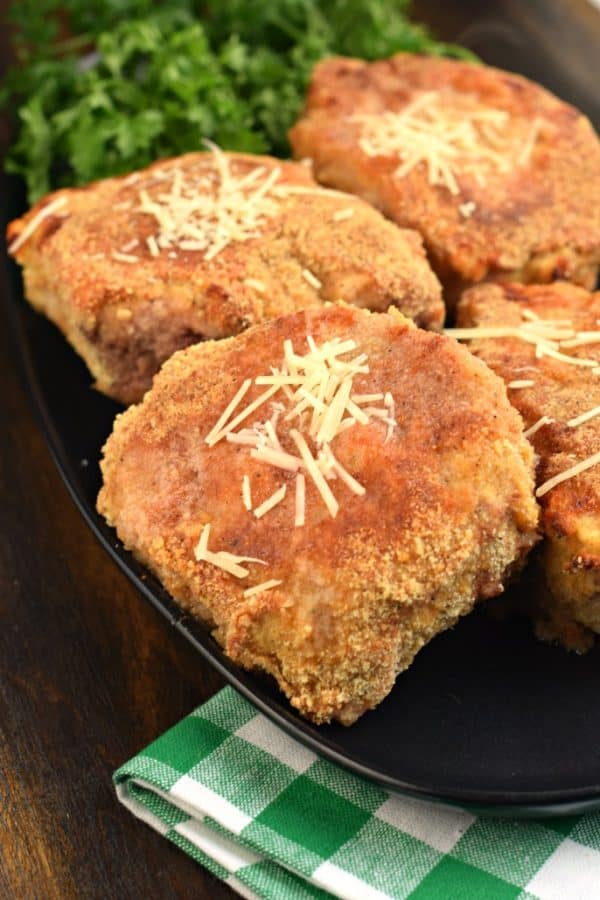 Favorite Pork Recipes
Tender Pork Tenderloin seasoned with a Chipotle marinade and drizzled with a Cilantro Lime Sauce. This is one weeknight dinner dish that my whole family loved!
These Breaded Pork chops with Peach Glaze have a homemade shake and bake breading! So tasty!
Thick Apple Stuffed Pork Chops with Herbed Gravy. Perfect for family dinner or having company!
Grab your slow cooker and make some of this smoky Kalua Pork! Tender and juicy, it's so versatile…sandwich, pizza, and more!
Oven Baked Pork Chops recipe with a thick parmesan crust, baked to perfection. This makes a delicious weeknight dinner idea!