This easy Homemade Applesauce is made with fresh apples and apple juice for BIG apple flavor. Enjoyed warm or cold, it beats the store bought stuff by a mile. And it only takes THREE ingredients!
Save your leftover applesauce to make a loaf of Chai Apple Bread later. Or give our easy applesauce cake recipe a try next!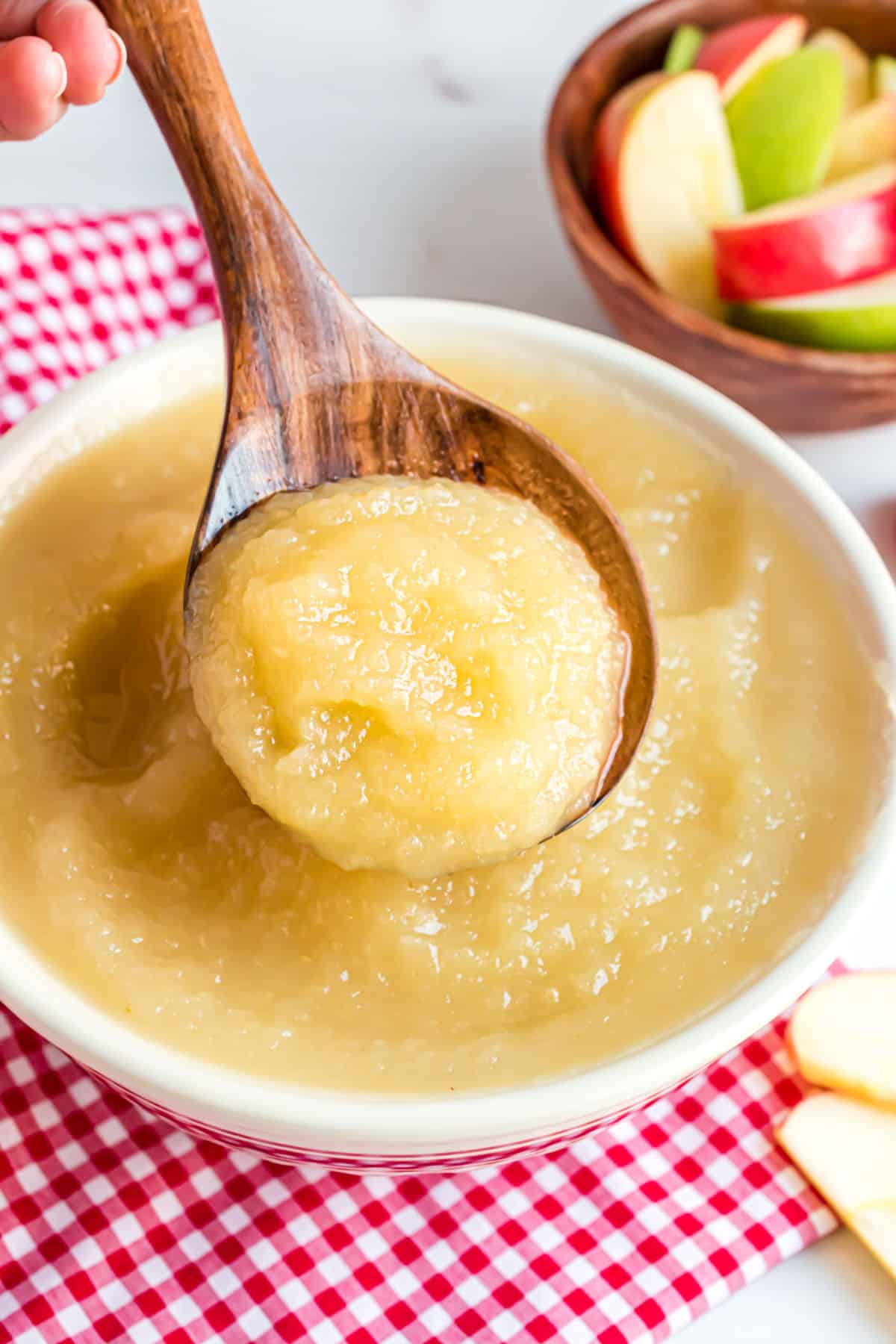 Why This Recipe is Best
Applesauce is available at any supermarket inexpensively. But I promise you, making your own from scratch is totally worth it!
Apple juice instead of water. Simmering apple chunks in juice gives this homemade applesauce extra sweetness and flavor.
Quick and easy. 20 minutes on the stove and you have warm applesauce ready to serve.
Make it with or without cinnamon. The hint of spice adds cozy warming flavor, but it tastes just as delicious without.
The flavor difference between this easy homemade applesauce and the kind that comes with a foil lid is undeniable. Enjoy it on its own, as a side dish or as an ingredient in your favorite baked goods.
You can also make Instant Pot Applesauce for another quick and easy side dish.
Learning how to make some of the basics, such as cranberry sauce and toasted coconut will make you a hit in your own kitchen!
Ingredient Notes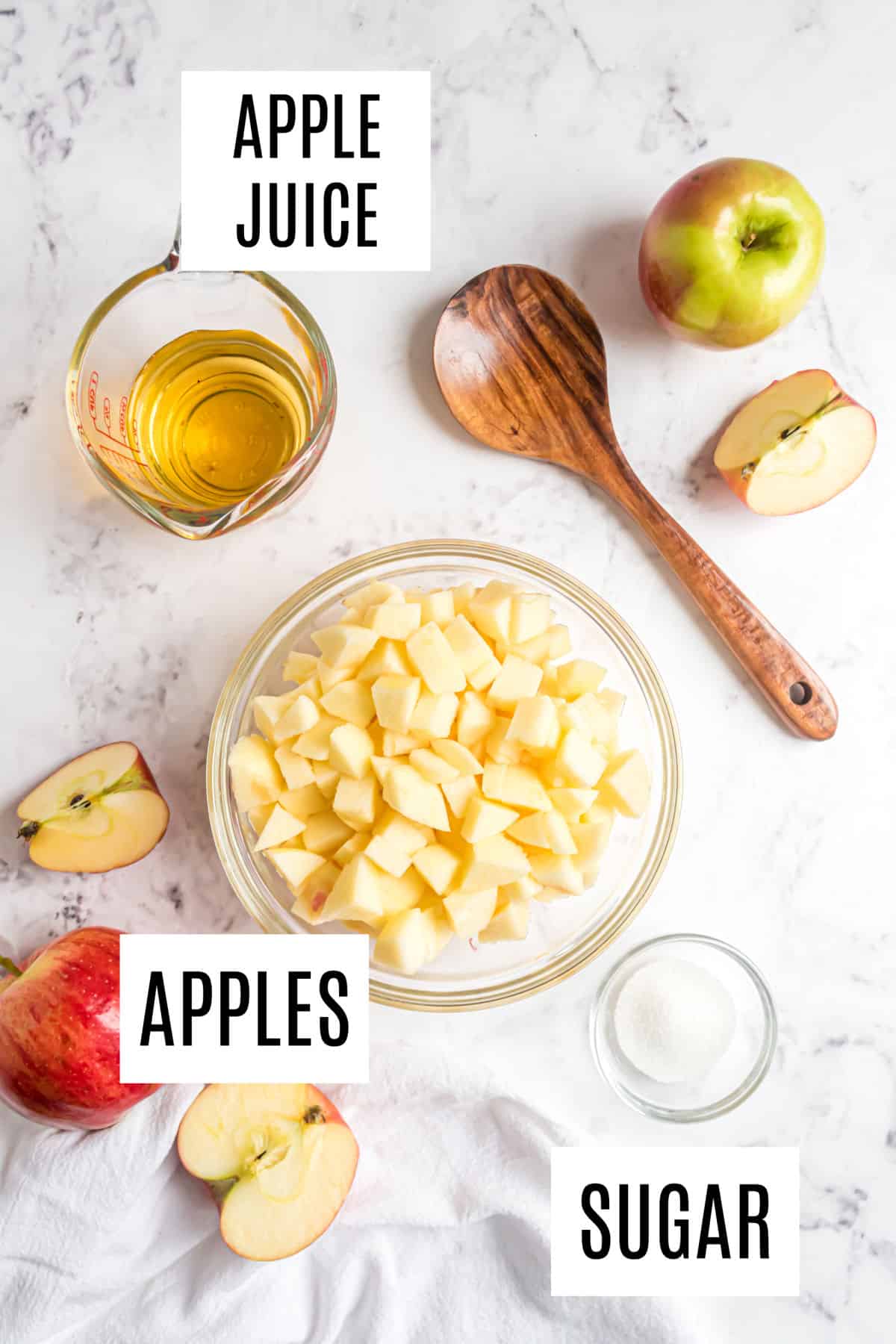 You only need THREE ingredients for homemade applesauce. It couldn't get any easier!
Apples – Peel, core and chop them into 1-inch chunks.
Apple juice – We use apple juice with no added sugars. Apple cider works great in this recipe too.
Sugar – A little bit of added sweetener magnifies the juicy apple flavor. You can leave this out if preferred!
Cinnamon (optional)- If you love spiced apple flavors, a touch of cinnamon is heavenly here.
Easy Instructions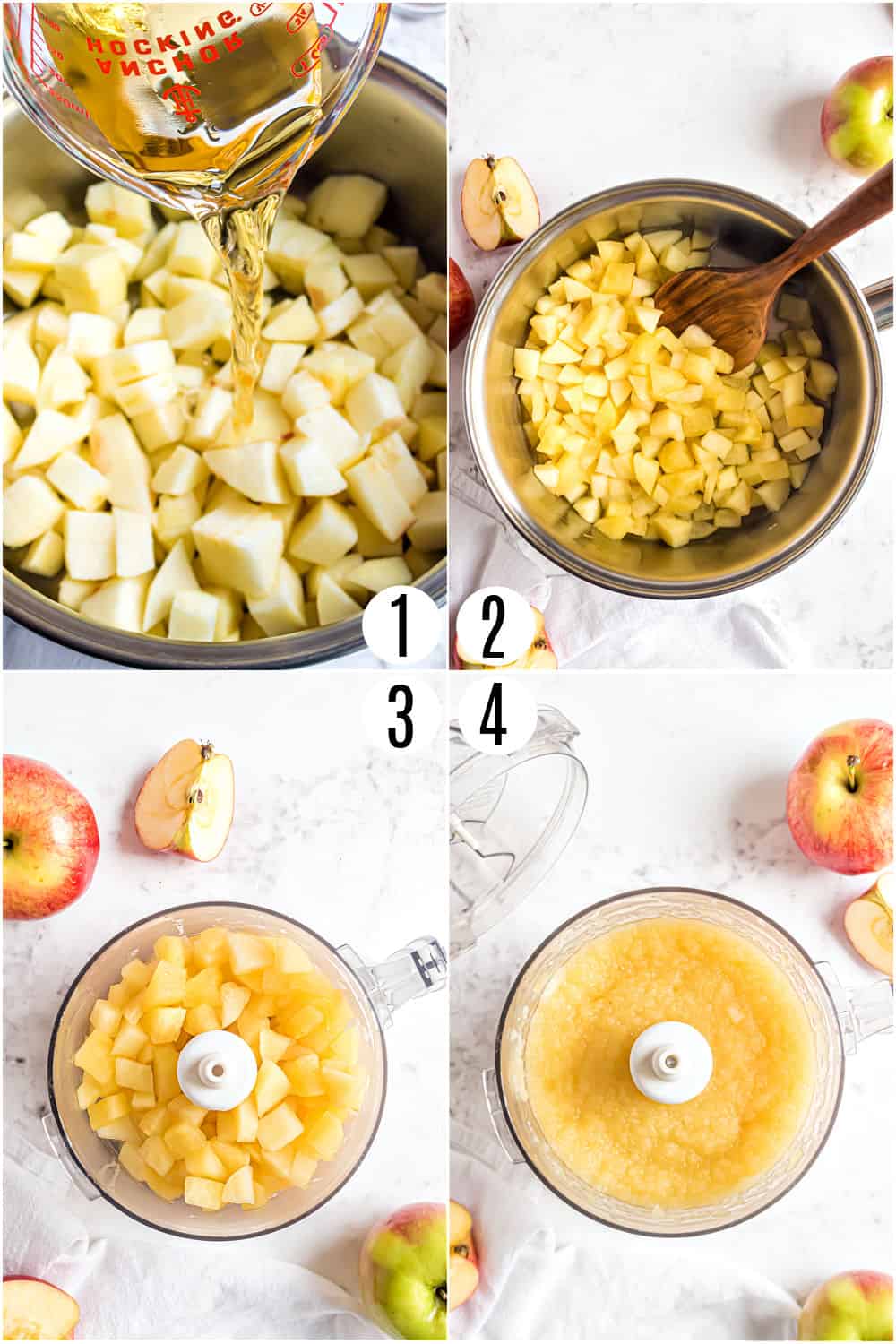 Simmer:
Start by combining all the ingredients in a saucepan. Simmer over low to medium heat until the apples soften and begin to break down. This takes around 15 minutes.
Blend:
Use a blender or food processor to blend the applesauce to your desired consistency. An immersion blender is perfect for this if you have one.
Enjoy your homemade applesauce warm right away or chill it before serving.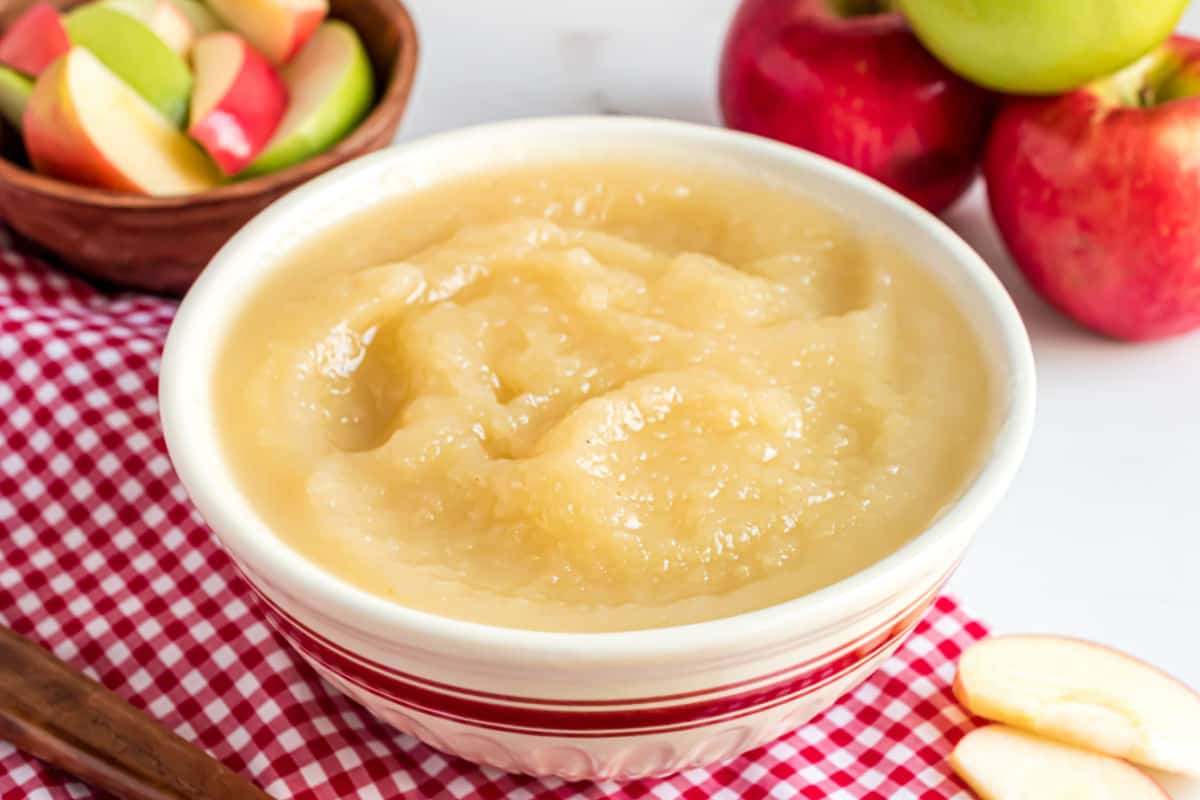 Tips and Tricks
Blending the applesauce: If you don't have an immersion blender, use caution when transferring the hot applesauce to the food processor or blender to avoid burns.
For thicker applesauce: Strain some of the liquids out of the sauce using a fine mesh sieve. Keep in mind that it does thicken naturally as it chills.
For chunky applesauce: Skip the blender and use a potato masher to break up the softened apples. This gives you more control over the consistency of the finished sauce.
Serving suggestion: Homemade applesauce is superb as an accompaniment to Instant Pot Pork Chops! Or as the main side dish to our oven baked pork chops!
Use in baking: Great to use in our pumpkin cupcakes recipe! Can be used with or without sugar added.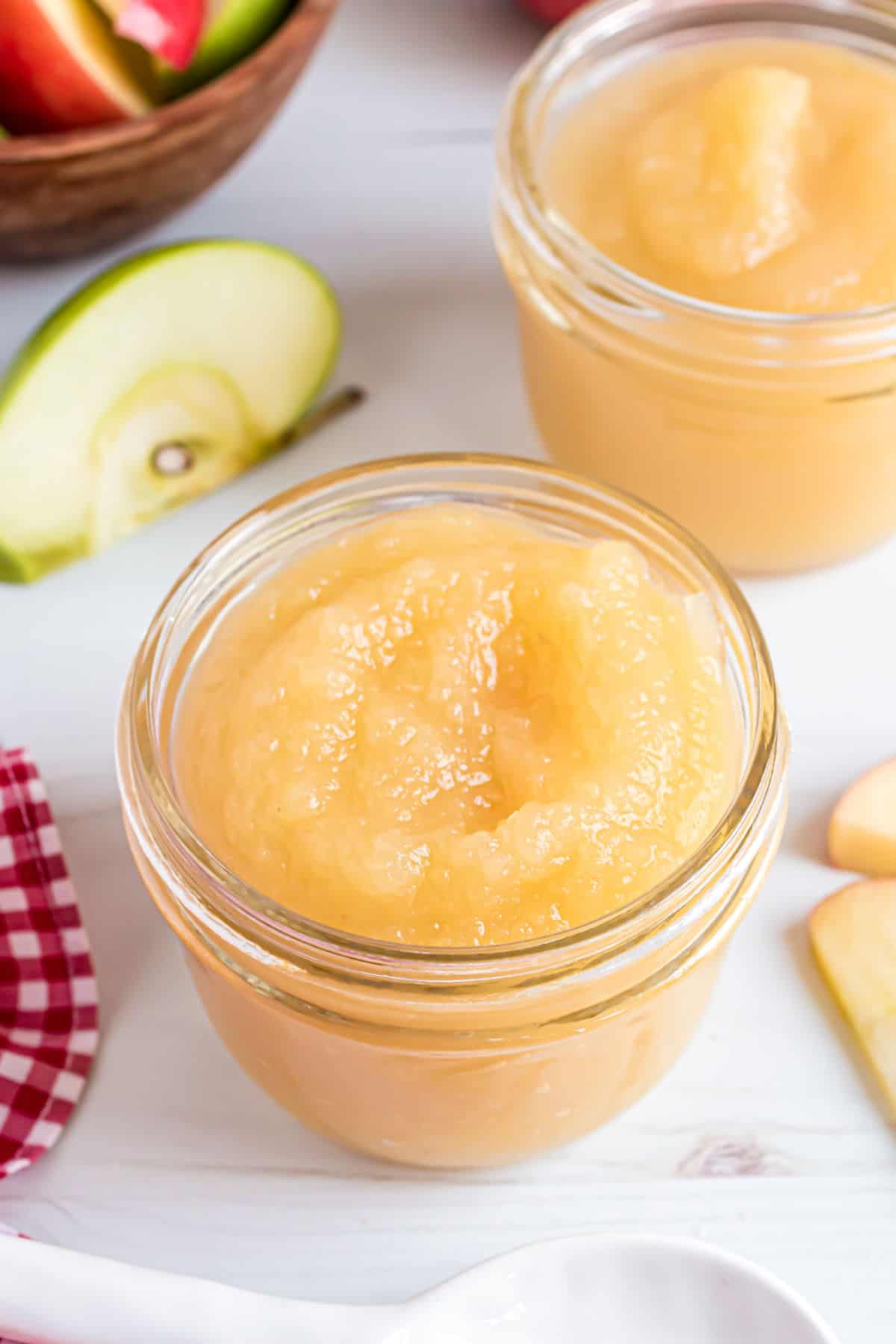 Recipe FAQs
What apples are best for applesauce?
The best apples for this applesauce recipe are McIntosh, Honeycrisp or Galas. I like to use a combination of two or three varieties for an ideal balance of flavors.
How do you store homemade applesauce? How long will it keep?
Keep applesauce in an airtight container in the refrigerator or store it in the freezer. It stays good for about one week in the fridge and up to six months in the freezer.
Do you have to peel apples for applesauce?
I prefer to peel the apples for a smoother consistency.
Some people like applesauce with more texture and color. If that's you, feel free to leave the apple skin on.
What spices are good in applesauce?
Cinnamon is the classic choice, but you can totally add other warming spices to this recipe. Try it with nutmeg, allspice or a sprinkling of this pumpkin pie spice.
More Apple Recipes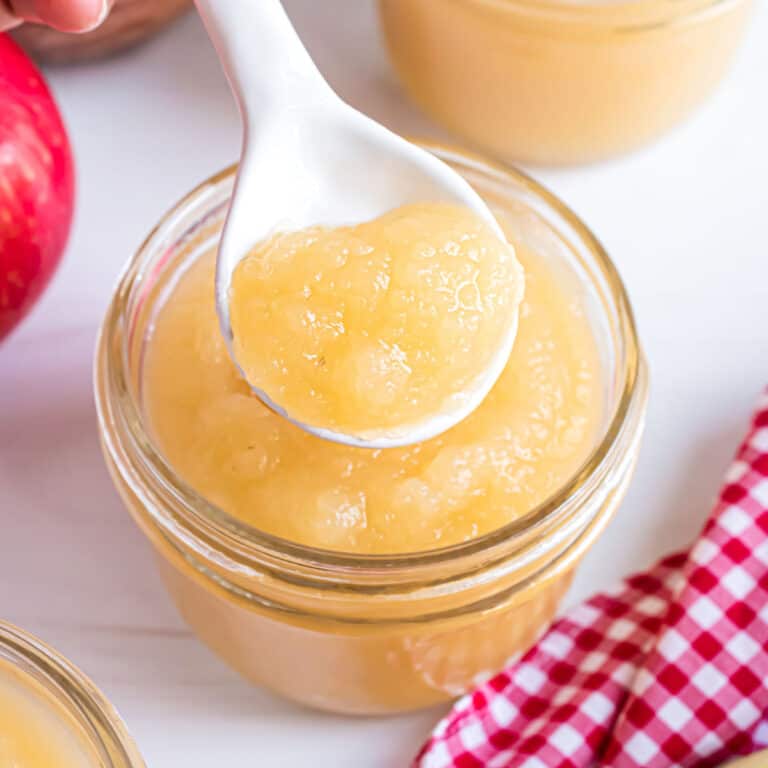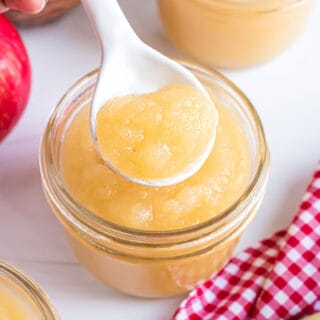 Homemade Applesauce
This easy Homemade Applesauce is made with fresh apples and apple juice for BIG apple flavor. Enjoyed warm or cold, it beats the store bought stuff by a mile. And it only takes THREE ingredients!
Ingredients
4

apples

peeled, cored and chopped into 1-inch pieces

½

cup

unsweetened apple juice

2

Tablespoons

granulated sugar

½

teaspoon

ground cinnamon

optional
Instructions
Combine apples, apple juice, and sugar in a medium size saucepan. (If using cinnamon, add now)

Cover and simmer over medium-low heat for 15-20 minutes or until the apples are soft and start to break down.

Transfer the mixture to a blender or food processor and blend until it reaches the desired consistency (or use an immersion blender).

Enjoy applesauce warm or refrigerate it and serve cold.
Notes
Store applesauce in refrigerator, in an airtight container, for up to 1 week. Mixture will thicken upon chilling.
Freeze the applesauce in an airtight container, like a freezer bag, for up to 6 months.
Apples: best choice are McIntosh, Honeycrisp, and Gala.
For a thicker applsauce, place the sauce in a fine-mesh sieve and allow liquids to pass through. If you prefer a chunkier sauce, opt for a potato masher after cooking the apples. Do not blend.
Other spices that could be added to the sauce: Cinnamon, Nutmeg, Allspice, Pumpkin Pie Spice.
Nutrition
Serving:
0.25
cup
,
Calories:
89
kcal
,
Carbohydrates:
23
g
,
Sodium:
2
mg
,
Fiber:
3
g
,
Sugar:
19
g
A cozy bowl of applesauce brings joy to body and soul! This Homemade Applesauce recipe is as easy as it gets.