Apple Slab Pie is a pie that's ready to party. This pie recipe has a cinnamon-spiced apple filling topped with a flaky crust and vanilla icing. Made in a jelly roll pan, it's so easy to cut and serve!
Our readers can't get enough easy pies–and who can blame them? For apple pie purists it doesn't get better than this Classic Apple Pie! Want another flavor? Our pecan pie is delicious and perfect for holidays.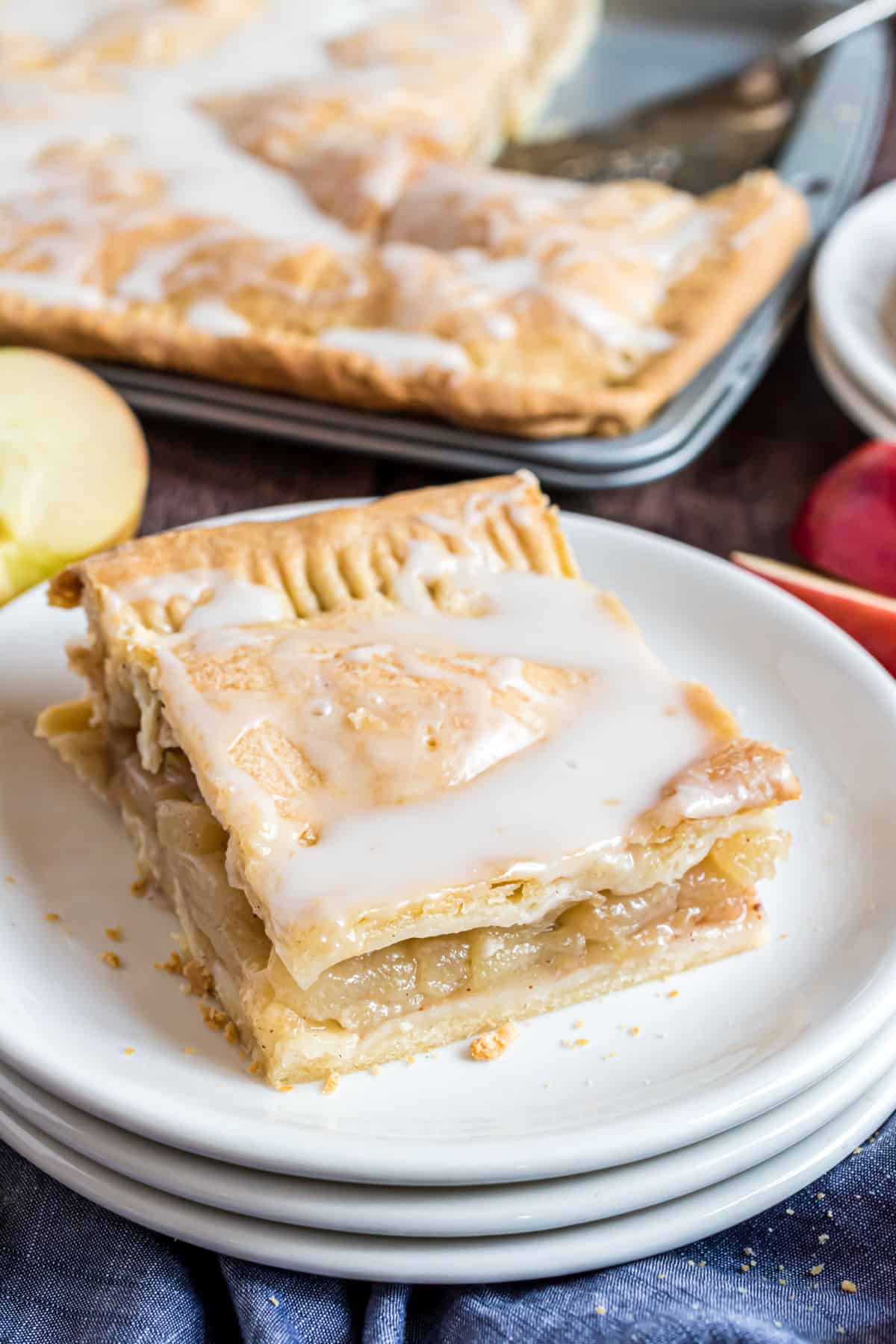 Why this Recipe is Best
Have you ever made a slab pie before? (Our key lime pie bars and blueberry slab pie recipes are a perfect example).
It's perfect for the holidays when you have a house full of hungry guests.
Slab pie yields 24 slices–enough to feed a crowd!
Cut into squares for easier serving than traditional pie shapes.
Vanilla icing adds a sweet finishing touch to the buttery crust and flavorful apple.
Instead of making multiple regular round pies, you just bake one big rectangular pie then cut it into bars. I'm working on a pumpkin pie version too!
Of course, I couldn't resist drizzling a little icing over my Apple Slab Pie too. I'll never pass up an opportunity to have a little more icing in my life!
Try our apple pie bars next. They're similar to today's recipe, but they have a streusel topping like dutch apple pie!
Ingredient Notes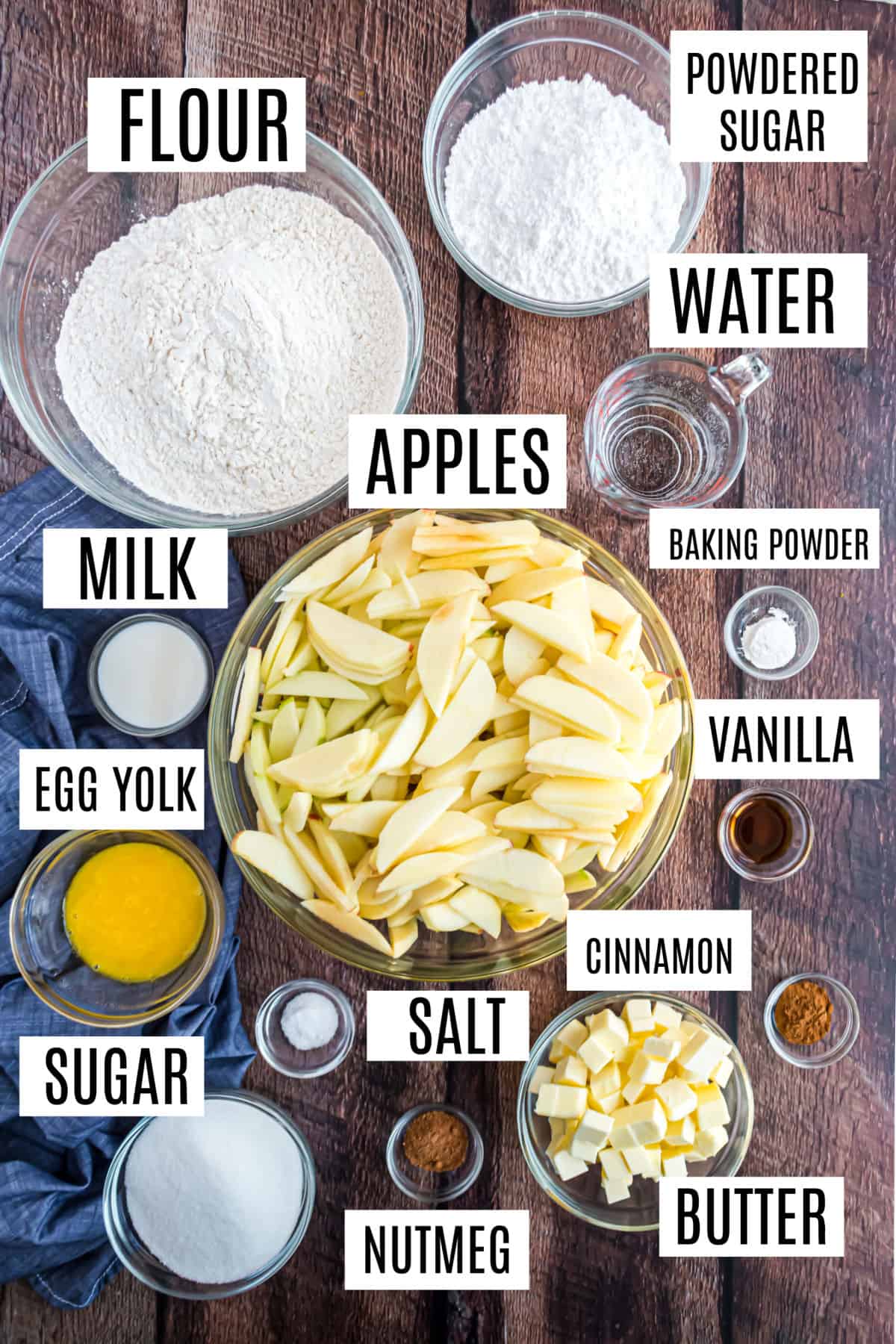 Cold unsalted butter – Using very cold butter is the secret to tender, flaky homemade pie crust.
Egg yolks – Incorporating eggs into pastry makes it easier to shape without cracking and gives the crust a lovely golden brown color as it bakes.
Baking powder – Just a smidge of this helps leaven the pie crust making it even flakier.
Apples -Use a combination of sweet and tart apples in the filling for best flavor.
PRO TIP- We love making our own homemade vanilla extract, but if using store bought, be sure it's pure extract, not imitation (for best flavor).
How to Make Slab Pie Crust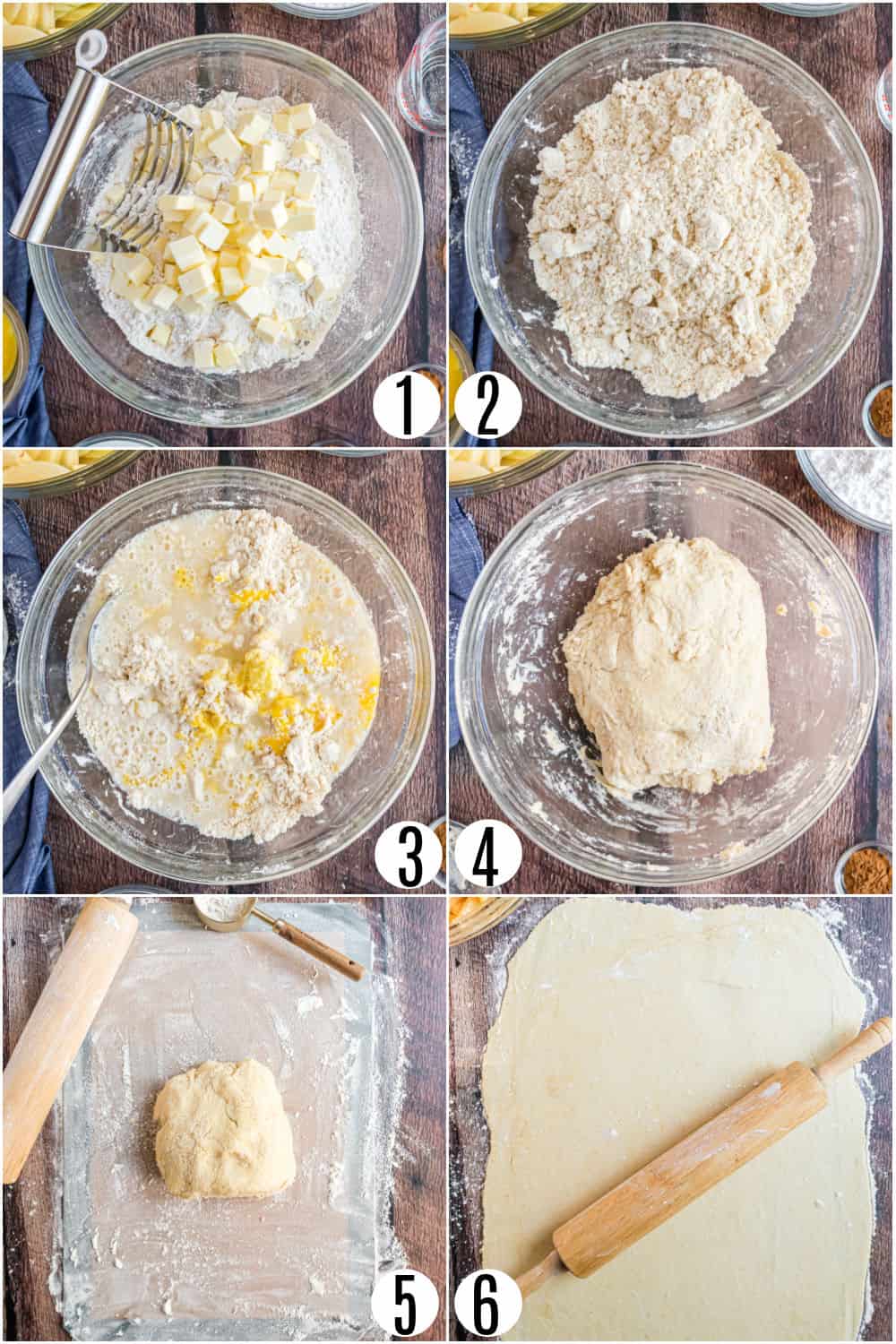 The pie crust for this slab pie is easier to make than you might expect. And the delicious results are well worth it!
Combine butter and flour:
Mix together flour, kosher salt and baking powder. Use a pastry cutter to incorporate cold butter into the flour mixture.
Once the dough looks crumbly, work it with your hands until it holds together when squeezed.
Add eggs and chill:
Use a spatula or strong spoon to mix beaten eggs into the dough. Place the ball of dough in the refrigerator for 30 minutes.
While the dough is chilling you can prep the apple filling.
Roll the crust:
Divide the dough into two equal portions.
Roll out each portion of dough onto a floured surface. Try to roll them a little larger than the size of the jelly roll pan.
Place one portion of dough on the bottom of the pan. Now, add the pie filling and top with the second portion of crust.
Pinch the edges of the crust together and seal them with the tines of a fork. Pierce the top of the crust with a fork before baking.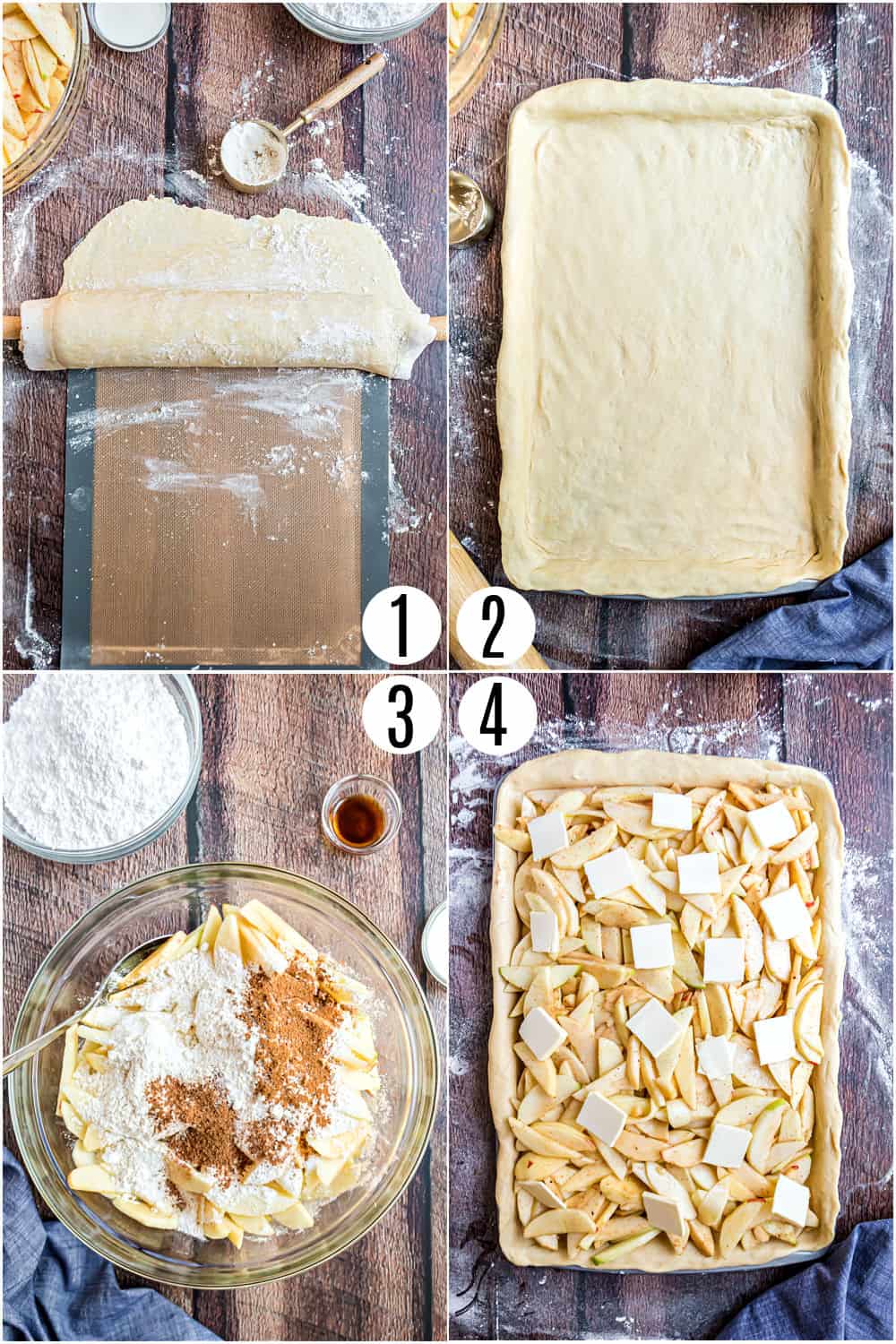 Tips and Tricks
Use your rolling pin to easily transfer the crusts to the pan. Roll the crust around the rolling pin, then unroll it into the pan.
You'll need a slotted spoon for adding the apple filling to the slab pie crust. The apples release a lot of juice in the bowl and adding all of that to the pie would make it soggy.
I love these bars best served cold! Store them covered in the fridge for up to 4 days.
Crumble topping- swap out the second layer of pie crust for a crumble topping (like on our dutch apple pie recipe). You'll want to at least double the crumble recipe.
Love warm pie? Serve with homemade vanilla ice cream or whipped cream.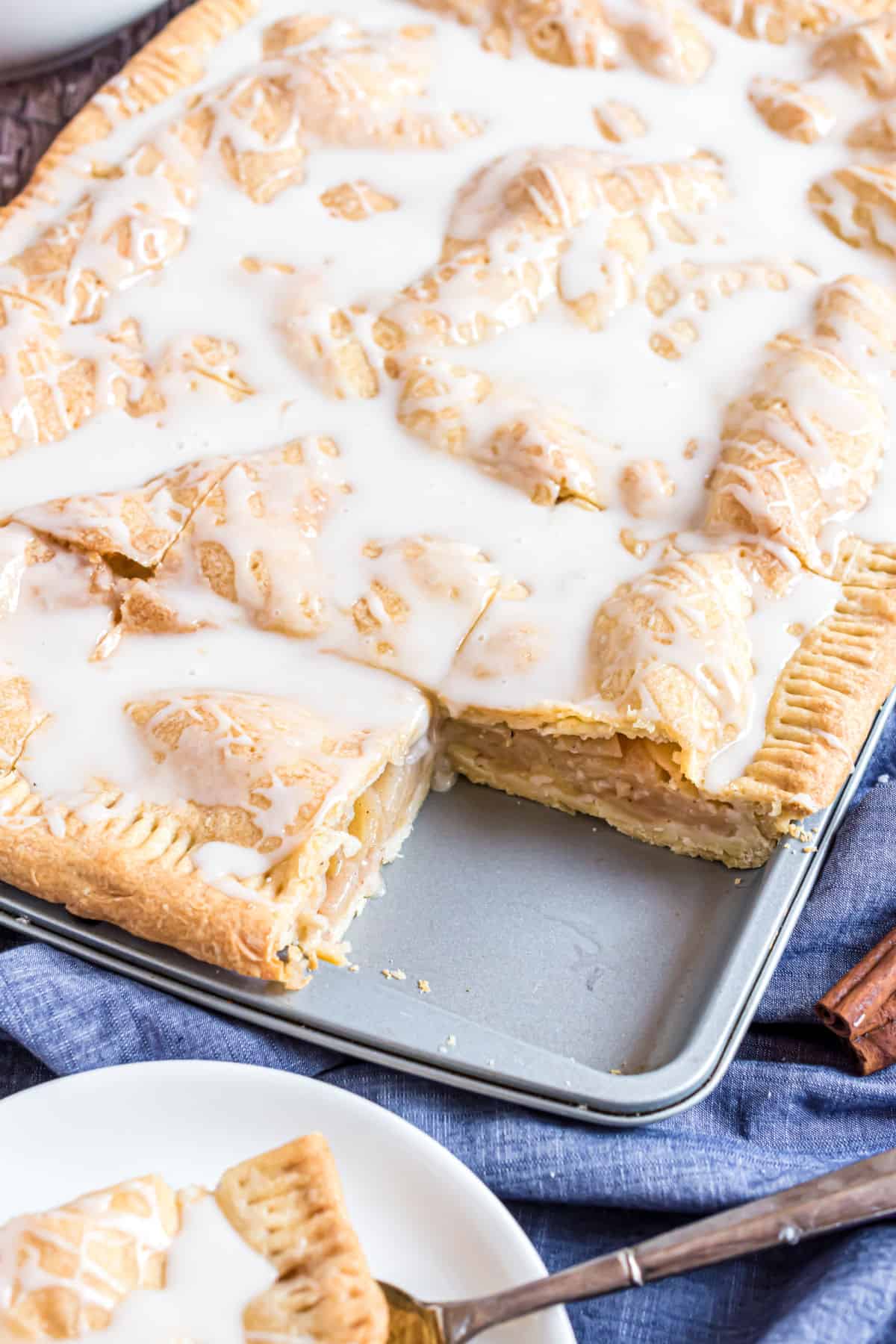 Recipe FAQs
Can you freeze slab pie?
Apple Slab Pie bars can be frozen for longer storage! Stash them in an airtight container in the freezer for up to 3 months.
What kind of apples are best?
I recommend a mixture of apples to get the best flavor here. We like a blend of Honeycrisp, Gala and Granny Smith.
How big do you slice the apples?
For apple pie, I slice my apples about 1/4 inch thick. But don't stress on getting them all exactly the same size. A little variety of texture and thickness is perfectly fine!
Do you have to peel the apples first?
Yes, apples should be peeled and cored before using in this recipe.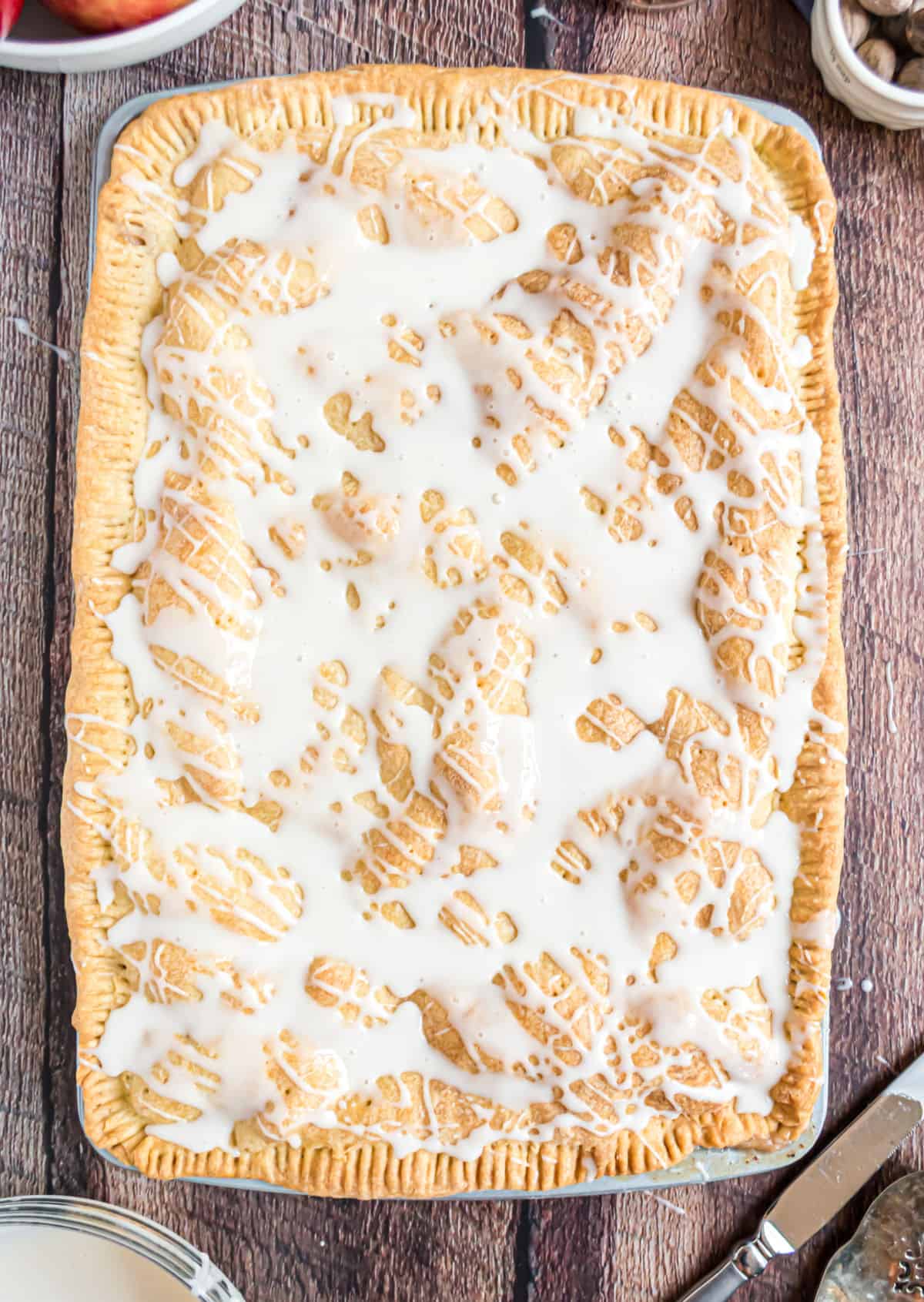 More Fall Recipes
For a complete holiday meal…
Apple Slab Pie is the perfect dessert for this year's Thanksgiving feast. All the fall flavors of traditional pie but even easier to share!