This easy Banana Split Cheesecake recipe is the perfect summer dessert. Layers of graham cracker, cheesecake, pineapple, bananas, strawberries and all the sundae toppings!
Add some homemade Whipped Cream to the top of this sweet treat! Try our banana split dessert for an even easier treat!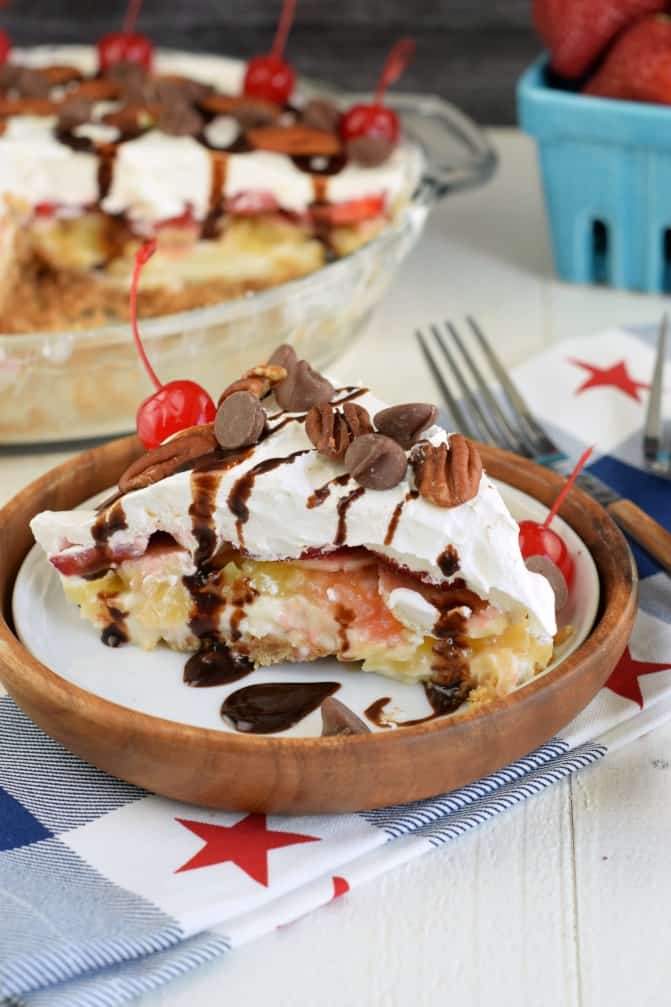 Why this Recipe is Amazing
Growing up, we always had ice cream Friday nights.
I would choose one of two things: Heath Blizzard or Butterfinger Blizzard. For years I never chose anything else.
And my dad always had a Banana Split Sundae.
I would look at his giant bowl of deliciousness and think "NEXT TIME, that's what I'm getting!!!"
But then the next week, I couldn't do it. I couldn't try something new and take the chance that I would like it.
Well, fast forward to adulthood, turns out I love Banana Splits.
And making this Easy Banana Split Cheesecake recipe is the highlight of summer.
Delicious layers of graham cracker crust topped with creamy no bake cheesecake, fresh bananas and strawberries, pineapple, and topped with whipped topping, hot fudge, nuts and a cherry!
Love pie? Today's banana split pie is just for you!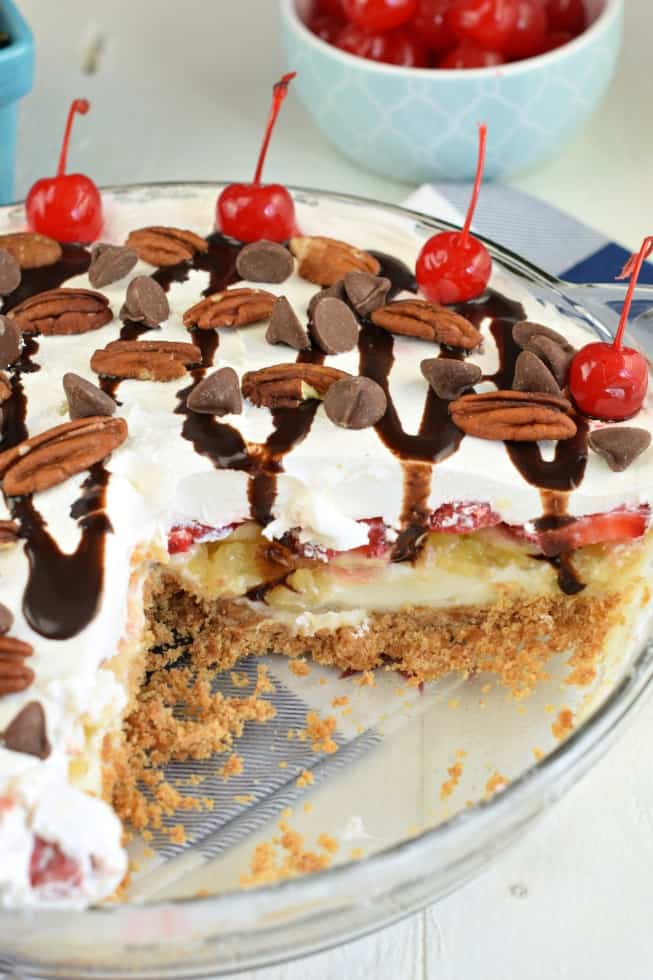 How to make Banana Split Cheesecake
Make the crust. Start by making your graham cracker crumb crust. You could purchase them already made, but I love the flavor of a homemade crust!
Make the filling. In a mixing bowl, combine cream cheese with powdered sugar until smooth. Spread cream cheese mixture over cooled crusts.
Assemble. Layer with crushed pineapple, bananas, and sliced strawberries. Spread Cool Whip (or homemade whipped cream) over the top. Decorate with chocolate chips.
Chill. Refrigerate pies for at least 4 hours or overnight for best flavor and texture.
Serve. When ready to serve, sprinkle with toasted pecans, drizzle with chocolate syrup (or hot fudge) over each slice, and add a maraschino cherry on top! ENJOY!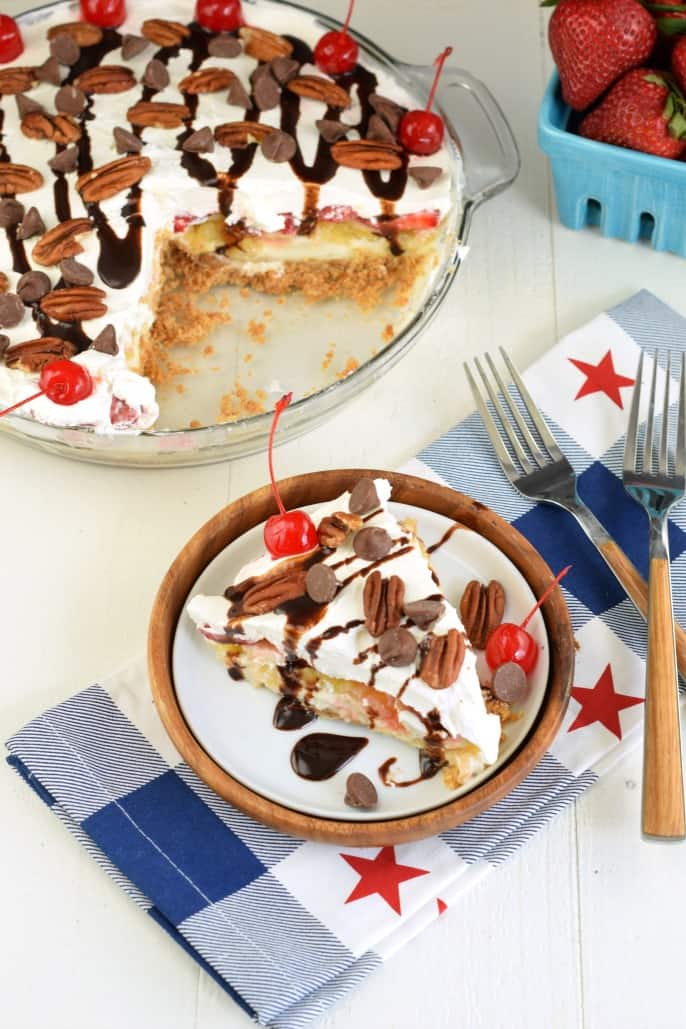 Can you freeze No Bake Cheesecake
Yes!
After assembling the cheesecake, up to the point of adding Cool Whip, wrap the top of the cheesecake in plastic wrap. Then completely wrap cheesecake in aluminum foil.
Freeze cheesecake for up to one month for best flavor.
Thaw in refrigerator overnight before serving. Top with hot fudge, nuts, and cherry right before serving. ENJOY.
PRO TIP: You can make individual size servings of banana split cheesecake by using mini pie plates, quiche tins, or parfait jars (just put graham cracker crumbs in bottom loosely).
More Banana Split Desserts
I just so happen to be obsessed with banana split desserts.
The most amazing cake I've ever made is this Banana Split Cake. Two banana cake layers, one chocolate cake layer…all the fruit and whipped cream in a beautiful layer cake!
Want something unique? Try making this easy Banana Split Fudge recipe. It will be the hit at your next party!