These No Bake Banana Split Cheesecake Bars just might be the best summer dessert. Delicious rich cheesecake with no oven needed, and topped with all the fruit, chocolate, and whipped cream!
If you love our banana split pie, today's dessert will be right up your alley! For a unique treat, try our banana split fudge. The summery flavors will make you feel like you're on vacation!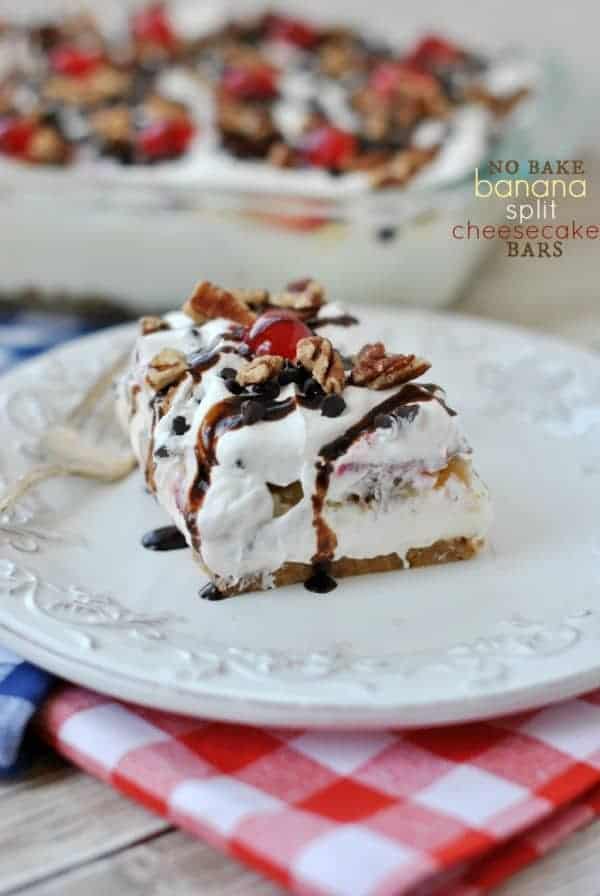 Why this Recipe is Best
Serving real banana splits at a party or gathering isn't always practical. These no-bake banana split cheesecake bars have all the decadence of a banana split sundae without the potential sticky mess of melting ice cream.
It's a banana split meets cheesecake!
Easy no-bake recipe that's perfect for summer.
Perfect cream cheese filling topped with bananas, strawberries, nuts and pineapple.
A drizzle of chocolate syrup and cherry on top sends these bars over the top!
Ingredient Notes
We love the simplicity of the ingredients for today's no bake banana split bars.
Graham cracker crust is homemade with graham cracker crumbs, butter and pecans.
Cream cheese forms the base for the cheesecake filling. Use sticks of real full fat cream cheese for best results.
Sweetened condensed milk sweetens the cream cheese and gives the cheesecake center a soft but sliceable consistency.
Lemon juice adds a zesty tang to the sweet cheesecake!
Cool whip is beaten with the cream cheese and condensed milk to make the cheesecake fluffier and creamier.
Fruit: Sliced banana and strawberries are a must. We also added crushed canned pineapple.
Toppings: We topped these banana split bars with chopped pecans (learn how to toast pecans), chocolate syrup and maraschino cherry halves just before serving.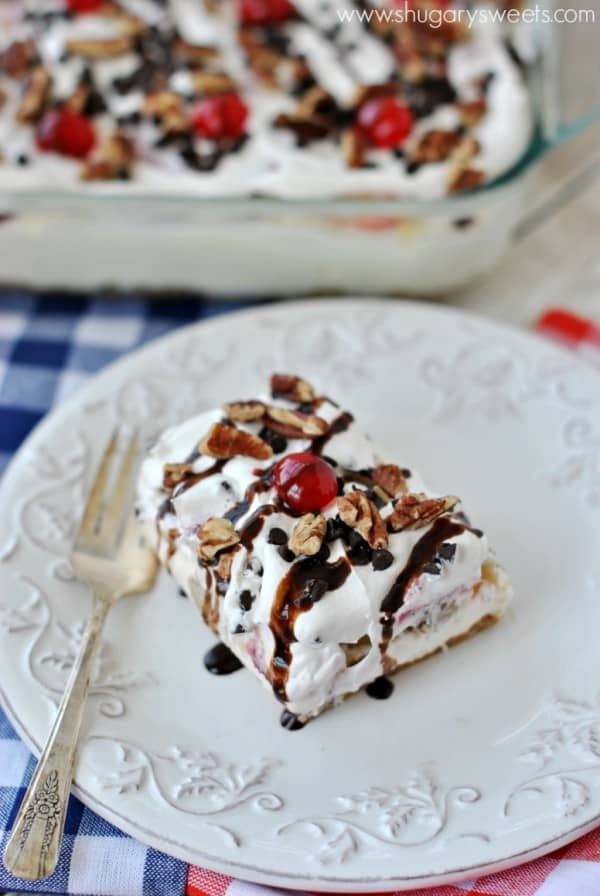 Easy Assembly
Once you've made your cheesecake mixture and the graham cracker crust, it's time to assemble the banana split bars!
Pour the cheesecake layer over the crust. Use the back of a spoon to spread the mixture evenly over the whole graham cracker layer.
Add fruit and cool whip. Arrange the sliced bananas, drained pineapple and strawberry slices over the cheesecake layer. Now spread cool whip over the fruit.
Chill. Refrigerate the cheesecake bars for at least four hours.
Add final toppings. Once the cheesecake layer is set, it's time to add the toppings! Sprinkle chopped nuts, chocolate chips and maraschino cherries over the bars.
Finally, drizzle them with 2 tablespoons of chocolate syrup before slicing and serving!
Tips and Tricks
Once you learn how to make no bake banana split cheesecake bars, it's easy to customize them with different toppings.
Swap the pecans for chopped peanuts or almonds.
Replace half–or all–of the chocolate syrup with caramel or butterscotch sundae syrup instead.
Use fresh pineapple in place of canned.
Try chocolate sprinkles on top in place of the chocolate chips!
Whatever toppings you love on your banana split will be delicious on these cheesecake bars!
Recipe FAQs
How long do these bars keep?
The banana split bars will keep well for about 3 days in the fridge. Remember to wait to add the chocolate syrup, cherries and nuts right before serving.
What size pan should I use for these cheesecake bars?
We tested this recipe in a 13 x 9 inch rectangular baking dish. You could use a 9 inch square dish but the bars will be much thicker!
Can I use real whipped cream instead of cool whip?
You sure can. I find that real whipped cream tends to soften more quickly at room temperature than cool whip, which contains stabilizers, so your cheesecake may be less firm.
Can I make these the night before?
No bake cheesecake bars are a perfect make ahead option! In fact, I find the cheesecake filling sets up best when left to chill for a good 6-8 hours (overnight).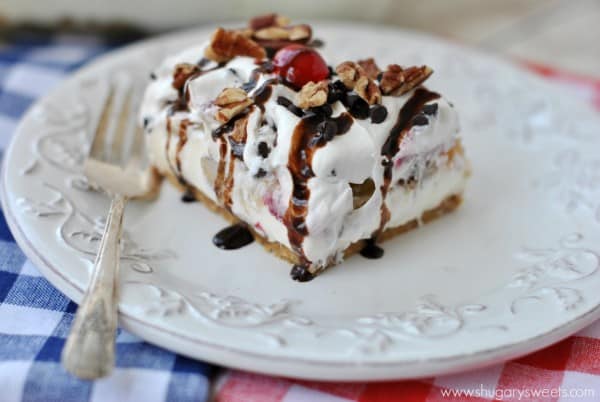 Banana Split Cheesecake Bars are layered with decadent sundae toppings with a nutty graham cracker crust! No one will suspect just how easy it is to make this impressive no-bake dessert.