This Banana Split Fudge recipe is the perfect summer treat! All the flavors you love in the classic ice cream sundae packed into bite-sized squares of fudge.
This Pink Lemonade Fudge is another one we love to make in the summertime. You'll love our Maple Walnut Fudge recipe too.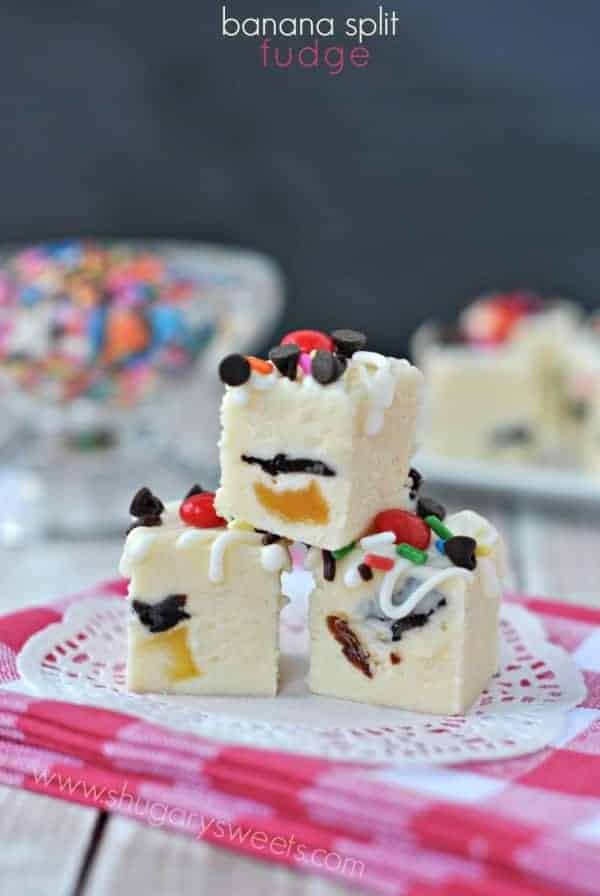 Why This Fudge is Best
Banana splits are delicious but not the easiest dessert to serve to a crowd. Not to mention the mess, the melting ice cream and sticky chocolate sauce getting everywhere.
Banana Split Fudge, on the other hand, is easy to serve with little mess and no bowls and spoons to clean up. You'll love this out-of-the-box recipe!
This fudge has a creamy banana fudge base.
Cherries and pineapple are folded in to every bite.
The colorful sprinkle topping makes it fun to eat.
No candy thermometer needed to make this easy banana split fudge!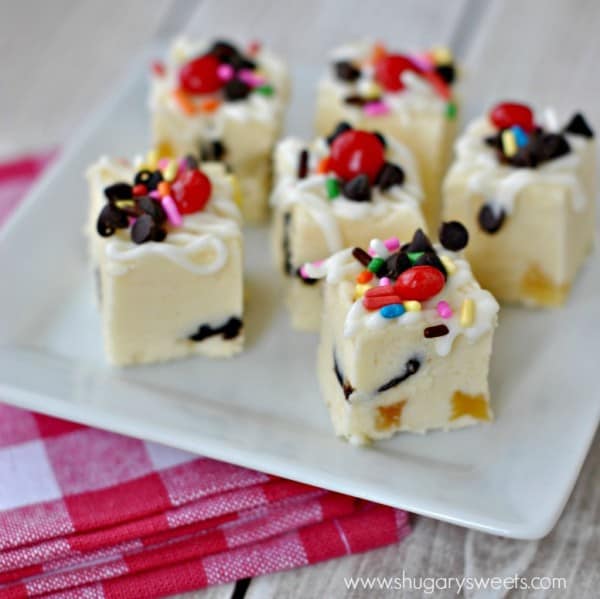 Fudge Ingredients
This fudge recipe starts with butter, sugar and heavy whipping cream. Here's what you need to turn that mixture into banana split fudge.
Instant Banana Cream Pudding Mix – You add the powdered mix right to the bowl to give the fudge its banana flavor.
Marshmallow fluff – It creates soft, velvety fudge with perfect sweetness.
White chocolate morsels – These melt and combine with the other ingredients to give the fudge its structure and a creamy vanilla taste.
Dried cherries and pineapple – Chop them into bite size pieces before folding them into the fudge mixture.
Toppings – Use red M&Ms to imitate the appearance of a cherry on top of a banana split! We also topped this fudge with chocolate chips, sprinkles and a drizzle of melted white chocolate.
Tips and Tricks
Use an electric mixer. The quick action of the beaters make it easy to incorporate the melting chocolate and fluff into the hot sugar mixture.
Line the fudge pan with parchment paper. Leave a little paper hanging over the edge. Then once your fudge is set, you can use the edges of the parchment to give the fudge out of the pan all at once.
Refrigerate: After pouring the fudge mixture into the pan, it needs several hours to chill and set. It's ready in as few as three hours but I usually like to leave it in the fridge overnight.
Enjoy cold! Banana split fudge tastes best cold straight from the fridge. The chilled temperature makes it even more reminiscent of an ice cream treat.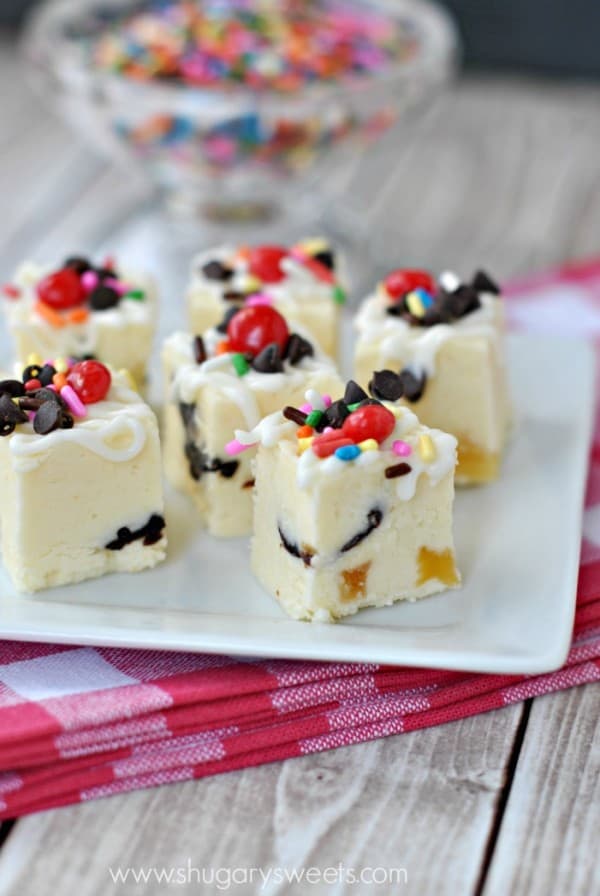 Recipe FAQs
How do I store this fudge? How long does it keep?
Store your homemade fudge in an airtight container in the refrigerator. It will keep well for about two weeks.
What is marshmallow fluff?
Marshmallow fluff is a thick, sticky spread that tastes like marshmallows. It's also called "marshmallow creme" in some places! I use it in many of my fudge recipes to give the fudge a smooth, soft consistency.
What's the best way to keep fudge from drying out?
I recommend storing homemade fudge in a block and cutting it "as you go."
By slicing off only what you will eat or serve immediately, you keep the rest of the fudge fresher and softer longer. Make sure to keep fudge in a tightly sealed container when you're not eating it too!
Can I add other banana split toppings?
Other toppings like crushed peanuts would be delicious on this fudge! I would avoid adding wet toppings like maraschino cherries or chocolate sauce as it would make the fudge difficult to eat.
If you wanted more chocolate flavor, you could always swap the melted white chocolate morsels for their milk chocolate counterpart.
A banana split you can eat with your hands! This Banana Split Fudge is cold, sweet and ideal for all your summer celebrations.