One of the most requested fudge recipes is finally here: Maple Walnut Fudge. Velvety smooth fudge with maple flavoring and chunks of walnut in every bite!
If you're craving fudge, be sure to try this delicious Maple Peanut Butter Fudge recipe soon. Or go full chocolate with our Fannie May Fudge recipe. Both are so easy to make!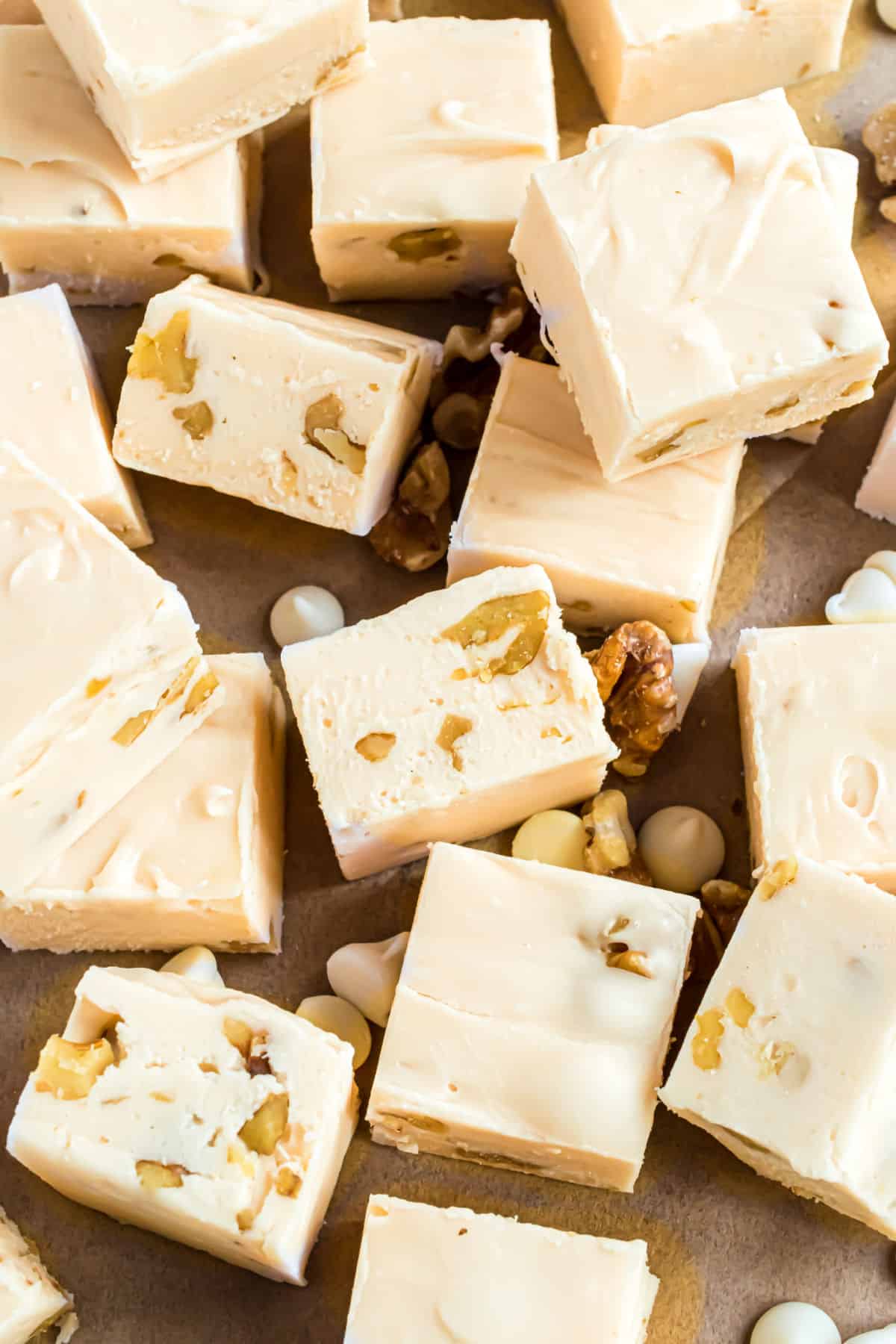 Easy Fudge Recipe
Maple Walnut Fudge is one of the most requested fudge recipes on the blog. After sharing my guide to how to make fudge, I've gotten tons of emails asking me if I have a great Maple Walnut Fudge recipe.
Made with white chocolate, marshmallow cream and maple flavoring, this Maple Walnut Fudge is well worth the little bit of effort it takes.
You don't need a candy thermometer or any special skills to make this easy fudge recipe!
And, the best part is Maple Walnut Fudge–like most of my other fudge recipes–can be made well in advance. Perfect for keeping on hand for those last minute visits or cravings for something sweet!
A tin of homemade fudge also makes a great gift for the holidays or party snack to share.
Ingredient Notes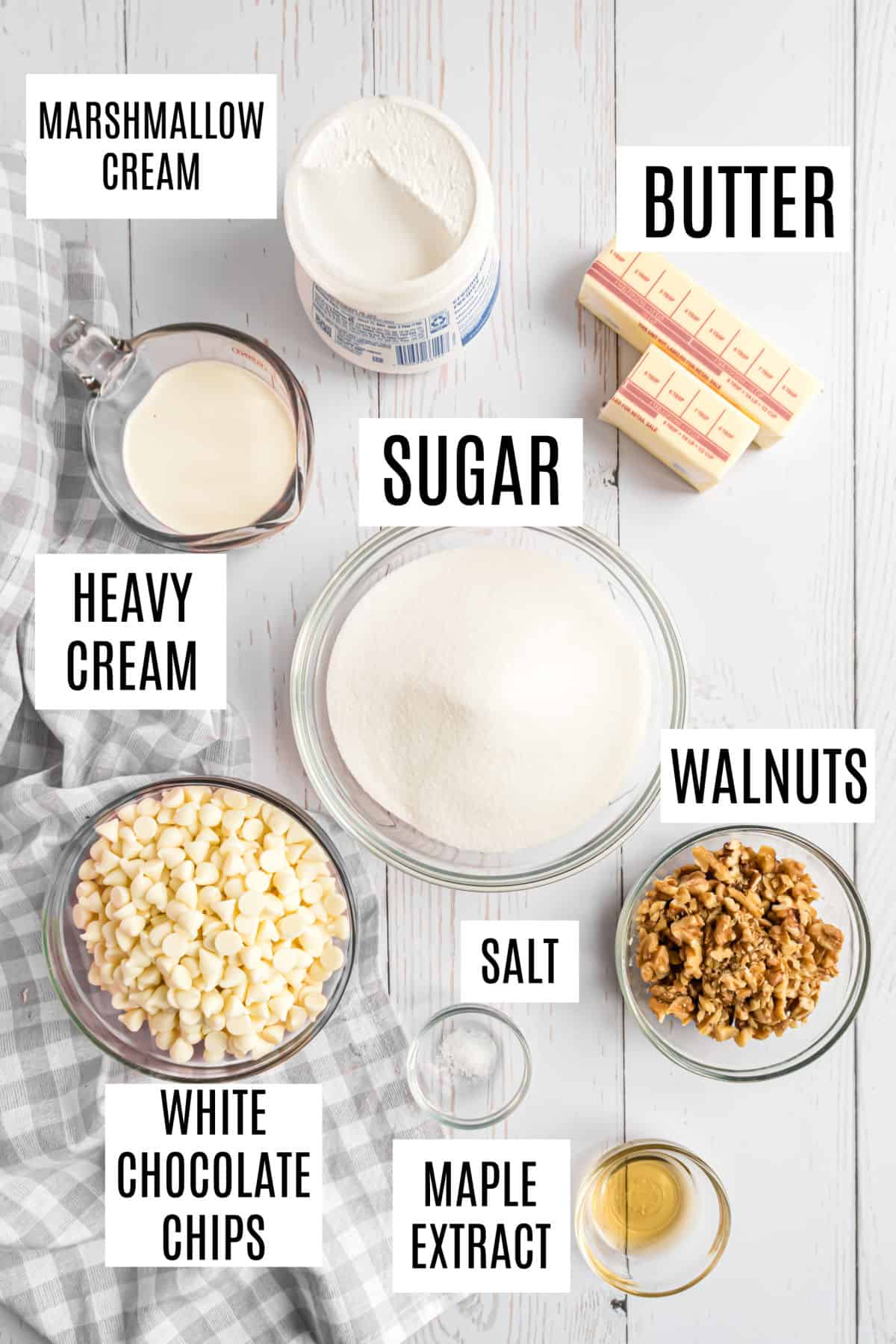 Maple Flavoring – Small bottles of maple flavoring is much more concentrated than maple syrup and vital for infusing the fudge with real maple flavor. I buy mine online and use it in tons of different desserts besides this fudge too, like Maple Glazed Pumpkin Donuts and Maple Bacon Cookies. It gives the fudge the a hint color. If you can only find extract, that will work, but will leave the fudge a creamy white.
Marshmallow cream – This ingredient is also called marshmallow fluff. Try our homemade marshmallow fluff for delicious results!
Walnuts – Chop into small pieces before adding to the fudge. Pecans are also delicious in maple fudge and would make a tasty swap here. You can also omit the nuts entirely for a tasty plain maple fudge. Toast the walnuts for best flavor!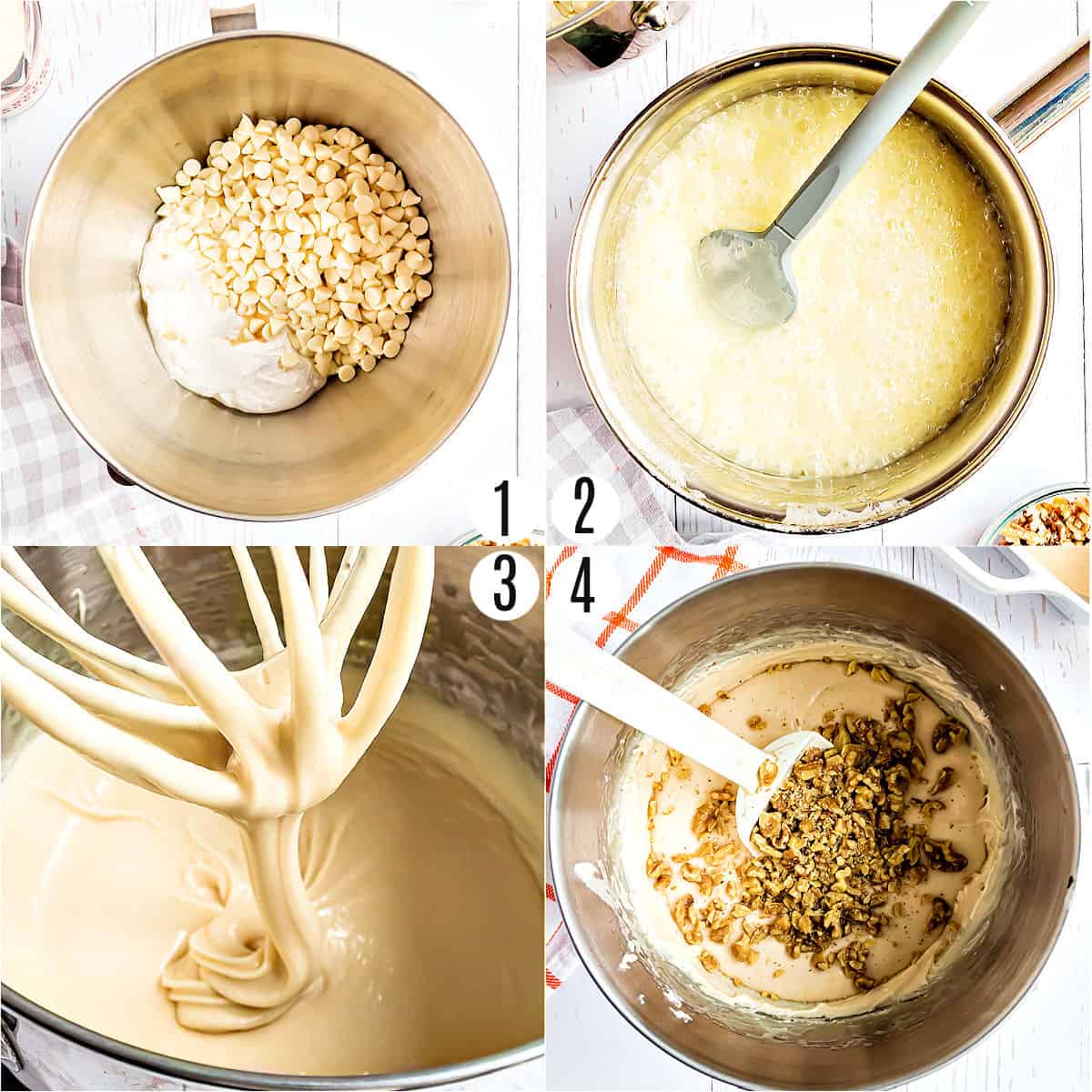 Tips and Tricks
Did you know fudge is one of the simplest treats you can make, when you use this method?
Boil heavy cream with butter and sugar, then pour the hot mixture over a bowl of marshmallow cream and white chocolate chips. Add maple extract and beat until everything is smooth and combined. Using a stand mixer with the whisk attachment makes this quick and easy!
From here, just fold in the chopped nuts, pour into a pan and refrigerate. Within a few hours, you can chop the fudge into squares and enjoy a delicious nutty homemade treat!
You can freeze this fudge too! Double wrap the fudge in freezer bags (or an airtight freezer safe container) to preserve its freshness. Let frozen fudge thaw in the fridge overnight before eating.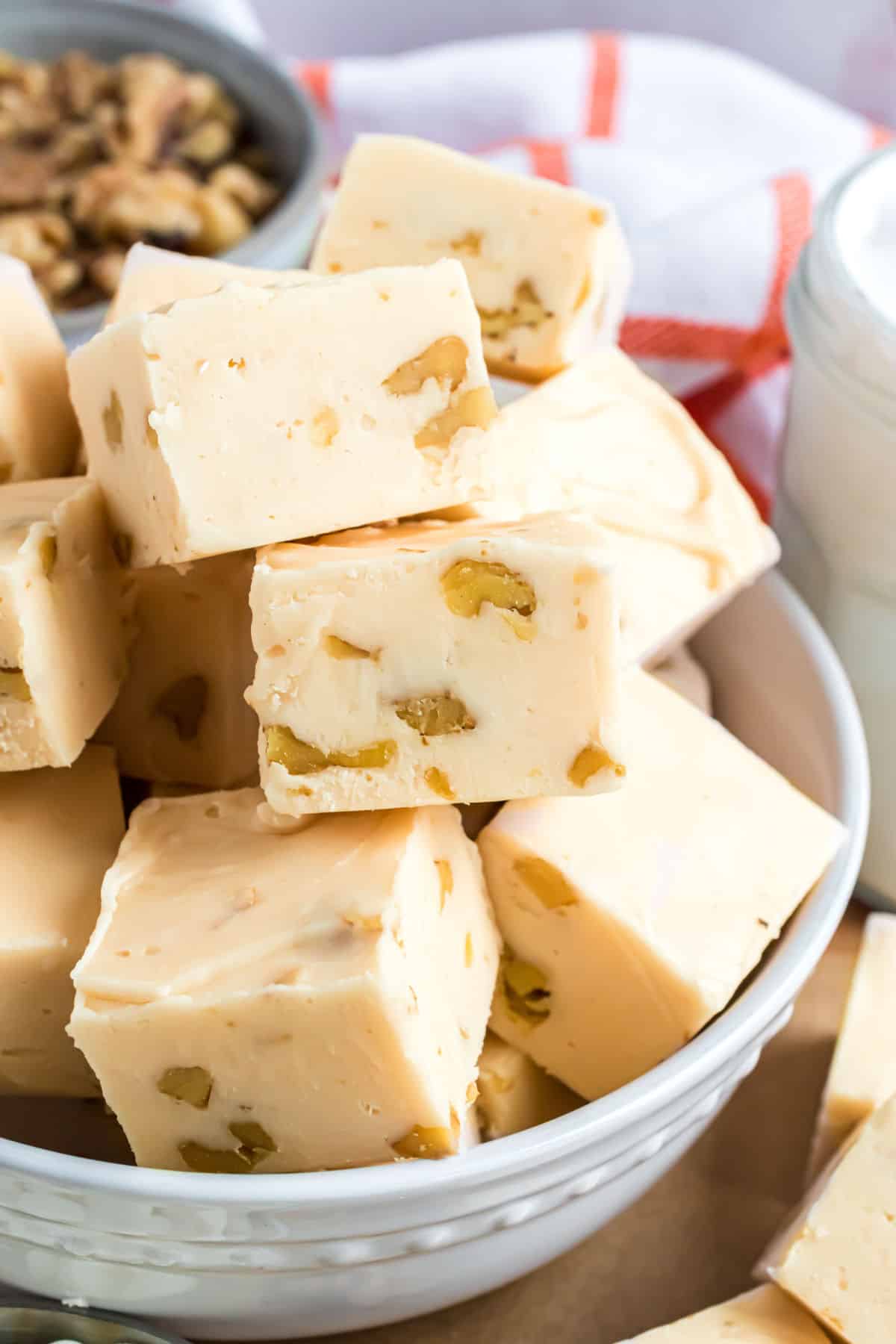 Recipe FAQs
What's the best way to store homemade fudge?
I keep it in an airtight container in the refrigerator so it stays good for as long as 2 weeks. For freshest taste, wait to slice the fudge until just before eating. I store it in a block and cut off only the fudge we'll be eating right away.
Can I use milk or half and half instead of the cream?
I don't recommend it. This fudge needs the fat content present in heavy cream for best texture and flavor.
How do you keep fudge from sticking to the pan?
Make sure to line your pan with parchment paper before pouring in the fudge mixture. Then, just lift the parchment out of the pan once the fudge is set and you're ready to slice!
You'll love the classic maple flavor and the nutty crunch in this treat! Maple Walnut Fudge is claiming its rightful place in the fudge flavor hall of fame right alongside Chocolate Peanut Butter Fudge and Vanilla Fudge this week.
Eating this also reminded me it's high time I make some more White Chocolate Raspberry Fudge again too!