Maple Peanut Butter Fudge combines sweet and salty flavors in smooth, creamy fudge. No candy thermometer needed for this easy fudge recipe!
Looking for an easy chocolate fudge recipe? This Chocolate Peanut Butter Fudge is the BEST!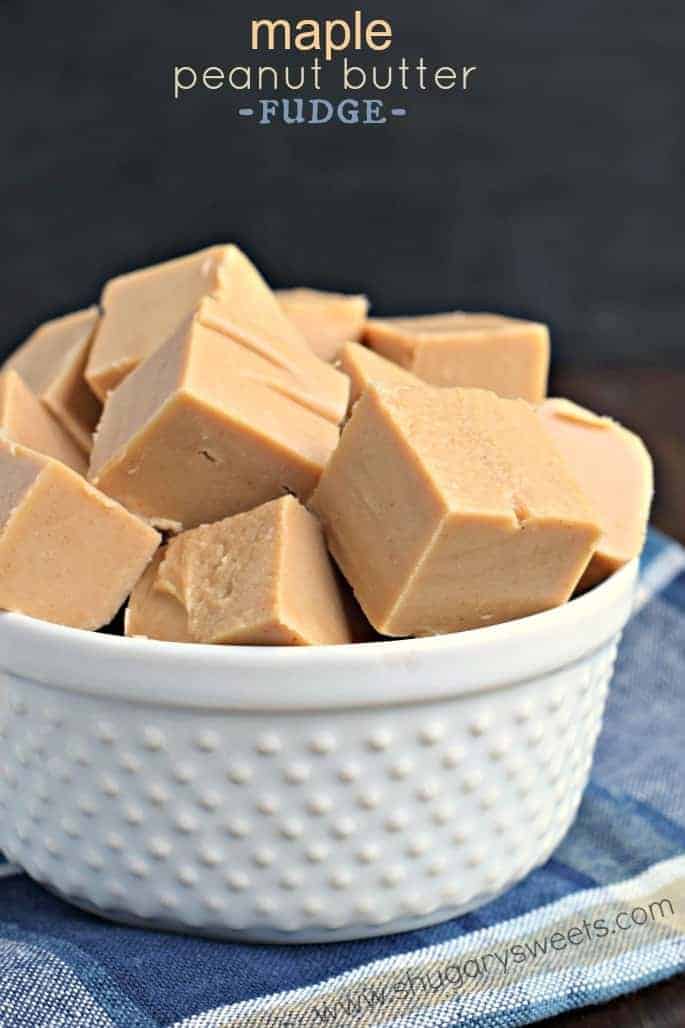 Even though I know How to Make Fudge at home, I still have to get some on on every sea side vacation. It's tradition! T
Why this Recipe is Best
This fudge recipe is based on a favorite sweet from a family vacation spot.
Salty peanut and sweet maple flavors are scrumptious together.
Velvety, melt-in-your-mouth texture.
No candy thermometer necessary.
Easy to follow recipe.
Makes a perfect gift!
Ingredient Notes
Marshmallow creme – This marshmallow spread (also called "fluff") is my secret for making soft, smooth fudge without using a candy thermometer.
White chocolate chips – These are melted to give the fudge some of its substance and a hint of creamy vanilla flavor.
Peanut butter – I use creamy but chunky can be used if you want maple peanut butter fudge with nuts!
Maple extract – This highly concentrated maple ingredient gives the fudge its incredible maple flavor and aroma. It can be found on Amazon or in your grocery store near the vanilla extract
Butter and heavy cream – Melted together, they provide the liquid and fats needed for rich tasting fudge.
Tips and Tricks
Boil the butter, cream and sugar for a full 4 minutes over rolling heat to achieve the correct temperature.
Stir the mixture constant as it boils.
Use an electric mixer to combine the warm cream mixture with marshmallow fluff and white chocolate chips.
Let the fudge set for several hours before you attempt to cut it. No need to refrigerate!
Cut off only as much fudge as you will eat right away. This helps keep the fudge fresh longer.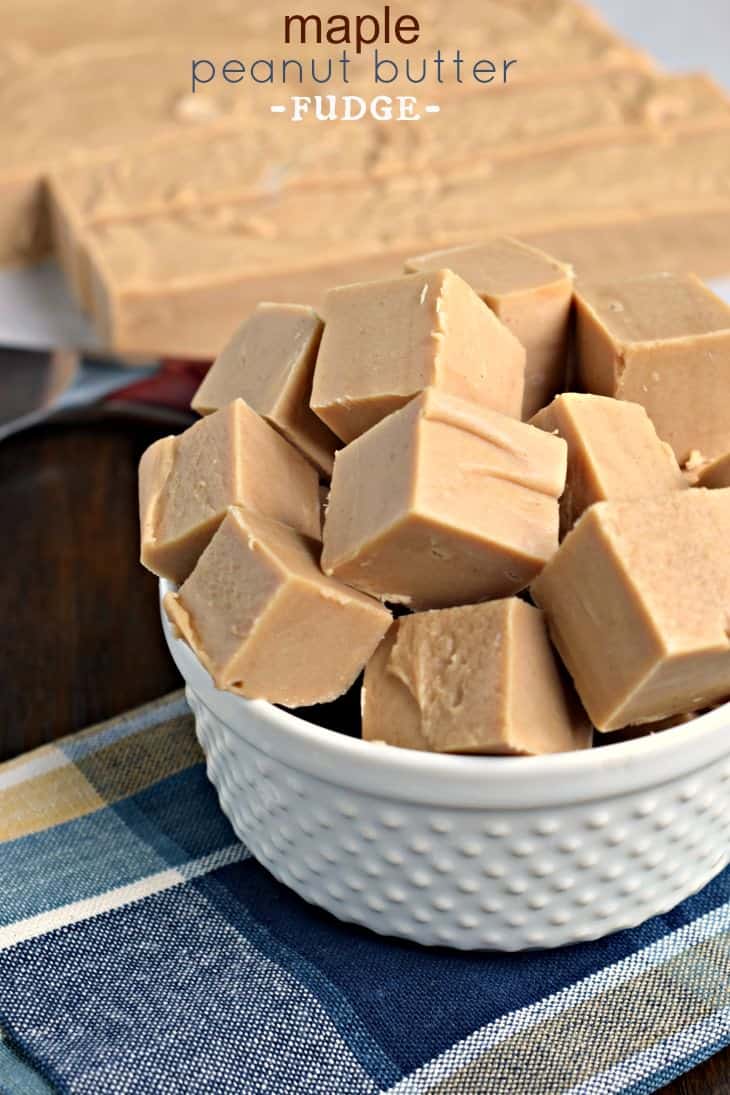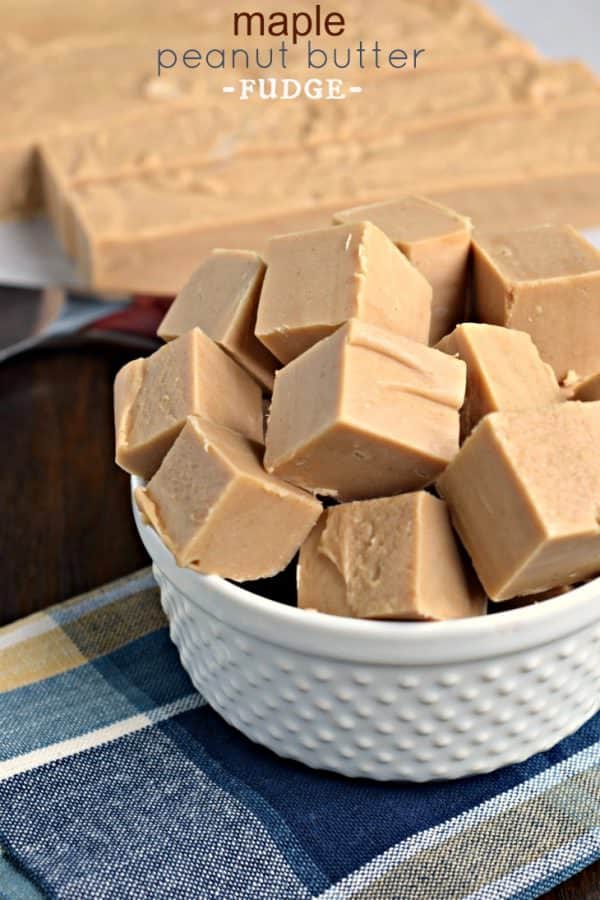 Recipe FAQs
Can I use maple syrup instead of maple extract?
No, you may NOT substitute maple syrup for the maple flavoring in this recipe. Trust me on this!
It's worth picking up a bottle of maple extract. You can use it to make these Maple Iced Oatmeal Cookies and this Maple Walnut Fudge next!

What is marshmallow creme?
Marshmallow creme is a sticky spread made from marshmallows. I use it in so many of my fudge recipes.
If you can't find marshmallow creme where you live, you can buy it online!
How do I keep homemade fudge from drying out?
Keep the fudge from drying out by storing it in a sealed container. A large ziploc bag or plastic container with a lid are both great choices for storing this fudge.

I also recommend storing the fudge in one large block, rather than cut squares. It stays softer and smoother than the smaller squares.
What kind of peanut butter is best for fudge? Can I use natural peanut butter?
I tested this recipe with creamy, shelf-stable peanut butter.
I wouldn't use natural peanut butter here because the oils in natural varieties will separate from the nuts. This would give the fudge a grainy and possibly crumbly texture as it sets.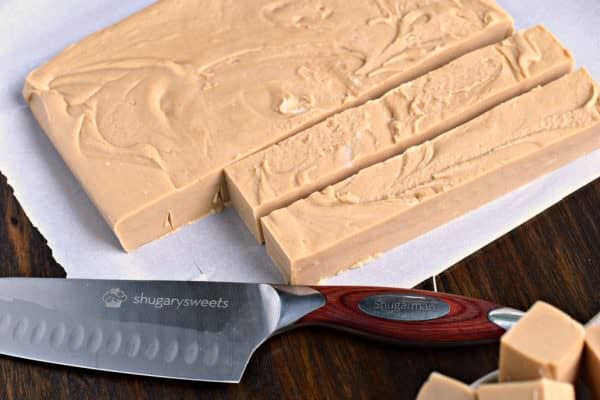 Enjoy a taste of vacation at home with this Maple Peanut Butter Fudge recipe. Satisfyingly sweet with a hint of salt, it's easier to make than you might think!