Looking for an easy candy recipe with salted caramel and chocolate? This Salted Caramel Bark is a sweet and salty treat made with white chocolate, salted caramel, pretzels, and finished with a milk chocolate drizzle! Ready in minutes!
Love sweet and salty? Then you're going to go crazy for this Salted Caramel Brownie Recipe! The perfect balance. Or try these delicious bites of Salted Caramel Fudge for a tasty dessert.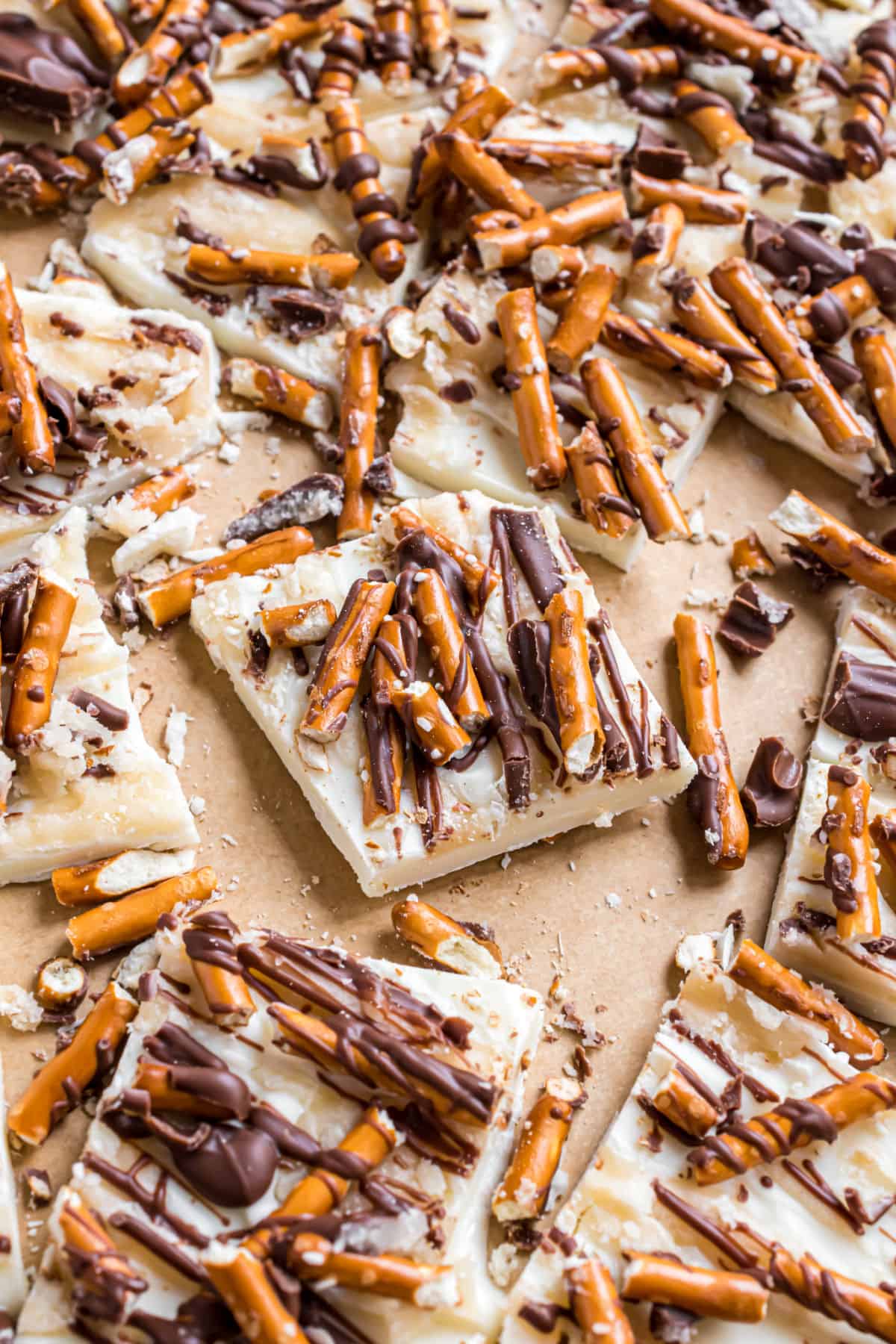 Why this Recipe Works
Crispy pretzels and a homemade caramel sauce turn a simple batch of chocolate park into a decadent caramel candy!
I went to Costco this month for my regular shopping trip. You know, to restock on sugar, flour, oil, toilet paper, all the staples. But as always, I couldn't resist deviating from my list to wander the aisles a bit.
And in my wandering in the bakery section, they had tubs of chocolate bark covered in salted caramel. So, of course, I looked at it and thought to myself, "Self, there is no way I am buying this when it looks so easy to make"!
This turned out to be a very easy candy recipe that creates sweet pieces of white chocolate bark, drizzled in milk chocolate and caramel sauce, then flecked with sea salt.
When it comes to candy, I'm a huge fan of the combo of sweet and salty! The pretzels added to this bark brought a nice element of crunch to the chocolate bark.
I can't wait for you all to try this homemade candy recipe.
Ingredient Notes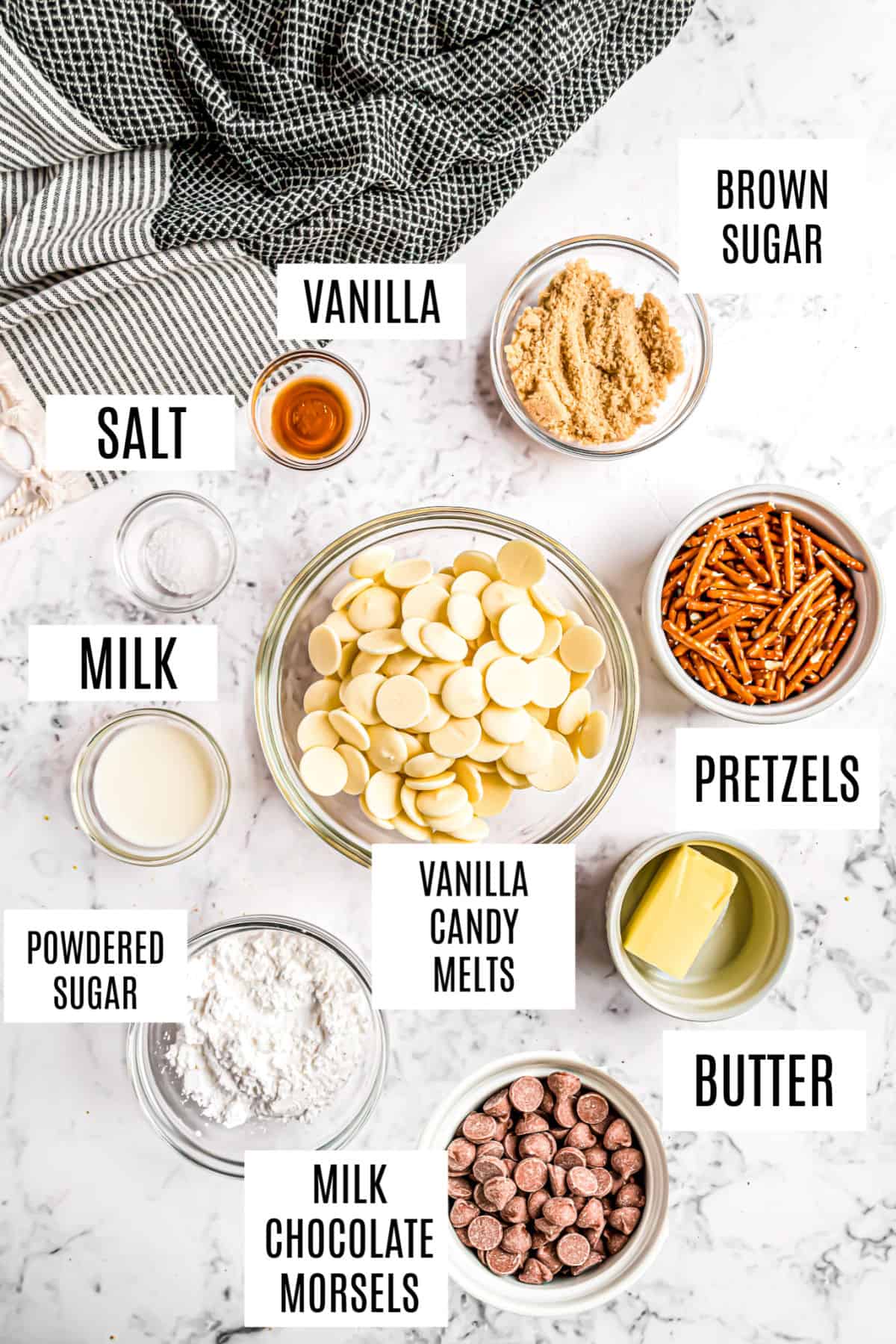 Just a handful of ingredients!
Butter
Brown sugar
Milk
Vanilla Extract– try using our homemade vanilla extract recipe!
Powdered sugar
Kosher salt-learn why I use kosher salt in my cooking and baking!
Ghirardelli White Chocolate candy melts
Milk chocolate morsels – Or chocolate candy coating
Pretzel sticks – Broken into pieces
Easy Instructions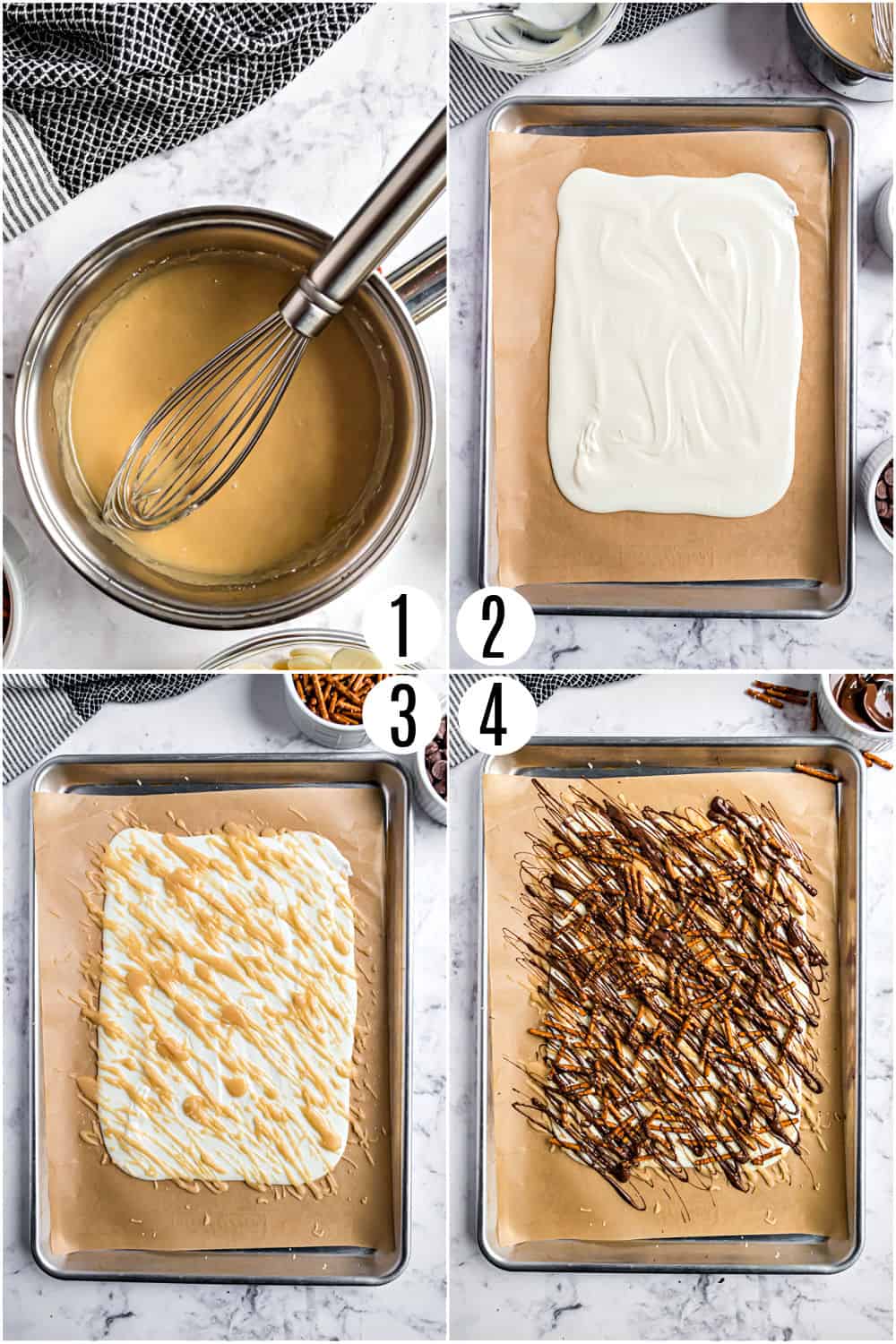 Don't be intimidated by the thought of making your own caramel sauce. This caramel doesn't require a candy thermometer or any special ingredients.
STEP 1. Make the caramel sauce
In large saucepan melt butter. Add brown sugar and milk. Cook on medium for 2 minutes. Remove from heat and whisk in vanilla and powdered sugar. Set aside.
STEP 2. Melt chocolate
Melt white chocolate according to package directions. Pour on a parchment paper lined cookie sheet. Spread evenly to distribute over the whole lined pan.
PRO TIP: I don't recommend white chocolate chips for this recipe, as they can be finicky when melting.
STEP 3. Assemble the bark
Drizzle caramel sauce over melted white chocolate. Sprinkle with kosher salt. Top with broken pretzels, pressing them into the bark lightly. Melt milk chocolate according to package. Drizzle over bark.
Allow the bark to set about one hour at room temperature.
Break into pieces and enjoy!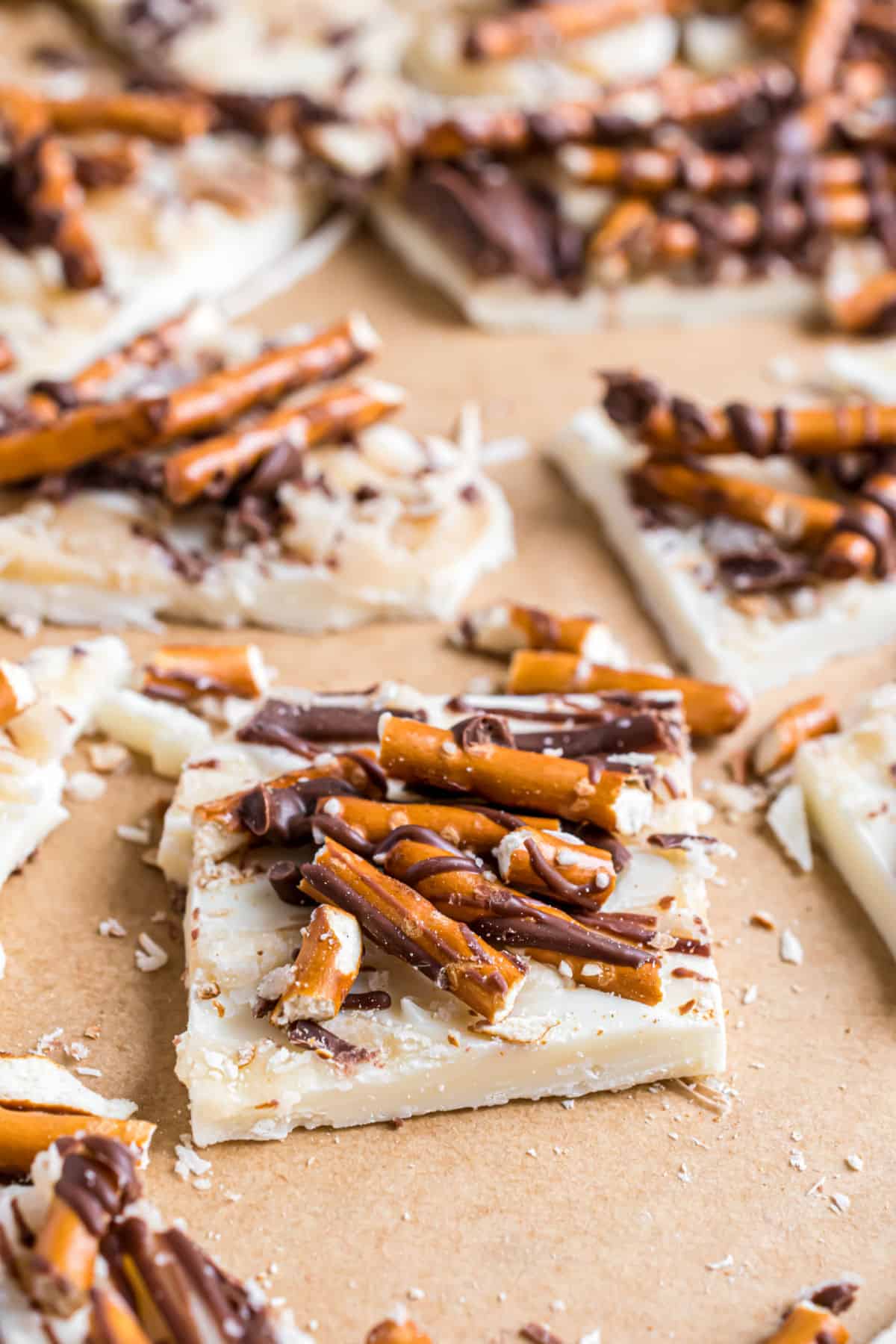 Recipe FAQs
How do you store chocolate bark?
Salted caramel bark keeps well in an airtight container at room temperature. You can also keep the bark in the fridge to enjoy cold–it's delicious this way, too.
Can I use dark chocolate for homemade candy bark?
I know there will be a few dark chocolate only people out there wondering how this tastes with dark chocolate instead of milk chocolate drizzled over it. While I personally love the extra sweetness of the milk chocolate here, feel free to try it with another variety and let me know how you like it! The beauty of this easy candy recipe is in the balance of flavors, from sweet to salty and textures from velvety vanilla to crunchy pretzels.
What kind of pretzels are best for salted caramel bark?
I break mini pretzel sticks into 2 or 3 pieces. You don't want the pretzels to be like crumbs. The crunchy pieces add the perfect touch to this chocolate bark! Other pretzel shapes will work, too, like twists or squares. Just break them into pieces about 1/2 inch to an inch long before pressing them lightly into the melted chocolate.
Salted Caramel Bark with pretzels and milk chocolate is a homemade candy that's as easy as it is scrumptious! I hope your family likes it as much as mine does.