Easy Cannoli recipe with fresh ricotta filling, and decorated to perfection. Italian bakeries step aside for this at home treat.
If you love classic desserts, be sure to try our homemade Cream Puffs. Light and airy with a delicious filling, they're the perfect treat. Or give our easy cannoli dip recipe a try next!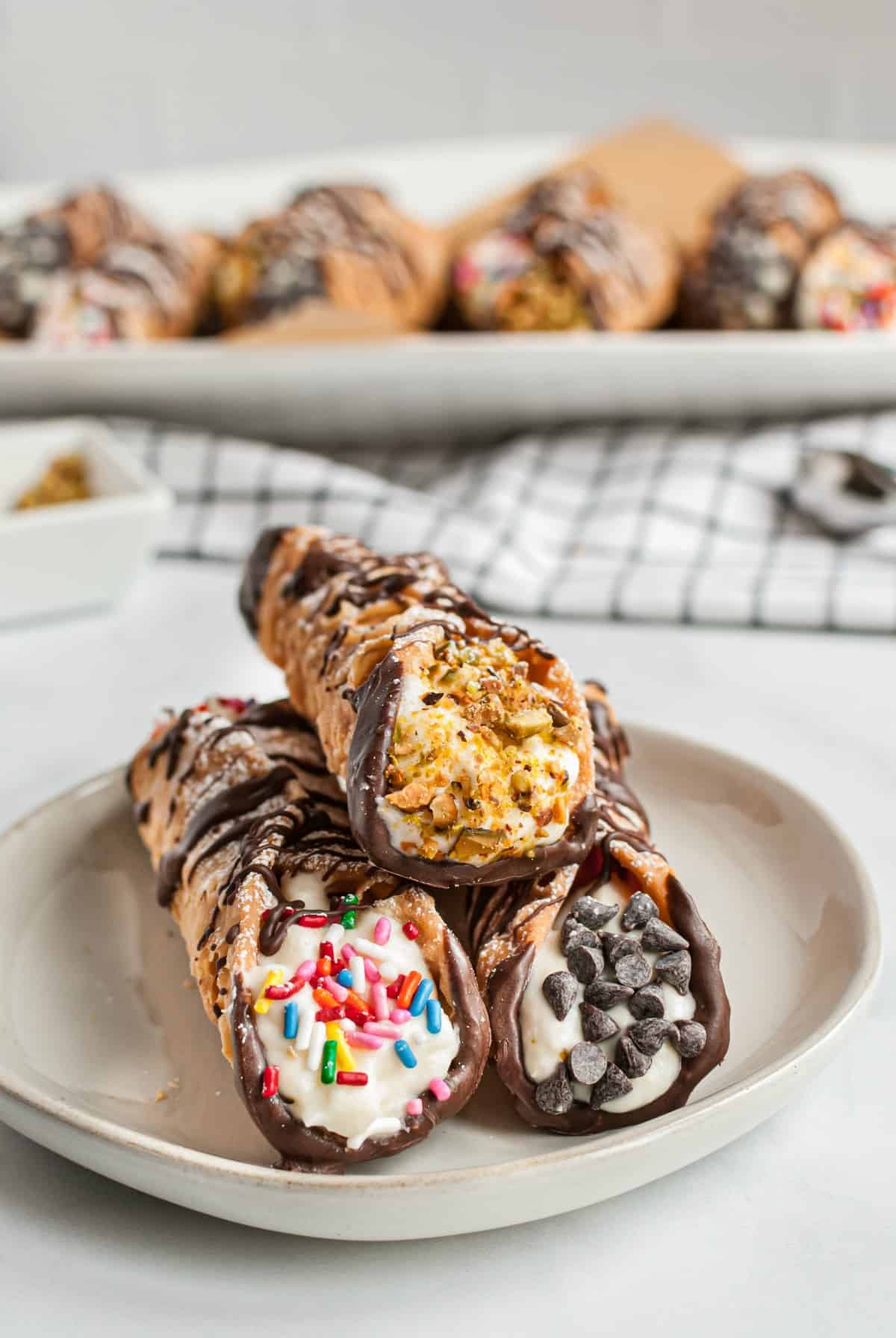 What is Cannoli?
Cannoli are pastry shells stuffed with a sweet cream filling, usually with Ricotta. Sicily lays claim to being the birthplace of Cannoli although these days they're considered a broadly Italian dessert specialty.
You need a special metal tube to shape and fry the shells. You can buy the tubes online or make life easier–but an equally delicious route–you can buy premade cannoli shells at the grocery store.
Since this was my first time making cannoli of any kind, and only my second time eating it, I decided to focus on the filling.
If you love Italian desserts, like our homemade Tiramisu, today's cannoli will surely delight your taste buds!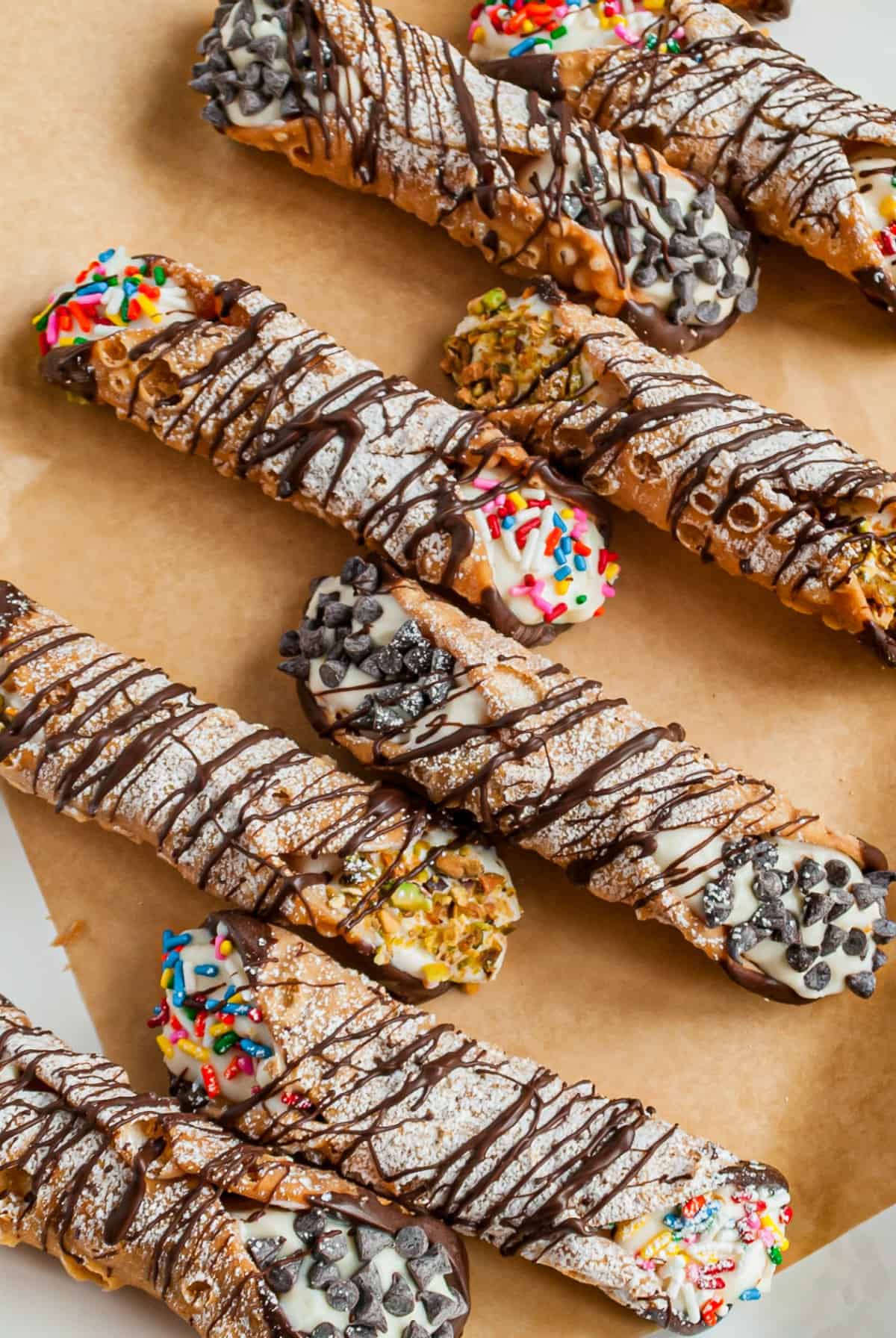 What is Cannoli filling made of?
While there are tons of variations on Cannoli filling, virtually all of them include Ricotta cheese and powdered sugar.
Similar to our favorite cannoli dip, I also used mascarpone cheese and almond extract, along with candied orange peel to replicate the Disney version my family loved.
My kids ate these up in Disney, and begged me to make them at home. So here it is: An authentic homemade cannoli recipe!
Ingredient Notes
Ricotta cheese
Mascarpone cheese
Powdered sugar
Candied orange peel – Homemade or store bought
Almond extract
Optional garnishes: chocolate chips, pistachios, sprinkles, more powdered sugar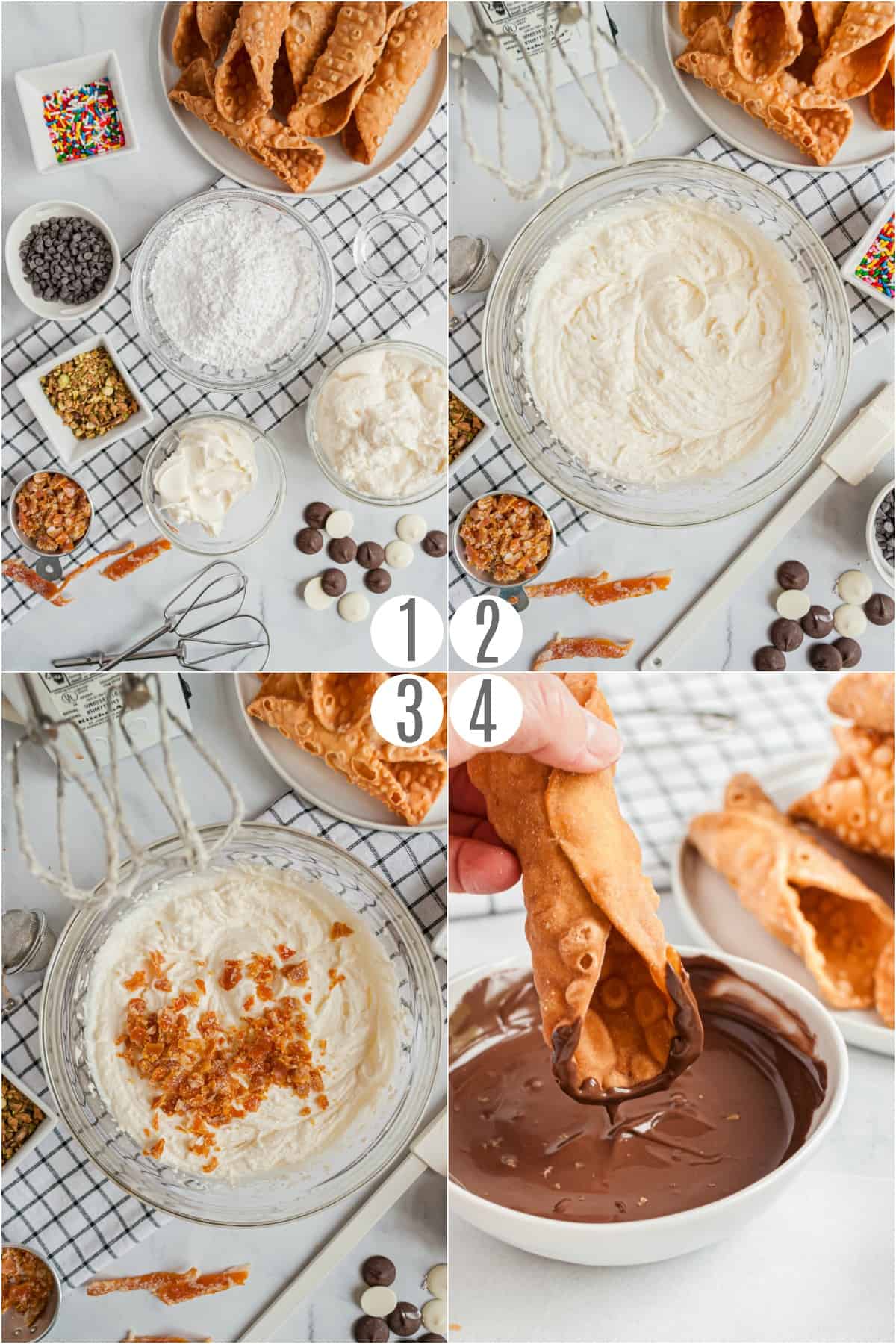 How to Make the Filling
Mix ricotta with mascarpone and powdered sugar until fluffy and smooth. Beat in almond extract. Fold in candied oranges. Refrigerate for 2 hours, or until ready to use.
To fill the shells:
Pipe filling into shells. Sprinkle with chocolate chips or powdered sugar. Eat immediately! Enjoy!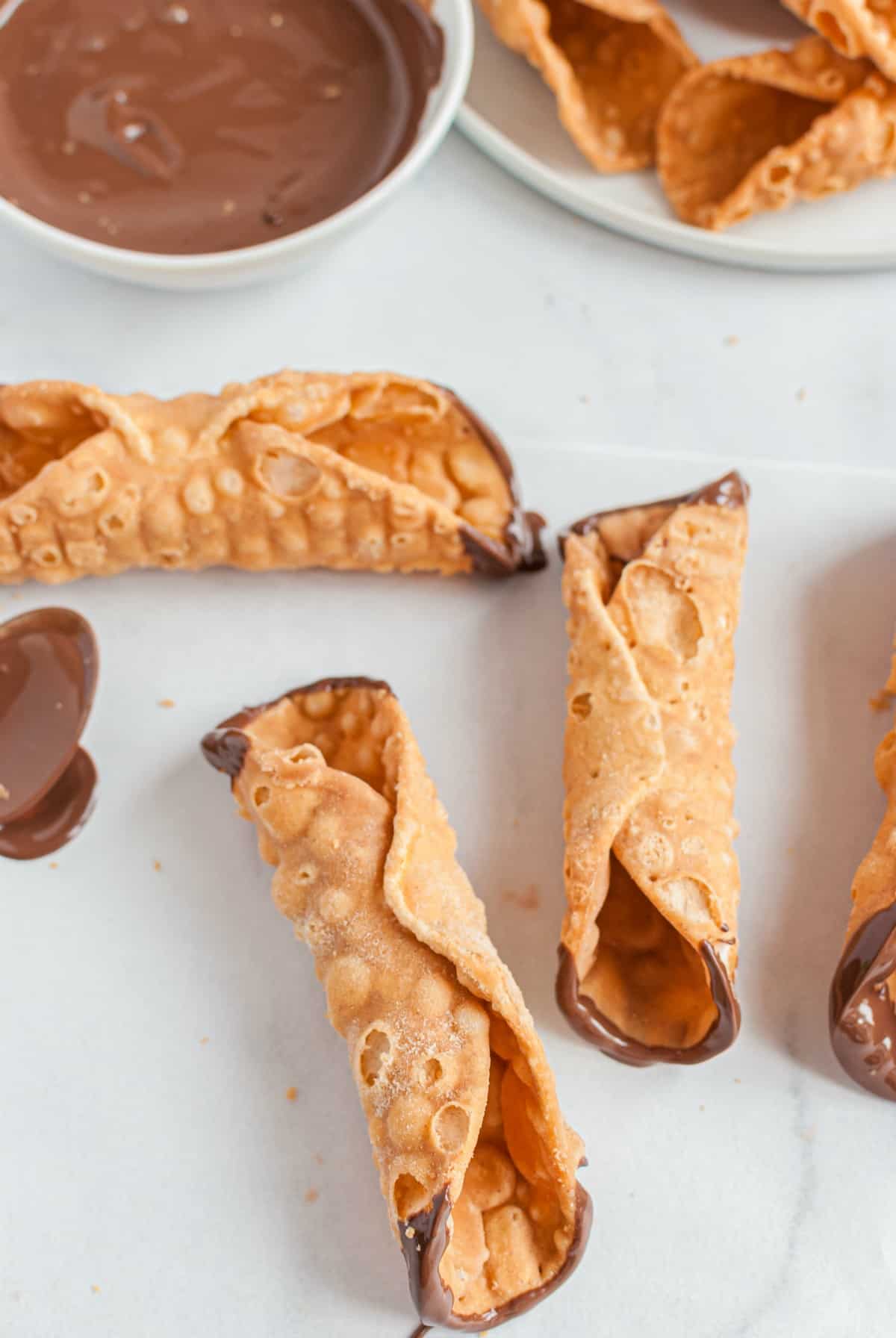 Tips and Tricks
Chocolate Cannoli: I added a little more chocolate by dipping the ends of each shell into melted semi sweet chocolate then allowing it to harden before stuffing with the filling. Delicious!
Toppings: A little powdered sugar is all you really need for perfectly elegant looking cannoli. The chocolate chips, pistachios, and sprinkles added a little bit more fun to the finished look!
Can you make Cannoli ahead of time? You can prep the Cannoli filling ahead of time, as much as a day in advance of serving. Once the shells are stuffed with the filling they need to be served right away!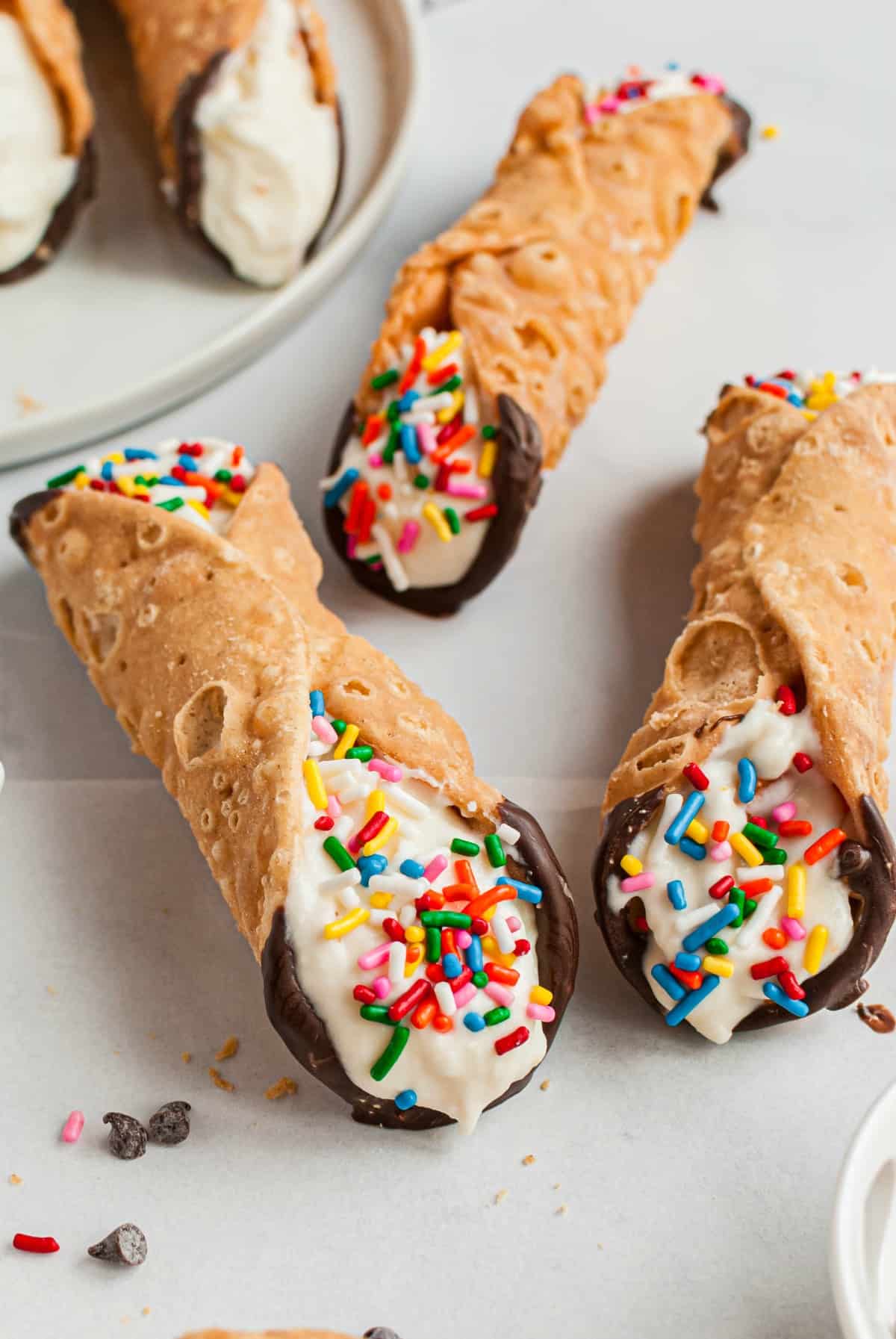 More Italian Recipes
Cannoli makes for an impressive dessert for any special occasion. It's fancy enough to wow all the grown ups and kids love them too–especially with extra sprinkles!