Cannoli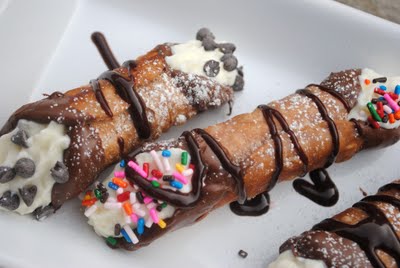 I have dreamed about making cannoli for the past two years. That's how long it's been since our family went to Italy. Okay, we didn't go to Italy, it was Epcot (but Italy sounds way cooler)!
I'm not Italian. Not a drop, that I know of anyways. However, I think I did pretty good with these cannoli to make them as authentic as possible.  I mean, afterall, the only cannoli I have ever eaten were from Epcot Italy. That's authentic right?? hehe.
For two years I have planned this moment. A year ago I bought the metal cannoli tubes online (these are the ones I bought : Ateco 5.5-Inch Cannoli Tubes
). I remembered every little bite of that cannoli, down to the little orange candy inside.
Which is why I had to make my candied orange peel yesterday.  My kids ate these up in Disney, and begged me to make them at home. So here they are folks, homemade cannoli. I hope you enjoy these as much as I did!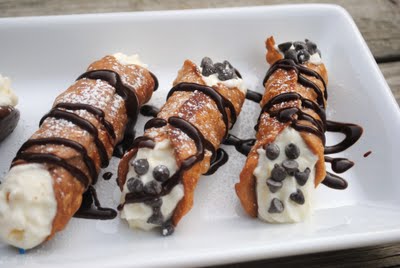 Ingredients
for the shell:
1 1/2 cup flour
1 Tbsp Crisco shortening
1 tsp sugar
1/2 cup red wine (I used Cabernet Sauv.)
1 tsp salt
1/4 tsp vinegar
1 egg white
for the filling:
1 1/2 cup ricotta cheese
1/2 cup mascarpone cheese
1 cup powdered sugar
1/4 cup orange peel candy, chopped
1 tsp almond extract
chocolate chips, sprinkles, powdered sugar, optional
Instructions
To make shells, mix all ingredients except egg white in a large bowl. Using your hands keep combining ingredients and kneading dough until dough is soft and forms a ball (takes about 3-5 minutes by hand).
Cut dough into 16 even pieces. Roll each piece into a 4 inch circle (about 1/8in thick). Wrap around a metal cannoli tube (mine are 7/8inch around, and 5 1/2 inch long). Attach the seams with a little egg white by dipping your finger in egg and smoothing the seam closed.
Fry in hot oil for about 2 minutes, turning occasionally. DO NOT BURN. I use my skillet to heat the oil, and fry in batches of 4 so that I can keep my eye on the color. Set aside to cool. After about 10 minutes you can slide it off the tube.
For the filling, mix ricotta with mascarpone and powdered sugar until fluffy and smooth. Beat in almond extract. Fold in candied oranges. Refrigerate for 2 hours, or until ready to use.
To serve, pipe filling into cooled cannoli shells. (I dipped the ends of my shells in melted semi-sweet chocolate and allowed to harden). Sprinkle with chocolate chips or powdered sugar. Eat immediately! Enjoy!
Notes
I burned my first batch by overcooking the shells. Since I cooked them without a thermometer I'm not sure what temperature to tell you. They took about 2 minutes the second time, and the shell was perfect.