Did you know you can make amazing cookies using Ricotta cheese? Soft and sweet Ricotta Cookies get dipped in icing and covered with sprinkles for an Italian cookie you'll want to make over and over again.
If you love cookies, try some of our reader favorites, including Butter Cookies, Shortbread Cookies, and of course these easy Cake Mix Cookies! All can be decorated for the holidays or any time of year.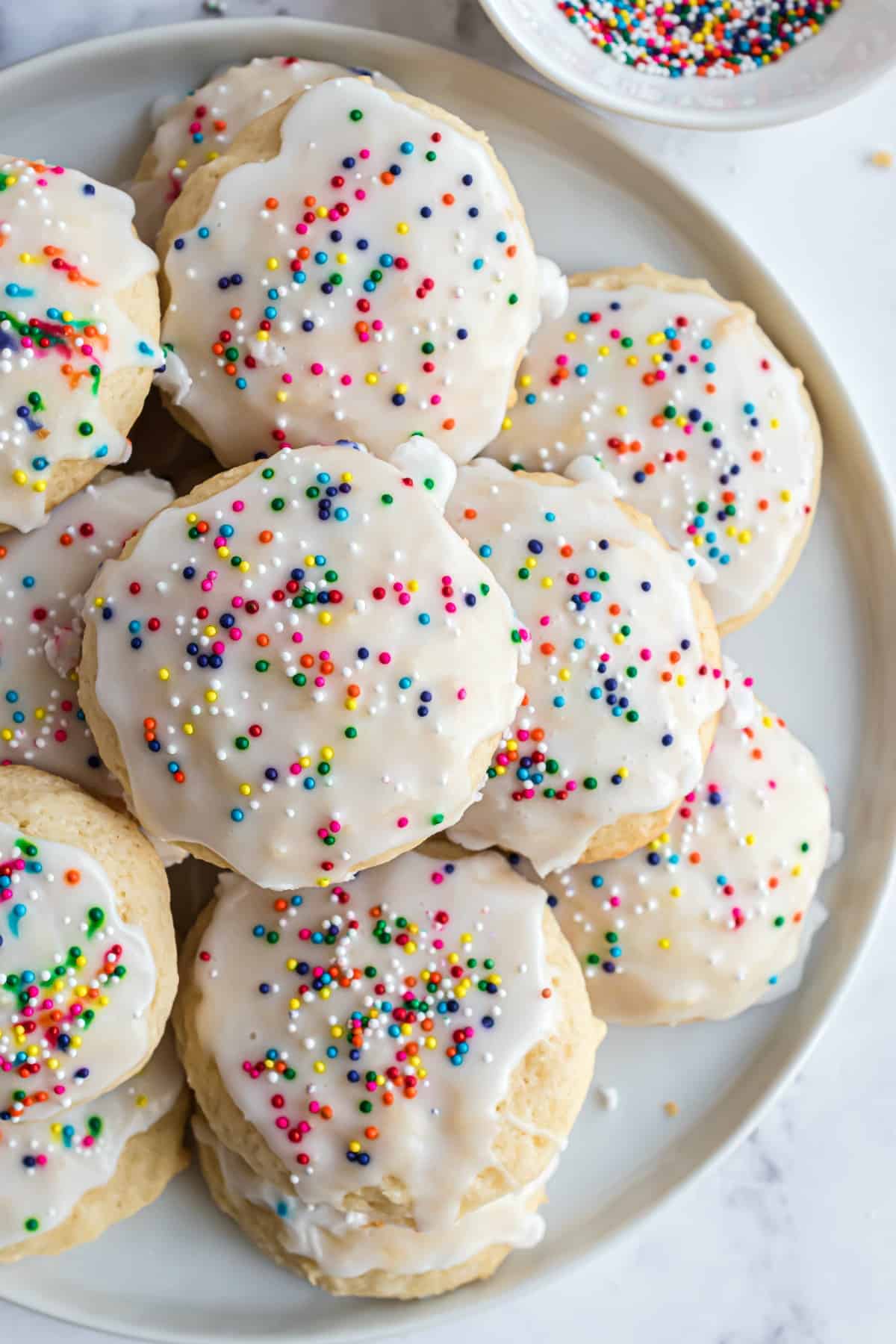 What Are Ricotta Cookies?
This Italian style cookie is super soft with a cake-like crumb thanks to the presence of real ricotta cheese in the dough. A simple and sweet glaze and a few sprinkles make them complete!
Don't worry, Ricotta cookies do NOT taste like cheese. Not even close.
Instead, these cookies have an aromatic vanilla flavor with buttery notes. You can make these for the holidays with red and green sugar sprinkles or change them up for different occasions.
If you want something different than a classic Sugar Cookie that still has a soft, buttery taste and frosting, you're going to love this Ricotta Cookies recipe. Perfect for Christmas celebrations AND all year long!
Ingredient Notes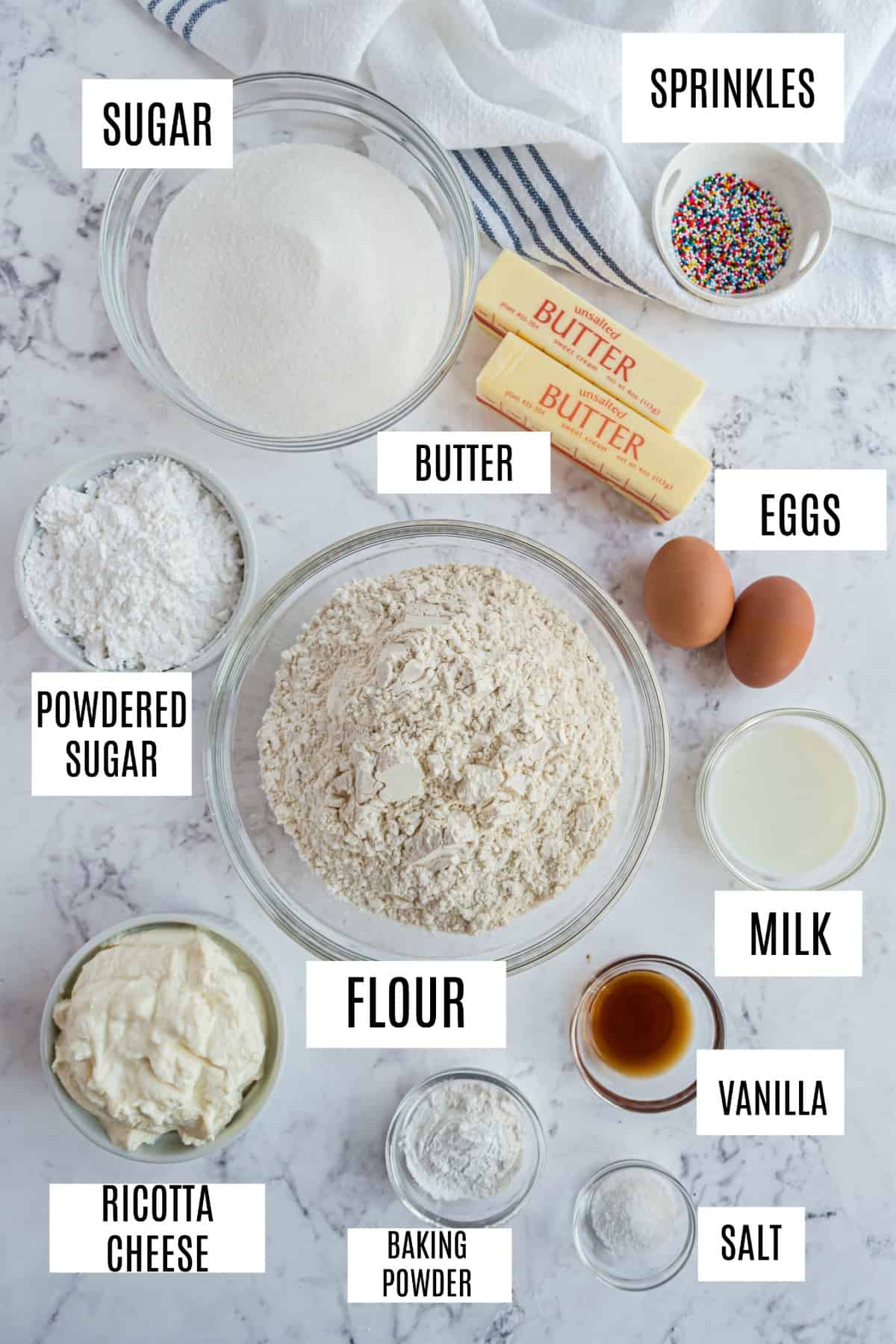 Ricotta cheese – I use an entire 15 ounce container of ricotta to make these.
Sprinkles – To make them Christmas themed, I went with red and green sugar crystals. Rainbow colored jimies or nonpareils would be great choices for other times of year!
Vanilla Extract – Make your own vanilla extract for the best vanilla flavor! You can also mix up the flavor by substituting lemon, anise or orange extract for one of the teaspoons of vanilla. Almond extract is also QUITE delicious in ricotta cookies.
Easy Instructions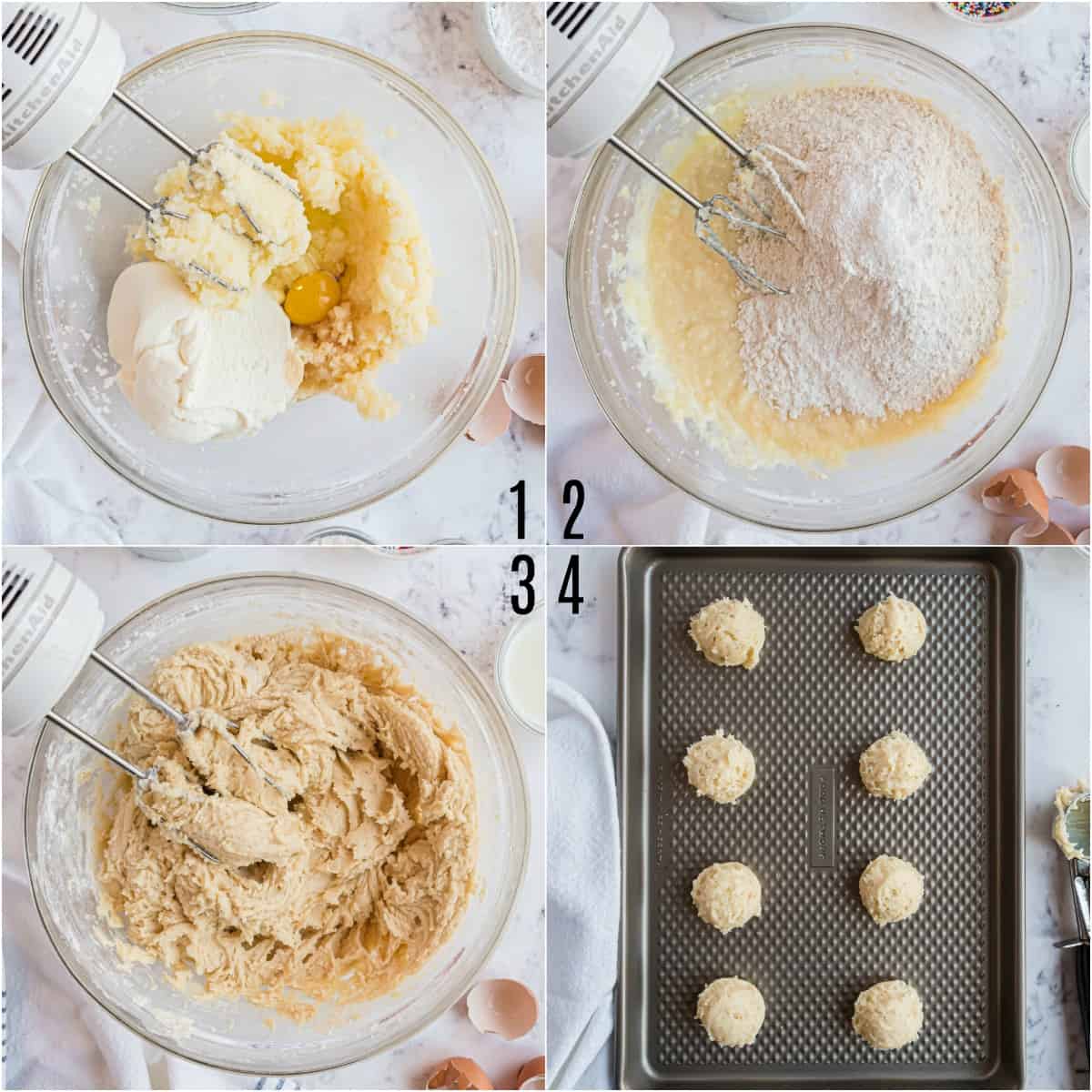 Make the cookie dough. Like most delicious cookies, these start by beating sugar and butter together, then adding wet ingredients followed by the dry ingredients.
To ensure the cookies stay soft and cake-y after baking it's important to avoid overmixing the batter. I change the speed on my mixer to low before gradually incorporating the flour, stopping when ingredients are just combined.
Bake until the cookies are light golden brown on the bottom and let them cool completely before frosting.
Frosting. I've had success using two different methods for frosting Ricotta Cookies:
Spread the icing on to the cookies with the flat side of the knife.
Dip the tops of the cookies directly into the icing.
Personally, I prefer just dipping the cookies in the icing. Be sure to wait until they are completely cooled so they don't fall apart.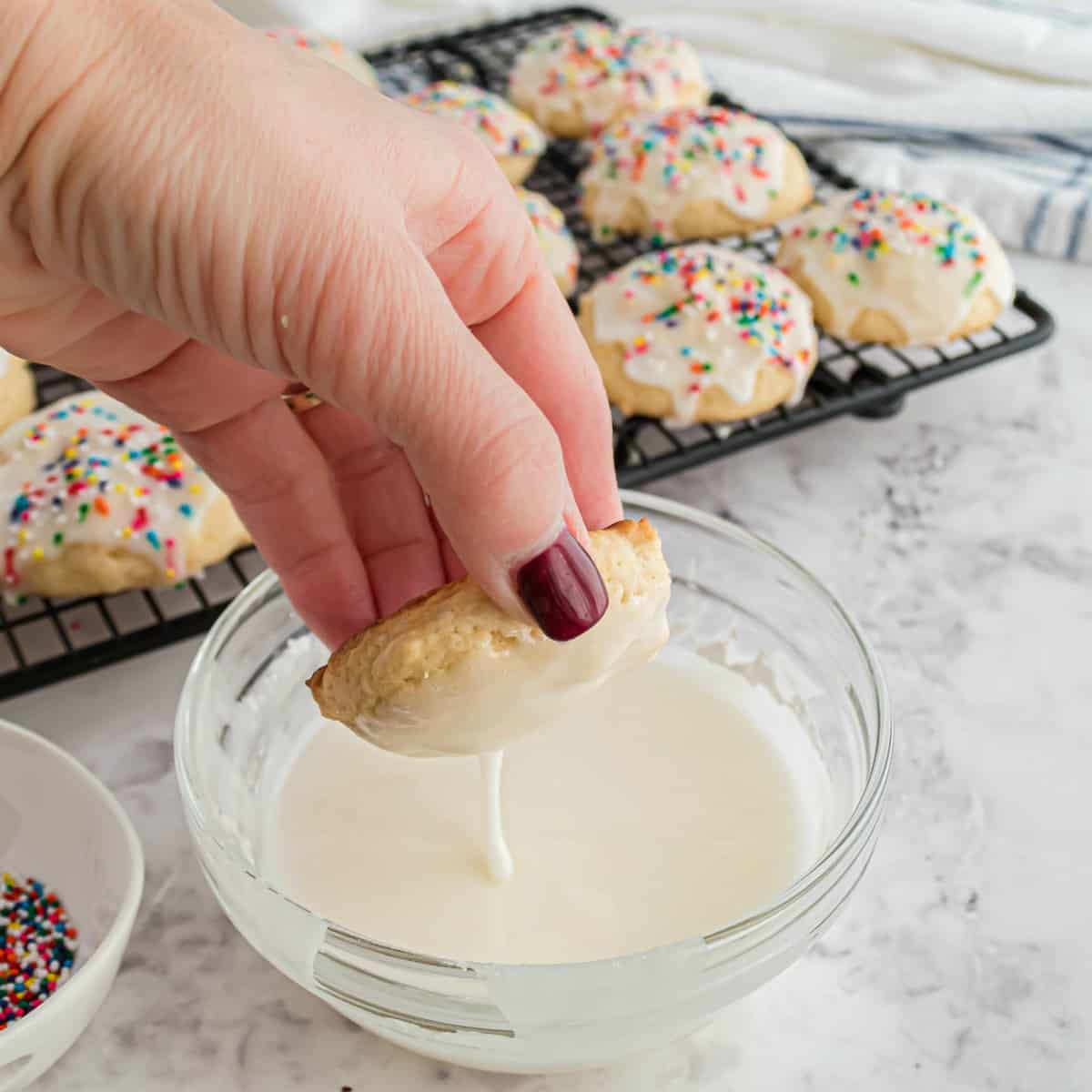 Sprinkles. After adding the glaze, immediately sprinkle the cookies with red and green sugar crystals, or other festive sprinkles.
Let the cookies set for a few minutes before digging in!
Tips & Tricks
Decorating tip: This icing will harden quickly so I recommend dipping just a few cookies in the glaze at a time, then adding sprinkles right after before it sets.
Icing: The icing should be thin and easy to spread but not so runny that it drips off the cookie. If your icing is too watery, add more powdered sugar a spoonful at a time until you reach the desired consistency.
Bake completely: These cookies should be soft but not gooey, runny or doughy when you take them out of the oven. If they're under baked, they will break easily and may fall apart when dipped in the icing.
Lemon. Give these cookies a lemon twist and bake a batch of lemon ricotta cookies instead!
Recipe FAQs
Why are my cookies browning so quickly?
On darker baking sheets, the cookies will brown faster. If you're using a dark pan, reduce the baking time to 11 minutes and then check the cookies for doneness. On a light baking sheet, you'll need 15 to 16 minutes to get them browned on the bottom.
My ricotta cookies stuck to the wire cooling rack! What should I do?
When ricotta cookies stick to the wire rack, it usually means the cookies were underbaked and not brown at the bottom. If sticking occurs, use a metal spatula to release the cookies. Alternatively, line your cooling rack with parchment paper before transferring the cookies off the baking sheet to cool.
How do you store ricotta cookies?
Store ricotta cookies in an airtight container with a lid for up to 4 days. Place a layer of parchment or wax paper between layers of cookies to keep them from getting stuck together.
Can you freeze ricotta cookies?
Freeze cooled ricotta cookies BEFORE frosting for best results. Thaw the frozen cookies overnight before dipping in fresh icing and sprinkles.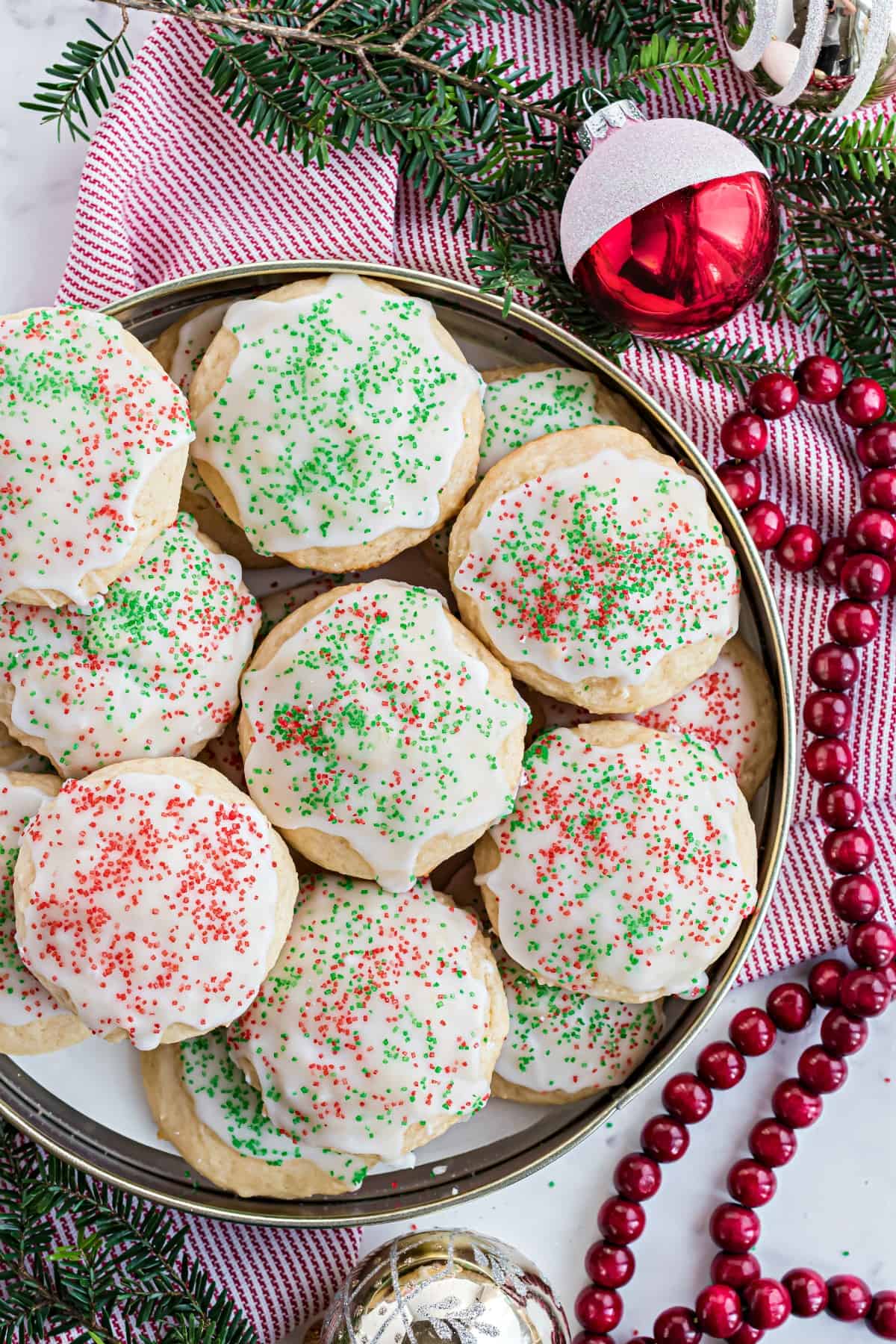 More Cookie Recipes
The soft, delicate taste of Italian Ricotta Cookies keeps everyone coming back for more. With so many ways to change up the flavors and sprinkles, you'll love making these treats any time of year!