Meet your new favorite cookie recipe. These Red Velvet Cake Mix Cookies are pretty to look at, and they taste even better! You only need four ingredients to make perfect chewy cookies with a deep red hue.
Red Velvet Cupcake recipes are everywhere around Valentine's Day. But I love making them for the Fourth of July too! Especially today's easy cake mix cookie recipe!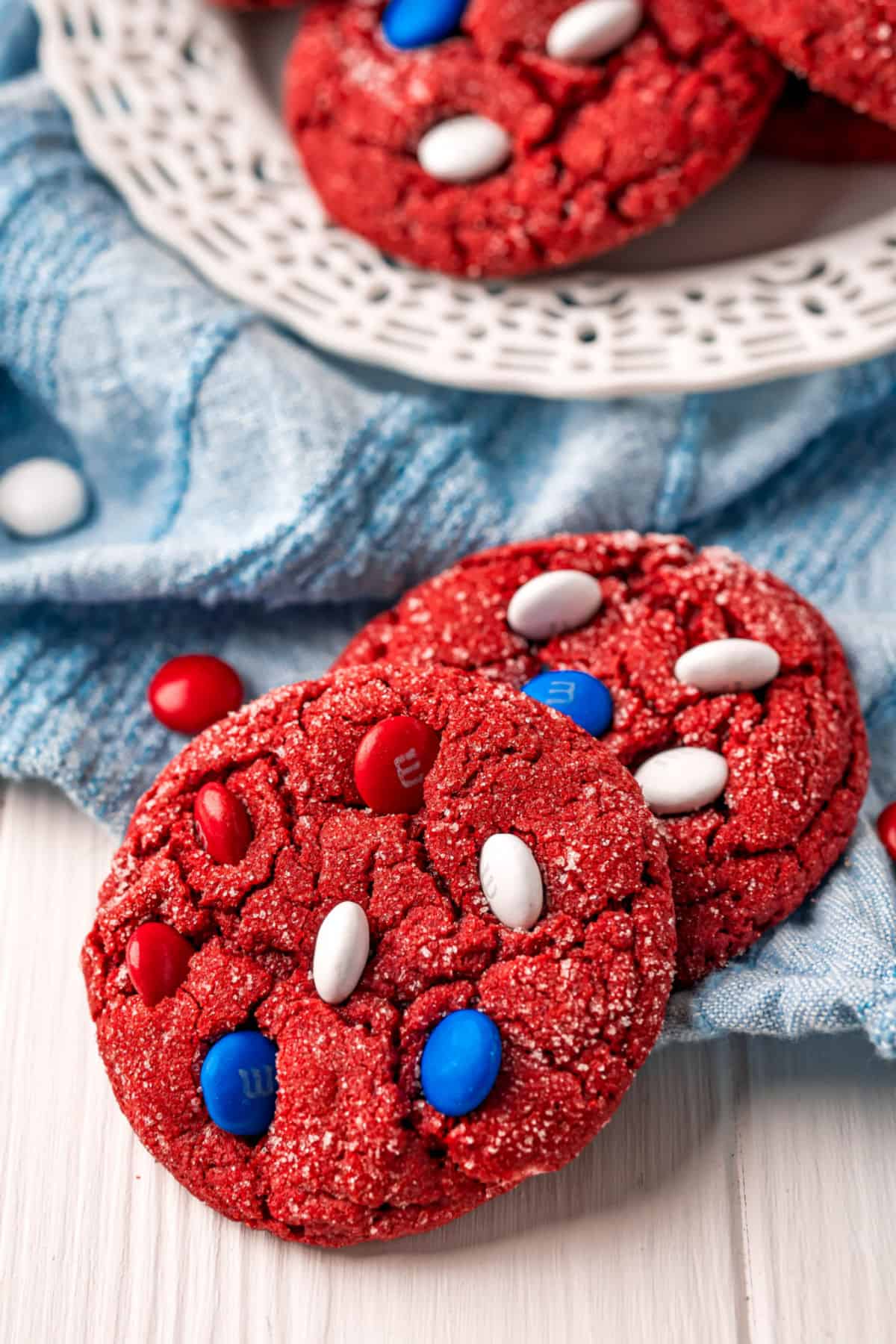 Why this Recipe Works
Have you tried my original Red Velvet Cookies recipe yet? These cookies are similar but made with boxed cake mix so they're even easier!
Instead of measuring and combining a ton of ingredients, you just open the box and half the work is done.
Before baking, Red Velvet Cake Mix Cookies are rolled in sugar for a sweet crunchy coating.
Red, white and blue M&Ms add patriotic flare and amp up the chocolate factor! Use Christmas M&M's for winter!
If you're love today's cookies, our homemade red velvet cake recipe is phenomenal. Moist, delicious, and so easy.
Ingredient Notes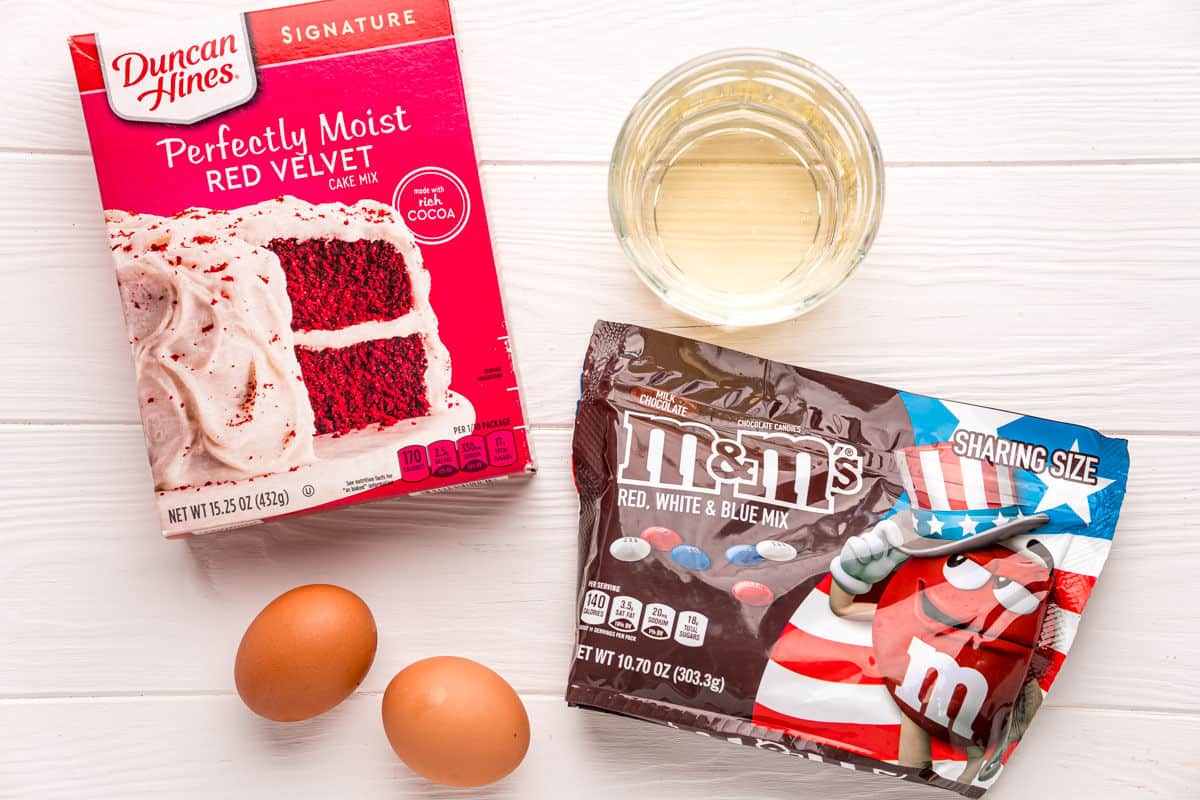 Only four ingredients for today's cookie recipe!
Red Velvet Cake Mix. You'll need a full box of mix for this recipe. Any brand.
Vegetable Oil.
Large Eggs.
M&M candies. I used red, white and blue ones for the Fourth of July. Feel free to mix up the colors you use for different occasions. You could also add sprinkles with chocolate chips if you can't find the holiday M&M's.
Easy Instructions
STEP 1. Make the cookie dough
Combine the red velvet cake mix, eggs, and vegetable oil in a large bowl. Fold in half of the M&Ms.
STEP 2. Chill
Cover the mixing bowl with plastic wrap. Place the bowl in the fridge to chill for 1 hour.
STEP 3. Roll in sugar
Shape dough into 2 inch balls. Roll each one in granulated sugar.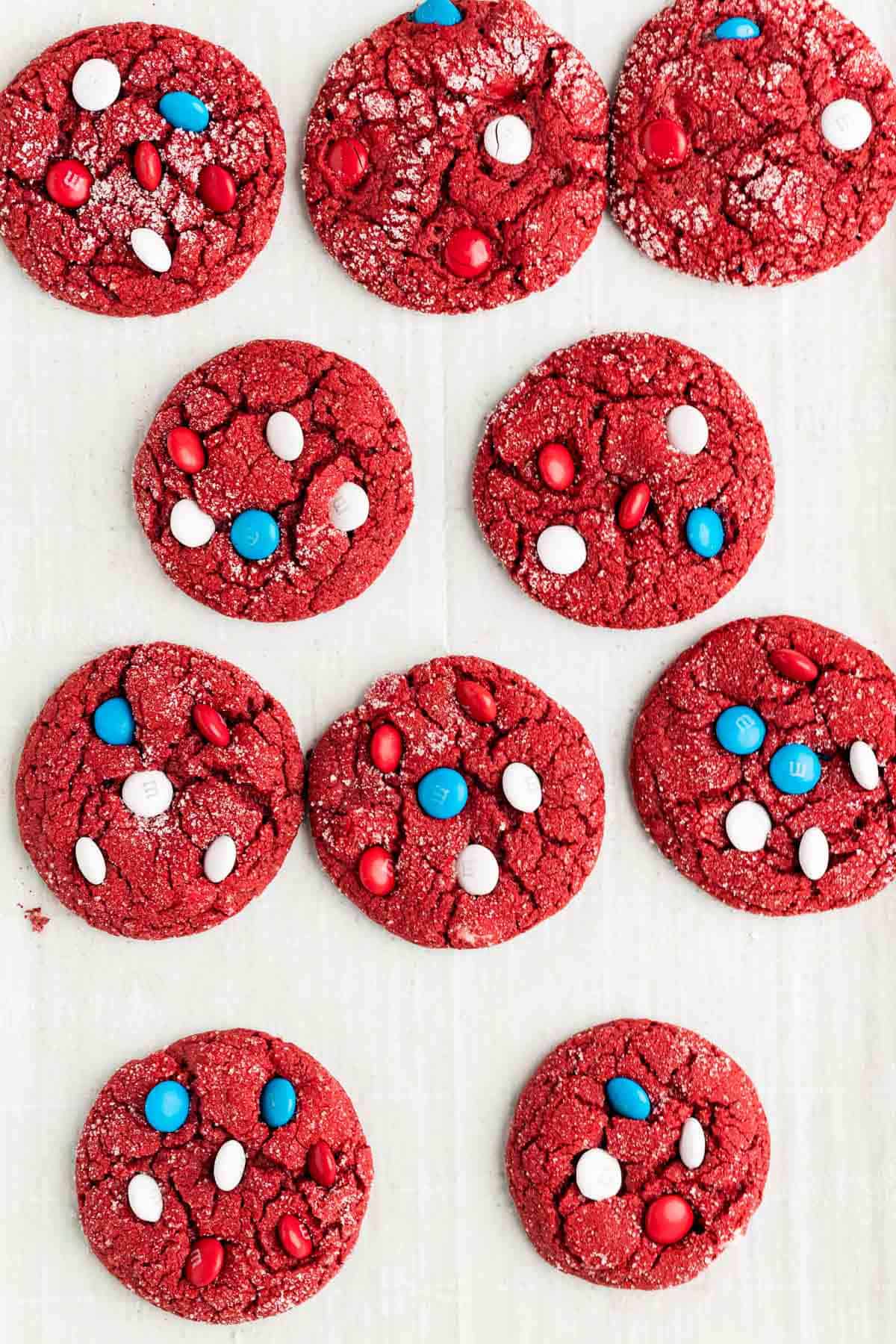 STEP 4. Bake
Bake for 8-9 minutes on a parchment lined baking sheet. Remove them from the oven and immediately press the rest of the M&Ms into the tops of each baked cookie.
Let Red Velvet Cake Mix cookies cool for 5 minutes on the baking sheet, then transfer them to a wire rack to cool completely.
Tips & Tricks
Don't overbake. The cookies will look soft and underdone at the end of baking time. They'll continue cooking after you take them out of the oven.
Make sure to chill the dough. Before chilling, the dough will be too soft to work with.
Store in an airtight container. These cookies stay good for about 1 week. But chances are good you'll eat them all well before then!
MORE holiday treats. If you love these festive cookies, try our super easy and delicious Flag Cake too! Or give these red white and blue rice krispie treats a try soon.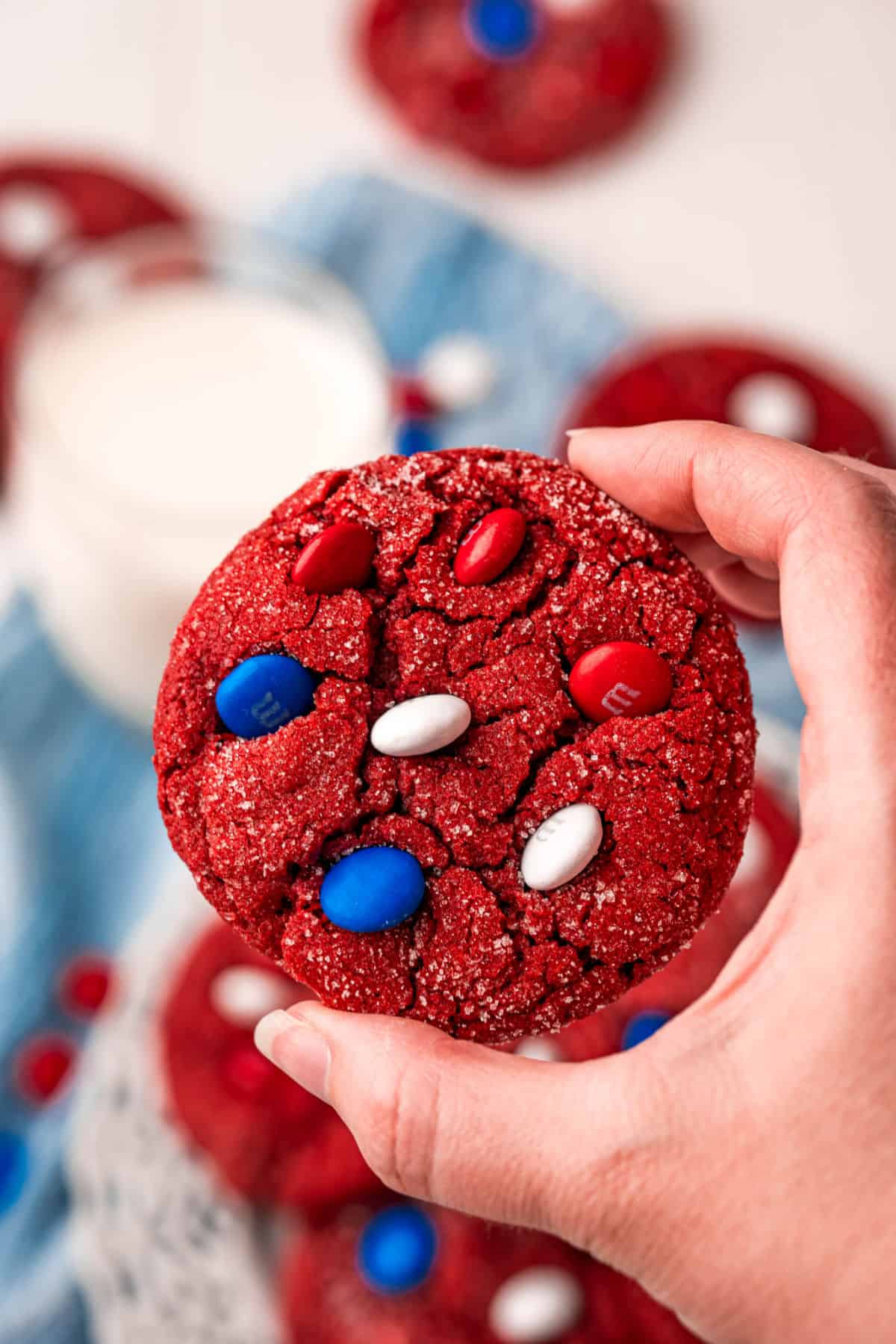 Recipe FAQs
Can you freeze Red Velvet Cake Mix cookies?
Yes, these cookies will keep well in the freezer for up to 3 months.
Can I chill the dough for longer than 1 hour?
Yes, you can. If you do, let the dough sit out on the counter for about 15 minutes before scooping it into balls. The longer the dough chills, the harder the cookies come out.
Are these cookies supposed to be hard and crunchy?
No, Red Velvet Cake Mix Cookies should be soft and chewy. If yours turned out hard, you may have over chilled the dough or left them in the oven for too long.
I can't find red velvet cake mix. What can I use instead?
The cake mix is the foundation of this cookie recipe. If you don't have the mix, I suggest making my from-scratch Red Velvet Cookies instead.
More Cookie Recipes
Grab some M&Ms and get baking! Red Velvet Cake Mix Cookies are the perfect eye-catching addition to your summer celebrations.