The best ever Pizookie recipe takes homemade chocolate chip cookie dough and bakes it in a cast iron skillet. With crisped edges and a soft center, this is one swoon worthy dessert. Add a scoop of vanilla ice cream for the perfect finish.
I'm on board with any warm dessert paired with vanilla ice cream. If you love them too, try my Skillet Apple Cobbler and Peach Dumplings next.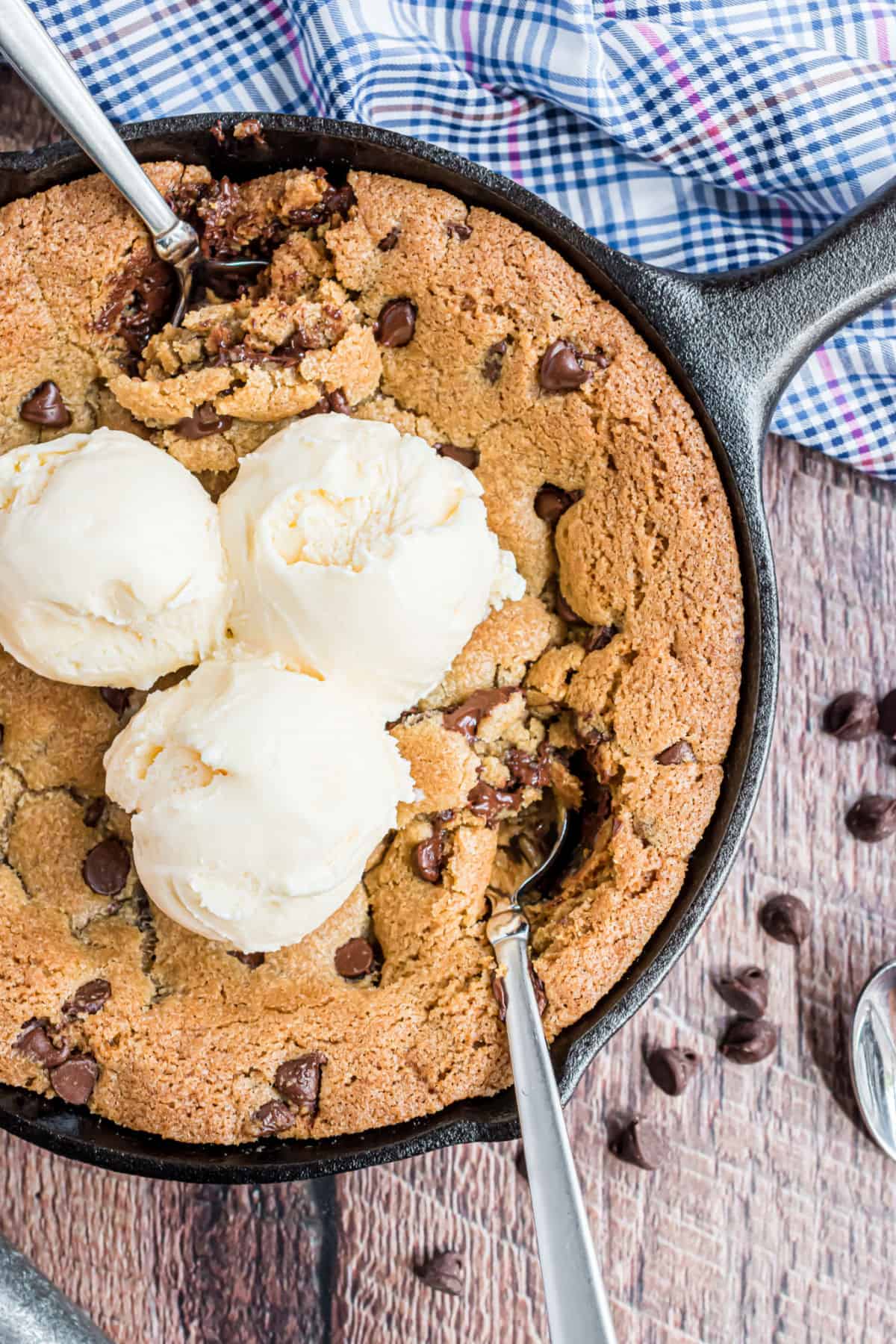 What is a Pizookie
The name of this dessert is weird, I know. It's an attempt at combining the words "pizza" and "cookie." BJ's Restaurant and Bar coined the name to describe their most popular dessert.
A pizookie is a chocolate chip cookie baked into the shape of a pizza. Today's recipe uses a cast iron skillet, which gives the pizookie a slightly crispy crust similar to pizza.
It has a gooey, buttery chocolate chip center that's amazing eaten warm right out of the skillet. I love it best with cold vanilla ice cream on top that melts into the warm cookie as you eat it.
This Pizookie Recipe is everything I dreamed of and more.
Plus, the name is kinda fun to say, right? Pizookie!
Why this Recipe is Best
Simple ingredients. This pizookie recipe uses familiar baking staples.
Easy to make. Mix, bake and serve!
Buttery flavor. Salted butter makes the pizookie extra flavorful!
Crisp edges, soft middle. You get a satisfying crunch at the edge with an amazingly chewy cookie center.
Chocolate morsels. This recipe contains just the right amount of chocolate chips to distribute them evenly (and generously) throughout the pizookie.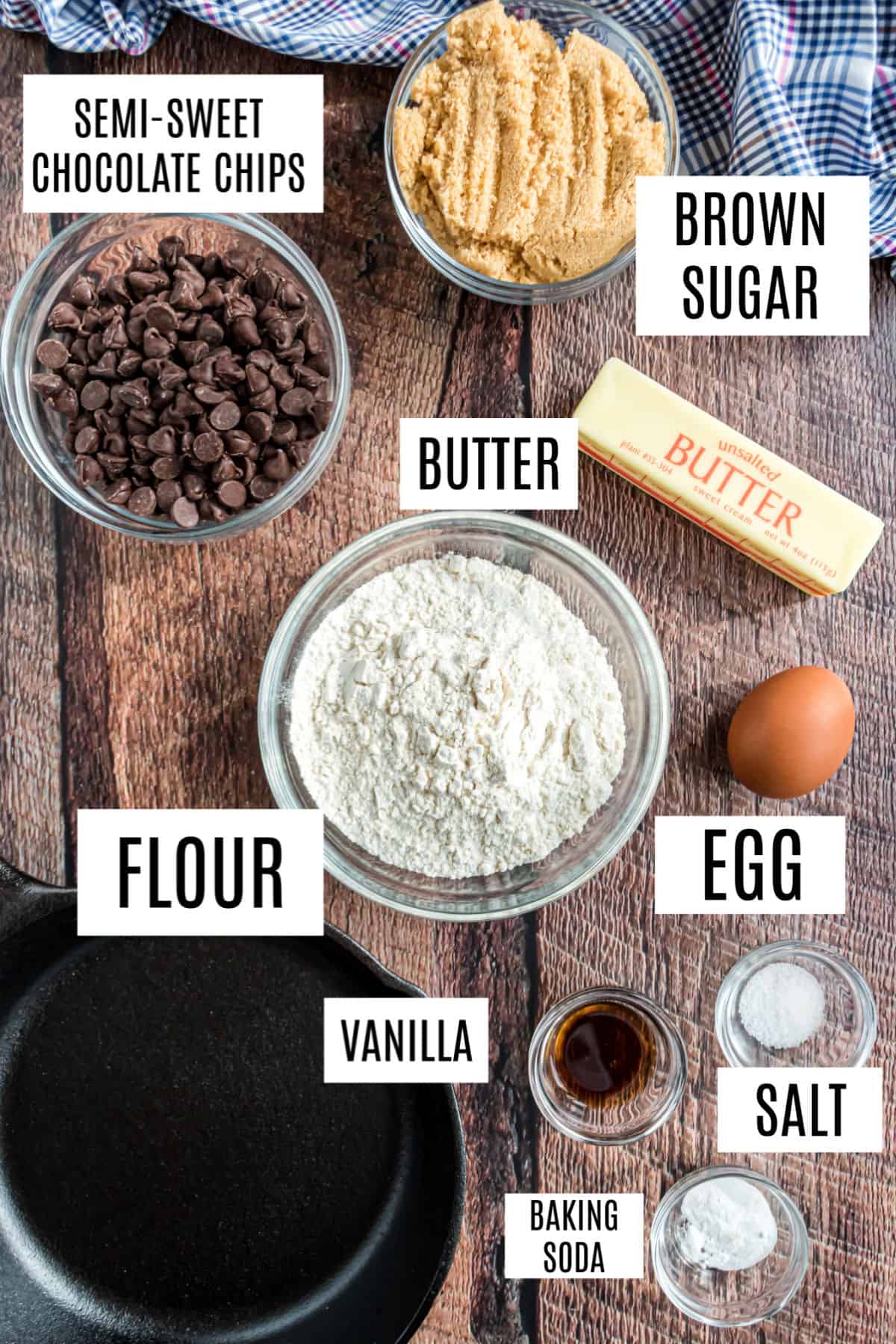 Ingredient Notes
Kosher salt. I use kosher salt in all my baking for best results.
Vanilla extract. Try homemade vanilla extract for even richer flavor.
Semi sweet chocolate chips. This pizookie recipe would also be delicious with milk chocolate if preferred.
Tips and Tricks
Not in the mood for chocolate chips? Change it up with different mix ins. There are all tasty additions (or substitutions) to this pizza cookie:
Chopped nuts
M&Ms
White chocolate chips
Toffee bits
Butterscotch morsels
Caramel candies
You can also change up the cookie dough!
Try using peanut butter cookie dough instead (with or without chocolate chips)!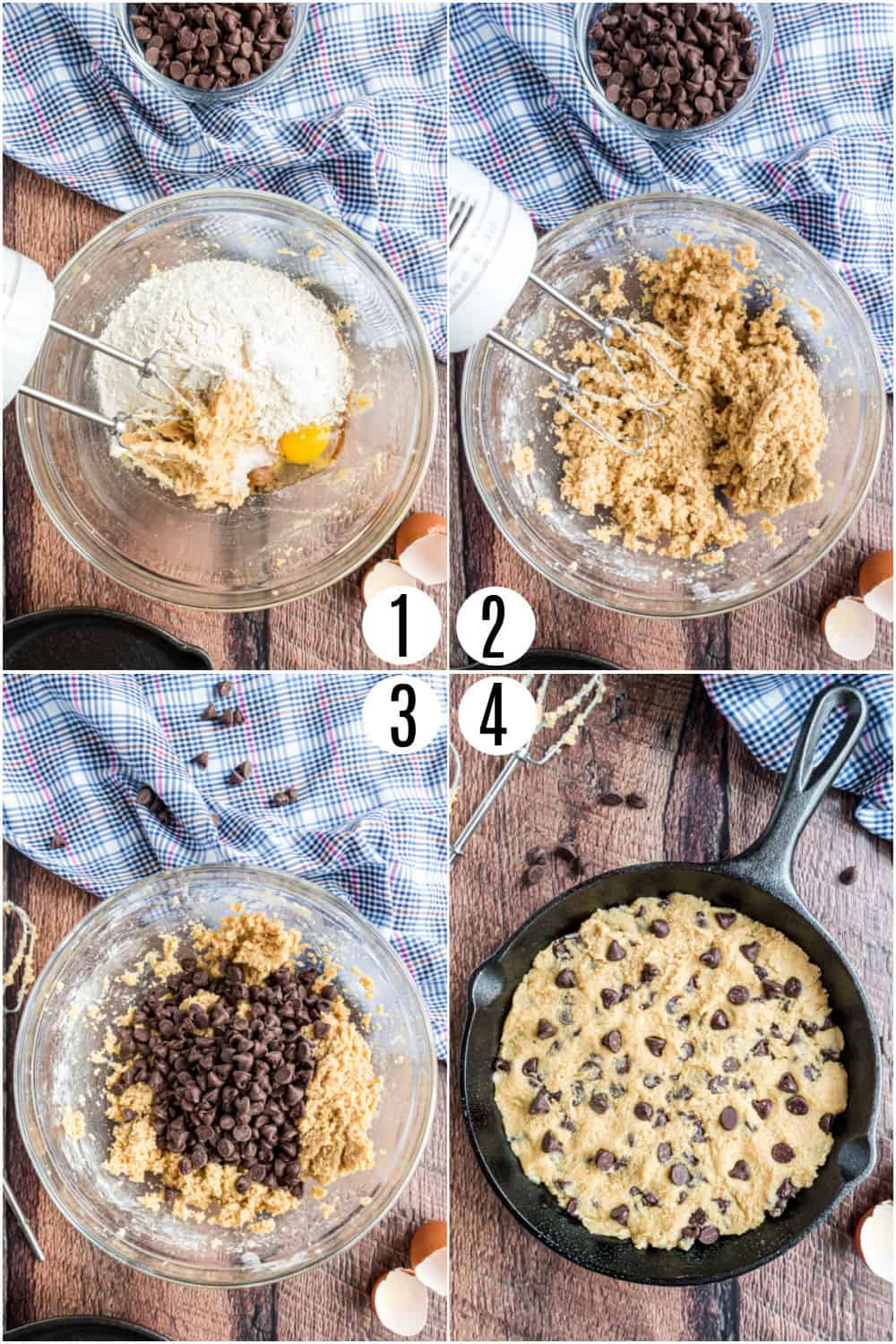 Serve your perfect Pizookie right out of the pan! Add your favorite toppings and dig into decadence.
Here are some of our favorite toppings.
Cookies and Cream ice cream
Chocolate drizzle
Caramel sauce
Hot fudge sauce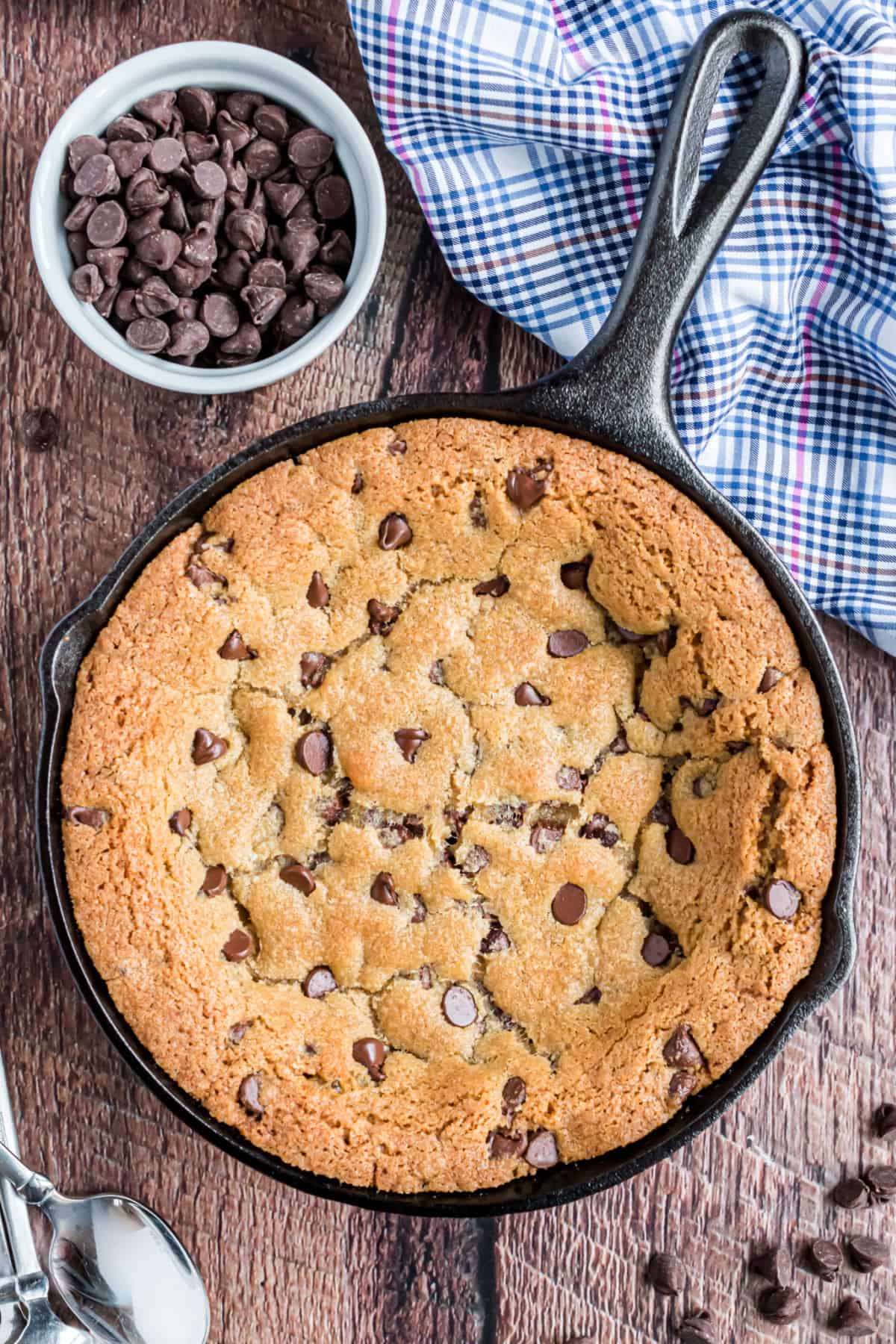 Recipe FAQs
What kind of skillet do I need for a Pizookie?
I made this pizookie in an 8- inch cast iron skillet. A 9-inch skillet can also be used, the cookie may just cook a little faster.
Can I make this ahead of time?
You can totally make the cookie dough ahead of time and let it chill in the fridge until ready to bake! I would recommend baking this just before serving. It's best served warm, so I let it cool in the pan for just a few minutes, until it's ready to slice.

Can I use dark brown sugar instead of light brown?
Yes, dark brown sugar gives the cookie a richer caramel flavor. Either type of brown sugar will work in this pizookie recipe.
Can I make this without a cast iron skillet?
You can use a cake pan or other oven safe skillet. The edges may not get the same crispiness that cast iron gives the pizookie but the flavor will be delicious all the same.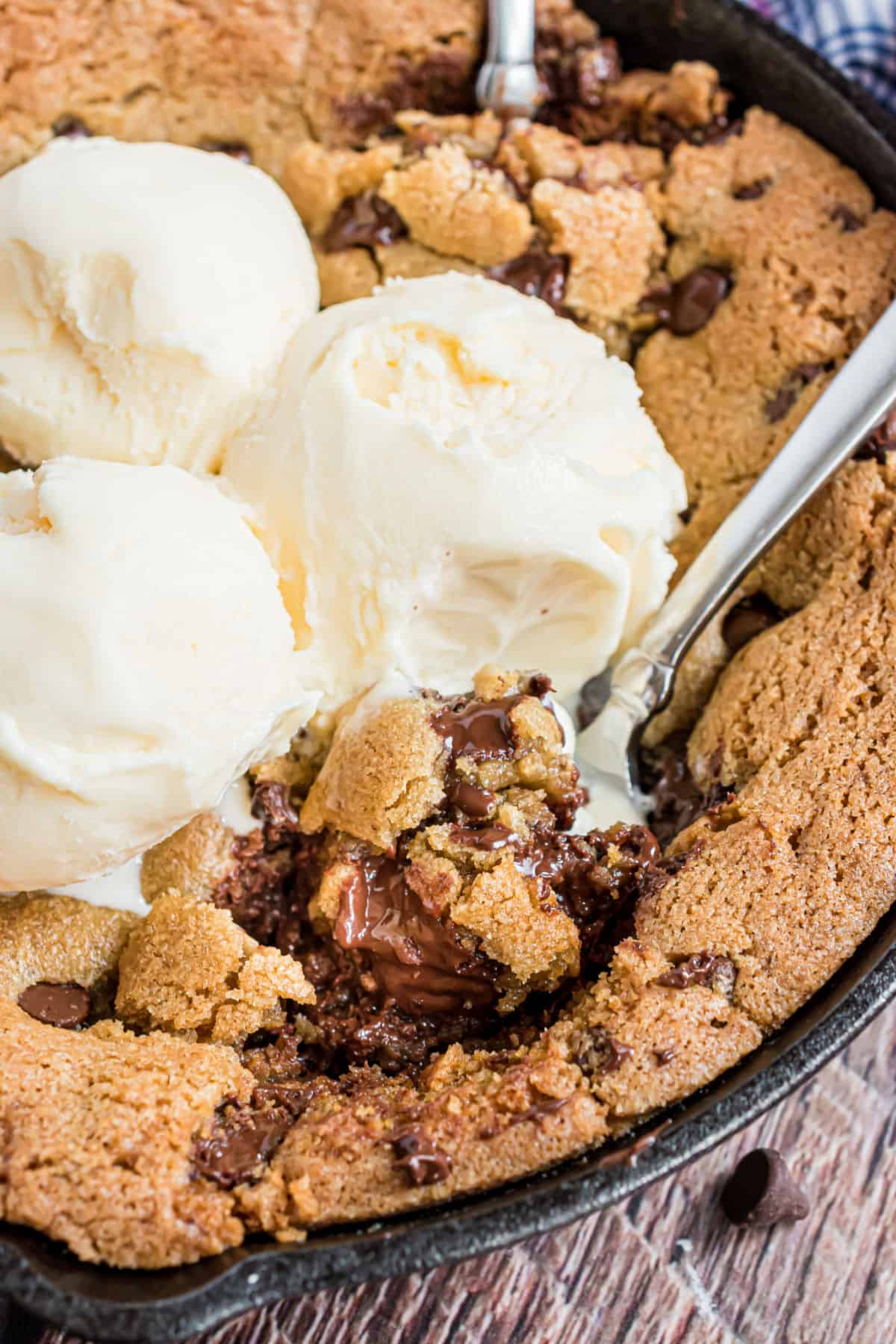 More Cookie Recipes
Pizza meets chocolate chip cookie in this over the top dessert. Make sure to save this Pizookie recipe— your family's going to request it over and over again!