Your house is going to smell amazing when you whip up this easy Skillet Apple Cobbler recipe for dessert! I've even got a few shortcuts for you so you can be enjoying this soon!
Love easy skillet desserts? Our Butter Pecan Skillet Cake is still one of my favorite all time dessert recipes! Or whip up this easy Sugar Cookie Cake made in a skillet with only 5 ingredients.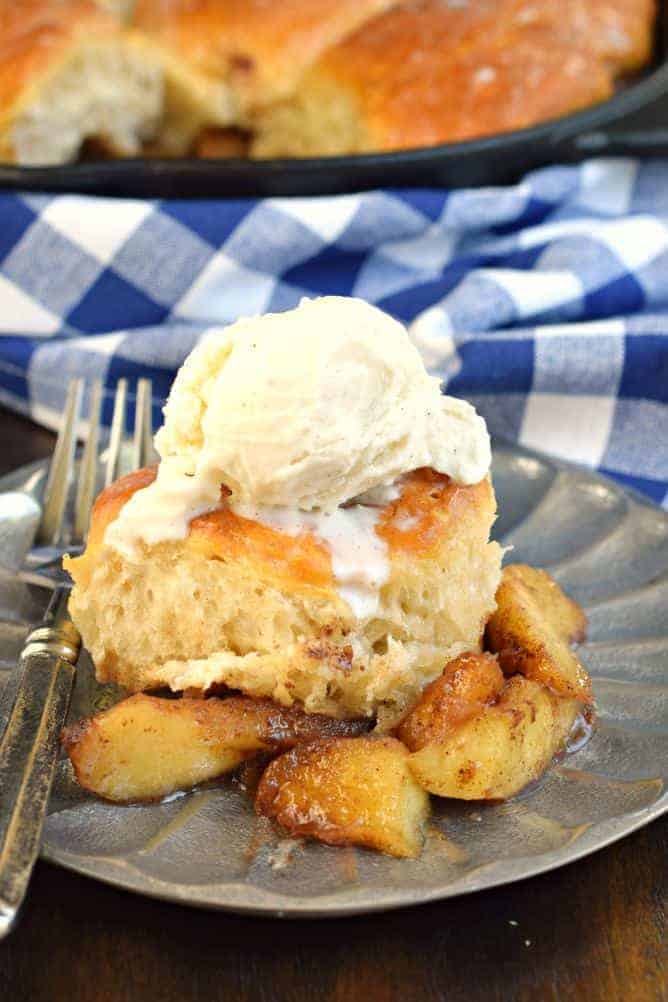 Perfect Weeknight Dessert
Summer is here and while everyone is making no bake desserts, I'm over here craving comfort food.
I can't help it. I love apple desserts! Apple Hand Pies, Apple Crumb Cake, Apple Bread…you get the drift.
But, since it's summer, I like to find a few shortcuts along the way, so that I can spend more time outdoors.
This dessert is made in the skillet so you can transfer it right from stove to oven in one dish.
This is truly one of the benefits of skillets! I have this Cast Iron 10-inch Skillet and it's never failed me yet.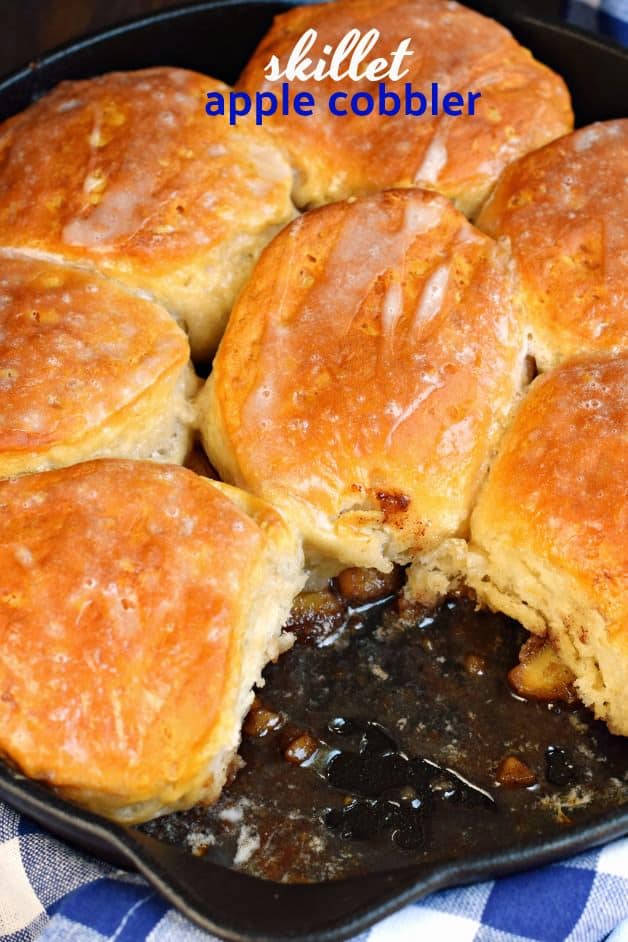 Ingredient Notes
Apples – Have you ever seen those sliced apples in the store? They are PERFECT for whipping up a quick dessert. You can also use fresh whole apples and peel, core and slice them yourself if you have the time. Tart varieties like Granny Smiths taste best.
Refrigerated Biscuits – Grab a package of refrigerated uncooked biscuits–the big fluffy kind! The convenience of just being able to throw the wrapper in the trash and not have to clean counters after rolling out biscuit dough makes it the easy choice for me. However, if you prefer biscuits from scratch, you can totally do what works for you.
Walnuts – Chopped walnuts or walnut pieces add a delightful crunch to the apple cobbler. If you or someone you're cooking for can't have nuts, feel free to leave them out.
Step by Step Instructions
STEP 1. Cook the apples
Melt butter in a 10-inch cast iron skillet. Once melted, toss in sliced and peeled apples, cinnamon, nutmeg, brown sugar, and walnuts. Simmer for about 6-8 minutes.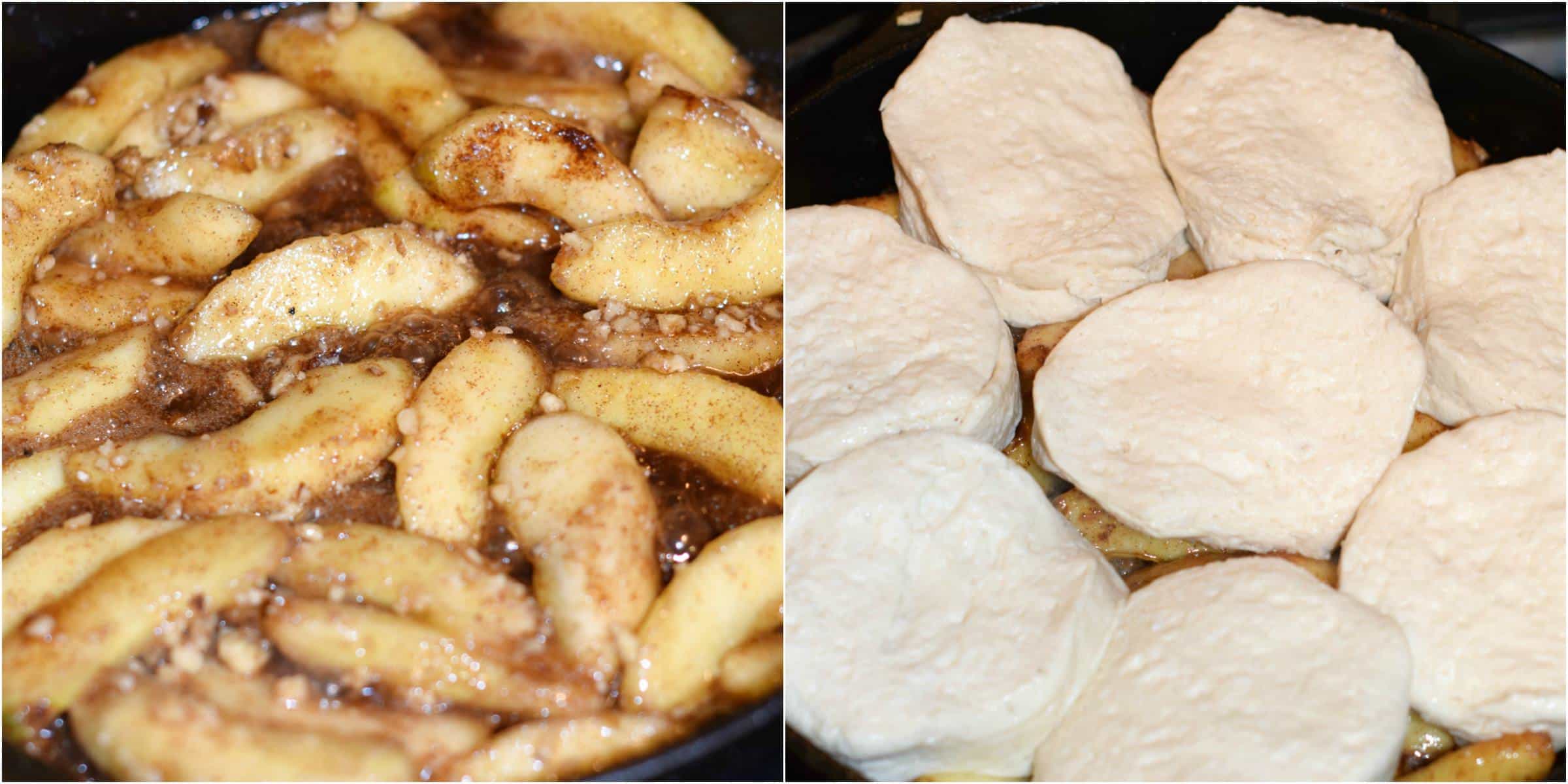 STEP 2. Top with biscuits
Open the package of biscuits and place the raw biscuits evenly over the apples. Bake for 25 minutes.
STEP 3. Glaze
Meanwhile, whisk powdered sugar and milk together to form a glaze. When the cobbler is done baking, remove from the oven and immediately drizzle the glaze over the pan.
Serve right away for best taste!
Tips and Tricks
Use a clean, well seasoned cast iron skillet.
Add this vanilla ice cream on top of each serving! Cold ice cream melting over hot apple cobbler is a taste experience like nothing else.
I don't recommend storing this or making it in advance. The biscuits will get stale and lose their irresistible fluffiness.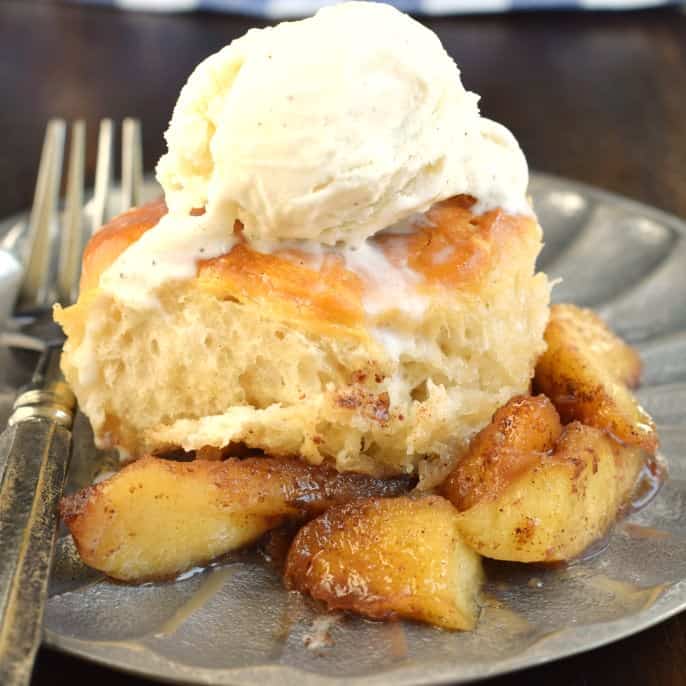 Recipe FAQs
Can this be made without a cast iron skillet?
Yes! To make this without a cast iron pan, you can use a large saucepan or regular skillet to cook the apples and butter. Then, transfer to a baking dish, top with the biscuit dough and bake.
How big should the apple slices be?
I use the store bought Crunckpak apples but if you are slicing your own, you'll want about 1/2 inch slices. Small enough to easily fit in your mouth but big enough to hole some shape as they bake.
Can you prep this in advance?
I don't recommend baking the cobbler in advance,. If needed, you could make the apples up to a day ahead of time. Then, store them in a container in the fridge add them back to the skillet or baking dish when you're ready to bake the apple cobbler.
Buttery spiced apples baked with fluffy biscuits make an unbeatable weeknight indulgence! Enjoy this Apple Cobbler recipe as the weather gets cooler or anytime you need a quick and easy homemade dessert.