Easy one bowl Chocolate Buttermilk Sheet Cake recipe. Fudgy buttermilk frosting on top! Perfect for a crowd, or freeze for later.
Love sheet cakes? Our Peanut Butter Sheet Cake is rich and moist, and topped with an incredible peanut butter frosting! Try our flavorful pistachio sheet cake for a delicious twist on a favorite flavor!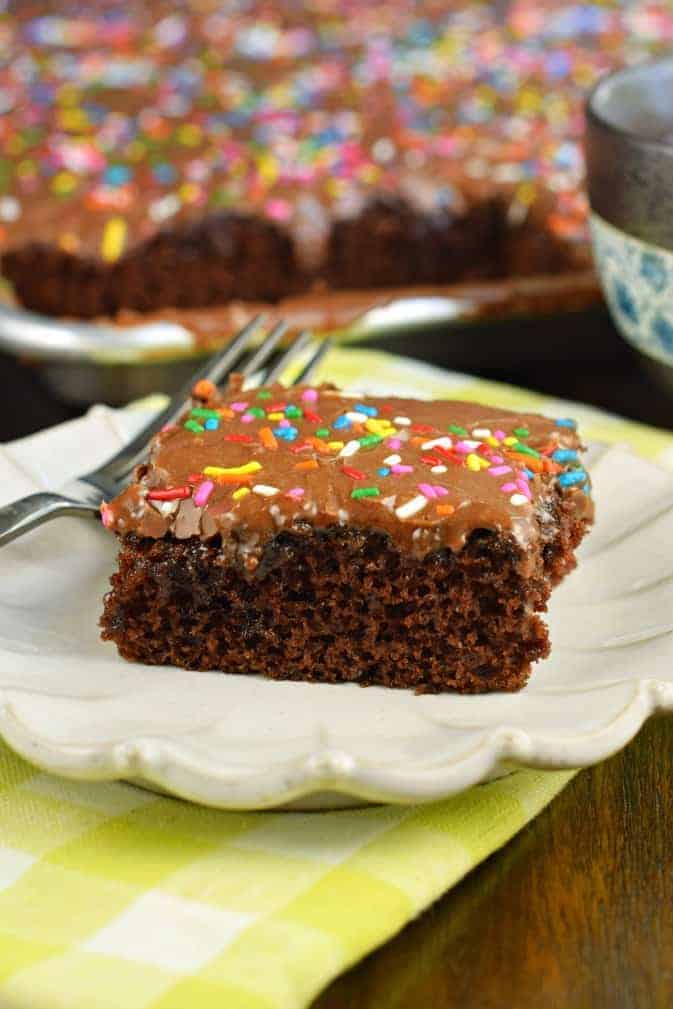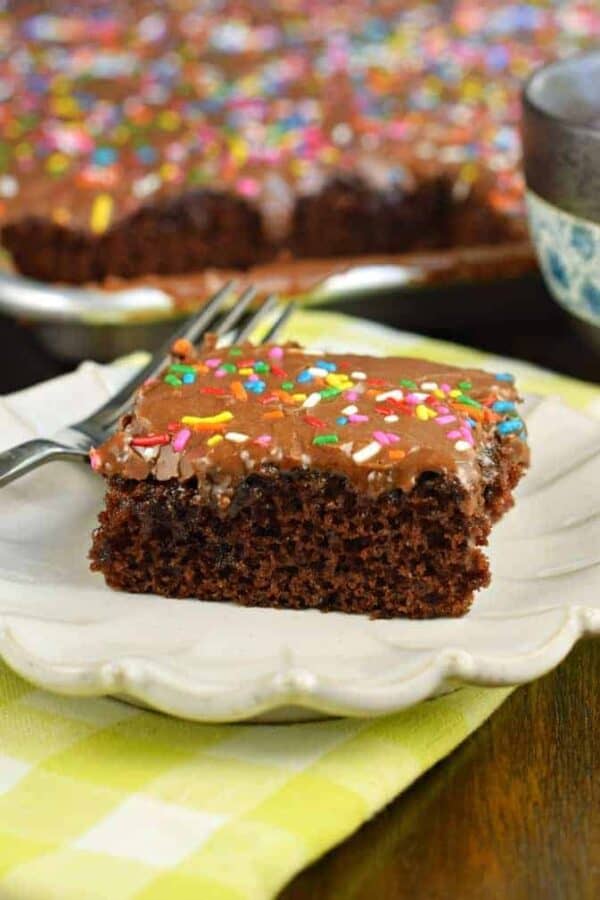 Why this Recipe is Best
Growing up I remember our neighbor, who was an older woman, bringing us a Texas Sheet Cake periodically. I think it was because we helped mow her lawn while she was out of town, but honestly the WHY isn't important. That WHAT is…
I loved the fudgy texture of that sheet cake with it's soft, decadent melted icing on top!
I wanted to create a similar treat, my biggest struggle was trying to find the right pan size for the job. My first attempt was using this recipe…no pan size listed (well, it did say jelly roll) and temperature says 350-375. Needless to say it overflowed into my oven in a giant mess.
One would think I would have given up…but no way. I used my half sheet pan from making these Almond Bars and went back to work. SUCCESS.
The Best Chocolate Sheet Cake. Ever.
My only dilemma (if you can even call it that) is being left with SO MANY PIECES OF CAKE. No worries though, this cake freezes VERY WELL…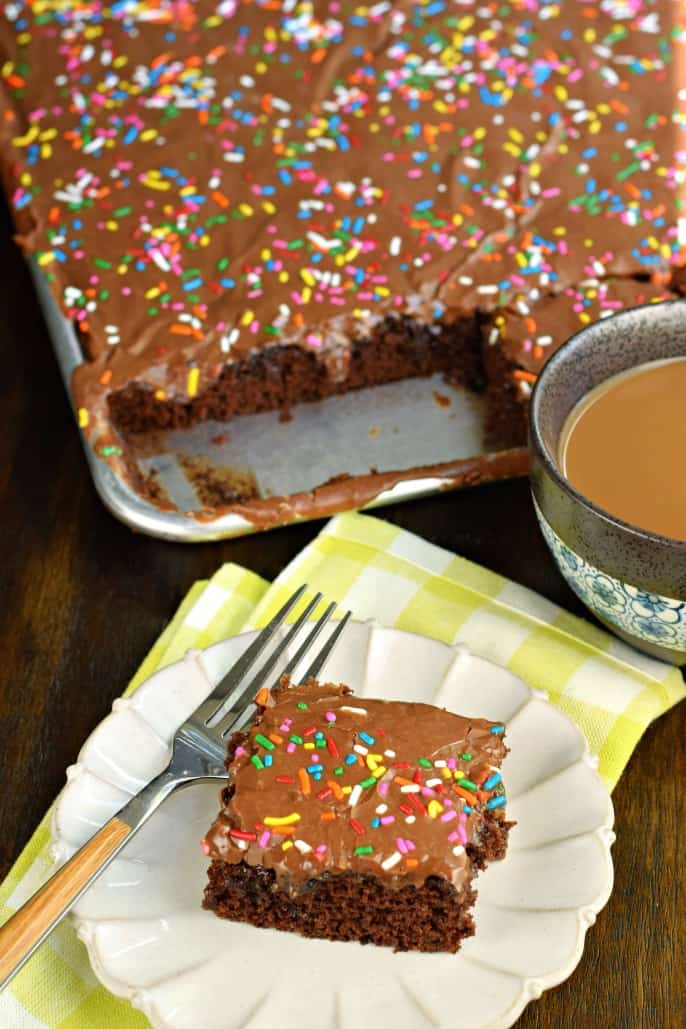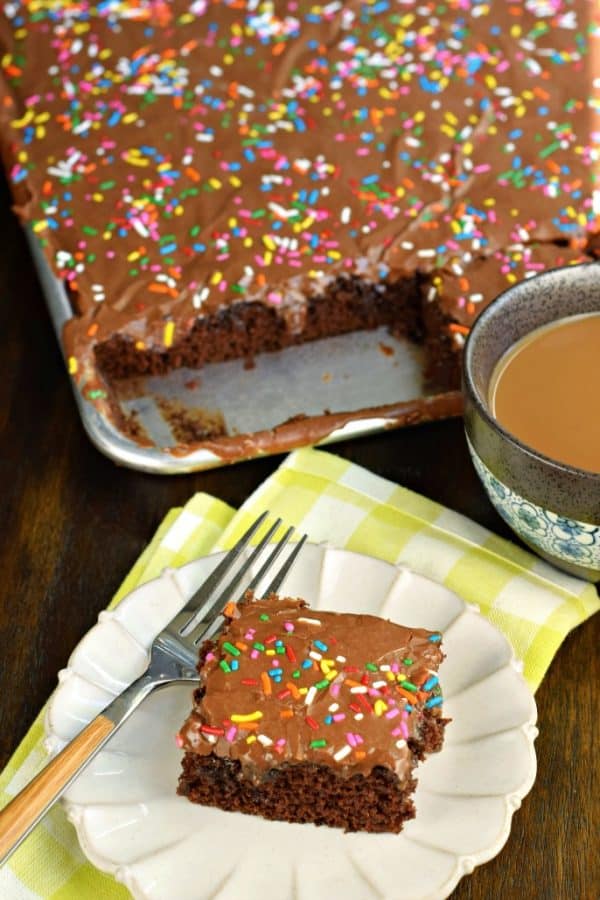 How to make buttermilk sheet cake
The key to this sheet cake is the buttermilk. Don't you dare even think about skipping it! It's in the frosting too, so you get a double dose of deliciousness.
All you need is one bowl to mix the dry ingredients together. Add in the eggs, oil, buttermilk and hot water. Combine really well then pour into your sheet pan. I used this one.
Bake in a 350 degree F oven for about 25 minutes, until edges separate from pan and toothpick inserted in center comes out clean. Remove from oven to cool.
While cake is cooling, prepare frosting. Pour over cake (it's okay if cake is still warm!). Add sprinkles if desired.
Cool cake completely and let frosting set (about an hour). Slice and enjoy.
If freezing, place cake slices in airtight container in layers separated by wax paper. Freeze until ready to use. Thaw at room temperature and enjoy.
Recipe FAQs
What is a texas sheet cake?
Texas sheet cakes are typically made in large rectangular pans for a crowd, sometimes called jelly roll pans. This recipes uses pans sized approximately 18×13-inches. The cake is made in one bowl and is a single layer cake with a fudgy icing. Here's the pan on Amazon that I used.
Does chocolate sheet cake need to be refrigerated?
Cakes that have an icing made with butter, cream cheese, or whipped cream technically SHOULD be refrigerated. I personally leave mine out on the counter in an airtight container, so do what makes you feel comfortable!
Can sheet cakes be frozen?
YES you can freeze sheet cakes! Once the icing has hardened and set, and the cake is completely cooled, slice into portions. Using an airtight container, place pieces of cake in layers separated by wax paper. Freeze. When ready to enjoy, remove from freezer and allow to thaw at room temperature.

What can I use if I don't have buttermilk? 
If you don't have any buttermilk, you learn how to make buttermilk using milk and lemon juice. Add 1 Tbsp of lemon juice to a measuring cup and add enough milk to reach 1 cup. Stir and let sit for 5 minutes.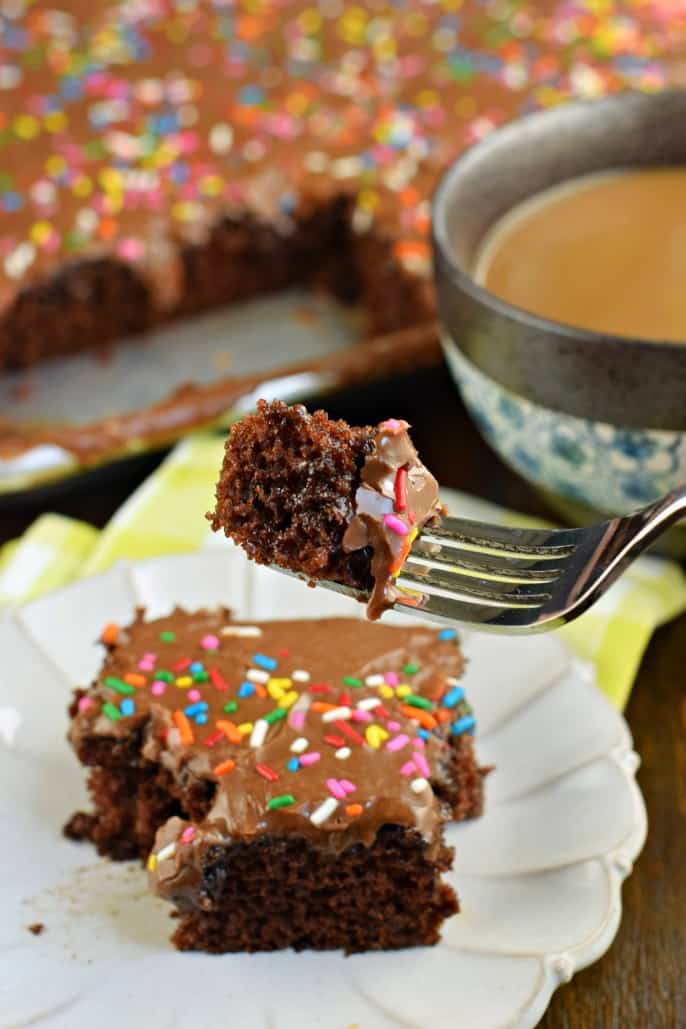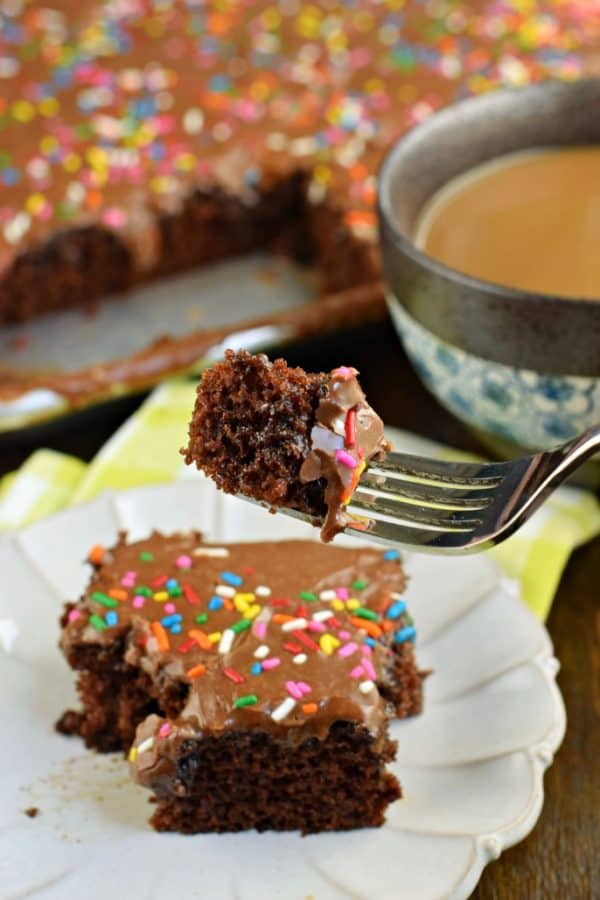 More Cake Recipes
Easy and delicious, these chewy Cinnamon Frosted Zucchini Cake Bars are the perfect sweet dessert any time of year! Serve chilled for extra flavor!
Turn your favorite Gooey Butter Cake into a Lemon dessert! Gooey Lemon Cake Bars will make you quite happy, and nobody has to know you started with a mix!
Starting with a cake mix, these Gooey Chocolate cake bars are filled with cream cheese, cocoa and topped with a delicious, creamy Chocolate Frosting.
These Apple Cake Bars from Texanerin Baking are super moist and full of cinnamon apple goodness!
Super moist Blueberry Cake Bars are made with fresh blueberries and are perfect for breakfast, brunch, or dessert!