A perfect Yellow Cake with Double Fudge Frosting. This is what "from scratch" baking looks like!!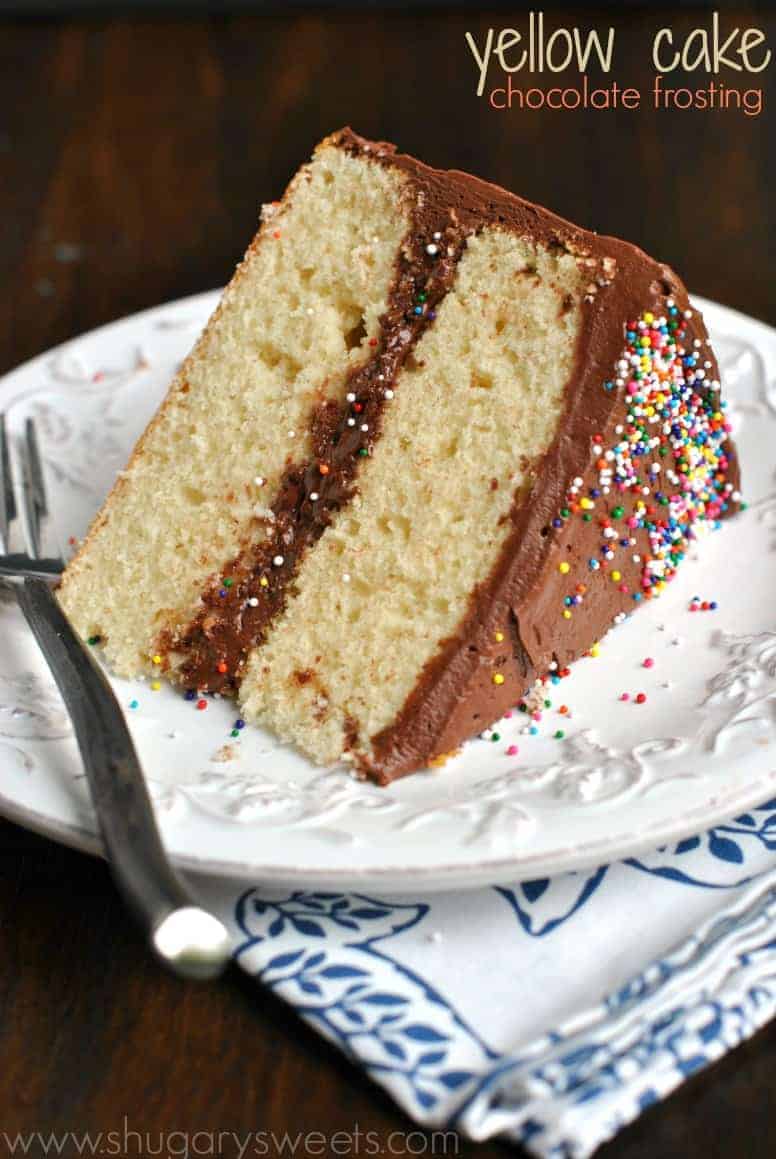 When it comes to cake, what's your favorite flavor?
Since I started this blog, I've been working on creating 'from scratch' recipes for cakes and cupcakes.
I certainly am not against using a mix, however, once you bake a cake from scratch you'll have a hard time going back.
I've already got a delicious white cake and chocolate cake recipe. But the yellow cake has been a struggle.
I don't want something dry and crumbly. But I don't want it overly moist it can't hold up to a good thick pile of frosting.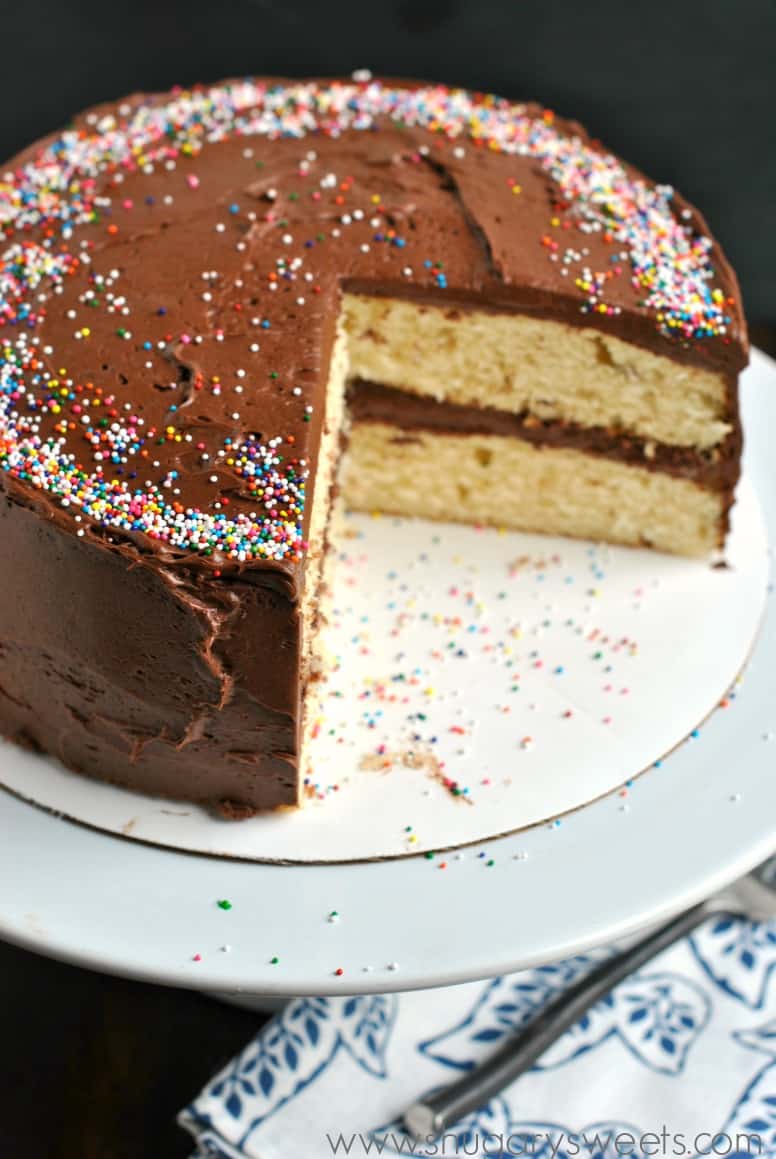 How to make a Yellow Cake from scratch
Making this cake is easy. And when making a layered cake, I've mentioned this before, I always use Wilton Bake Even strips.
You soak them in water, ring em out, and wrap them around your cake pan. They keep your cake level when it rises. I know some people use towels for this, but with my luck those towels would fall off and start a fire, haha!
Now that you have your pans prepared (2 9-inch round cake pans), start on the cake batter.
Beat butter for two minutes, add sugar, vanilla extract, and vegetable oil. You'll also add eggs, beating well after each addition. Then beat in sour cream.
Combine the flours, baking powder, and salt in a small bowl. Add to the batter, alternating with the buttermilk. Beat for about 3 minutes.
Pour cake batter into greased and floured cake pans. Bake and cool completely before frosting.
How to make Fudgy Frosting for a Birthday Cake
Add milk chocolate morsels and butter to a small microwave safe bowl. Microwave for 30 seconds, mix and continue heating in 30 second increments until smooth.
In a large mixing bowl, combine sour cream, cocoa powder, salt and melted chocolate. Add powdered sugar and vanilla, beat for 3-5 minutes until fluffy.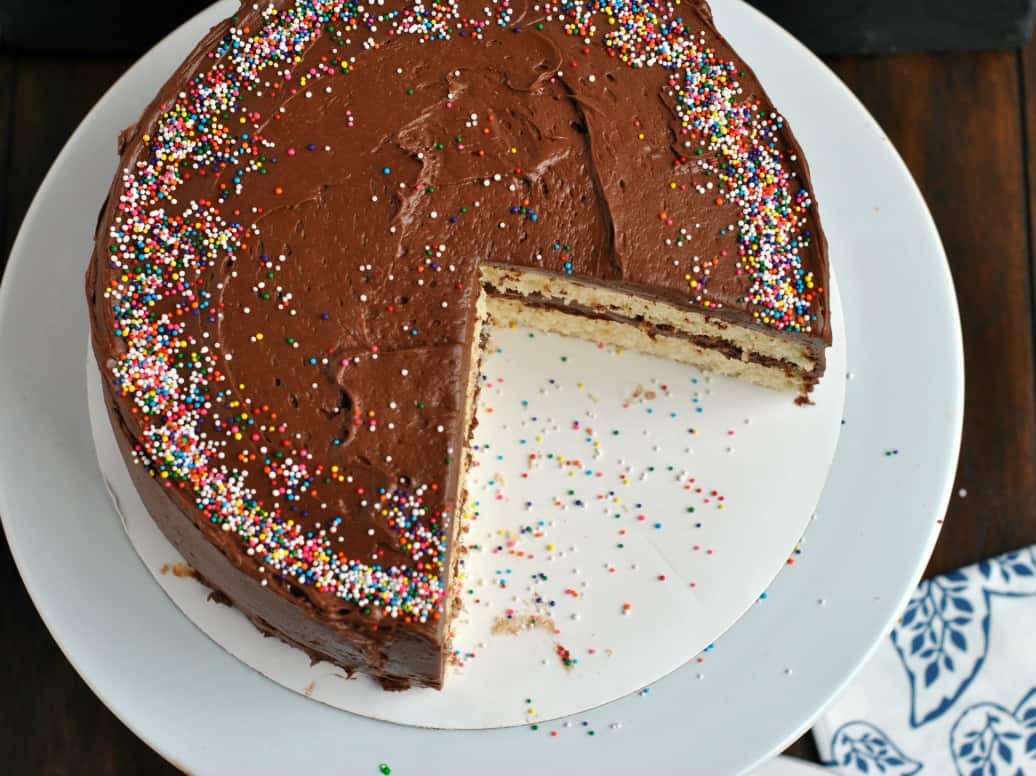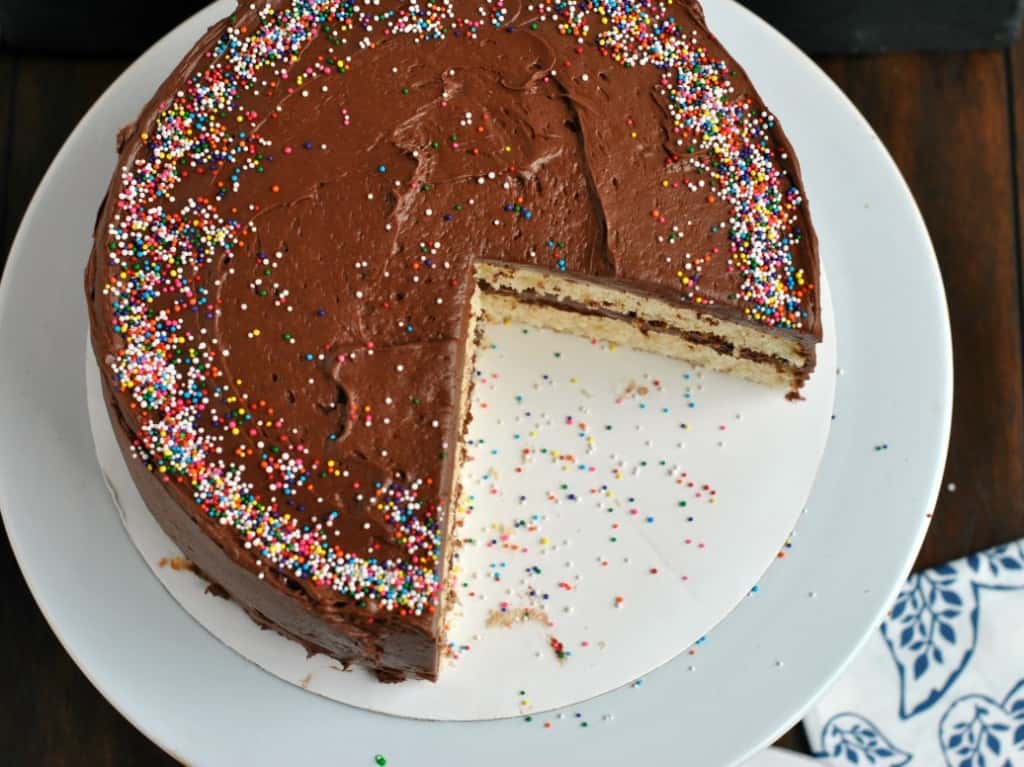 Speaking of frosting, I love the stuff. I like it even more than the cake. While some people scrape off excess frosting from their cake or cupcakes, I'm that person that is snagging your excess. There is no such thing as too much frosting.
I also have a secret confession. I love the fudge frosting in a can. Dip pretzels and apples in it? Yes please. I love how it "hardens" on a cake.
Today's double fudge frosting tastes just how you would imagine a homemade copycat version of canned frosting would taste, without any artificial color or flavor!
Does that make sense? It's rich and fudgy.
If you prefer a lighter fluffy buttercream…check out this chocolate buttercream frosting.
How to frost a cake
To assemble the cake, place one layer of cake on a cake plate. Spread a big dollop of frosting on top, then add second layer of cake.
Using an offset spatula, spread the remaining frosting on sides and top. Add sprinkles if desired!
How to make a crumb coating
To make a crumb coating with the frosting, spread a very thin layer of frosting over the cake. Refrigerate for 10 minutes. Add final layer of frosting and enjoy.
This is helpful if you find that the frosting is not spreading well and bringing crumbs into the chocolate. I usually skip the crumb coating because I'm lazy, haha!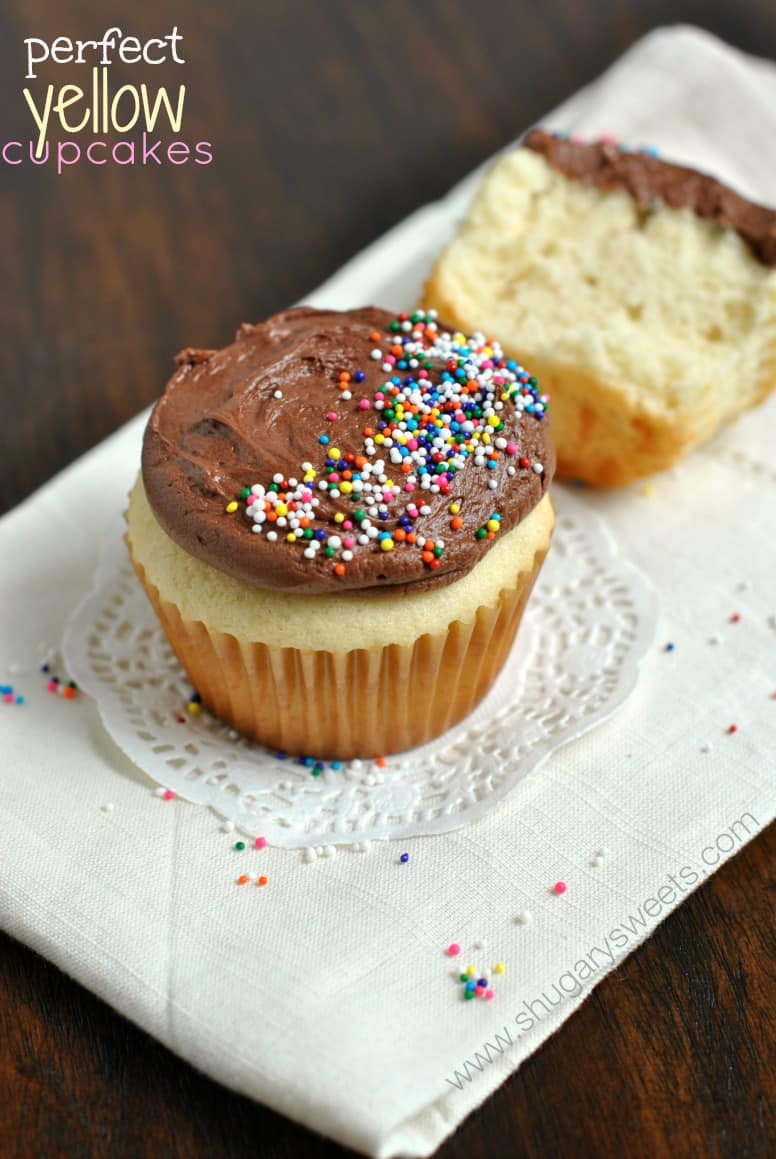 I know what your next question will be too.
How to make Yellow Cake Cupcakes
I recipe tested these, and they turned out beautiful.
Mind you, I made 4 batches of yellow cake to get this recipe perfect. So go enjoy a cake or cupcakes today!!
Each batch of yellow cake makes 24 beautiful cupcakes. You decide if your dessert is going to be CAKE….or CUPCAKES.
To make cupcakes, line a cupcake tin with paper liners.
Scoop batter into cupcakes until 2/3 full (makes 24 cupcakes). Bake for about 15-17 minutes. Cool before frosting.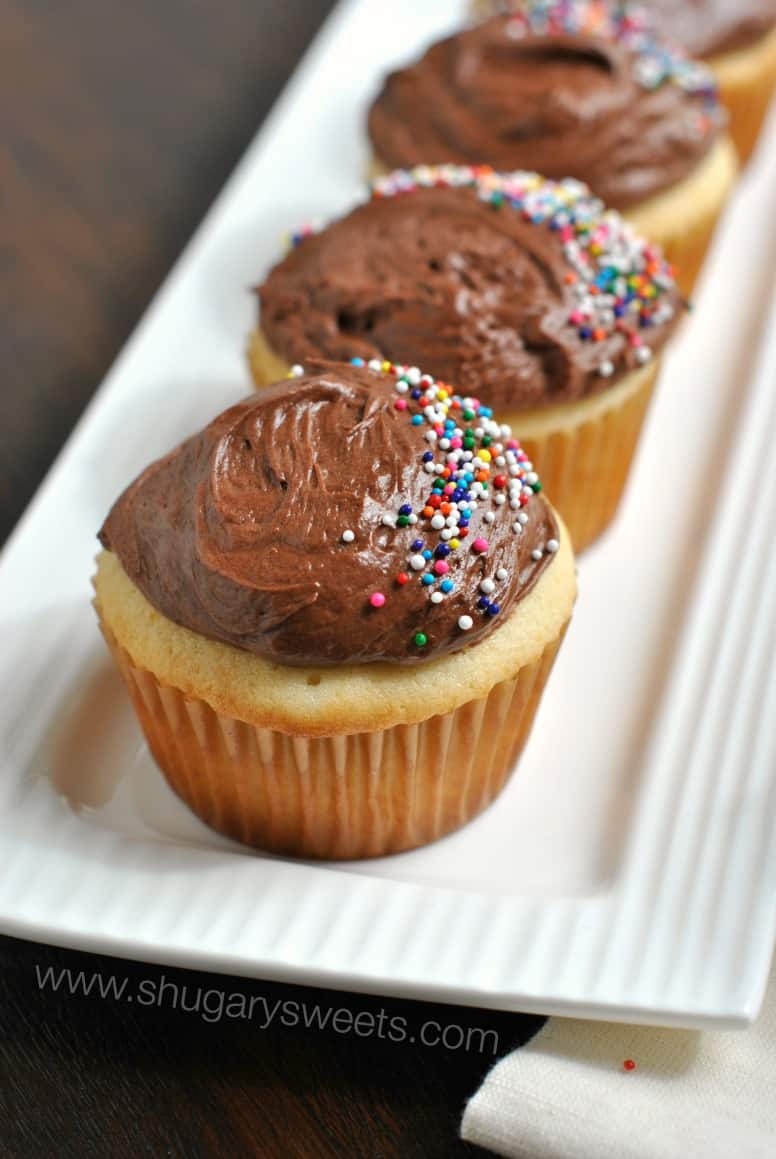 More Cake Recipes