Skip the cake mix. Make a perfect Yellow Cake with Double Fudge Frosting from scratch instead! This version of the birthday cake favorite is 100% homemade. Tender, moist crumb with loads of fudgy frosting.
If you haven't baked a cake in awhile, I highly suggest our Strawberry Layer cake. From scratch and topped with a dreamy strawberry buttercream frosting, it's the perfect excuse to have dessert!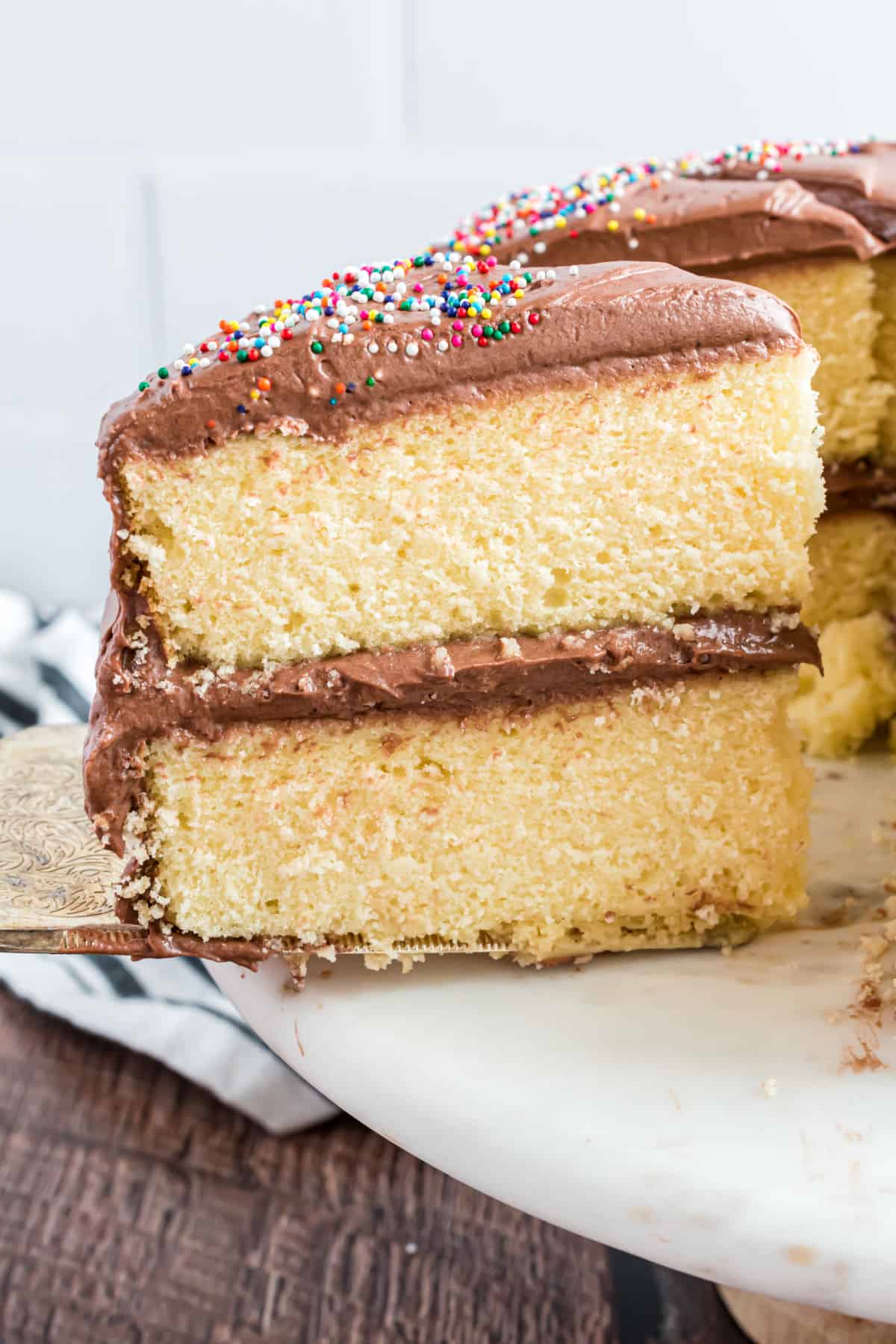 Why this Recipe is Best
When it comes to cake, what's your favorite flavor?
Since I started this blog, I've been working on creating 'from scratch' recipes for cakes and cupcakes.
I certainly am not against using a mix, however, once you bake a cake from scratch you'll have a hard time going back.
I've already got a delicious vanilla cake and chocolate cake recipe. But the yellow cake has been a struggle.
I don't want something dry and crumbly. But I don't want it so overly moist it can't hold up to a good thick pile of frosting.
After trial and error you'll want to make this yellow layer cake for the next birthday party!
Ingredient Notes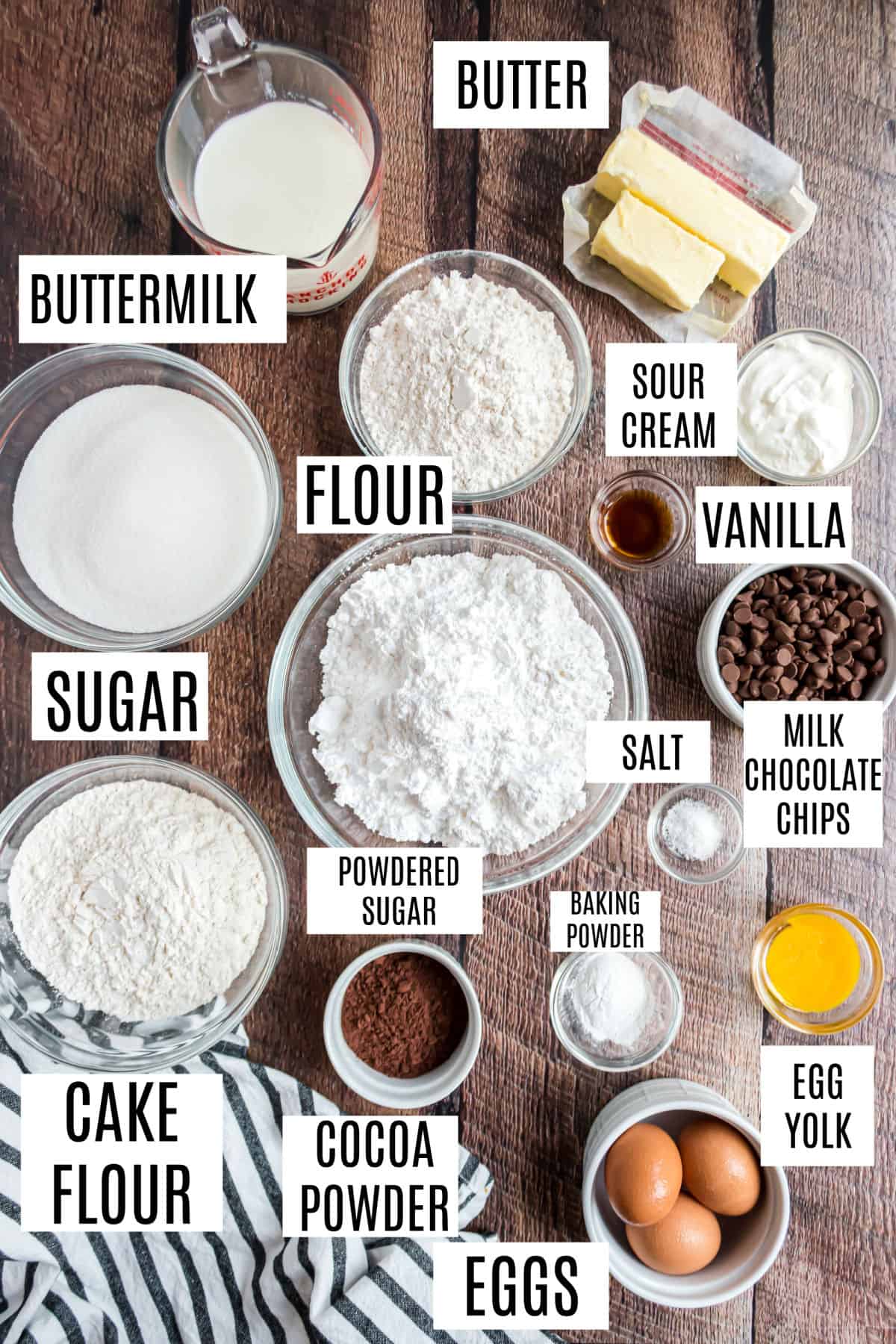 Easy Instructions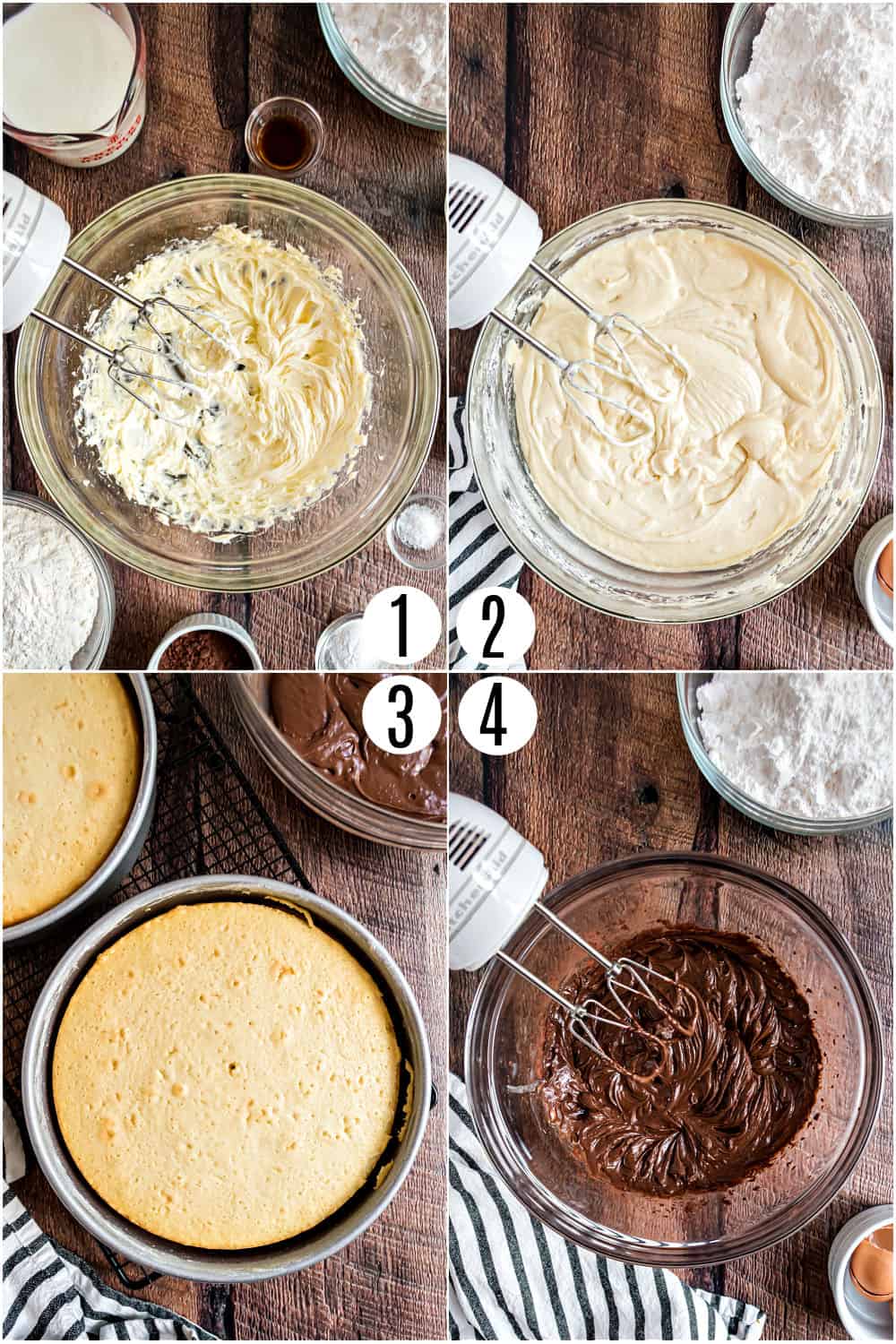 To make the cake:
Beat butter, sugar and vanilla extract with an electric mixer. Beat in the eggs followed by the sour cream.
Add the dry ingredients and the buttermilk in batches. Once combined, transfer the batter to 9 inch cake pans.
Bake and cool completely.
To make the frosting:
Melt chocolate morsels and butter together in the microwave. Whisk the butter and chocolate together completely.
Beat the melted chocolate mixture with the remaining frosting ingredients. The frosting should be light and fluffy!
How to assemble:
Place one cooled cake layer on a cake plate. Spread fudge frosting on top. Add the second cake layer on top. Spread the remaining frosting over the top and sides.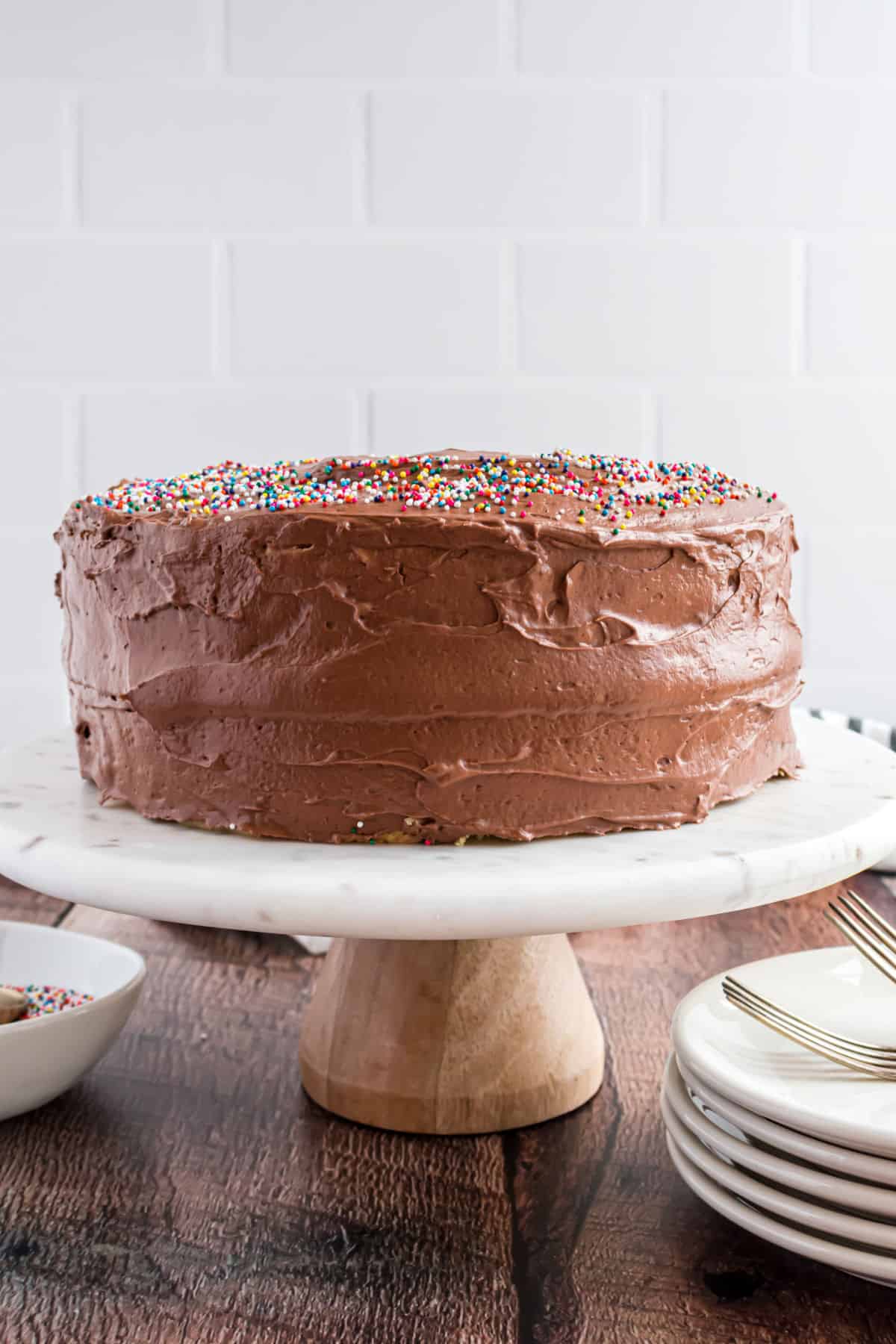 Tips and Tricks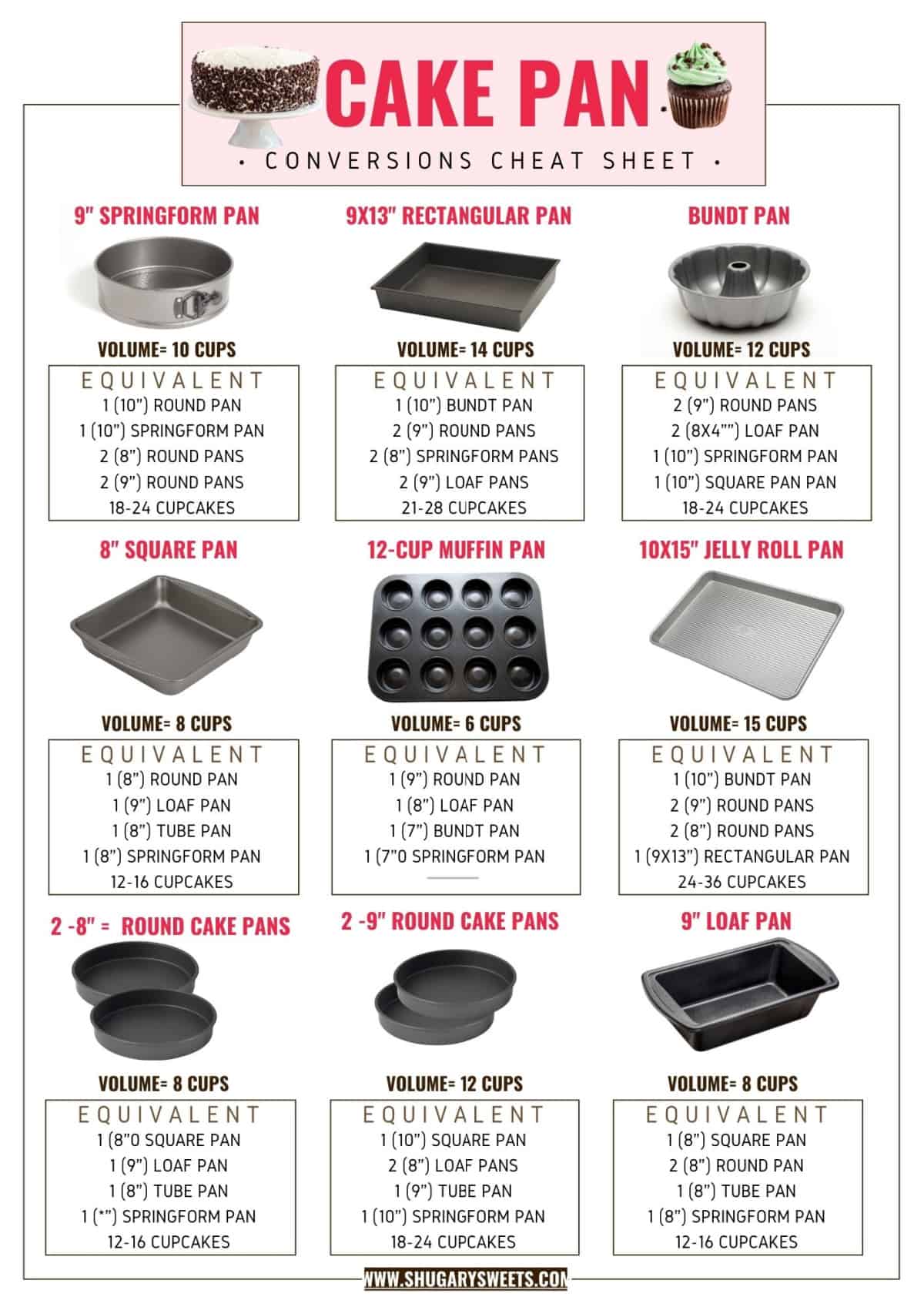 Recipe FAQs
I don't have cake flour. Can I use only all purpose flour instead?
You can use all regular flour if needed, but the consistency will be different. The higher gluten content of the all purpose flour will make the cake denser and less soft.
Can your freeze yellow cake?
This cake can be frozen frosted or unfrosted for up to 3 months. Wrap in foil, then place in a freezer bag to preserve freshness.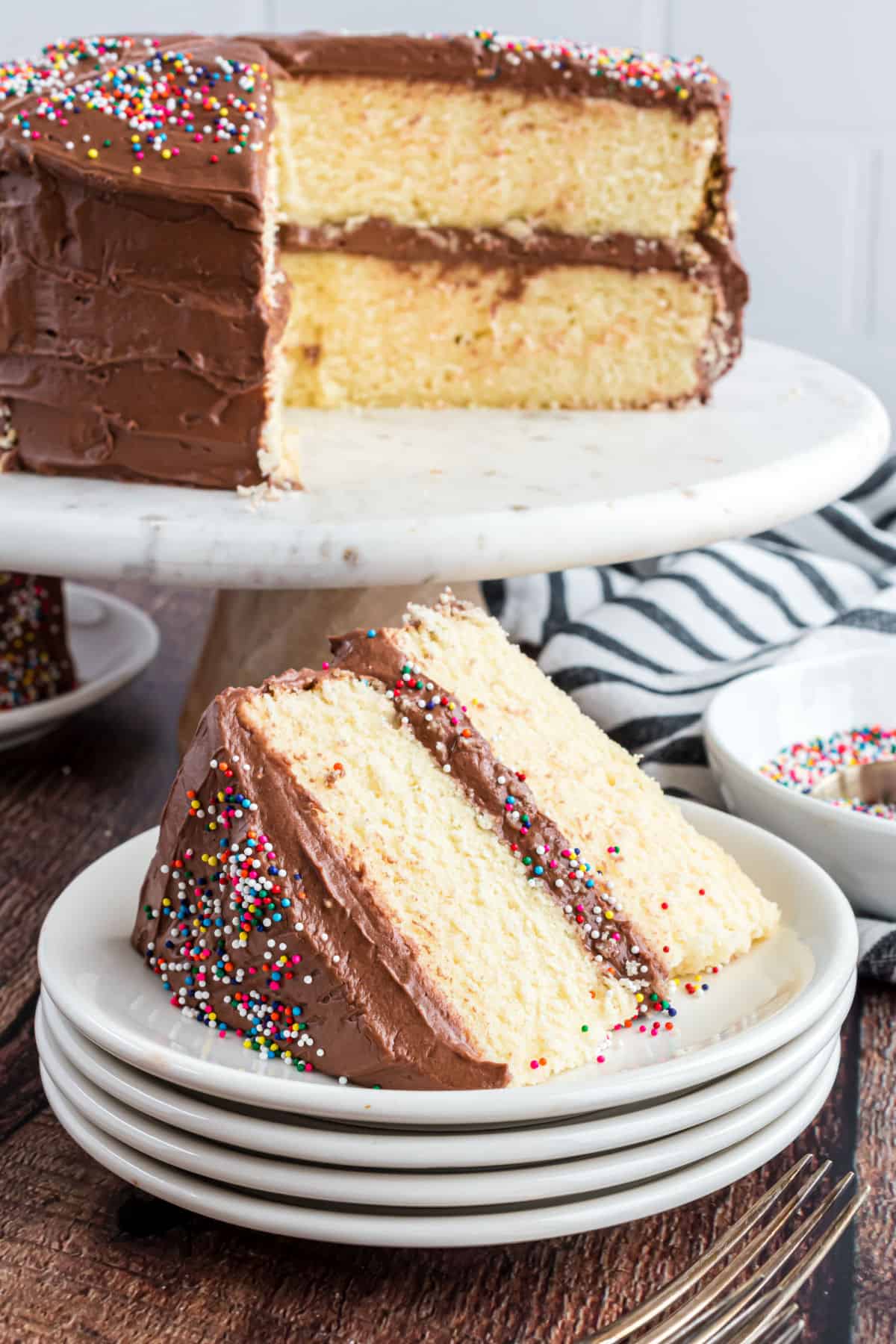 More Cake Recipes
There's no question about it. Baking from scratch tastes better! This Yellow Cake with double fudge frosting is a delicious centerpiece for any celebration!