This delicious, from scratch, Strawberry Layer Cake has a scrumptious buttercream frosting made with Promised Land Dairy Very Berry Strawberry Milk and fresh strawberries! One bite and you'll never make a boxed cake ever again!
**I am part of the #FarFromOrdinaryMilk program with Promised Land Dairy. While I have been compensated for this recipe, all opinions are 100% my own**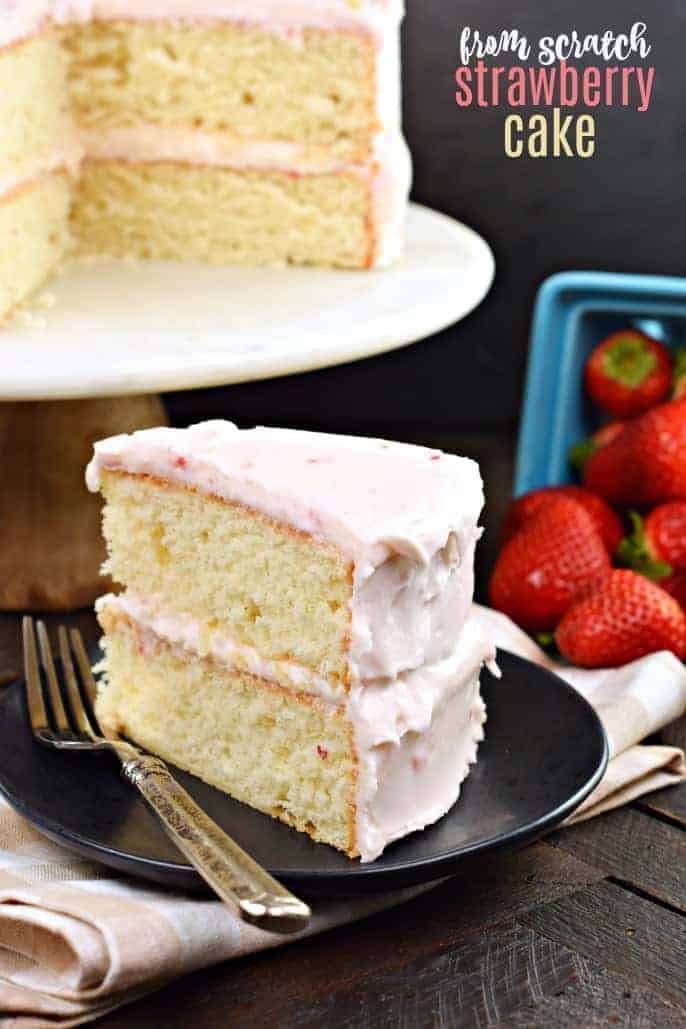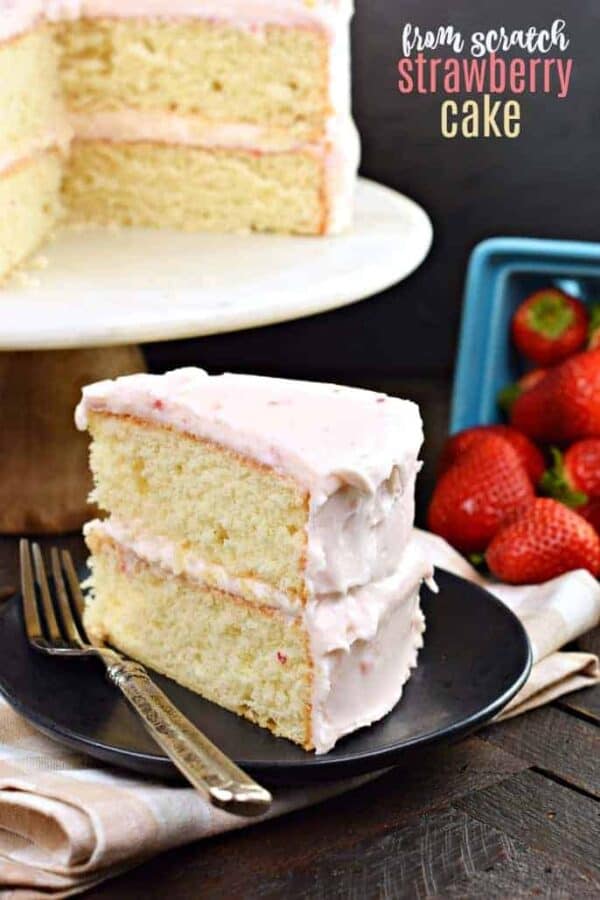 I'm always on a quest to make delicious layer cakes, from scratch. I mean, sure it's easy to purchase a boxed mix in a pinch, and some cans of frosting….but there is a feeling of accomplishment when you create a decadent cake all on your own with fresh ingredients.
One of the ingredients that has become a staple in my kitchen is Promised Land Dairy milk. It's the richest, creamiest tasting milk my family has ever tried. No exaggeration! You'll remember last month I made this Chocolate Cobbler recipe featuring the Midnight Chocolate milk. So decadent! Today's Strawberry Layer Cake uses Promised Land Dairy Very Berry Strawberry Milk. It's creamy and fresh tasting with no artificial flavors, colors, hormones or antibiotics! You'll love that when you pour a glass of this fresh Jersey cow milk, you won't see bright, fake colors. Just a creamy, rich milk packed with fruity flavor from fresh strawberries! My kids didn't believe it was strawberry milk until they took a sip. Now it's all they request. And since Promised Land Dairy is great quality and high in protein and calcium, I can't turn them down!
Making a great tasting cake comes from good quality ingredients, and following the directions, haha! Here are a few tips to making this layer cake PERFECT on the first try!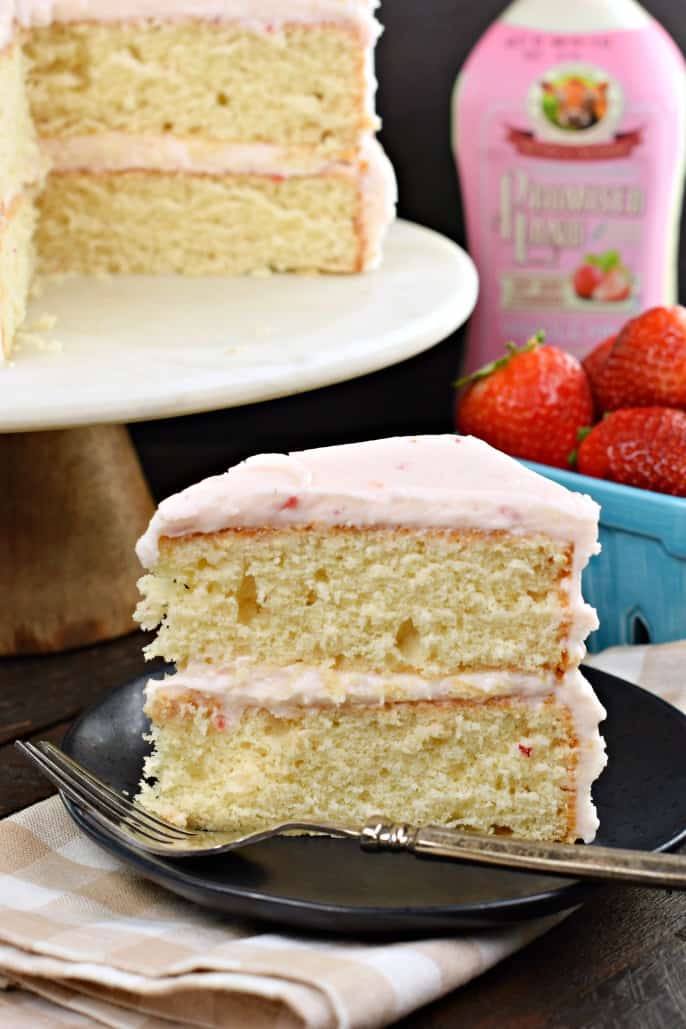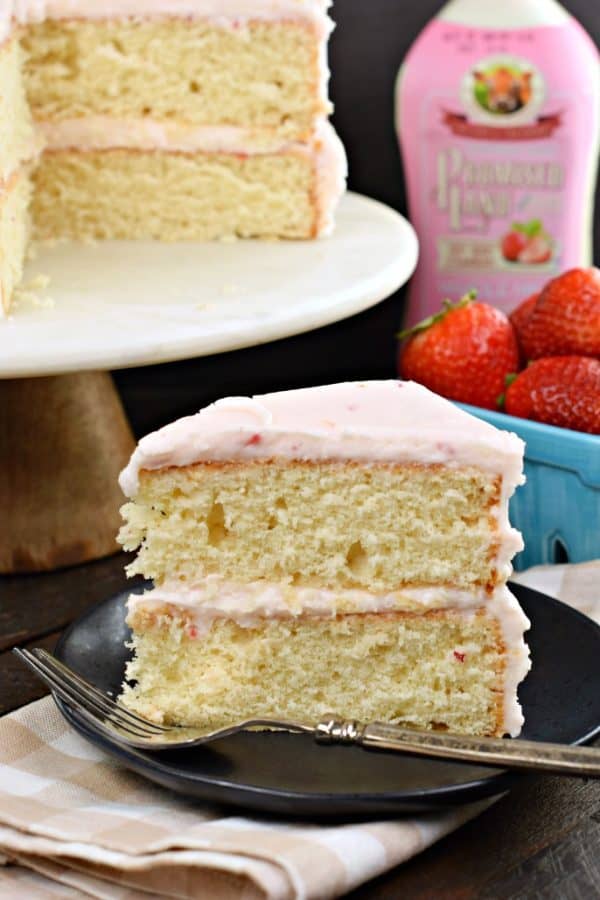 How to make a perfect Strawberry Layer Cake:
First start by taking your eggs and butter and allowing them to come to room temperature. While this is NOT mandatory, your cake will still turn out if your eggs are chilled, you WILL get a finer crumb and more even texture by allowing them to come to room temperature! Just do it.
When making a layer cake I rely on using bake even strips on my cake pans. These help your cake rise evenly so when it's done baking it won't have a dome on top that needs to be sliced off. If you don't own bake even strips, you can make your own by cutting a kitchen towel lengthwise in wide strips. Then soak them in water and pin them around the sides of your cake pans. If you purchase the bake even strips the directions are on the package. I use these regularly and LOVE them!
Be generous in greasing your cake pans. If you have a set of cake pans that tend to be "sticky", grease them (with shortening and flour or baking spray) and line the bottoms ONLY with a circle of parchment paper. This guarantees a beautiful release EVERY time. There's nothing more disappointing when baking than having a cake stick to the pan!
When using fresh berries in frosting, these will add extra moisture. For today's frosting I only added TWO small strawberries. That was enough to add a hint of color and texture. The Promised Land Dairy Very Berry Strawberry milk does not have artificial color, so I wanted to keep it fresh and simple by not adding in food coloring. The key to this frosting is after you make it, refrigerate it for about an hour before frosting your cakes. I usually make my frosting FIRST, then refrigerate it, then bake and cool my cakes, then frost them. Today's cake needs to be kept refrigerated (COVERED FOR FRESHNESS).
When ready to serve your cake, remove it from the refrigerator about 30 minutes in advance for best flavor and texture! ENJOY!
What will YOU make with Promised Land Dairy Very Berry Strawberry Milk? I'm thinking a tres leches cake is going to happen in my kitchen very (berry) soon! You can also whip up a batch of these Strawberry Cheesecake Milkshakes for dessert tonight! Check out some of the other #farfromordinarymilk recipes on pinterest!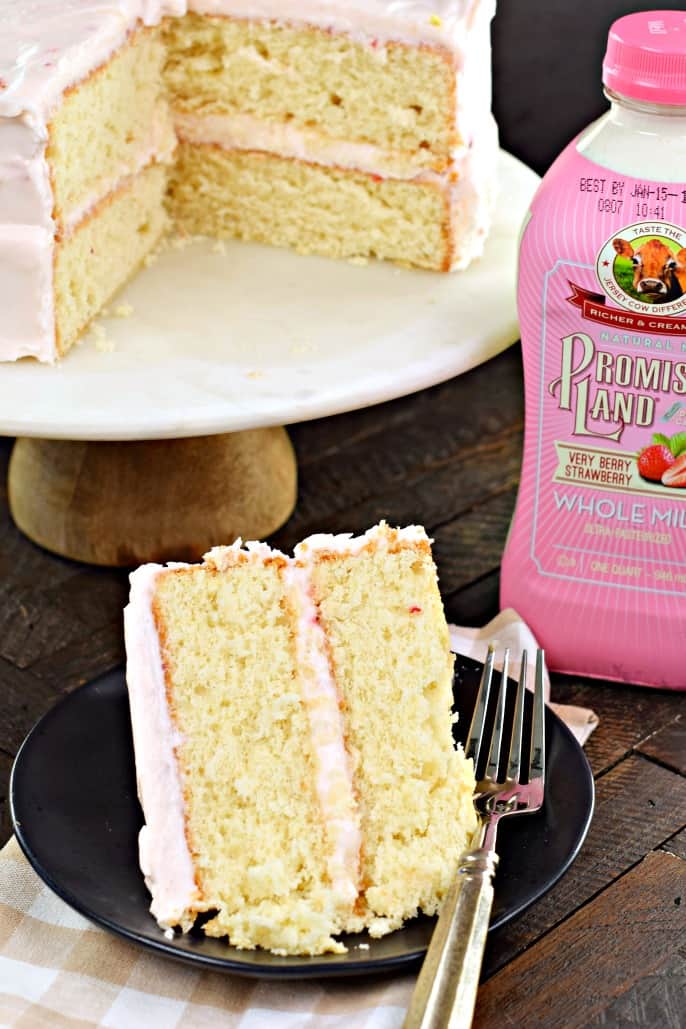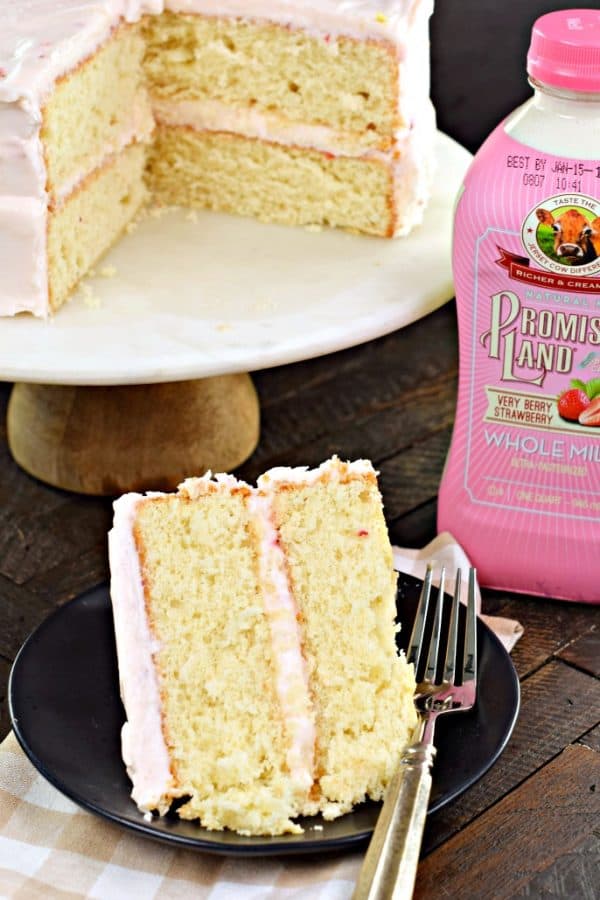 Connect with Promised Land Dairy:
Facebook | Pinterest | Twitter | Instagram
Connect with Shugary Sweets! Be sure to follow me on my social media, so you never miss a post!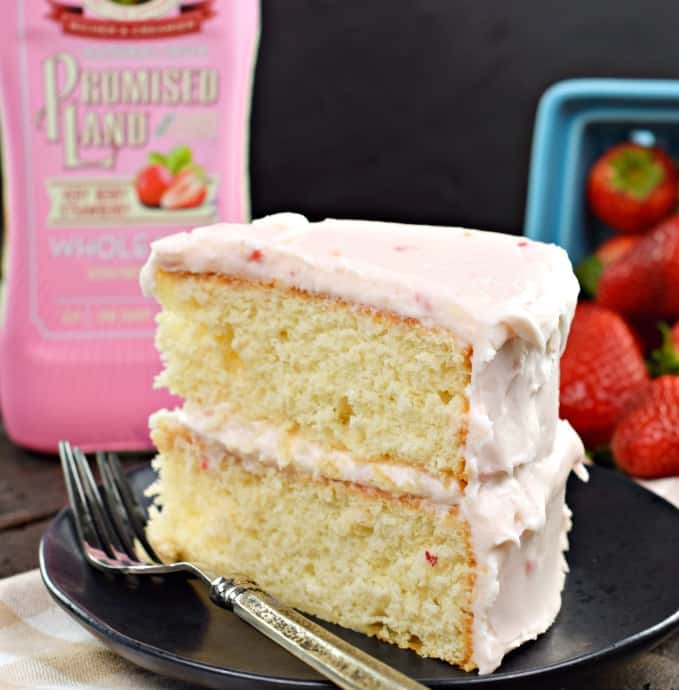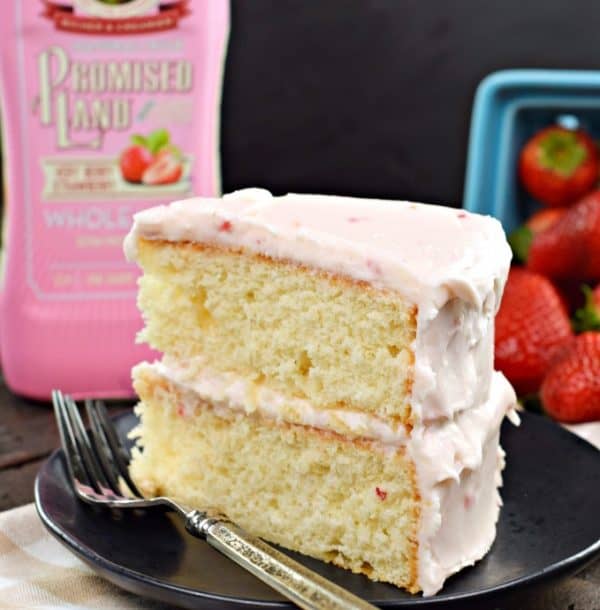 Facebook | Twitter | Pinterest | instagram


**I am part of the #FarFromOrdinaryMilk program with Promised Land Dairy. While I have been compensated for this recipe, all opinions are 100% my own**