This moist cake is bursting with natural strawberry flavor! Beautiful Strawberry Cake layers are covered in an irresistible buttercream frosting. No food coloring or artificial flavors. Just a picture perfect summery dessert!
Looking for more recipes with freeze dried strawberries? Everyone loves these Strawberry Macarons–and you can make them all year long! Or give these Strawberry Shortcake Ice Cream Bars a try!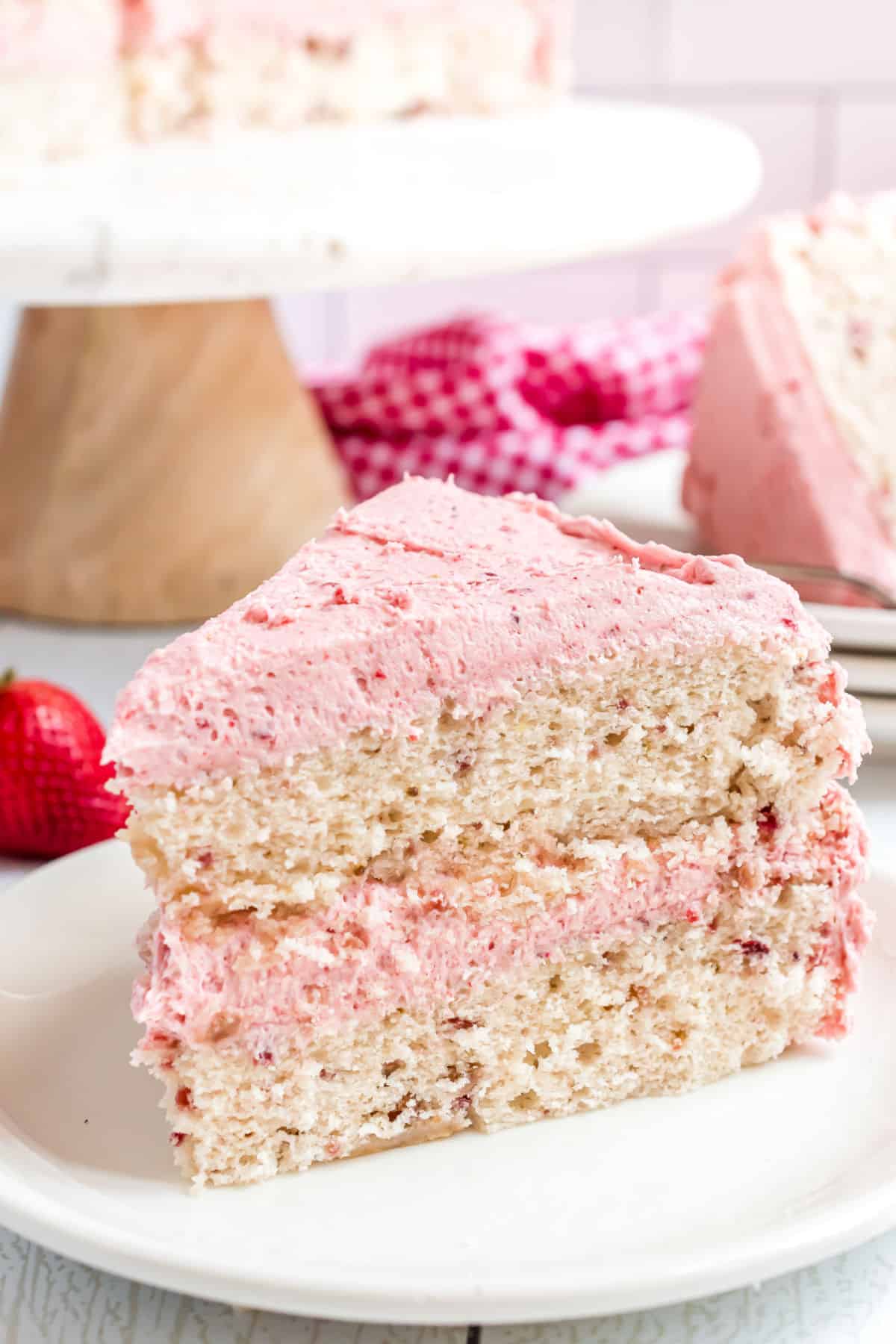 Why this Recipe Works
Baking the perfect strawberry cake has always been a challenge for me. If you buy the store bought mix, you'll end up with a bright pink cake that is lacking in flavor.
However, if you use fresh berries, you'll have a dense cake and watery frosting.
Here's how to solve those problems!
Freeze dried strawberries give this cake a fresh-from-the-vine strawberry flavor, without adding the water content of fresh berries.
You can make it all year long! No need to wait until strawberry season to try this recipe.
My Strawberry Cake recipe looks beautiful but has no artificial food dyes. You'll love the gorgeous layers of naturally colored cake and frosting.
Ingredient Notes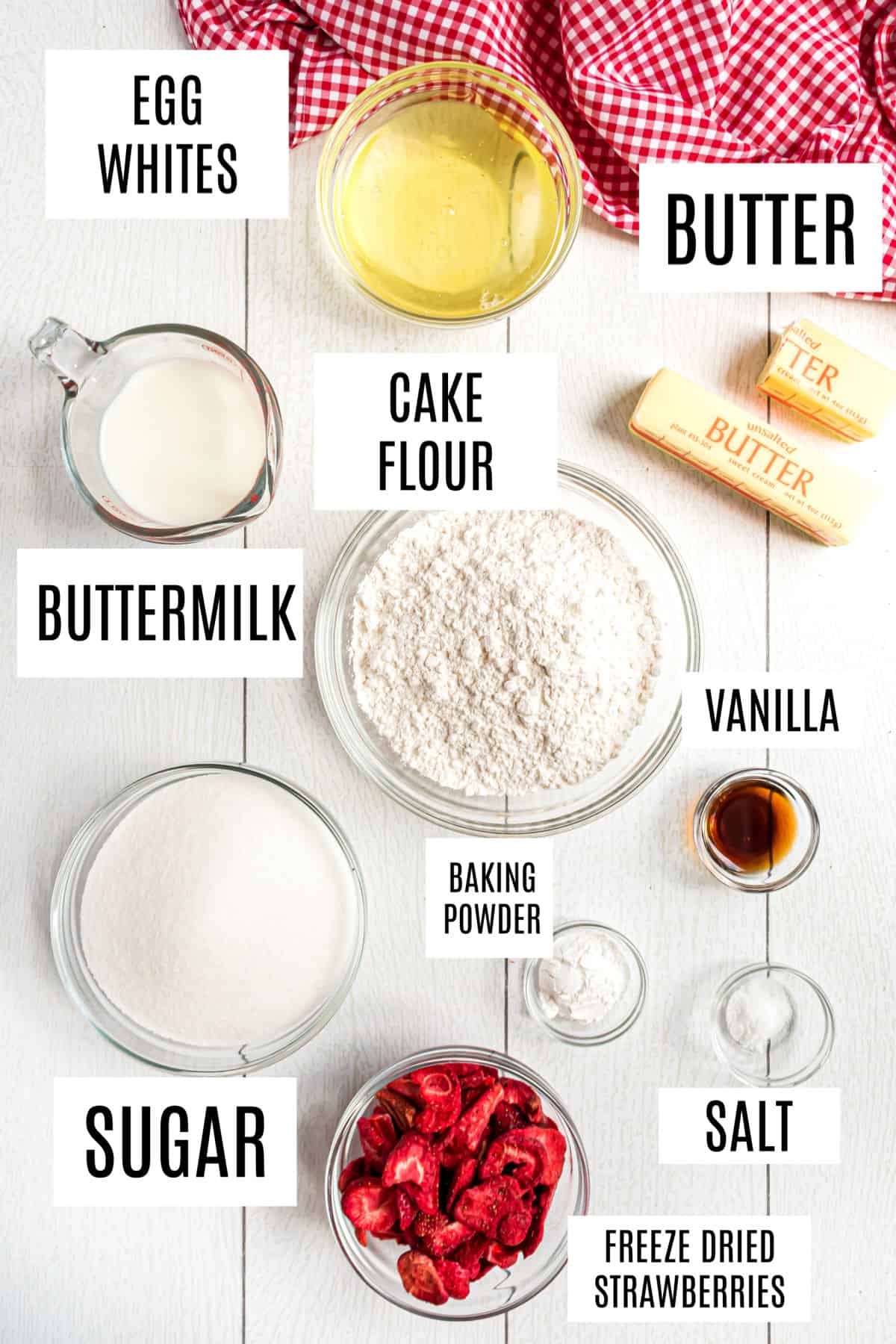 Freeze Dried Strawberries. You'll find these in 1 ounce bags in the dried fruit aisle. Or order a few bags online.
Cake flour. This has less protein and a finer texture than its all-purpose counterpart. It gives the cake its delicate fluffy consistency. I've got tips and tricks on how to make your own cake flour!
Buttermilk. My Buttermilk Substitute works beautifully here.
Egg Whites. Save those egg yolks and make a delicious batch of our homemade lemon curd (would also pair nicely with today's cake!
Easy Instructions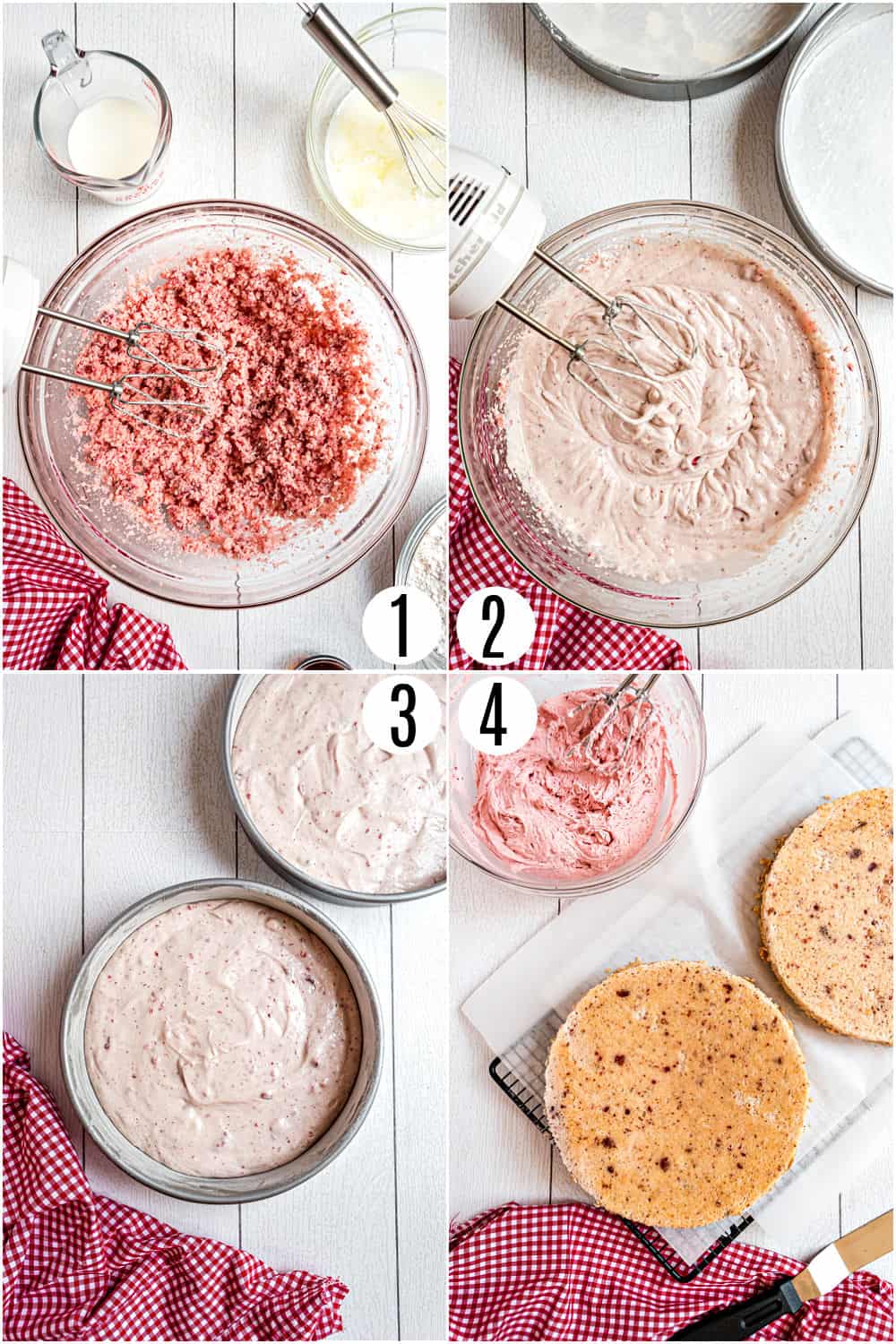 Pulse the strawberries.
Add freeze dried strawberries to a food processor. Pulse to form fine crumbs, or leave a little texture for a pop of fresh color.
Grease and flour two round cake pans. Use my homemade cake release for best results!
Prepare the batter.
Whisk egg whites with 1/4 cup of the buttermilk to combine. In a separate bowl, mix the cake flour with kosher salt and baking powder.
Use an electric mixer to beat butter with sugar and the strawberry crumbs. Stir in the vanilla extract.
Add the dry ingredients and the egg mixture to the mixer in batches until smooth. Beat in the buttermilk.
Bake.
Divide the batter evenly between the cake pans. Bake for 26 – 28 minutes.
Let strawberry cake layers cool completely before frosting.
Frost and Assemble
Beat together the frosting ingredients until blended and fluffy. Frost the top of one cake layer. Add the second layer on top, then spread frosting over the top and sides.
Garnish Strawberry Cake with sliced fresh strawberries before serving, if desired!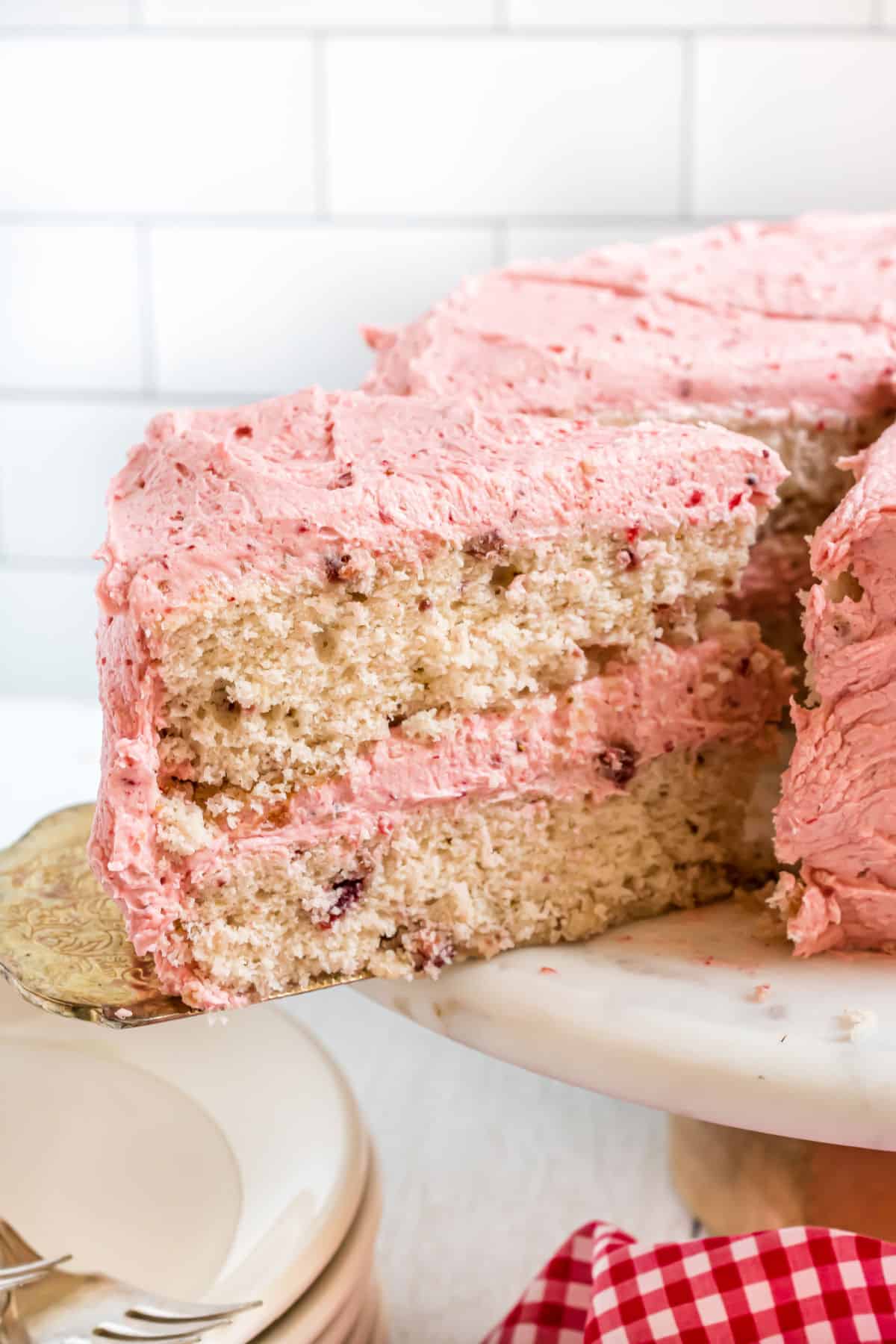 Tips and Tricks
Line pans with parchment paper. Cut out a 9 inch circle of parchment paper to add to the bottom of the cake pans. In addition to greasing and flouring, this helps the baked cakes slide out with ease.
Storing. Keep this Strawberry Cake covered at room temperature. Or freeze slices in plastic wrap (then slide in ziplocs or airtight container) for up to 3 months.
Frosting. Our cake is delicious served with strawberry frosting. But would also pair beautifully with our homemade chocolate frosting, vanilla frosting, or sour cream frosting!
Recipe FAQs
I only have all purpose flour! Can I use that instead?
If you don't have cake flour, you can make a homemade substitute with two ingredients: all purpose flour and cornstarch.
For this recipe, replace 1/4 cup of the flour with cornstarch to get similar results.
Can I make this cake recipe with fresh strawberries? How about frozen ones?
Neither fresh nor frozen strawberries will work in this cake recipe. Both have a high water content that makes them delicious to eat on their own but tricky to bake into a layer cake. Freeze dried strawberries give the cake the fresh berry taste in super concentrated form.
Can you freeze Strawberry Cake?
Yes, you can make the cake layers ahead of time, wrap them in freezer bags and freeze them for about 2 months. Let thaw and add the frosting fresh before serving.
Is this cake pink?
This cake does not bake up with a bright pink hue, but I like it that way! I opted to leave it "au natural" instead of adding food coloring. You can't miss the spectacular strawberry flavor and aroma, even without the signature bright pink hue.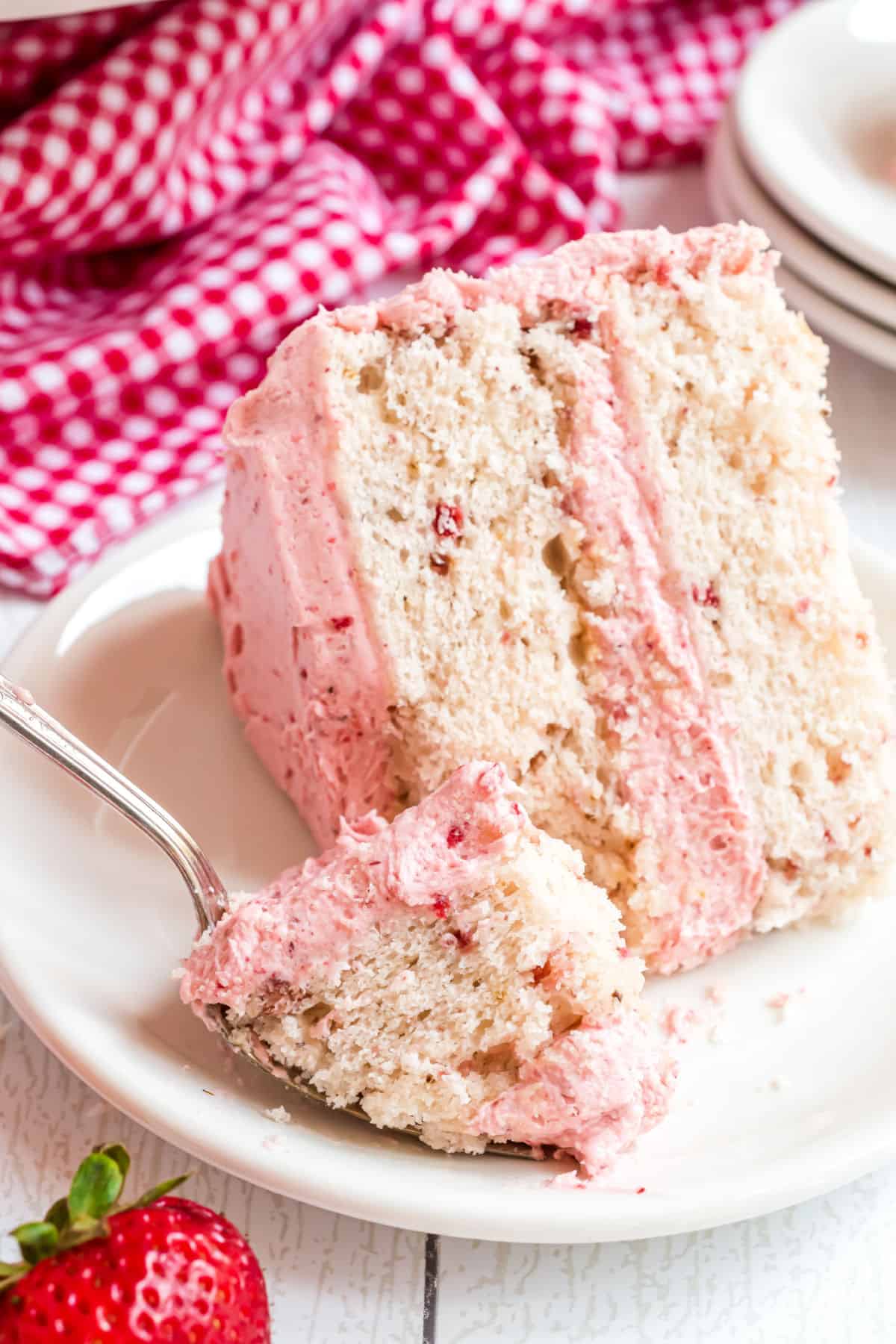 More Cake Recipes