Looking for an intense chocolate cake recipe? This tried and true Dark Chocolate Cake is full of rich cocoa flavor. Topped with smooth vanilla frosting, the moist and sweet cake is perfect for any occasion!
You can never have too many chocolate cakes! This German Chocolate Cake Recipe is a favorite of our readers. Or give our easy chocolate cake a try, we've made it in a 13×9 for parties and potlucks.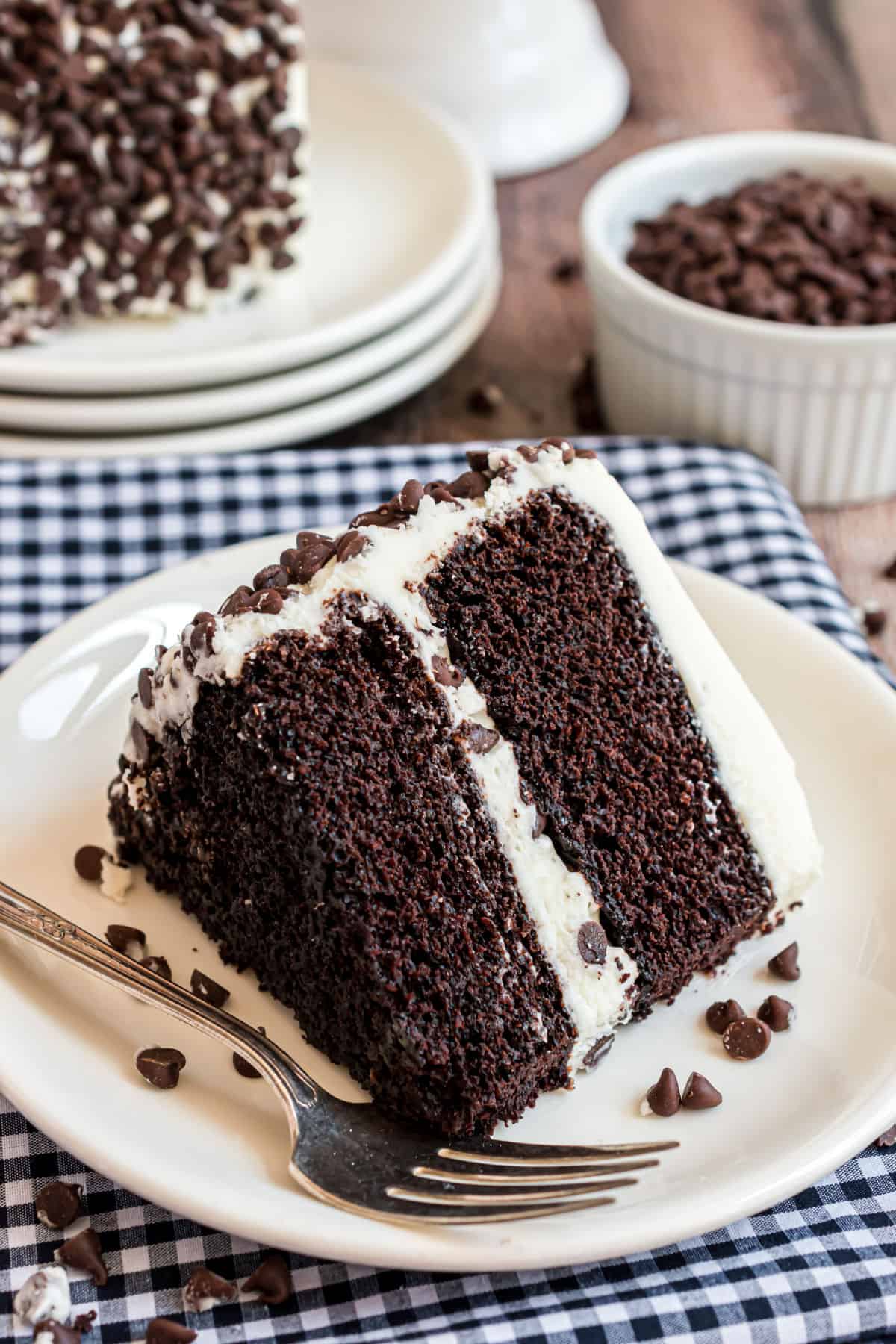 Why this Recipe is Best
When it comes to chocolate, it's hard to pick a favorite. Milk chocolate, dark chocolate, white chocolate–I love it all.
Today's cake recipe is all about the elegant decadence of dark chocolate!
This cake recipe uses dark chocolate cocoa powder for a bittersweet chocolate flavor.
The dark chocolate taste is balanced with a sweet, creamy vanilla frosting that's so delicious you'll want to eat it with a spoon.
It makes a beautiful and tasty birthday cake for all the dark chocolate lovers in your life!
You'll love indulging in a slice of this rich and decadent dark chocolate cake. You can also pair this with our favorite chocolate cream cheese frosting instead!
Ingredient Notes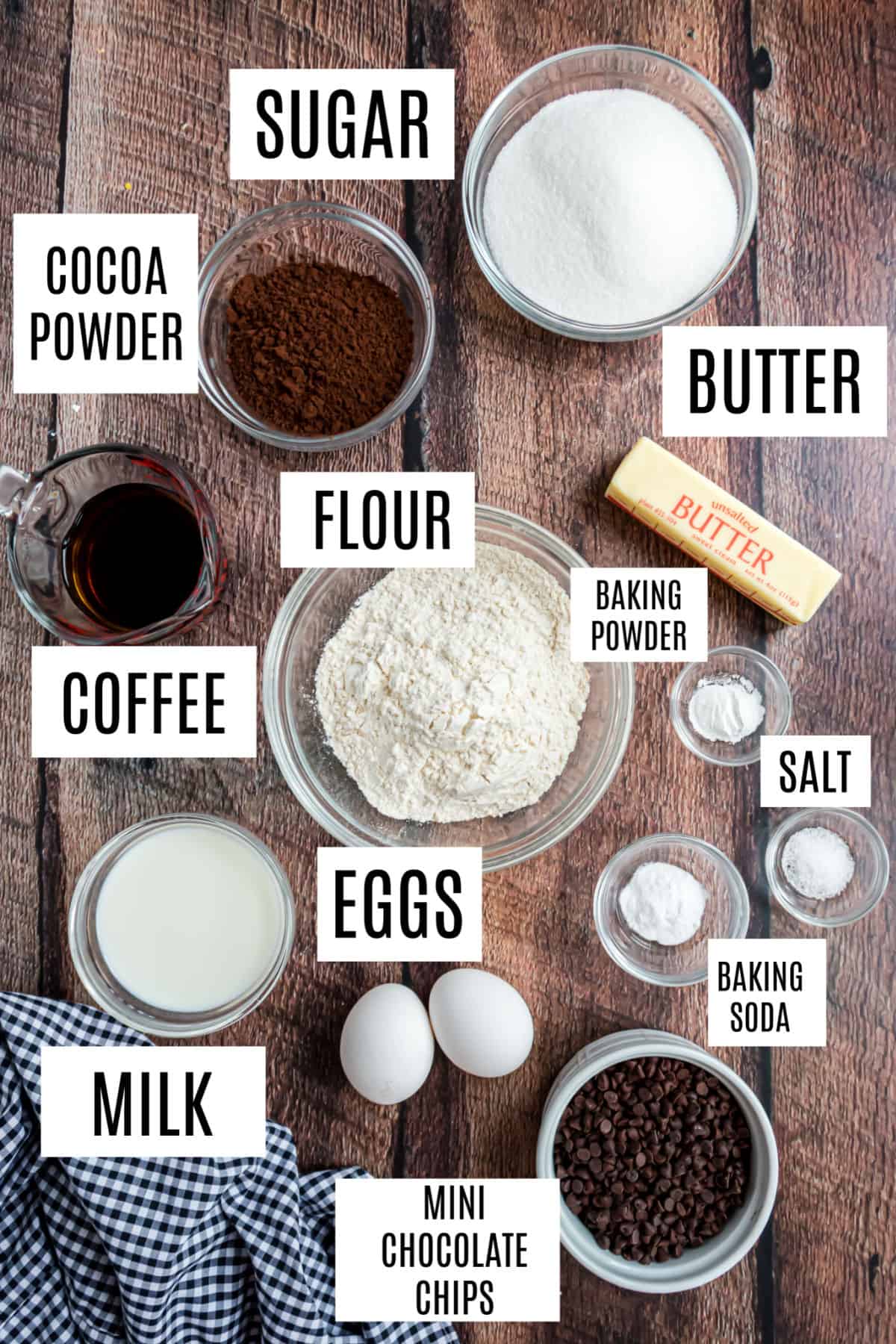 My traditional chocolate cake recipe is quite similar to today's recipe. Here's a few of the ingredient highlights!
Dark cocoa powder. Familiar brands like Hershey's Special Dark work perfectly. For an even deeper color, try it with black cocoa powder!
Brewed coffee. This does not (I repeat, does NOT) give the cake a coffee flavor. We use coffee in many of our chocolate recipes because it brings out a deeper dimension of flavor in the chocolate. It allows the cocoa powder to bloom, dissolve, and taste amazing.
Vanilla extract. Using a pure good quality vanilla makes all the difference. Learn How to Make Vanilla Extract for the best vanilla flavor every time.
Easy Instructions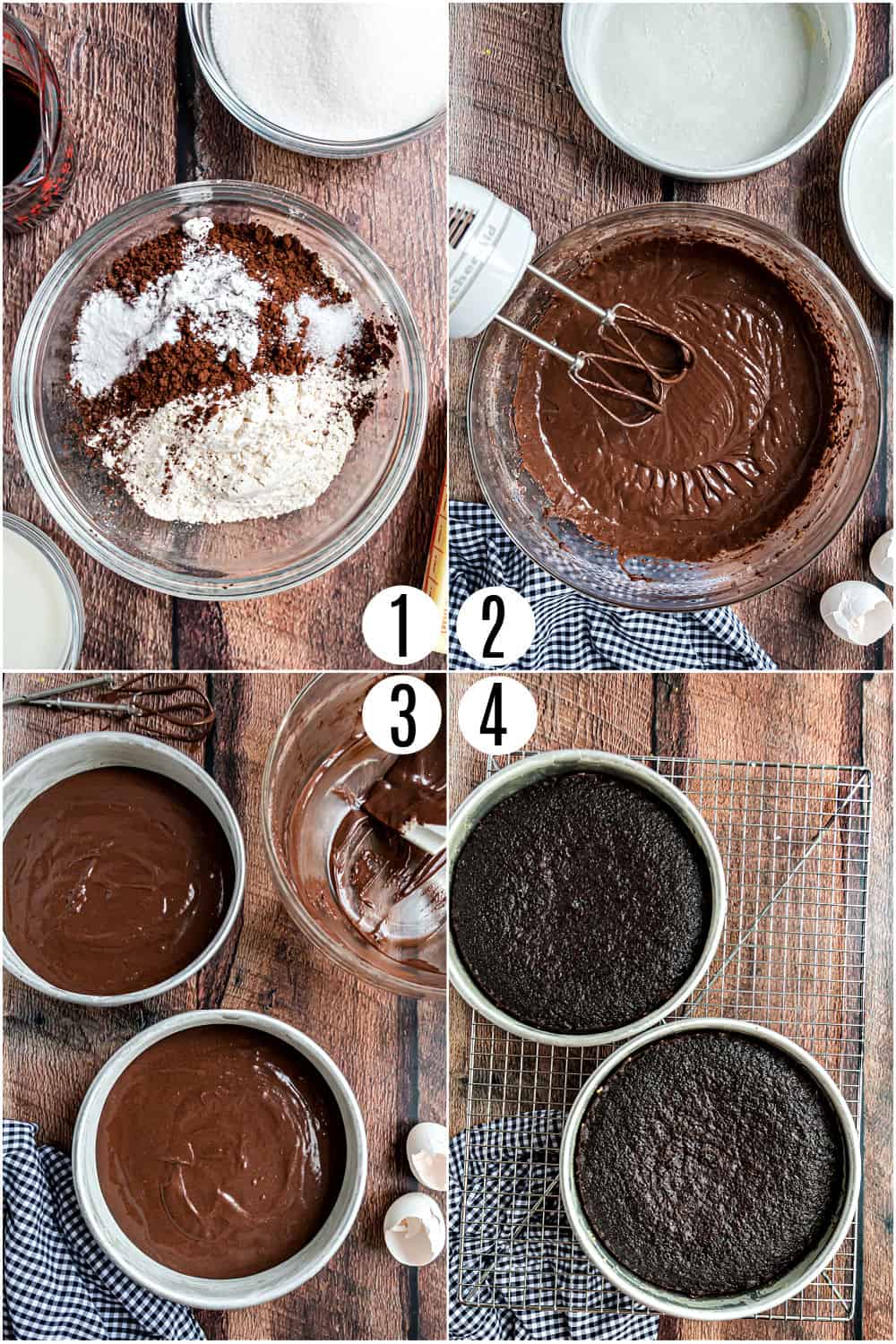 Make the chocolate cake batter.
First, you'll combine your dry ingredients in a mixing bowl. In a separate bowl, combine cooled brewed coffee and milk.
Beat together sugar and butter. Add in the eggs, then the dry ingredients and coffee mixture in batches.
Bake the cake layers.
Divide the batter between two round cake pans. Bake for about 25 minutes. Let cool before adding the frosting.
Add vanilla frosting.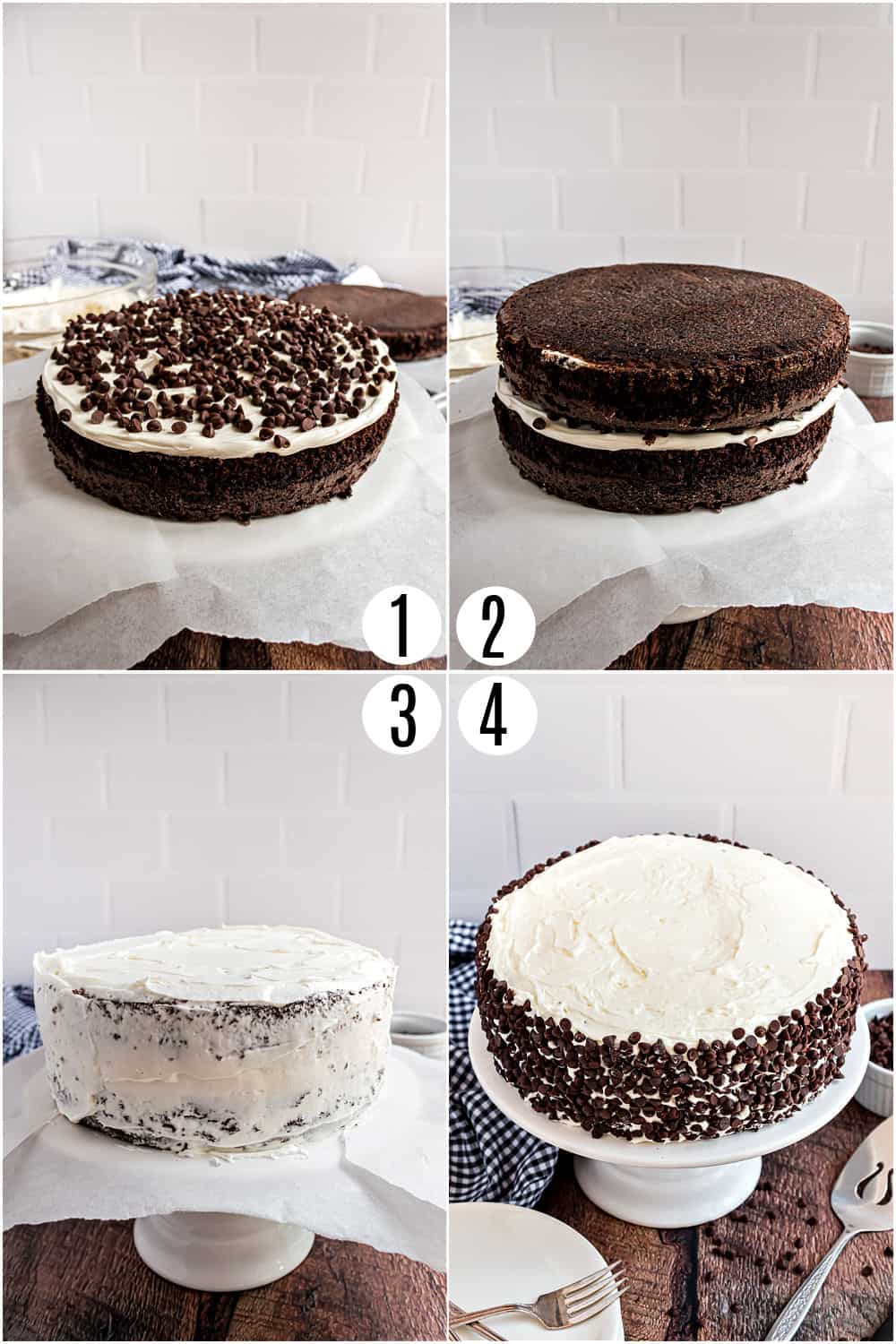 Start the frosting by beating butter for several minutes until pale and fluffy. Next, beat in the powdered sugar and vanilla until smooth.
Place one dark chocolate cake layer on a cake plate. Spread vanilla frosting on top. Sprinkle with mini chocolate morsels.
Add the remaining cake layer. Cover the top and sides of the cake with a thin layer of frosting. Let set for about 15 minutes.
Finally, add another layer of frosting to the top and sides of the cake. Use your hand to press mini morsels into the sides of the cake.
Slice and serve!
Tips and Tricks
Use a straight edge spatula to smooth the final layer of vanilla frosting.
Make sure to grease and flour your cake pans before baking this cake. For even easier removal, add a circle of parchment paper to the bottom or the cake pans too. You can even use our homemade cake release for best results.
For best presentation, place strips of parchment paper on the cake plate under the first layer of cake. After frosting, remove the strips to reveal a perfectly clean edge and cake plate!
Frosting. Pair this dark chocolate cake with a tangy chocolate sour cream frosting for a delicious duo. Or use our vanilla sour cream frosting to keep that black and white contrast!
Make it in a 13×9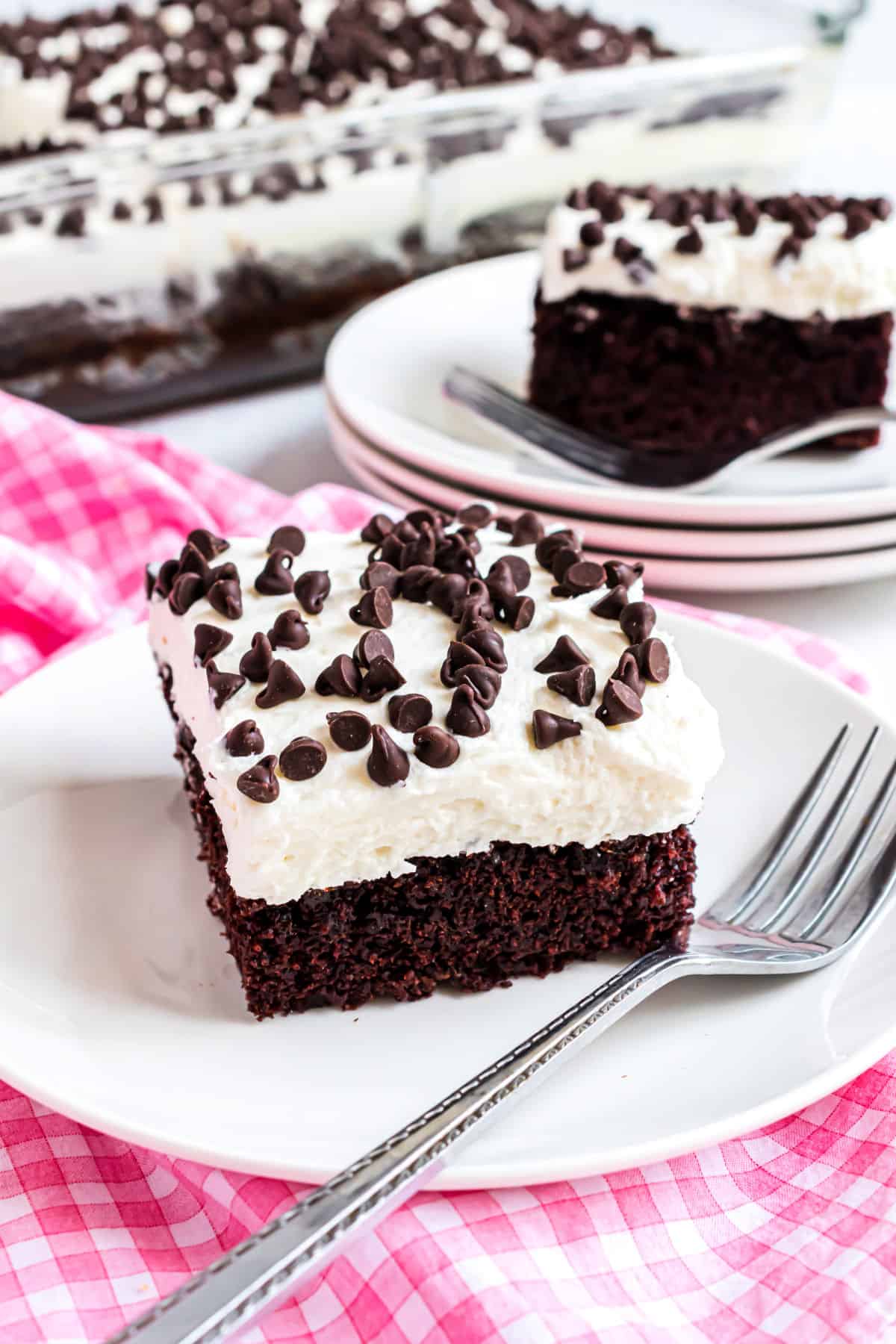 Sometimes you just don't want to make a layer cake. Maybe you're headed to a potluck, or a party, and want to bake up the cake in a 13×9.
Today's cake is so easy to do this!
Follow all the instructions to making the cake batter. Grease and flour (or use baking spray or our homemade cake release) a 13×9 glass or metal baking dish.
Pour all the cake batter into the prepared pan. Bake in a 350 degree preheated oven for about 40-45 minutes, until toothpick comes out clean.
Cool completely then top with frosting and sprinkle with about 1/2 cup mini chocolate chips. Voila. Enjoy!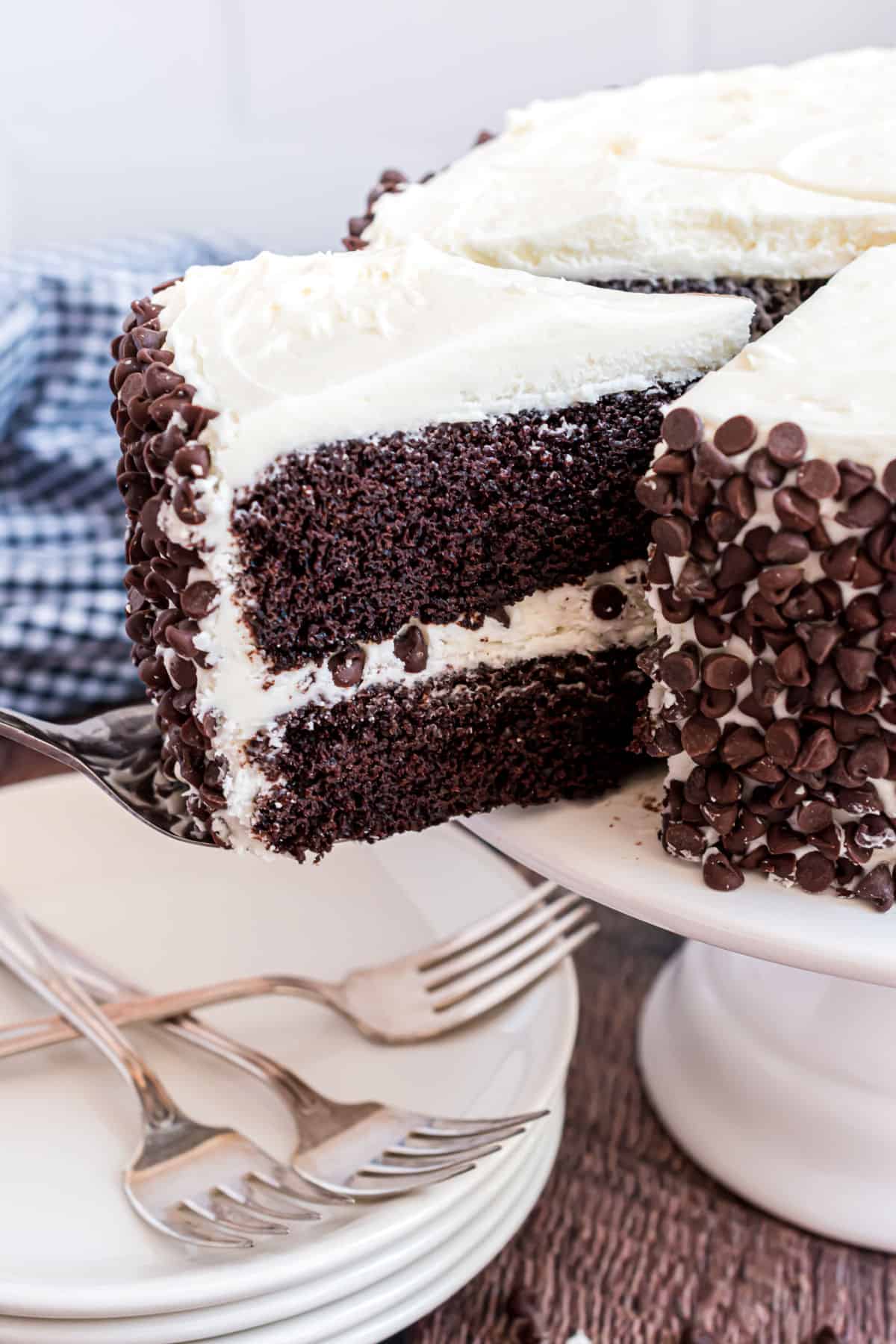 Recipe FAQs
What can I use instead of brewed coffee?
If you don't have any coffee or prefer not to use it, replace it with hot water in this recipe.
Can I make this with regular cocoa powder?
Yes, but then it won't be a dark chocolate cake!
Can I make this recipe with regular chocolate chips instead of mini ones?
You can use full sized morsels if you prefer. They tend not to stick to the frosting as well–and, of course, the larger size creates a difference in consistency.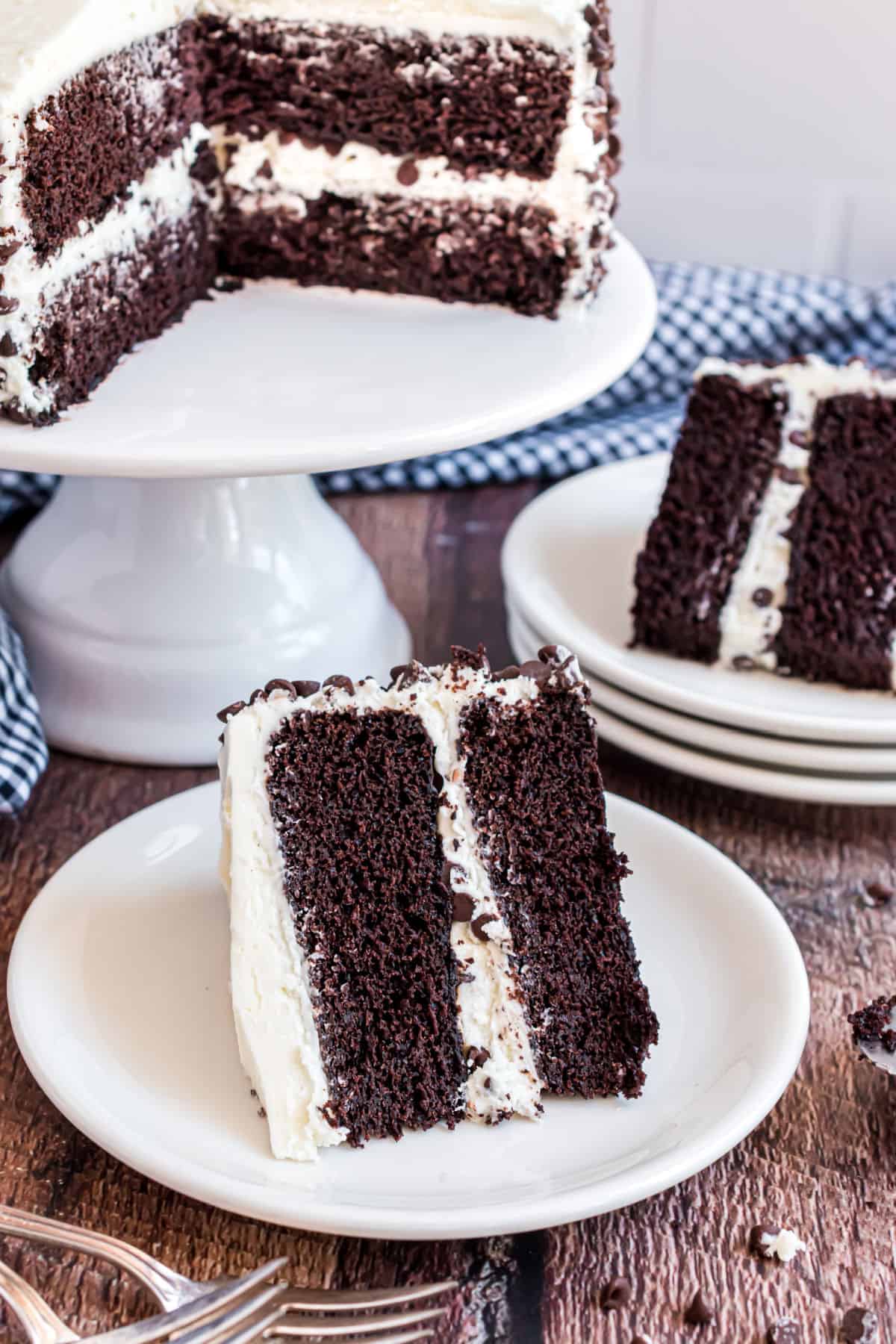 Vanilla Cake Rolls are easy and light, a perfect summer birthday treat! Add sprinkles for more fun!
This Lemon Cake has a homemade Lemon Curd filling and Whipped Cream Cheese frosting too! Perfect for that citrus lover!
Looking for something a little richer? A little bit more chocolate? This Chocolate Cake with Mint Chip Frosting is your answer (don't mind the old photos!!) The frosting truly tastes like mint chip icecream!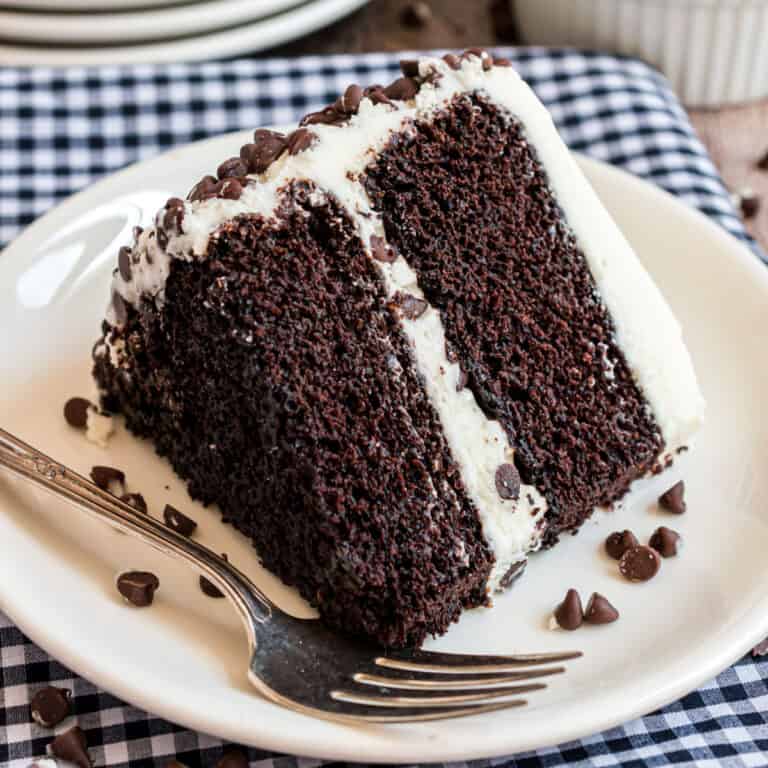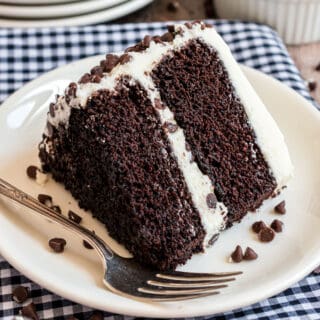 Dark Chocolate Cake
Looking for a tried and true chocolate cake recipe? This dark chocolate cake is rich and moist and the perfect, from scratch recipe you want! Topped with a smooth and creamy vanilla frosting and your sweet tooth will be satisfied!
Ingredients
For the Cake:
½

cup

unsalted butter

softened

1 ½

cups

granulated sugar

2

large eggs

1 ½

cups

all-purpose flour

½

cup

unsweetened dark chocolate cocoa powder

½

teaspoon

kosher salt

1

teaspoon

baking soda

½

teaspoon

baking powder

½

cup

strong brewed coffee

cooled

½

cup

milk
For the frosting:
1

cup

unsalted butter

softened

4 ½

cup

powdered sugar

2

teaspoons

pure vanilla extract

3

Tablespoons

milk

1 ½

cup

mini semi sweet chocolate morsels
Instructions
In a bowl, mix flour, cocoa, salt, baking soda and baking powder. Set aside.

In a measuring cup, mix together cooled coffee and milk. Set aside.

In an electric mixer bowl, beat butter and sugar for 5 minutes, until smooth. Beat in eggs one at a time. Slowly add in dry ingredients alternating with the coffee/milk mixture (about 3 additions of each).

Pour cake batter into two prepared pans (2-9inch round cake pans, lined with parchment paper and greased and floured). Bake in a 350 degree oven for about 25 minutes. Remove and allow to cool about 10 minutes before removing from pans. Cool completely on a wire rack before frosting.

For the frosting, beat butter for 3-4 minutes until pale in color. Add powdered sugar, vanilla, and milk. Beat an additional 3-4 minutes until fluffy and smooth!

To assemble cake, lay one layer of cake on a cake plate. Spoon 1/4 of frosting onto top of cake, spreading evenly. Top with about 1/2 cup of mini morsels. Add second layer of cake. Spread a layer of frosting around the sides of the cake and the top, very thin. This is your crumb coat. Allow to set about 15 minutes (or refrigerate). Apply final layer of frosting, spreading evenly and using a straight edge spatula to smooth. Using your hands in a cupped fashion, press mini chips around sides. Continue until all sides are done.

Slice and enjoy!
Notes
The coffee in this cake just deepens the chocolate flavor. It does not make this cake taste like coffee in any way! If you absolutely must remove the coffee, just replace the 1/2 cup coffee with water.
To keep frosting off cake plate, lay strips of parchment paper under the first layer of cake, all the way around. Once frosting is applied, carefully remove strips of paper!
13×9- Grease and flour 13×9 baking dish. Add batter. Bake for 40 minutes, until toothpick comes out clean. Cool completely then frost. Top with about 1/2 cup mini chocolate chips.
Nutrition
Serving:
1
slice
,
Calories:
523
kcal
,
Carbohydrates:
74
g
,
Protein:
4
g
,
Fat:
25
g
,
Saturated Fat:
15
g
,
Polyunsaturated Fat:
9
g
,
Cholesterol:
70
mg
,
Sodium:
188
mg
,
Fiber:
2
g
,
Sugar:
61
g
Just try to resist a second (or third) piece of this easy Dark Chocolate Cake!