Looking for a tried and true chocolate cake recipe? This dark chocolate cake is rich and moist and the perfect, from scratch recipe you want! Topped with a smooth and creamy vanilla frosting and your sweet tooth will be satisfied!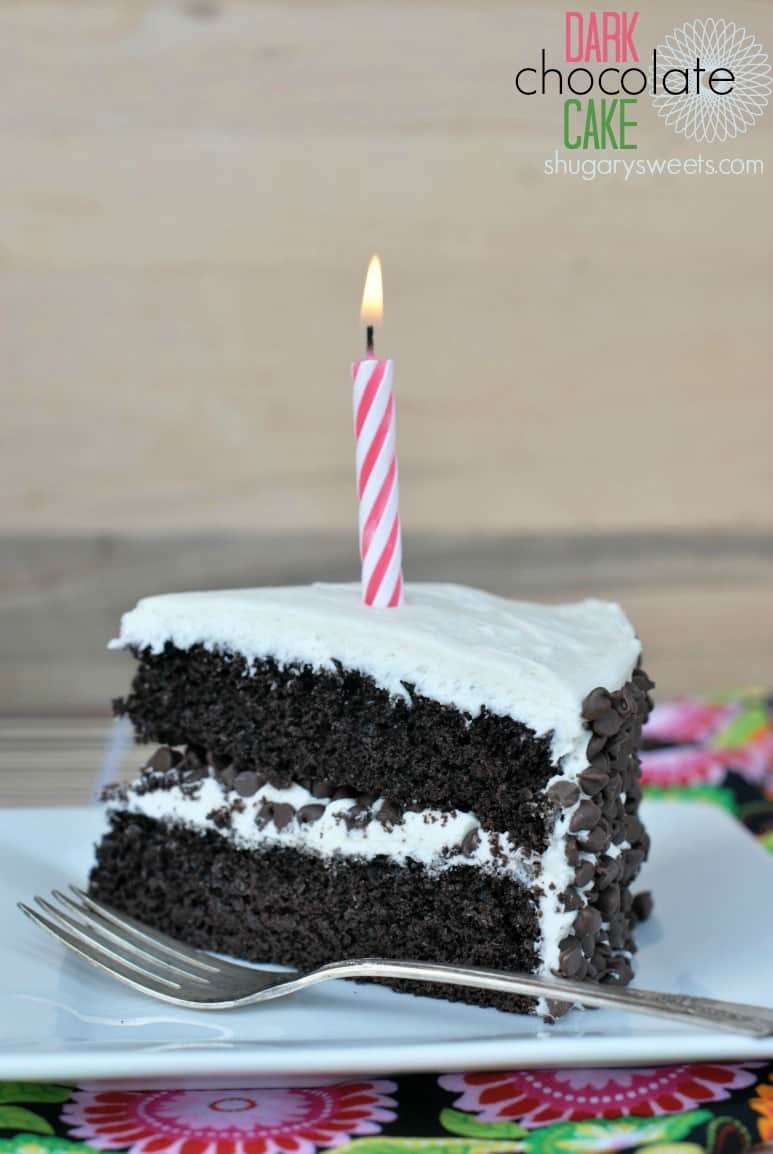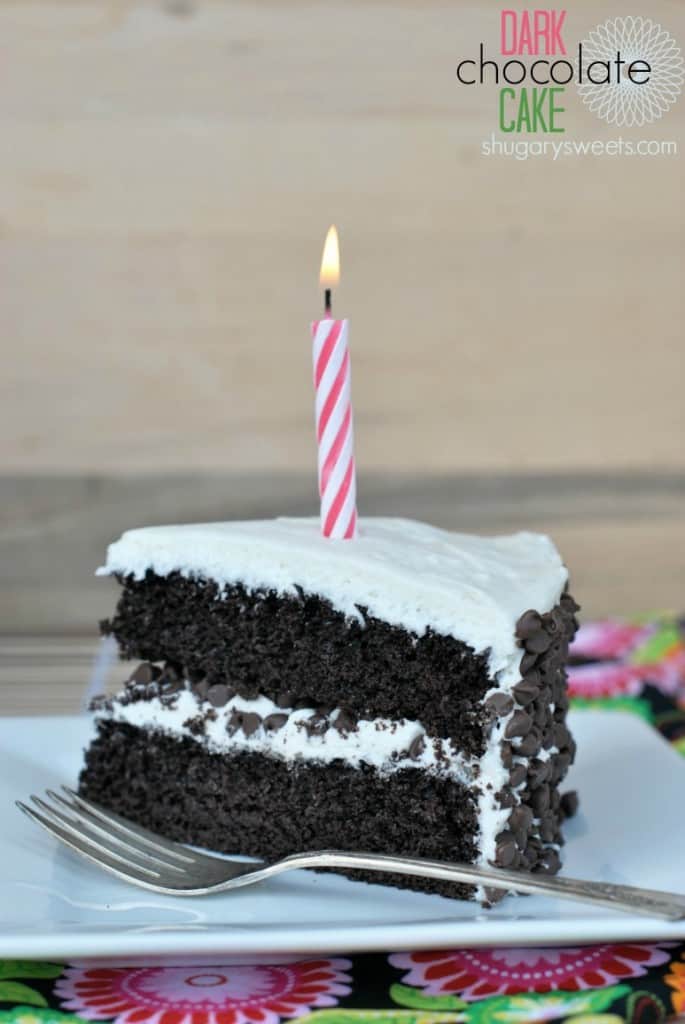 This week I turn 40. As in 40 years old. I made myself a "pre-birthday" cake.
What is a pre-birthday cake you might ask? It's the cake you make yourself the week before your birthday. A cake that is so rich and indulgent, it may help you overcome those feelings of "oldness."
Once upon a time I looked forward to turning 30. I had 4 kids and I was ready for my 30's! There were many occasions when I would receive comments about being a young mom, how I had so much to learn, etc. I was 23 when I had my first…was done by the time I turned 30. Yes I was young. But, it was right for us. I wouldn't trade it for a minute!
But now? See, I have friends my age who have little kids. 5 year old. 3 year old. Babies, even. Even though they are 40, they can pass for much younger because their children are so little.
It doesn't work for me. My oldest will be 17 this year. No mistaking it…I am officially old.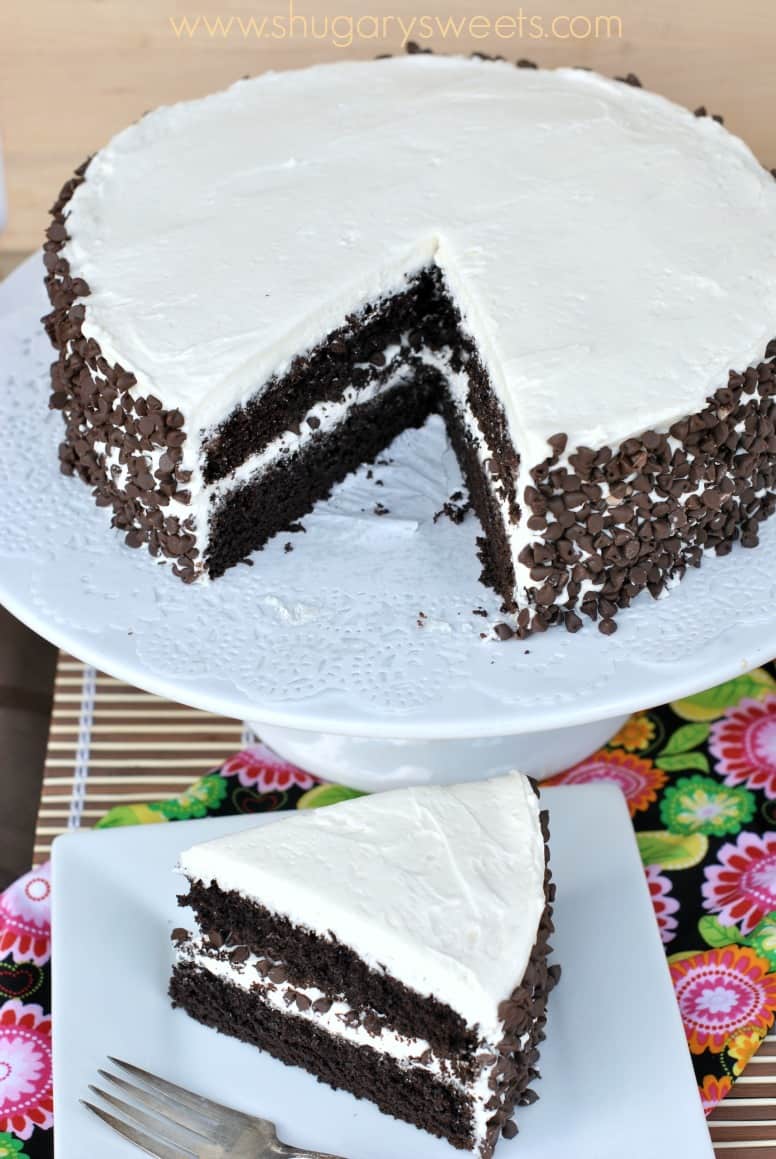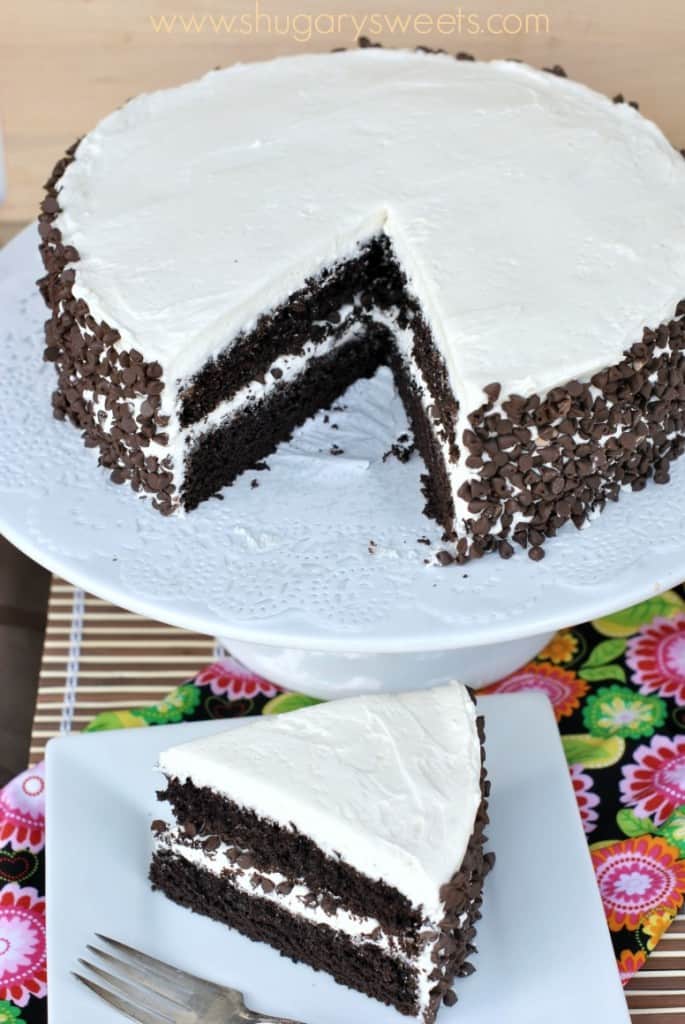 BUT, and this is a BIG but, I am so thankful for all the experiences that have brought me to where I am in life (well, almost all of them, hehe)!! I am confident in who I am, what I do, where I'm going and how I'll get there! I love myself too. Yeah, I may have some cupcake handles, and my abs aren't as tight as they were when I was 20…but it's okay. I'm okay.
And because of that…let's eat cake! I wish I could share a slice of cake with each and every one of you! Your sweet comments really make my day, honestly!
And, this rich dark chocolate cake is just what a 40yr old birthday girl craves!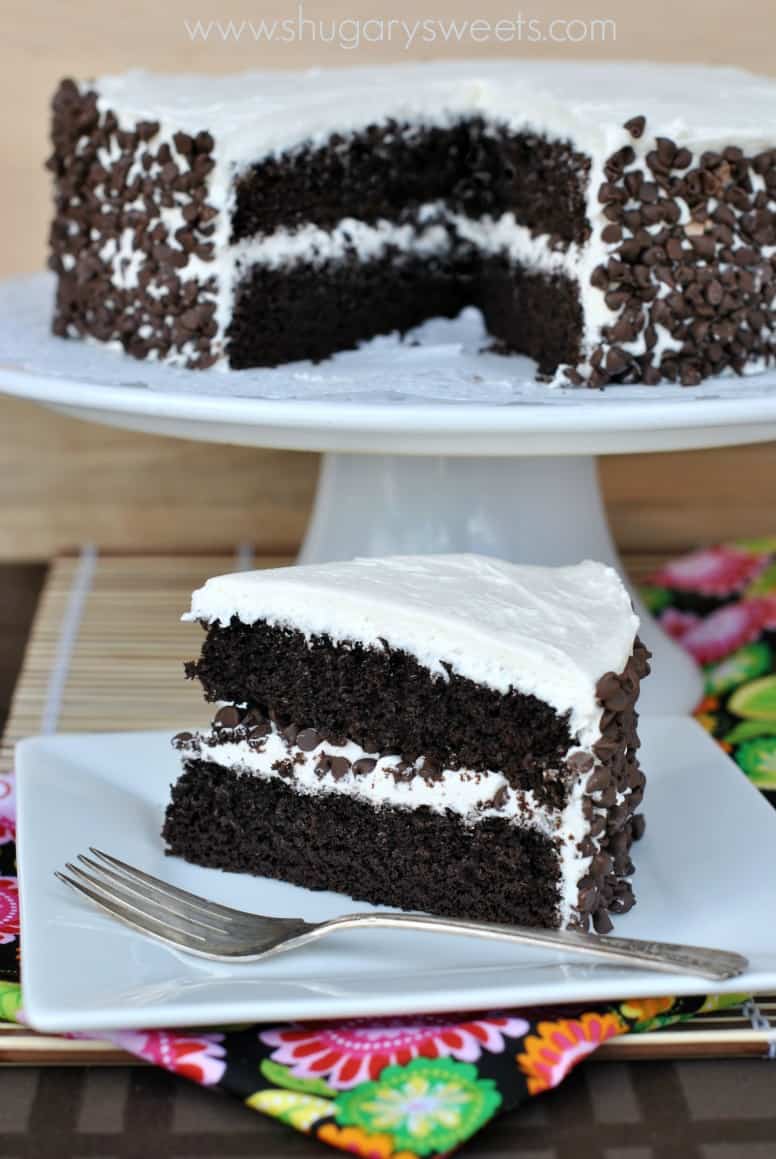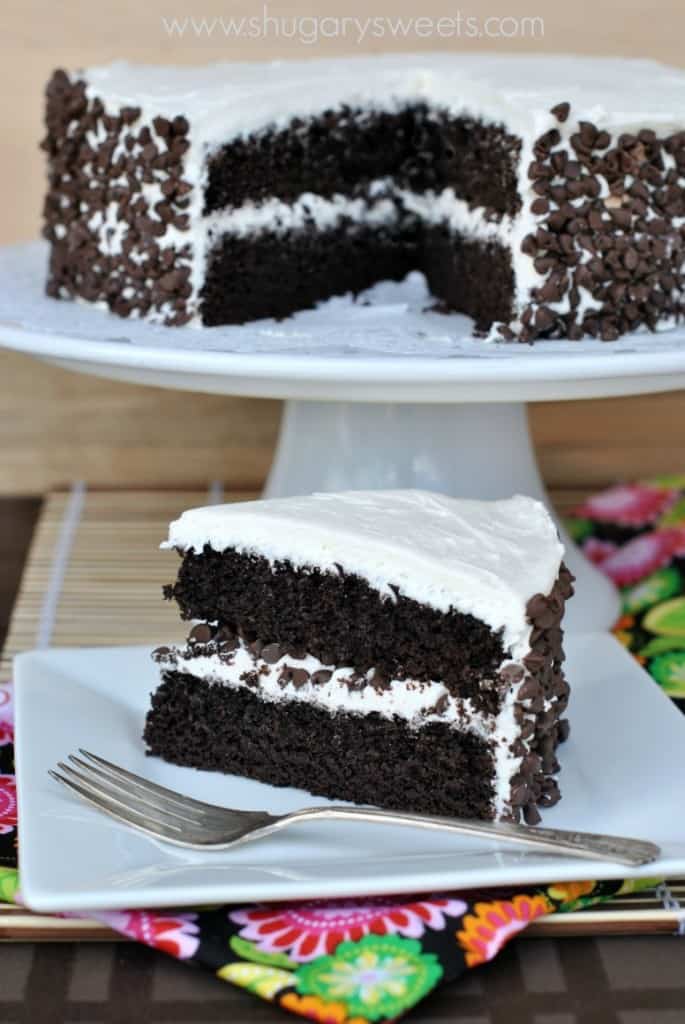 Connect with Shugary Sweets! I know you want to see behind the scenes…check out my instagram!
Don't miss a single recipe!
Facebook | Twitter | Google+ | Pinterest | Bloglovin'
Yield: serves 12-16
Dark Chocolate Cake with Vanilla Frosting
Prep Time 30 minutes

Cook Time 25 minutes

Looking for a tried and true chocolate cake recipe? This dark chocolate cake is rich and moist and the perfect, from scratch recipe you want! Topped with a smooth and creamy vanilla frosting and your sweet tooth will be satisfied!
Ingredients
For the Cake:
1/2 cup unsalted butter, softened
1 1/2 cup granulated sugar
2 eggs
1 1/2 cup all-purpose flour
1/2 cup unsweetened dark chocolate cocoa powder
1/2 tsp kosher salt
1 tsp baking soda
1/2 tsp baking powder
1/2 cup strong brewed coffee, cooled
1/2 cup milk
For the frosting:
1 cup unsalted butter, softened
4 1/2 cup powdered sugar
2 tsp pure vanilla extract
3 Tbsp milk
1 1/2 cup mini semi sweet chocolate morsels
Instructions
In a bowl, mix flour, cocoa, salt, baking soda and baking powder. Set aside.
In a measuring cup, mix together cooled coffee and milk. Set aside.
In an electric mixer bowl, beat butter and sugar for 5 minutes, until smooth. Beat in eggs one at a time. Slowly add in dry ingredients alternating with the coffee/milk mixture (about 3 additions of each).
Pour cake batter into two prepared pans (2-9inch round cake pans, lined with parchment paper and greased and floured). Bake in a 350 degree oven for about 25 minutes. Remove and allow to cool about 10 minutes before removing from pans. Cool completely on a wire rack before frosting.
For the frosting, beat butter for 3-4 minutes until pale in color. Add powdered sugar, vanilla, and milk. Beat an additional 3-4 minutes until fluffy and smooth!
To assemble cake, lay one layer of cake on a cake plate. Spoon 1/4 of frosting onto top of cake, spreading evenly. Top with about 1/2 cup of mini morsels. Add second layer of cake. Spread a layer of frosting around the sides of the cake and the top, very thin. This is your crumb coat. Allow to set about 15 minutes (or refrigerate). Apply final layer of frosting, spreading evenly and using a straight edge spatula to smooth. Using your hands in a cupped fashion, press mini chips around sides. Continue until all sides are done.
Slice and enjoy!
Notes
**The coffee in this cake just deepens the chocolate flavor. It does not make this cake taste like coffee in any way! If you absolutely must remove the coffee, just replace the 1/2 cup coffee with water. **To keep frosting off cake plate, lay strips of parchment paper under the first layer of cake, all the way around. Once frosting is applied, carefully remove strips of paper! **I used Wilton's Bake Even strips to get perfectly flat cake tops. If desired, slice dome of cake to make a flat layered cake.
Looking for more delicious Cake ideas?
Vanilla Cake Rolls are easy and light, a perfect summer birthday treat! Add sprinkles for more fun!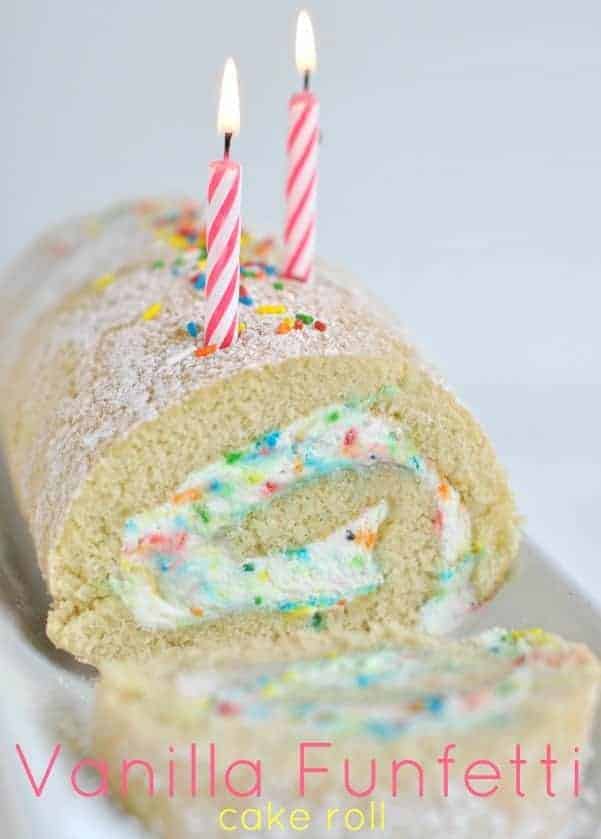 This Lemon Cake has a homemade Lemon Curd filling and Whipped Cream Cheese frosting too! Perfect for that citrus lover!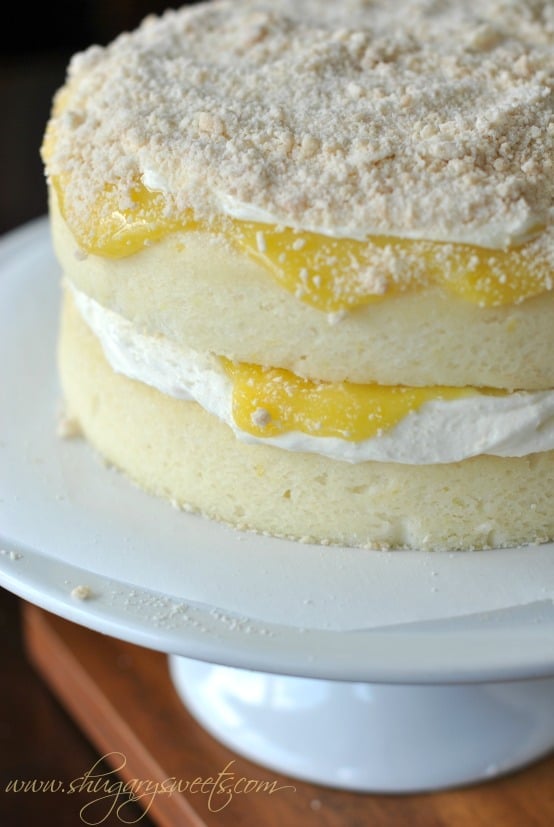 Looking for something a little richer? A little bit more chocolate? This Chocolate Cake with Mint Chip Frosting is your answer (don't mind the old photos!!) The frosting truly tastes like mint chip icecream!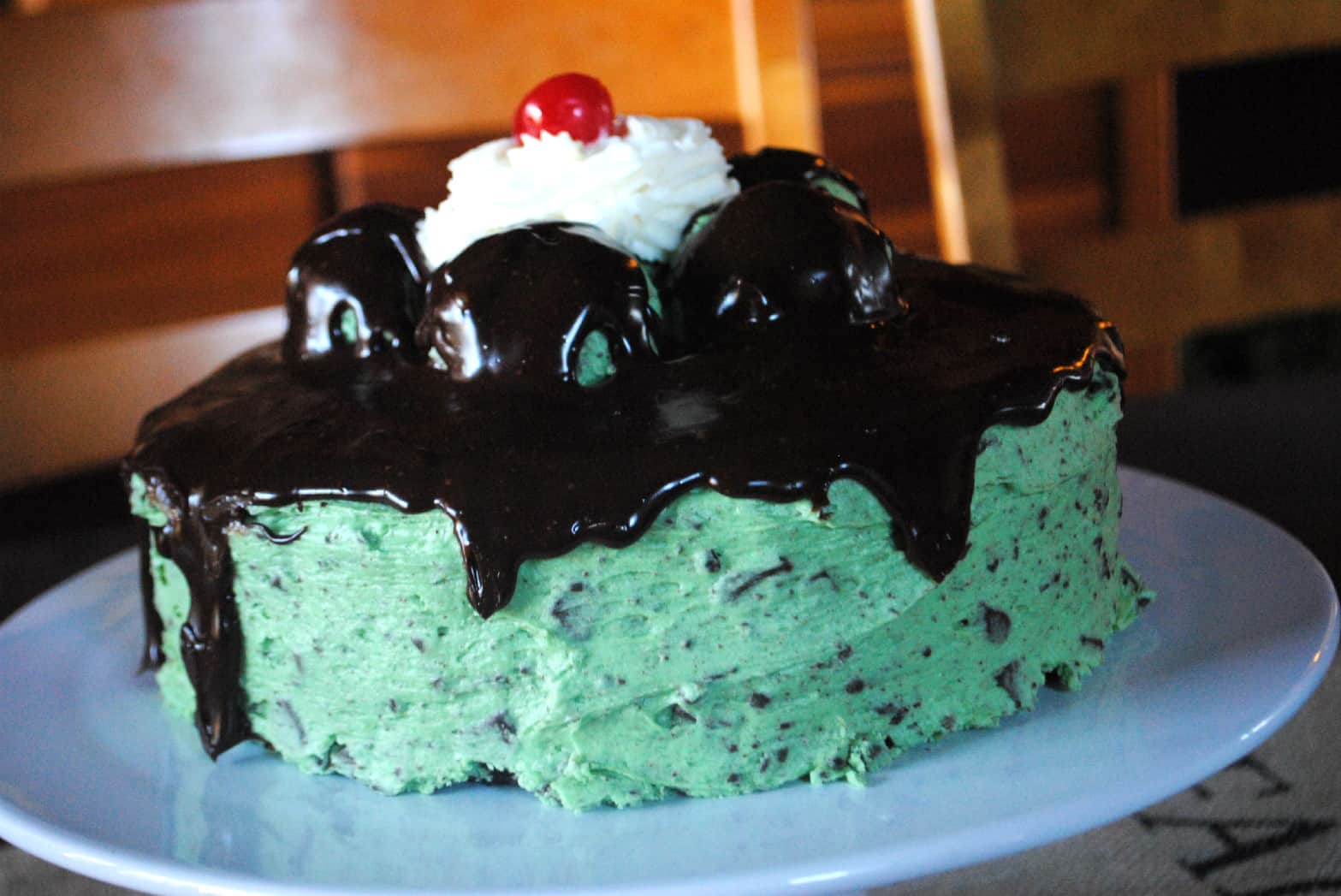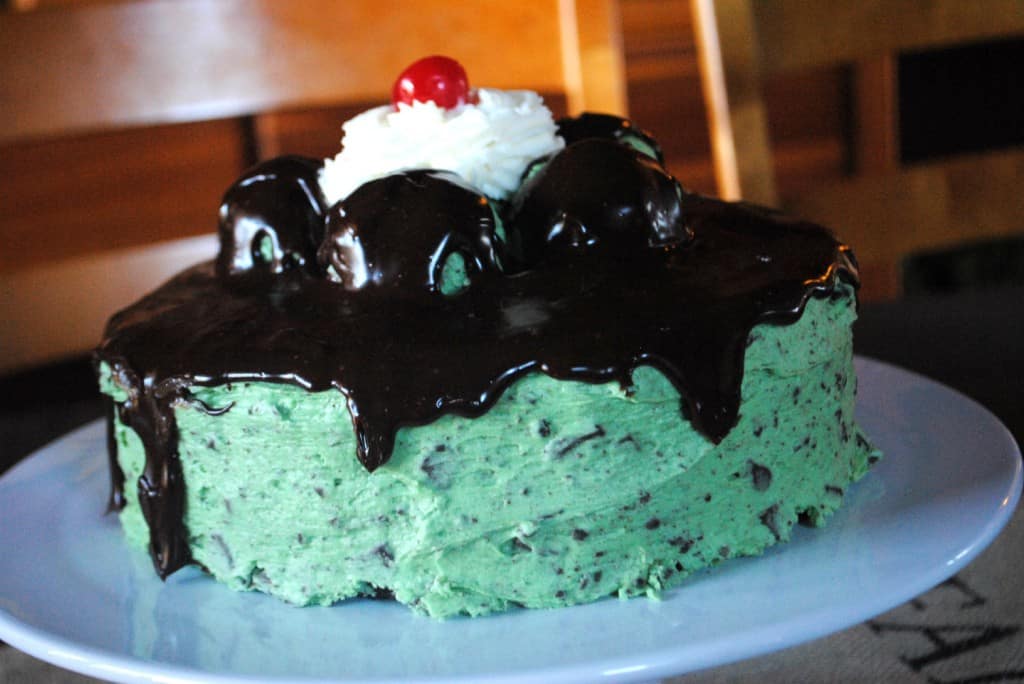 Check out some of these other great recipes from around the blogs…