The best, homemade German Chocolate Cake recipe, from scratch, is decadent and sweet with the rich chocolate cake layers topped with coconut pecan frosting! Add some chocolate buttercream frosting to put this cake recipe over the top!
Love this cake? Try our delicious german gingerbread, Lebkuchen, next! Or give our easy chocolate sheet cake a try soon.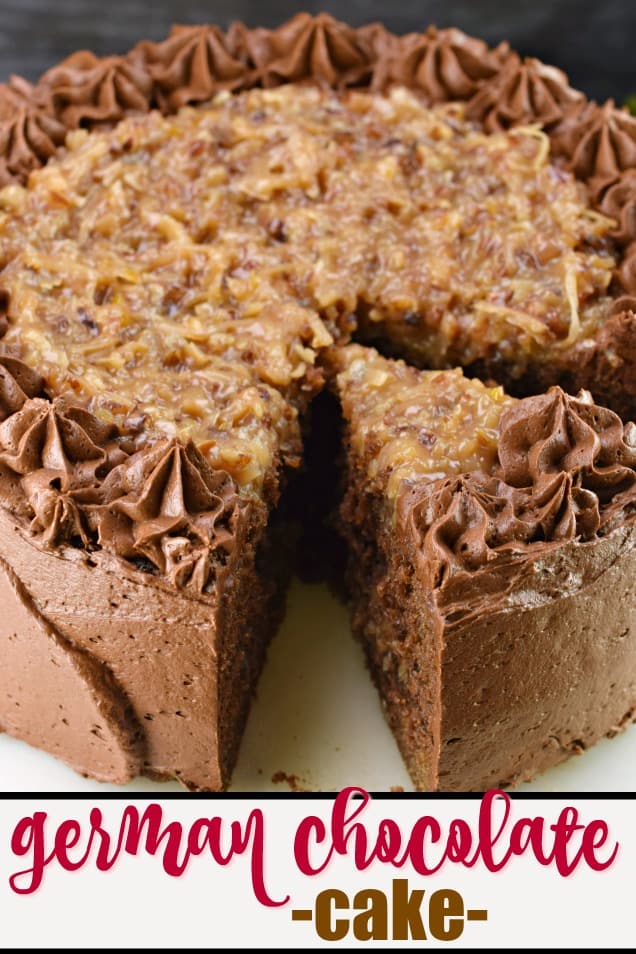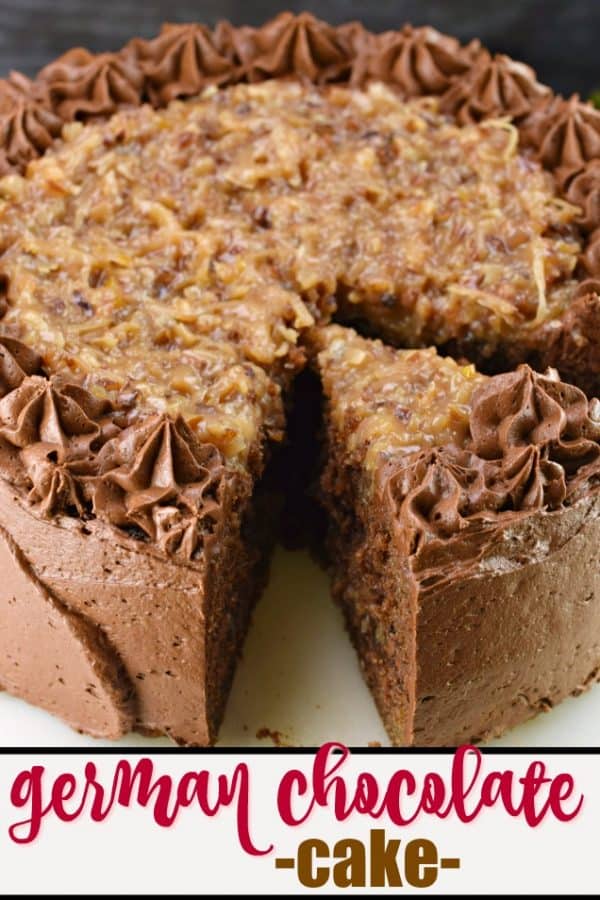 I have a confession.
I have never liked German Chocolate Cake. To me, it's always been dry, and lacking flavor.
Seriously, the only redeeming quality was the coconut pecan frosting.
Until now of course.
I even surprised my family with this cake recently, and the confessions came out that even my parents have never liked this type of cake.
But, after one bite of this decadent, impressive cake, we all have had a change of heart.
I pretty much nailed the cake, and of course the frosting takes this to the next level. Adding a bit of my easy chocolate buttercream frosting to the sides gives this cake a little extra richness (and sweetness) we couldn't resist!
What is German Chocolate Cake?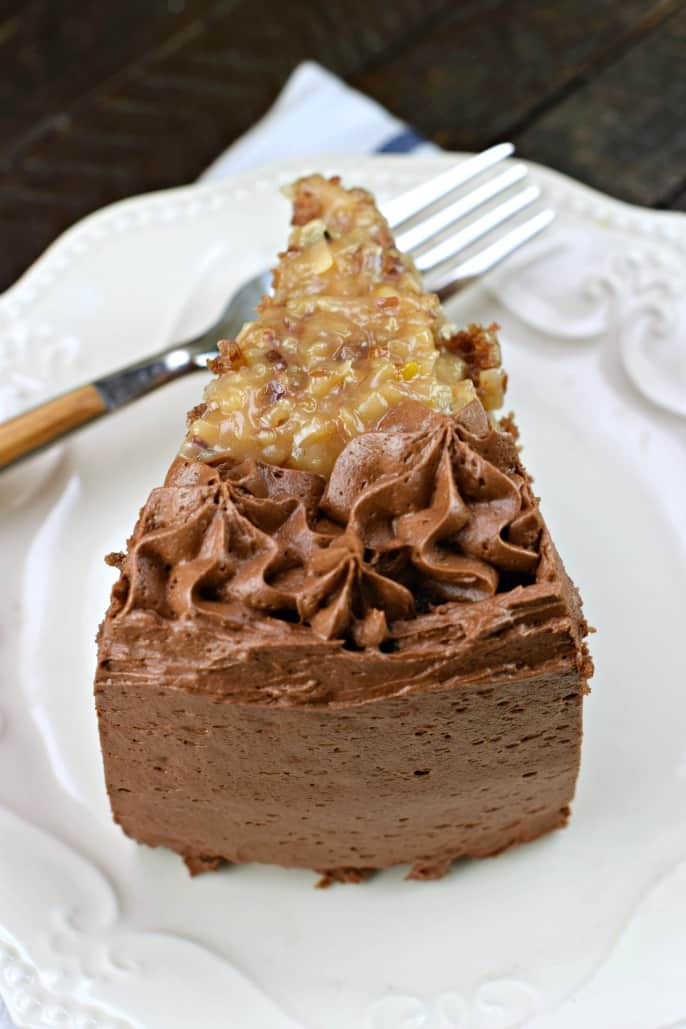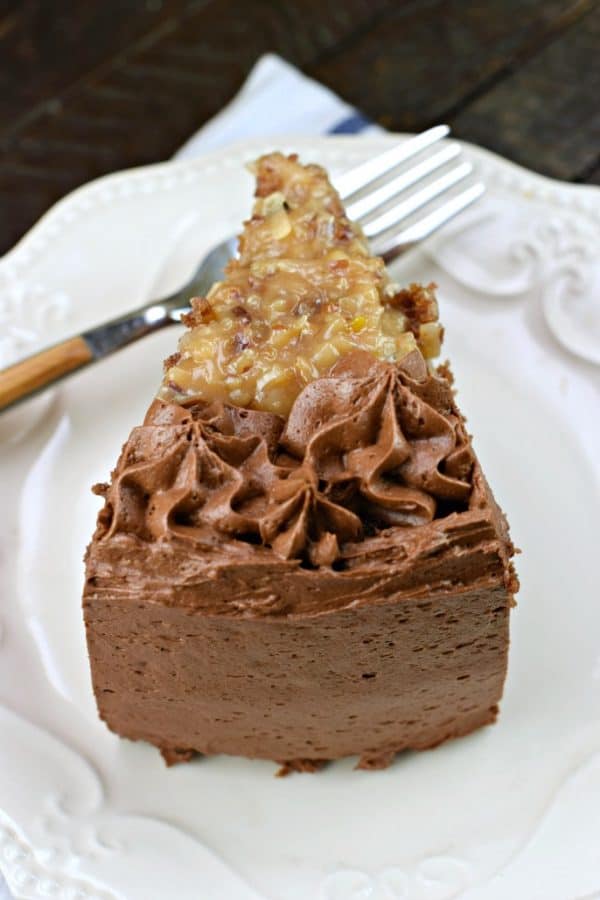 If you're like me, and have wondered what makes a German Chocolate Cake different, I'm hear to tell you!
The cake recipe uses Baker's German Chocolate, which was developed over 100 years ago! Unlike the name, the chocolate bar was not developed in Germany, but named after the man who created it instead! He thought combining chocolate with sugar would save bakers a step in their process!
Then 100 years later (in the 1950's) a homemaker created this cake recipe, and millions of people enjoy it daily. On June 11 is National German Chocolate Cake Day here in America…so there's that!
Recipe Notes
Start by creating the two layers of moist chocolate cake!
Preheat oven to 350 degrees F. Grease two 9-inch round baking pans with baking spray and line bottom with parchment paper circles. Set aside.
In a small bowl, combine 1 cup of boiling water with a 4 oz package of German Chocolate. Allow chocolate to melt while you combine the sugar, flour, baking powder, baking soda, and salt in a separate bowl.
In a large mixing bowl, beat butter with eggs and buttermilk until combined. Add in vanilla extract.
Mix in dry ingredients to the buttermilk mixture. Finally, whisk the chocolate with the water to combine and add to cake batter. Beat just until combined, scraping down the sides of the bowl as needed.
Pour into prepared baking pans and bake for 36-38 minutes, until toothpick inserted in the center comes out clean.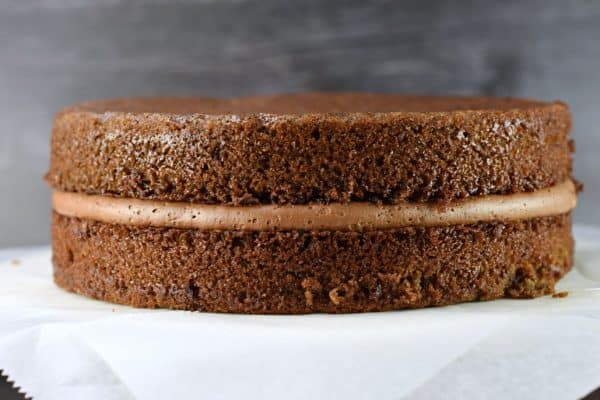 PRO TIP: Use Wilton bake even strips to wrap around your baking pans to create smooth, even cakes that don't dome on the top and create waste!
Remove from oven and cool in pans 5 minutes. Invert onto parchment paper lined wire rack and cool completely.
How to Make Coconut Pecan Frosting
What makes a great German chocolate cake? We all seem to agree the secret is in the frosting!
The basics of today's frosting is to boil the mixture to create a custard like consistency before adding in the pecans and coconut.
In a medium sized saucepan, combine butter, brown sugar, granulated sugar, room temperature egg yolks, salt, and evaporated milk. Over medium-low heat, bring the mixture to a low boil.
PRO TIP: Use a whisk or rubber spatula to continually scrape the bottom of the saucepan while stirring so it doesn't burn or create build up!
Continue cooking until mixture thickens into a custard-like texture. This can take 8-12 minutes depending on many factors including the type of saucepan you're using, the size of the pan, and the type of heat.
Once your frosting base has thickened, add in vanilla extract, chopped pecans, and shredded sweetened coconut. Stir and set aside until cooled.
PRO TIP: I refrigerate the coconut pecan frosting to speed up the cooling time!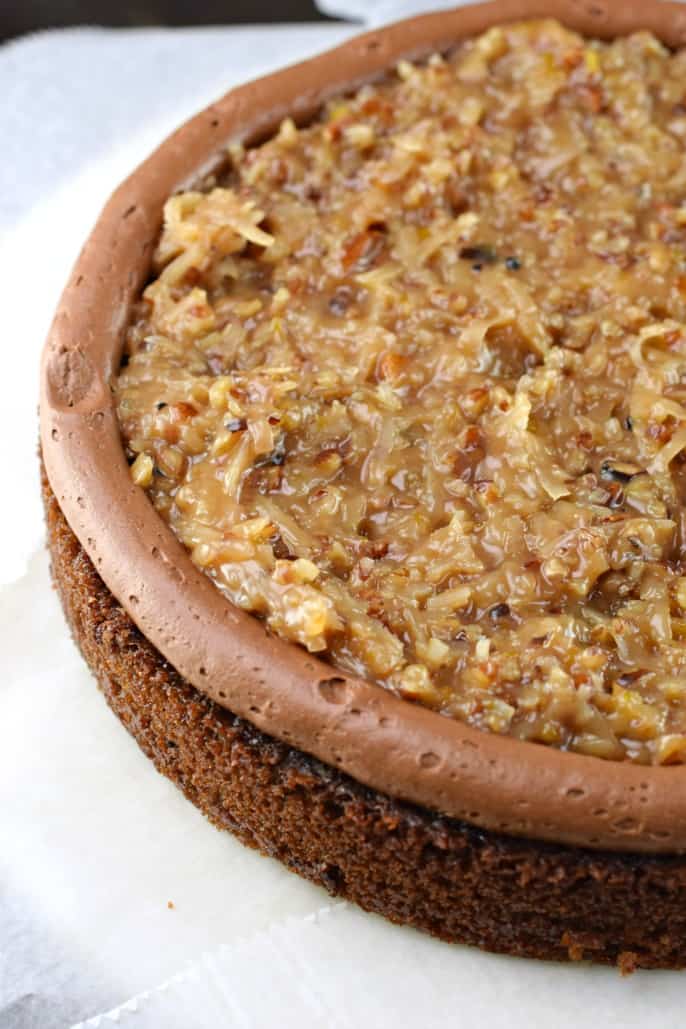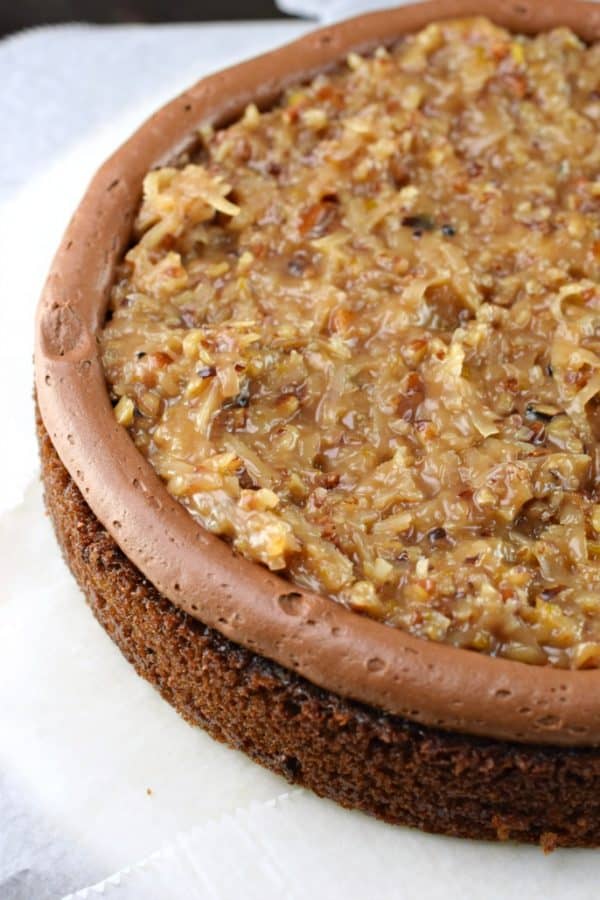 How to Make Frosting
You could choose to layer your German Chocolate Cake with a filling of coconut pecan frosting, top it with the remaining coconut pecan frosting and leave the sides plain.
Or, take it to the next level by adding a little of this sweet chocolate buttercream frosting. I piped the edges of each layer with the chocolate frosting, to keep the coconut filling inside! Then spread the remaining frosting around the sides of the cake to give it a finished appearance!
To make the frosting, in a mixing bowl, beat butter with unsweetened cocoa powder, powdered sugar, evaporated milk, and vanilla extract.
Beat for about 5 minutes, scraping down the sides of the bowl as needed.
To assemble the cake:
STEP 1: Lay the first layer of chocolate cake on a cake platter. Pipe the edges with chocolate frosting. Add 1/2 of the coconut pecan frosting to the center of the cake. Repeat with the second layer.
STEP 2: Spread chocolate buttercream frosting around the sides of the cake.
STEP 3: Using an open star tip, pipe swirls on top of cake to give it a finished look (optional).
STEP 4: Slice and serve!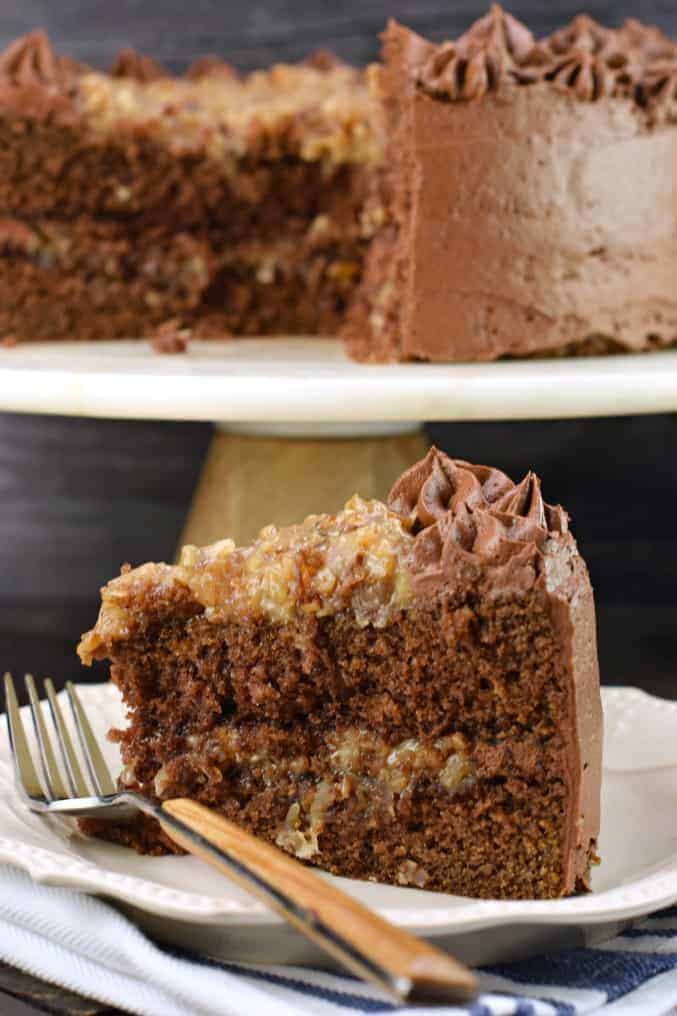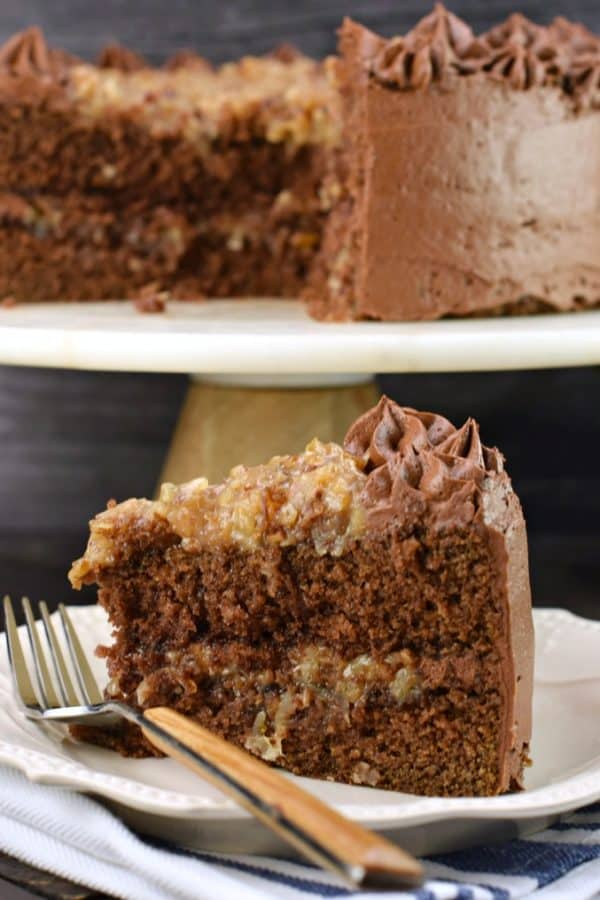 Does Cake Need to Refrigerate?
No!
Keep cake in an airtight container or cake saver at room temperature for up to 5 days for best results.
You can however refrigerate this cake if you prefer the frosting to have a chilled texture and flavor.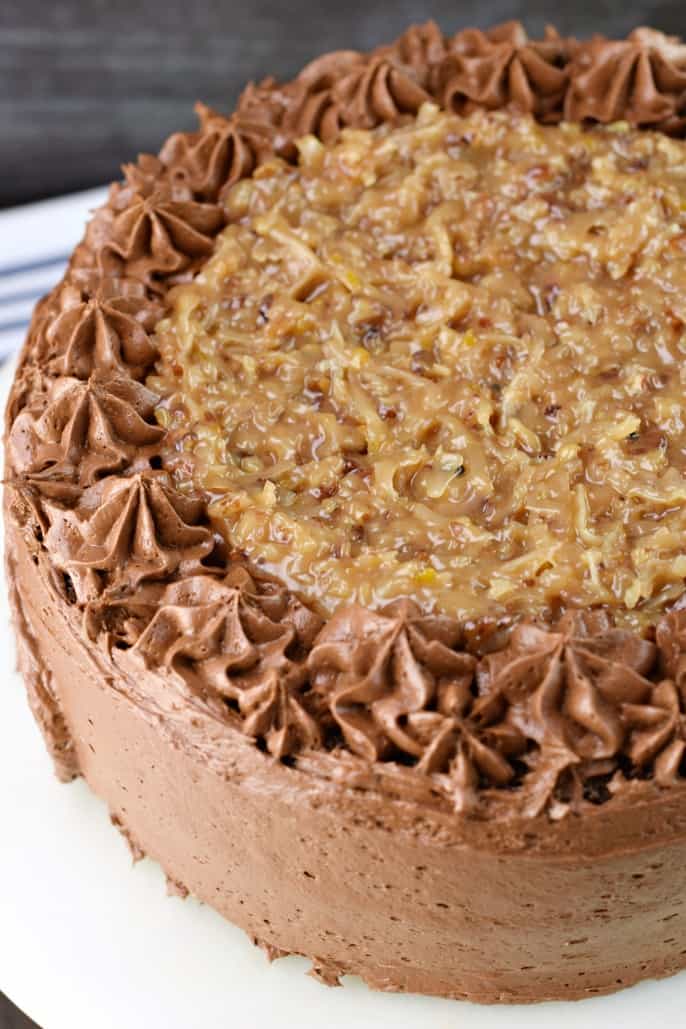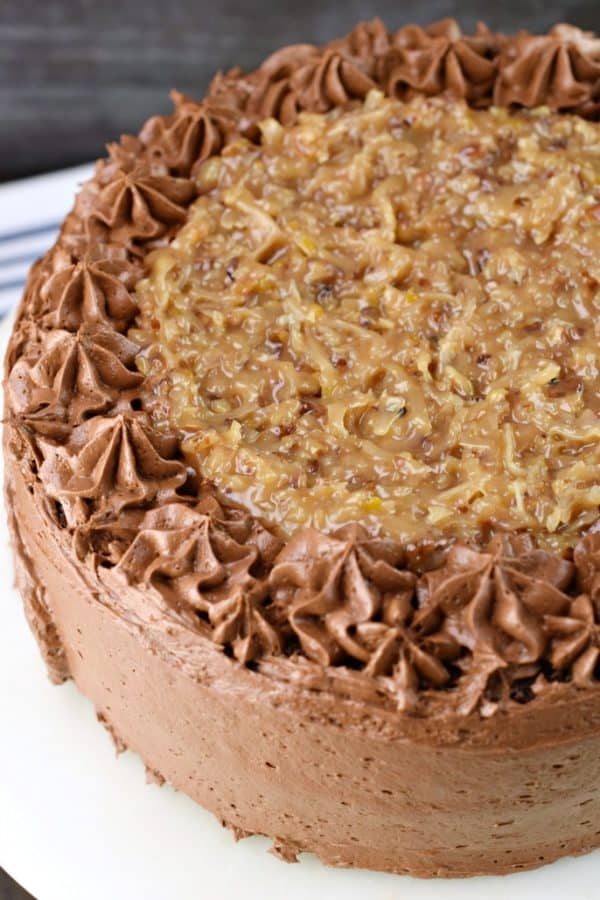 Freezer Friendly Ideas
You have several options. 
1- Bake cake layers and cool. Wrap in parchment paper, then foil, and freeze cake layers. Thaw at room temperature.
2- Bake cake and cool. Frost as directed. Freeze cake whole (in airtight container). Thaw at room temperature.
3- (my favorite option) Bake cake and cool. Enjoy for several days. Wrap leftover SLICES in parchment paper then slide in ziploc bag. Freeze for up to 3 months. Thaw at room temperature.
More Chocolate Cake Recipes