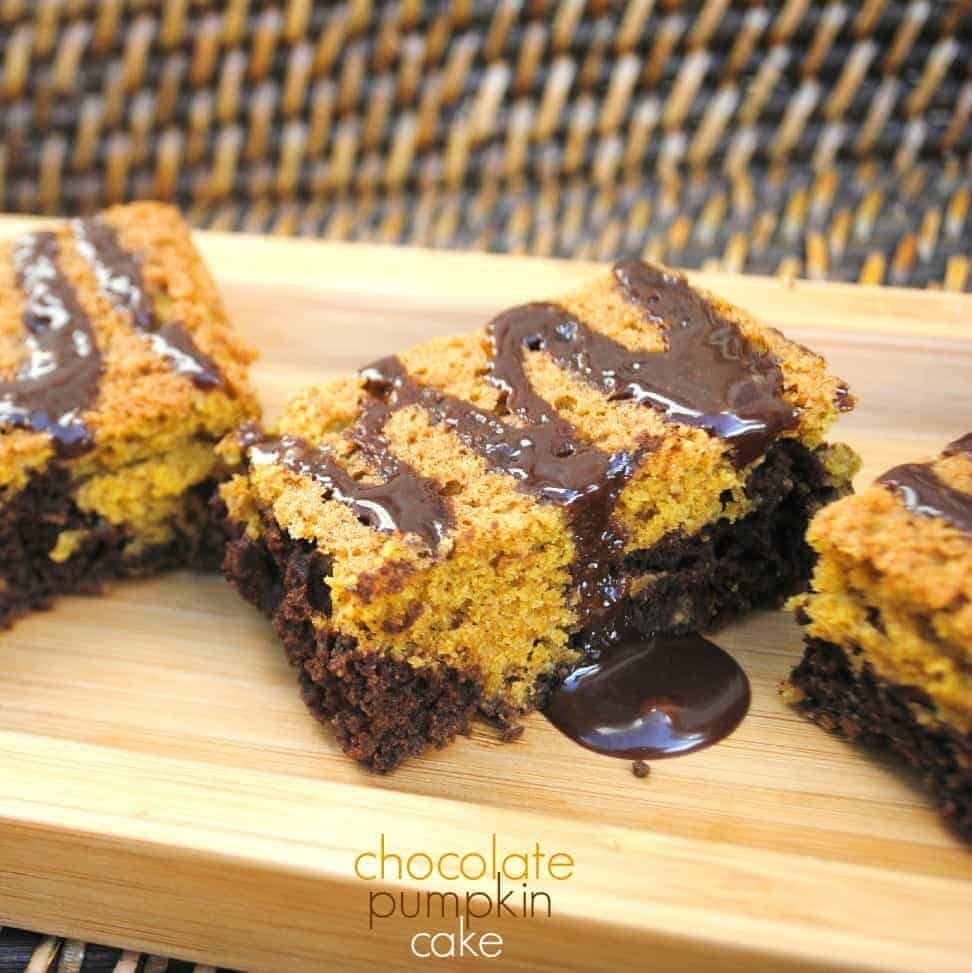 Chocolate Pumpkin Cake
For me, pumpkin season runs from September to January. During pumpkin season, I can't get enough pumpkin treats. I always have a strong compulsion to develop dozens of new pumpkin recipes every fall.
That compulsion resulted in this Chocolate Pumpkin Snack Cake recipe!
I don't know why people don't put chocolate and pumpkin together more often. These snack cakes layer pumpkin and chocolate flavors!
I ate this for breakfast. Is that wrong? It's more like a cake, but I was hungry, and the chocolate was calling my name.
If I eat pumpkin coffee cake for breakfast, then I should be allowed to eat chocolate pumpkin cake, too! 
Speaking of, I can't decide whether to call this a cake or a snack bar, so I use both depending on when I feel like eating it. Craving it in the morning? It's a snack bar. Want one after a meal? It's a cake!
Whatever you call them, these pumpkin snack bars are delicious anytime of day. I enjoyed mine with a cup of coffee, of course, as a satisfying sweet way to start my day. They'd also be great with a glass of milk for an afternoon (or midnight) snack.
Ingredient Notes
What you need to make Chocolate Pumpkin Cake Bars:
Butter – Softened slightly to room temperature before using
Sugar
Egg
Vanilla Extract– try making my homemade vanilla extract for all your baking!
Pumpkin puree – NOT pumpkin pie filling
Flour
Baking soda
Baking powder
Cocoa powder – Unsweetened baking cocoa
Salt 
And an optional ingredient that I LOVE:
Melted Nutella – To drizzle over the finished cake bars
Powdered Sugar– Dust the tops of the bars before serving 
How to Make Chocolate Pumpkin Cake
STEP 1. In a stand mixer, beat together the butter and sugar until creamy. Add egg and vanilla, beat until combined. Blend in the pumpkin. Add flour, baking powder, baking soda and salt.
STEP 2. Divide batter in half. In one half of batter, add cocoa and mix until combined. Spread in bottom of greased 13 x 9 pan. Spoon remaining batter on top, swirling slightly with the first layer of batter.
STEP 3. Bake in a 350 degree oven for 25 minutes. Allow to cool before enjoying.
How to grease the cake pan
For these bars, I used my favorite easy way of greasing my baking pans: the butter wrapper! After using the sticks of butter, place the buttered side of the wrapper flat on the glass cake pan and coat the pan with a light layer of the butter.
Waste not, want not, right?
If you prefer, you can also use baking spray to grease the pan. While I sometimes grease AND flour my baking dishes, it's not necessary in this recipe.
Or try my homemade cake release! Easy and always on hand at our house.
Can you freeze chocolate pumpkin bars?
Yes, these bars will freeze well! I recommend, freezing the pumpkin snack bars before adding any powdered sugar or nutella drizzle. 
Cut into bars and place a sheet of wax paper between layers before freezing, so they don't stick together.
These bars will keep well in the freezer for about 2 months. After that, you can expect some changes to taste and texture.
Cake Bars with Pumpkin
The pumpkin puree in these bars makes them moist and cakey, complementing the chocolate in an unexpected and delicious way. When you're tired of pumpkin spice everything, Pumpkin Snack Bars with a layer of cocoa flavored pumpkin cake are just the thing for celebrating fall!
These are so tasty though that you have my full permission to make them anytime of year. No need to wait for "pumpkin season."
What are you waiting for? Time to bake some chocolate pumpkin treats!
Pumpkin and chocolate come together in beautiful harmony in this easy homemade Chocolate Pumpkin Snack Cake.