Pumpkin Magic Cake is a must for the holidays. The yellow cake and pumpkin pie layers magically separate into a delicious treat.
This recipe is a combo of delicious Pumpkin Pie with a tasty Yellow Cake. Top it off with some homemade whipped cream and you've got a magical dessert.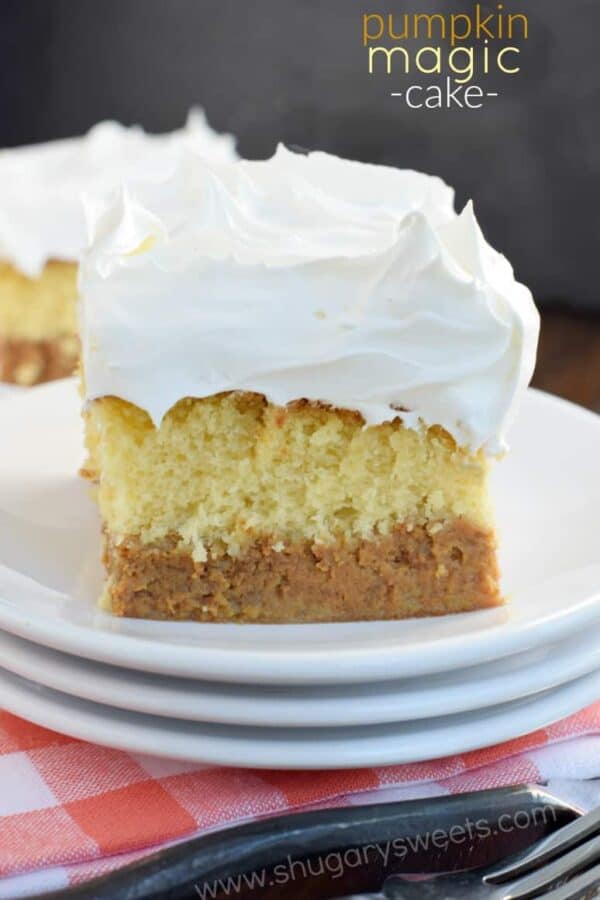 Magical Holiday Cake Recipe
There is a lot of controversy going on in our country right now. I'm sure you've been on the internet. Specifically facebook. I've seen the controversy popping up everywhere. You know what it's about…
Cool Whip.
I'm sorry were you thinking something more political?
However, whenever I mention I use Cool Whip, I feel like there is a bit of judgement handed down upon me. As if I'm feeding my children arsenic.
On Thanksgiving, my Grandma would put out a tub of the white, creamy stuff and a can of whipped cream (nobody thought twice about making homemade whipped cream).
I always chose the Cool Whip. Sorry friends, it pairs wonderfully with pumpkin pie. If you prefer to not eat it, that's cool.
When I saw this Pumpkin Magic Cake on Shawn's blog, I knew it had to be made. I have been eyeing this cake recipe for over a year! (I've also made several other recipes from her site…and she has a delicious cookbook on the shelves now too!)
Shawn has a pudding frosting to top her cake, but I skipped that for my end result and just used Cool Whip (remember, I love it on pumpkin pie)! This cake is making an appearance on our Thanksgiving table because we LOVED it so much!!
And it's truly a magic cake.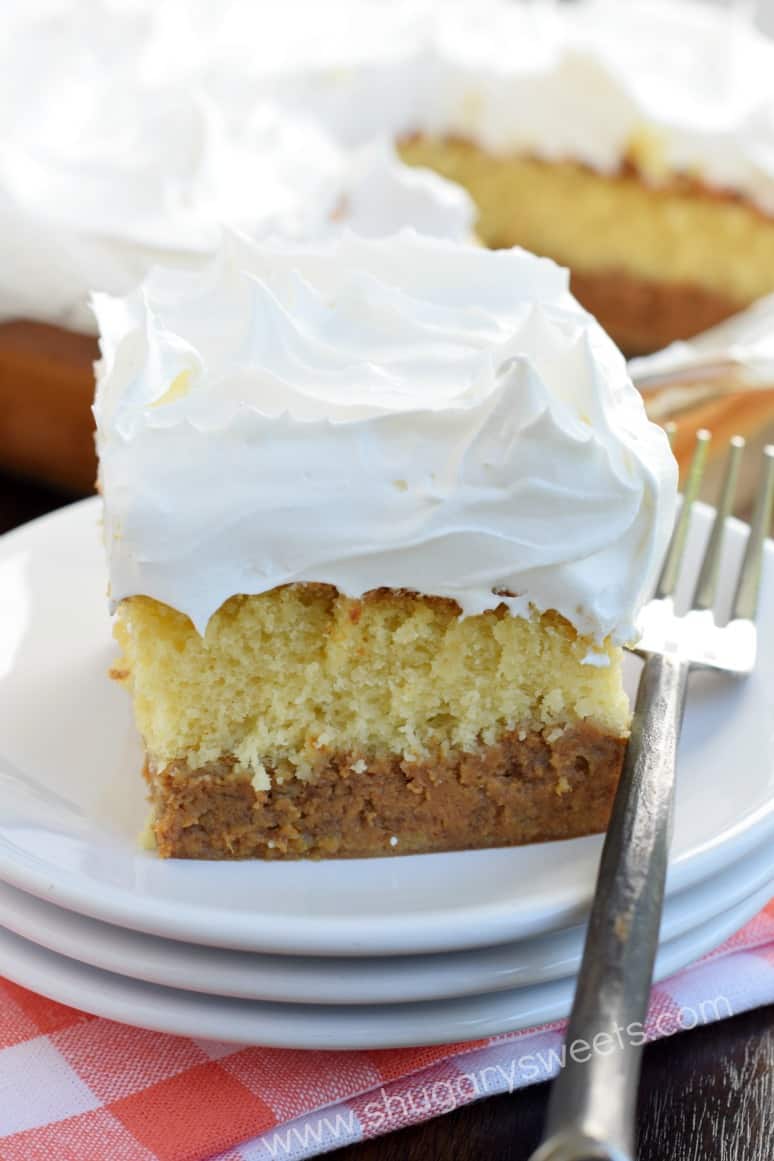 Step by Step Directions
Cake Layer-
Start with your cake mix layer. This uses a boxed yellow cake and ingredients on the box.
Pumpkin Pie Layer-
Whip up the pie ingredients and pour in your pumpkin pie mixture. It will look like a weird mess.
While the cake bakes, the two layers magically separate.
LAYERS: When you remove the cake from the oven you're going to think to yourself, "I did something wrong, it doesn't look separated." Trust me. Wait until you slice into the cake to make that call, it will WORK.
Be sure to cool and chill this cake COMPLETELY before topping it with frosting (or Cool Whip). Serve cold and enjoy!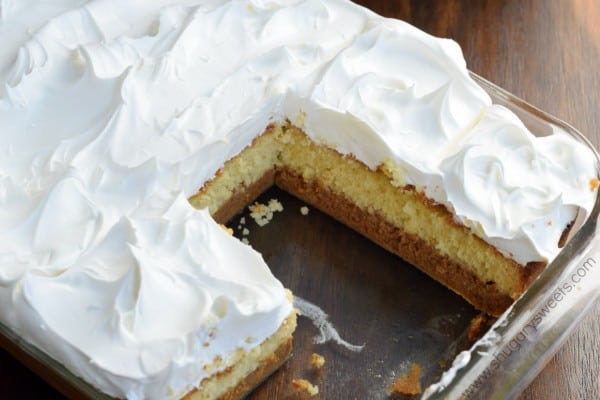 More Cake Recipes
Look at those beautiful layers in this Pumpkin Magic Cake! This is a must make recipe for the holidays!