Learn how to make Russian Baklava the easy way! This rolled baklava sweet, flaky and melt-in-your-mouth delicious.
Love traditional recipes? Our rugelach is flaky and flavorful. First to go off the cookie plate! Or give our delicious alfajores cookies a try this year.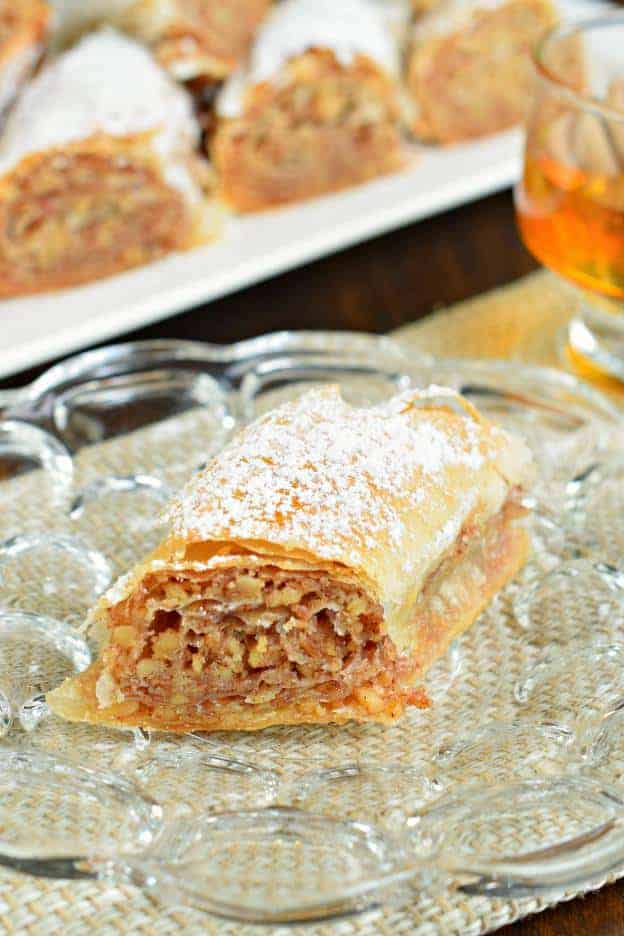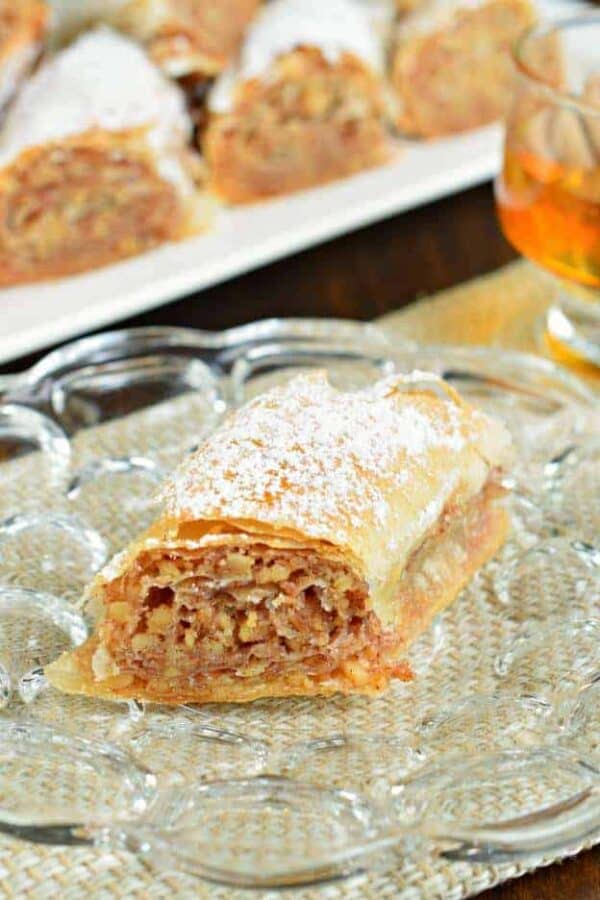 Why This Recipe is Best
Baklava is a traditional Turkish pastry with layer upon layer of flaky dough and a sweet, nutty filling. With all those layers, you might think making baklava at home would be time consuming and difficult. Nope!
This rolled baklava recipe is hands down the easiest and tastiest way to make delicious, authentic baklava at home.
We enjoyed this special treat on our last trip to Russia, and decided to give it a try.
It starts with ready made phyllo dough.
Filled with sugar, cinnamon and nuts.
Rolled into logs and baked to perfection.
Sweet powdered sugar topping.
Tastes great with or without honey!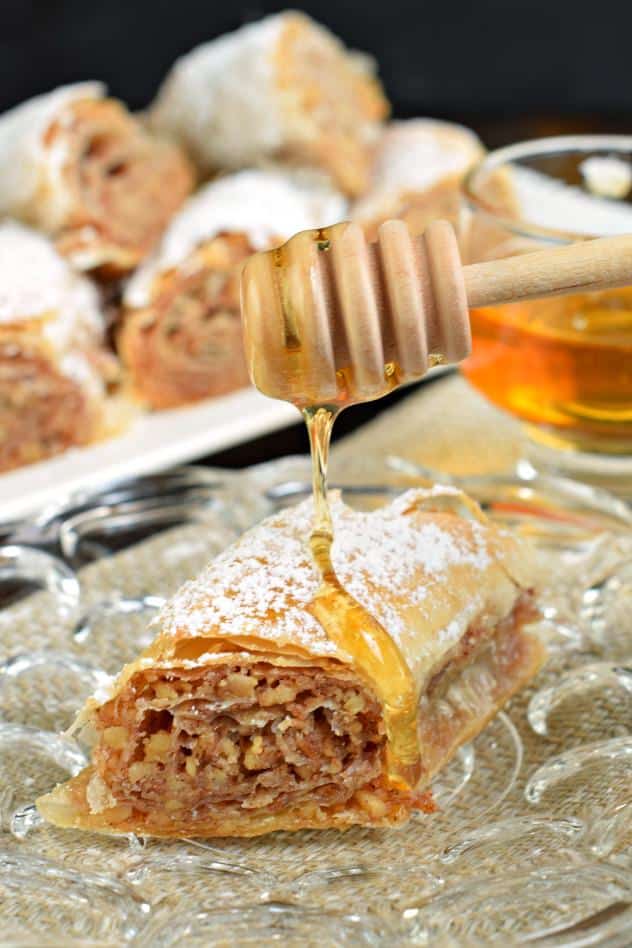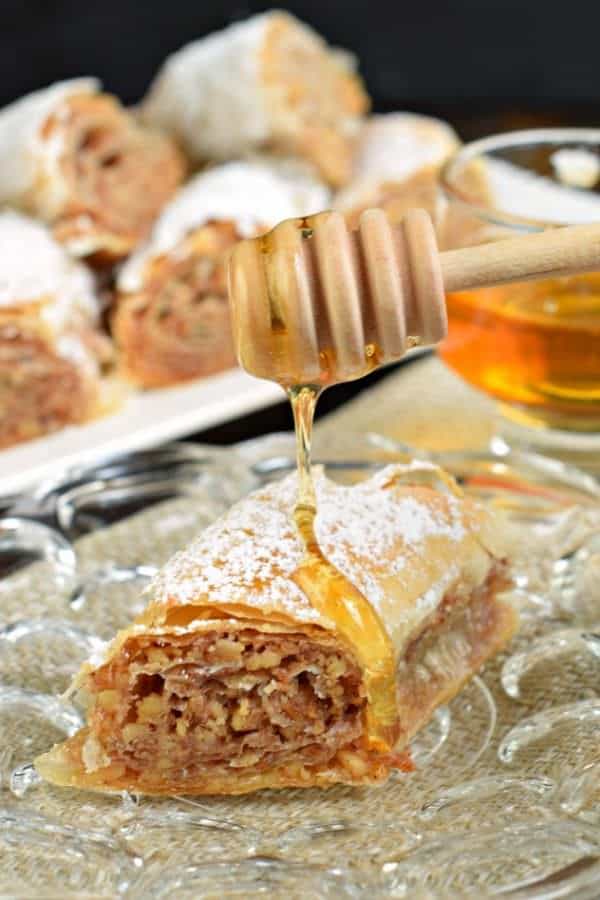 Ingredient Notes
We keep things simple with the ingredients in our baklava recipe.
Phyllo dough – Make sure the dough it's totally thawed before using. I buy mine frozen then immediately place it in the refrigerator to thaw.
Unsalted butter – This is melted and brushed over the dough to make it rich and flaky.
Powdered sugar – We use this to sweeten the baklava filling.
Cinnamon – Adds a hint of spice to the nutty baklava layers.
Walnuts – You can't have baklava without nuts!
Before assembling the baklava, pulse the walnuts and cinnamon with powdered sugar in the food processor. Save half a cup of powdered sugar for sprinkling on top of the baked baklavas.
Easy Assembly
Ready to roll the perfect Russian rolled baklava? Here's how.
Lay out a sheet of phyllo dough on a clean work surface. Use a pastry brush to GENTLY brush melted butter over the dough.
Cover it with another sheet of pastry dough. Brush with butter and repeat until you have 5 stacked sheets. Spread the walnut mixture over the top.
Use your hands to roll the dough up tight from short end to short end. Place the rolled log in a baking dish.
Repeat the steps above until you have 5 logs of baklava. Drizzle with the remaining butter and bake.
Sprinkle the baked baklava immediately with powdered sugar. Let cool, then slice each rolled baklava into 4 pieces to serve.
Sprinkle the rest of the powdered sugar over the sliced baklava. Serve with a drizzle of honey for more sweetness!
Don't they look amazing all golden brown and crispy?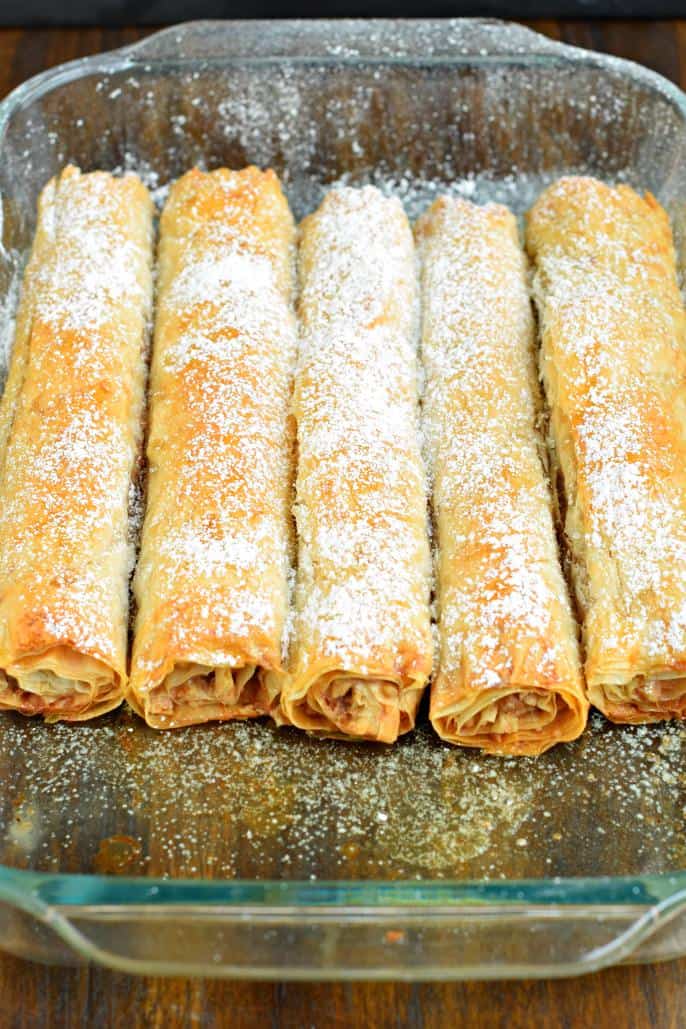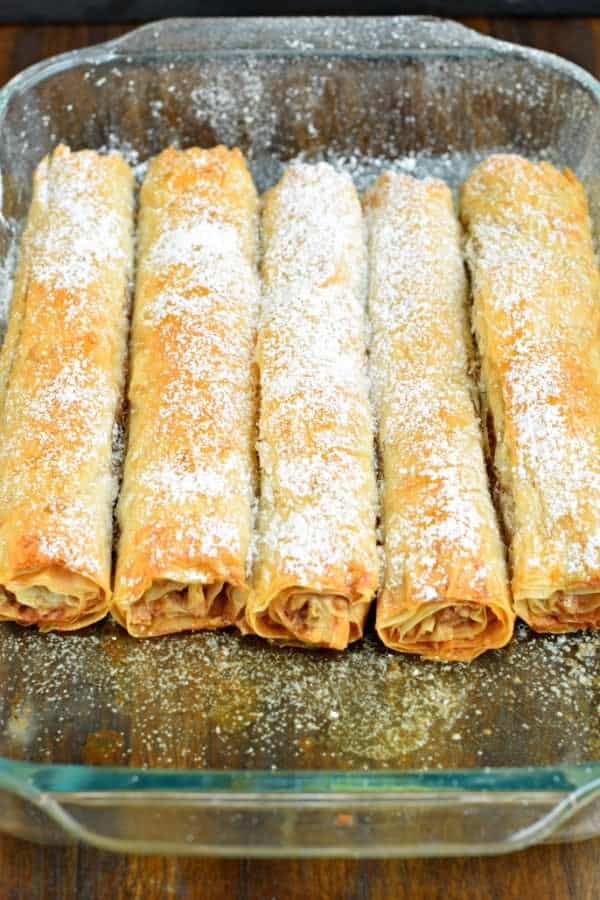 Recipe FAQs
Can baklava be made ahead of time?
Homemade baklava tastes best enjoyed the same day it is baked. If you have leftovers, cover them loosely on the countertop and eat them the next day.
How can I keep phyllo dough from ripping?
Phyllo sheets are THIN which makes them easy to tear. Be gentle with your phyllo to prevent tearing. Work slowly and gradually.
My phyllo dough ripped! How can I fix it?
Don't worry if your phyllo sheets rip a little as you make this recipe. When it's rolled you won't be able to tell! Just place the dough where it should be and brush with melted butter.
What can I do with the unused phyllo dough?
Since this recipe uses 25 sheets, you will end up with about half a box of phyllo dough leftover. You can double the baklava recipe to use the rest. Or try this Crab Puffs recipe and use phyllo sheets instead of puff pastry.
You're going to love this easy walnut baklava recipe!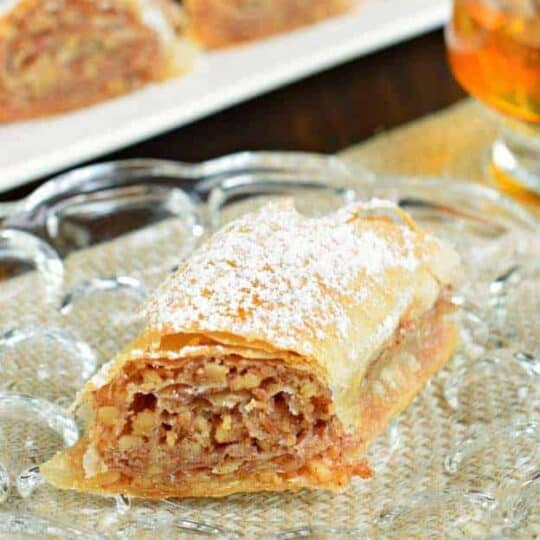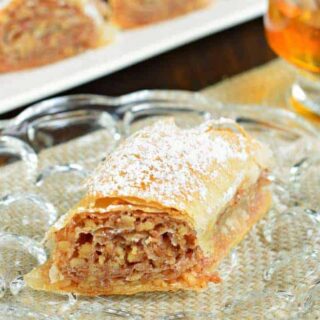 Easy Rolled Russian Baklava
Sweet and flaky, this easy, rolled Russian Baklava will melt in your mouth! Phyllo dough, nuts, and sugar never tasted so good!
Ingredients
25

sheets

phyllo dough

about 1/2 box, thawed completely

1

cup

unsalted butter

melted

2

cups

powdered sugar

divided

2

cups

walnuts

1

Tablespoon

cinnamon

honey

optional
Instructions
In a food processor, pulse walnuts until crumbs. Pour into a bowl and add 1 1/2 cups of the powdered sugar and cinnamon. Mix and set aside.

In a small bowl, add the melted butter, set aside.

Lay out one sheet of phyllo dough. Brush gently with melted butter using a silicone pastry brush. Cover with another sheet of phyllo dough. Brush with melted butter. Repeat until you have 5 sheets of phyllo dough stacked. On the last buttered sheet of phyllo dough, sprinkle about 1/2 cup of the walnut mixture. Spread gently with fingers.

Using your hands, roll the dough up tight (rolling from the short end to the short end). Place in a 13×9 baking dish that has been sprayed with baking spray.

Repeat for remaining sheets of phyllo dough.

Drizzle the remaining butter over the top. Bake in a preheated 375°F oven for 28-30 minutes, until edges are brown and crispy.

Sprinkle immediately with 1/4 cup of the remaining powdered sugar. Cool for about 1 hour. Remove from baking dish and slice each log into 4 pieces and sprinkle with the remaining 1/4 cup powdered sugar. Add honey if desired upon serving. ENJOY!
Notes
Make sure your phyllo dough is completely thawed. I bought mine from the store frozen and placed it immediately in my refrigerator for several days.
Be very careful separating the layers of dough. They are very thin! If they rip, it's okay with this recipe. Just lay the ripped pieces where they are supposed to be and brush GENTLY with melted butter.
The more powdered sugar the better. I first douse mine with some right out of the oven, and then again after I cut them. You can even roll the whole log in powdered sugar after they have cooled and then cut your slices.
These are best on day one. However, cover loosely on the counter to enjoy the next day.
Want to use the other half of your box of phyllo dough? This recipe can easily be doubled!
Nutrition
Serving:
1
piece
,
Calories:
302
kcal
,
Carbohydrates:
32
g
,
Protein:
4
g
,
Fat:
18
g
,
Saturated Fat:
7
g
,
Polyunsaturated Fat:
10
g
,
Cholesterol:
24
mg
,
Sodium:
173
mg
,
Fiber:
2
g
,
Sugar:
12
g