An appetizer so elegant, no one will believe it's homemade! With just a handful of everyday ingredients, these Crab Puffs are sure to win everyone over.
Holidays in my house always involve warm appetizers while we play games. Some of our favorites included Pepperoni Pizza Dip as well as Buffalo Chicken Dip.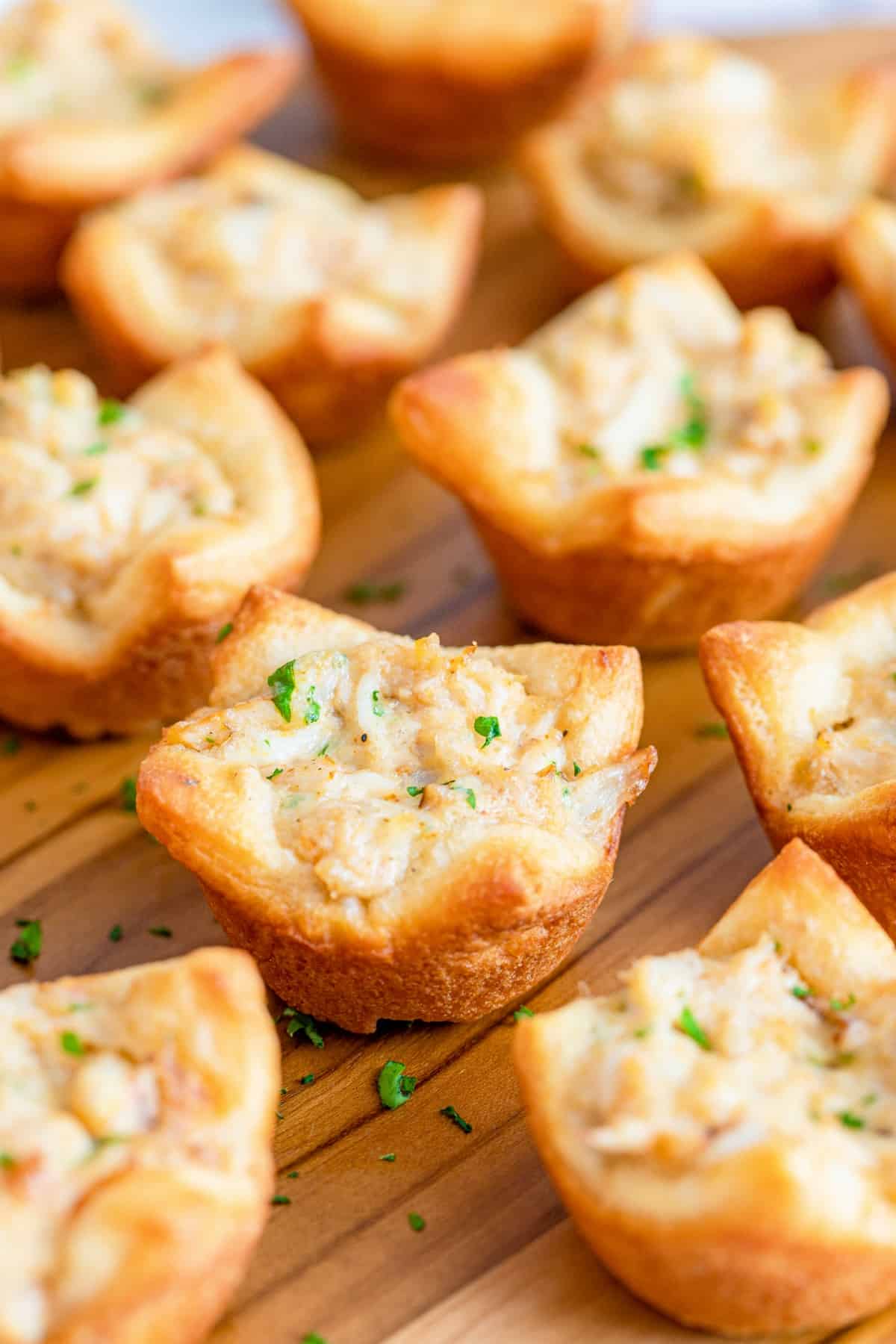 Why Make Crab Puffs
A puffed pastry wrapping stuffed with succulent crab meat, a creamy mayo sauce and plenty of spices is my idea of a perfect finger food.
I've seen Crab Puffs served everywhere from elegant cocktail parties, where they're passed around by black-tie clad waiters, to informal board game nights with old friends.
Crab Puffs are universally loved and ever so versatile. Even my friends who aren't big seafood lovers enjoy a well made crab puff. They're an ideal party food because you can hold one on your hand while sipping a glass of Apple Cider Sangria.
For this recipe, I used ready made crescent dough and canned crab leg meat. It was easy, quick and the results did not disappoint!
These have the perfect crab-to-puff ratio with an extra explosion of flavor from garlic and dijon mustard. I also loved that they're not swimming in grease, since they're baked and not fried.
We'll be making these for our holiday parties this year for sure!
Ingredient Notes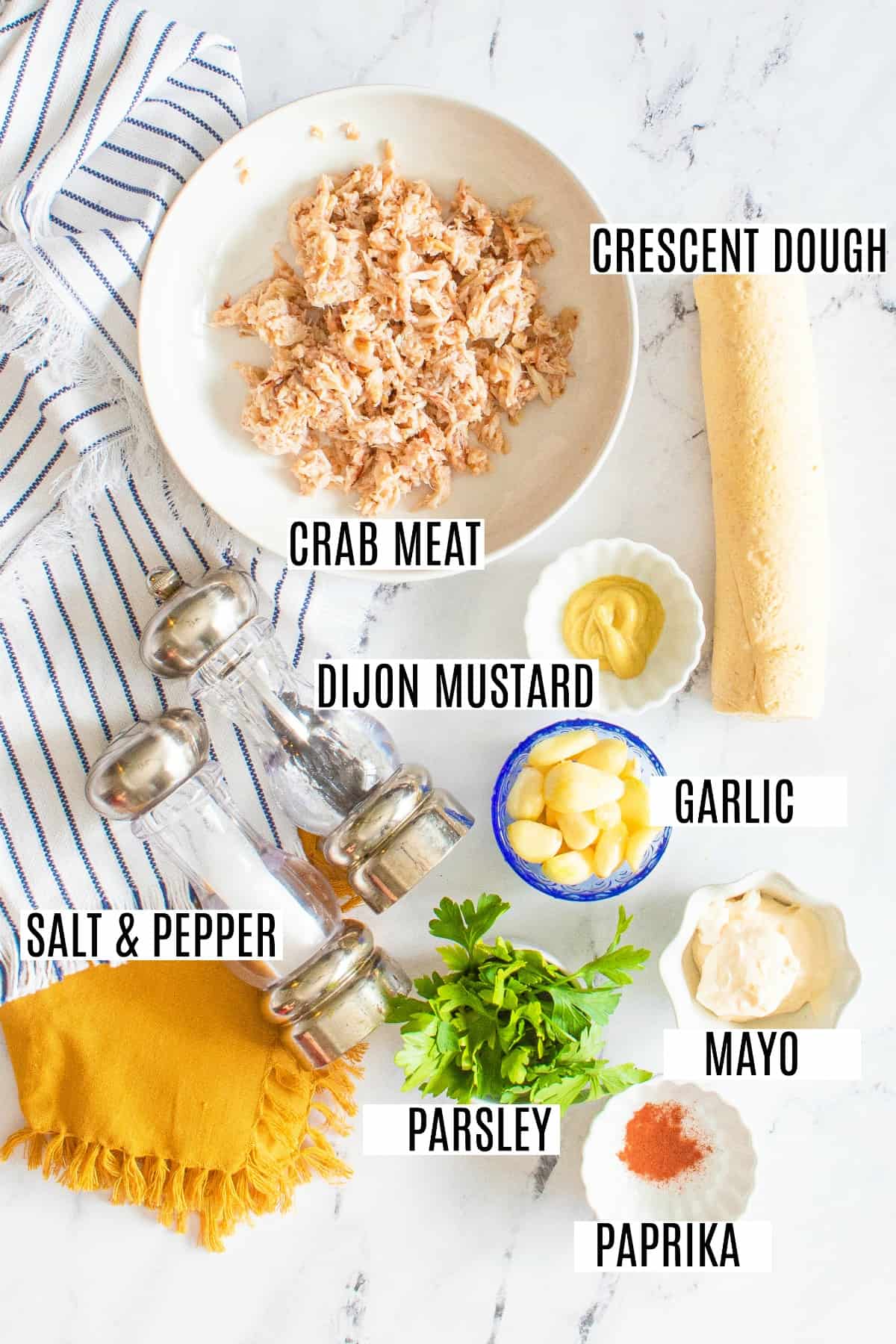 Crescent Roll Dough– easy and affordable. You could always use phyllo cups (from the freezer section) as well as puff pastry!
Crab Meat– I like to keep the canned stuff on hand, as my fridge is always packed during the holidays. But imitation or real crab meat is equally delicious!
Mayonnaise– Use the real stuff.
Seasonings– I use salt, pepper, garlic, and paprika. For a spicy kick add some cajun seasoning. You won't regret it.
Dijon Mustard– if you're not a fan you can skip it, swap for dry mustard, or use yellow mustard. The dijon just adds a depth of flavor, not necessarily a mustard taste.
Step by Step Instructions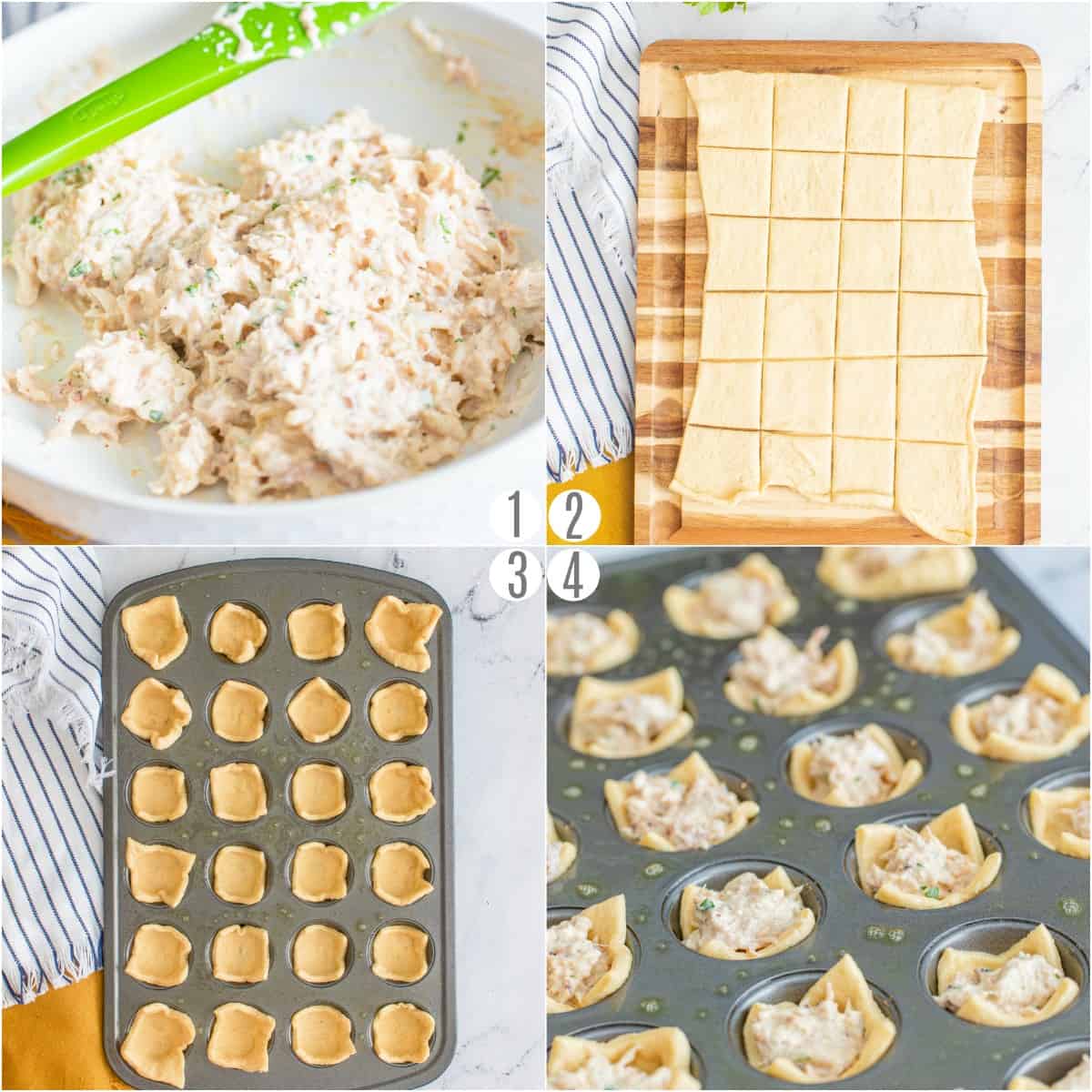 STEP 1. Grease a muffin tin
You need a miniature muffin tin to make this recipe and you need to grease it very well! Rub a thin coating of oil or cooking spray along every part of the tin, even the top!
STEP 2. Make the filling
Place the crab in a bowl and mix with mayonnaise, dijon mustard, garlic, paprika, parsley, salt, and pepper. Set aside.
STEP 3. Assemble the puffs
Unroll the dough and cut it as evenly as you can into 24 equal square pieces. Press each piece into a section of the mini muffin tin.
Fill the cups with the crab mixture evenly.
Bake for 11-13 minutes until golden brown.
Let cool for a couple minutes in the tin, then transfer to a wire rack to cool until ready to eat.
Garnish with more chopped parsley for a little color and freshness!
That's it. So simple and full of flavor!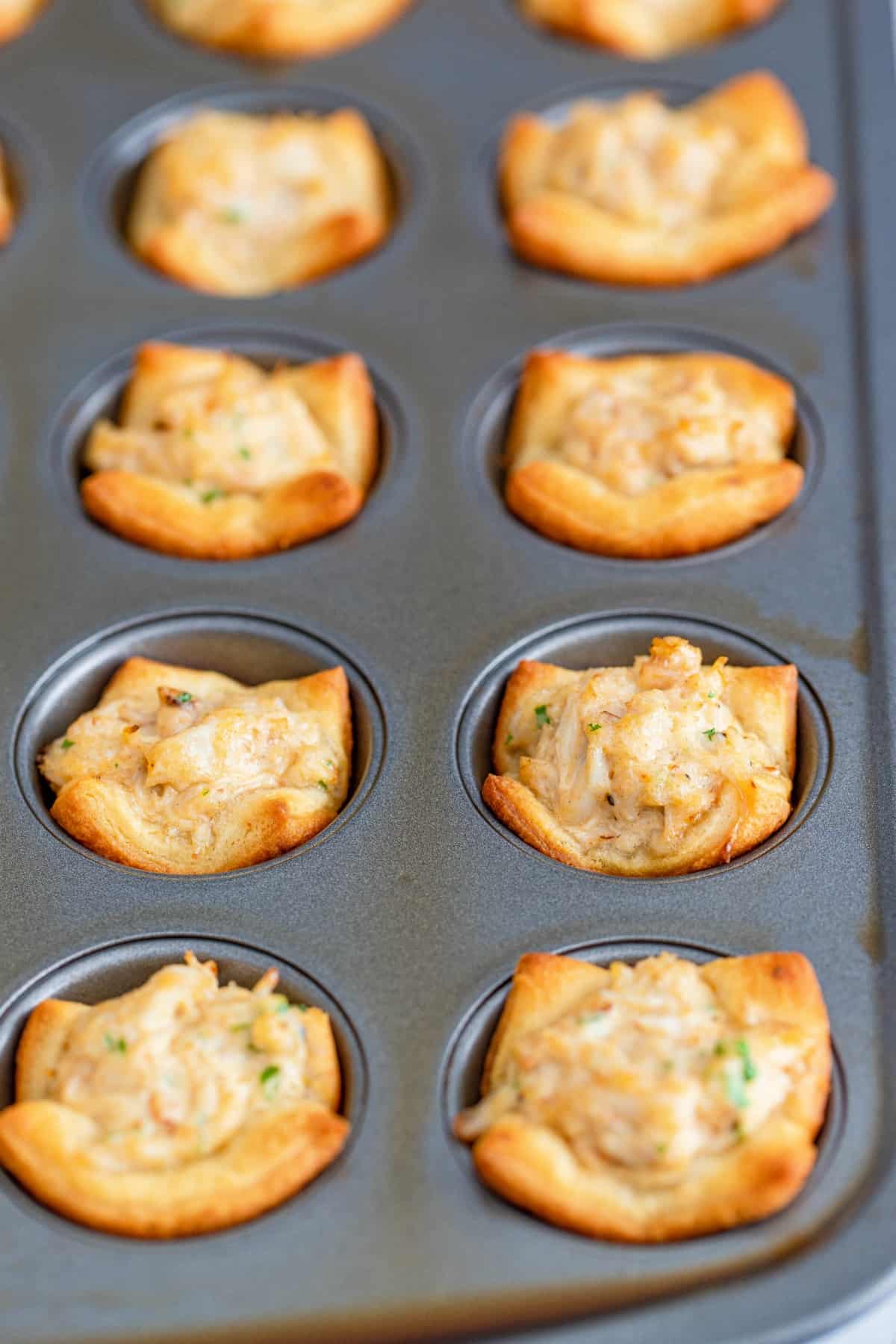 Recipe FAQs
Can crab puffs be made with puff pastry?
Absolutely. Thawed puff pastry, rolled and cut into 24 slices will work wonderfully too and make an extra crispy puff. Wonton wrappers would make a great alternative for the pastry too.
Can you freeze crab puffs?
YES! After baking and cooling, freeze them on a baking sheet for 1 -2 hours until solid, then transfer to a freezer safe ziploc bag for up to 2 months. When ready to serve, thaw in refrigerator and reheat your crab puffs in the oven.
What kind of crab meat should you use in crab puffs?
Chances are good you aren't going to want to go through the hassle of cooking your own crab meat from scratch. Canned crab claw meat is what I use but any kind of cooked ready made crab meat will do in your homemade crab puffs. You can even use imitation crab meat.
More Tips & Tricks
Press the crescent dough (or puff pastry) into the muffin tin with your fingers, making sure the dough forms to the shape of the pan.
Be careful not to overfill the muffin tins. A spoonful of filling in each puff will do to make sure they aren't overflowing and you have enough filling for all the crab puffs.
Swap out different flavors of mayo for a different taste. If you love spice, chipotle or sriracha mayo would be good options to try, as would garlic mayonnaise!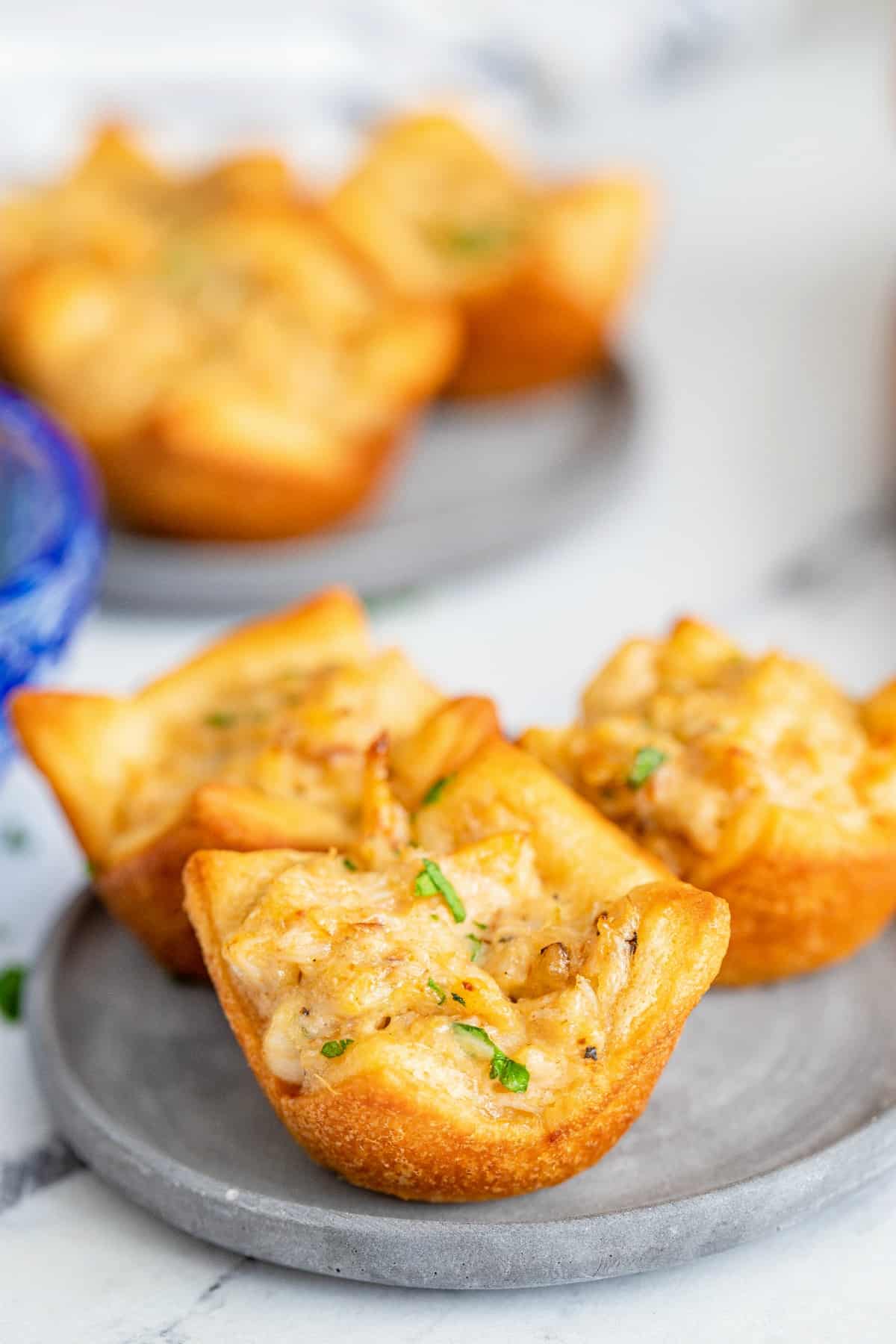 More Appetizer Recipes
You don't need to hit the town or throw a party to share a platter of Crab Puffs with those you love. Make these for your family this holiday season and turn any night of the week into a celebration!