Taco Cheese Ball is an easy cheesy appetizer rolled in tortilla chips! Taco seasoning and jalapeno transform ordinary cream cheese dip into a crowd pleasing party snack.
You can never have too many good appetizer recipes.Try my Beer Cheese Dip or these Layered Taco Dip next!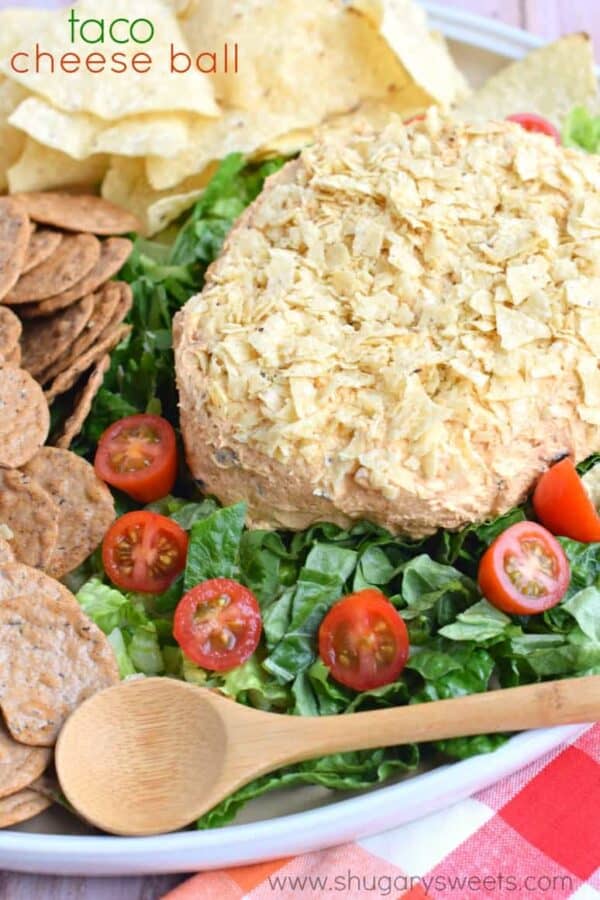 Why This Appetizer is Best
Hosting parties and events doesn't have to mean hours of prep time. I love an appetizer that can be assembled at the last minute, with simple ingredients.
That's why I'm all about sharing easy appetizer and snack recipes! Super simple dishes like Rotel Dip and crescent roll hot dogs can save the day when you're not sure what to serve.
This Taco Cheese Ball is high on my list for all time favorite appetizers!
You can make it ahead of time. Save some stress on the big day!
Full of Mexican-inspired flavors.
Rolled in tortilla chips for CRUNCH.
Vegetarian and gluten free.
Perfect for a crowd!
If you love tacos, nachos and all those Tex-Mex dishes, this Taco Cheese Ball is a must-try.
Ingredient Notes
To make the Taco Cheese Ball, start with these ingredients:
Cream cheese – Use the full fat kind here for that rich, tangy flavor that makes up the core of the cheese ball.
Taco seasoning – I love the flavor of my Homemade Taco Seasoning!
Jalapeños – Cut them in half and scrape out the seeds first to remove any sharpness or bitterness.
Black olives – These add a salty, savory flavor to the cheese dip.
Tortilla chips – Adds a crunchy coating to the appetizer. Swap them for Doritos for a fun twist!
For serving, we arranged fresh shredded lettuce and halved cherry tomatoes around the base of the cheese ball. They add so much color, freshness and flavor.
Tips and Tricks
To shape the cheese ball: Line a bowl with plastic cling wrap. Put the cheese mixture in the bowl. Shape it into a ball using the cling wrap.
Chill for 4 hours for best flavor: The longer the chill time, the better the flavors will mingle. The cheese ball will maintain its shape if you keep it wrapped in plastic the entire time! Remove the plastic wrap just before serving.
Add more cheese: Go ahead and toss a handful of shredded cheddar or Monterey cheese in the dip before shaping for more cheesy goodness!
Cover with crushed tortilla chips last: Wait to roll the cheese ball in the chips until just before serving. Otherwise, the chips will get mushy.
Serving suggestions: Serve this dip with chips, crackers or tortilla wedges for dipping. It's also delicious with celery sticks, carrots and sliced bell peppers.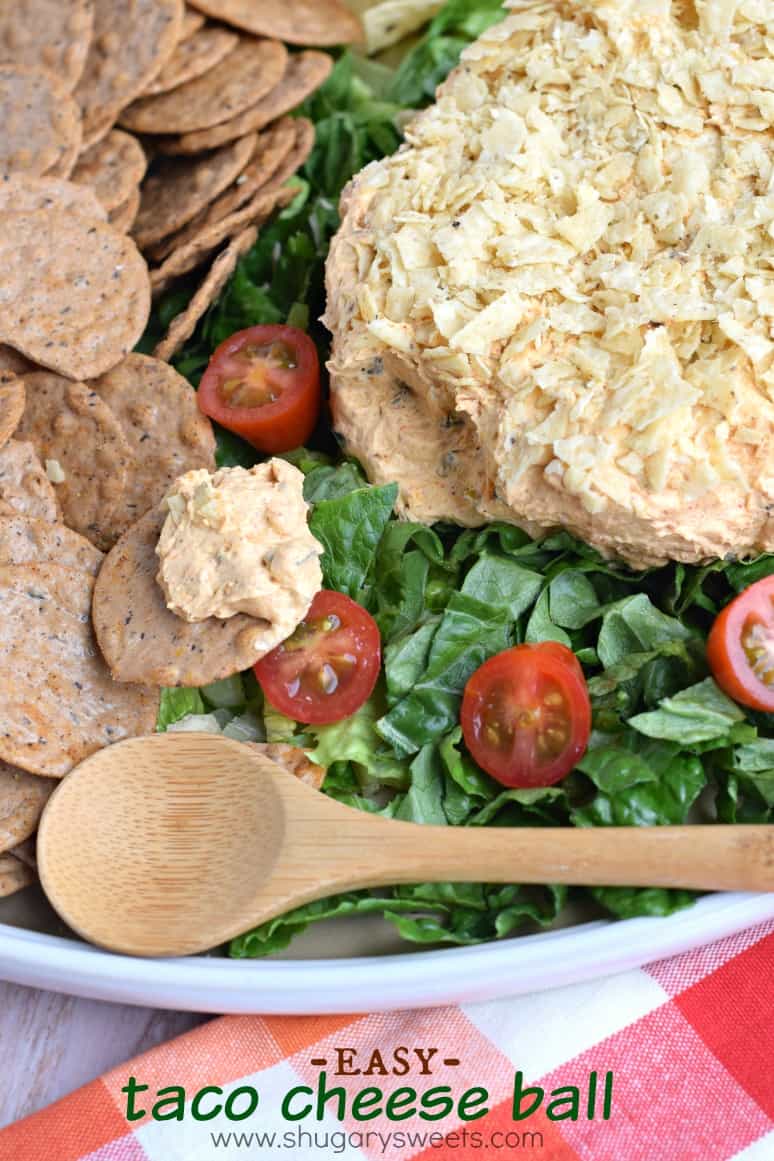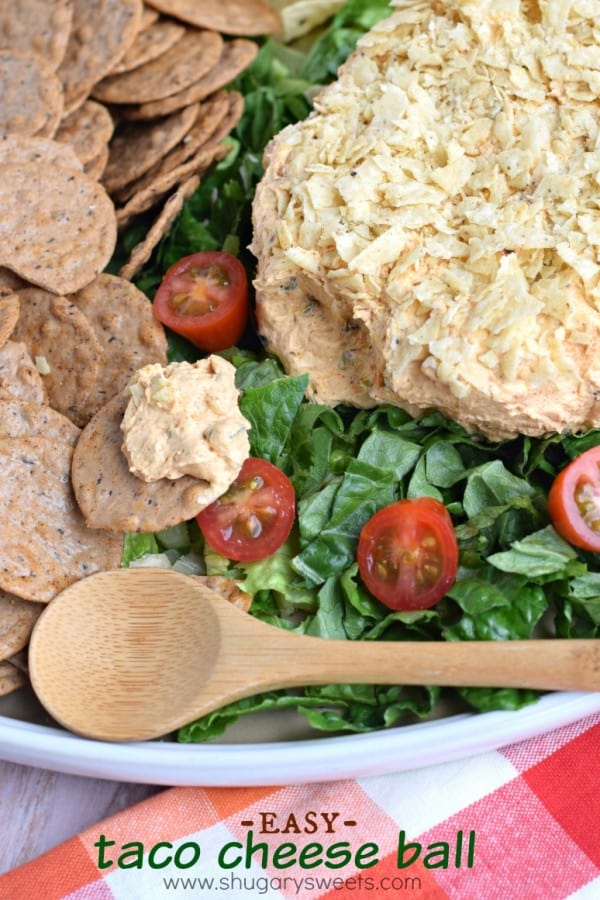 Recipe FAQs
Can I serve it right away?
Taco Cheese Ball needs to chill for at least one hour before serving. This gives the flavors a chance to develop. The chilling time also helps the cheese ball hold its round shape.
How do I store it?
Store any leftover taco cheese dip in the refrigerator. You can re-wrap it in cling wrap to return it to a spherical shape, or transfer it to an airtight container if preferred. It keeps well in the refrigerator for about a week.
Can I double the recipe?
Absolutely! Feel free to double, or even triple, the recipe if you have a crowd to feed.
How can I make the Taco Cheese Ball spicier?
To increase the heat, add an extra diced jalapeño or a teaspoon of crushed red pepper to the dip.