The Ultimate 7 Layer Dip recipe is packed with layers of Cream Cheese, Sour Cream, Ground Beef (and/or Beans), Guacamole, Salsa, Cheese, and more!
Serve up some game day favorites. Including hot Spinach Artichoke dip or spicy Rotel Dip with tortilla chips and veggies!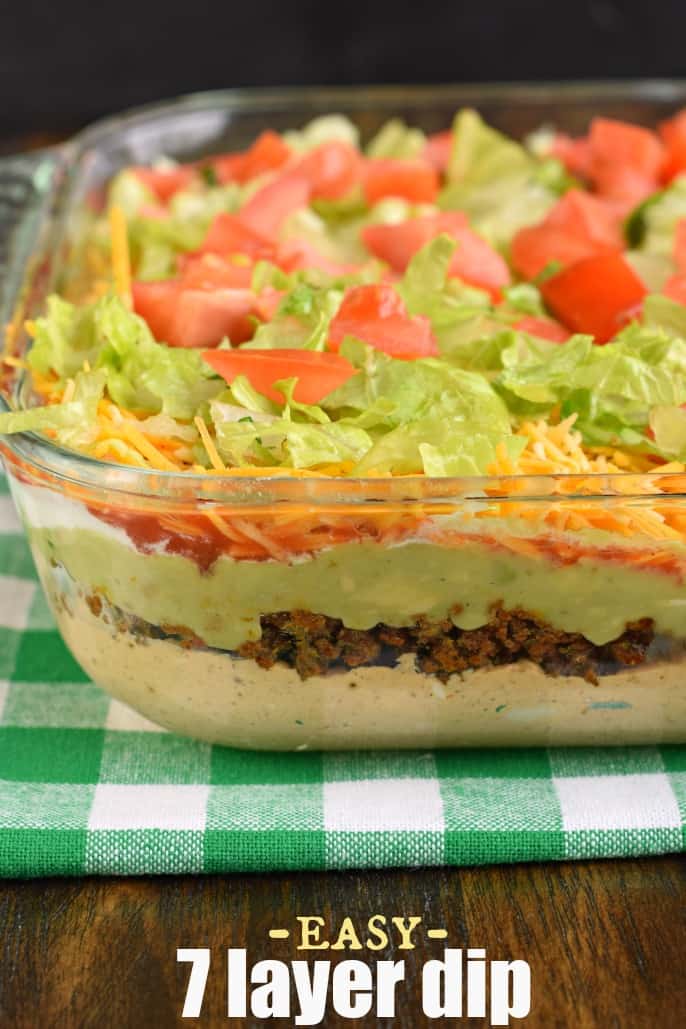 Why this Recipe Works
For the past couple holidays I've been obsessed with creating fun and easy taco dip recipes!
You may remember this 7 layer taco dip for Halloween, decorated like a spider web. Or this festive, Christmas Wreath Layered Taco Dip.
One question I get all the time is "how can I make this in a 13×9 dish?"
Well, I decided to go ahead and share a basic 7 Layer Dip recipe, FOR YOU.
The best part is you can customize the layers to your favorite taco toppings! Serve this up for Super Bowl Parties, holiday gatherings, or DINNER!
Easy 7 layer dip should NOT be mistaken for this delicious Seven Layer Salad recipe. Two very different, very delicious recipes!
How to make Layered Taco Dip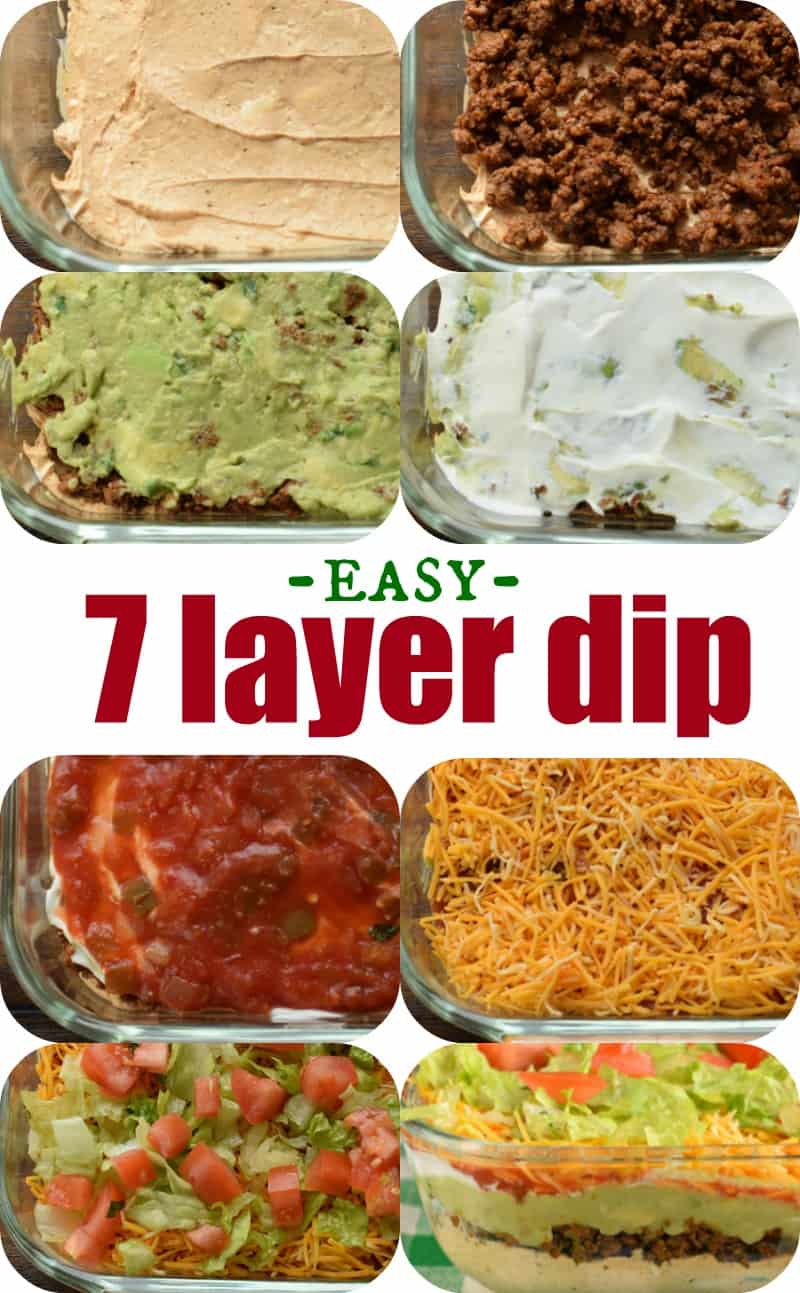 Layer 1: Cream cheese.
In a small bowl, blend cream cheese with sour cream and taco seasoning. You can make homemade taco seasoning, or use one packet of store bought. Spread this in the bottom of a 13×9 baking dish. This can also be assembled in a trifle bowl!
Layer 2: Meat or beans.
Brown one pound of ground beef (or ground turkey) and add taco seasoning mix. If you prefer to keep this vegetarian, you can use refried beans or black beans instead. You can also use your slow cooker to make your taco meat ahead of time!
Once the meat is browned, spread over the top of layer one.
Layer 3: Guacamole.
This might be my favorite layer! I used my favorite homemade classic guacamole recipe, but this mango guacamole would have been delicious too! Spread guacamole over meat (or bean) layer.
Layer 4: Sour Cream.
We use a thin layer of sour cream to allow even the pickiest of eaters to enjoy this dip. But if you love the creamy white stuff, slather it on thick!
Layer 5: Salsa.
The thicker the better. I find most store brand salsas are too watery for this dip. I mean, they work great for the first ten minutes, then the salsa layer really starts to get watery.
For best results, a homemade Pico de Gallo would be my number one choice. But, if you don't have time to make your own, the thickest salsa you can find is the best option!
Layer 6: Cheese.
Cheddar. Colby Jack. Mexican Blend. Pick your favorite shredded taco cheese and pile it on!
Layer 7: This is where the "rest of it" goes. Tomato, shredded lettuce, black olives…whatever you feel needs to be added, this is the place!
Serve with tortilla chips and enjoy!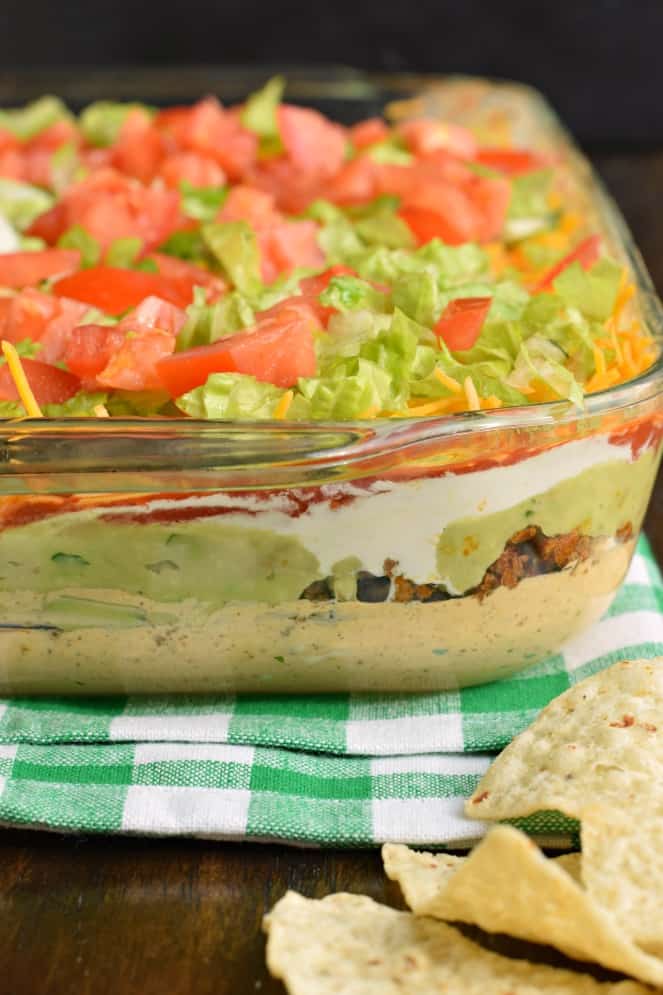 More Tex Mex snack recipes
One of my favorite things to serve at a party or get together is chips and salsa or dip. Here are a few of my tex mex favorites!
Try this Tomatillo Salsa recipe for an authentic, tangy Mexican salsa verde. Perfect for pairing with tacos, enchiladas or a big bowl of chips!
Tropical Pineapple Salsa is a spicy, sweet, colorful snack idea! So versatile, you can enjoy with tortilla chips or spoon it over your favorite grilled chicken or fish!
My love for the farmer's market inspired this delicious Watermelon Peach Salsa. You'll love the fruit paired with the spice!
This Mango Salsa is tropical, refreshing, and totally delicious!
These Taco Tortilla Stacks have been made in our family for years! They are so easy to assemble ahead of time, and serve as a quick snack for a crowd. We enjoy ours served with salsa!
Need a delicious game day snack that won't completely ruin your diet? Try making a batch of this Healthy Taco Dip.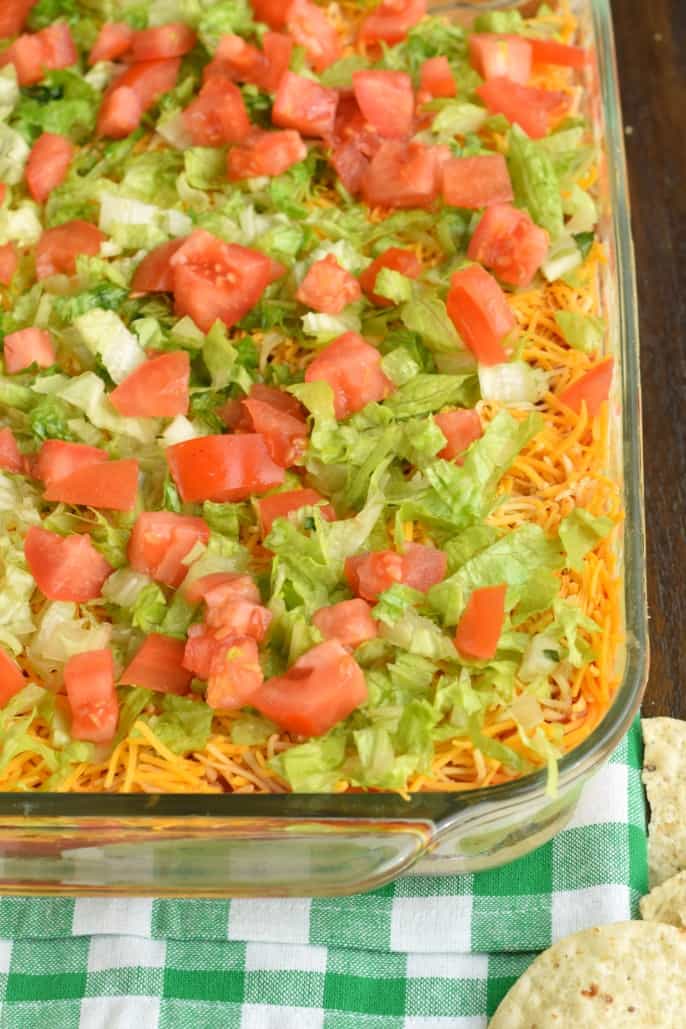 Ingredients Needed
The best part of this easy 7 layer taco dip is that you can customize how YOU like it. Add more of something you love, take out something you hate! Here's what you'll need:
Cream cheese
Sour cream
Taco Seasoning
Ground Beef or turkey (or add refried beans!)
Guacamole
Salsa or Pico de Gallo
Shredded Cheddar Cheese
Tomatoes, Lettuce, Black Olives (optional)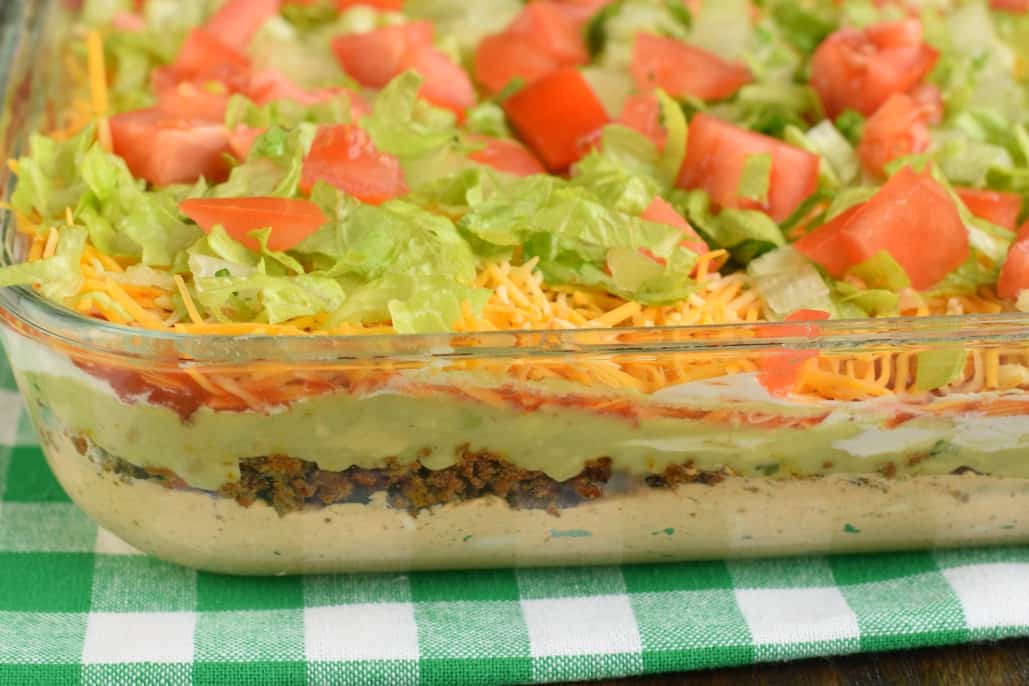 How Long Does 7 Layer Mexican Dip Last
At my house, about one hour. Ha!
Seriously though….keep in refrigerator for up to 3-4 days. Obviously this dip is best fresh, as the layers don't mingle and bleed together.
Once you've set it out though, don't keep it out of the refrigerator more than a couple hours, otherwise you'll have to throw it away.
IF I end up with some leftover taco dip after a party, I immediately refrigerate it. Serve a dollop of this dip on top of my Chicken Taco Soup or Slow Cooker Taco Chili. It's the perfect garnish, I'm sure you'll agree!