Creamy Lemon Hummus is a fresh snack alternative to heavy dips. One bite of this hummus will keep you coming back for more!! Light and fresh, bursting with citrus flavor.
Looking for more light and fresh appetizers? Try this delicious Avocado Salsa recipe! Or scoop up some bruschetta for a tangy delicious snack.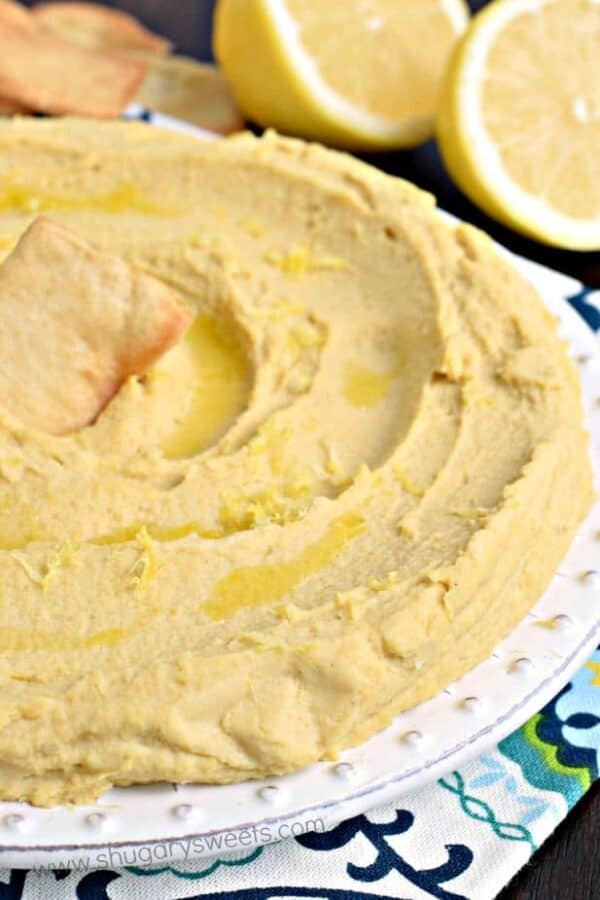 Why this Recipe Works
Have you tried Lemon Hummus yet? Made with chickpeas, tahini (sesame paste) and olive oil, this hummus gets extra zing from the addition of fresh lemon juice.
Hummus is easy to make at home but not all recipes are created equal. The trick to making lemon hummus that is smooth and creamy is peeling the skins off the chickpeas before you process them.
If you've only ever had store bought hummus, you will be amazed by how much better it tastes when it's made with fresh ingredients from your own kitchen.
This hummus recipe is even better than plain hummus thanks to the addition of extra lemon! I blended freshly squeezed juice into the hummus, then sprinkled a little lemon zest on top for even more flavor.
Lemon hummus is vegan, vegetarian, gluten free, grain free and sugar free while being high in fiber and protein.
Ingredient Notes
Garbanzo beans – Also called "chickpeas", you can use canned or dried and cooked beans. I prefer to peel the skins off each chickpea first for a creamier texture.
Tahini – This is a paste with a texture similar to peanut butter made from sesame seeds. It adds a nutty and savory flavor to hummus.
Olive oil – So important for flavor! I like to reserve a little extra oil to drizzle on top of the prepared hummus before serving.
Lemon- You need both the juice and the zest. Use our guide on how to zest a lemon for best results.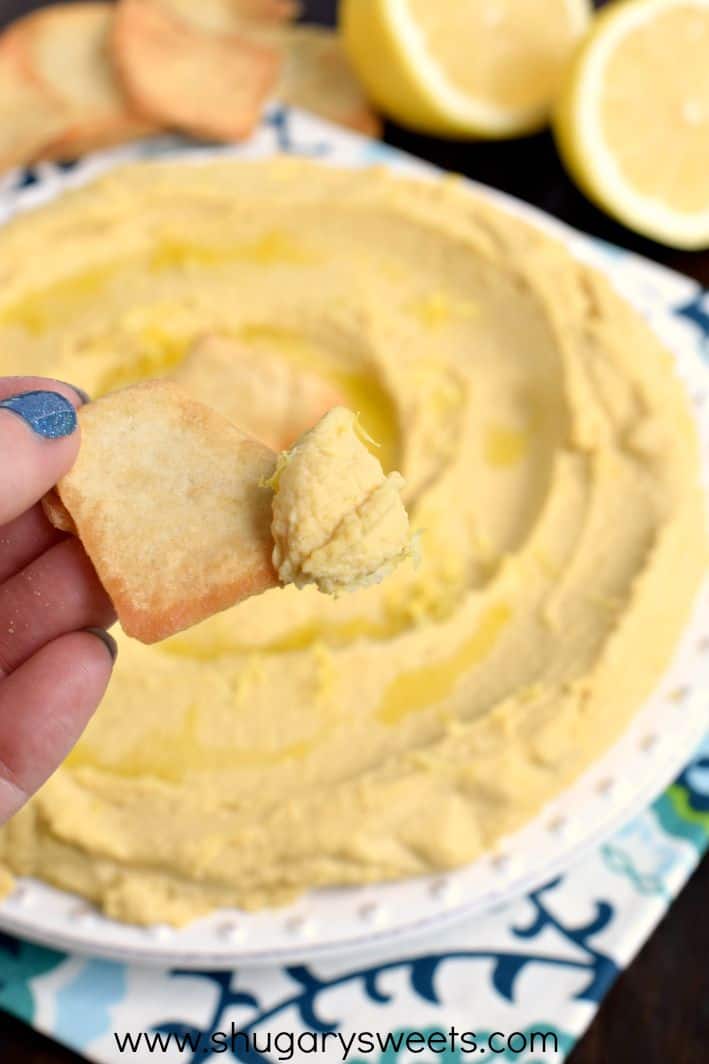 Step by Step Instructions
STEP 1. Combine the chickpeas with the tahini, lemon juice and kosher salt in a food processor. Process for several minutes until the beans are pureed and the hummus is smooth.
STEP 2. Slowly drizzle in the olive oil and blend.
STEP 3. Serve hummus on a pie plate or plate with an additional spoonful of olive oil drizzled on top. Sprinkle with lemon zest before serving!
Tips and Tricks
Peeling chickpeas: I drain and rinse my beans, then pinch the skins off individually. They pop right out of the skin. Takes a little extra time, but you can put your kids to work or turn on a good movie. Having the skins removed will result in a creamier hummus!
Use fresh ingredients when possible. For this recipe, fresh lemons zested and juiced keep the recipe delicious!
Let the hummus sit for richest flavor. I prefer a minimum of 4 hours, but overnight is best. Don't get me wrong, you can totally dig into this hummus immediately if you wish, but the flavors meld even more when given the chance to rest.
Finally, looking to make a pretty presentation? Drizzle an extra tablespoon of olive oil on top and add some extra lemon zest or a few curls of lemon peel.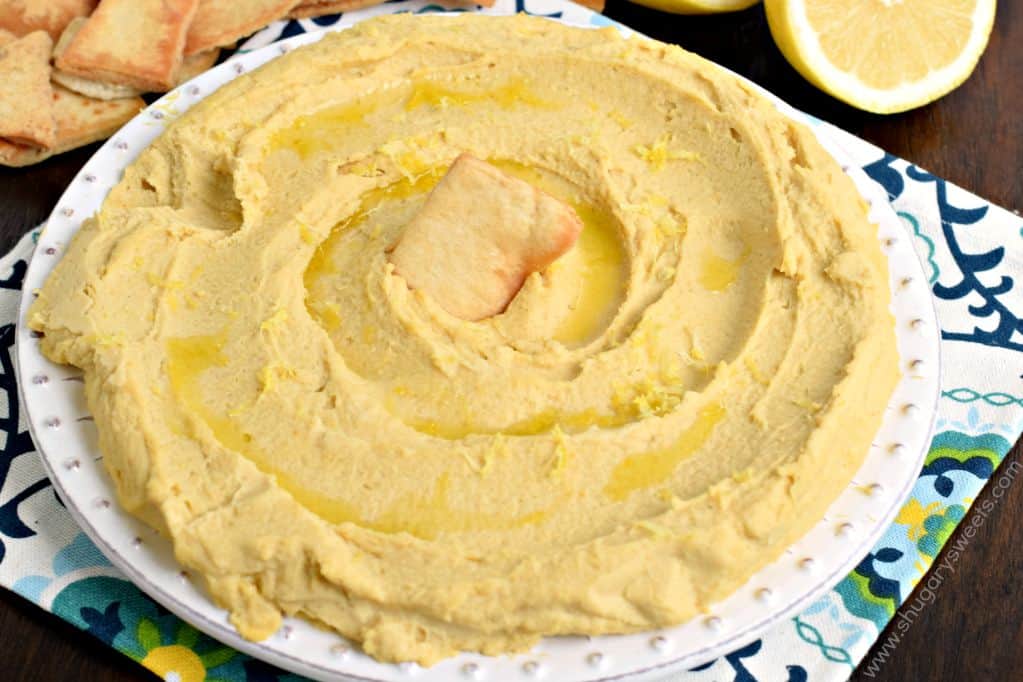 Recipe FAQs
Can you make hummus in a blender?
I use my food processor on high speed when processing my hummus. Adding the ingredients while it's running keeps the beans moving, which prevents clumping. I've heard some people use blenders, but I haven't had luck using them for this recipe.
Do you use the juice from the chickpeas?
Sometimes I do, sometimes I don't. When draining the canned chickpeas, you can set aside a little of the juice from the can to use to make the hummus thinner and even creamier but it's not necessary.
How do you store hummus?
Store hummus in an airtight container in the fridge. You can serve it cold straight from the fridge or let it come to room temperature first!
How do you eat hummus?
I love hummus as a dip for veggies, crackers and pita chips! It's also delicious spread onto toasted bread, in a sandwich or in a wrap.
More Easy Appetizer Recipes