Creamy, easy Roasted Red Pepper Hummus recipe is smooth and perfect served with warm pita bread or chips.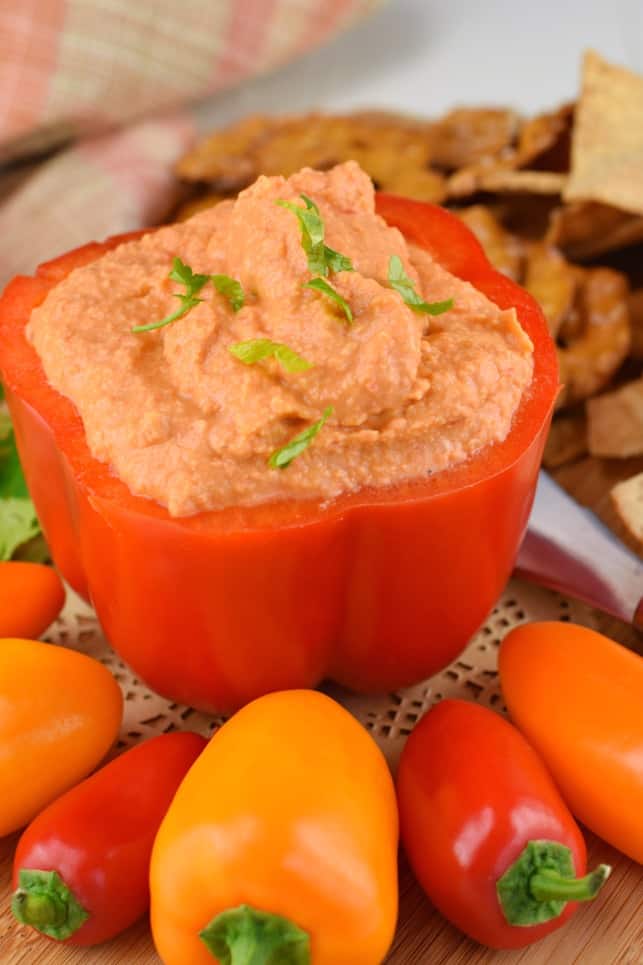 My family loves to eat homemade hummus. I usually have at least two batches of hummus in the refrigerator at all times.
It's perfect for snacking on throughout the day or added to bread as part of a sandwich or meal.
This Red Pepper Hummus recipe is similar to my original hummus recipe, but with roasted red bell peppers, which gives it a sweet, smoky flavor.
And, this recipe is easily adaptable to your preferences. You can use dried or cooked chickpeas, store bought or homemade roasted red peppers, add more or less garlic to your liking, etc.
What is Hummus?
Hummus is one of my favorite appetizers. It's a creamy smooth dip that originated in the Middle East.
It's gained immense popularity throughout the world because it is a healthy snack, full of protein, fiber, and tons of flavor.
Plus, there's just so many different things you can do with it!
How to make Roasted Red Pepper Hummus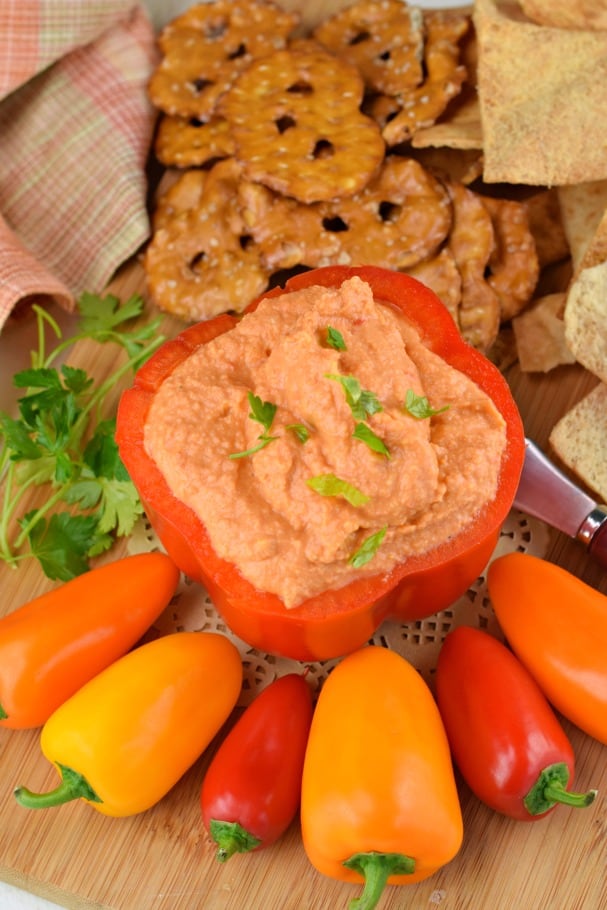 This red pepper hummus is so easy, there's literally only one step (two if you include refrigeration)!
Step 1: In a food processor, combine and puree the garbanzo beans, roasted red peppers, tahini, lemon juice, and seasonings. Process until smooth and slightly fluffy. Add in olive oil and process until well blended.
Step 2: Refrigerate at least one hour before serving, then sprinkle with parsley.
See how easy that is to make? It's so simple and so delicious!
FAQs About Roasted Red Pepper Hummus
1. Should I use canned beans or fresh garbanzo beans?
Either one will work. I like to use canned beans because it's easier and cuts out a step but you certainly can use fresh garbanzo beans as well.
f you use fresh dried beans, soak them in water first and then cook them. If using canned beans, make sure the beans are drained and rinsed.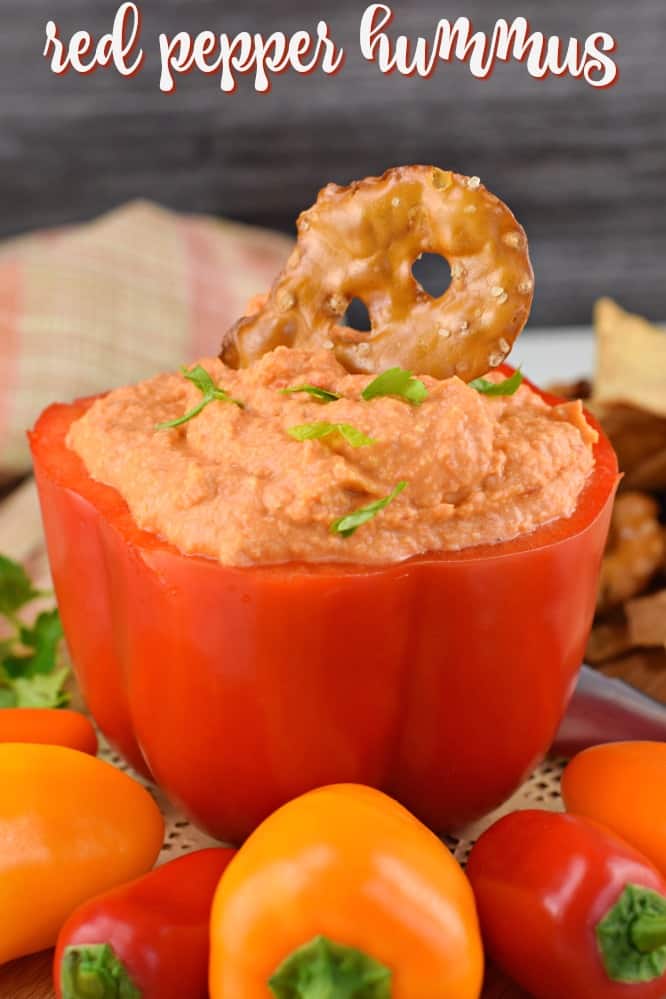 2. Should I peel the garbanzo beans?
Peeling the garbanzo beans helps make the hummus extra smooth and creamy. So, yes, I peel mine and always recommend that you peel yours too.
If you really want to skip this step, just make sure to puree your garbanzo beans a little bit longer in the blender or food processor.
3. How do I make smooth hummus?
Make your hummus smooth and creamy by peeling the garbanzo beans, and pureeing everything long enough in the food processor.
If you use fresh beans, add a little bit of baking soda to your pot to help the beans break down.
4. What other flavors can I add to my hummus?
Hummus can be quite versatile!
You can add more flavor to your hummus by adding fresh garlic, lemon juice, or smoked paprika to the top. I also have a recipe for lemon hummus if you want to go in a completely different direction.
Creamy Spinach Artichoke Hummus is also a great option. You'll love the flavor packed dip!
5. How long does Hummus last?
We keep ours in the refrigerator for up to one week. Store it in an airtight bowl or container for best results.
6. Can you freeze hummus?
YES. I recently froze a bowl of hummus and was pleasantly surprised at the results. Freeze in an airtight, freezer safe container.
When ready to use, thaw in refrigerator overnight. Stir or blend before serving and enjoy.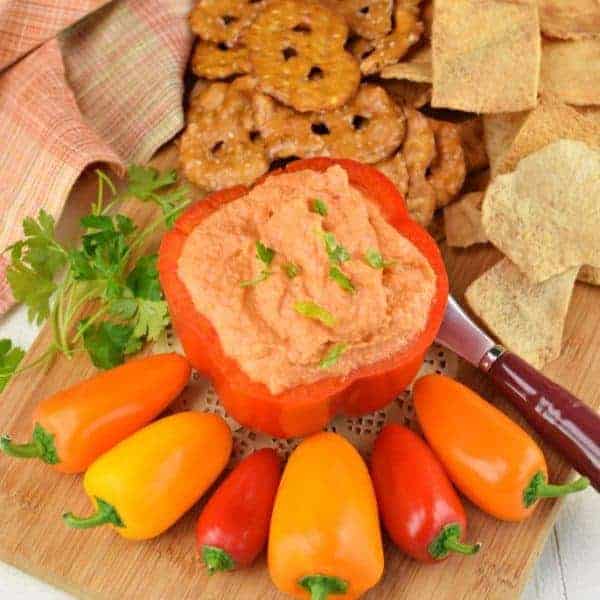 How to Make Roasted Red Peppers
You can buy store bought jarred roasted red peppers, but if you want this hummus to be completely homemade, you can also roast your own red peppers. Homemade roasted red peppers are quite simple to make and give this hummus an extra tasty kick.
Step 1: Cut the peppers in half and remove the stems, seeds, and membranes. Lay the peppers skin-side up on a foil-lined baking sheet.
Step 2: Broil the bell peppers until they are charred black, about 10 minutes.
Step 3: Remove the peppers from the oven and allow them to cool. You can put them in a plastic bag or in a bowl covered with plastic wrap to let them steam so the skins come off easier. Once the peppers cool, peel off the skins.
Step 4: Dice pepper before adding to the food processor.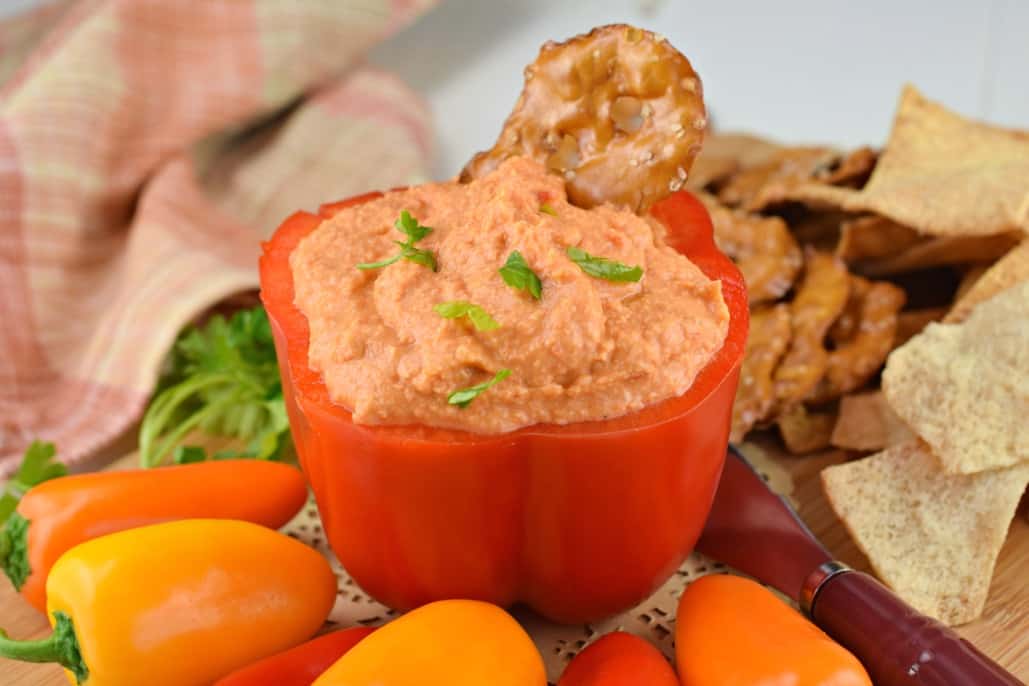 Ways to Use Hummus
Hummus is more than just a veggie dip. Sure, it's delicious as an appetizer served with warm pita bread, pita chips, and vegetables, but it can also be used with many other dishes! Here's a few ideas:
Add it to a burger or sandwich as an extra yummy spread.
Use it as a base for salad dressing.
Replace it with mayo for the stuffing in deviled eggs or egg salad.
Add it to a cold pasta salad.
Switch up your nachos by using pita chips, hummus, feta cheese, and olives.
Spread it on a tortilla and add avocado, cucumber, and tomatoes for a veggie hummus wrap.
Make a Mediterranean dip by using hummus as the base, and then adding kalamata olives, feta cheese, sour cream, and red onions.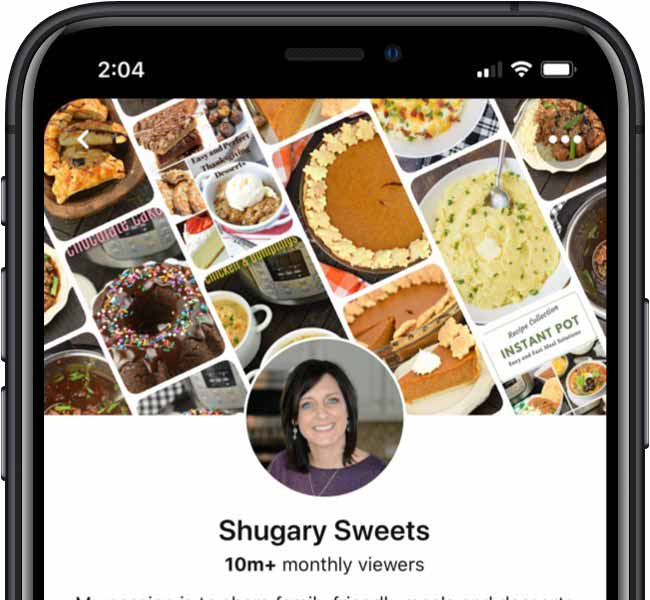 What you Need to make Hummus and Roasted Red Peppers
If you want a quick glance at what's needed for today's recipe, look no further. For the printable recipe with measurements, scroll all the way down!
Ingredients:
Garbanzo beans
Roasted red peppers
Lemon juice
Garlic, pressed
Tahini
Ground cumin
Salt
Cayenne pepper
Fresh parsley
Extra virgin olive oil
Tools
Food processor or blender
Baking sheets- if roasting your own hummus
Aluminum Foil- if roasting your own hummus
Bowl
More Game Day Recipes
Love dips and snacks that you can serve family and friends at a potluck? Here are some of my favorite recipes!
Recipe originally published March 13, 2011. Photos updated April 2019.
Creamy Roasted Red Pepper Hummus is smooth and perfect served with warm pita bread or chips. This easy recipe is my favorite snack!