Fruit on a burger? It may not be conventional, but it will blow your mind. Juicy pineapple, tangy BBQ sauce, and a thick slice of bacon meld into a uniquely intense flavor atop my Hawaiian sliders. Ready in 30 minutes, you can prepare this recipe on the stove or outside on the grill. 
Love today's recipe? Our grilled huli huli chicken is a favorite in our family. Or give our kalua pork recipe for another hawaiian inspired meal.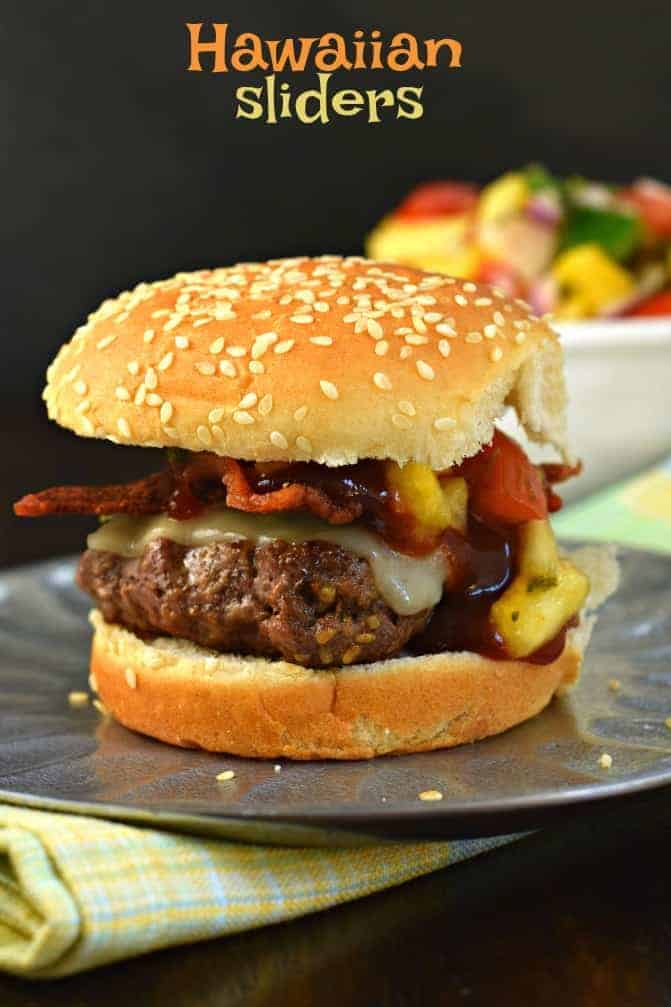 Why These Sliders Are The Best
Are you tired of the same old burgers? These sliders are guaranteed to be a flavorful change of pace. They can quickly feed a crowd and are the type of dish that your guests will be talking about afterward.
If you've ever been to Meatheads, these will remind you of their Hawaiian burger!
Here's why you'll love them.
They are fast and fun to make, especially if you're entertaining outdoors. Nothing beats the aroma of sliders on an open grill.
Homemade pineapple salsa adds a bright and fresh flavor to a classic burger everyone loves.
Everything is better with bacon, and this recipe is no exception. The bacon fat brings all of the delicious flavors together into a singular masterpiece.
Love sliders? Be sure to add our french dip sliders to your menu next!
Ingredient Notes
Ground Beef – Reach for "lean" ground beef for this recipe, around a 90/10 ratio of lean meat to fat. You may opt for a slightly higher fat % if you're preparing on an open grill, cooking at a higher temperature, or prefer your meat well-done. Extra fat will ensure that the meat doesn't dry out.
Bacon – Extra fat from the bacon topping is critical for meshing all of the flavors in this recipe. Look for cured American-style pork belly bacon, or sub with turkey bacon if you don't eat pork.
Pineapple Salsa – Store-bought pineapple salsa will work for this recipe, but my homemade pineapple salsa is the best match. It takes 30 minutes to prep and is loaded with fresh ingredients. Whatever you use, make sure it's fresh!
Cheese Slices – I love sliced pepper jack for this recipe. You can also substitute with manchego or swiss gruyere, which are great pairs for pineapple. I haven't tried this yet, but it's possible to serve halloumi (sans meat) for any vegetarians in your group.
BBQ Sauce – Look for a tangy BBQ Sauce. I love Sweet Baby Ray's original sauce, but any sweet and tangy sauce will do here. 
Steak Seasoning – Season your meat! Yes, there are plenty of flavors packed into the toppings, but there's really no reason not to add a little more to the sliders themselves. You'll thank me later.
Slider Buns – If you can find them, try Hawaiian rolls for your slider buns. The fluffy, sweet interior of the roll will melt in your mouth and add a new dimension to this meal.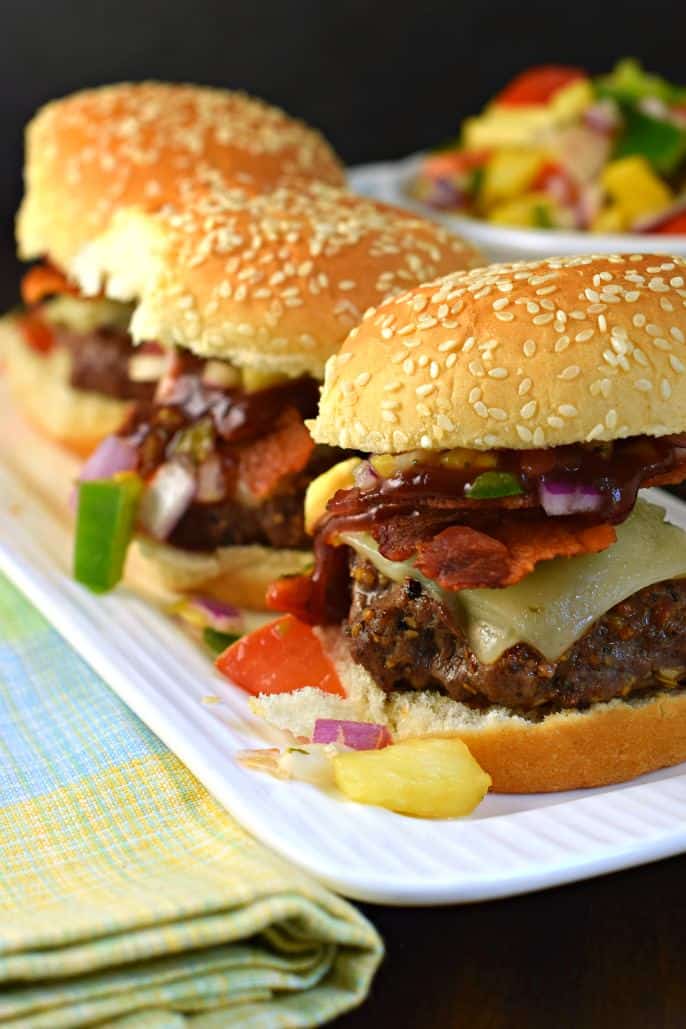 Easy Instructions
Prep The Toppings – Once you start the grill, your sliders will be coming off quickly! Prep your toppings first, so they're ready to go before the meat. Set up your serving station too, so it's easy to plate the patties as they come off the fire.
Start Your Grill – Fire up the grill, or a grill pan on your stovetop, so that it's hot and ready for the patties as soon as they are formed. If you are using a wood or charcoal grill, expect this process to take longer. You might consider lighting it before topping prep instead.
Form The Patties – In a large stainless steel or glass mixing bowl, combine the ground beef with your steak seasoning. Make sure it is well-mixed because you won't want to end up with the intensity of a whole heap of seasoning in a single bite. Shape the patties by hand into an equal size and thickness, resting them on a plate until the grill is ready.
Fire & Serve – Add your patties to the grill or a hot grill pan for 4-5 minutes per side or until you reach the desired doneness. Top and serve immediately! They are best when still hot.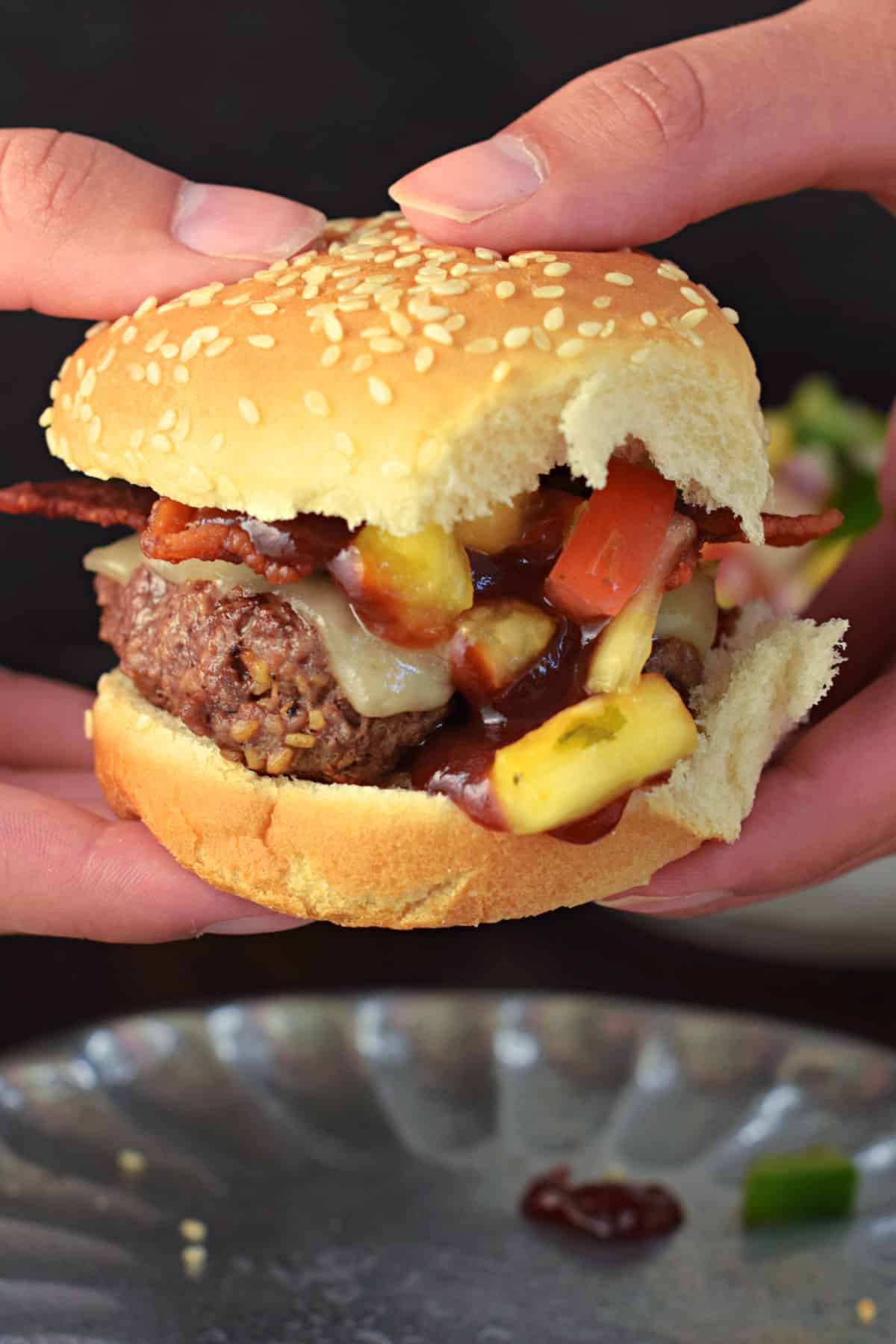 Tips and Tricks
Before you start making this meal, consider how long it takes for your grill to heat up and plan your time accordingly. This shouldn't be a concern If you're using a grill pan.
Let guests serve themselves, and prep your toppings in advance! Nobody likes a cold slider, and having a well-laid serving station ready to go will ensure yours are still hot for that delicious first bite.
If you're concerned about the buns getting soggy, try toasting them first. Spread a tiny amount of butter over the open face and then place it face down on the open grill (or pan) for about 30 seconds. Just be careful not to burn them.
Sliders are a fun meal. If you can, try to include guests in the preparation. None of the steps are complicated, and there is a particular satisfaction that comes from having a hand in the meal.
If you've got more salsa than you need for the sliders, consider keeping a bag of tortilla chips nearby for easy snacking after the meal or while cooking. 
Pizza. Next up be sure to give our Hawaiian Pizza a try!
Serving Suggestions
One of my favorite parts of this meal is the number of suitable side pairings.
Fried Potatoes – Fried potatoes make the world go round, and you have a lot of options that work well with Hawaiian Sliders. I like baked french fries and sweet potato fries, but you could also warm up frozen tots.
Potato or Pasta Salad – Either one will fill many bellies, is easily portable and can be prepared in advance. Try my German Potato Salad or seven-layer Orzo salad. Our classic potato salad is a perfect pairing.
Baked Beans – canned barbeque beans go a long way with this meal. They're affordable and fast. Add ham and pineapple to enhance the flavor.
Macaroni Salad – Any macaroni salad goes great with this meal. The simple Hawaiian version made with mayo and carrots is divine.
Grilled Spam – if you want to stick with a Hawaiian theme and are feeling adventurous, give classic grilled spam a try.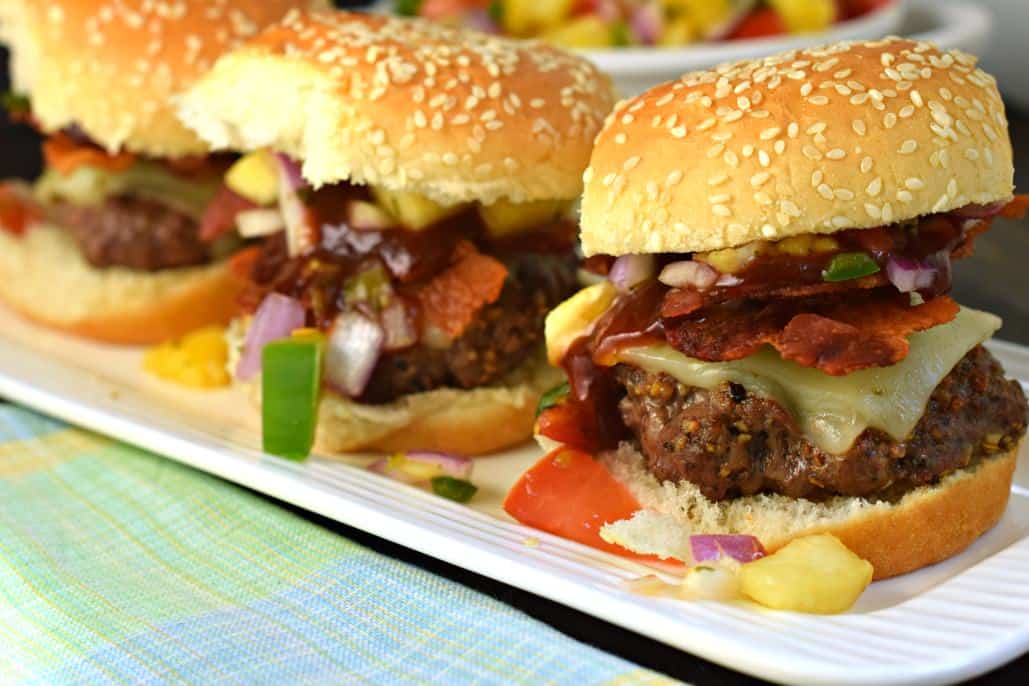 Recipe FAQs
How do you keep sliders from getting soggy?
The best way to keep your slider buns from getting soggy is to serve and eat them immediately when they come off the grill. Don't allow them time to sit and soak in their own juice. Use a slotted spoon to serve the pineapple salsa to limit the volume of liquid ingredients reaching the bun. And consider toasting your buns first. This will decrease the amount of liquid that absorbs into the surface.
How many sliders are needed per person?
Plan for 2-3 sliders per person in addition to an appetizer and side. If you expect your guests to be particularly ravenous, consider adding an extra slider per person.
Can I modify this recipe for vegetarians?
You might consider using a halloumi cheese patty instead of beef for any vegetarian guests. I have not tested this, but the flavor profiles should match up effectively. You may also consider adding my meat-free BBQ Jackfruit Sliders for those seeking a veggie option.
More Potluck Favorites