This light and easy Orzo Pasta Salad recipe is tossed with a delicious lemon honey dressing and loaded with fresh corn, cherry tomatoes, cucumbers, and scallions. Feta cheese and a sprinkle of fresh herbs make this side dish complete!
If you love potluck recipes, this Seven Layer Salad is a show stopper. Combined these layers create a delicious summer treat! Or give our easy coleslaw recipe a try for your next bbq!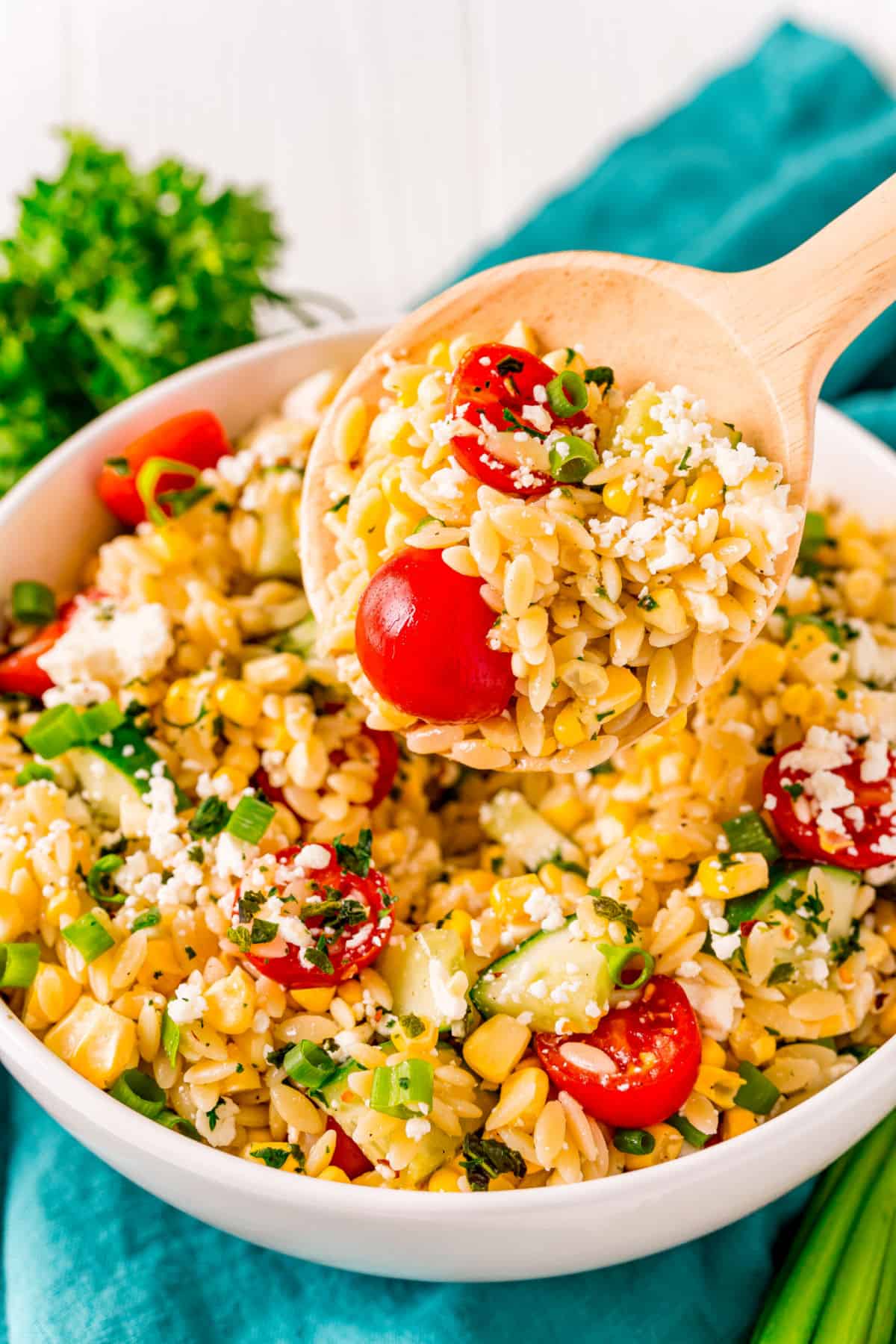 What is Orzo?
Tired of the same ol' same ol' pasta salad recipes? It might be time to think outside of the normal pasta box. I mean, yes, we all love macaroni salad, but let's change things up.
Using orzo is an easy way to mix things up! Add vegetables and a sweet tangy dressing for a colorful side dish that pairs well with just about any main dish.
It might look like a grain but orzo is actually tiny pasta (or pastini in Italian). The rice shaped grains are made from semolina flour and look (and taste) similar to barley.
Just like other pastas and grains, you cook dried orzo by boiling it in water or broth. Served warm in soups and stews or cold in salads, it's a tasty and healthy starch to round out your meals!
The Orzo Salad recipe I'm sharing today is so flavorful, light and fresh! It uses all my go-to summer veggies, including sweet corn and cucumbers for some crunch.
I love to make it at the end of summer when all those vegetables are available in abundance from my garden or the local farm stands!
Feta cheese makes the salad more substantial and a breezy honey lemon dressing adds sweetness and tang. Herbs sprinkled on top bring the varied flavors together for a satisfying and refreshing side dish.
Easy to Assemble
The hardest part of this recipe is chopping the veggies! With very little cooking time involved, you can whip up this salad in a flash.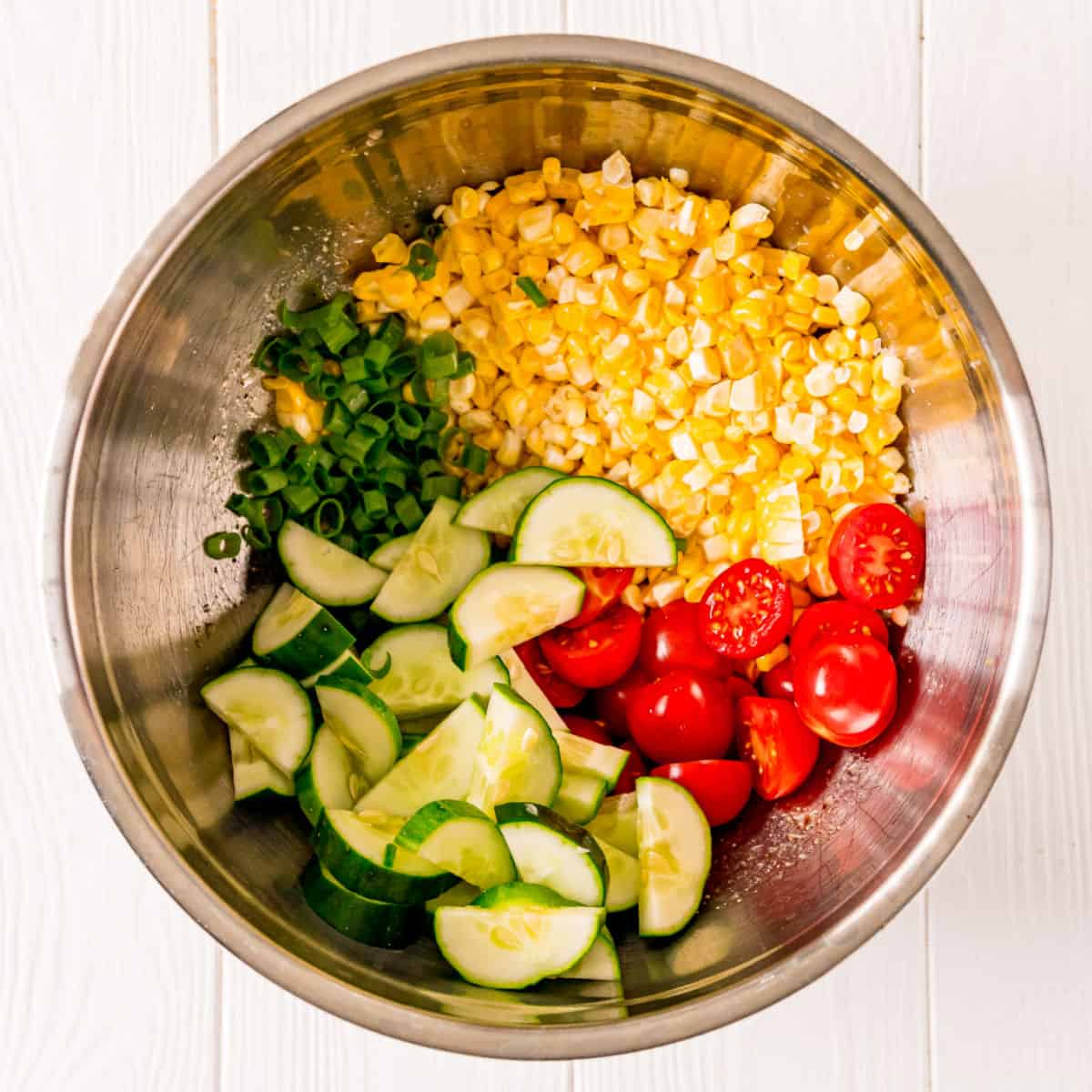 STEP 1. Orzo
Start with a box of uncooked orzo and cook according to package directions. I like my orzo al dente so I cook it for about 8 minutes. Drain, then rinse it with cold water.
STEP 2. Dressing
While the orzo is cooking, whisk together olive oil, lemon juice, honey, salt, and pepper in a large bowl.
STEP 3. Veggies
Cut the kernels off of the fresh uncooked corn ears and add to the bowl along with scallions, tomatoes, cucumbers, and red pepper flakes.
Add in the orzo and toss to combine. Chill in the refrigerator for 2 hours.
STEP 4. Serving
Just before serving, add the feta and herbs to the bowl and toss lightly.
Serve immediately or store covered in the refrigerator
Love feta? Add it to this tasty Watermelon Salad for a light summer salad!
What herbs to use
I enjoy this salad with either fresh parsley or fresh basil on top. Parsley gives a milder flavor to the salad topping. The aroma of the basil brings out the cherry tomatoes beautifully!
Use what you have or the herb you prefer. I have a strong feeling you'll enjoy orzo salad enough to make it more than once, so you can try it with both kinds of herbs to find out what you like best.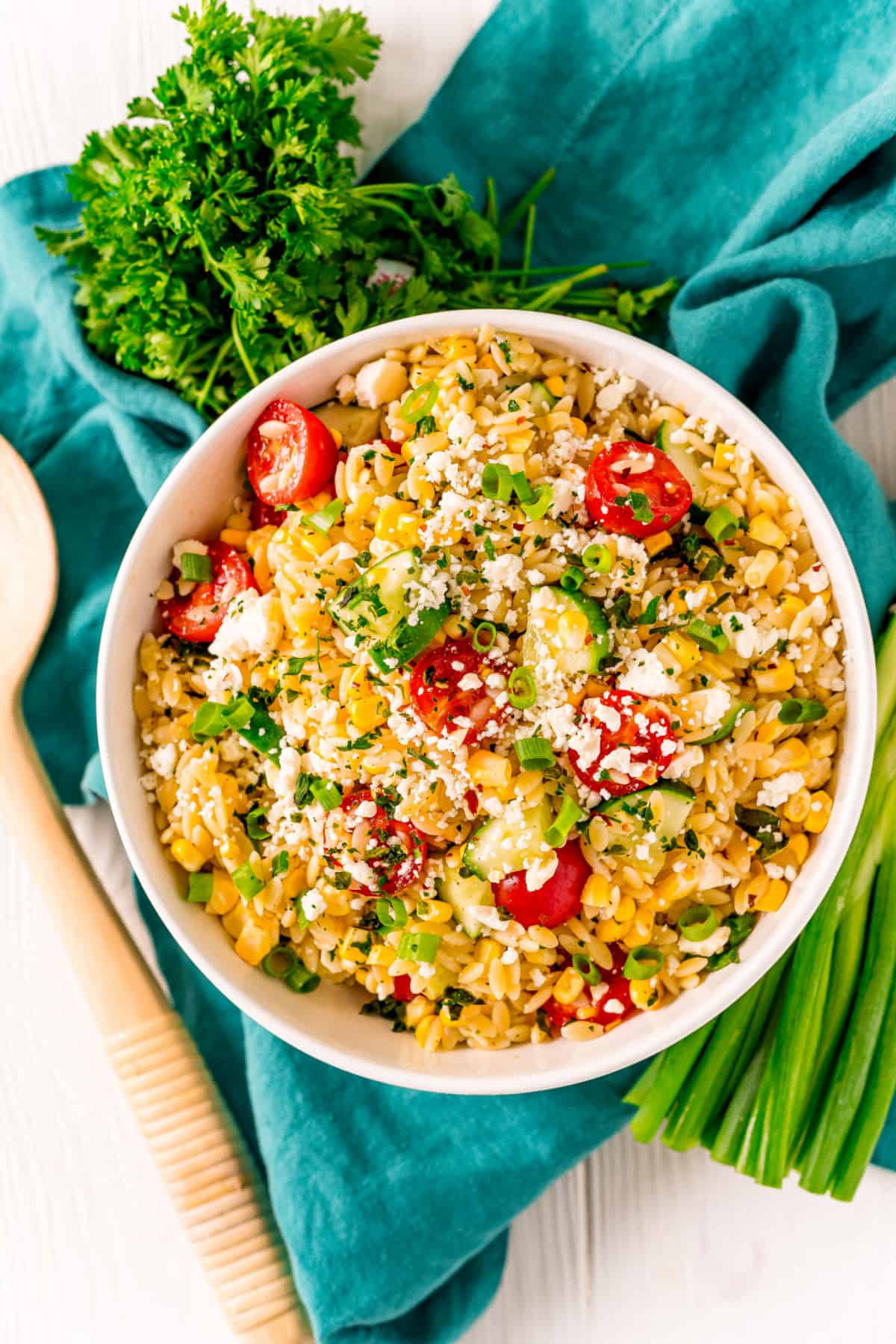 Substitutions and Additions
Use this orzo salad recipe as a template for creating your own version.
Orzo substitutes – Swap the orzo for another pastini like orchiette. You could also use cooked cous-cous, quinoa or long grain rice.
Honey substitutes – Granulated sugar can be used as a replacement for the honey in the dressing.
Fresh corn – I prefer fresh, uncooked corn kernels straight from the cob in this salad. You just can't beat the flavor! However, if you can't get fresh corn, go ahead and use canned kernels. Rinse them well and use 1/2 to 1/3 of a cup.
Grilled chicken – Turn your orzo salad into a full meal by adding some grilled chicken tenders! It's a light and satisfying lunch or fresh summer dinner.
How to Store
Keep this salad covered tightly in the fridge for up to 3 days. I recommend adding the feta right before serving. It breaks down quickly so if you let the salad sit in the fridge with the feta for too long, I find the texture becomes less appealing.
If you're making this in advance to use for a few meals you can add the feta to each bowl of salad as you serve it. Then, store the leftovers in the fridge without the cheese to keep things fresh!
Serving Suggestions
As a side dish, orzo salad is a delightful fresh accompaniment to all kinds of main dishes. Serve with Baked Chicken Thighs or Almond Pesto Salmon for a summer dinner that's as nourishing as it is delicious.
A bowl full of fresh colorful pasta salad is also a welcome sight at barbecues and picnics as an alternative to the old creamy pasta salad stand-bys. The sweet corn in this tastes so good with BBQ chicken or Brisket!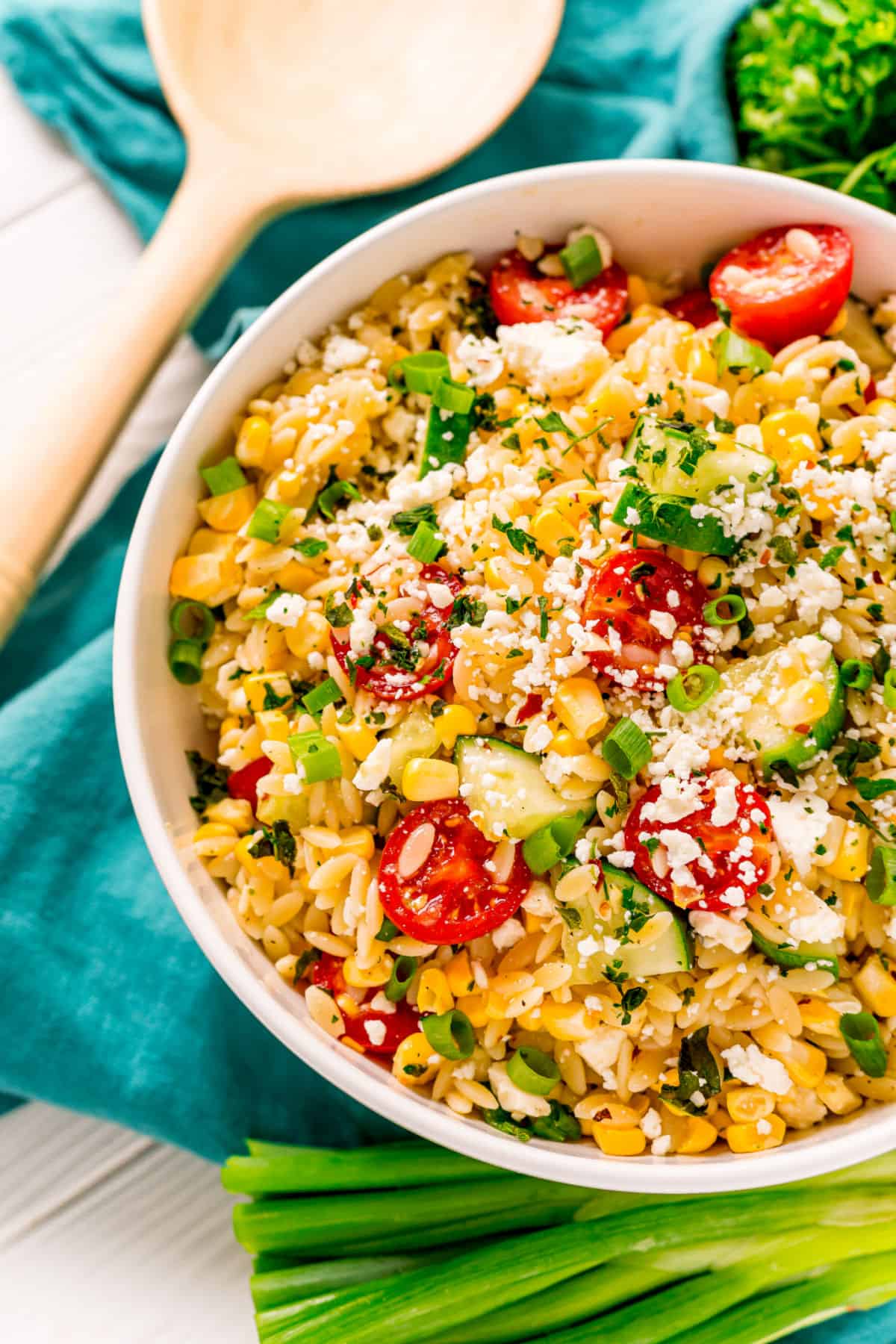 More Side Dishes
As a side dish or a light lunch, Orzo Pasta Salad adds color and excitement to your plate. This is one salad that's sure to become part of your regular menu rotation.