This Homemade Mac and Cheese recipe is made with two kinds of cheese and topped with buttery Ritz crackers for a creamy, rich side or main dish that the whole family will love.
If you're as obsessed with cheese as my family, be sure to try this delicious Queso recipe! Or for a more hearty dish, try this Crack Chicken recipe!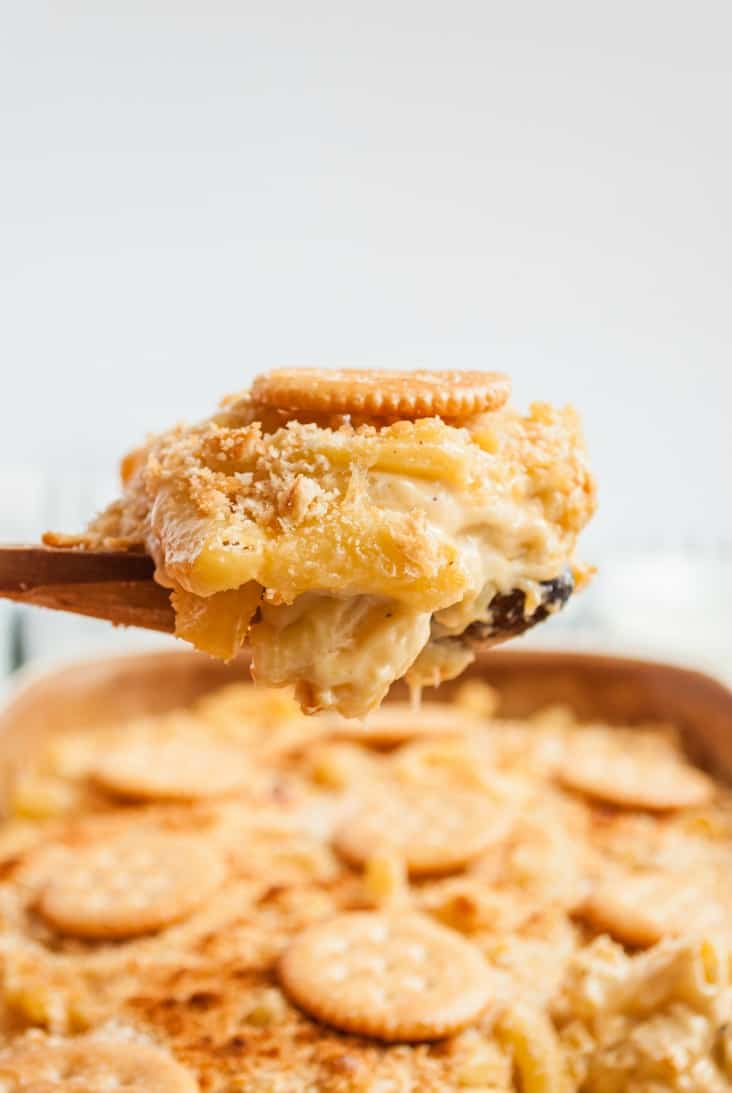 Why this Recipe Works
Mac and Cheese is truly the perfect side dish you are looking for for any holiday dinner, potluck or party.
Don't think for a second though that only adults will love this Ritz Cracker Mac and Cheese. It got four thumbs up from my kiddos- and that's something huge! Because they only like the blue box stuff, too.
Until now, that is.
I'm sure that everyone thinks that their recipe is the "best ever mac and cheese" recipe. So I might be biased, but I think this really is the best ever mac and cheese.
My Ritz Cracker Mac and Cheese recipe makes a ton, so it's perfect for serving as a Thanksgiving side dish, or taking to a potluck. It'll be the first thing to disappear!
I use a few simple tricks to make mine be the best mac and cheese ever.
I like to use heavy cream and a roux-thickened bechamel made with milk.
A healthy splash of Worcestershire sauce adds a rich, savory flavor to the cheese sauce.
I use two types of cheese – nutty gruyere and creamy cheddar – add more cheesy flavor and make this dish doubly cheesy.
And finally, don't forget the Ritz cracker topping!
You could also use the Ritz topping on this Hashbrown casserole (it is topped with cornflakes) and this Chicken Cordon Bleu Pasta (has a toasted breadcrumb topping)!
Step by Step Instructions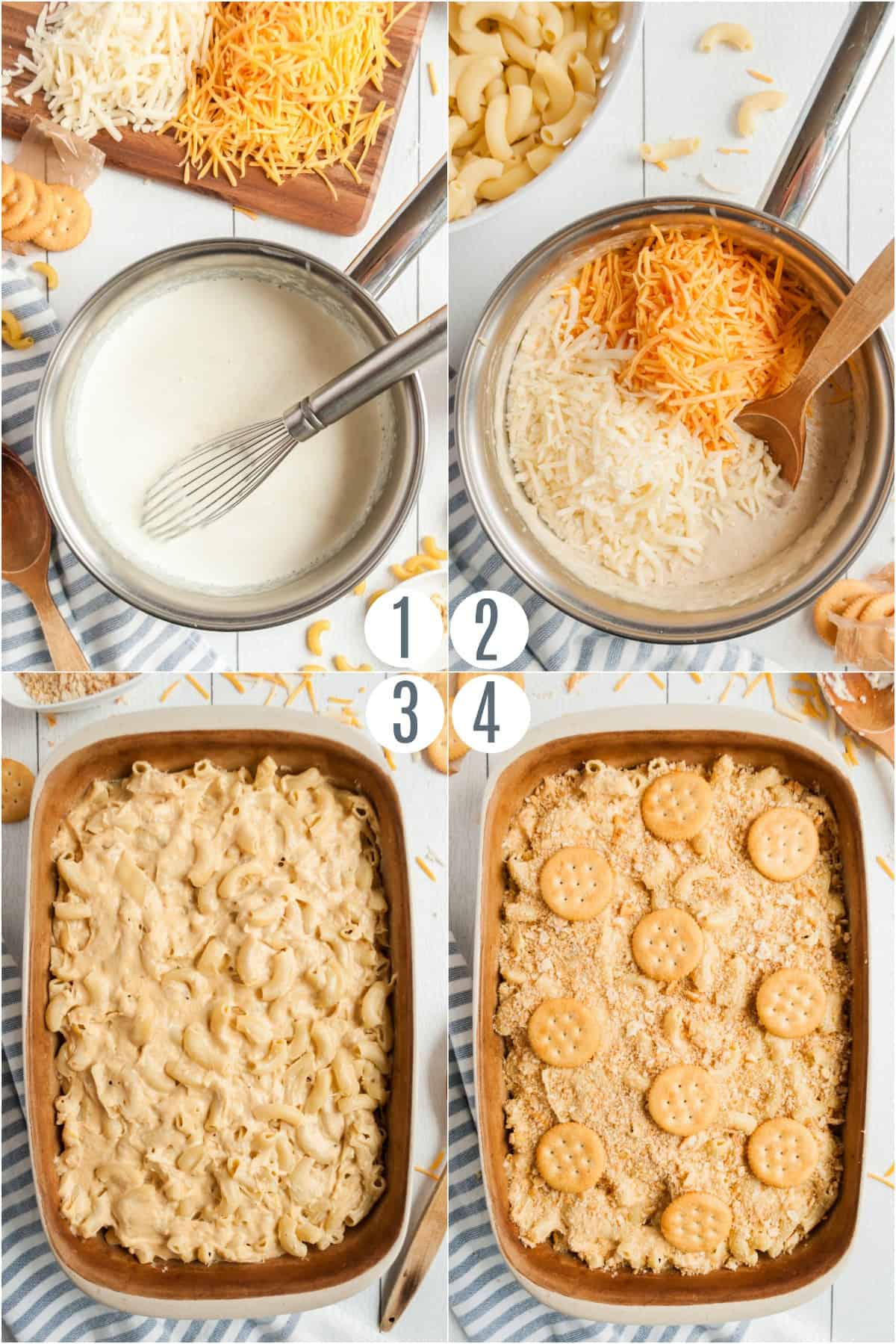 Cook the pasta. Using a box of your favorite pasta, I use elbow macaroni, cook until al dente. Don't make the pasta mushy!
Make the sauce.
Combine.
Add topping.
Bake.
PRO TIP: For best results, shred your own cheese! I use Gruyere and Cheddar for maximum flavor.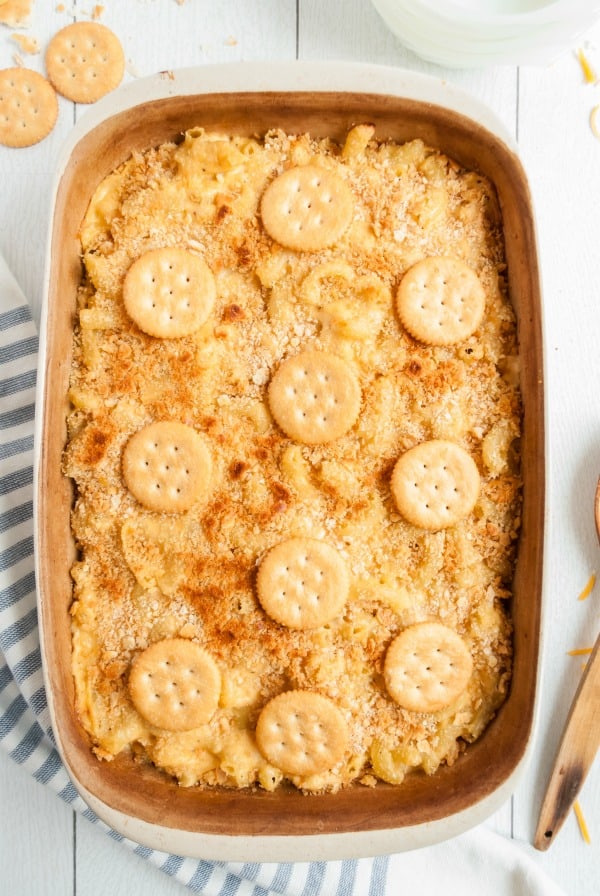 Tips and Tricks
Do not overcook your pasta. You want it to have a little "bite" to it, so cooking al dente is very important. You'll still be baking mac and cheese, and don't want it mushy!
Use good quality cheese! Don't buy the pre-shredded bags of cheese. They just don't melt well, and the taste is not as good!
Whisk whisk whisk. Have everything measured out ahead of time, because you'll be whisking the entire cooking process so the sauce doesn't burn or stick!
Storing Mac and Cheese
What I love about this recipe is that when I make it for the holidays, it can be prepped a day ahead of time.
To do this, make the mac and cheese without adding the topping, and without baking. Cover with foil and refrigerate.
When ready to bake, allow dish to sit at room temperature for at least 30 minutes. Add topping and bake until hot (may take an additional 10-15 minutes to cook if still "chilled").
To reheat leftovers, add a splash of cream before microwaving. ENJOY.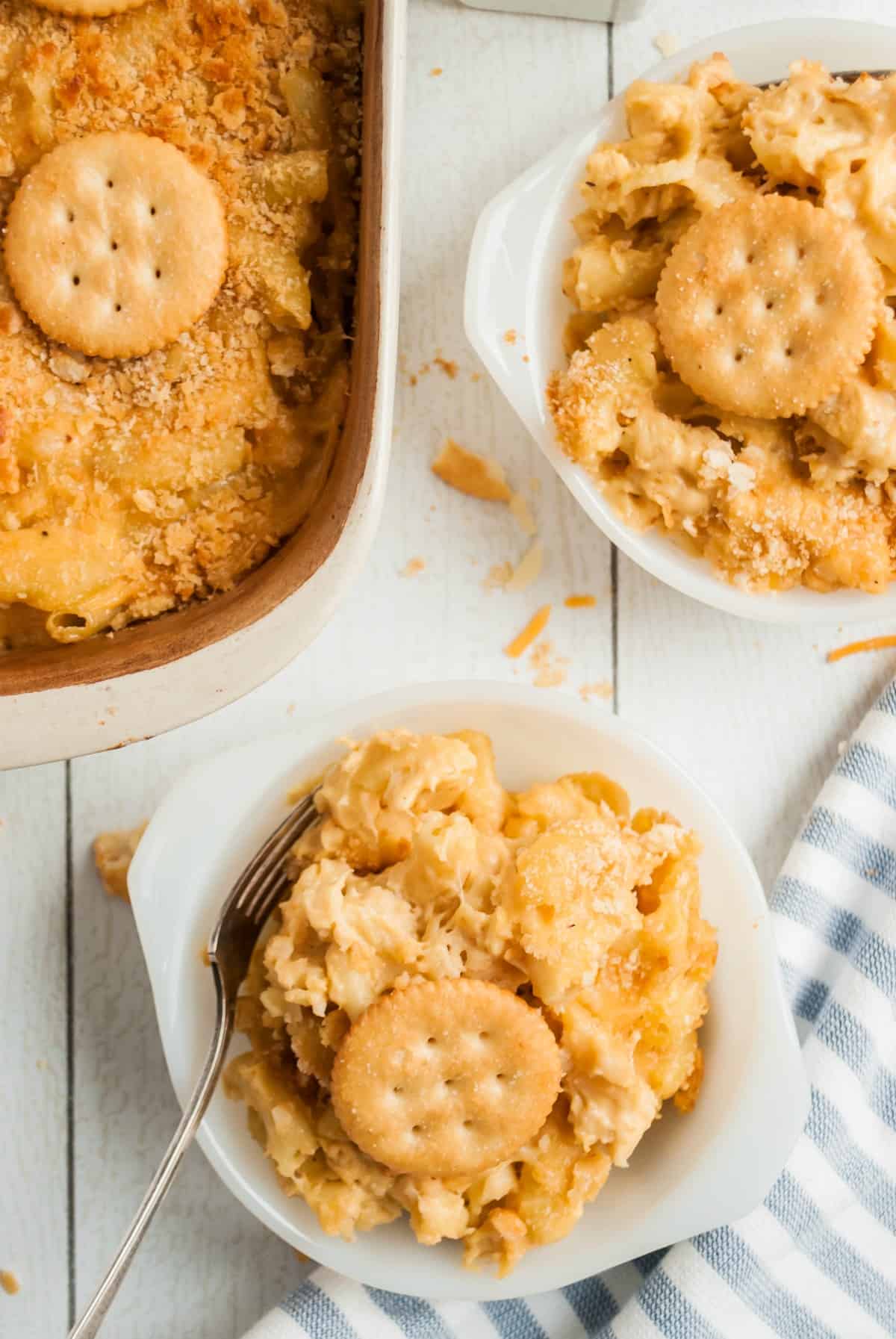 More Mac and Cheese Recipes
If you loved this Ritz Cracker Mac and Cheese recipe, you're in luck because there's lots more where that came from.