Ritz Cracker Mac and Cheese is made with two kinds of cheese and is topped with buttery Ritz crackers for a creamy, rich side or main dish that the whole family will love.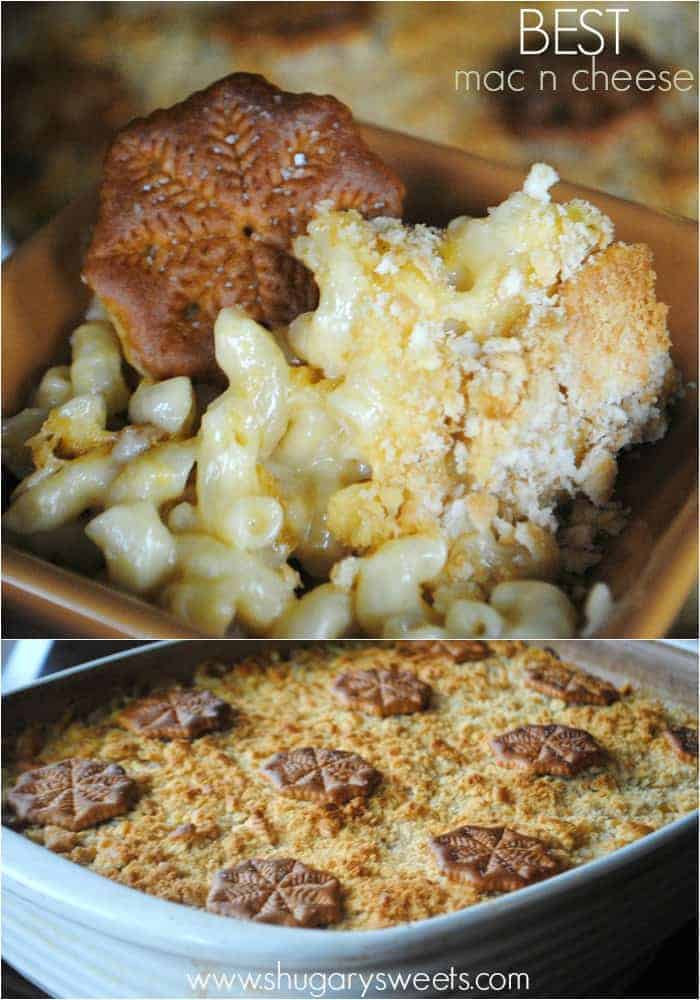 Click HERE to save recipe to Pinterest
In college I was a mac and cheese lover. I made some nearly every night of the weekend. However, I never parted with that blue box.
I mean really, it really was the cheesiest. I would try mac and cheese at restaurants, but they were always so bland that I never attempted to make it myself.
Until now. Until I realized that grown-up mac and cheese can be amazing. Total comfort food.
And, it could be that perfect side dish you are looking for for any holiday dinner, potluck or party.
Don't think for a second though that only adults will love this Ritz Cracker Mac and Cheese. It got four thumbs up from my kiddos- and that's something huge! Because they only like the blue box stuff, too.
Until now, that is.
Why this recipe is best
I'm sure that everyone thinks that their recipe is the "best ever mac and cheese" recipe. So I might be biased, but I think this really is the best ever mac and cheese.
My Ritz Cracker Mac and Cheese recipe makes a ton, so it's perfect for serving at family gatherings and parties or taking to a potluck. It'll be the first thing to disappear!
I use a few simple tricks to make Ritz Cracker Mac and Cheese be the best mac and cheese ever.
I like to use heavy cream and a roux-thickened bechamel made with milk.
A healthy splash of Worcestershire sauce adds a rich, savory flavor to the cheese sauce.
I use two types of cheese – nutty gruyere and creamy cheddar – add more cheesy flavor and make this dish doubly cheesy.
And finally, don't forget the Ritz cracker topping!
RITZ CRACKER TOPPING
The Ritz cracker topping on this Ritz Cracker Mac and Cheese is what really takes it over the top.
I'm not stranger to putting a crunchy topping on my classic dishes.
For instance, this Hashbrown casserole is topped with cornflakes, and this Chicken Cordon Bleu Pasta has a toasted breadcrumb topping!
It's also probably the easiest mac and cheese topping ever. Because Ritz crackers are so buttery, all you need are the cracker crumbs. No extra butter needed.
During the holiday season, I like to buy the snowflake-shaped Ritz crackers and lay them whole on top of the mac and cheese along with the crumbs. It's not a necessary step, but it's a cute one that the kids will really enjoy!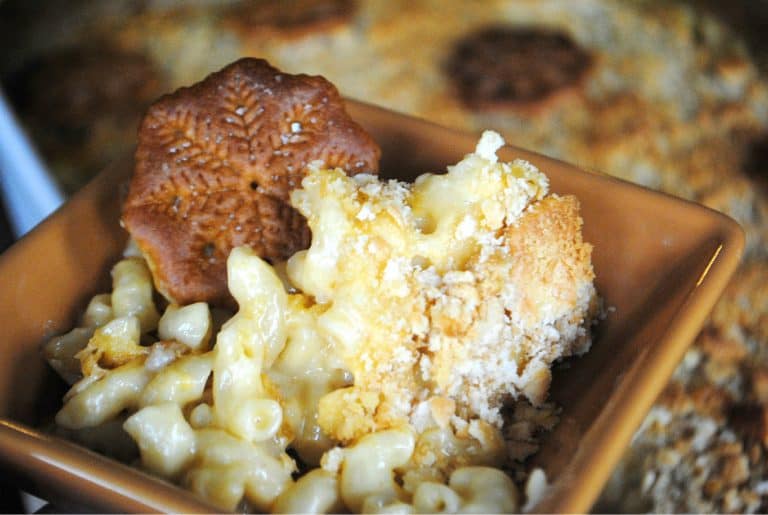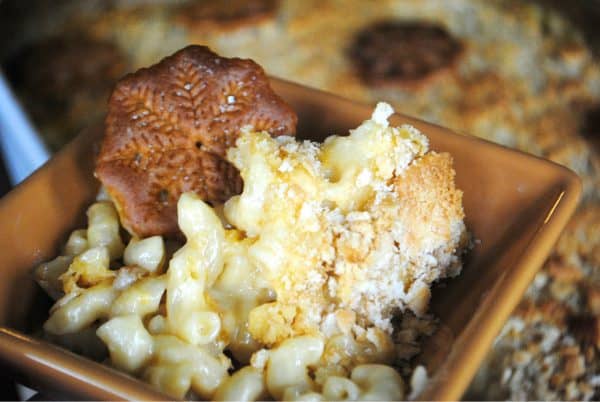 MORE MAC AND CHEESE RECIPES
If you loved this Ritz Cracker Mac and Cheese recipe, you're in luck because there's lots more where that came from.
Chicken Enchilada Mac and Cheese is made entirely on the stove and combines the best parts of both mac and cheese and chicken enchiladas.
Copycat Panera Macaroni and Cheese is ultra creamy and tastes just like the mac and cheese at Panera Bread!
Gouda Bacon Mac and Cheese uses smoked gouda and bacon for a side dish with a smoky, rich flavor.
Sausage Macaroni and Cheese is full of Italian sausage to make a filling meal.
Instant Pot Mac and Cheese is perfect for anyone who loves their pressure cooker.
Loaded Mac and Cheese combines the best parts of mac and cheese with a loaded baked potato. Yum!
Yield: serves 12
Ritz Cracker Mac and Cheese
Ritz Cracker Mac and Cheese is made with two kinds of cheese and is topped with buttery Ritz crackers for a creamy, rich side or main dish that the whole family will love.
Ingredients
16 oz elbow macaroni
4 Tbsp butter
2 cup skim milk
1/2 cup flour
2 cup heavy cream
1 1/2 tsp salt
3/4 tsp pepper
1/2 tsp dry mustard
1 Tbsp worcestershire sauce
1/2 lb Gruyere cheese
1 lb Cheddar Cheese
24 Ritz crackers
Instructions
Prepare macaroni according to package directions. Set aside.
In large pot, melt butter. Add skim milk and bring to near boiling over medium high heat. Reduce heat to medium and sprinkle in flour. Whisk vigorously over medium heat for 1-2 minutes. Mixture should be thick and boiling. Slowly add cream, while whisking. Add in salt, pepper, mustard and worcestershire sauce. Reduce heat to low and continue to stir for about 5 minutes.
In food processor, shred Gruyere and Cheddar cheese. Add to pot, stir until thoroughly combined.
Add cooked macaroni to cheese mixture. Pour into a 13x9 dish.
In large ziploc, crush 14 Ritz crackers. Sprinkle over top of macaroni. Lay 10 crackers on top, spaced evenly.
Bake in a 375 degree oven, uncovered, for 30 minutes. Enjoy hot!
Nutrition Information:
Yield:
12
Serving Size:
1
Amount Per Serving:
Calories:

527
Total Fat:

39g
Saturated Fat:

23g
Trans Fat:

1g
Unsaturated Fat:

13g
Cholesterol:

114mg
Sodium:

803mg
Carbohydrates:

25g
Fiber:

1g
Sugar:

4g
Protein:

20g
*Nutrition facts are an estimate and not guaranteed to be accurate. Please see a registered dietitian for special diet advice.
Recipe originally published November 22, 2011