Whether you're cooking for a crowd, or lunch on a weekend, these Instant Pot Hot Dogs are so easy and flavorful. Top them with all the Chicago dog fixings!
We love our Instant Pot for easy family dinners. Our crack chicken pasta is a favorite. Or give our easy instant pot potatoes a try next.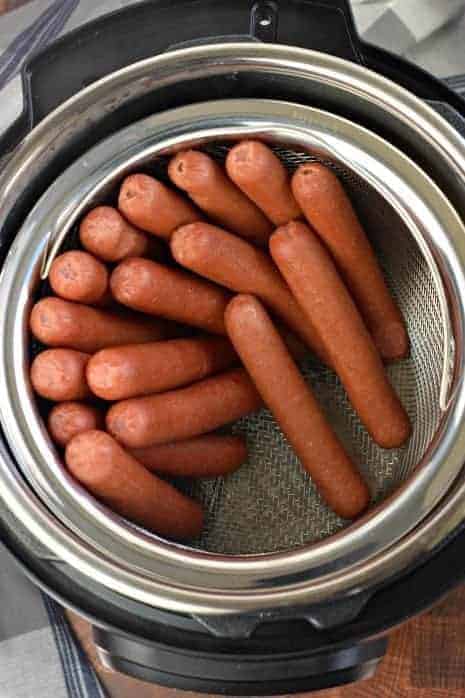 Hot Dogs in the Instant Pot
As a Chicago girl I can tell you that there are a few things that divide us in ways that can be irreconcilable in the city.
Where you get your pizza, and what you put on a hot dog.
Deep Dish Pizza in my opinion is best from Giordano's, but there are others who disagree (and they are wrong, hehe).
And a Chicago Hot Dog should never have ketchup on it.
Admittedly though, I either love a hot dog with JUST KETCHUP…or give me the Portillo's hot dog with everything minus the ketchup. There is no in-between for me.
What IS important about hot dogs is that they are fast and hot, and ready to feed the kids in minutes.
Today's Instant Pot Hot Dog recipe is perfect for when you want to cook 1 hot dog or 30 hot dogs! Ready to learn?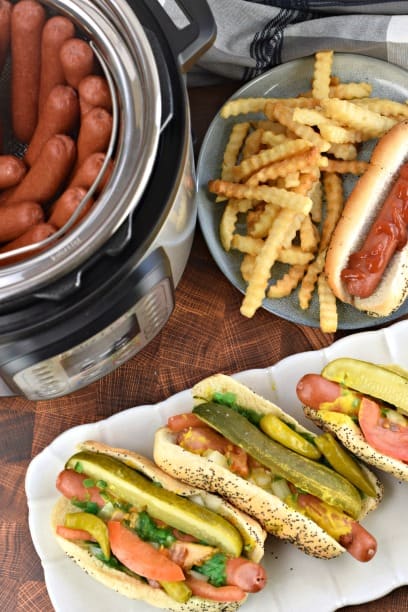 How to Make Hot Dogs in the Instant Pot
Whether you choose to put the hot dogs directly in the water, or use a steamer basket, it's completely up to you.
I prefer my hot dogs in the basket and not sitting in the water.
In the Instant Pot, pour 1 cup of water into the bottom. Add hot dogs (as little or as many as you like, as long as you stay below the max fill line).
Lock the lid in place and make sure the valve on top is set to "SEALING."
Select High Pressure for a cook time of ZERO minutes (the hot dogs will cook while the pot comes to pressure).
When the Instant Pot beeps, do a quick release of the pressure by turning the valve on top to "VENTING."
Remove the lid and enjoy your hot dogs!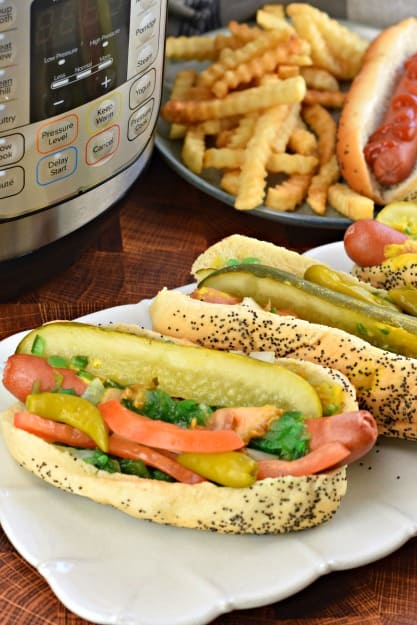 How to Make a Chicago Style Hot Dog
Whether you top your hot dog with one or more of these toppings is entirely up to you. However, these are the traditional toppings that you would get if you ordered a Chicago dog from Portillo's (my favorite spot)!
First, you'll need a poppy seed bun! Apparently they are hard to find outside of the Chicagoland area…but if you're lucky enough, use them. Otherwise any hot dog bun will suffice (we like our buns warm too).
Dill pickle spear
Fresh tomato slices (halved)
Diced onions
Pickle relish- to get the neon green add a drop of blue food coloring
Mustard
Sport Peppers– similar to pepperoncini, only smaller
Celery Salt
For a fun potluck or bbq party, you could make a batch of these hot dogs in the pressure cooker and have all the Chicago toppings on the side, so people can make them custom!
We also enjoy our hot dogs topped with chili. And don't forget the shredded cheese!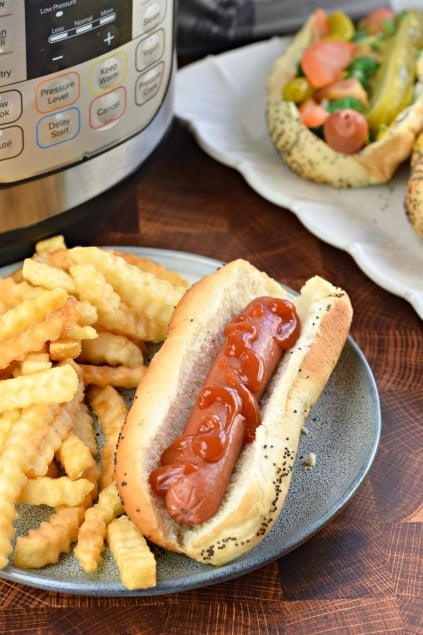 What to serve with Hot Dogs
If you're having a big party or just making hot dogs for lunch, you may be wondering what to serve with them!
If it's a small crowd, I'll make some french fries or sweet potato fries to serve with our hot dogs.
Here are a few of our other favorite potluck side dishes: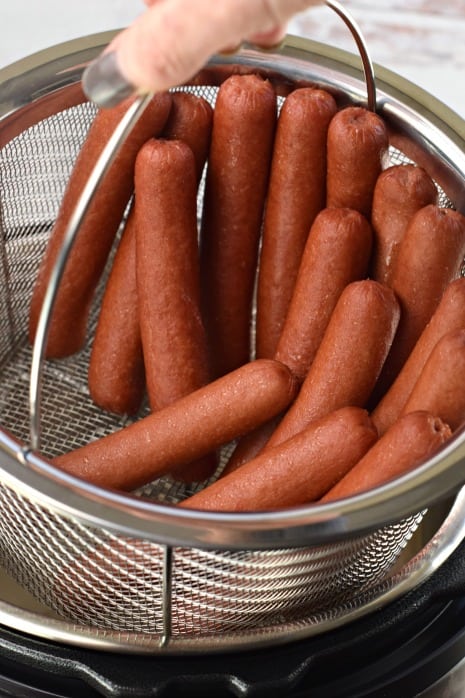 Tips for perfect Instant Pot Hot Dogs
This recipe was created for the 6qt Instant Pot. If using the 8qt, increase water to 2 cups.
No need to change cook time or water amount regardless of how many hot dogs you are cooking.
Choose all beef hotdogs (like Vienna) for best flavor!
Swap out the water for your favorite beer for a unique flavor!
More Instant Pot Recipes- for a potluck!
Instant Pot Hot Dogs are fast and easy and perfect for a crowd. Get the tips and tricks for making Chicago style dogs too!