This cheesy, creamy Instant Pot Spinach Artichoke Dip is served warm and ready in MINUTES. It's the perfect crowd pleasing appetizer, and it's so easy to make too.
Love spinach? Enjoy this Spinach Alfredo Pasta for dinner tonight. Add in some canned artichokes if desired! Or give our Spinach Lasagna a try next.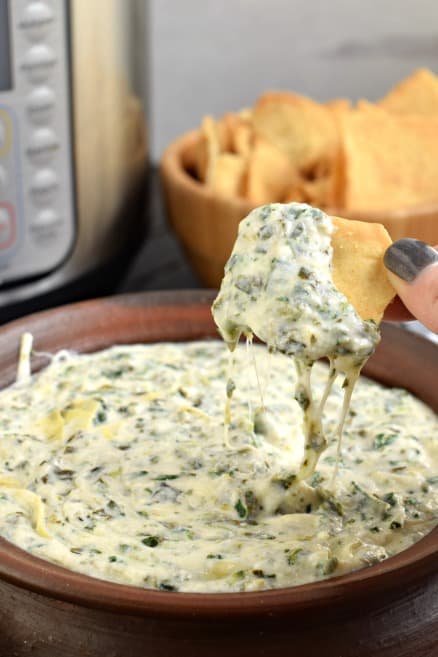 Copycat Recipes
Do you ever find yourself craving restaurant food? I'm not talking about McDonald's Shamrock Shakes…I'm talking about things like, Panera Mac and Cheese or Olive Garden Pasta e Fagioli Soup.
Last week I was totally craving Applebee's Spinach Artichoke Dip.
The crazy thing is, I think I've only had it twice, but both times it was the comfort food my body craved.
Since I'm on a kick creating Instant Pot recipes, I figured why not give this one a try in the Instant Pot.
I already have a Spinach Artichoke Hummus recipe, and an Artichoke Dip…so I took what I love about those two recipes and combined them into today's dip!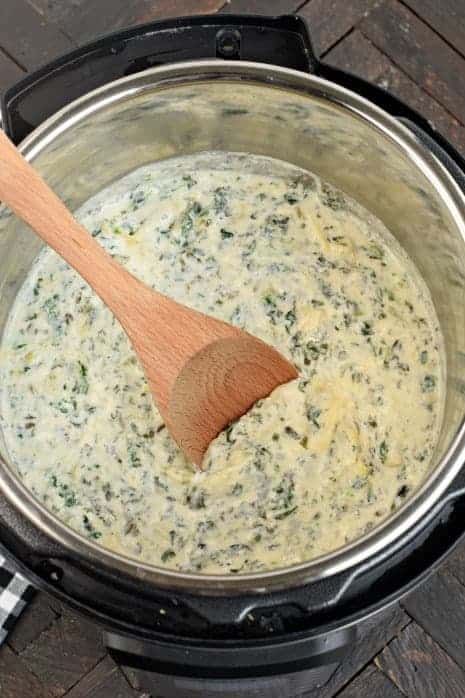 Ingredient Notes
Spinach. Today's recipes does not call for fresh spinach. Nope. Save that for spinach salad!
For my Instant Pot Spinach Dip you'll need a 10oz box of FROZEN spinach. No need to thaw either!
ALL THE CHEESE. To make this creamy dip, you'll need several varieties of cheese:
Cream Cheese
Parmesan Cheese
Mozzarella Cheese
Artichokes. One can of artichoke hearts, drained. Whether they are quartered or not doesn't matter. Just don't get seasoned artichokes.
Seasonings. In addition to garlic, onion powder, and kosher salt, you'll need sour cream and mayonnaise to finish this creamy dip recipe. And chicken broth (or vegetable broth) to add extra liquid for the Instant Pot.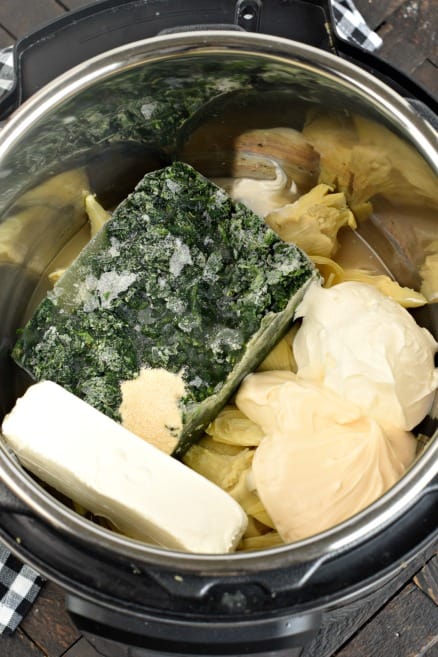 How to Make Instant Pot Spinach Dip
STEP 1. Add Ingredients.
Add chicken broth to the bottom of the pot. Top with drained artichokes, garlic, and frozen spinach.
Then add the sour cream, cream cheese, mayonnaise, kosher salt, and onion powder. Do NOT stir.
Be sure to add ingredients in the order stated and DO NOT STIR.
STEP 2. Pressure Cook.
Lock the lid in place and make sure the valve on top is set to SEALING.
Select HIGH PRESSURE (or manual) for 4 minutes.
When cook time ends do a quick release of the pressure by turning the valve on top to "VENTING."
STEP 3. Add Cheese.
Open the lid and add parmesan and mozzarella cheese to the pot. Stir until smooth.
Serve with pita chips, bagel chips, pretzels, etc. ENJOY.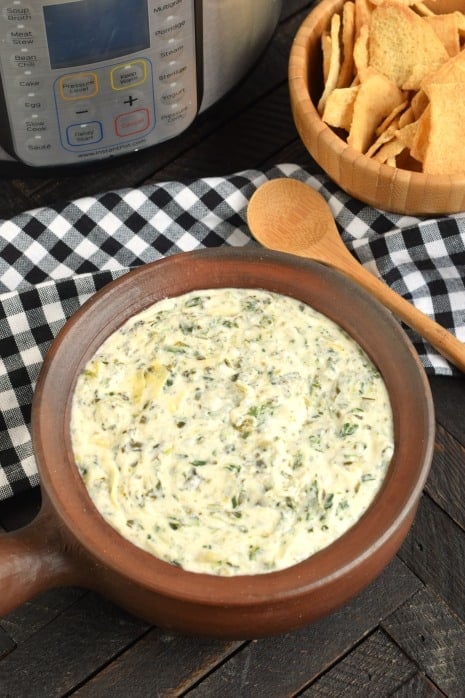 Tips and Tricks
Follow directions and be sure to add ingredients in the order stated, DO NOT STIR.
To add a little heat/spice to the recipe, feel free to sprinkle in some crushed red pepper flakes when adding the cheese.
Got leftovers? Serve it with warm rotini or rigatoni pasta. SO GOOD.
You can also reheat leftovers in the oven or microwave until desired temperature.
What to serve with this Copycat Applebee's recipe
I love having a variety of "dippers" available for guests. My favorites include pita chips and pretzels.
However, we also enjoy fresh cut vegetables, corn chips, and cubed bread (either sweet Hawaiian or French bread).
If you're wondering what crackers to serve with spinach artichoke dip, I like "less seasoned" crackers such as saltines or Club crackers.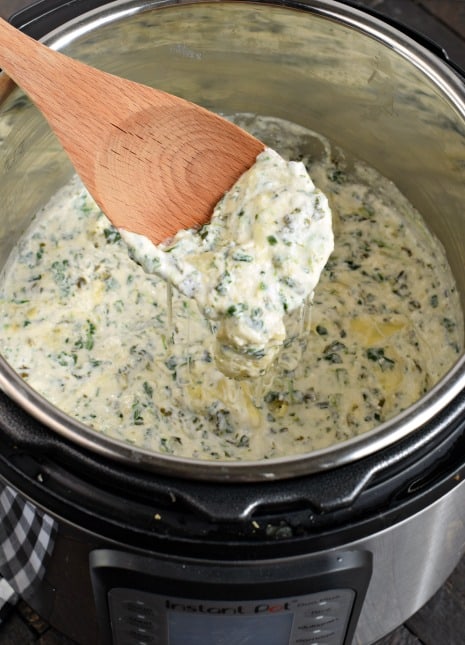 More Party Food
This Instant Pot Spinach Artichoke Dip recipe is a crowd pleaser. Packed with flavor, it's easy to make too!