Pepperoni Pizza Dip – Made in the microwave in just minutes, this easy game day staple is sure to please!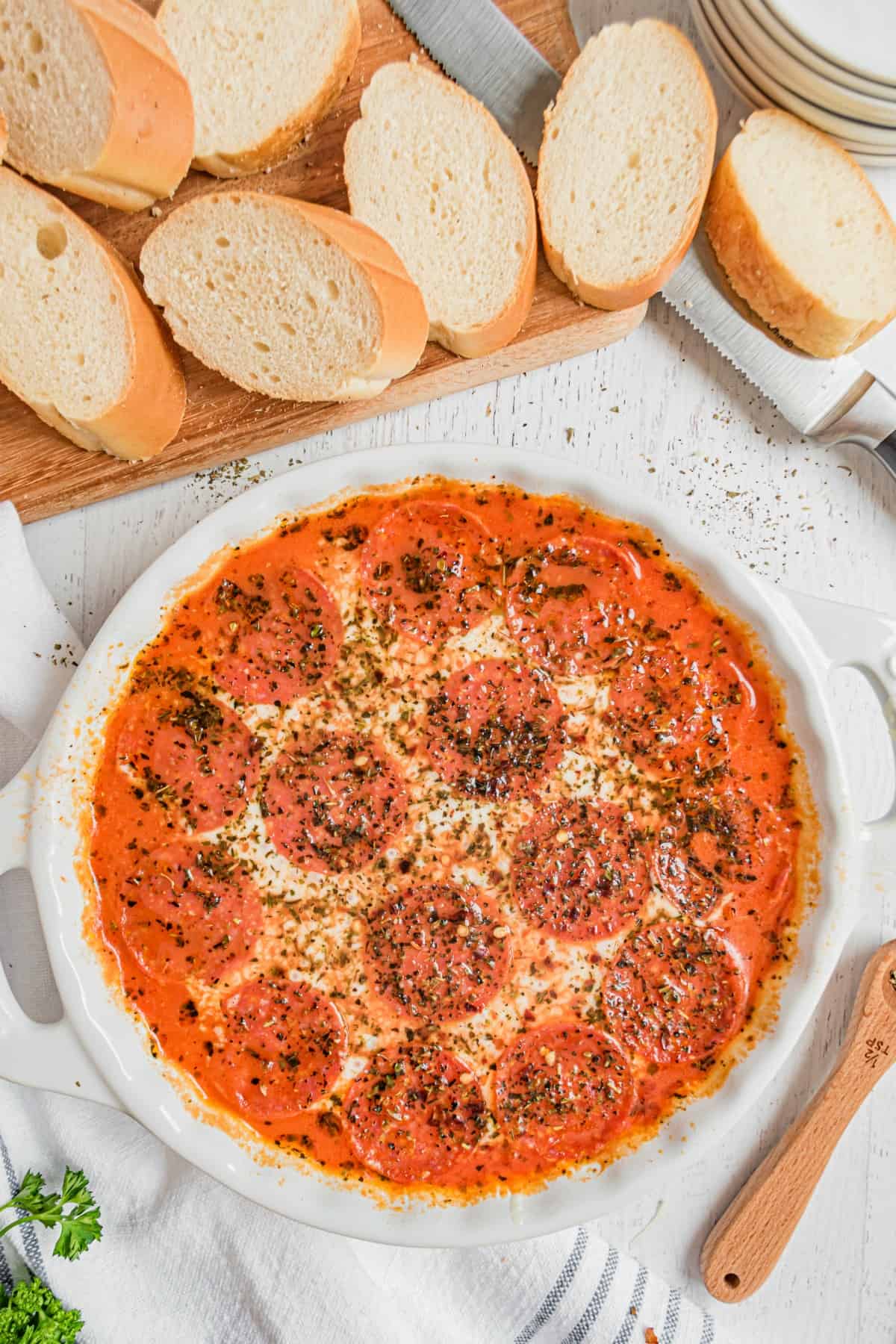 It's common knowledge to everyone in my life, that I can't be trusted around dips. When I arrive at a party, one of the first things I do is make a beeline for the dip table.
Especially if there are cheesy dips in sight.
From Spinach Artichoke Dip to Corn Jalapeno Dip, any creamy hot dip scooped up with chips or crackers is bound to win my heart.
Today's pizza dip recipe is no exception.
What I haven't been as honest about is that my obsession with warm dips isn't just reserved for parties and potlucks. It's time to be completely honest with you guys:
Sometimes, I'm guilty of making dip for dinner.
This Pepperoni Pizza Dip was created when a craving for pizza collided with a lack of time (or energy to make, roll and bake some dough).
As far as dips go, this pizza dip makes for a completely satisfying dinner.
Think about it: Cheese, pepperoni, bread, pizza sauce. It seriously covers all the basic food groups, right?
DIPS FOR DINNER: BLT Dip | 7 Layer Dip | Rotel Dip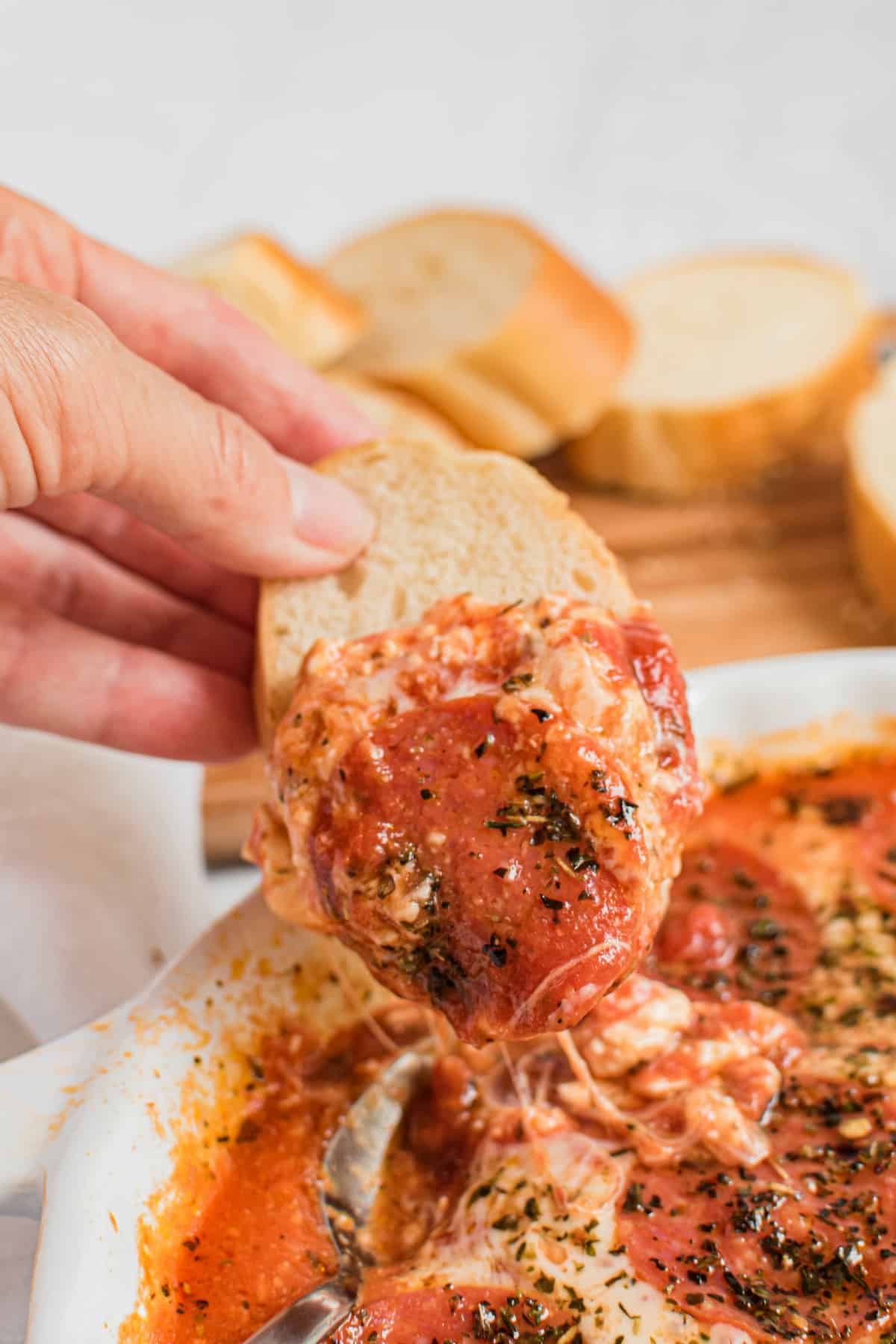 Faster than ordering a pizza and a lot less fuss than making a whole pie.
I thought I was so clever and smart to turn everyone's favorite pizza into an easy microwave dip recipe.
And then I went on Pinterest and realized…I'm not so creative, this has been done a million times before.
While I may not have invented the concept of pepperoni pizza dip, that doesn't change it from being delicious!
Pizza dip would be a welcome addition to any game day party, potluck or family movie night, too!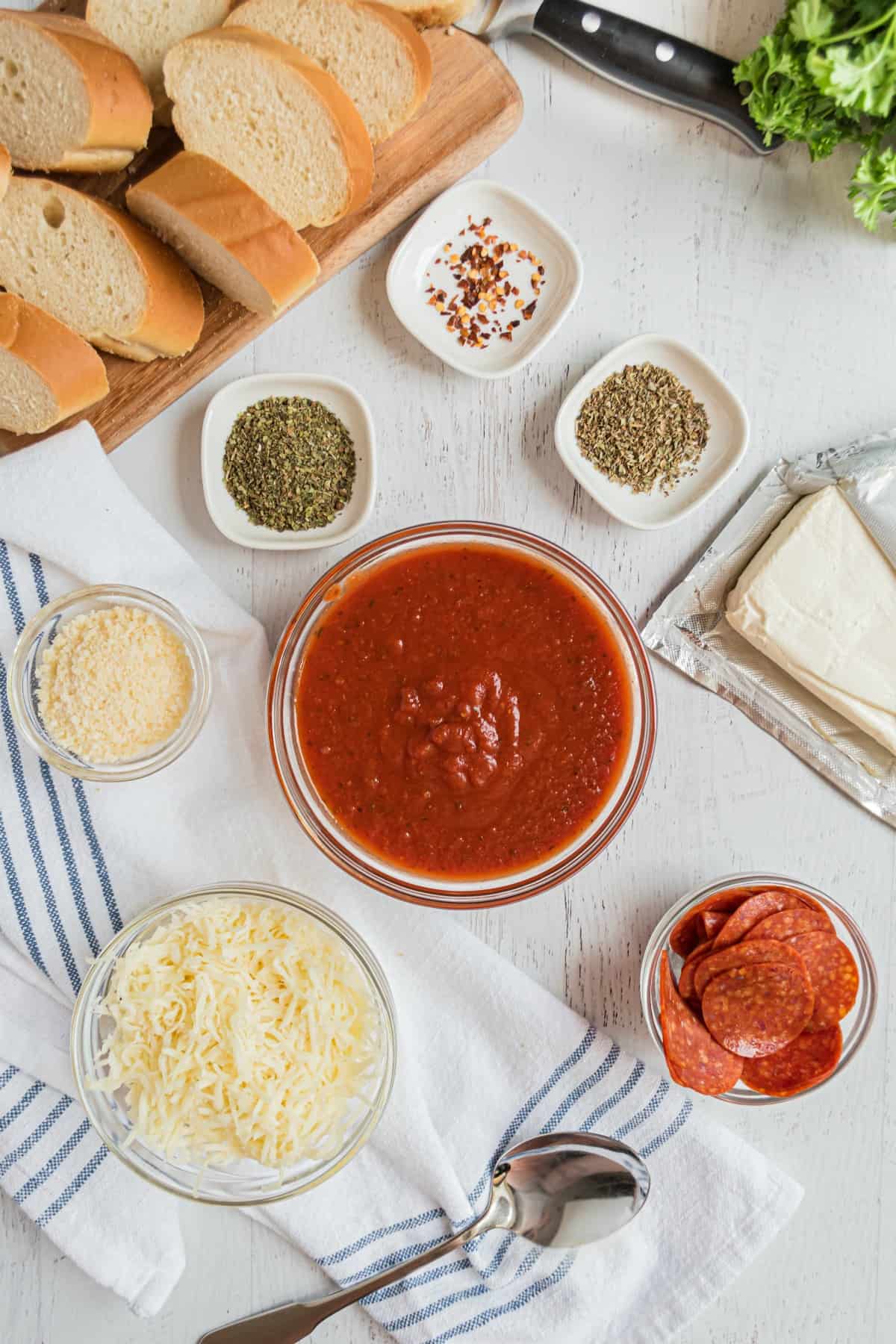 Pizza Dip Ingredients
Here's what goes into this pepperoni pizza dip:
Cream cheese – Softened first
Pizza sauce – I use canned sauce for convenience's sake. If you have a homemade sauce handy, that'll be great in this recipe too.
Parmesan cheese – freshly grated
Mozzarella cheese
Italian seasoning
Oregano
Crushed red pepper flakes
Pepperoni slices
There's no stove top or oven required to make this hot cheesy pizza dip! Everything gets melted together in a pie plate right in your microwave.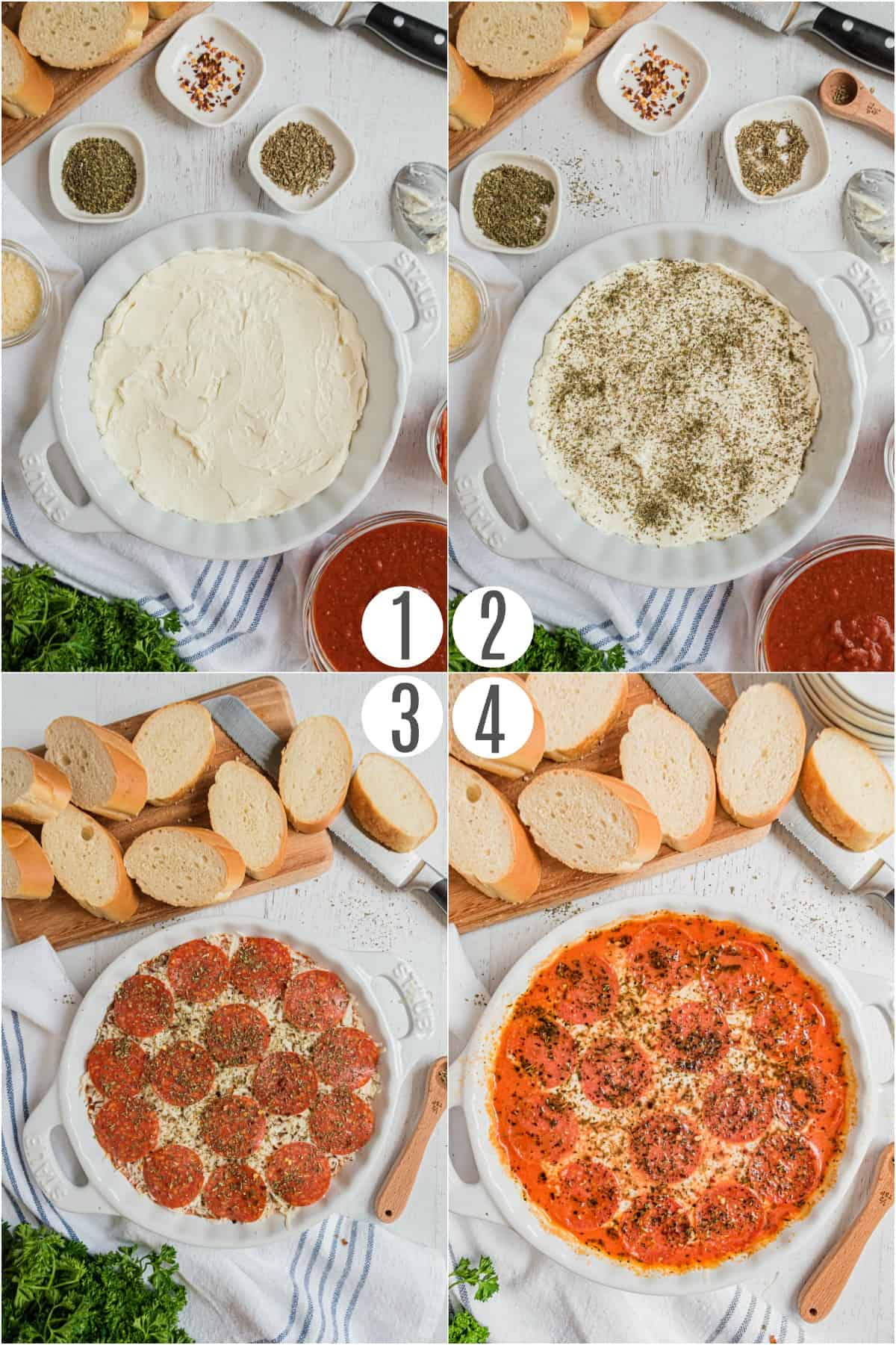 How to make Pepperoni Pizza Dip
STEP 1. In a microwave safe 9-inch pie plate, spread room temperature (softened) cream cheese evenly to cover the bottom of dish.
Sprinkle with 1 tsp Italian seasoning and 1/2 tsp oregano. Top with pizza sauce. Sprinkle the cheeses over the sauce and top with the pepperoni.
STEP 2. Add the remaining Italian seasoning, oregano and crushed red pepper by sprinkling it over the top.
STEP 3. Cover pie plate with plastic wrap and microwave for 4-6 minutes, time will vary depending on microwave. Dip is done when cheese is melted and bubbly.
Serve with crusty french bread or crackers. It's also delicious with Garlic Bread, olive garden breadsticks, toast points.
Variations
Try these great ideas for making your very best pizza dip!
Vegetarian pizza dip: Swap the pepperoni for diced onions and peppers. For the best of both worlds, use half pepperoni, half onions and peppers.
Meat lover's pizza dip: Mix browned Italian sausage crumbles into the dip after taking it out of the microwave.
Turkey pepperoni: If you like turkey pepperoni or other pepperoni substitutes, those will taste great in this dip as well.
Spicy pizza dip: For those who can't get enough spice, feel free to add a bit more crushed red pepper to the dip to taste.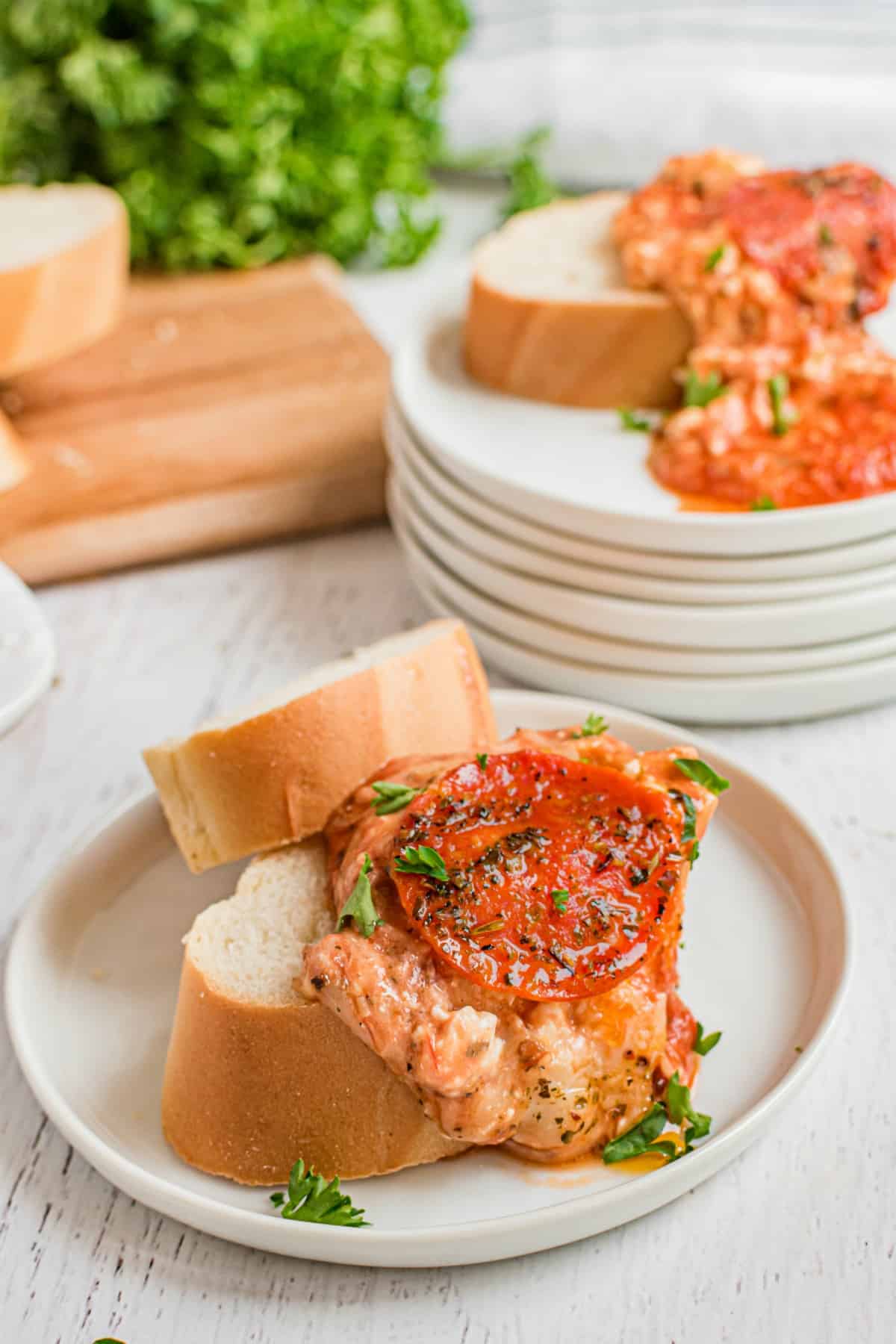 Storage Tips
Pizza dip is so easy and quick to prepare that you can make it right before serving, even if you're in a hurry!
It can also be prepped and made ahead of time, up to 24 hours, and stored in the refrigerator.
Any leftovers can be covered with plastic wrap again and stored in the pie plate in the fridge, or transferred to a plastic container for storage.
Heat in the microwave when ready to eat to get the cheese nice and melty again.
More Game Day Recipes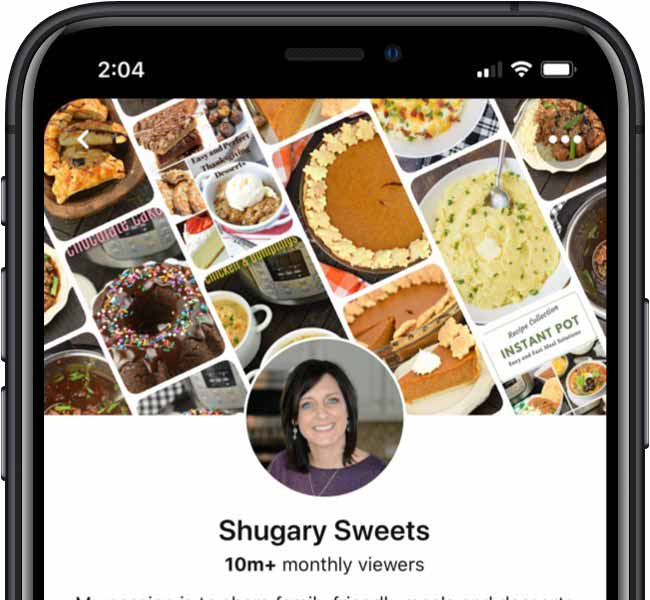 Tools Needed
Pie Plate– you'll need a 9-inch pie plate or square baking dish. I found mine on Amazon!
Offset spatula– great for spreading the cream cheese in the bottom of the pie plate, but also perfect for frosting too!
Find and shop my favorite products in my Amazon storefront here!