This Easy Taco Pizza is the perfect weeknight meal or game day food! Serve it up assembled or let your guests choose their toppings. It's always a hit.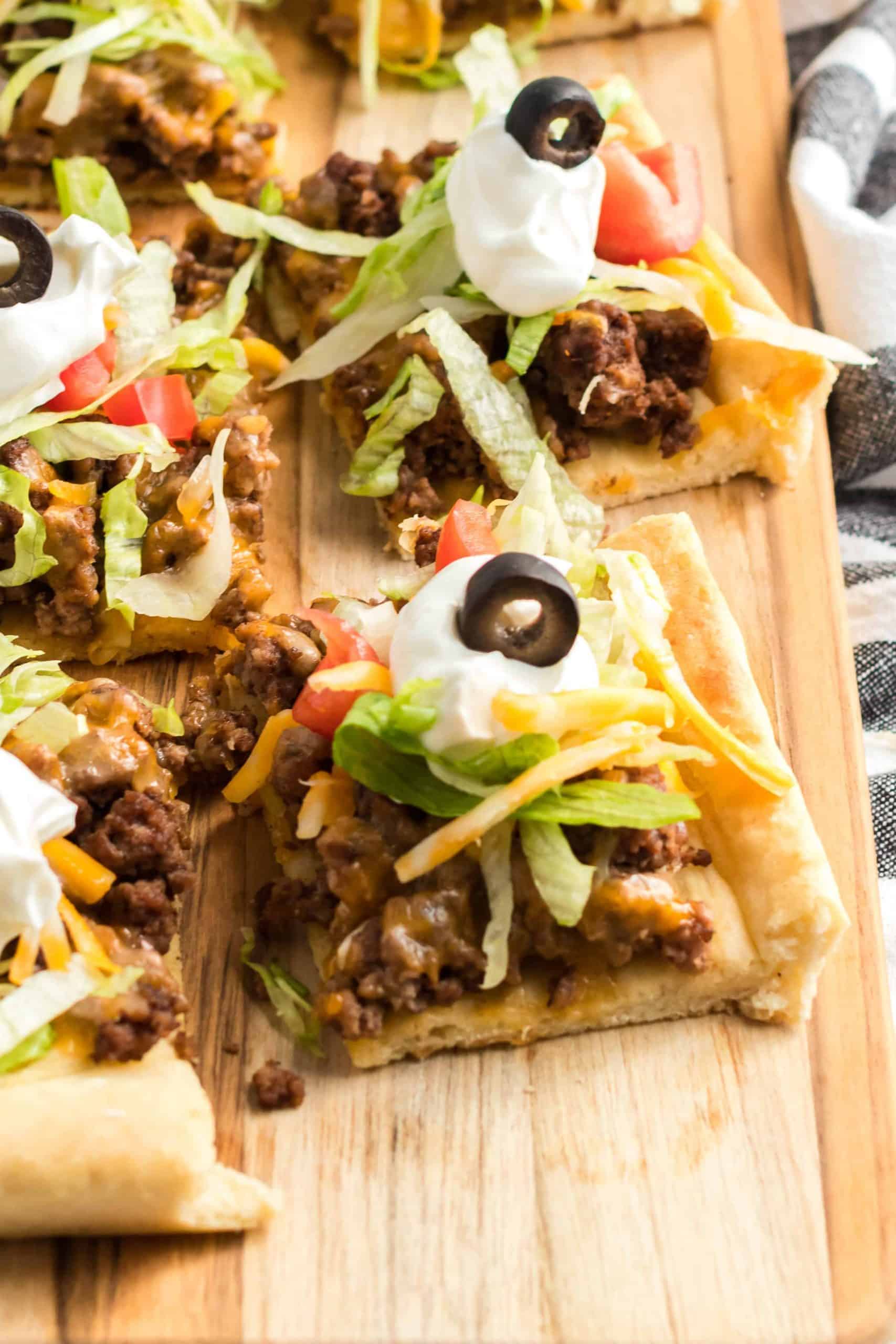 Why this Recipe Works
Friday night pizza is a real thing at our house, and to keep things from getting boring, we love making this Taco Pizza recipe!
It's also the perfect Taco Tuesday or Cinco de Mayo dinner idea (in case tacos ever get boring??).
What I love about this pizza, is that it's incredibly easy to make. With a few shortcuts, you can have this on your dinner table in no time at all!
And, like regular pizza, you can customize this Taco Pizza with all your favorite toppings, adding more or less of what you and your family LOVE.
How to Make Taco Pizza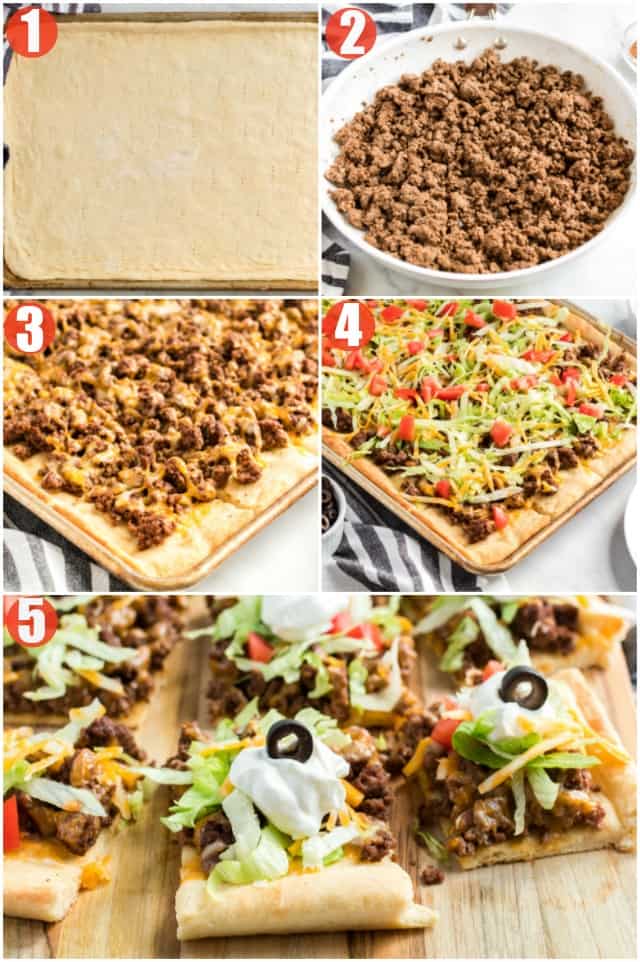 STEP 1: Pizza Dough
Whether you make your own pizza dough, or use store bought, you'll want one large enough to fit a 10×15-inch baking stone/pan.
I usually opt for Betty Crocker's pouch mix, I swear it makes the best crust for today's recipe.
I use TWO pouches. However, you can use any dough you like. Refrigerated pizza dough will also work!
Once you have your dough, sprinkle your baking dish, LIGHTLY, with corn meal. You want just a light dusting.
Poke fork all over the dough.
Par-bake the dough in a 425 degree oven for about 10 minutes. It will NOT be completely cooked yet.
STEP 2: Cook Meat
While the pizza crust is baking, brown your beef for the taco meat. Drain and add taco seasoning with water. Let simmer for another 5 minutes.
STEP 3: Assemble Taco Pizza
Remove crust from oven. Using a slotted spoon (so you don't get extra liquid) scoop taco meat and spread it over the dough evenly.
Add one can of chopped green chilies and about 2 cups of shredded cheddar cheese (or taco blend).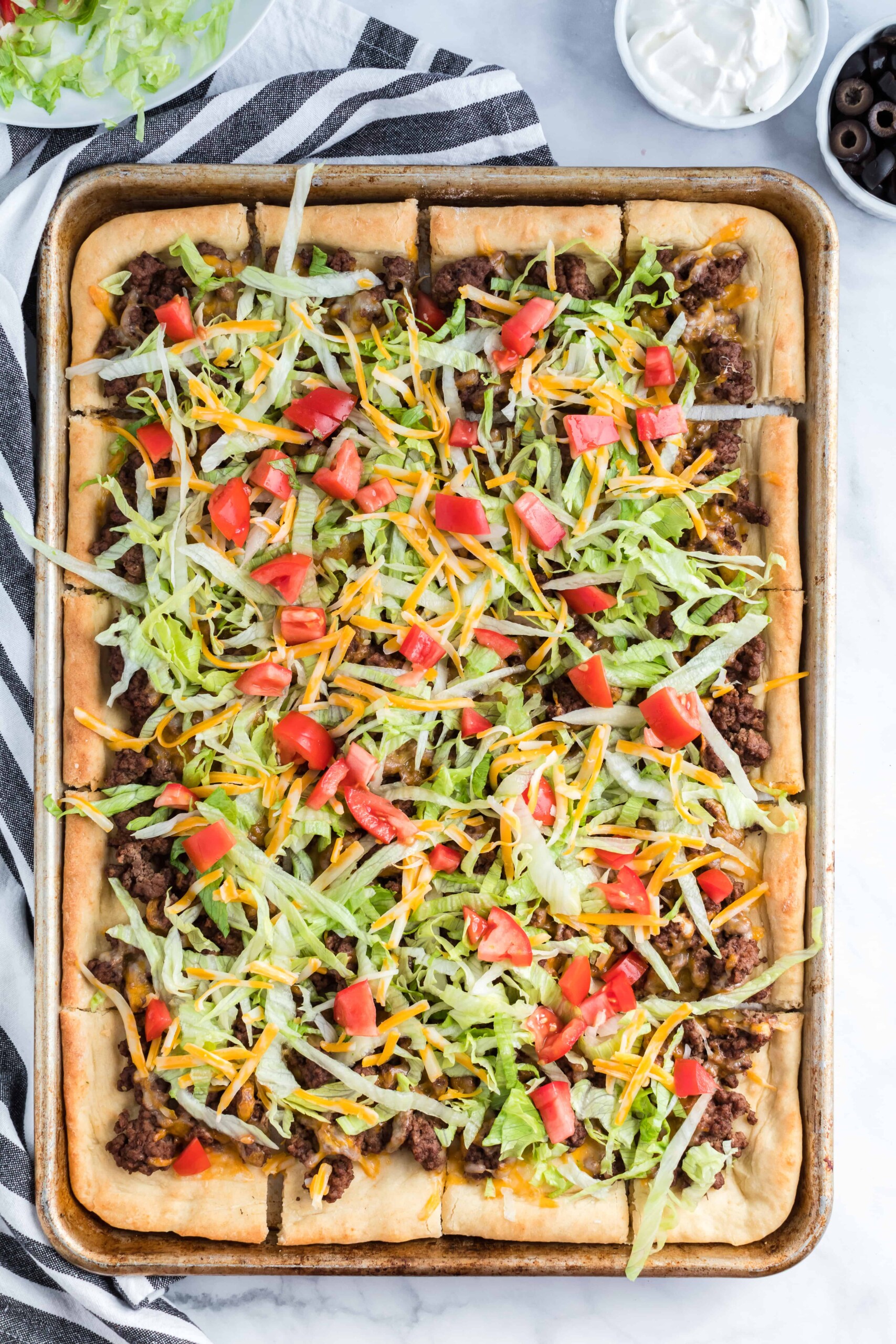 STEP 4: Bake Pizza.
Return the pizza to the oven and bake an additional 10-15 minutes, until the crust is golden brown.
I prefer our crust a little on the well done side, and chose to go 15-20 minutes, but depending on the type of dough you use, it may bake quicker or slower….just keep your eye on it.
When pizza is done, remove from oven. Cut into squares before adding toppings!
STEP 5: Add Toppings
This is where you can either add all the toppings to the pizza at once…or make a buffet and let your family and friends top their pizza themselves.
Typically we add lettuce, tomato, and extra cheese.
We keep black olives, avocado salsa, taco sauce, sour cream, and guacamole on the side! This way everyone loves it THEIR way.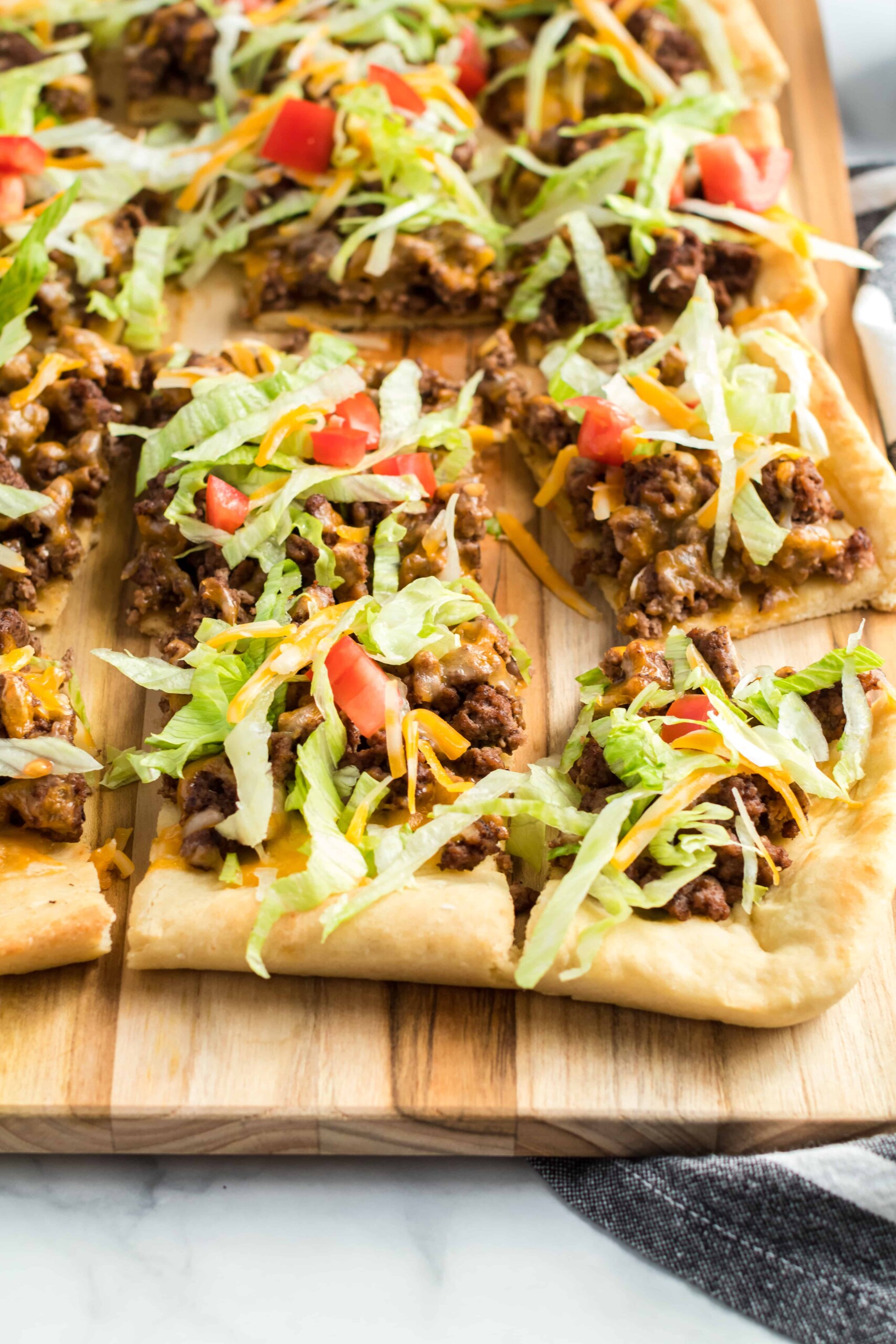 How to store Leftovers
Taco pizza is best eaten the same day. However, if you have leftovers, they can be safely stored in the refrigerator for 3 days.
For best results, reheat in a toaster oven, or regular oven until warm.
Can Taco Pizza be made ahead of time
To make our evenings a little easier, especially if we're enjoying this Taco Pizza recipe on a weeknight, I will par-bake and cook this pizza in the morning.
This means I complete all of Step 1 ahead of time. I even make the meat ahead of time.
Then at dinner, all I have to do is place the meat on the pizza, add the green chilies and cheese and bake the rest of the way (you may need to add a few minutes if this pizza was in refrigerator).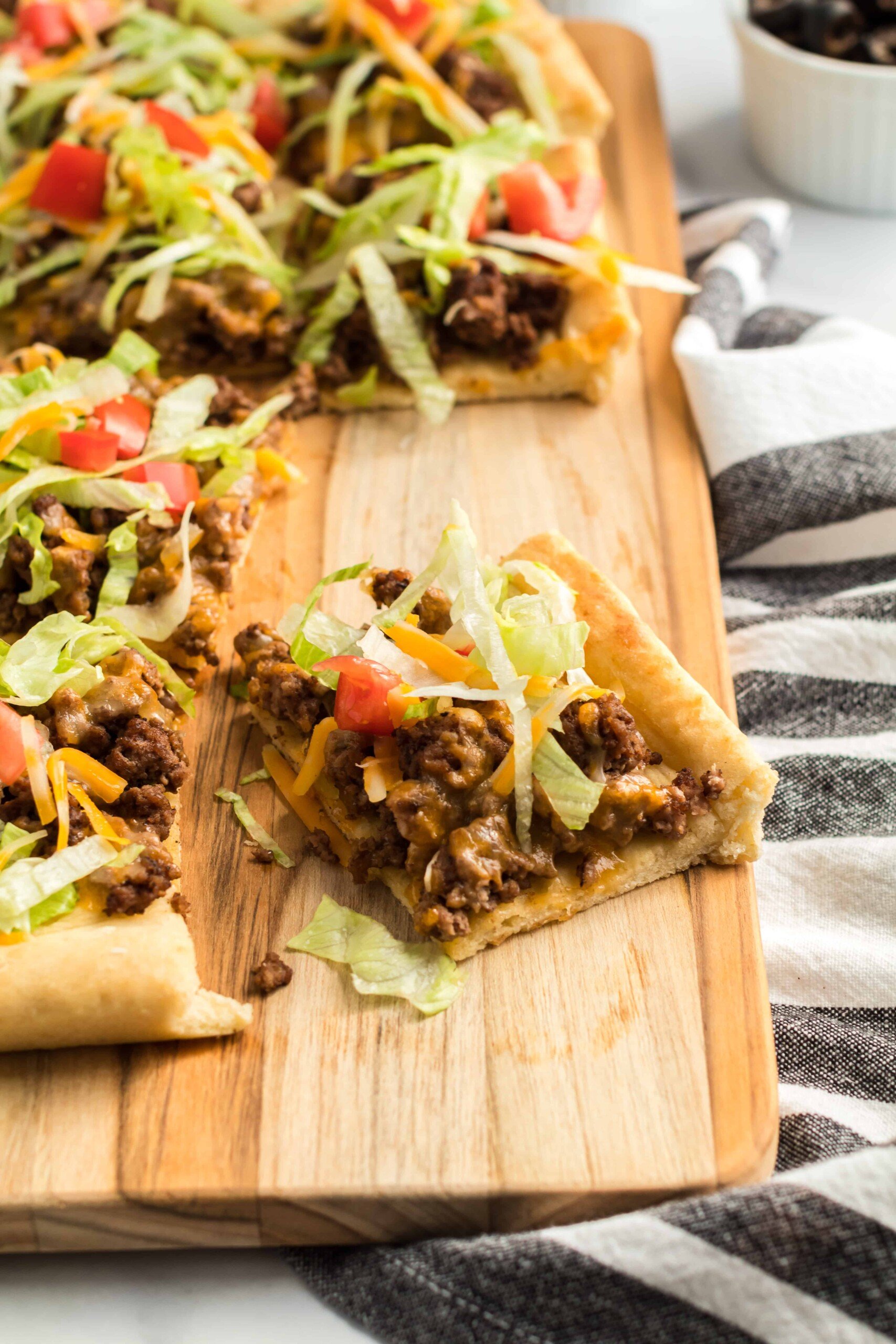 What toppings are good on Taco Pizza
A traditional taco pizza is topped with classic toppings:
Ground Beef
Green Chilies
Cheddar Cheese
Lettuce
Tomato
To customize your taco pizza, think "what do I put on tacos" and go from there! Here are a few of our favorite additional toppings:
Sour cream or plain greek yogurt
Black Olives
Crushed Taco Doritos or Fritos
Refried Beans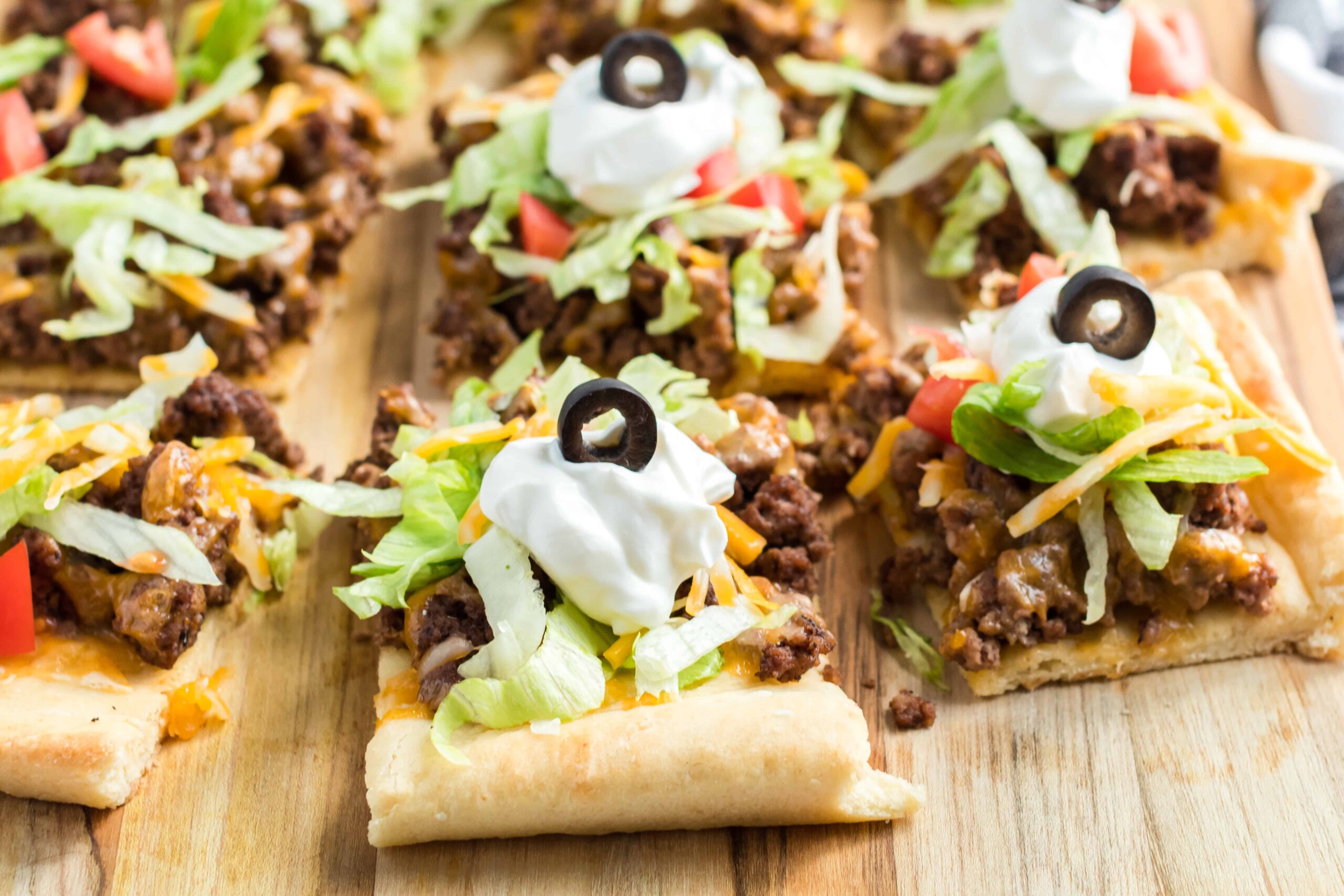 If you LOVE Taco Pizza, you may also enjoy:
This Easy Taco Pizza is the perfect weeknight meal or game day food! Serve it up assembled or let your guests choose their toppings. It's always a hit.