Try this Tomatillo Salsa recipe for an authentic, tangy Mexican salsa verde. Perfect for pairing with tacos, enchiladas or a big bowl of chips!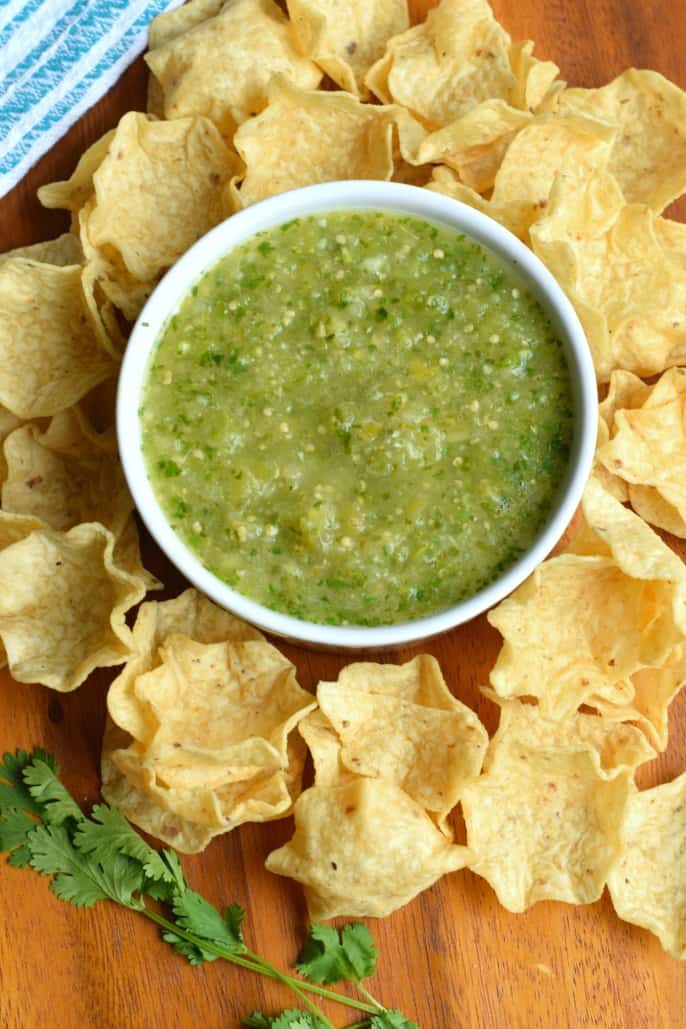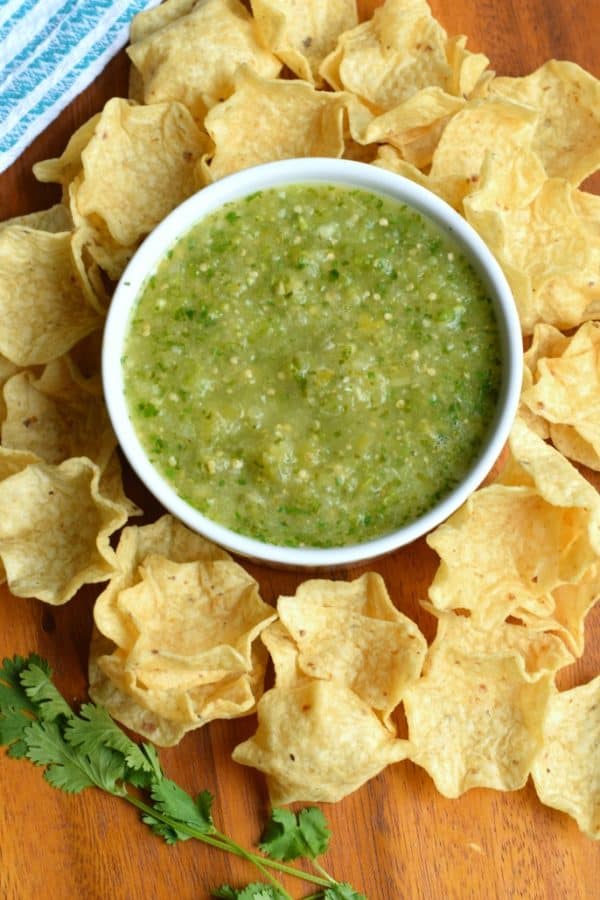 Click HERE to save recipe to Pinterest!
So it's no secret if you follow me on instagram that I subscribe to a local CSA. If you've not done this before, it basically is a weekly box you receive from a local farmer with a variety of items they harvested that week.
I'm blown away by the number of vegetables that I don't use in my cooking/kitchen. Seriously, I go to the store and we eat the same vegetables on rotation….broccoli, cauliflower, carrots, celery, romaine lettuce, asparagus, brussels sprouts, cucumber, avocado…
But with the CSA I've received to many goodies…from different varieties of lettuce, to collard greens, rainbow chard, patty pan squash, and much much more!
This week, I had tomatillos in my box, which I'll be honest I've never purchased in my entire life. BUT, I do love salsa so I knew exactly how I wanted to use them up! I happen to be growing my own garden right now…so I plucked some cilantro and jalapenos to accompany the tomatillos.
I also received some ground cherries…which are, weird. Not tart like a cherry….and not flavorful like a cherry tomato. I decided their lightly sweet flavor would be a good addition to this salsa. If you don't have any ground cherries (I mean…good chance the majority of you DON'T)…feel free to leave them out! The salsa will be wonderful without too.

How to make blender tomatillo salsa:
Start by removing the paper thin peel on the tomatillos. Being boiling a large pot of water. Drop the tomatillos into the boiling water and boil for 5 minutes.
Meanwhile, peel the ground cherries from their paper thin outer wrap as well. Give them a good rinse!
In a large blender, add cherries, tomatillos, onion, cilantro, lime juice, salt, and jalapenos.
Blend until finely chopped and mixed.
Serve immediately or refrigerate to allow flavors to mingle!

FAQ about salsa making:
Q: What are tomatillos?
A: The tomatillo is also known as the Mexican husk tomato. You'll find them in the grocery store produce section, usually near the jalapenos and other hot peppers.
Q: What does a tomatillo taste like?
A: Well, personally I think they taste similar to a red tomato, but slightly more acidic and less sweet. Boiling or roasting them mellows out the acidity and gives them a deeper flavor!
Q: How do I prep tomatillos for salsa?
A: They are pretty straight forward, just peel the paper thin husk coating. You may notice once that it's removed the tomatillos are sticky. Give them a quick rinse in warm water. From here you can prep them two ways. I just pop them into a pot of boiling water for 5 minutes, then add to blender. You can also roast them in your oven if you prefer that route.
Q: Is tomatillo salsa the same thing as salsa verde?
A: Yes!
Now that you know how to make this blender salsa recipe, what will you serve it with? I suggest adding it on top of tacos, carnitas, enchiladas, or serve it with a big bowl of tortilla chips! ENJOY.
If you love making salsa…here are some of my favorite recipes: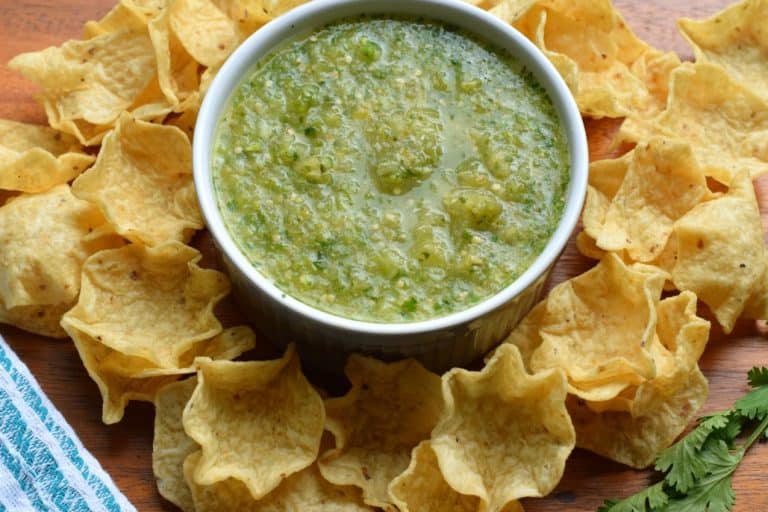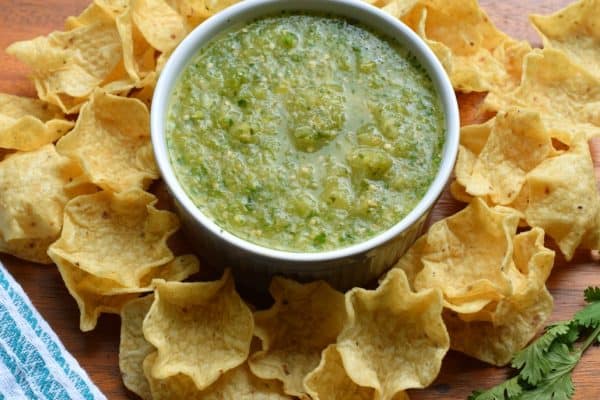 What to serve with Tomatillo Salsa Verde
Tomatillo Salsa recipe: