Chicken enchiladas covered in melty cheese and flavored with zesty lime are begging to be added to your meal plan this week. With tons of flavor and just the right amount of heat, these easy Chicken Enchiladas make everyone happy at dinnertime! 
Fore more tex mex flavor, be sure to try my delicious Chicken Enchilada Mac and Cheese recipe!!! Top it with some homemade pico de gallo for a fresh pop of color and flavor.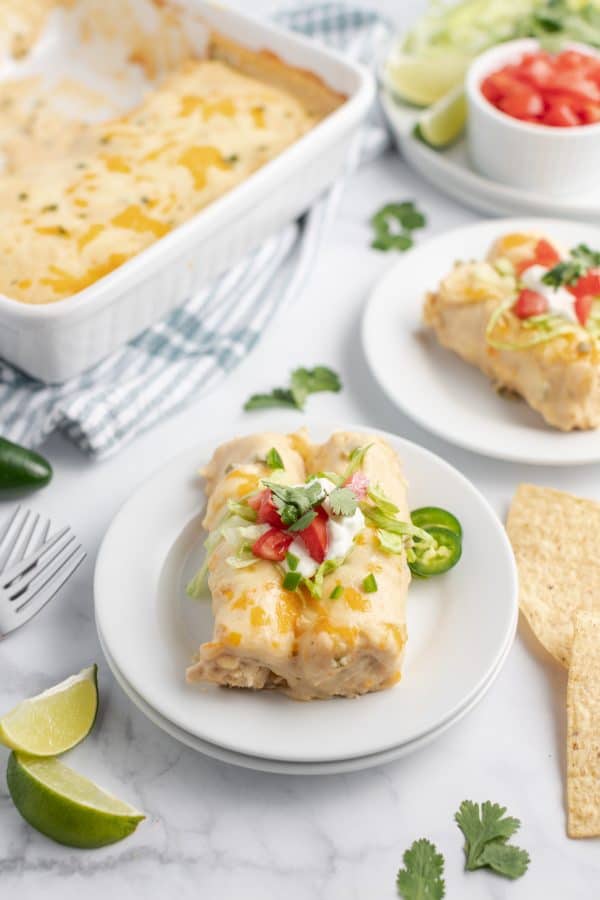 Why this Recipe is Amazing
I have a thing for cheese. And foods covered in cheese. And foods stuffed with cheese. Basically, if cheese is involved in any way, shape or form, sign me up.
But right now let's talk about enchiladas.
Specifically, let's talk enchiladas stuffed with tender chicken and smothered in a creamy cheesy tangy sauce.
Topped with sour cream, jalapenos and fresh tomatoes, Chicken Lime Enchiladas are everything I want in a Mexican inspired meal!
Somewhere between a casserole and a taco, enchiladas make just about everybody happy.
While I love all kinds of enchilada recipes, including Beef Enchiladas and vegetarian Butternut Squash Black Bean Enchiladas, I think Chicken Enchiladas might steal the top spot for me.
Just about everyone loves chicken and I've yet to meet a dinner guest who'll turn down a plate of enchiladas. That makes Chicken Enchiladas a surefire hit whether I'm serving them to my own family or to company.
Shredded chicken and cheese rolled in a flour tortilla (you can also use corn tortillas) is already a recipe for a delicious dinner. When you add a creamy spicy sauce and more cheese, these enchiladas become next-level tasty.
Served as a meal on their own or with a side of Cilantro Lime Rice, these Chicken Lime Enchiladas are a hit with kids and adults alike.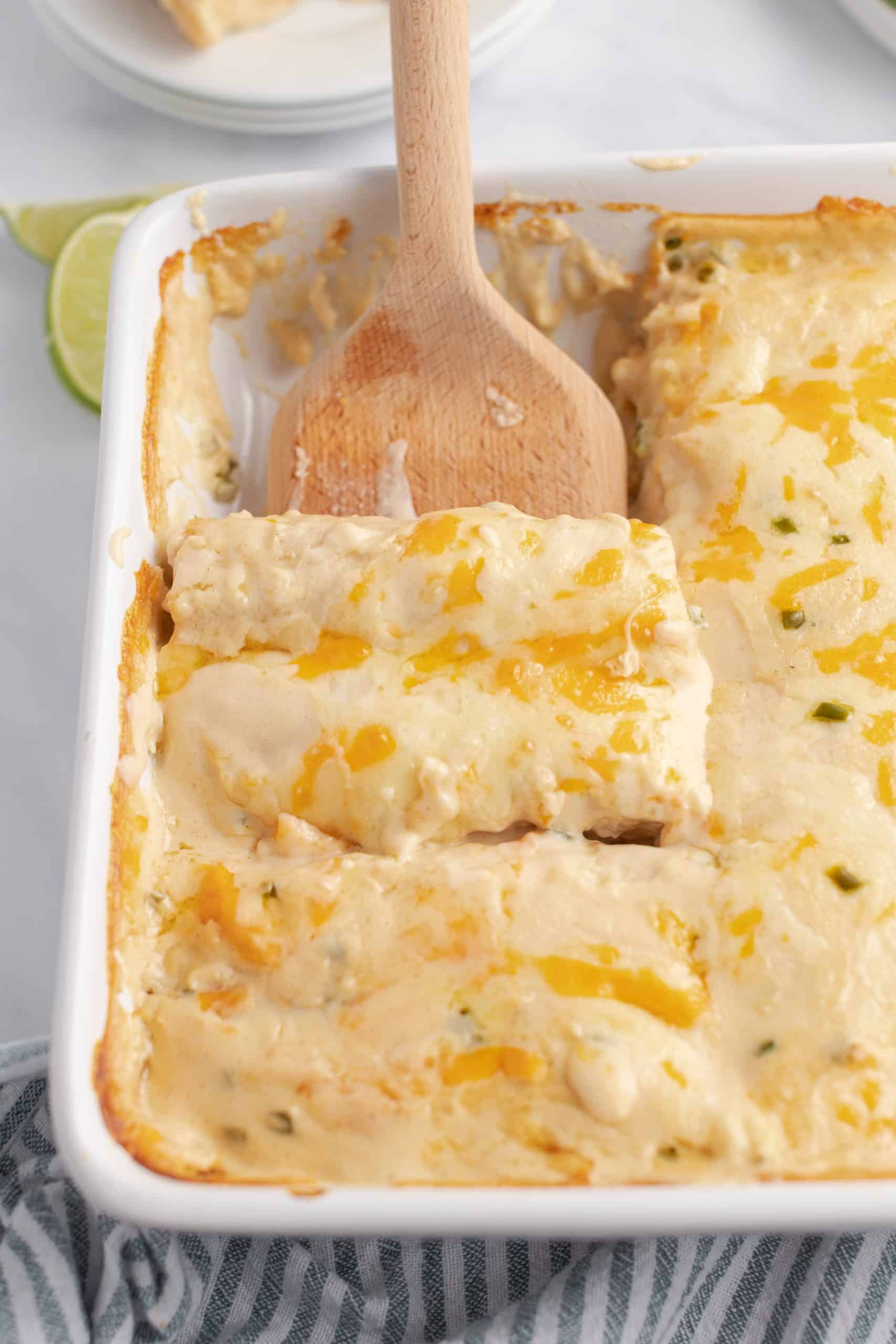 Keep it Creamy
The biggest danger with many enchilada recipes is the enchiladas drying out as they bake in the oven. No one wants to chew through a dry tough tortilla when trying to get to the tender cheesy chicken inside!
This recipe solves that potential problem with a creamy enchilada sauce that goes right on top before baking.
This makes a nice change from the typical red chile enchilada sauce that's every bit as spicy and flavorful.
If you like these creamy chicken enchiladas, you're also sure to love Chicken Avocado Enchiladas!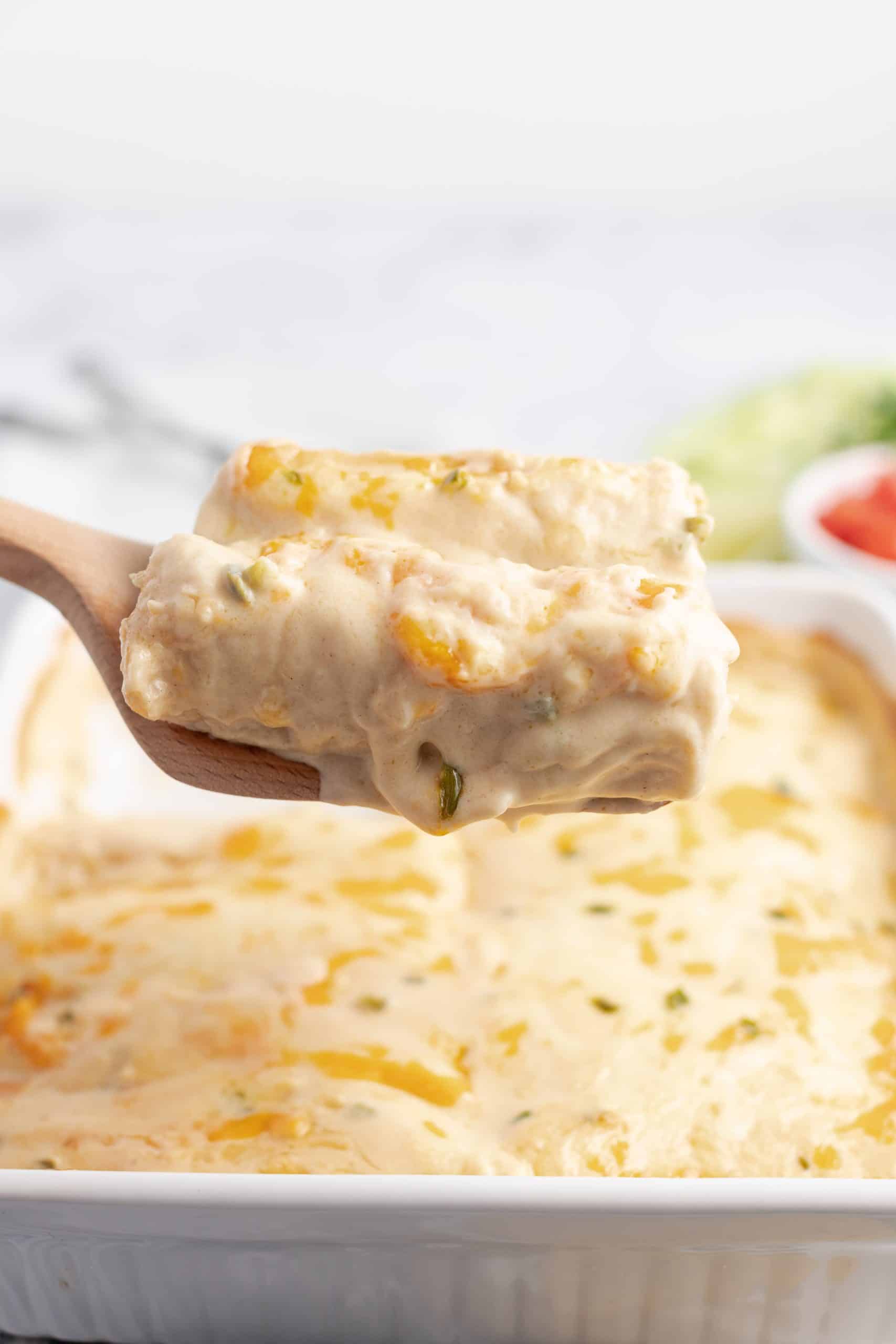 Ingredient Notes
Don't let the long ingredients list fool you. This enchilada recipes is easy enough for a busy weeknight meal, especially if you have leftover cooked chicken on hand.
You'll need. . .
Flour tortillas (burrito sized)
Cooked and shredded chicken breasts
Monterrey Jack and cheddar cheese
Garlic
Butter
Corn starch
Chicken broth
Onion powder
Garlic powder
Cumin 
Black pepper
Jalapeno 
Lime juice 
Sour cream
Cilantro, lettuce, tomato and avocado salsa (for garnish)
Step by Step Instructions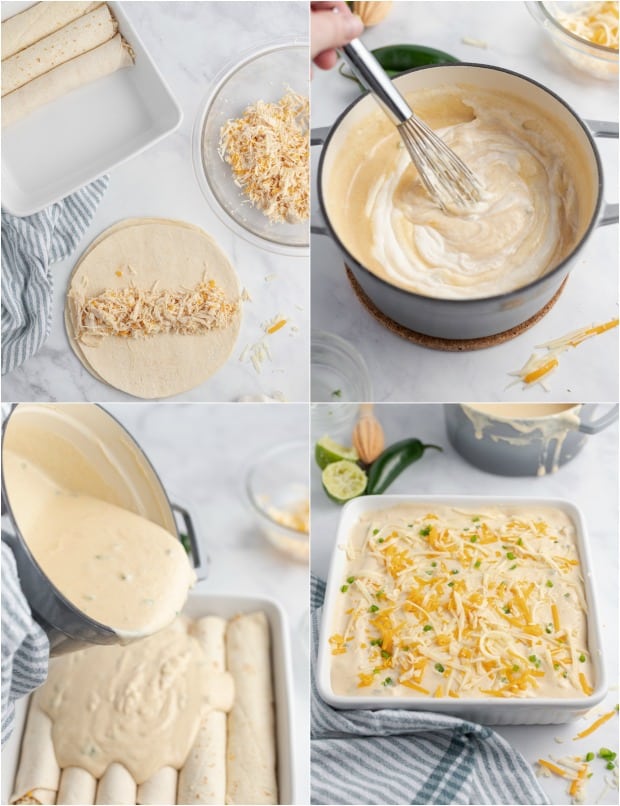 In a small bowl mix shredded chicken with 1 cup of the cheese blend pressed garlic. Fill 6 tortillas equally. Roll the tortillas and lay in a 9×9 square baking dish.

In a small saucepan on medium heat, melt butter completely. Whisk in the corn starch and cook for one minute. Whisk in broth, stirring constantly. Keep stirring until mixture becomes thick. Quickly add onion and garlic powder, cumin, jalapeno, lime juice, salt and pepper. Fold in sour cream and remove from heat.

Pour mixture over enchiladas and top with remaining cheese. Bake for 25-30 minutes in a 350 degree oven, uncovered.

Serve with chopped cilantro, lettuce, tomato and diced avocado. Enjoy!
Leftovers keep well covered in the fridge for a couple of days. We like the enchiladas so much that we rarely end up with leftovers!
Recipe Notes
I used burrito sized flour tortillas for this recipe. You could also substitute corn tortillas or fajita sized flour tortillas, but you will need to use more of them.
Tip: heat tortillas in the microwave for 10 – 15 seconds for easier rolling! This is especially useful if you use corn tortillas, which tend to break more easily when rolling.
I like using leftover chicken breasts from other meals to make this recipe even easier. For a quick weeknight option when you don't have chicken ready to go, grab a rotisserie chicken from the grocery store!
Homemade Taco Seasoning can be subbed for the spices in the recipe, if you like.
Feel free to double the recipe and use two baking dishes if you're feeding a crowd.
Try topping the enchiladas with a little Easy Pico de Gallo recipe or Guacamole as a fun alternative to (or addition to) the other garnishes.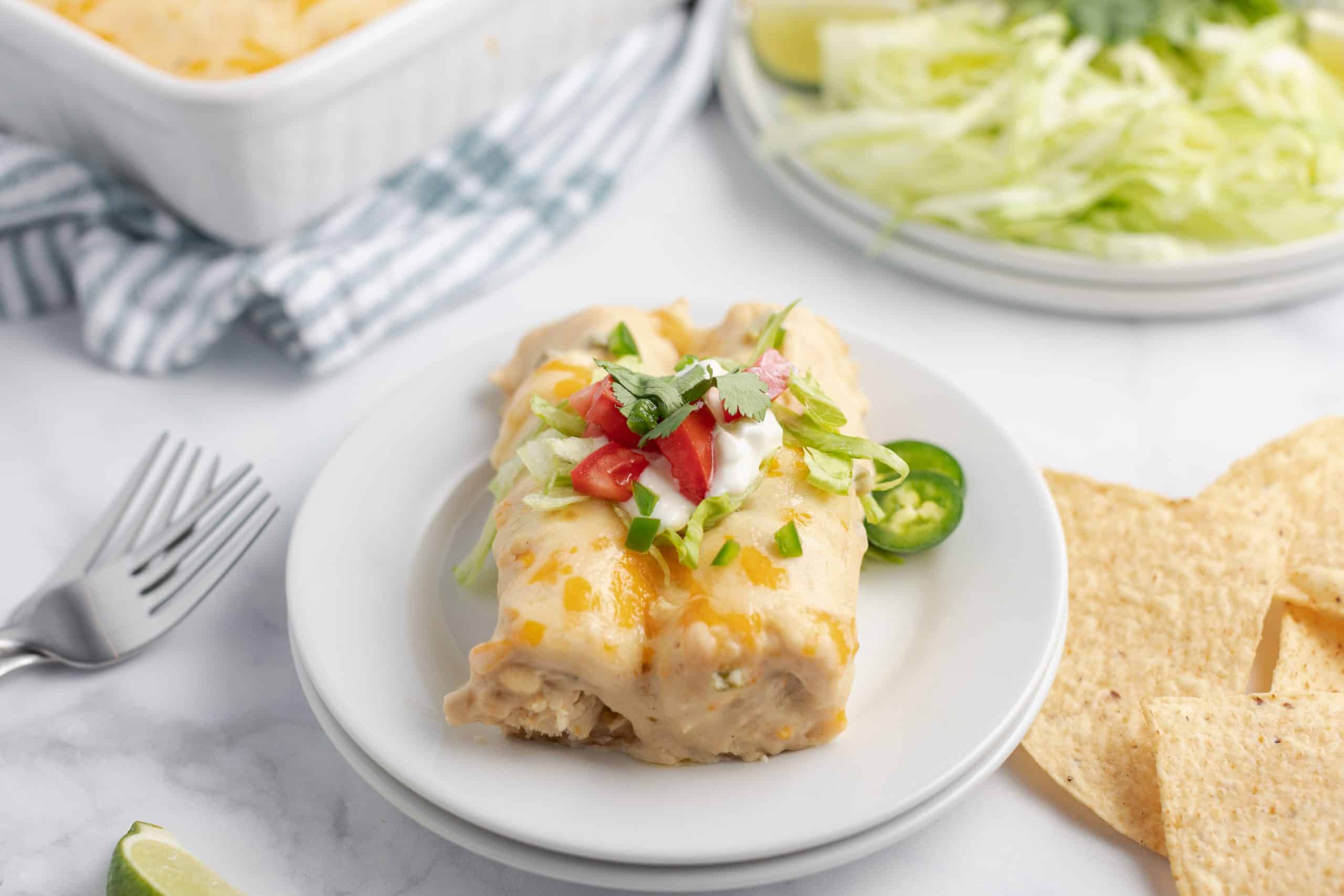 More Mexican inspired dishes
If you've ready this blog for any length of time you've probably noticed that I don't shy away from the Mexican flavors.
Along with my chicken enchiladas, I love these Slow Cooker Tequila Chicken Tacos, Stuffed Taco Shells and Easy Crock Pot Pork Carnitas, to name just a few.
Can't get enough enchiladas? Me either. Give Slow Cooker Chicken Enchilada Soup a try to warm your belly and soul on a chilly day.
You'll also enjoy Slow Cooker Chicken Enchilada Chili for the perfect comfort food.
Recipe FAQs
What are the best tortillas for enchiladas?
Traditionally, enchiladas are made with corn tortillas. However, my family prefers flour tortillas. Choose the one your family loves best.
Can enchiladas be made ahead of time?
You can bake your enchiladas ahead of time and refrigerate them after they have cooled. Reheat in oven or microwave.
Can you freeze chicken enchiladas?
After assembly, cover and freeze for up to 3 months. Thaw in refrigerator overnight, then bake as directed.
These creamy Chicken Lime Enchiladas just might become your new favorite dinner time staple. Give them a try tonight!