If you love easy, delicious dinner ideas, these Stuffed Taco Shells are for you! Prep these Mexican flavored pasta shells in advance and freeze for a later meal. Great for new moms too!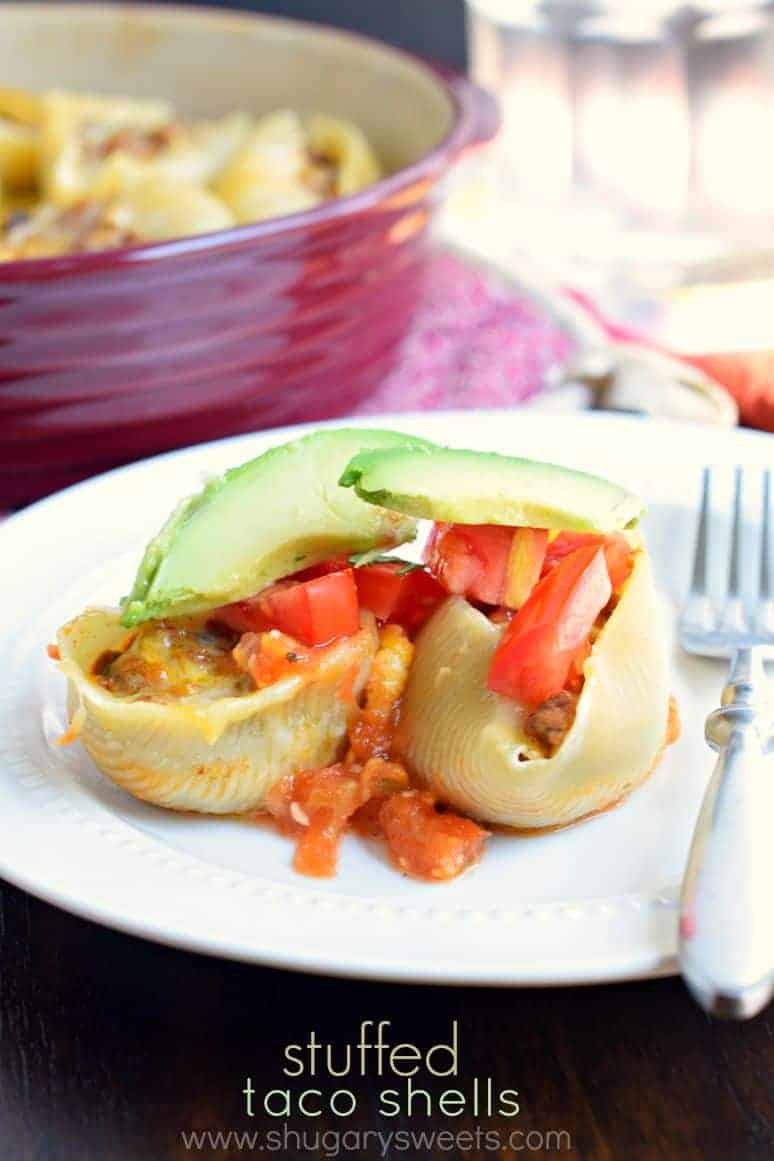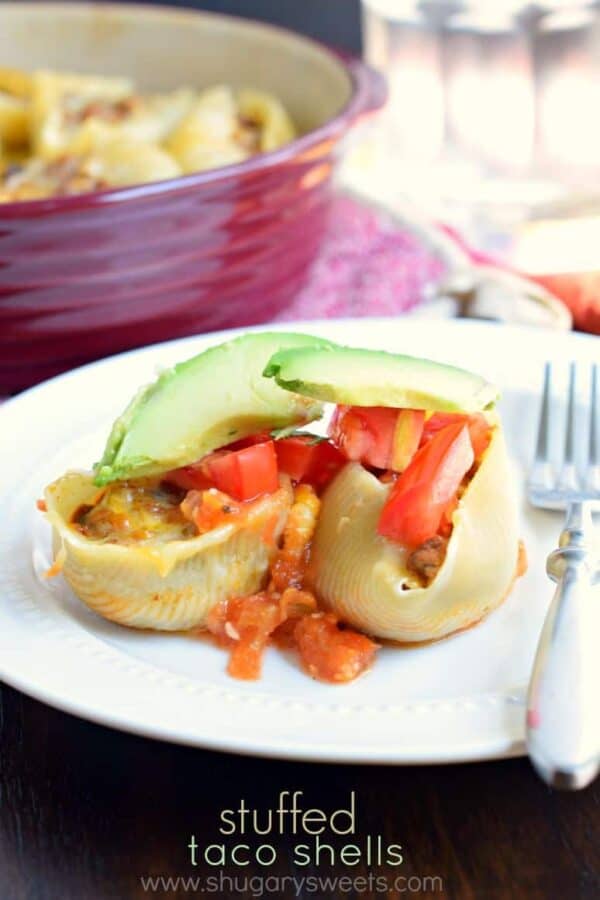 Why Make Stuffed Shells
Stuffed Taco Shells are so easy, and one of my favorites.
When you think of stuffed pastas, your mind probably jumps right to the usual suspects: cheese, marinara sauce, Italian flavors. Our classic stuffed shells recipe fits that bill.
I love a good traditional Italian pasta, but these stuffed shells are packed with all my favorite taco fillings and Mexican spices.
Freezer Friendly
Make ahead meal
Perfect for taco Tuesday
Taco Pasta Ingredients
I used ground beef as the central protein for my stuffed taco shells. Ground turkey would be delicious too! Along with taco seasoning, this taco filling gets its spicy flavor from a can of diced green chiles and some black bean salsa.
Don't forget about the handfuls of shredded Mexican cheese! So good.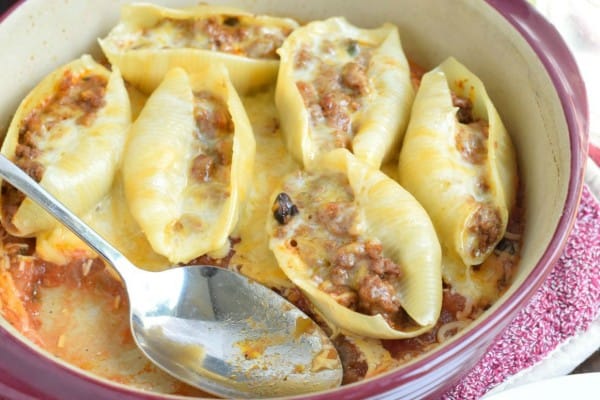 Freezer Meals
I've actually got a few more stuffed shell recipes coming to the blog, so stock up on shells you guys! When I'm meal prepping for expectant moms or getting ready to fill my freezer for a hectic season, I always think of stuffed shells recipes first.
Why do these make great freezer meals?
Easy. Stuff the shells with the ingredients listed and you can freeze these in ziploc bags.
When you are ready for dinner, remove only the number of shells you need for that meal, place them in the baking dish (from frozen), add some sauce, and bake. Seriously, it's that easy.
Set aside a few hours one day to stuff a bunch of shells so you'll always be ready for a tasty and nutritious homemade dinner when life gets busy.
Or, you can always stuff and then bake the shells immediately! Each recipe makes about 40 shells so even if you eat some immediately you're likely to have some leftover to freeze for later. Win-win!
These are perfect for new parents or families in need of a meal! Pop a few bags of frozen shells into a cooler and drop them off to someone who could use a nutritious and kid friendly dinner without having to cook.
What shells to use
I recommend the JUMBO or large stuffed shells for making stuffed taco shells–and all my stuffed shell recipes. They hold the most filling and you won't have the pain of trying to fit ground meat into all those teensy little pasta shells.
Toppings
Know what I love most about tacos? All the toppings!
Stuffed shells with taco ingredients are no different! Anything you love to add to your tacos will be delicious with this pasta. I serve a variety of topping choices whenever I make this on a Taco Tuesday:
Sour cream
Extra shredded cheese
Salsa
Hot sauce
Chopped cilantro
. . . or even just some diced red onion, lettuce and tomato are all delicious served on top of these stuffed shells.