Easy, Cheesy Sausage Stuffed Pasta Shells are delicious and freezer friendly. Baked in one pan, these stuffed shells are the perfect meal to bring to friends and family. You'll love the cheesy topping and hearty flavors!
Stuffed Shells are the ultimate crowd pleaser! For a kid friendly favorite, try our Pizza Stuffed Pasta Shells next. Or give these Alfredo stuffed shells for a chicken and broccoli twist!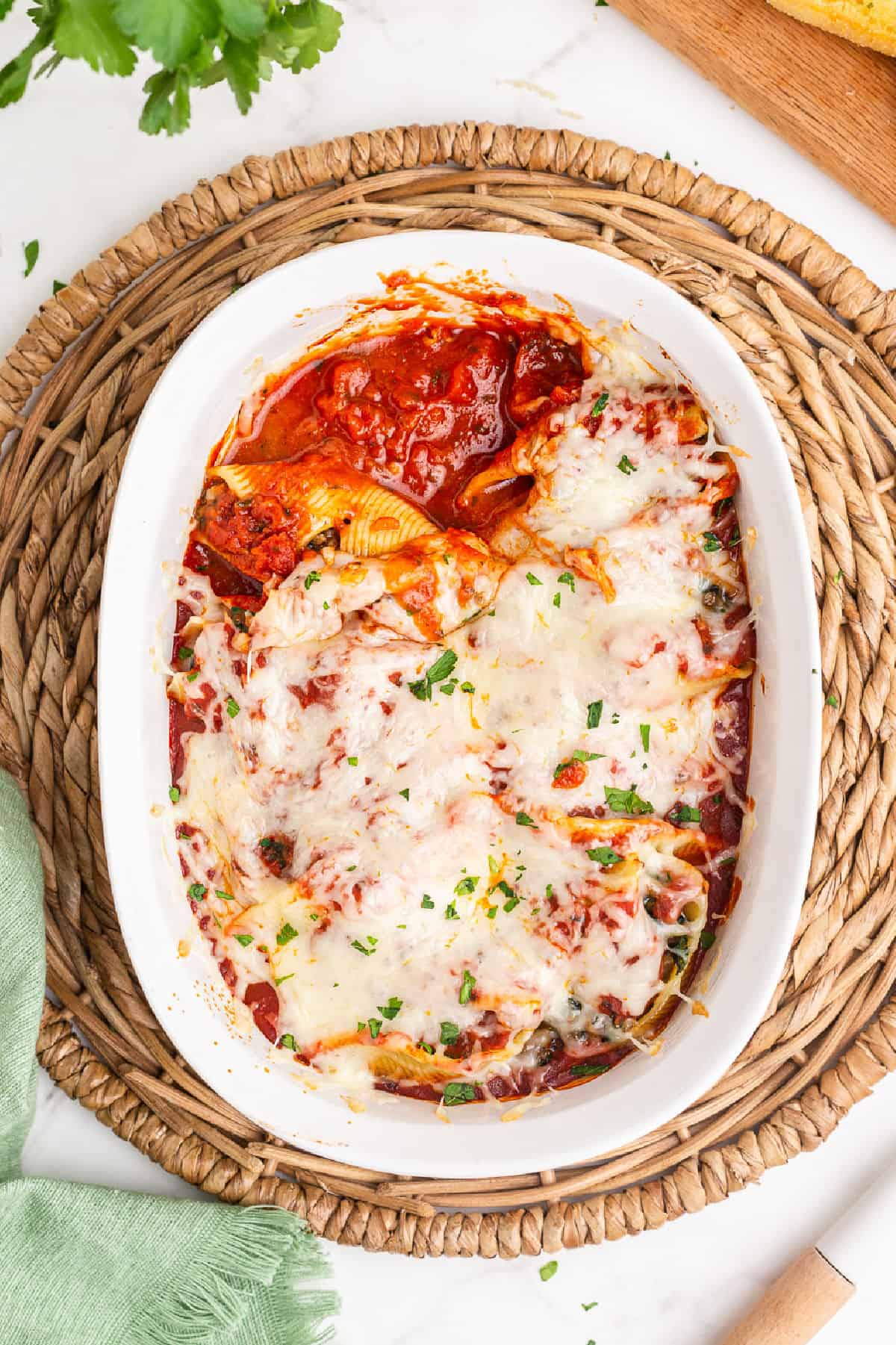 Why this Recipe Works
I've been making these Sausage Stuffed Shells for almost 20 years. I know this because the first time I had them was when my aunt brought me some after my third child was born.
She dropped off a jar of pasta sauce with a bag of these stuffed shells for the freezer. It was so easy to just pop the shells in a pan with sauce and cheese and have a homemade meal!
This recipe makes about 40 shells. Perfect for feeding a crowd or a large family.
You can prep and freeze the stuffed shells in advance. When you're ready to eat, just add sauce and cheese and bake.
Everyone in the family will go crazy for these saucy, cheesy shells!
Time has passed and the kids have grown–but these stuffed shells taste just as good as they did 20 years ago!
We love keeping a bag of these in the freezer for a quick and easy weeknight dinner!
Ingredient Notes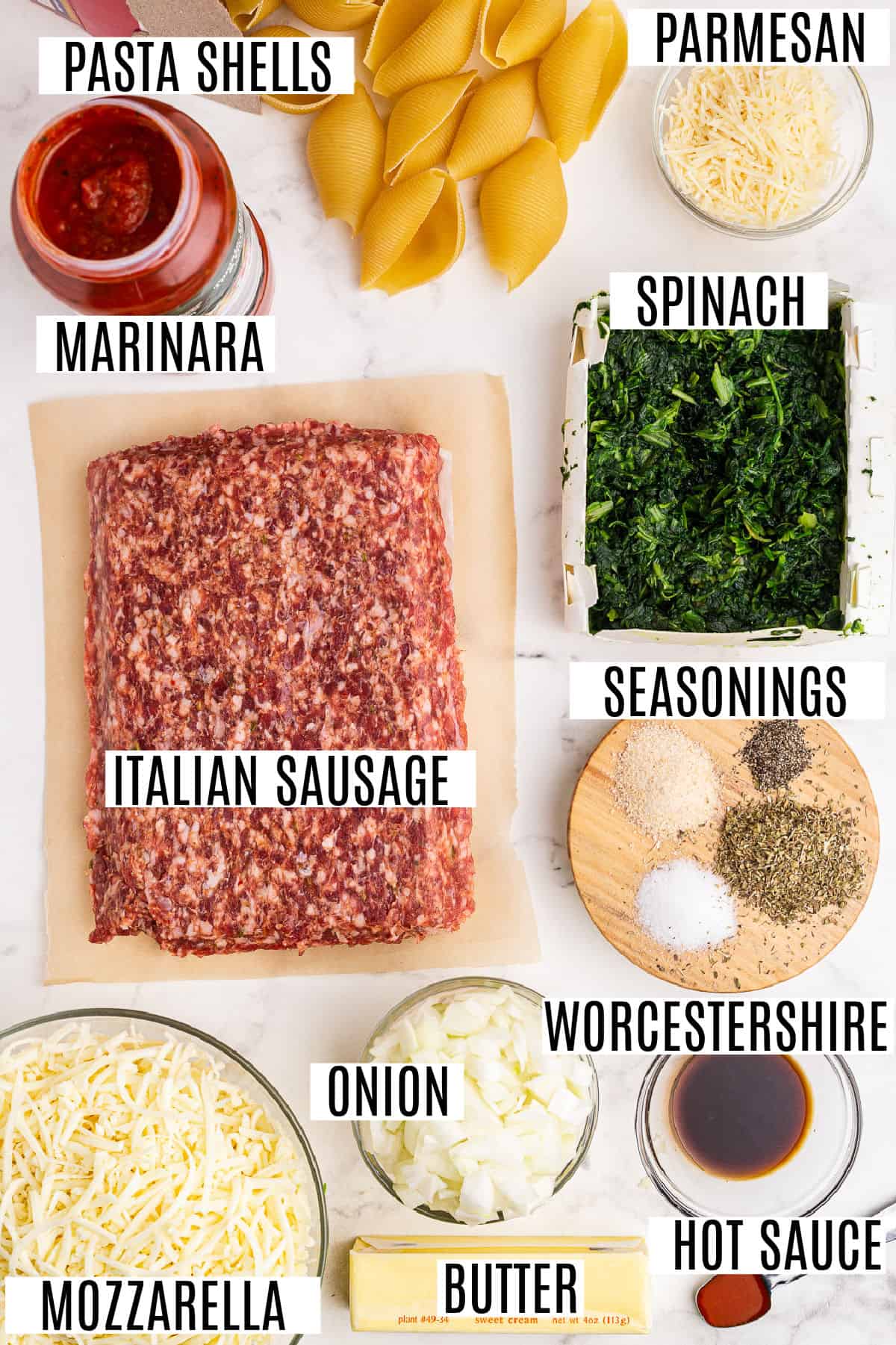 Italian Sausage. You can use hot, medium or mild sausage depending on your preference. Turkey sausage or chicken sausage can be used instead.
Mozzarella cheese. Feel free to substitute provolone, Feta or another favorite white cheese.
Parmesan cheese. It should be freshly grated (not from a shaker!). Substitute more mozzarella or another preferred white cheese if desired.
Pasta shells. You'll need the large (or "jumbo") shells for this recipe.
Prego Chunky Sauce. Or use any chunky marinara style pasta sauce you like! Homemade marinara sauce is also delicious!
Easy Instructions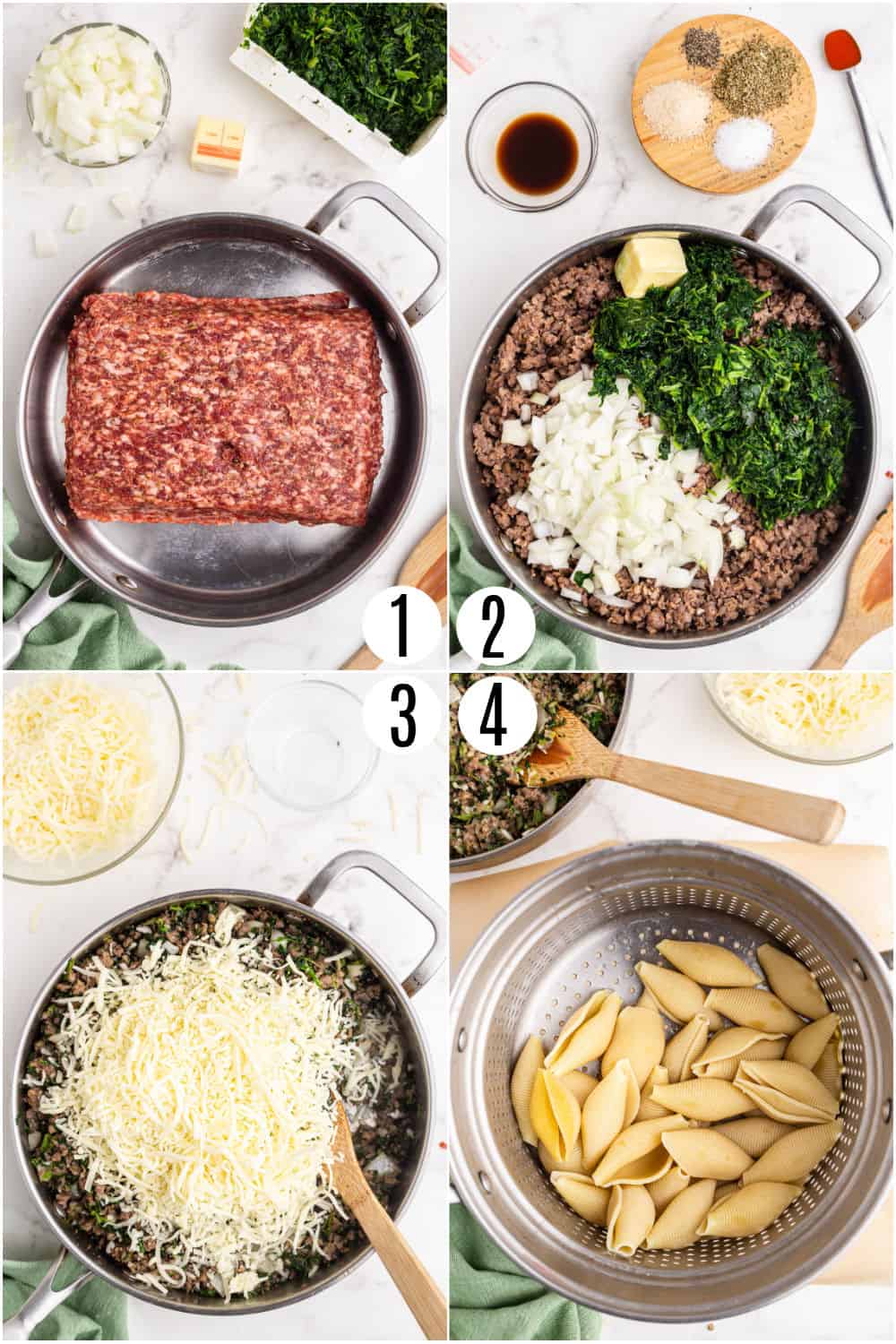 Cook pasta shells.
After cooking the shells according to package directions, drain and separate them so they don't stick together.
Make the sausage filling.
While the pasta is cooking, cook the sausage in a large skillet until browned. Drain excess grease. Add spinach, onion and butter to the pan and saute for 2 minutes. Mix in the spices and seasonings.
Fold in the cheeses.
Assemble the shells.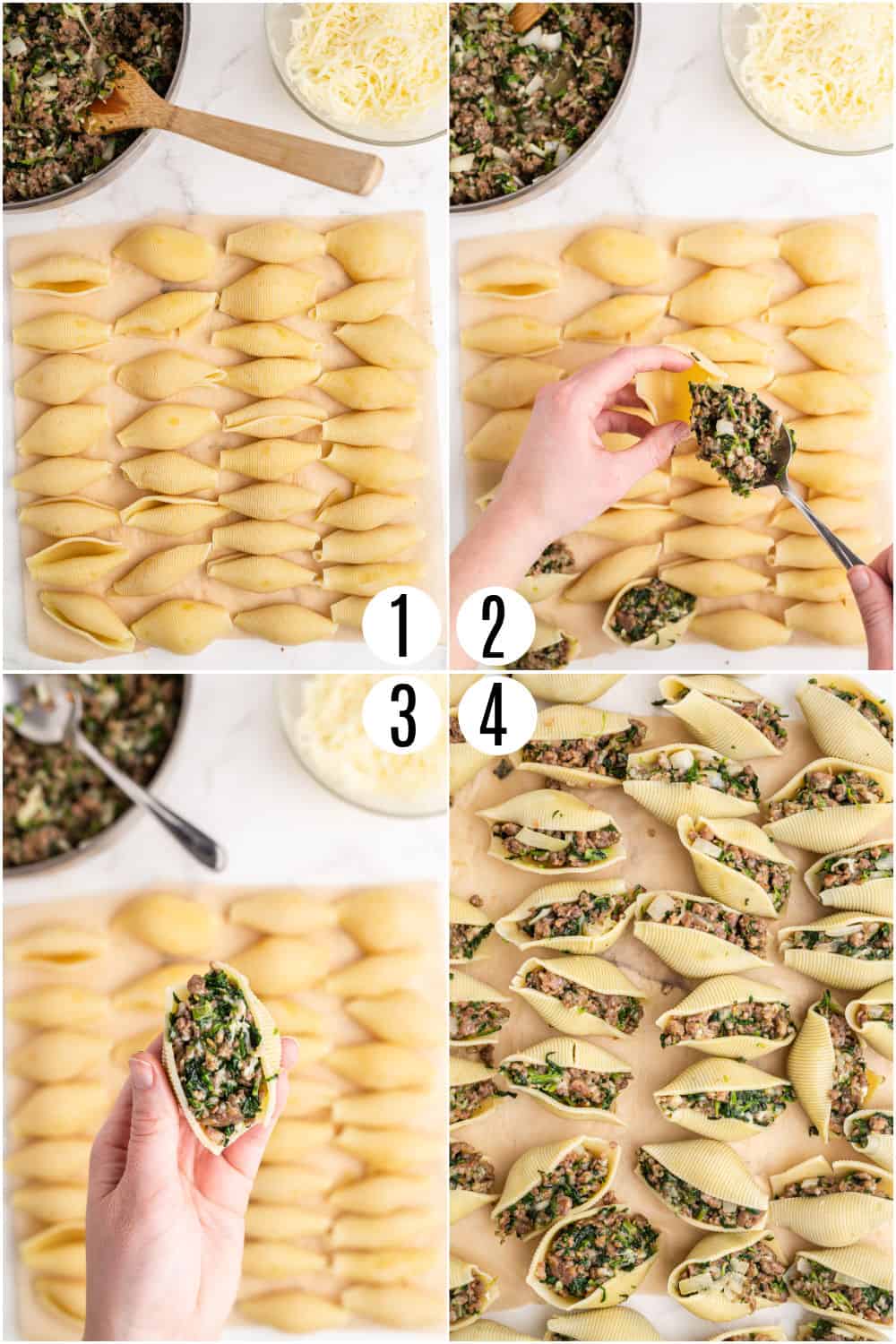 Spoon filling into each pasta shell. From here, you can freeze the shells until you're ready to bake them.
Baking stuffed shells.
When you're ready to eat, pour 2 cups of sauce at the bottom of a baking dish. Add the shells and cover with more sauce.
Bake the shells covered for about 45 minutes. Remove the cover, sprinkle cheese on top and bake for another few minutes until the cheese is melted and sauce is bubbly.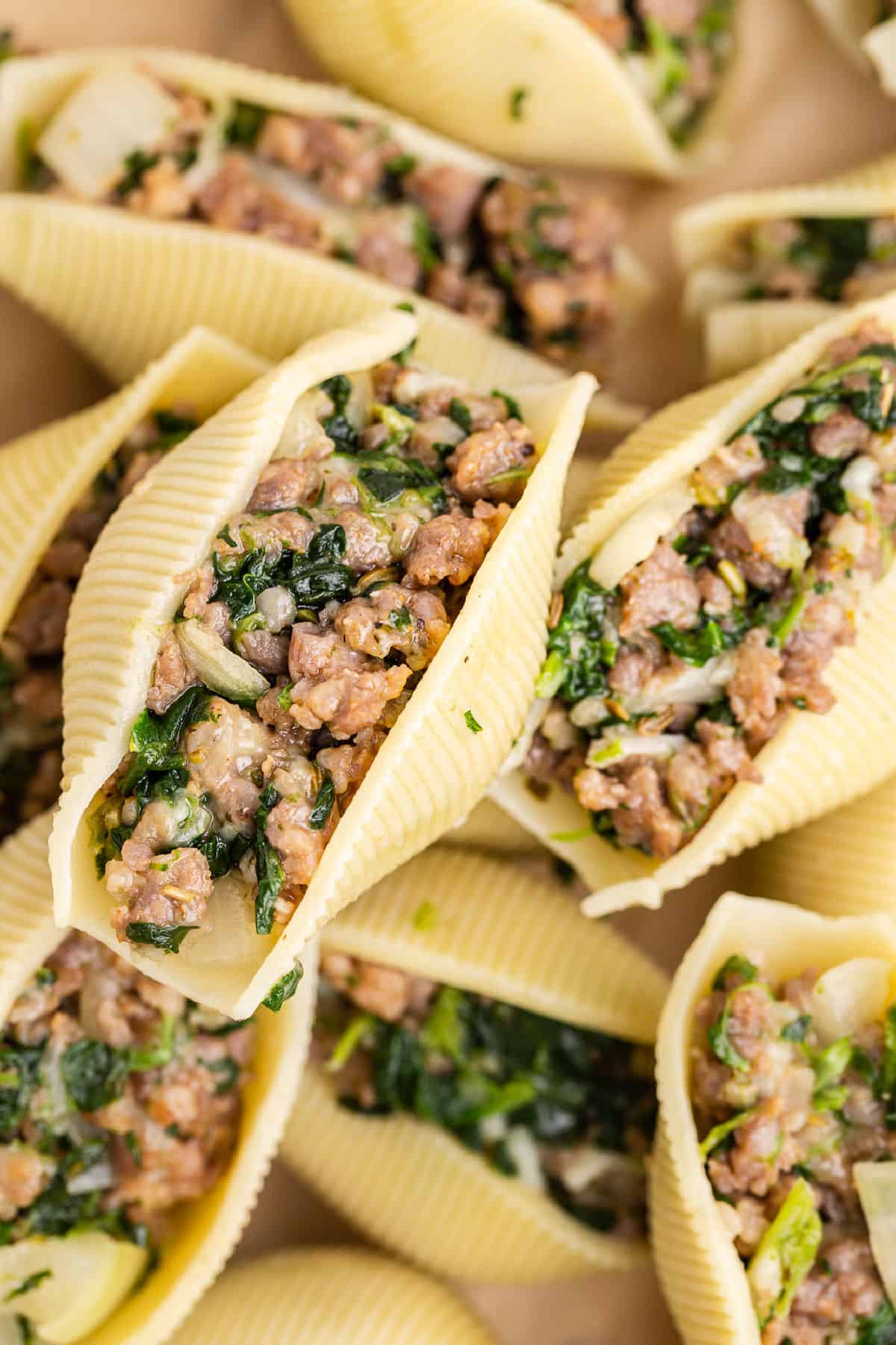 Tips and Tricks
You don't have to bake all the shells at once! I love to double the recipe and keep a bag full of stuffed shells in the freezer. Then, we can just bake as many as we will eat in one meal.
Make sure your baking dish is rimmed and is large enough to fit all the shells you plan to bake.
If you have extra spaghetti sauce leftover, feel free to pour it over the shells before adding the cheese. Yum.
Serving Suggestions
Easy, buttery Beer Bread goes well with every dinner! Cut it into bite size pieces and use it to soak up extra sauce.
Healthy and light, this fresh Cucumber Tomato Salad is a delicious side dish with pasta! It's a great accompaniment to these stuffed shells.
For fruit lovers, you can't go wrong with Strawberry Pecan Salad.
This Frozen Cranberry Salad can also be made ahead of time and is perfect for the holidays.
Whip up a batch of Green Bean casserole for the perfect holiday side dish.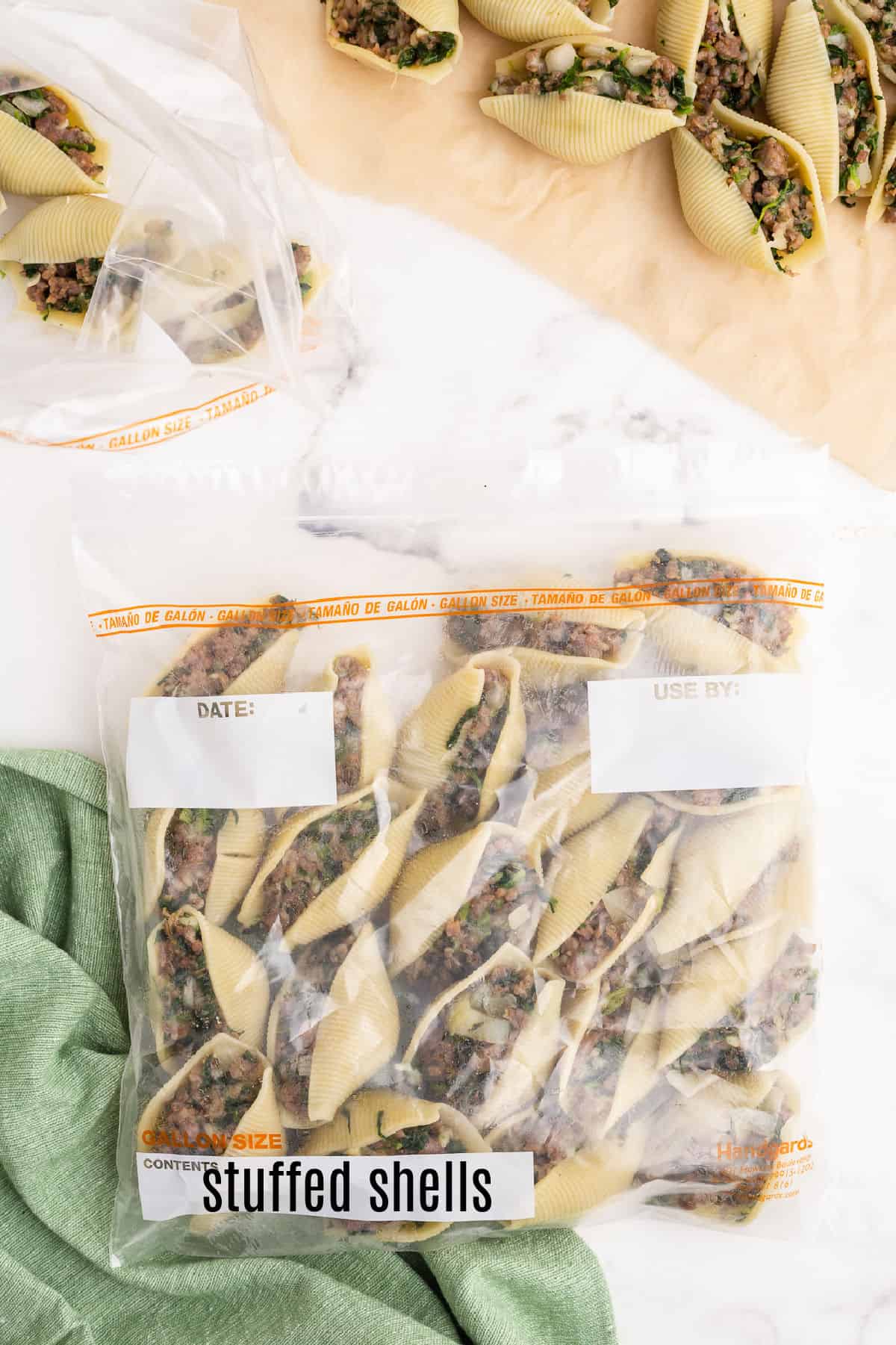 Recipe FAQs
Can you freeze stuffed shells?
Yes! Once you have stuffed the shells, place them an inch apart on a cookie sheet. Freeze for one hour. Remove from freezer and slide shells in a freezer safe ziploc bag.

To cook, remove desired number of shells and place in a baking dish . Cook with sauce and cheese according to the recipe.
Can I use fresh spinach instead of frozen?
Fresh spinach could definitely be used!
How long do I bake the shells if I'm not freezing them first?
If you're baking the shells right away, they'll need about 30 minutes covered in the oven. Then, remove and cook until the sauce is nice and bubbly.
How many stuffed shells should I make per person?
My family will eat anywhere from 2 – 3 shells per person in one meal. Small kids will eat 1 or 2, depending on how hungry they are!
How long do stuffed shells keep in the freezer?
Stuffed shells stay good for up to 3 months in the freezer if stored in an airtight container.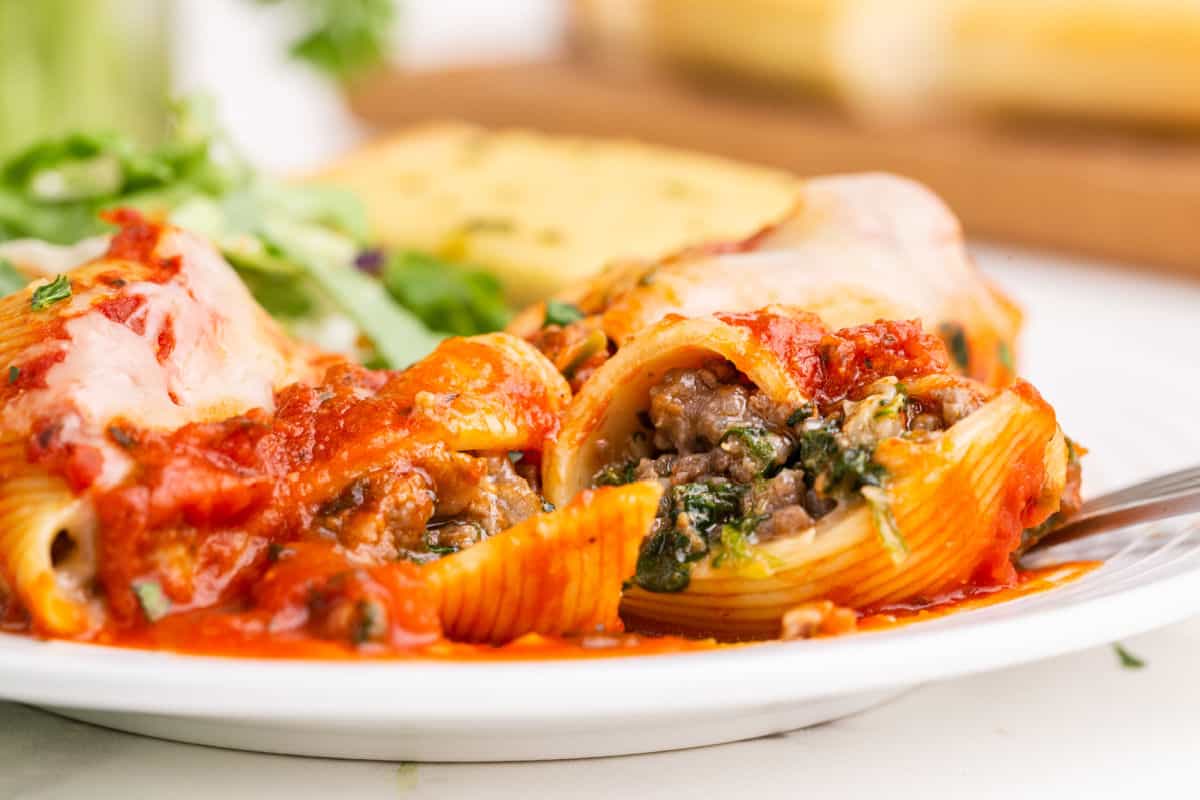 When Cheesy Sausage Stuffed Shells are on the menu everyone is excited for dinnertime. Whether you make them for yourself or to drop off for a friend in need, you'll love this easy recipe.