Summer salads are perfect for 4th of July or bbq's with friends and family. This Strawberry Pecan Salad is loaded with fresh berries and candied Fisher's Pecan Halves. It's also topped with a sweet, homemade lemon poppyseed dressing.
***This post is sponsored by Fisher Nuts. I am excited to be a partner in creating delicious recipes, all opinions are 100% my own***
Be sure to sign up for my email…new recipes in your inbox!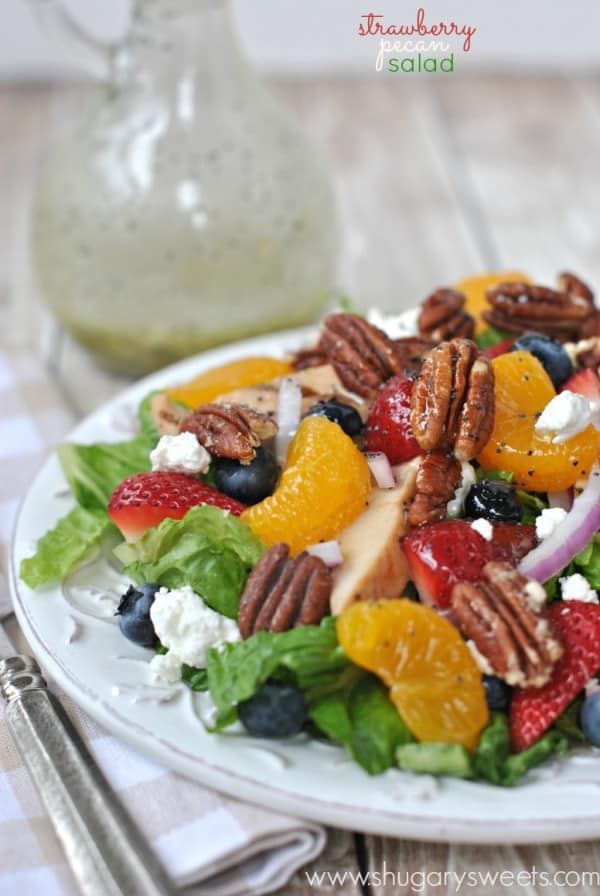 Salads are one of the first things I'm drawn to at a potluck or BBQ. I love the unique twists people put on them, and I love that someone else had to chop up the veggies! Ha!
Today's recipe is super simple. I started by making some candied pecans. It only takes a couple minutes, and it's worth the extra effort. By toasting them quickly in a skillet it brings out their nutty flavor. And adding a little sugar to the skillet gives them a sweet crispy coating! Just make sure you make extra for your salad, because if you're like me you'll be nibbling on them before you assemble!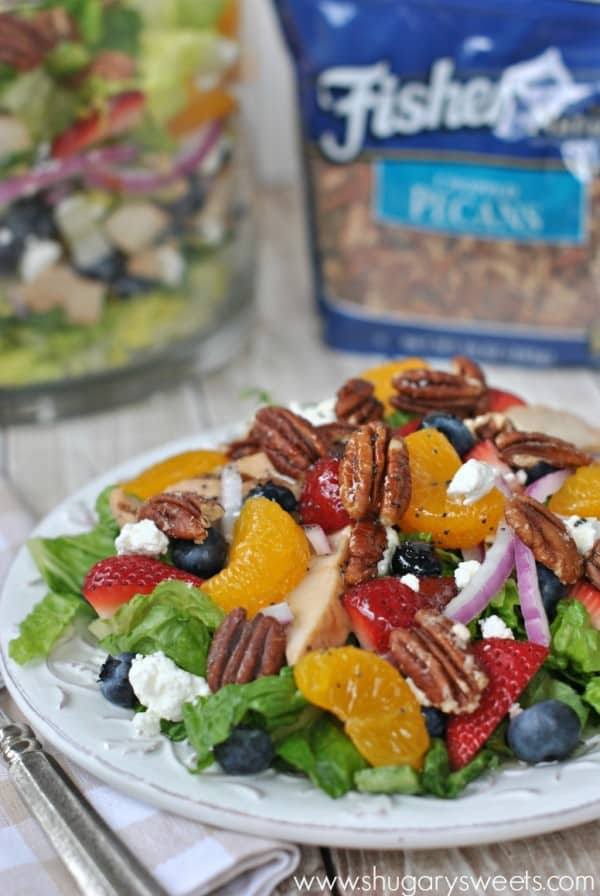 Bringing a salad to a potluck or bbq is always a great idea. Especially when it's loaded with sweet, ripe berries too. This salad reminds me of my favorite one from Panera, that's only available in the summer. I added fresh strawberries (from my garden!), blueberries, and mandarin oranges. I also added goat cheese. I think it pairs so nicely with all the fruit in this recipe. You can use gorgonzola too, if you prefer.
I also whipped up a quick dressing. If you're not eating this salad immediately, hold off on adding the dressing. It's best right before serving. You don't need a blender or anything fancy for this delicious lemon poppyseed dressing. I have a little dressing pitcher, but a mason jar and lid would work great too!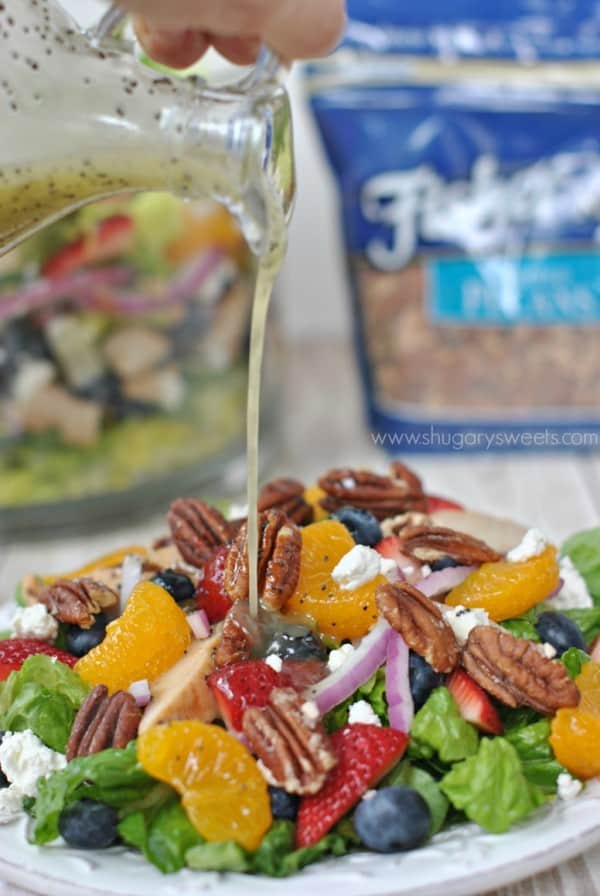 Fisher Nuts wants to know how YOU enjoy summer salads? Do you like yours loaded with fruit and nuts, like me? Or do you prefer it with fresh veggies and cheese? For inspiration, check out Chef Alex Guarnaschelli's summer salad recipes: http://www.fishernuts.com/recipes/salads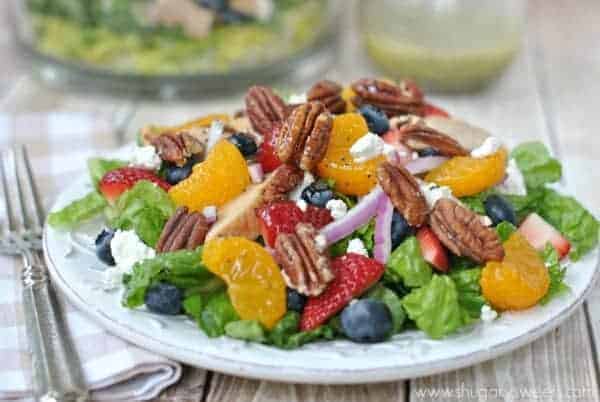 Connect with Fisher Nuts:
website | facebook | pinterest
Yield: 4-6 servings
Strawberry Pecan Salad
Ingredients
For the Salad:
1 cup Fisher Nuts Pecan Halves
1/4 cup granulated sugar
12 oz package Romaine lettuce, chopped
8 oz fresh strawberries, halved
4 oz fresh blueberries
2 oz goat cheese, crumbled
1/4 cup red onion, sliced (cut into small pieces)
15 oz can Mandarin oranges, drained
2 chicken breasts, cooked and diced
For the dressing:
1/2 cup granulated sugar
1/2 cup lemon juice
1 tsp dijon mustard
1/2 tsp kosher salt
2/3 cup olive oil
1 Tbsp poppyseeds
Instructions
In a small skillet over medium heat, saute pecans with sugar. This will take several minutes for the sugar to dissolve as you stir the pecans. Set aside and cool.
In a large bowl, combine romaine, berries, oranges, cheese and onion. Add diced chicken. Toss gently.
In a small mason jar, combine dressing ingredients and shake with lid on.
When ready to serve, add candied pecans and drizzle with dressing. ENJOY!


**This is a sponsored post on behalf of Fisher Nuts. I'm a part of the Fishers Fresh Thinkers. I was compensated for my time, however all opinions expressed are 100% my own!