The Best Egg Salad recipe should be easy, creamy, and perfect for sandwiches! This Classic Egg Salad is my childhood favorite!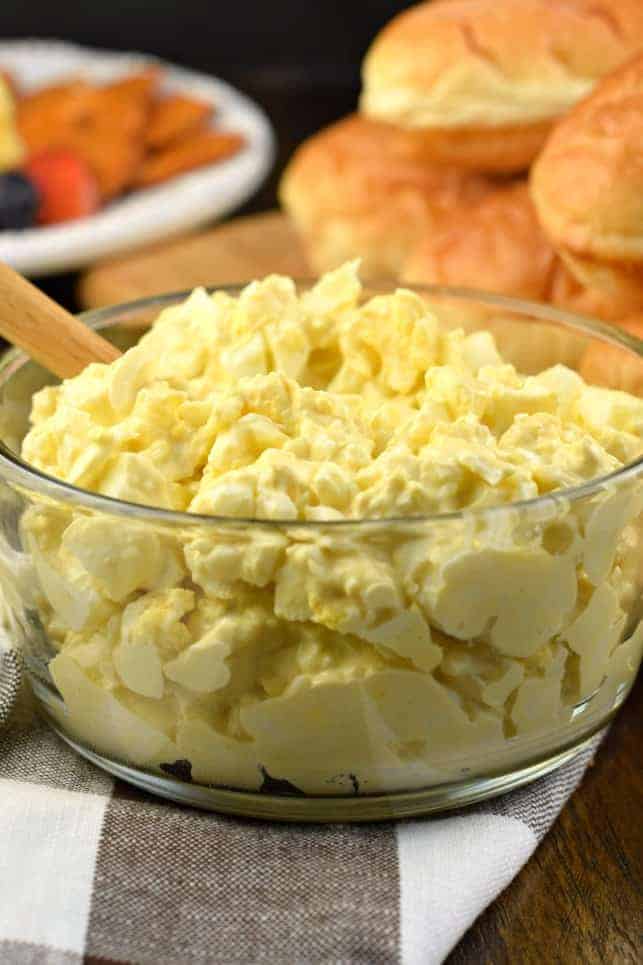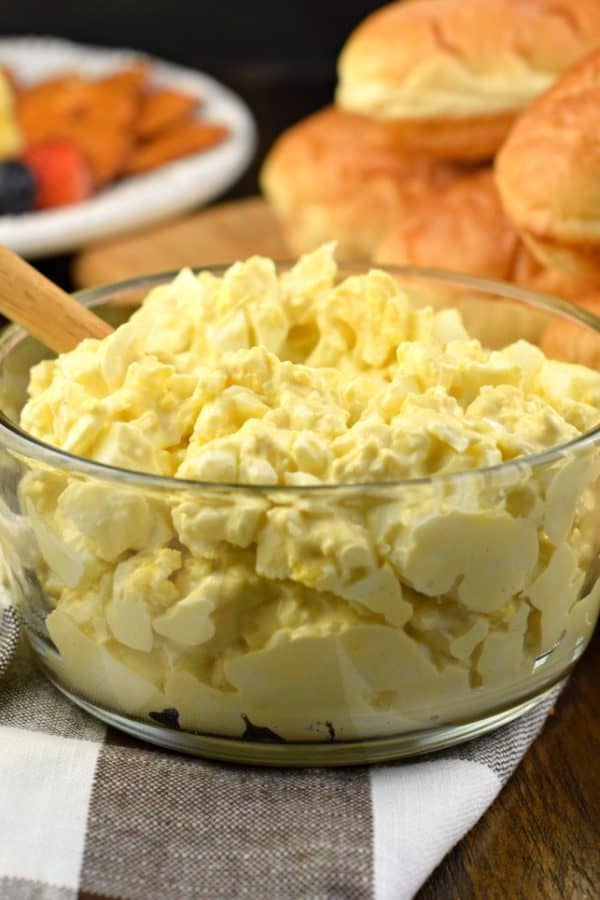 Click HERE to save recipe to Pinterest
I remember growing up and people didn't hide plastic Easter Eggs. We boiled and colored hard boiled eggs…and the "bunny" hid them.
And then we ate them for days. I can't imagine why we thought leaving eggs out overnight was a good thing, but knock on wood we survived our childhood.
One of the best foods I loved after Easter was egg salad sandwiches.
For some reason, my mom didn't make it often during the year….but after Easter we ate it for days. And usually it had a blue or pink tint to it from the food coloring.
I didn't realize until I was an adult that there is some bad tasting egg salad recipes out there.
So, for what it's worth, I'm going to share with you all my favorite egg salad recipe from MY childhood!
How to Make Egg Salad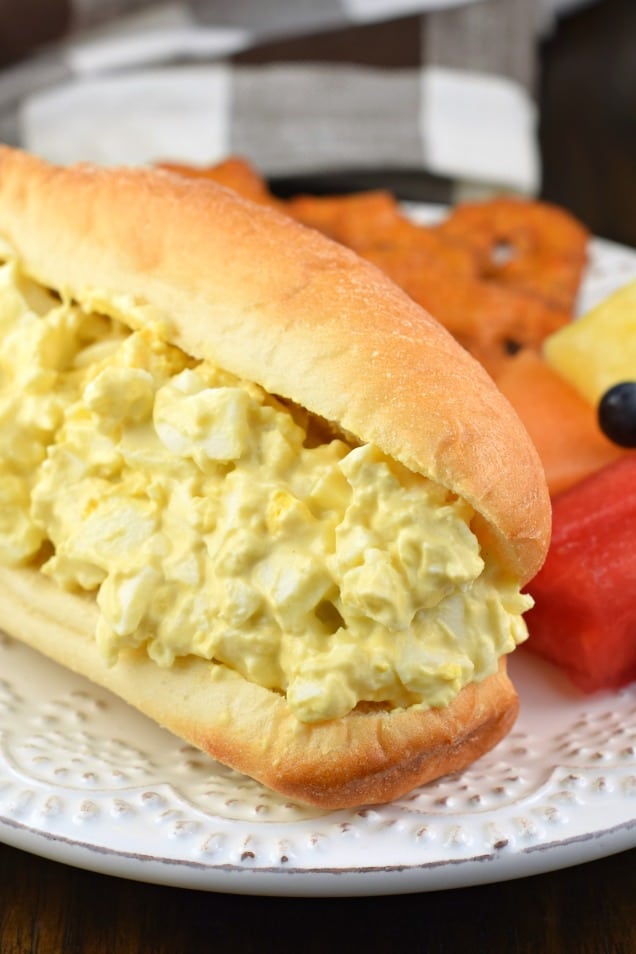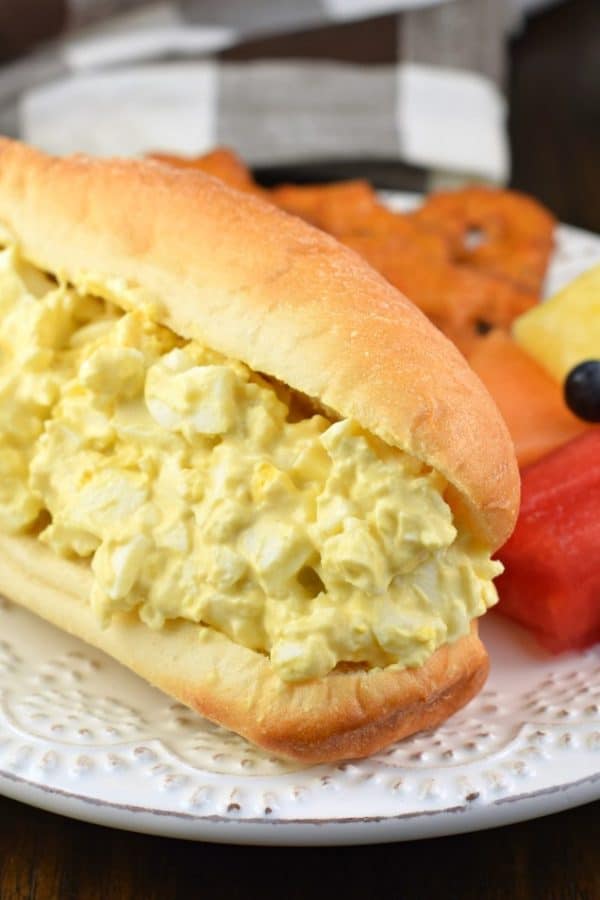 First, start by hard boiling your eggs. If you have an instant pot, I find they turn out perfect every time, and are easy to peel. Use my Instant Pot Hard Boiled Eggs Recipe!
If cooking eggs on the stove top, place eggs in a single layer in the saucepan. Cover with cold water. Bring to boil.
Once water is boiling, remove from heat and cover for 8 minutes. After this, place immediately in a bowl of ice water for several minutes.
Peel hard boiled eggs and place in a bowl. Add mayonnaise, salt, Worcestershire sauce and mustard.
The Worcestershire sauce is my secret ingredient (or at least my mom's secret ingredient). It adds a delicious salty flavor that's perfect in egg salad!
Use a potato masher to combine all the ingredients. You decide how chunky you like YOUR egg salad!

Egg Salad Sandwich
Once you've made the best egg salad recipe, whipping up a dream sandwich is easy!
First, choose your bread. We love a classic homemade white bread or wheat…but rye bread is also a great match!
Spoon the egg salad onto the bread and enjoy!
For a delicious twist, add some slices of avocado, a splash of sriracha, or a few sprinkles of dill. I also love adding pickle relish or sliced bread and butter pickles to my egg salad sandwich!
And for a breakfast treat, toast your bread before making an open faced Egg Salad Sandwich!
Make some extra hard boiled eggs to add to this Potato Salad recipe with egg! Or you can whip up a batch of these Classic Deviled Eggs!

Egg Salad Recipe tips and tricks
When determining HOW many eggs to boil, consider how many sandwiches you'll be making.
I typically plan on 2 eggs per person (for each sandwich).
Egg Salad will last about 3 days in your refrigerator, so keep this in mind while planning. Be sure to store it in an airtight container as it tends to overwhelm and over power your refrigerator with an egg odor!
I usually store it in a tupperware container instead of covering a bowl with plastic wrap. This helps keep my refrigerator odor free!
Egg Salad Ingredients List
Large Eggs
Mayonnaise (the real stuff)
Kosher Salt
Worcestershire Sauce
Yellow Mustard

If you love today's Egg Salad recipe, here are a few of my favorite lunch ideas
Looking for an old fashioned Monte Cristo Sandwich recipe? I've got the perfect solution! You'll love this easy recipe!
This tasty, Copycat Chick-fil-A Chicken Salad sandwich is made with breaded chicken, pickle relish, celery, eggs, and mayo. What's not to love about this iconic salad?
You're going to love this heart Healthy Chicken Salad recipe. Packed with a crunch from sliced almonds, I took a classic salad and gave it a healthy makeover! 
Delicious, easy, Italian Sandwich Torte: perfect for brunch or a weeknight dinner!
Connect with Shugary Sweets!
Be sure to follow me on my social media, so you never miss a post!
Facebook | Twitter |  Pinterest | instagram 
Be sure to follow me on Instagram and tag #shugarysweets so I can see all the wonderful SHUGARY SWEETS recipes YOU make!
I created a fun little group on facebook and I'd love for you to join in! It's a place where you can share YOUR favorite recipes, ask questions, and see what's new with Shugary Sweets (so that you never miss a new recipe)! If you'd like to check it out, you can request to join HERE.


Classic Egg Salad Sandwich recipe. You'll love how easy it is to make!