The Best Egg Salad recipe should be easy, creamy, and perfect for sandwiches! This Classic Egg Salad recipe is my childhood favorite! Only five ingredients for this simple recipe.
We love recipes using flavorful, yet simple ingredients. Our chicken salad recipe has a little crunch thanks to the sliced almonds.
Or give this tasty Orzo salad recipe a try for your next potluck!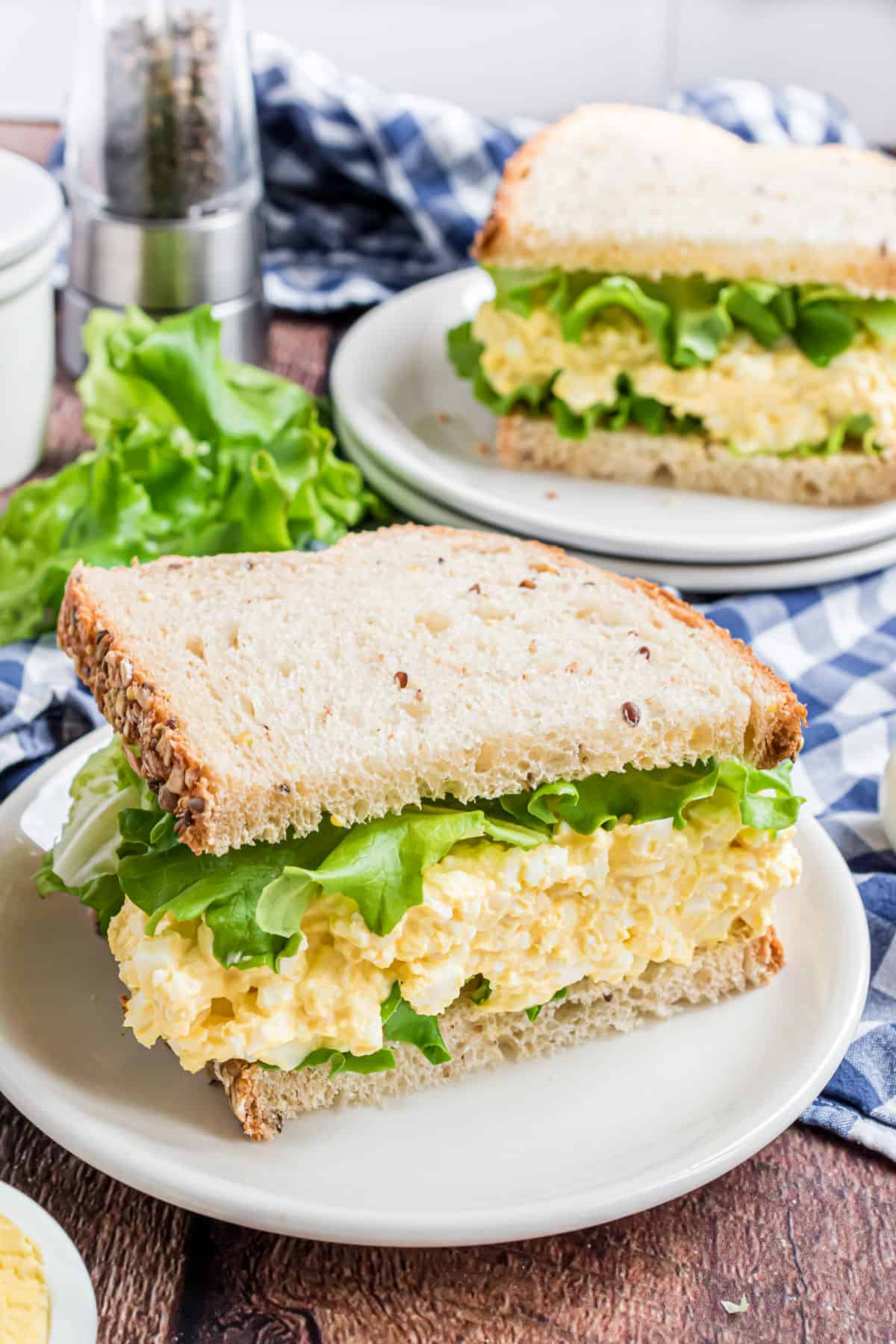 Why this Recipe is Best
When it comes to egg salad, everyone thinks their recipe is best. And it's usually made the way your family served it as a kid!
Today's recipe is…
Easy!
Made with only a few ingredients.
Adaptable…add more or less depending on how many mouths to feed.
Secret Ingredient: Worcestershire Sauce!
Now whip up a batch so you can serve up some simple egg salad sandwiches for lunch! Don't forget a pinch of salt and pepper to enhance the flavor!
Ingredient Notes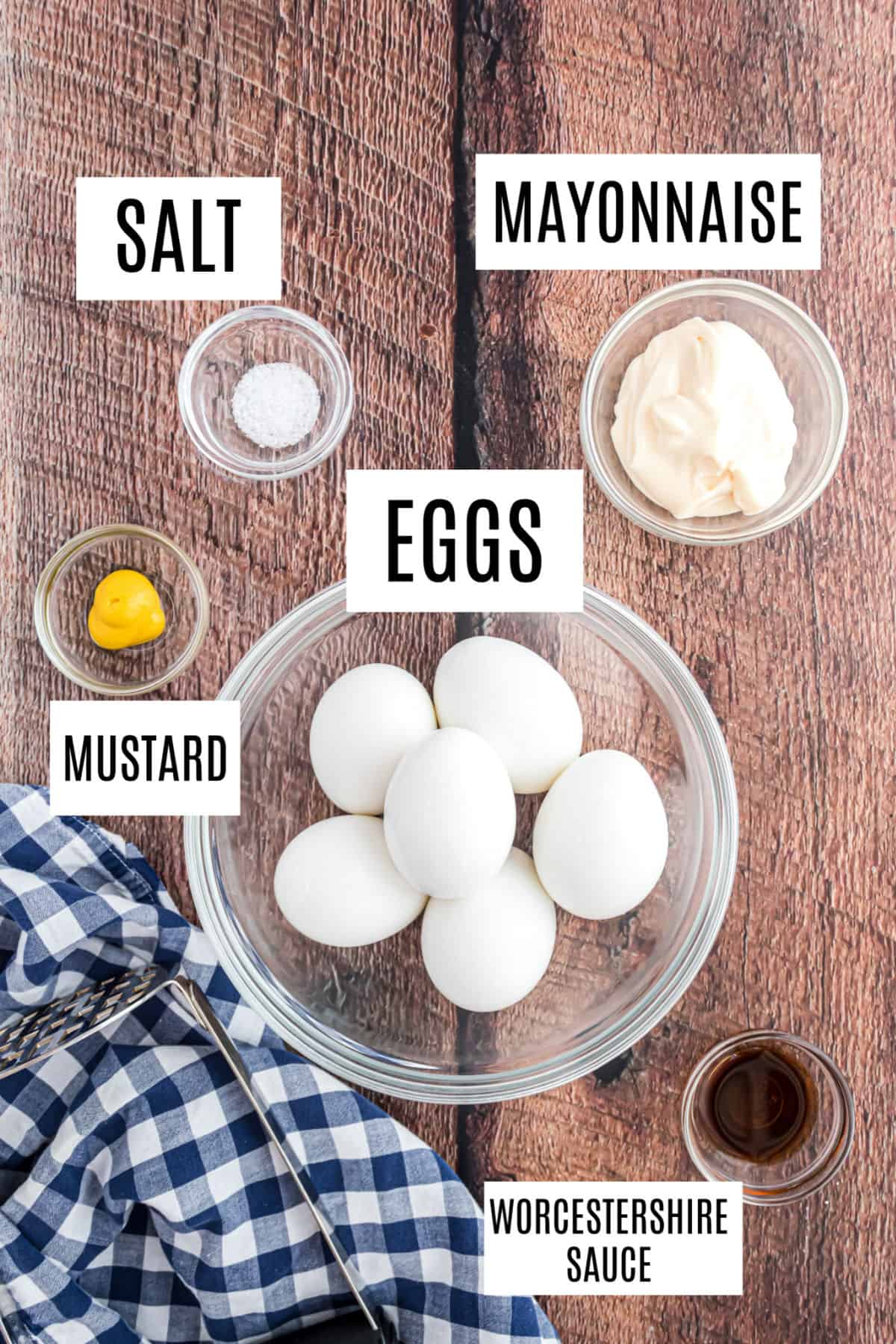 Feel free to add some of your favorite seasonings or additions to our easy egg salad recipe.
Large Eggs. Start by making hard boiled eggs. I use my instant pot hard boiled egg recipe every time. This method makes perfect hard-boiled eggs that are easy to peel!
Mayonnaise. I love using a classic, full fat mayo like Dukes or Hellmans. Some people prefer Miracle Whip while others substitute mayonnaise with greek yogurt and sour cream. Homemade mayonnaise can also be used, if desired.
Mustard. We grew up using French's yellow mustard, but dijon mustard works great too!
Salt. I always use kosher salt in my baking and recipes, unless otherwise noted. It's more coarse and flavorful. Just note, if using table salt, use HALF the amount I list.
Worcestershire Sauce. Adds a delicious flavor to the egg salad!
SUBSTITUTIONS & ADDITIONS. Feel free to add fresh herbs (like dill and fresh parsley), avocado, celery, green onions or red onion, pickle relish, or any other flavoring or texture you prefer.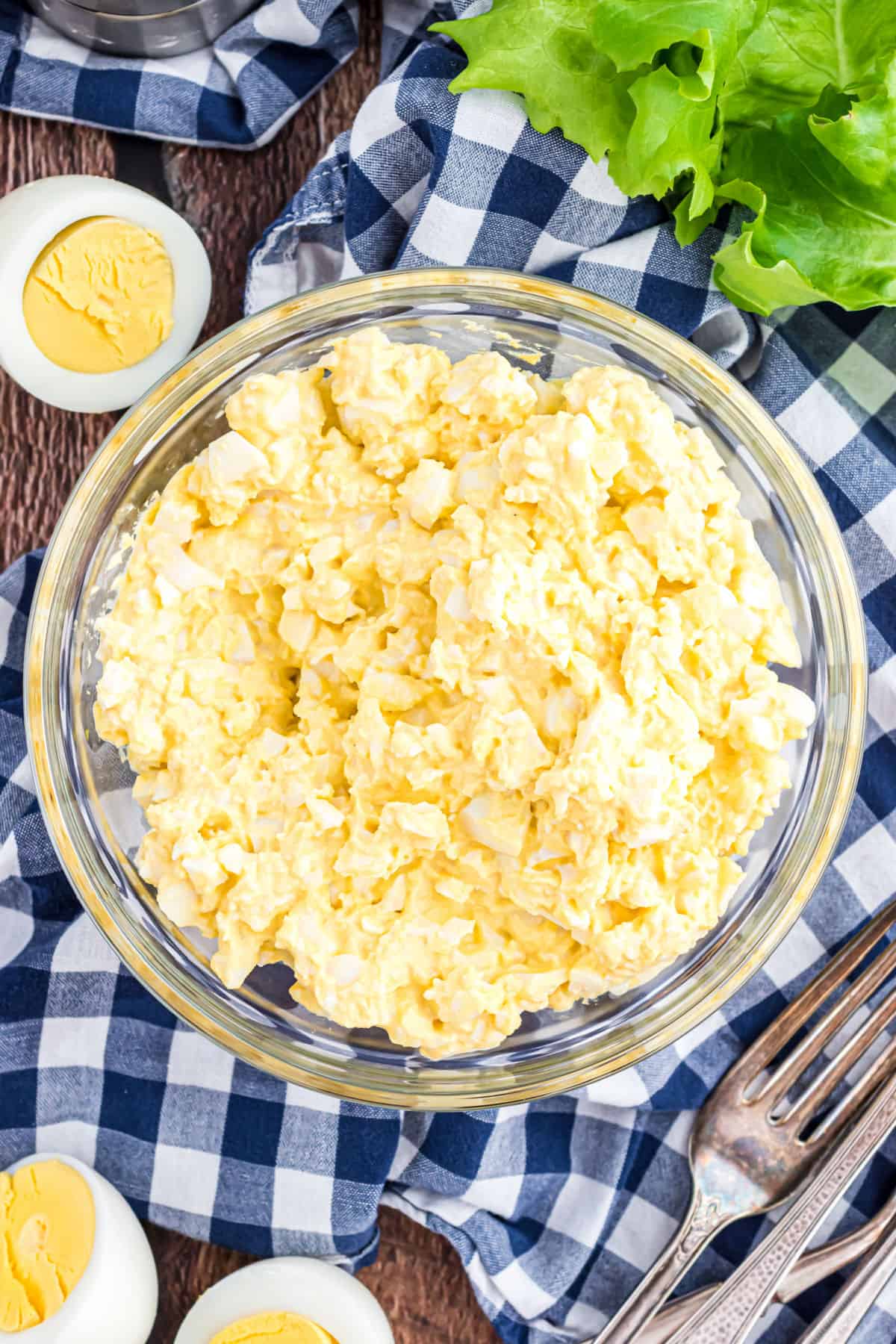 How to Make Egg Salad
Cook Eggs.
If cooking eggs on the stove top, place eggs in a single layer in the saucepan. Cover with cold water. Bring to boil over high heat.
Once water is boiling, remove from heat and cover for 8 minutes. After this, place immediately in a ice water bath for several minutes.
Peel and Chop.
Peel hard boiled eggs and place in a bowl. Add mayonnaise, salt, Worcestershire sauce and mustard.
The Worcestershire sauce is my secret ingredient (or at least my mom's secret ingredient). It adds a delicious salty flavor that's perfect in egg salad!
Use a potato masher to combine all the ingredients. You decide how chunky you like YOUR egg salad! Some people prefer a creamy texture to their egg salad.
Add a few cracks of black pepper for a finishing touch, if desired.
Egg Salad Sandwich
Once you've made the best egg salad recipe, whipping up a dream sandwich is easy!
First, choose your bread. We love a classic homemade white bread or wheat…but rye bread is also a great match!
Spoon the egg salad onto the bread and enjoy!
For a delicious twist, add some slices of avocado, a splash of sriracha, or a few sprinkles of dill and lemon juice. I also love adding pickle relish or sliced bread and butter pickles to my egg salad sandwich!
And for a breakfast treat, toast your bread before making an open faced Egg Salad Sandwich!
Make some extra hard boiled eggs to add to this Potato Salad recipe with egg! Or you can whip up a batch of these Classic Deviled Eggs!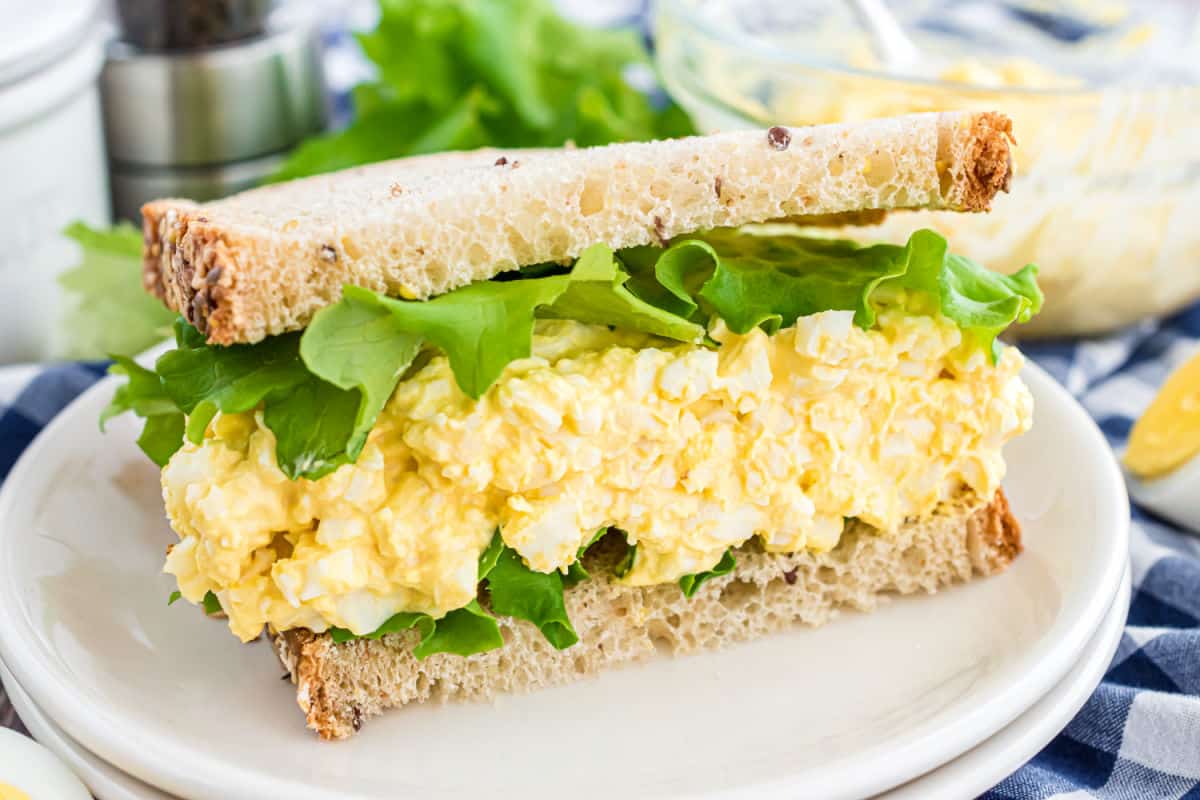 Tips and Tricks
Eggs. When determining HOW many eggs to boil, consider how many sandwiches you'll be making. I typically plan on 2 eggs per person (for each sandwich).
Storage. Egg Salad will last about 3 days in your refrigerator, so keep this in mind while planning. Be sure to store it in an airtight container as it tends to overwhelm and over power your refrigerator with an egg odor!
I usually store it in a tupperware container instead of covering a bowl with plastic wrap. This helps keep my refrigerator odor free!
PRO TIP: Do not leave egg salad at room temperature for more than two hours or it can spoil.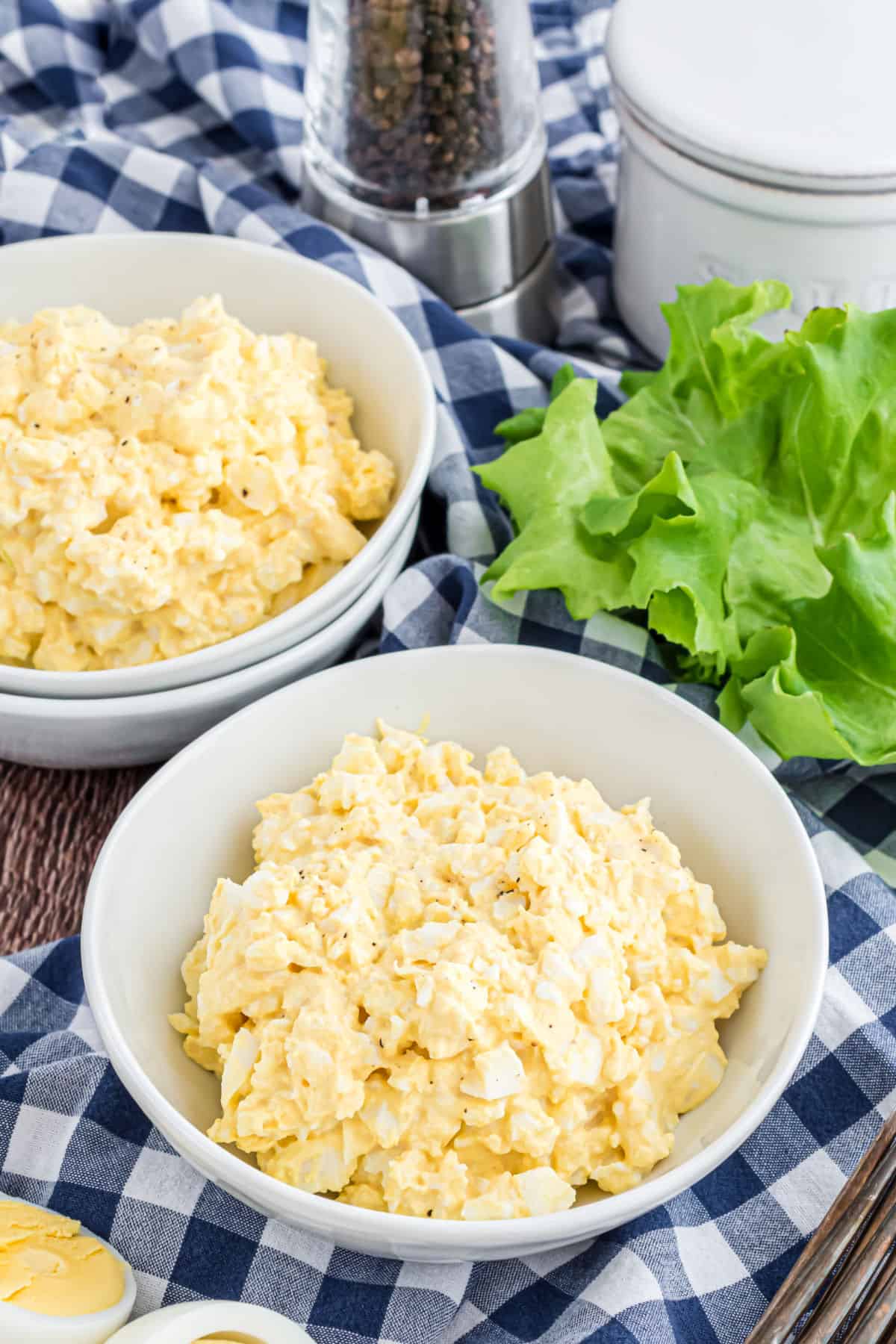 Recipe FAQs
Are eggs good for you?
Fresh eggs are a healthy protein that are good for your brain, liver, and eye health. When eaten in moderation they are an important part of a healthy diet.
How do you serve egg salad?
Egg salad can be served in a bowl, as a low carb meal, or on sandwich, pita, or made as a lettuce wrap. Our favorite way to serve egg salad is in a stuffed avocado!
Why is my egg salad salty or bland?
Refrigerating egg salad can meld the flavors and make them more subtle or bland. Be sure to add a pinch of salt. Speaking of salt, always use kosher salt for best flavor!
More Lunch Recipes
Looking for an old fashioned Monte Cristo Sandwich recipe? I've got the perfect solution! You'll love this easy recipe!
This tasty, Copycat Chick-fil-A Chicken Salad sandwich is made with breaded chicken, pickle relish, celery, eggs, and mayo. What's not to love about this iconic salad?
Delicious, easy, Italian Sandwich Torte: perfect for brunch or a weeknight dinner!
Mom's Macaroni salad recipe is perfect for lunch. And it gets a protein boost from the tuna (you can swap it out for canned chicken if you prefer)!