Looking for an old fashioned Monte Cristo recipe? This copycat of the Disney Monte Cristo tastes every bit as good as the theme park's famous sandwich.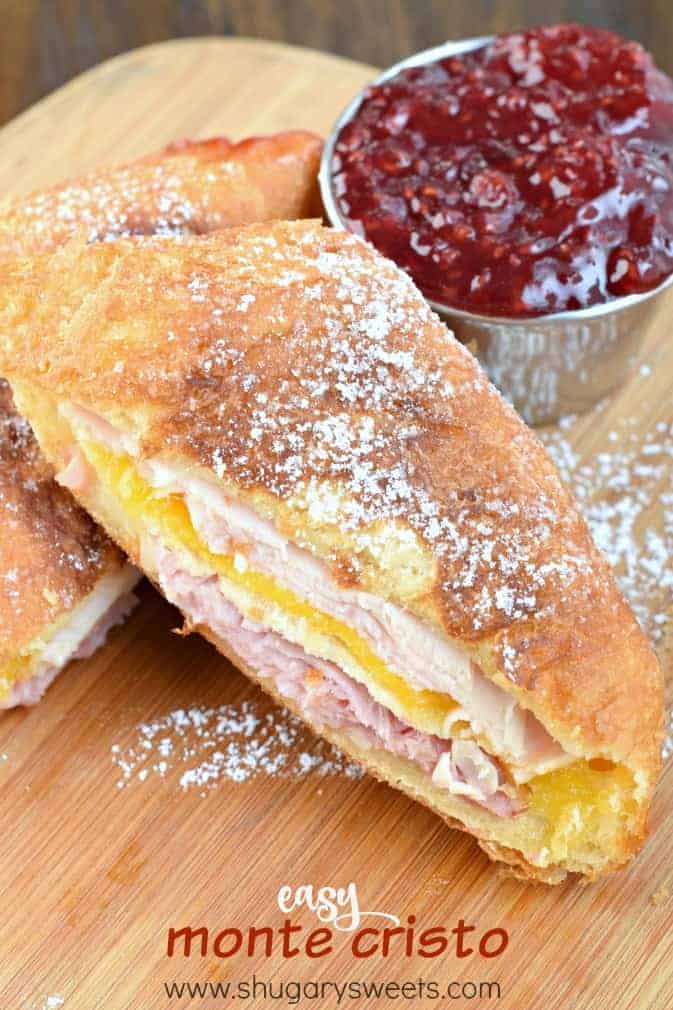 This month marks the 18th anniverary of my first date with my dear husband! Both of us were servers at a local Bennigan's restaurant.
I have so many fun memories of working there, but many of my memories of Bennigan's revolve around the food. Especially their Monte Cristo sandwich. Yum.
What is a Monte Cristo?
You take a perfectly healthy turkey and ham sandwich, batter it up, deep fry it, coat it in powdered sugar, dip it in raspberry jam, and eat it before you have a chance to second guess yourself.
The Monte Cristo is a spin on French croque-monsieur (fried ham and cheese sandwich) and has Cajun origins.
Is it the healthiest sandwich in the world? Definitely not, but what's life without a little indulgence, right?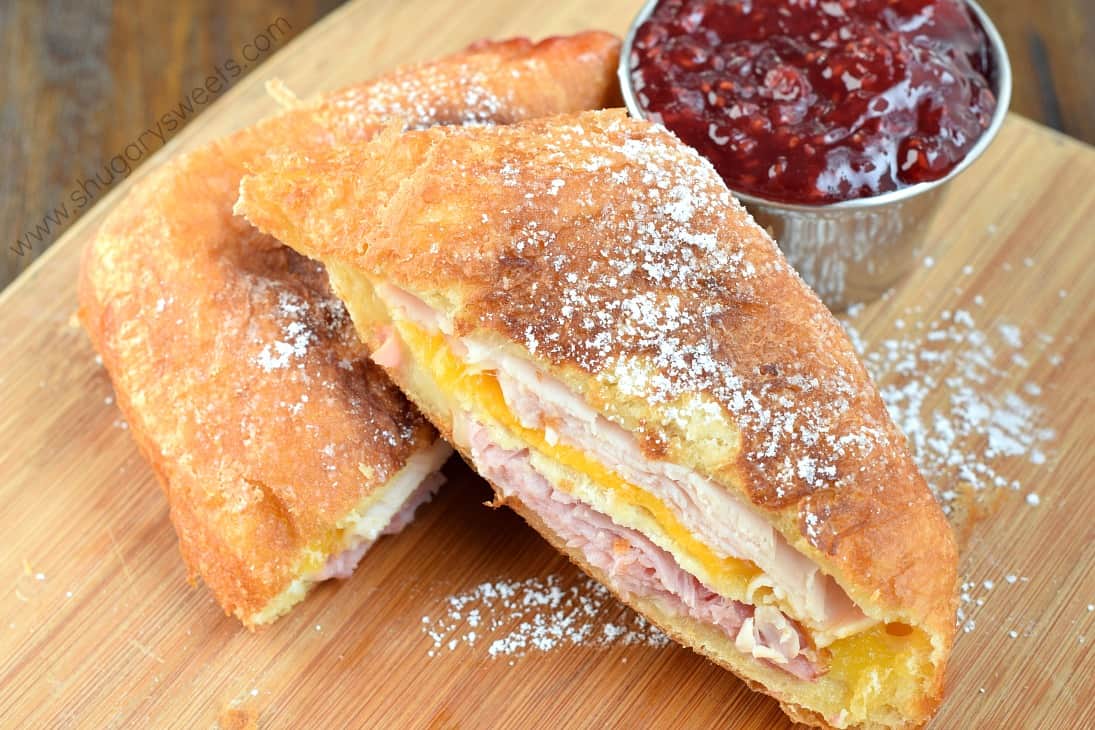 For years, I thought of the Bennigan's Monte Cristo as the best Monte Cristo. After all, my husband and I more or less fell in love over these sandwiches.
Then, I tried the Monte Cristo at Disneyland.
The Blue Bayou restaurant in the park is famous for its Cajun fare and especially their Monte Cristo.
DISNEY FAVORITES: Churro Bites | Dole Whip | Churro Toffee
The sandwich lives up to the hype but while I was eating it, I couldn't help but think that I was pretty sure I could create a copycat recipe with a little experimentation.
The recipe I'm sharing today is the happy result of that experimentation. To get it just right, I was forced to make several fried ham, turkey and cheese sandwiches (I know, I know, it's a tough life).
My husband certainly had no complaints about helping me taste test them all!
This sandwich simultaneously savory, salty and sweet with a crisp exterior. The inside is perfectly balanced with meat and gooey cheese.
A light dusting of powdered sugar brings everything together to make this one of the most delicious sandwiches I've ever made.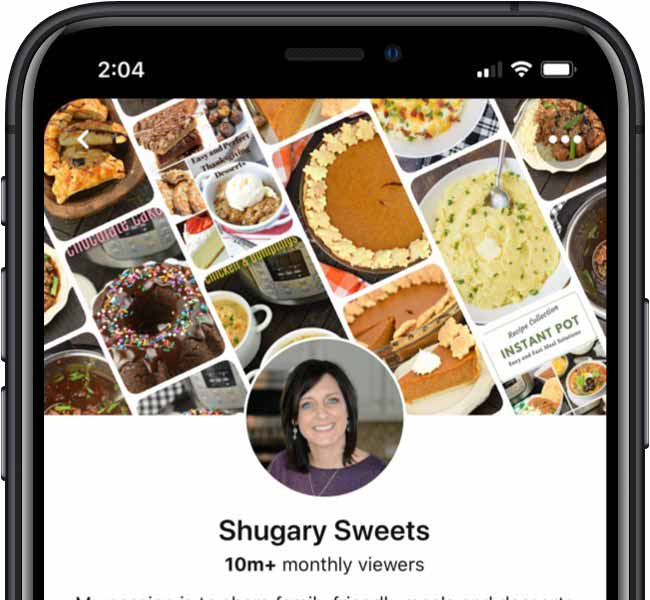 4 Easy Steps
STEP 1. Prepare the Bread
Stack three slices of bread on top of each other and cut off crusts on all four sides. Do the same for the remaining 5 sandwiches.
STEP 2. Assemble the Sandwiches
On first slice of bread, layer turkey with one slice of American cheese. Top with a slice of bread, a layer of ham and one slice of provolone cheese. Complete the sandwich with a slice of bread. Repeat for remaining 5 sandwiches.
STEP 3. Wrap the Sandwiches
On lightly floured surface, open one package of Crescent rolls. Stretch and roll the dough until it is nearly twice the size. Cut 3 strips from the dough. Wrap one sandwich in one strip of dough.
Wet fingertips to wet the seams and pinch them together. Repeat with last two strips, then repeat with second package of dough until all 6 sandwiches are covered.
STEP 4. Fry
In a large skillet, heat canola oil (about 1 inch deep) until very hot. Working 3 sandwiches at a time, place them flat side down in oil. They should brown in 1-2 minutes.
Flip all sandwiches until all sides are browned. Remove from oil and repeat for remaining sandwiches.
Tip for Frying: To check if your oil is hot enough, sprinkle a little flour into the pan first. If it sizzles right away (without smoking), you're good to go. Keep an eye on the Monte Cristo as they're frying and adjust the heat as needed.
While sandwiches are hot, sprinkle with powdered sugar, serve and dip in jam. Raspberry jam is my preferred accompaniment for Monte Cristo but it would also be good with blackberry, strawberry or boysenberry preserves. Enjoy!
A copycat recipe inspired by the Disney Monte Cristo, these cheesy fried ham and turkey sandwiches are a must-try!