Learn how to make turkey meatballs and you'll never argue over what to have for dinner again. Everyone loves these protein packed meatballs served with a bruschetta inspired pasta sauce!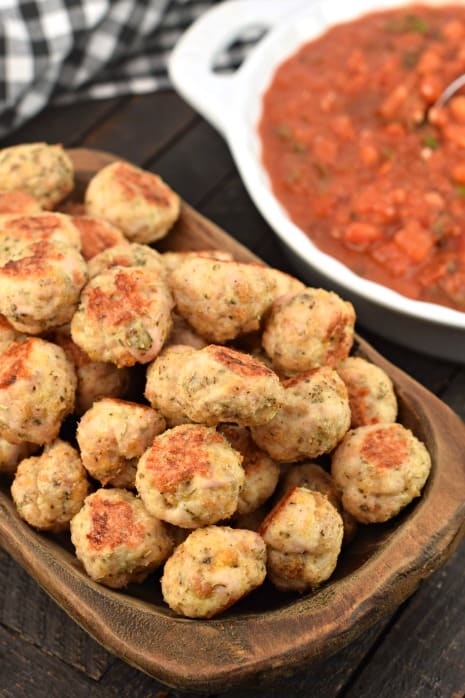 Why Make this Recipe
Do you know how to make turkey meatballs yet? You're about to learn.
I can't believe how easy it is to make these delicious BAKED meatballs. With just a few ingredients, you can turn a plain bowl of ground turkey into succulent meatballs full of Italian flavor.
Oh, and can we talk about the sauce I made to go with these?
Bruschetta pasta sauce.
You read that correctly. It's pasta sauce inspired by the tangy combination of tomatoes, basil, vinegar and cheese.
Using my favorite Bruschetta recipe as my starting point, I got to work.
I simmered the sauce on the stove while the meatballs were in the oven, then poured it right over them when they finished baking. Each bite of these turkey meatballs was better than the last!
Make these for stuffing into rolls for an Italian sub or spoon them over a bowl of spaghetti for a delicious kid-friendly dinner!
For a lighter option, this bruschetta pasta sauce and meatballs would taste wonderful over a bowl of zucchini noodles or spaghetti squash, too.
Ingredients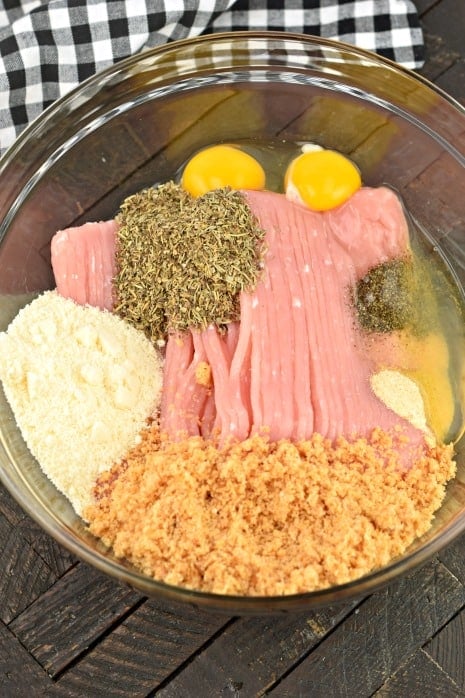 This is my basic meatball recipe. Today I've used ground turkey, to keep dinner a little lighter.
However, you can also swap out the turkey and use ground beef, ground chicken, or a combination of flavors.
Step by Step
First, mix all the meatball ingredients together in a large bowl. I use ground turkey, bread crumb, eggs and Italian seasoning for these, along with several shakes of garlic powder and some fresh ground pepper.
Use your clean hands to mix everything together thoroughly!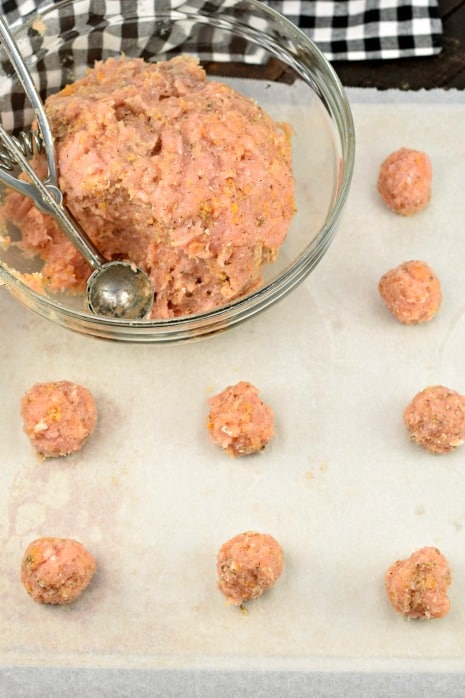 Next, scoop the mixture into balls. I use my cookie scoop to divide them into even sections, then use my hands to roll them into tight spheres about 1 1/2 inches across.
Now, bake! Place the meatballs on a baking sheet and bake for about 20 minutes, until golden brown
Ingredient Notes for the Sauce
This is one of the easiest pasta sauces I've ever made! And I know my easy pasta sauces.
You could serve your meatballs with Homemade Spaghetti Sauce or a jarred sauce, but this time I wanted something with a lot more basil and cheese involved!
I started with a can of plain tomato sauce. To get the "Bruschetta" flavor, I added:
Fresh diced Roma tomatoes – you could used diced canned tomatoes here
Fresh Basil leaves – can't find fresh basil? Many stores carry basil in a tube in the produce section! Still fresh and more flavor than dried basil.
Garlic (and lots of it!)
Red wine vinegar
Parmesan cheese
Salt and freshly ground black pepper
Stir everything together in a sauce pan and let it simmer the whole time the meatballs are baking. The chunky pieces of tomato, fragrant garlic and basil make this a sauce that falls firmly into "WOW" territory.
It's hardly any more time consuming than warming a jarred sauce on the stove top and the flavor is unbeatable. If you're one of those people (like me) who is always adding extra garlic to recipes, you're going to fall head over heels for my Bruschetta Pasta Sauce!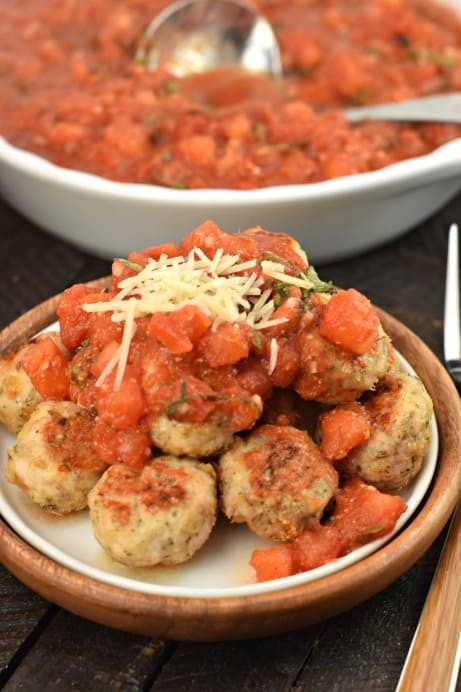 Recipe FAQs
Can you freeze turkey meatballs?
Of course! I love a good freezer friendly meal and these turkey meatballs fit the bill. Keep them in a sealed ziploc bag and they'll stay tender and flavorful for up to 3 months.
How do you reheat frozen meatballs?
Reheat them a few at a time or the whole batch! You can use the microwave for an easy option or reheat them in the oven for about 5 minutes. If the meatballs get dry when reheated, sprinkle a few drops of water over them first.

Can you use ground beef?
Yes, any ground meat should work well here! I went with turkey because my family loves the flavor and I wanted to keep these on the lighter side.
Serving Suggestions
One of my all time favorite ways to eat meatballs is stuffed in a toasted hoagie and covered with even more parmesan cheese. (like these meatball subs)
Top a bowl of your zoodles with the meatballs and ladle plenty of sauce over top to slurp!
When we're looking for a light meal or lower carb option, these are delicious on spiralized veggies or served with a simple side of Roasted Broccoli and Zucchini or a copycat Olive Garden salad.
You might want to make some Garlic Bread or Soft Breadsticks to soak up any extra sauce left on your plate. It's so good you're going to want to enjoy every last drop.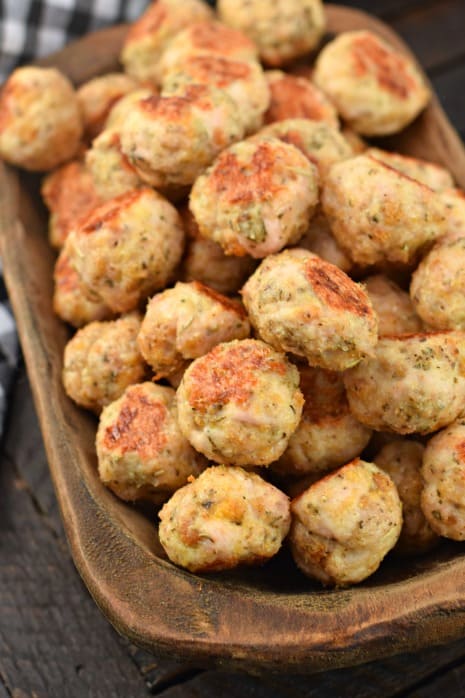 More Tips & Tricks
To keep meatballs from sticking: Use a pan liner or parchment paper on your baking sheet. You can also lightly coat the pan with cooking spray or olive oil before adding the meatballs.
What seasoning to use: Any store bought Italian seasoning mix will do just fine. If you don't have that, make your own homemade seasoning blend.
How long will these keep? Turkey meatballs will keep for about 3 days in the fridge and up to 3 months in the freezer. I love them best when they are hot and toasty from the oven!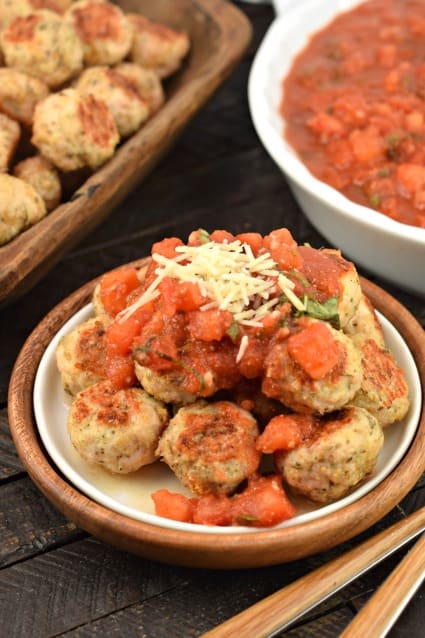 You can't go wrong with this kid friendly healthy recipe. Raise your hand if Turkey Meatballs with Bruschetta Pasta Sauce are now on tonight's dinner menu!