Easy, Italian Meatball Sub Sandwich recipe made from homemade meatballs, delicious marinara sauce, served toasted with extra cheese! The perfect weeknight dinner.
Serve this easy family dinner with our favorite Olive Garden Salad or a simple side of chips and guacamole is also delicious!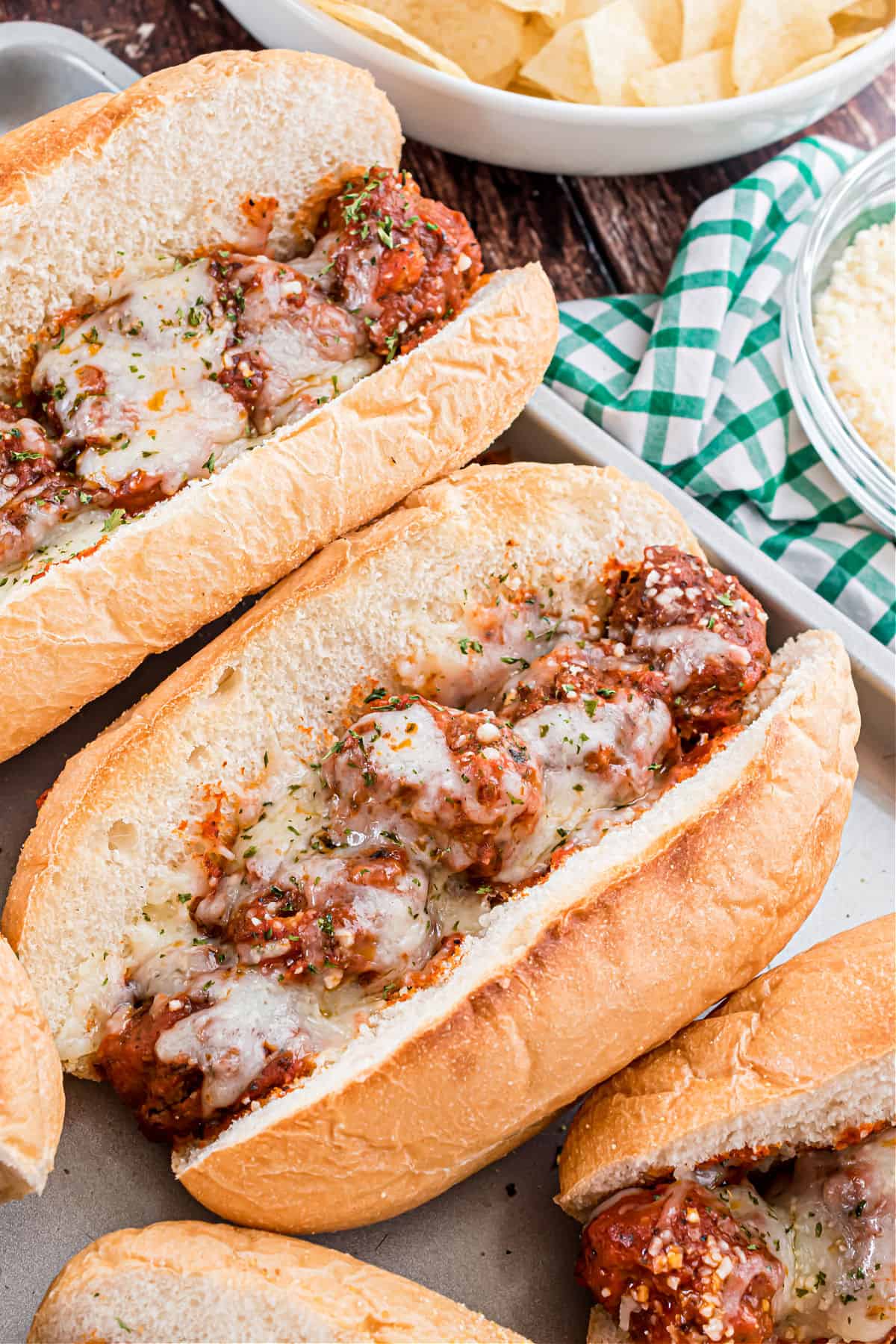 Why this Recipe Works
When it comes to easy dinners, this Meatball Sub recipe tops the charts.
I use my favorite turkey meatball recipe, making them a little larger than normal, and simmering them in a flavorful marinara sauce.
Put the meatballs in a crockpot or slow cooker with sauce and turn on low until ready to assemble them. This adds extra flavor to the meatballs.
Making several batches of meatballs ahead of time and freezing them is my favorite Sunday activity.
We'll serve some in this Spaghettio's and Meatballs recipe, and also dish them out using this Cocktail Meatball recipe.
Ready to start?
Ingredient Notes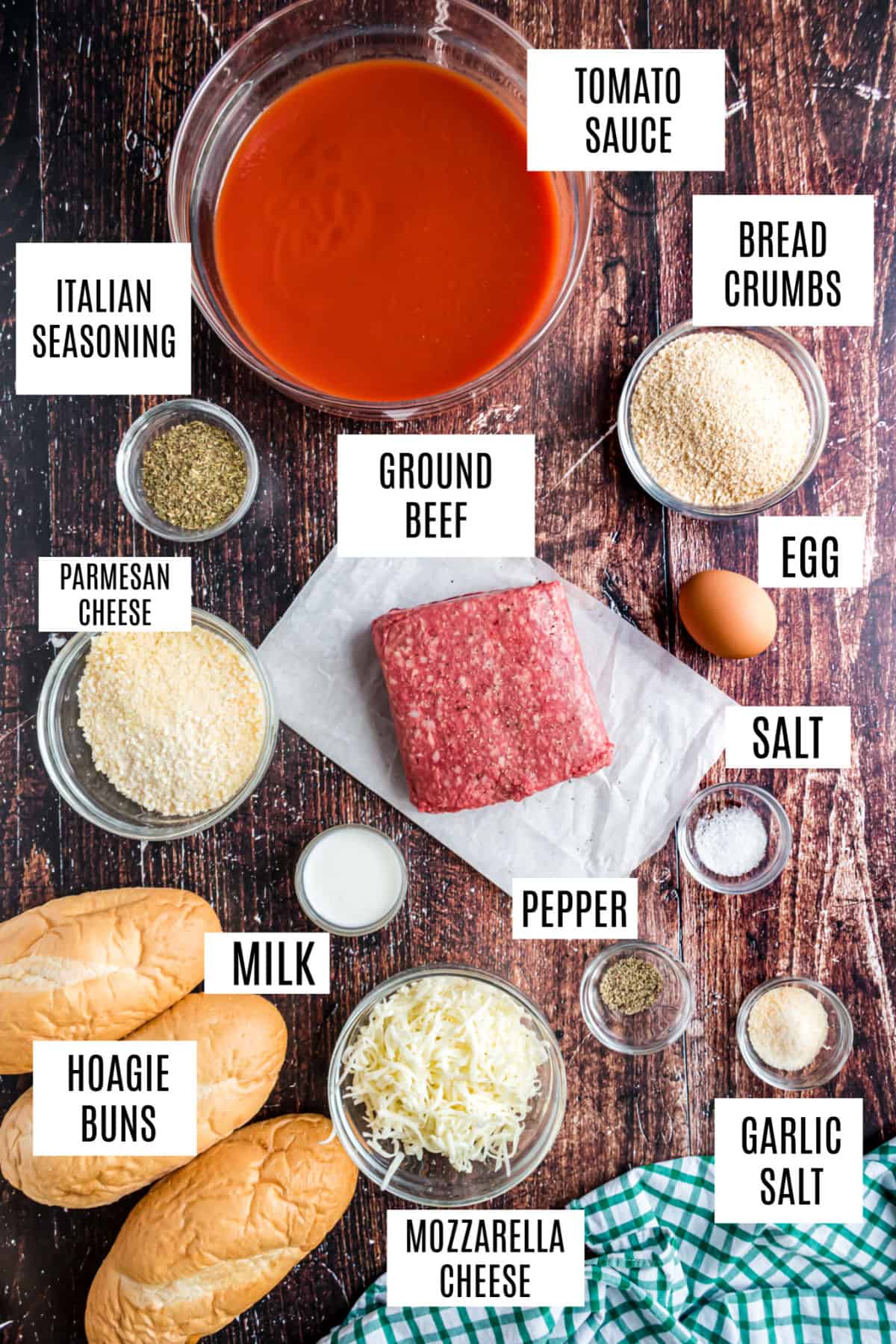 Pan Fried Meatballs
STEP 1. Start by cooking your meatballs. This can be done in the morning, or do it days/weeks in advance and freeze them until ready to use.
For the meatballs, you can use ground beef or ground turkey. I usually opt for the ground turkey, but either is delicious in this basic recipe.
In a large bowl, mix the ground turkey with egg, bread crumbs, garlic, salt and pepper, and milk. Use your hands!
STEP 2. Shape meat into bite size balls (smaller than a golf ball).
STEP 3. Heat a large skillet with 1 Tbsp oil. Cook in single layer, turning frequently until completely cooked.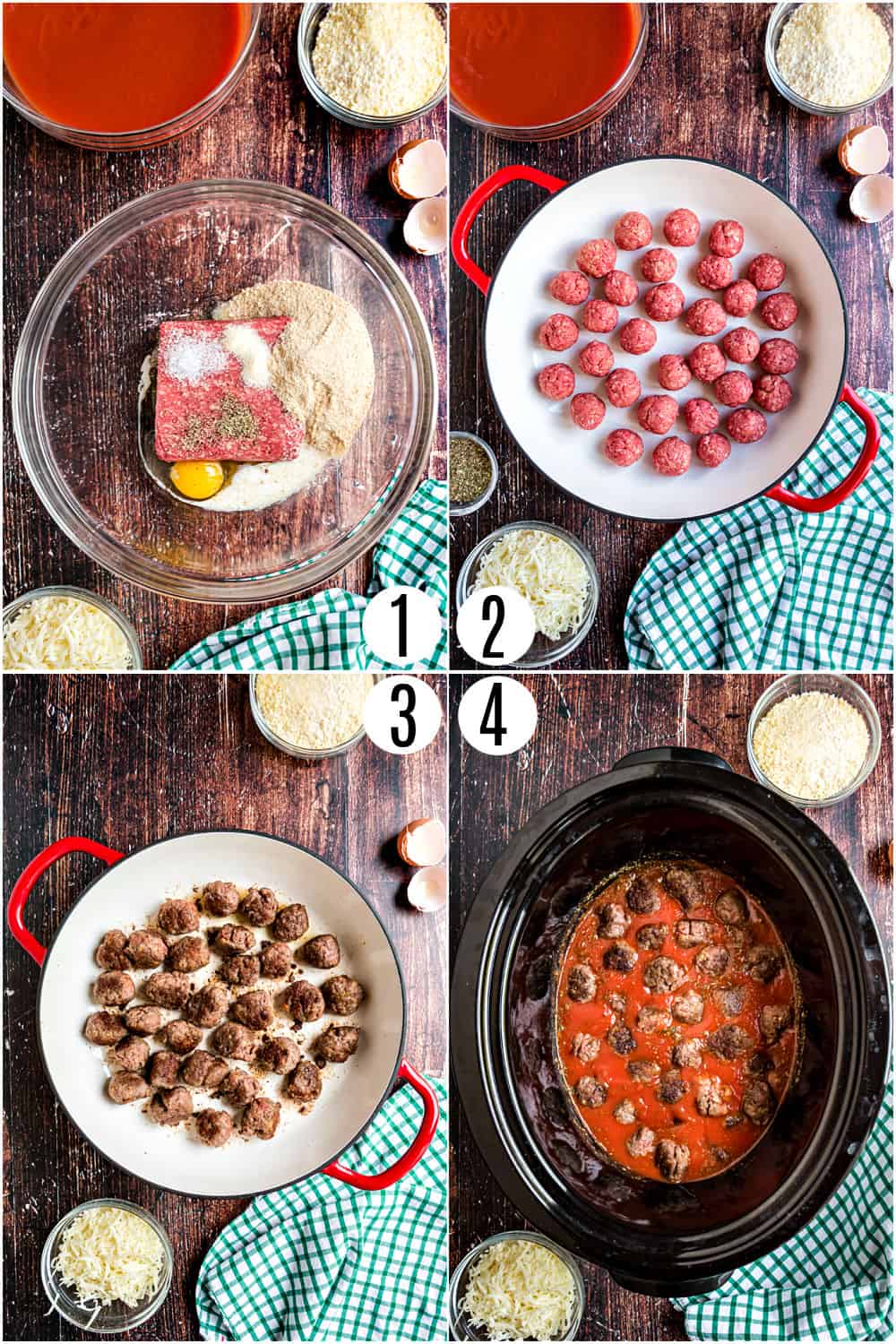 Oven Baked Meatballs
For an easier clean up, place a sheet of foil on a baking sheet. Preheat oven to 425 degrees F. Place meatballs onto baking sheet and bake for 20-25 minutes (no need to flip).
Remove from oven and use immediately in crockpot, or freeze for later use.
For the meatball sandwich recipe, place meatballs in slow cooker. Top with tomato sauce, garlic salt, and italian seasoning. Cover and cook on low for 6 hours.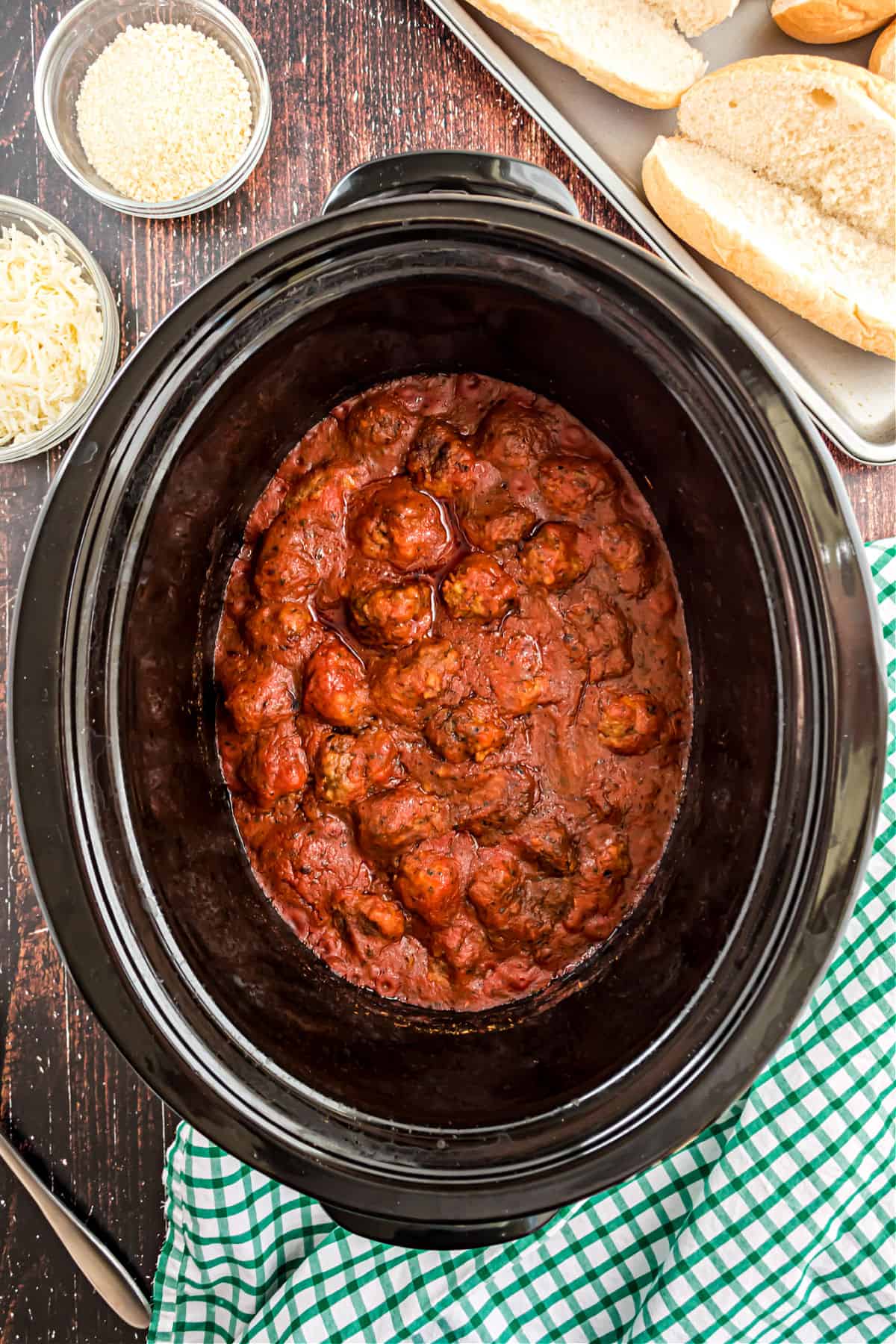 How to Assemble
When ready to serve, turn oven to broil. Place about 4-5 meatballs on each sub roll, with sauce. Add parmesan cheese and mozzarella cheese.
PRO TIP: Adding provolone cheese slices to the bun BEFORE adding meatballs gives these hoagies an extra cheesy flavor!
Bake until golden brown and cheese is melted, about 5 minutes. ENJOY.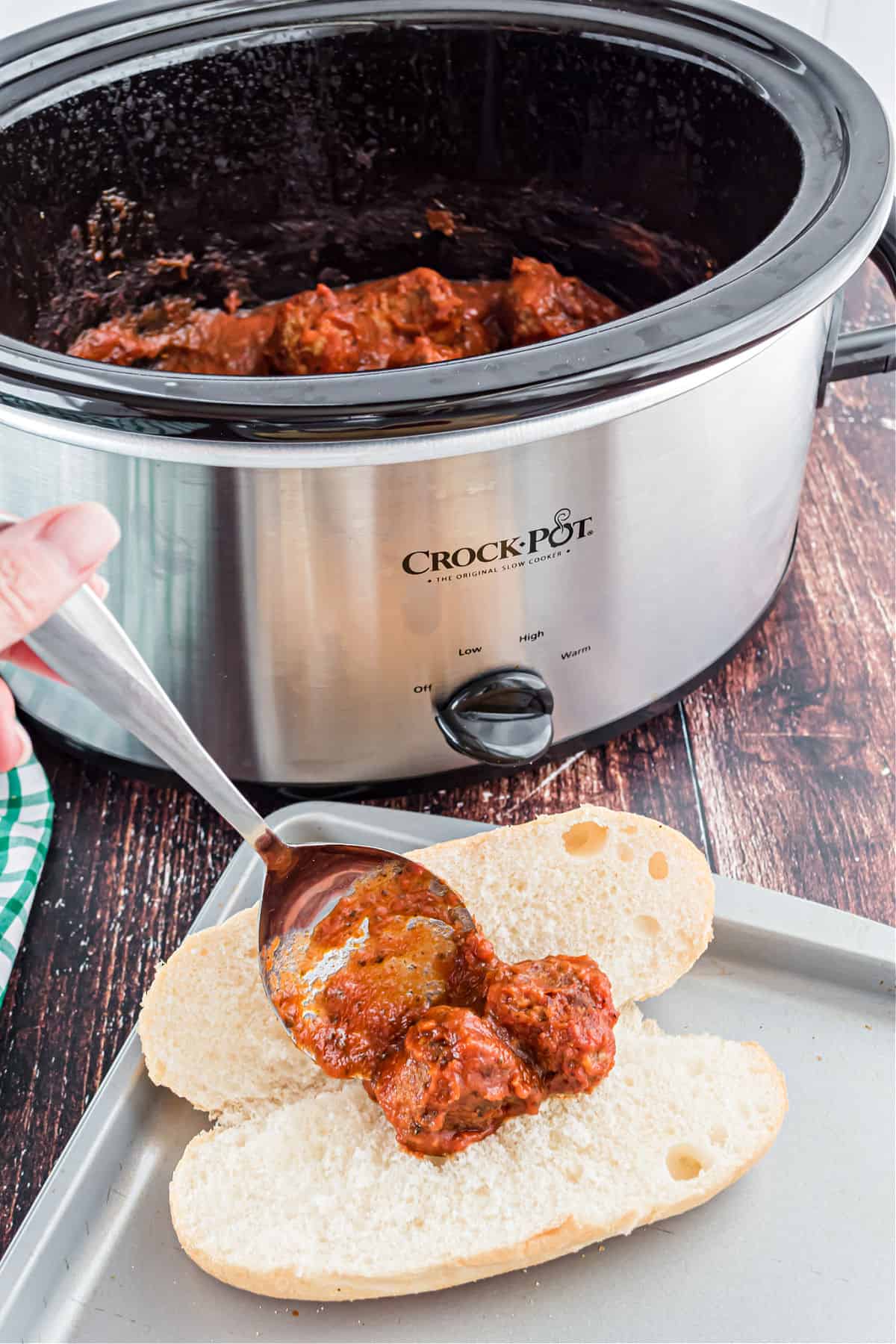 Easy Instructions
Make Meatballs. Either use freshly made or already prepared, frozen meatballs.
Add sauce. Simmer all day in crockpot or on stove top in 15 minutes.
Prepare the bun. Choose a hoagie roll, or french roll, slice in half and add meatballs, sauce, and cheese.
Broil. 5 minutes is all you need to toast your meatball subs.
Eat. Dig in to this easy, versatile dinner!
Can you freeze Meatballs
Absolutely. You can freeze them cooked or raw.
For raw meatballs, place on a foil lined baking sheet. Flash freeze for 30 minutes. Remove from sheet and slide into a ziploc freezer bag. 
Use in your favorite meatball recipe within 3 months.
For cooked meatballs, allow to cool completely after cooking. Place in ziploc freezer bag.
You can add your frozen meatballs to the crockpot for today's meatball sub recipe. No need to thaw first!
PRO TIP: Meatball Subs are great for a crowd. You can easily double or triple the batch of meatballs. Line up your hoagies on a cookie sheet, fill, and broil. Serve and enjoy!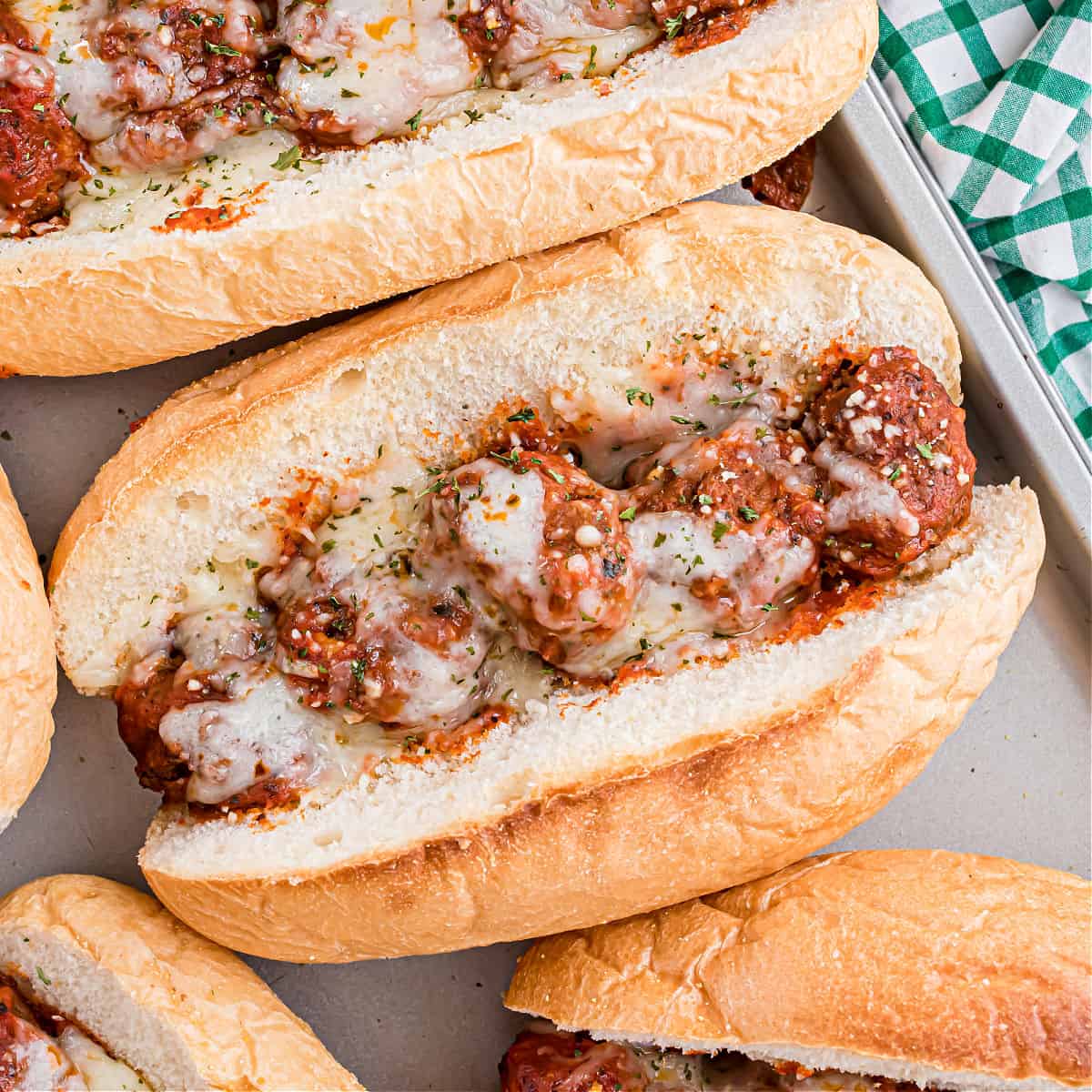 More meatball recipes
Cheesy Sweet and Sour Meatballs
Zucchini Meatballs (vegetarian recipe)
Buffalo Meatballs with Blue Cheese Dressing